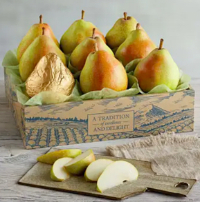 Last week I got an email from FedEx saying that they were going to deliver a package from Harry David.
Harry David — that rang a bell. Yes: Harry & David! They are a wonderful online store (catalog, in the olden days) where you could order high-quality gift baskets of fine nuts, fruits, and other goodies to have sent to your clients, distant aunts, and others to whom you want to send a nice gift.
Because I don't really do Christmas, it's not unusual for a holiday season to come and go without receiving any gifts at all, so I relish every little tidbit I get. What was likely a very thoughtful but generic client gift from a vendor was, to me, something very special! I was officially excited about the coming goodies, which FedEx said would arrive by 10:50 am.
I had a busy day. Between meetings, I refreshed the page to see if the package was any closer. By late morning the message changed to say that the package would arrive by 1:50 pm, by 1:00 it changed to say it would arrive by the end of the day, and by early evening it changed to say "Delivery Pending, no tracking information available."
The package never arrived. I was very disappointed, and also very amused by how disappointed I was.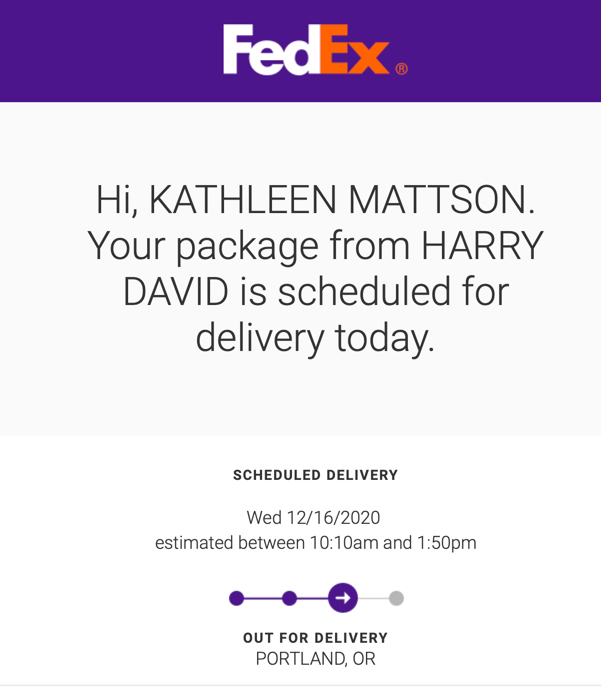 The next day, the status didn't change, and by mid-afternoon I was officially obsessed. Was it a box of chocolate-covered pretzels? A basket of imported pears? A ham? I had no idea who had ordered the gift for me, and I began to worry that my generous benefactor was going to notice that I had not yet sent an email to say thank you. Did they know that I had not received it?
I decided if the package had not arrived by  the following Monday then I would call Harry & David customer support and explain the situation. Either they could contact FedEx, or at least let the gift-giver know that I wasn't an unappreciative slob  raised in a cave who neglects to thank people for generous gifts. [See how obsessed I'd become?]
On Monday morning there was a new message from FedEx: the package would arrive today! But soon I recognized the pattern: it would arrive by 10:50, then 1:50, by end of day, then mystery. And again on Tuesday.
On Tuesday night I dreamed that the package arrived, and it was magical. It was an enormous box that barely fit in the door. Like Mary Poppins' carpet bag, I endlessly pulled more and more delectable goodies out of the box: wine, chocolates, a steaming-hot full ham dinner, a set of beautifully-bound books, and on and on.
This morning, there is a new message from FedEx. Apparently today by 10:50 I will be receiving a "a package from Harry David." How exciting! I wonder what it will be!
—-
EPILOGUE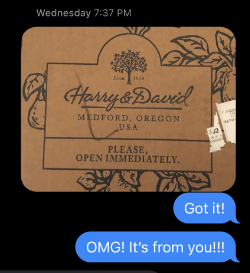 The package from Harry & David was finally delivered late on Wednesday. The box was a bit worn, but even after over a week in transit, the contents were in perfect shape: Beautiful pears, some nuts, crackers, and other delectable goodies.
I had spent the last few days texting with a good friend about my fascination/obsession with this mysterious package. So as soon as I brought the box in from the porch, I snapped a picture and send it to her saying "Got it!"
And seconds later saw who had sent me this wonderful gift: of course it was the very friend with whom I'd been texting. I started laughing so hard that my husband ran into the room to see what was going on.
My friend said that it was a good thing that our exchanges about this had been over text, as she would not have been able to keep a straight face. Especially after she'd read this blog post.
What a wonderful gift, and a great story.
[In all seriousness, Harry & David is an excellent choice for those non-personal gift-giving occasions [… and for personal gifts, too!] Check them out at www.harryanddavid.com. Also, I am knocking FedEx here. The shipping insanity during the 2020 holidays was insane for everyone.]