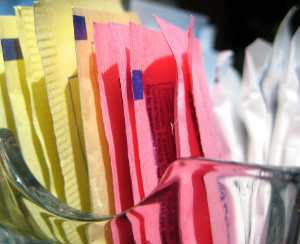 Aspartame has been tested until the cows come home and it has been consistently concluded that, unless you have phenylketonuria, it is not bad for you.
If your guru, health coach, Aunt Mary, or well-meaning friend says it is bad for you and admonishes you for using it, ask them to cite their sources.
Here are my sources:
The American Cancer Society says it is not harmful:
"Aside from the effects in people with phenylketonuria, no health problems have been consistently linked to aspartame use." — American Cancer Society
The U.S. Health and Human Services and the Food and Drug Administration say it is safe:
After reviewing scientific studies, the HHS Food and Drug Administration (FDA) determined in 1981 that aspartame was safe for use in foods. In 1987, the General Accounting Office investigated the process surrounding FDA's approval of aspartame and confirmed the agency had acted properly.
The European Food Safety Authority says it is not a safety concern:
The Panel concluded that aspartame was not of safety concern at the current aspartame exposure estimates
The Food Standards Australia & New Zealand organization says it is safe:
All scientific evidence to date supports the safety of aspartame for use as a sweetener.