In November I headed to Athens, Greece, for client meetings. I made my travel arrangements for a long Saturday-through-Thursday week of meetings, arriving a few days early so I could get over some of the jet lag. However, a week after I bought my plane tickets, the weekend part of the meetings was cancelled, which meant I would be in Athens three days before necessary. So I made plans to spend that time in central Athens as a tourist.
I was very stressed about this trip and would much rather have not gone. That is a story left for another time, but it provides a backdrop to set the scene.
Wednesday – Thursday: Grumpy travel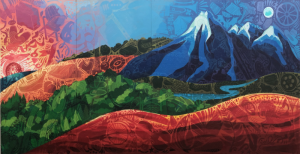 My trip began with a small snafu at the busy security checkpoint at PDX: When I got to the other side, my nearly-empty laptop bag wasn't there. After a solid two minutes of worry, they found the bag and sent it through to me. As I put my laptops inside, I checked to confirm that my brand new iPad keyboard was there, and it wasn't. I asked, and the security people said that there hadn't been a keyboard. I had changed my mind many times while packing about whether or not to even bring it, I decided it was probably sitting at home. Deciding that worrying now wouldn't change anything, I moved on. I should have taken this as an omen.
I always like to start my travel posts showing some of the art featured at PDX. The above image is of a painting by Liza Man Burns, called "Celebrate Oregon 2021!" (click it for a larger image). It is flanked on either side with small images showing the symbols that are incorporated in the painting, along with text explaining their symbolic importance. I would have lingered and played Where's Waldo with the painting, but instead I marched on to my gate.
My connection in Dallas was a sprint to switch terminals to make my flight. My connection in London featured the longest ever rat-maze of a line through security. We all have grown used to these winding security lines, but the absurd levels of nitpicking from the security agents made this particularly unpleasant.
Finally, when I arrived in Athens, my luggage did not, nor did it for a handful of my fellow passengers. After filing my missing-luggage report, I headed out to get a taxi to my hotel. I had no euros in my pocket and no ATM pin for my one credit card, so after five "no"s when asking drivers in a line of taxis if they would accept a credit card, I finally stepped aside and called for an Uber.
My hotel, Muse Urban Suites, is in the heart of the Athens Flea Market just off the Monastiraki Square, a very dense tourist area reserved for pedestrians in the center of the city (click the image to go to the Google map).

Because cars cannot enter the area, my Uber driver had to drop me a few blocks away, telling me not to worry and that the area was perfectly safe. Even though it was about 8:00 pm on a cool November Thursday night, the area was crowded with tourists and blaring with loud music from every shop. [I was too dazed to think to take any photos. The image below is from greeka.com, although this is exactly what it looked like sans the purple lights. Click the image to go to the source.]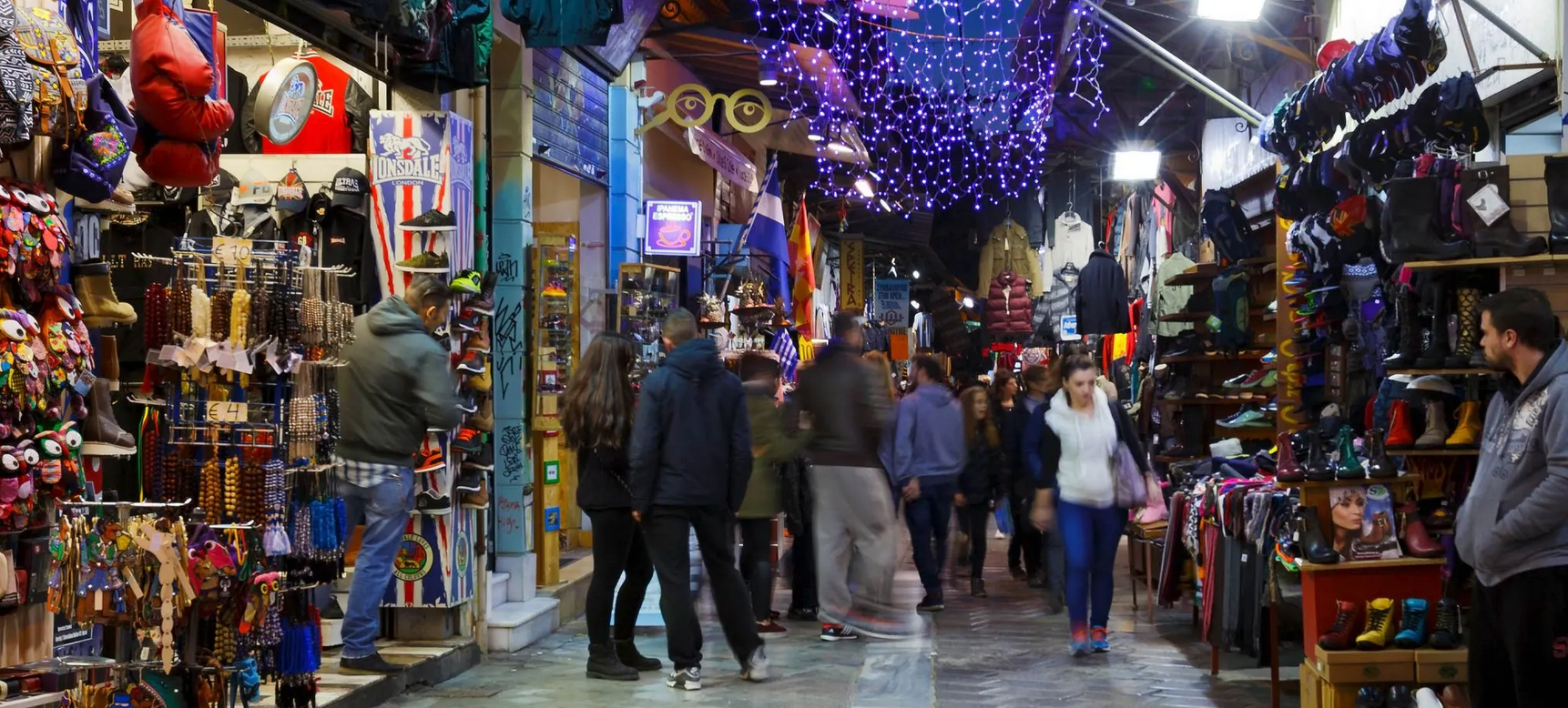 I tried to get my bearings and find my destination using my phone, but mostly was in a daze. No matter what my Uber driver had said about it being safe, I worried that I may have booked myself into a shady hotel in a questionable area. The five minutes I spent wandering through this area full of tourists and partiers had me a little concerned. But soon, a fellow asked if I needed help, I told him where I needed to be, he sent me in the right direction, and I quickly made it to my destination. Thank goodness for helpful people!
Walking inside, I passed by a gun shop and an LP store on my way to the reception desk for the hotel, but by then was just too exhausted to care how sketchy it might be.

As I checked in, I mentioned that my luggage had been lost. The clerk said that he'd been seeing this happen far more often than he used to, and that I shouldn't worry — it would be fine. His reassuring words reached past the many barriers of grumpiness that I had put up over this long trip. While I stood there nodding in agreement, I felt ready to crumble.
He also said that there was a large private party that night in the bar on the roof, apologizing in advance for the noise. Great.
Finally I headed to the second floor to my room, opened the door, and was stunned. The room was perfect! It was modern, clean, spacious, and just wonderful.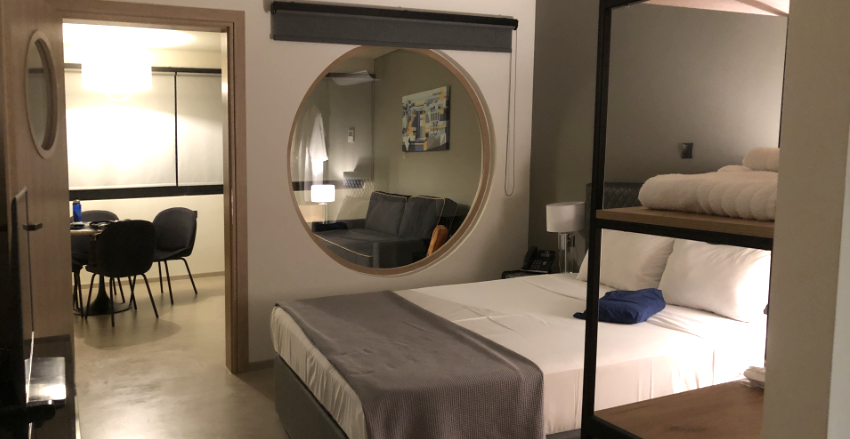 It was an ensuite bedroom with a connected office and kitchen. The entire top half of the south-facing wall was a huge window, outside of which you could see the Parthenon and the Temple of Athena Parthenos, ablaze with light atop the famous Acropolis hill. [The pictures I took that night were terrible. Here's one I took the next evening.]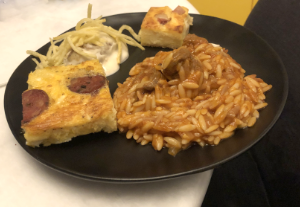 Ten minutes later I was still snapping pictures of the view out my window when there was a knock on my door. It was the clerk, presenting me with a plate filled with a wonderful-looking dinner. He said he knew I'd had a long journey and could see that I needed something to help cheer me up, so he put together this plate from the upstairs party.
All told, the journey from my house near Portland to stepping into my Athens hotel room had taken about 25 hours. I was exhausted, and frankly I had been grumpy about this trip for most of the day, topped off by my lost luggage. (Thank goodness I had a toothbrush with a single dose of toothpaste from British Airways.) But the room, the view, and this act of kindness helped to turn my mood around.
And the party the clerk warned me about? Yes, it was loud — there was EDM off and on until after 2:00 am. But between the antihistamine I'd taken (my lightweight version of a sleeping pill) plus my ear plugs, it wasn't so bad.
Friday: Just shopping
Severely jet lagged, I woke up many times, checked the time on my iPad, then went back to sleep. Finally, with my iPad telling me it was almost 6:00, I got up.
Time for coffee! I hunted about in the kitchen and found none. There was the ubiquitous electric kettle for water, but no packets of instant. And there was a Nespresso machine in the corner, but no pods. I looked in all the cupboards and drawers: No coffee! Last night the clerk had told me that the reception office was only open from 8:00 am to 9:00 pm, so I couldn't call to ask. I glanced at the menu to order delivery from a nearby restaurant, but decided to just get to work, sans caffeine. Surely I could manage…
Up until my luggage had been lost, my Friday plan had been to go to the Acropolis Museum, for which I had a pre-purchased  ticket. But now, although I was in a fascinating city with lots to explore, my lack of toothpaste, deodorant, and clean clothes had made shopping my highest priority.
But at the very top of my list was to deal with the fact that the power adapter for my PC was in my checked bag and I had about 8 hours of battery on my PC. If I got my suitcase by Monday then that would be fine, but I needed this computer for my meetings. What if my luggage was permanently lost, or took a long time to be found?
Dave and I texted and made plans. (Oh man, this was tough to do with jet lag plus no coffee!) Dave did some research that helped me identify two nearby stores that might carry the power adapter that I needed. Hopefully I could buy a replacement, otherwise Dave would overnight my spare power adapter to me first thing in his morning. He checked the FedEx website and learned that it would cost "less than $400." Yikes!
And it was while making these plans that I realized a mistake I had made with the time: My iPad was still set to Portland time, eight hours earlier than Athens! So this morning when I thought that I was getting up at almost 6:00, it was actually not quite 4:00 in the morning. No wonder it was still dark outside!
With a good plan firmly in place, I took a refreshing one-hour nap, then got up and was ready to go by 8:00 (in the morning, Athens time!). I was still planning to make it to the museum today, but with that power cord (and toothpaste!) screaming at the top of my to-do list, shopping came first.
Here's a daytime view of the Acropolis from my window (taken with an iPhone X using a Moment telephoto lens):

At the door to my room, hand on the knob, I took a moment. I froze for just a few seconds, nervous about leaving the cocoon of my room. I don't go on very much in this blog about my anxiety about being around people. It's usually pretty manageable, but the more stressed I am, the harder it is to deal with. A little liquid courage in the form of caffeine sure would have been nice right about then!
I took a few slow, deep breaths, opened the door, and headed downstairs.
At the reception area, I asked the gal at the desk if she was familiar with the two electronics stores that I'd written down, asking which one was most likely to be the largest. She chose the one called Public, saying it was very large, and also pointed out a 10-minute route for me to get there on foot.
Next I asked if there was coffee available, as there wasn't any in my room. She said, in a "this is so obvious, how could you not have known this" way, that there was a black box of Nespresso cups on the counter near the window. I thanked her, said I'd look for the box when I got back, then I set off to the Public store.

My walk to the store took me through crowds of shopping tourists, even this early in the day. The walk was long, but it was good therapy. A good walk pushes on the boundaries of your personal envelope: loosening it up, making it larger and easier to get away from your own stress.
I'll cut through the details of my shopping: I did not find the power adapter I needed and texted Dave that I'd need him to ship me the cable in the morning after all. Then I spent several hours shopping my way back toward the hotel, buying the various toiletries I needed. Not your typical tourist purchases.
While I was out, I learned that "monastiraki" means little monastery. The site of Monastiraki Square used to be the grounds of a very large monastery, but it had been destroyed in a war, leaving only a little part in one piece. This little monastery still stands and still holds regular worship services.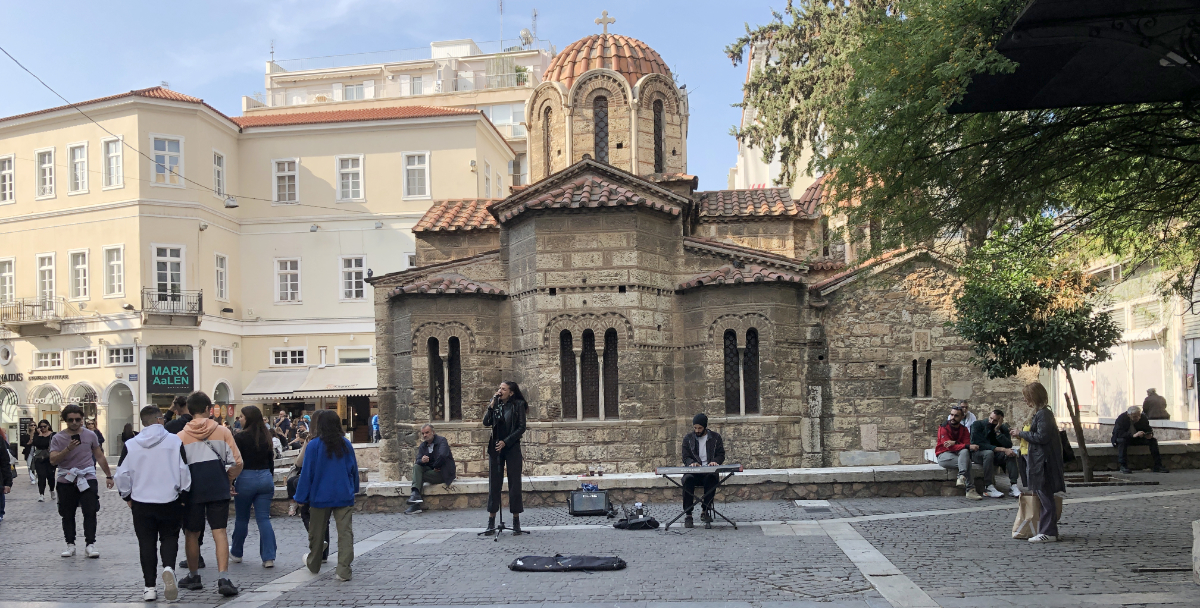 There was so much to photograph, but after taking the above photo, I saw the sign that said "Absolutely no photography." Okay, absolutely no more pictures of the little monastery.
After a fast lunch, I headed back to my room for meetings. And there's the coffee! It was right there in the small matte black box, sitting on the matte black counter, beneath the menu for ordering food for delivery. Of course: obvious! At last: Blessed caffeine, let me sing your praises. And better yet, a text and an email from the hotel clerk awaited me, telling me that the airline contacted them and my suitcase would be delivered the following afternoon. Insert here a heavy sigh of relief (and a text to Dave to not send me the cable).
It was about 3:00 pm when my final meeting ended, and by then I'd decided I would skip the museum. I had wanted to go to the museum as a precursor to visiting the Acropolis the next day, as that would give me proper context for what I would see. But my back was already a bit sore from the all the walking I'd done today, and I didn't think I had enough walking allowance left to do a museum any justice.
Instead I went back into Monastiraki Square and played tourist, now without the stress of my lost luggage or any urgent shopping needs. I aimlessly meandered and took pictures, marveling at how there were such ancient, amazing sites everywhere you looked. Here is Hadrian's Library: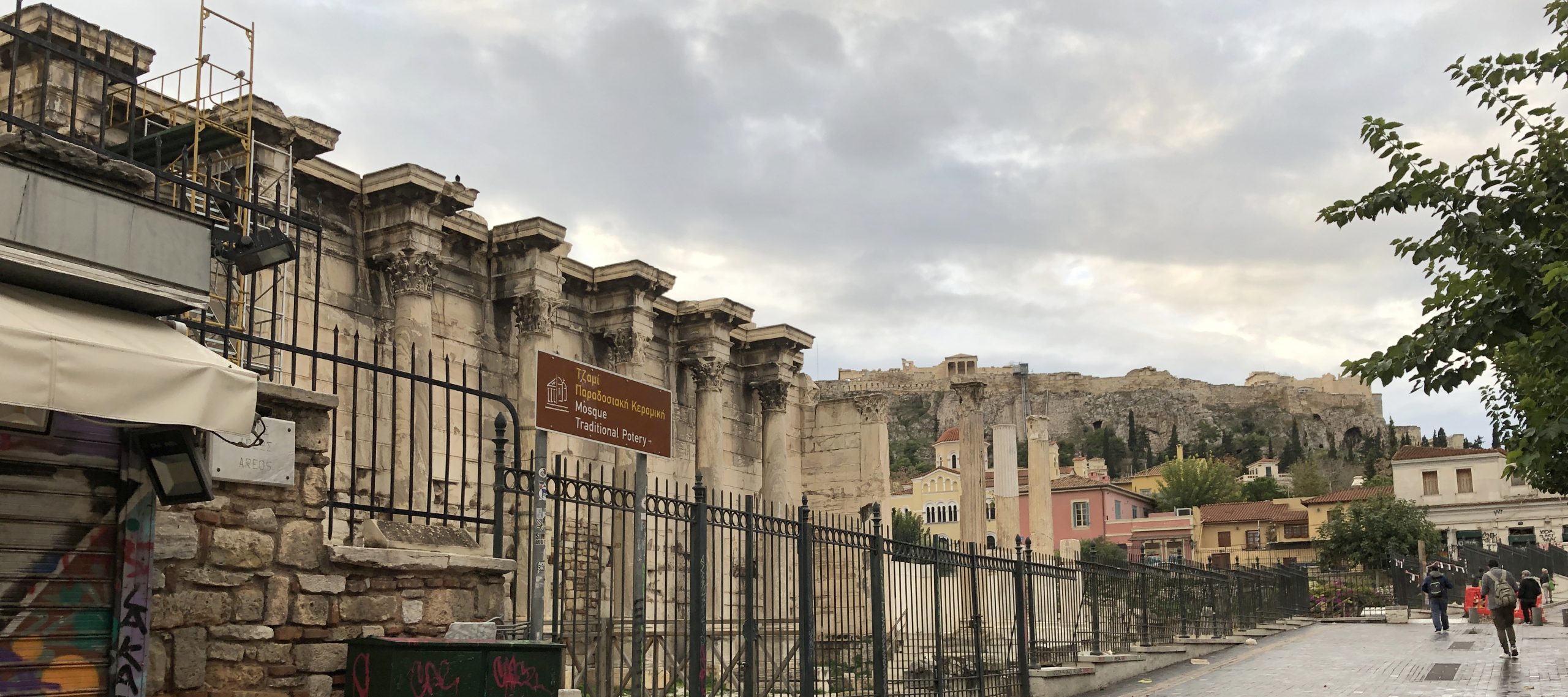 I stopped for dinner at an outdoor area just around the corner and enjoyed watching the crowds from my perfect vantage point. Across the walkway was a small fenced field with what looked to be ancient pieces of stonework, artfully accented by five feral cats who were lying about. They stayed just within reach of the humans on the walkway and seemed to genuinely enjoy the many head scritches and occasional treats they received.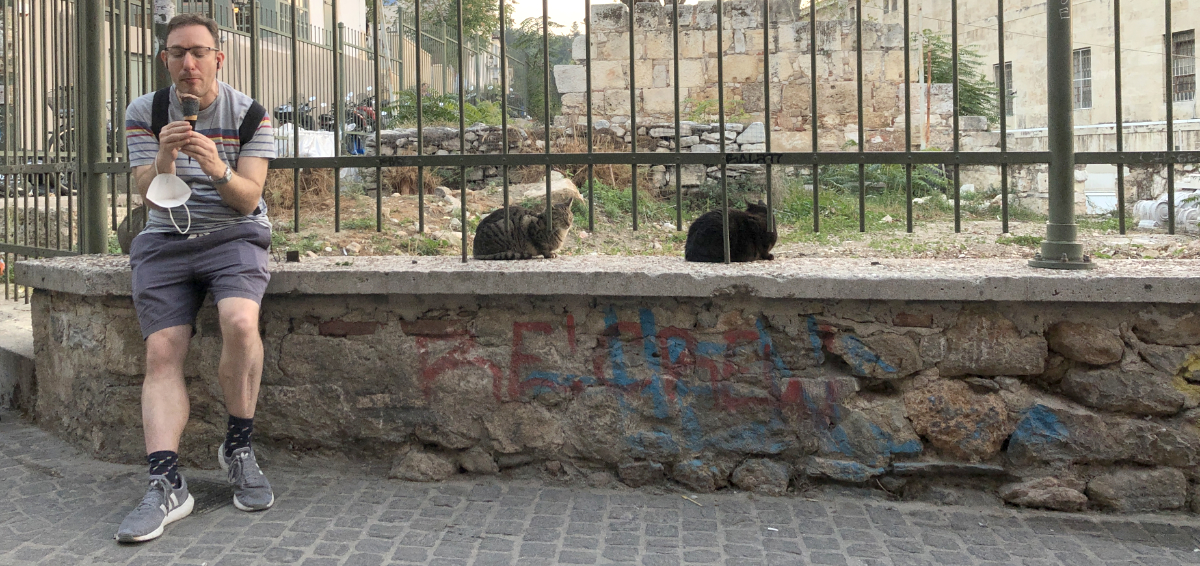 After dinner I wandered past several rather decadent candy and ice cream shops, one called Mona Lisa with a dripping chocolate fountain running down their wall.
I made it back to my room at around 7:00 pm, ending what had turned out to be a nice day, despite my not having visited the museum.
Today was hard on my body: too much walking for this bad back. But I was determined to visit the Acropolis the next day: the hill of which I'd already taken many photos from my window. I had a €45 prepaid ticket for a 2-hour walking tour that started at 9:00. I'll be there!
Saturday: Mind-boggling history
I had several hours of work to do before it was time for me to go to the Acropolis, and as I finished up, it started to rain. I'd brought a rain jacket with me because I knew there was a chance of rain, but of course it was in my yet-to-reach-me luggage. I decided that I wasn't all that concerned, because (a) I'm an Oregonian, so rain-schmain; and (b), after my experience with the snow in Paris, I don't think I really care how wet and sloshy I get.
I headed to the office of Headout Tours. There were twelve of us taking the tour. We were each given little receivers on neck lanyards and over-the-ear single earbuds to wear so that we could easily hear the guide, then we set off. We walked just over a block to the Acropolis Museum, then just beyond to the entrance to the Acropolis hill. The guide was a native-Greek historian who was very passionate about his subject. This site featuring majestically architected buildings that are over two thousand years old were inspiring, beautiful, inspiring, and simply majestic. And inspiring.
You've seen images of these buildings all your life, but seeing them in person was simply incredible. Did you know that the Parthenon was built with earthquake preparedness in mind? And did you know that back in 5 BC, the Greeks had devised a crane for lifting the stones? A crane! I'd often heard about how the Greeks represented the genesis of modern civilization, but I'd never quite realized the depth of that or the sophistication of the buildings until I took this tour and saw it all for myself. After the tour I quite enjoyed spending time just quietly wandering on my own, but I highly advise a guided tour to hear the details behind everything you see. My experience with Headout was stellar.
Following are some of my favorite photos from the tour: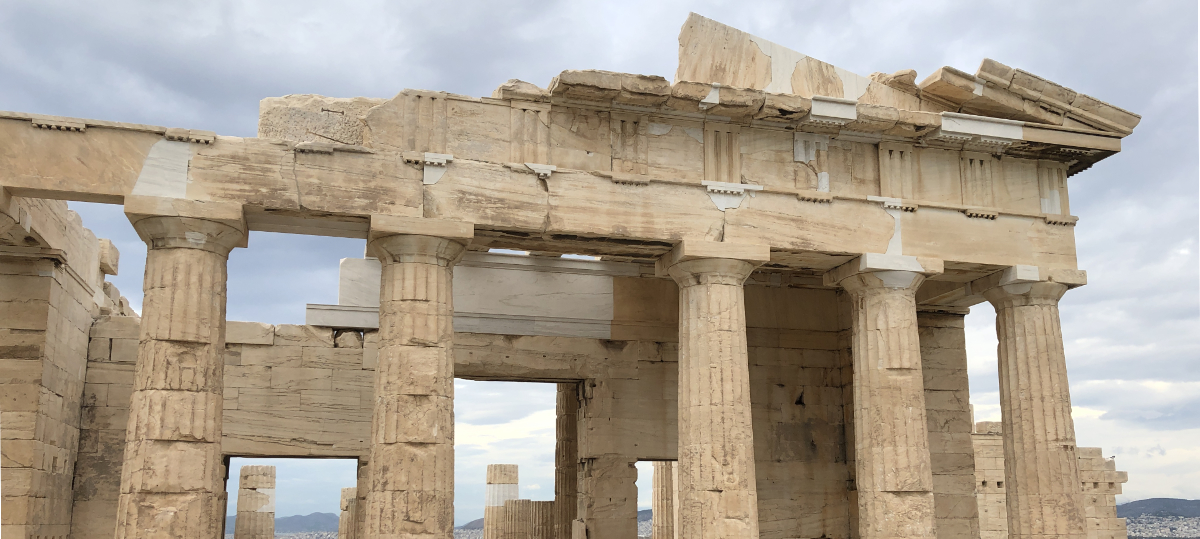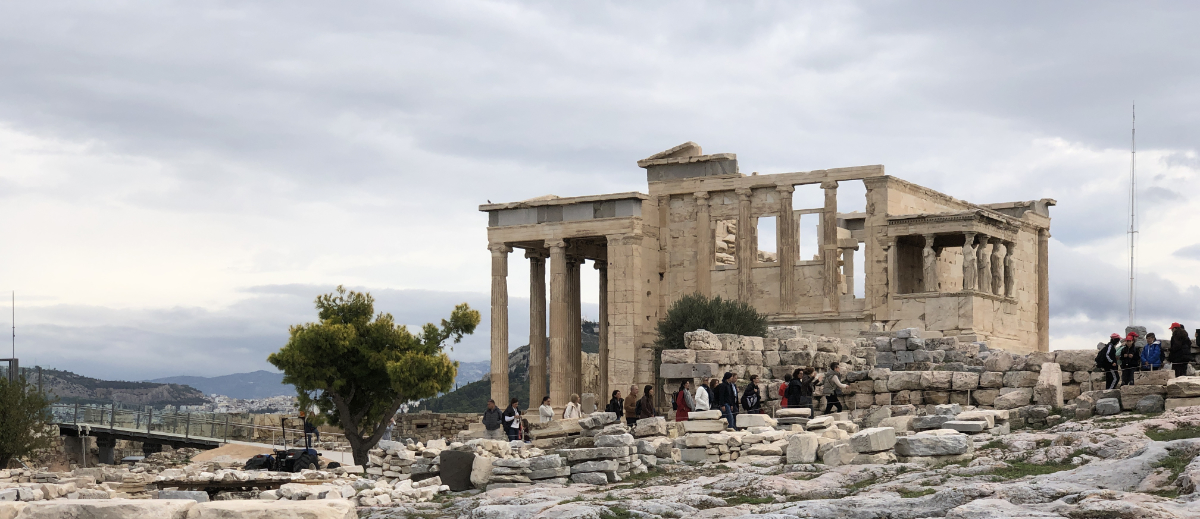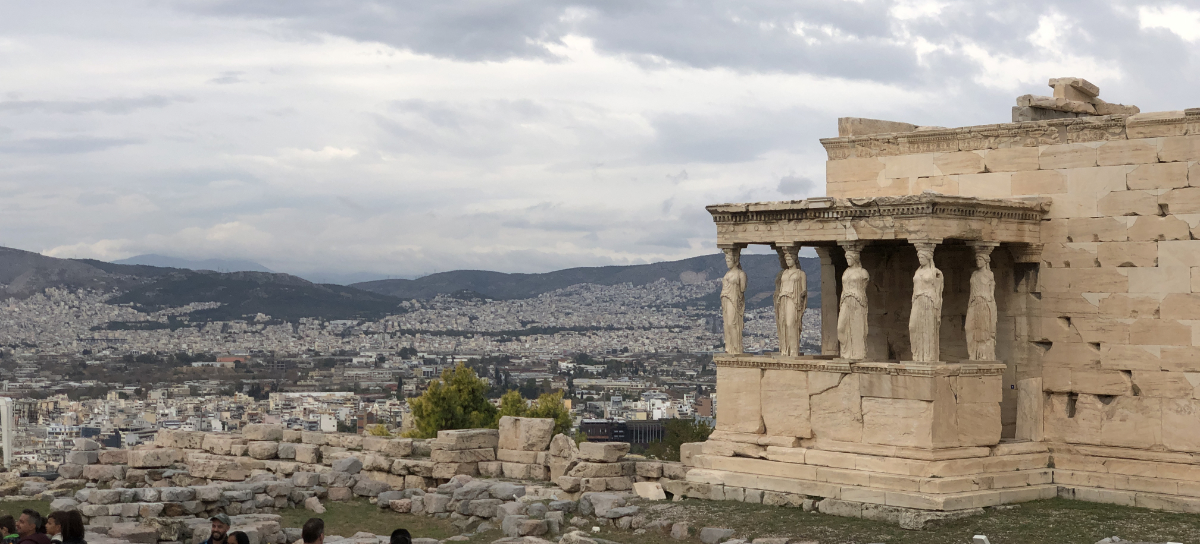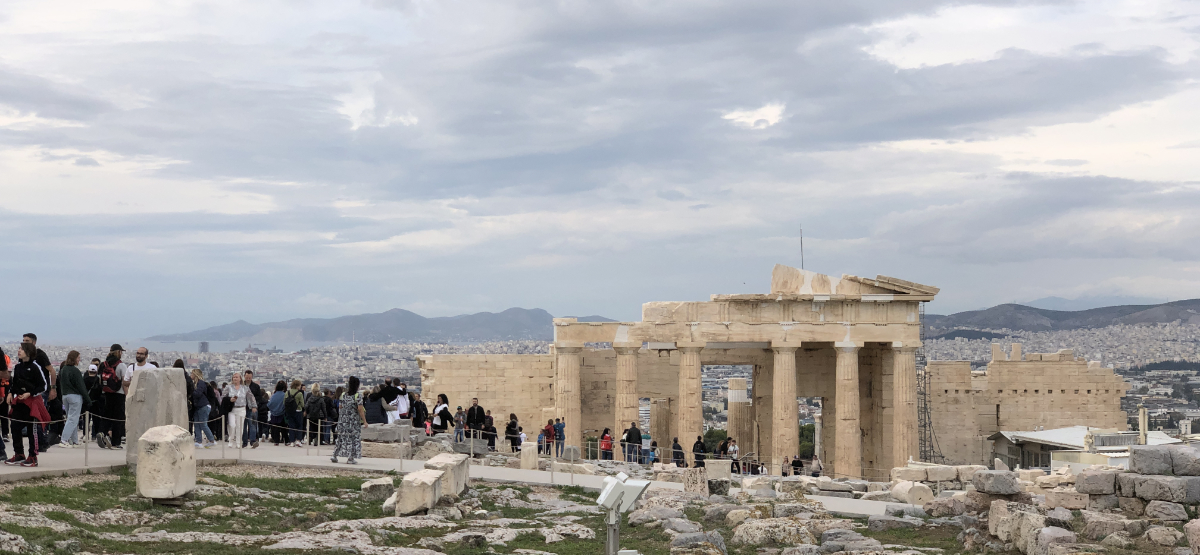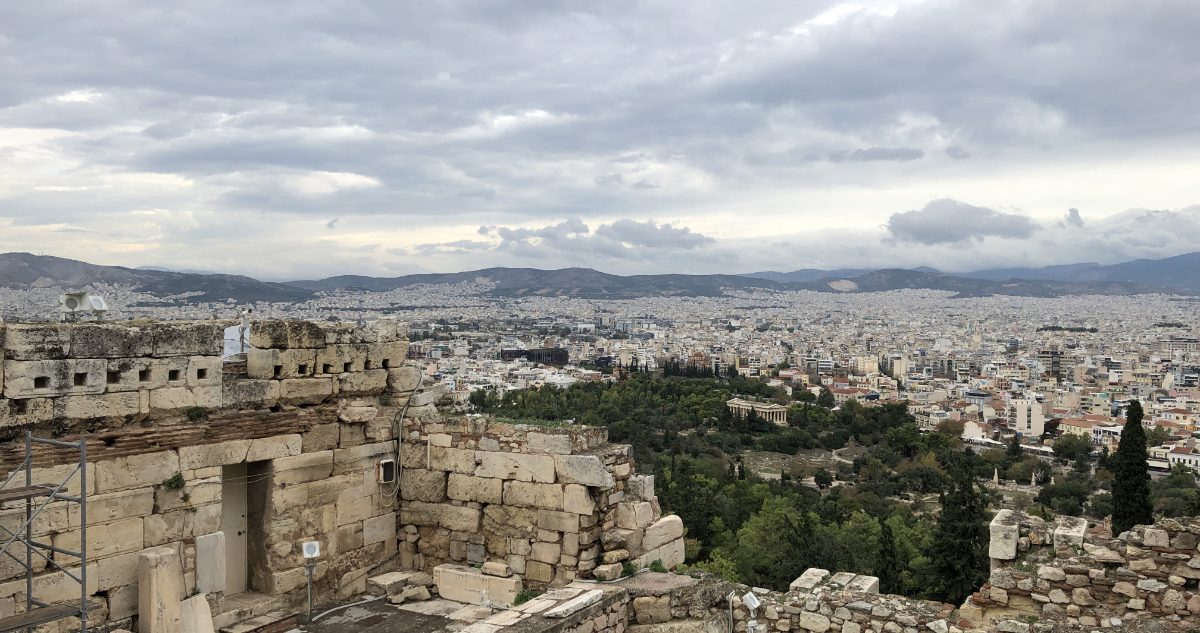 And I spotted this on my walk back to the hotel: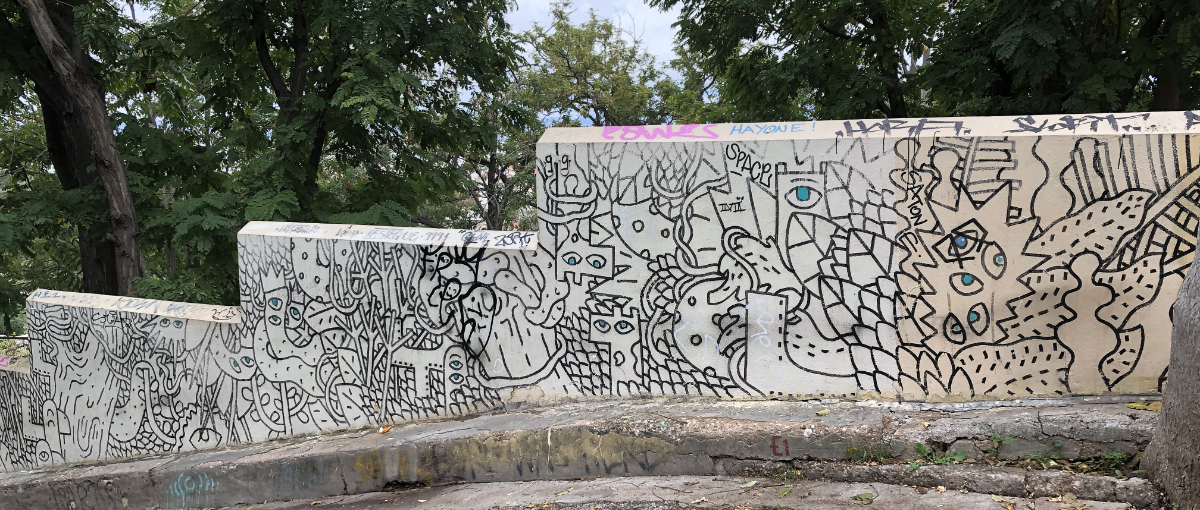 I was so very glad I went on the tour, but I had far exceeded my walking allowance and was in quite a lot of pain. Note to self: bring your cane with you when you travel! As I was a less-than-ten-minute walk to the Monastiraki Square, I kept going toward my hotel.
As this was going to be my last day in the Square, I wandered around one last time. I was hungry, but didn't want a large meal. There were quite a few vendors selling fresh produce, and there was a fellow roasting something that smelled really good. I asked what it was, and a woman standing nearby, I assume a tourist, said that they were roasted chestnuts.
I said that I had heard of roasted chestnuts my whole life but had never actually seen them before. There was a sign saying that he only accepted cash, and his smallest serving size was €2.50. I reached into my bag and saw that I had exactly €2. I said, "Oh shoot," closed my wallet, and walked away.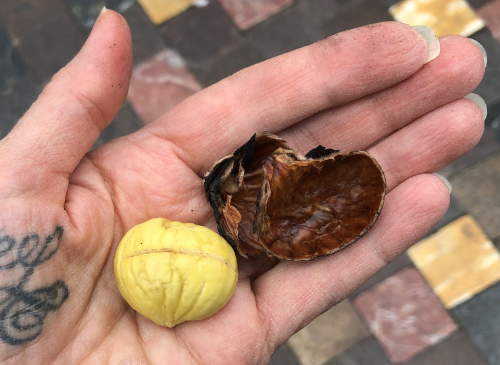 I then wandered around the Square some more, visited the cats, looked at the amazing candy and ice cream stores one last time, then headed toward my hotel. Then I heard, "Excuse me! Madam!" The woman who had been next to the chestnut roaster ran up to me and said, "Hey! You really have to taste a chestnut at least once in your life." She placed a warm roasted chestnut in the palm of my hand, smiled beautifully, then walked away.
I peeled and ate the chestnut, and she was right: it was fantastic. But it was her extreme kindness in hunting me down to make sure I could taste the roasted chestnut that was perhaps the most wonderful experience of the entire trip.
I returned to my hotel, packed up for tomorrow's departure, then got some work done. By around 8:00, realizing it was already getting late, I decided to head out to get some food… which lead to a small adventure.
This hotel is a unique little place. Its reception area is a small glassed-in room that is one of three "stores" on the ground floor of the building with a small elevator across from reception. When you check in and are given your room key-card, it has an attached keyring with a key to the building's front door. When the building and its stores and the reception area are closed, you use that key to get back into the building.
When I went downstairs, the building was all dark and closed up. I made sure I had my key then headed out. I got my food then enjoyed eating it on foot as I meandered my way back. And when I reached the hotel, my key didn't work. I was locked out! I tried a few more times, then decided I'd wait until I finished my yummy food before thinking about my next steps.
Just then, two Japanese girls came up to the door. As one of them started to put her key in the door, I said. "Oh good, someone's here! My key didn't work!" Of course they were suspicious (I would have been too), but when I showed them my key and told them it didn't work, they decided I wasn't a killer. So they tried their key. And it didn't work either.
I said that I had the night clerk's phone number, and just as the girls were frantically trying their key for the third time, I called. I got off the phone a moment later, told the girls that someone would be here in a few minutes to let us in, then enjoyed finishing my food.
We spent the next few minutes chatting, agreeing that the area was a wonderful place to visit. Soon the night clerk came… and his key didn't work either! We all froze in a moment of shared panic, then the clerk tried a few more times. He vigorously shook the door as he turned the key, and it finally worked. We all laughed as we entered the building and went our separate ways: hopefully with the clerk heading to call a locksmith to fix the lock.
And the yummy food I was enjoying for dinner? It was a small dish of gourmet ice cream from the Mona Lisa store with the chocolate wall. The over-the-top decadent ice cream and candy stores here would rival Willy Wonka's place if it really existed. After diligently refraining from indulging over my entire stay, I couldn't leave here without having something. That just wouldn't be right.

Sunday: Heading to the coast
The tourist part of my stay had ended. Time to pack up and move to the hotel on the coast where my client's meetings would be held. I pulled my luggage along the empty streets of the Flea Market with all its stores closed, heading to the other side of Monastiraki Square where I could catch an Uber.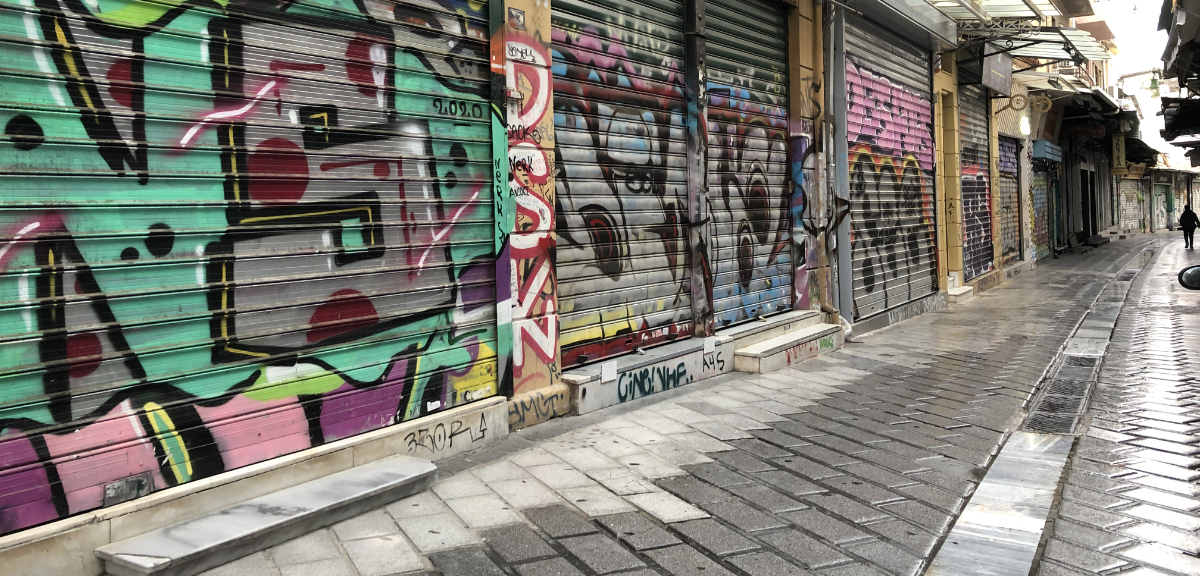 I waited by this graffiti until my Uber arrived:

My meetings were to be held at the Divani Apollon Hotel on the west coast. It was comfortable and the food was fantastic. Below are some photos taken during this part of my trip, but I have nothing to describe beyond, "We had some very effective meetings."
As grumpy as I was about this extra-long trip, I'm glad it worked out for me to have some days to spend as a tourist. And to be given a roasted chestnut by a stranger.
Okay — here are those final pictures, all of sunsets: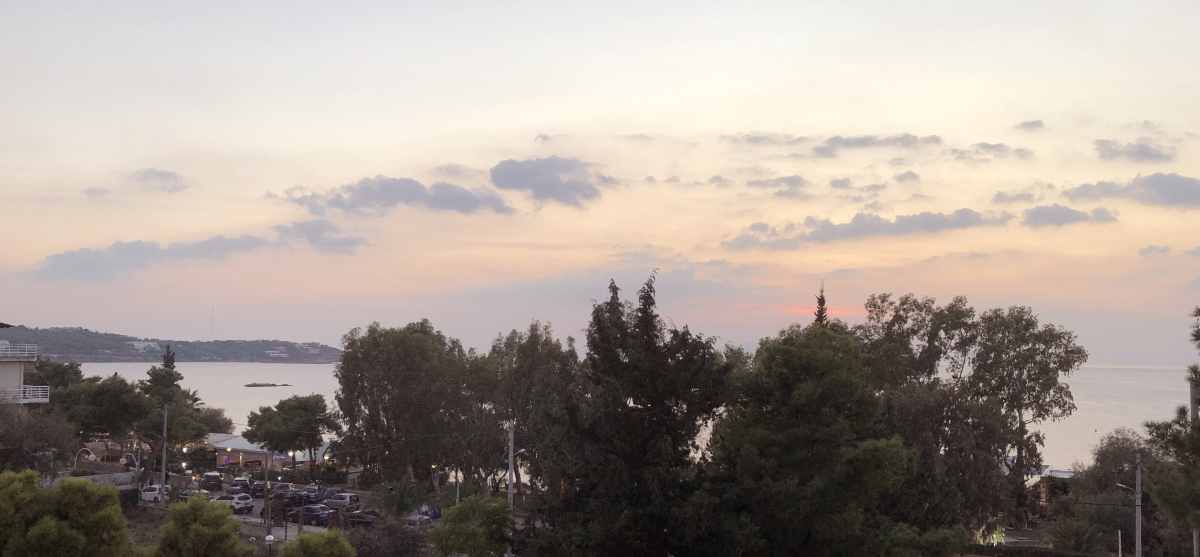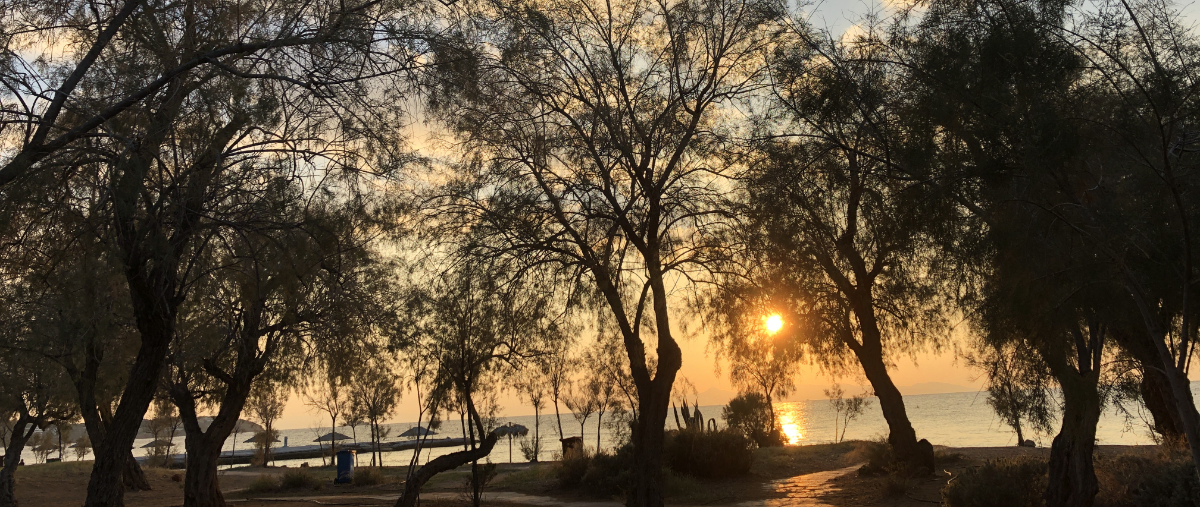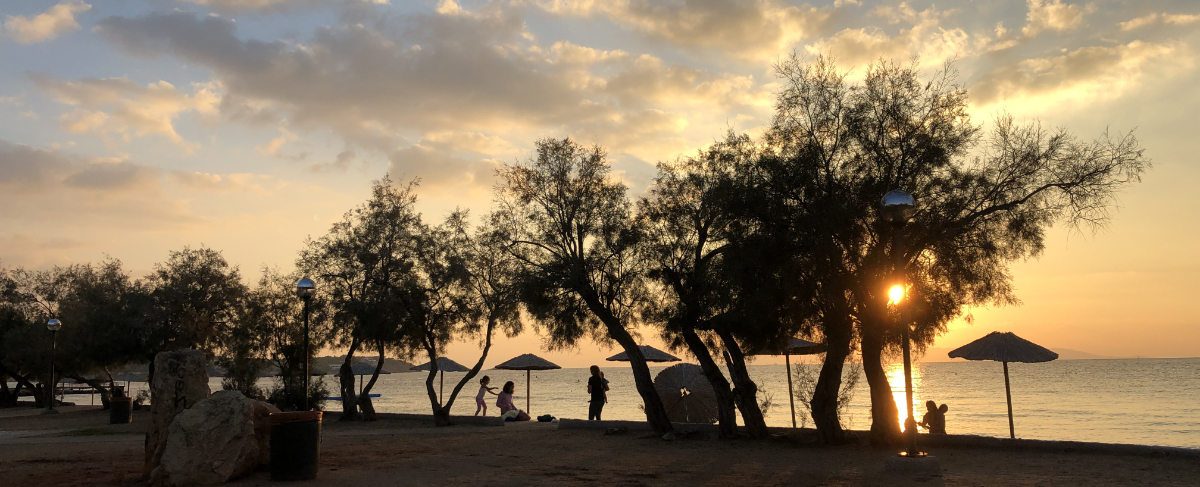 Oh, and one last photo: This Ferrari with a vinyl wrap to make it look like it was rusted was parked in front of the hotel the entire week.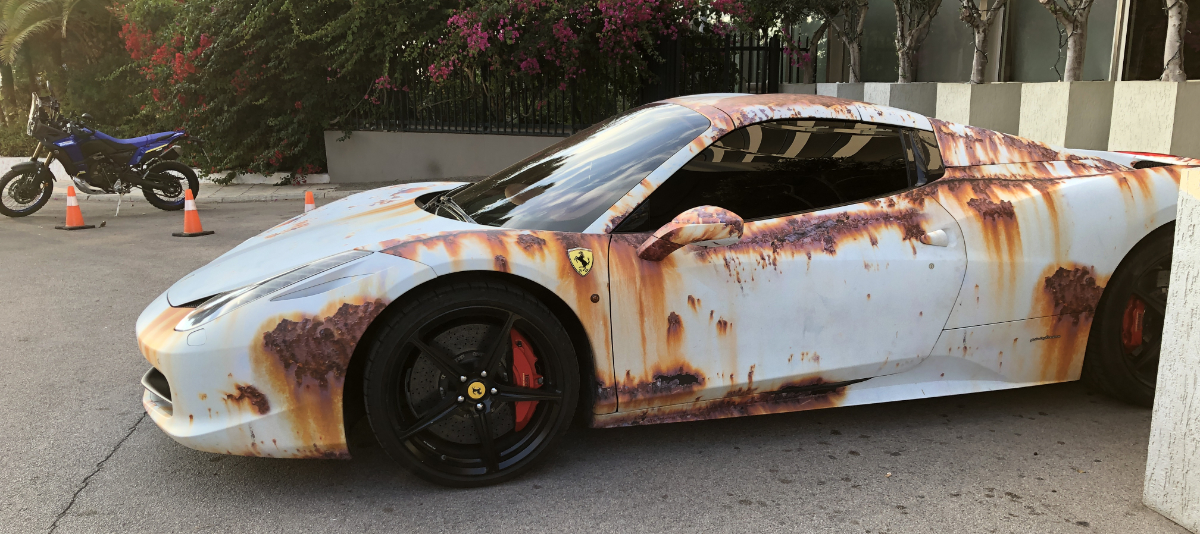 Okay, just one more sunset: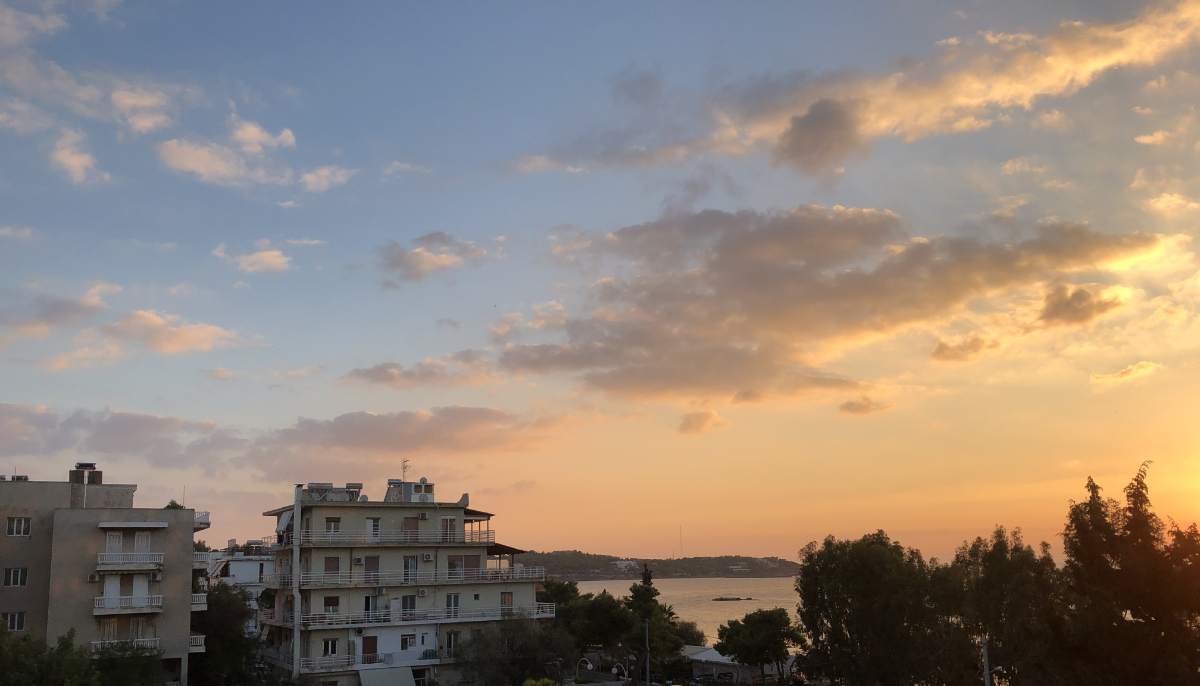 And when I got home I learned that my brand new iPad keyboard was not there. It had indeed been stolen at the PDX security checkpoint.