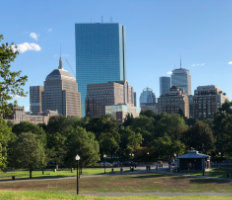 My first time back on a plane since the coronavirus travel hiatus was my November 2021 trip to a St. Louis trade show. However, it is this trip to Boston that marks my true return to the business-travel way of life.
As always, the trip started with a Lyft ride to PDX, my favorite airport. Much remodeling and rearranging of the PDX terminals had taken place in my absence, with more on the way. The entire roof of the terminal is being replaced with a massive, curved wooden structure designed to better withstand an earthquake. (Here's a really interesting video about the roof.) It's a tall order to renovate what has repeatedly been voted the best airport in the US… time will tell, when the new airport is unveiled in 2024, whether we will retain that status. For now, the comfortable familiarity I'd felt before is gone, but I'm sure I'll learn my way around again soon.
I was able to get quite a lot of work done during the long flight to the east coast. As we began our descent, I enjoyed watching the tree-filled landscape below. I'd been to Boston only one time before, and then for less than 24 hours to see a Philip Glass performance, so I was determined to actually see something of the place this time.
Landing at the Boston Logan airport B terminal, the walk was quite long to the baggage claim: an anxiety-filled walk as I got more and more nervous about the potential of a lost bag. After finally reaching the orderly carousel and getting my little wheeled bag firmly in hand, I felt much better as I went to find a ride to the hotel.
Hailing my ride (via Lyft) was simple, and soon I was on my way. It was nearing 7:30 pm as we emerged from the airport garage and entered the full-stopped standstill of the ironically named rush hour traffic.
"This is going to be miserable on the freeway," Carlos, my Lyft driver, said.
"Isn't there a way around it using surface streets?" I naively asked?
"Are you sure that's okay?"
"Sure," I said. "I'll be glad to see something other than the freeway!"
I'm sure this was more expensive than a direct slog in the traffic, but that foolishly didn't occur to me at the time. In any case, it was a lovely drive. I got to see some of Chelsea and other charming areas instead of the the bumper-to-bumper freeway ride it could have been.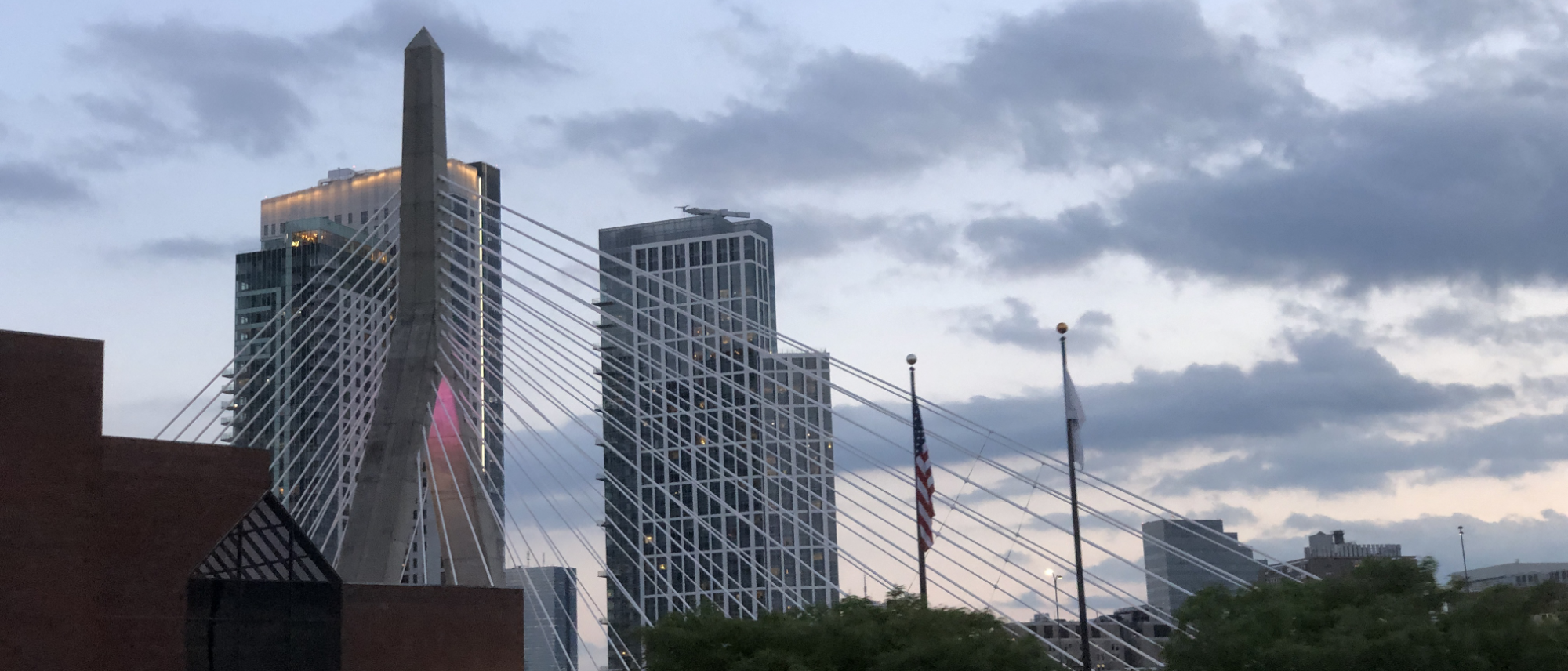 By now I was very ready for the day to end, so I was glad to finally arrive at the hotel.
I'd arranged to pay a little extra to have a room on a higher floor with a view. In some ways the view did not disappoint, although a prominent feature aside from the often cloudless blue sky was the HVAC machinery and other equipment on the roofs of the surrounding buildings.

But there were still some nice views to be seen. As always, I took pictures of the view every day…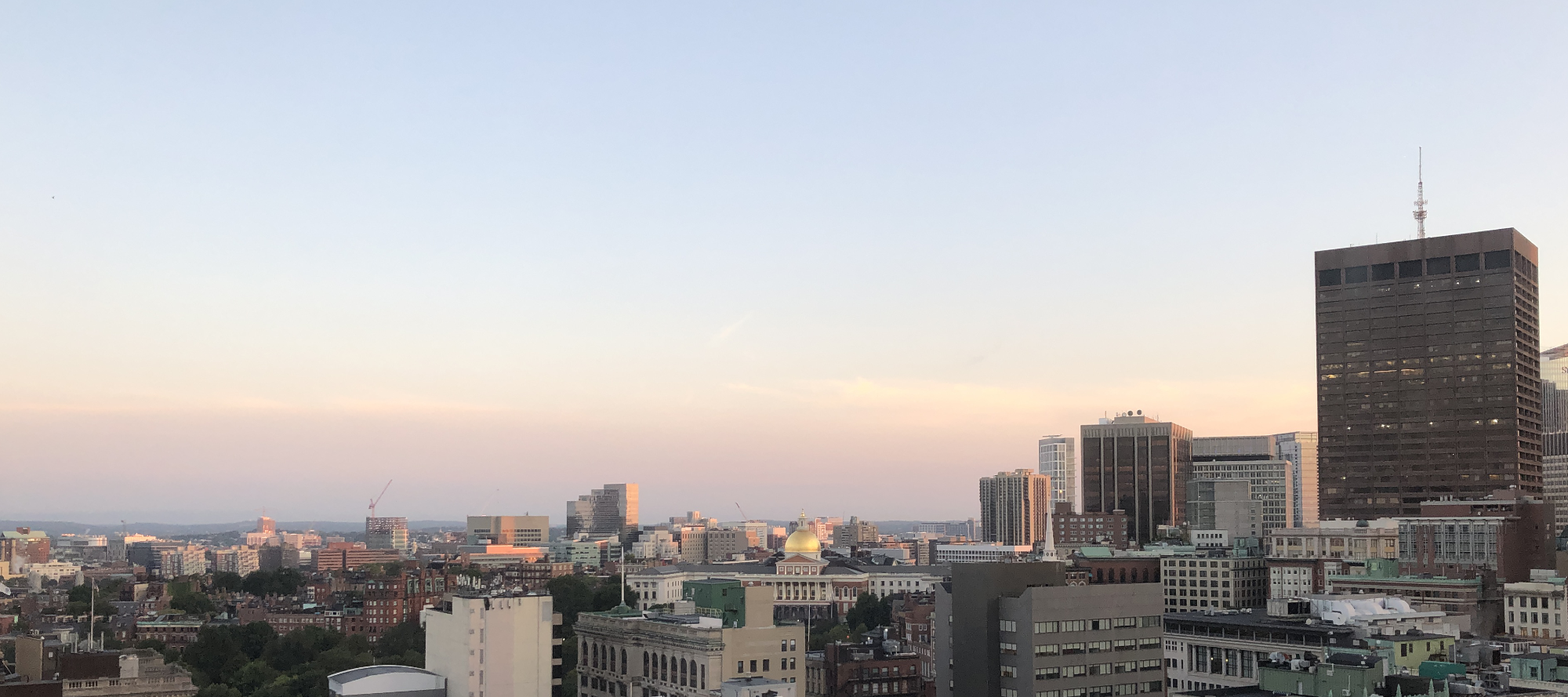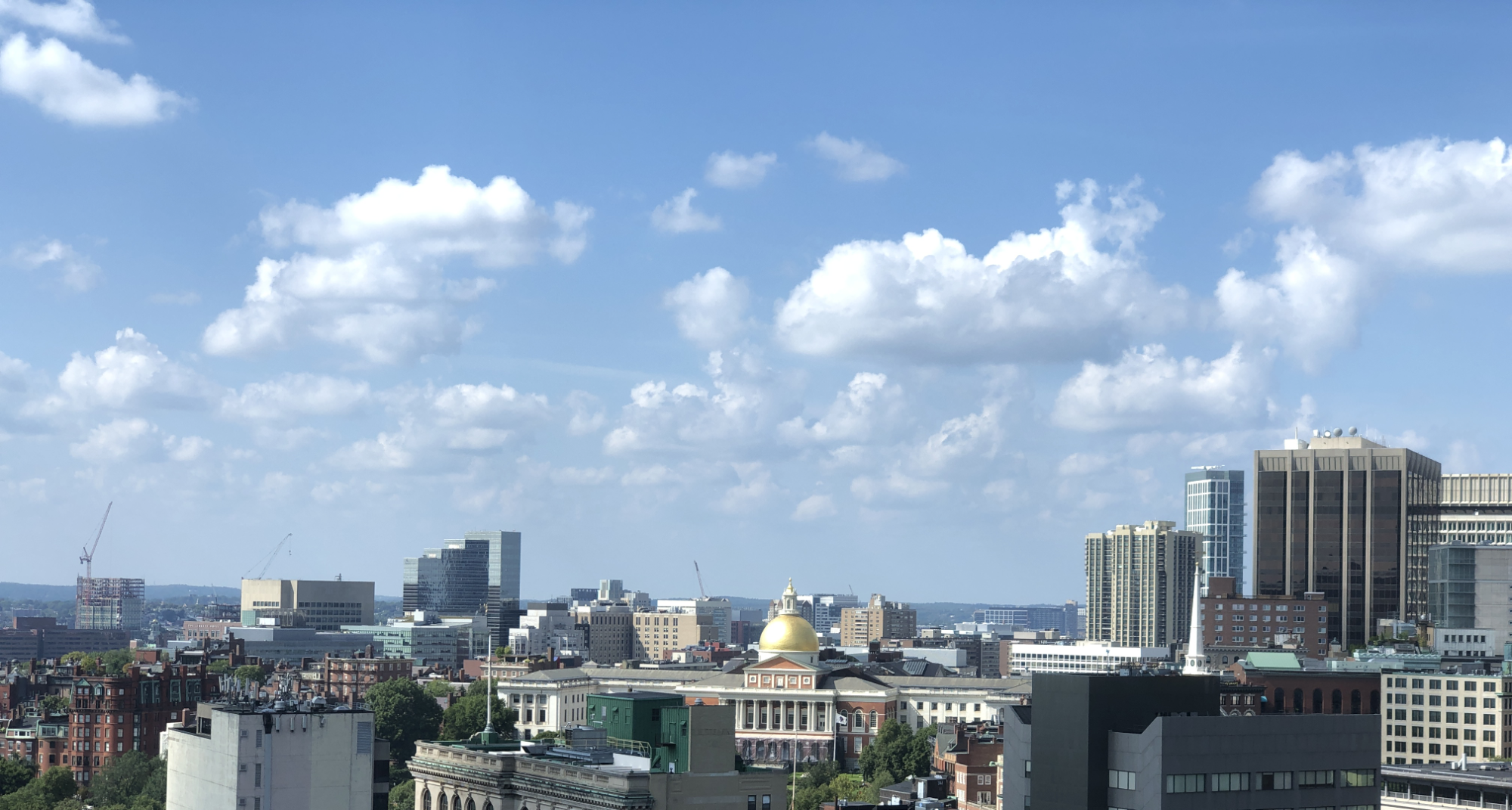 On Tuesday night, a colleague and I walked just a block down from the hotel to a nearby restaurant called Legal Crossing for an early dinner. This was next to the local opera house and a theater.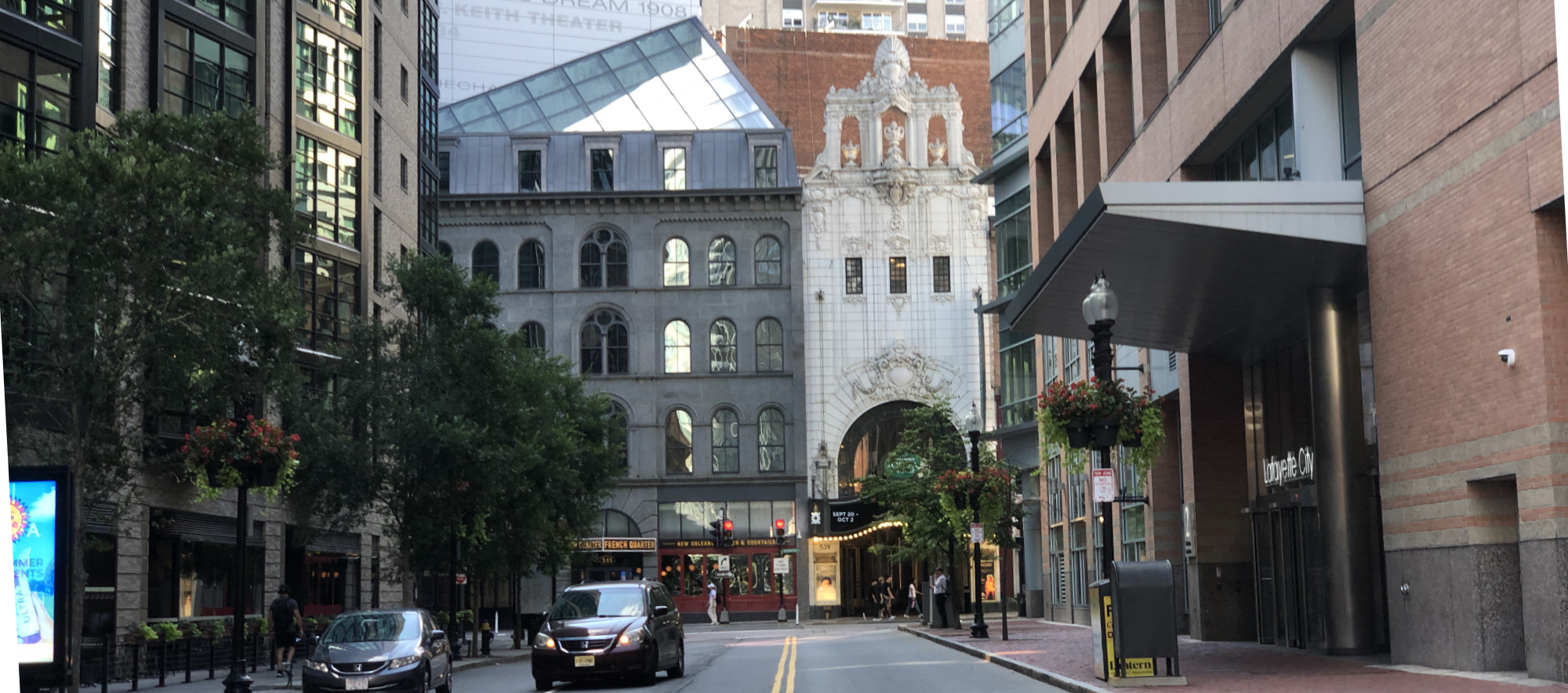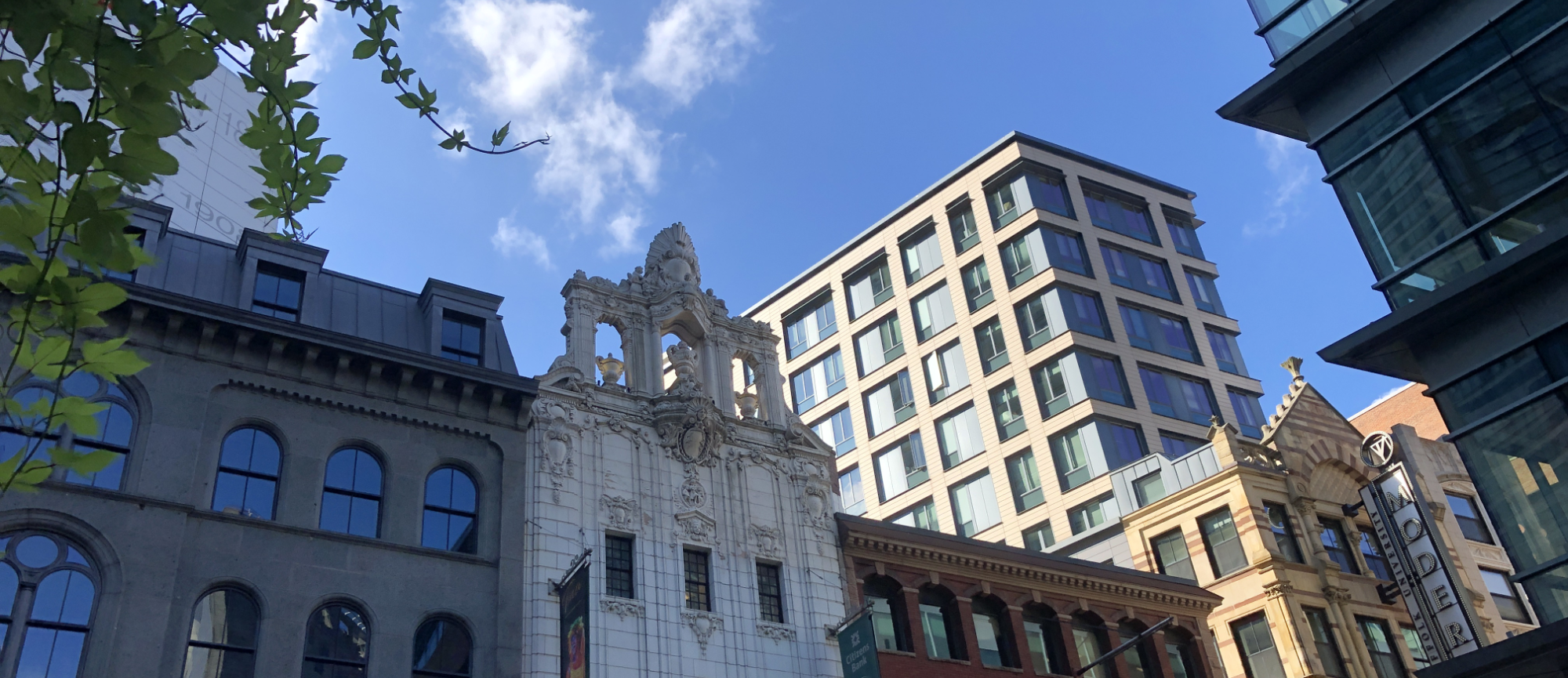 The next night was the group social event, which was dinner and drinks at the Cheers bar on Beacon Street. This is the bar where the exterior shots for the 1980s/1990s "Cheers" television series were filmed. (The bar was originally called The Bull & Finch Pub, but they later renamed themselves to match the show.)
I heard that some of my colleagues were planning to meet in the hotel lobby to walk over to the bar together. When I ventured  to the lobby and couldn't find anyone from the group, I decided to walk over by myself. I consulted with the hotel bellhop, Willie, about the best route for me to take. After warning me that GPS is famously unreliable in downtown Boston, he pointed me off in the right direction.

I headed to the famous Boston Commons park, passing a book store with this fantastic sign: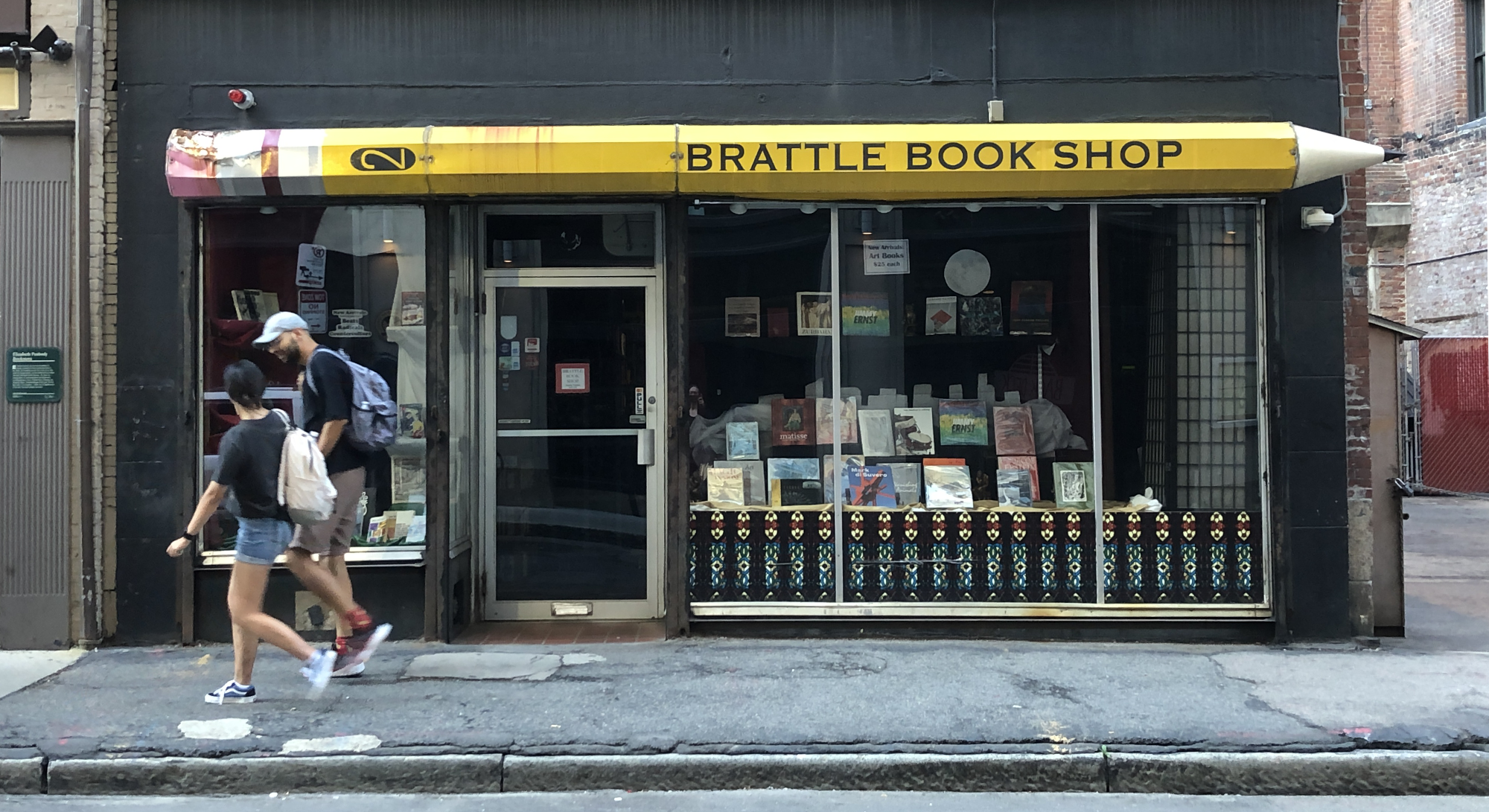 Once I made my way into the park, I got completely lost in true Kathleen style (having zero sense of direction, often getting lost is my way of life). Willie was right about the GPS, but I didn't mind:  I enjoy meandering walks on my own.
The Boston Commons is an expansive park with sculptures and other nice things to see…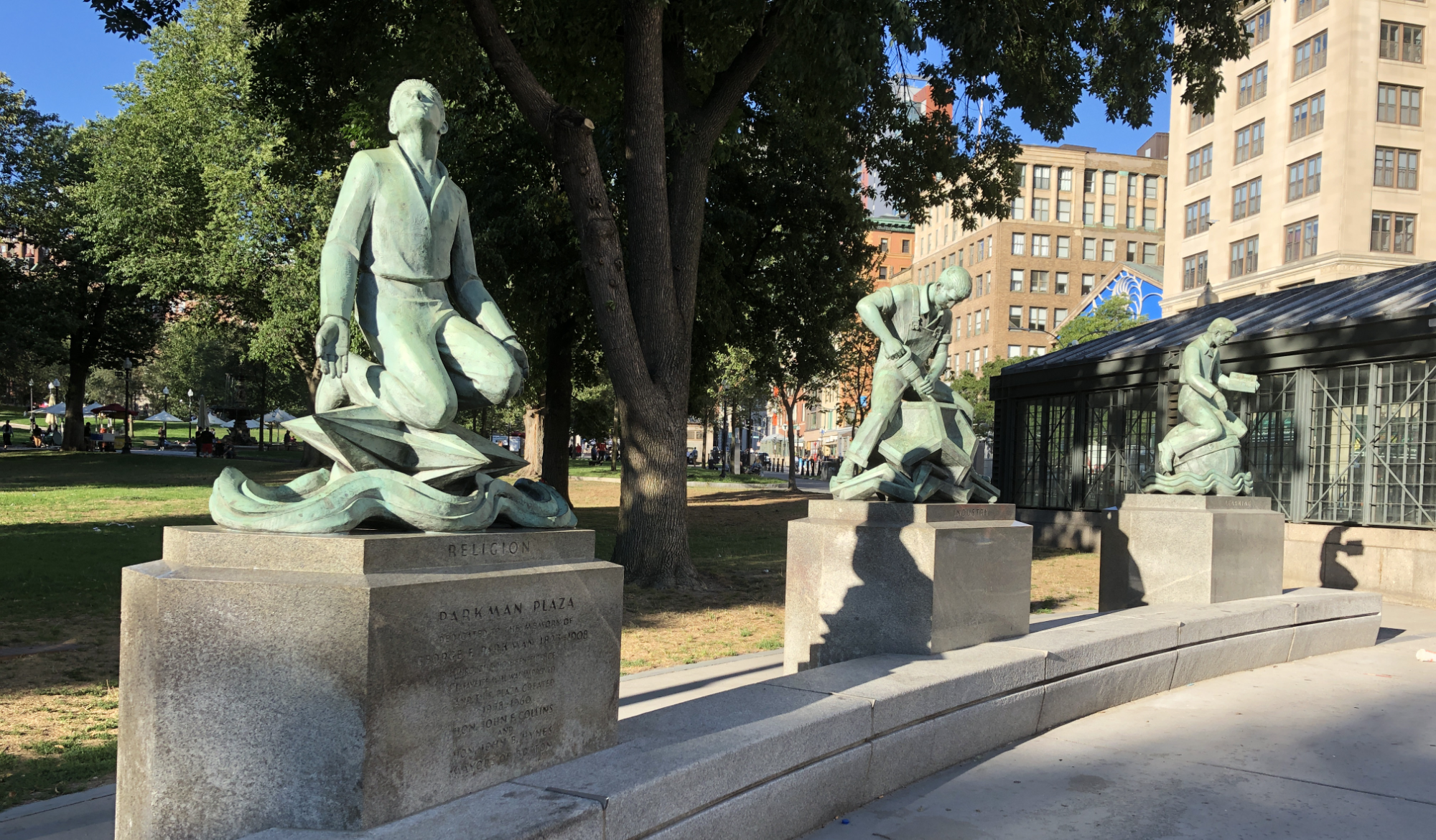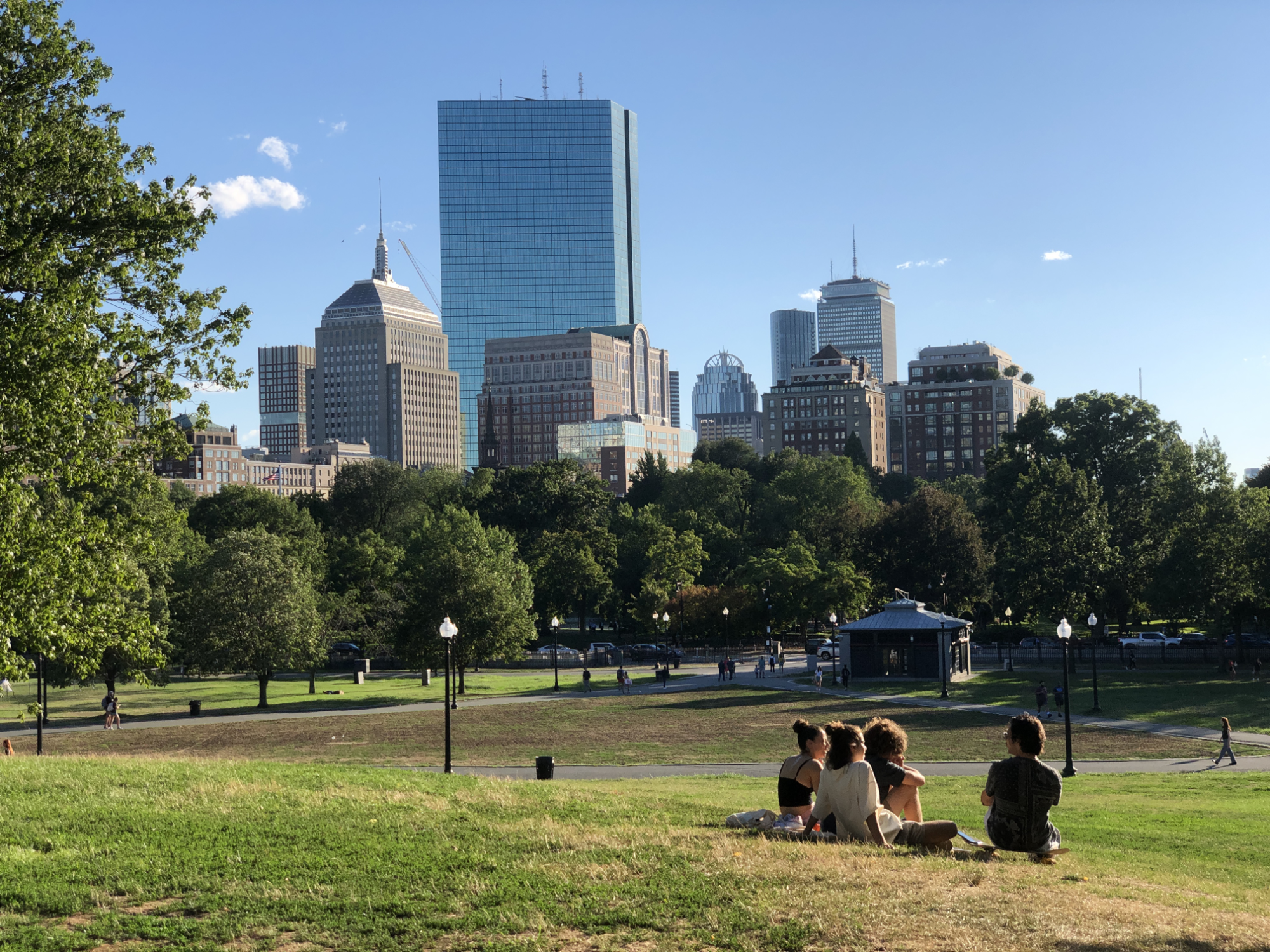 There was also a wonderful carousel there, but despite taking many photos, none are worth sharing.
Finding my way to the edge of the park, I crossed the street into the Boston Public Garden. This is really quite beautiful, with carefully planted foliage, a lake, numerous statues, and park benches dotted about. This park was teeming with squirrels who seemed to assume that the humans were usually harmless, often friendly, and sometimes a good source of food.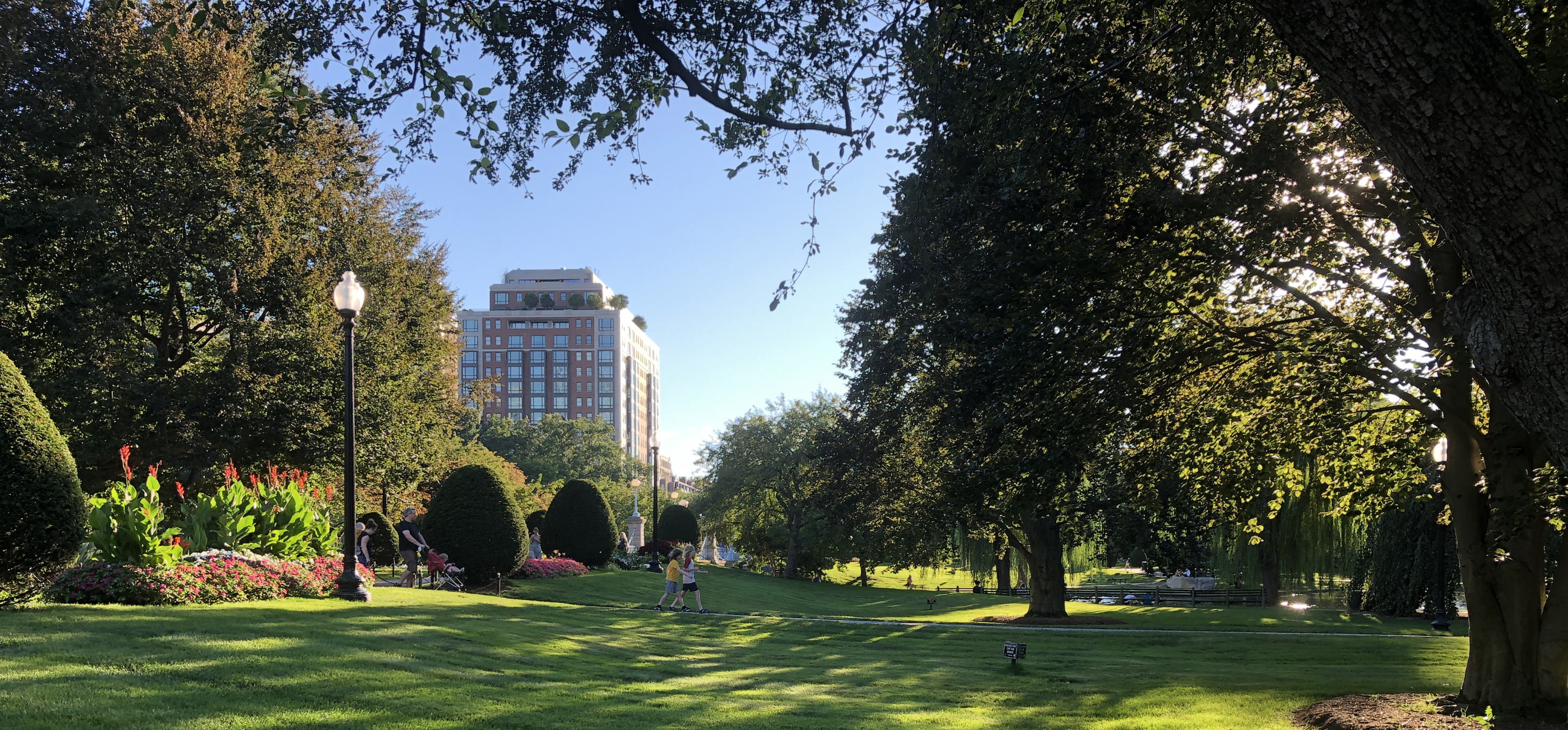 By now I was quite overheated from my stomp through the parks. I finally arrived at the Cheers bar after turning around several times, stopping to pay a busker expertly playing "Mary had a Little Lamb" on a traditional Chinese instrument, and asking directions of a few passersby.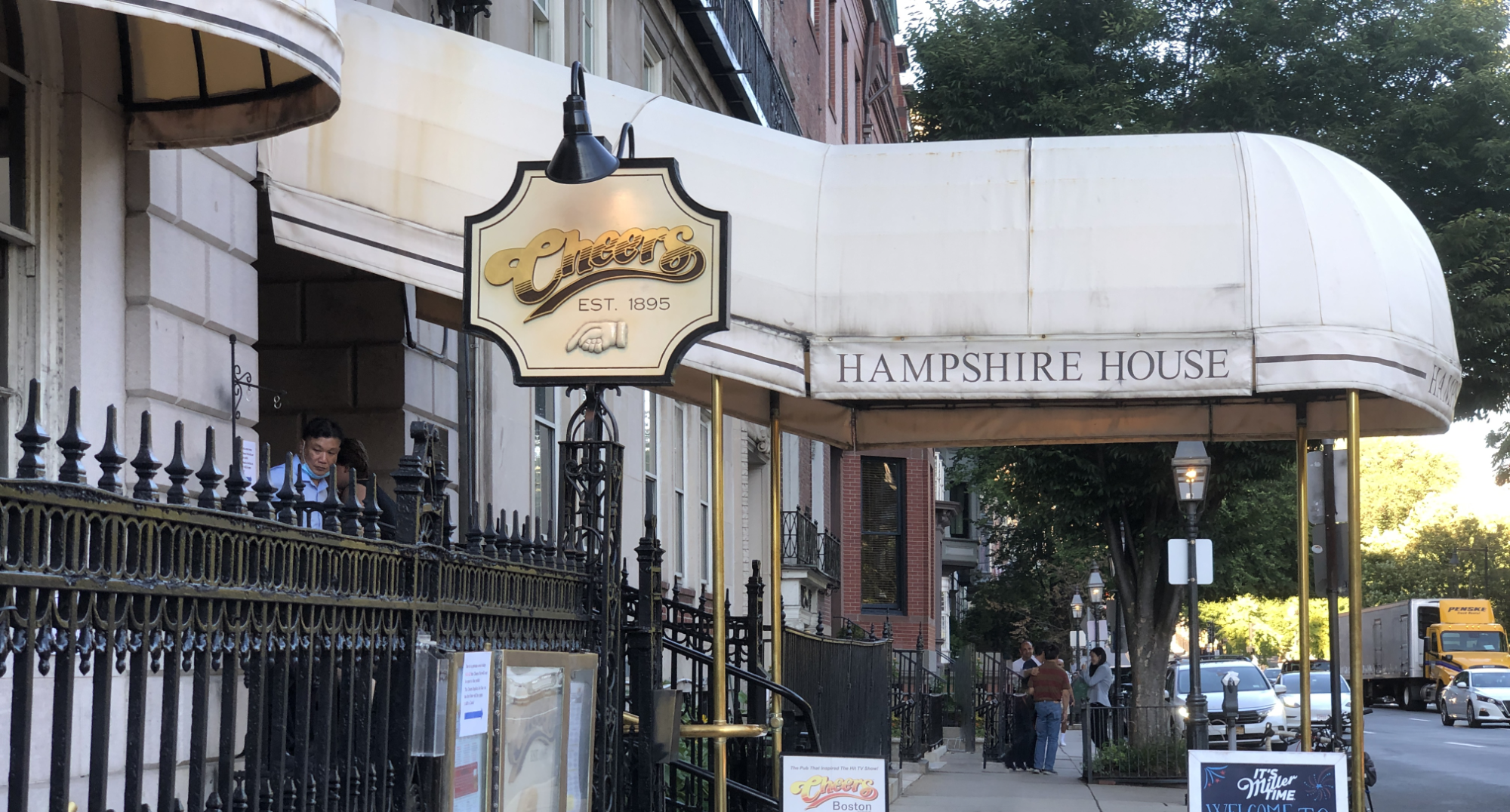 I was the first of our party at the bar, but as I made my way down the familiar stairs I heard several others in our group just behind me. We entered not into the typical bar of the TV show, but into a tiny — and I mean very tiny — little bar with a buffet table prepared at the back wall.
I wandered about taking photos (none of which worth sharing), but all my Covid-safety alarm bells were blaring as I pictured this tiny room full of unmasked people. Time to leave! So, after having taken about 30 minutes walking to get there, I spent about 180 seconds at the social event then I turned around and quietly slipped away. I felt a small pang of guilt for leaving because I know that a lot of effort and care goes into putting these events together. But I escaped, crossed the street, and veered back toward the parks to slowly wind my way back to the hotel.
And here's where I had my favorite few minutes of the entire week:
Earlier, on my way to Cheers, I'd passed by an older woman sitting alone on a bench in the Boston Garden park. She was striking: a lovely face with carefully coiffed light gray hair, a dark suit, and a fashionable handbag. She was sitting on the bench looking very proper, but she was looking into the trees with a look of joy that was striking. As I walked past, that amazing look on her face left me musing on what her magnificent story must be.
And so now, walking back thorough the park, I saw her again, only this time she was walking about, gesturing and talking to the squirrels.

At first I thought the joy I'd seen on her face before must surely have been insanity after all. But then I realized that what she was doing was urging the squirrels over to where she had placed a rather huge pile of nuts at the base of a tree. The joy she felt communing with the squirrels and treating them to a nutty treasure… It was a magical moment to secretly witness.
The rest of the week went well: successful meetings, some great people, and good progress on projects.
The last day of the trip arrived, but my flight didn't leave until 7:30 pm. I got up early and packed, left my luggage downstairs with Willie the bellhop, then took a taxi to the Boston Aquarium.
My favorite thing was seeing the sea turtles, one of which was so large, I'm sure he weighed at least three times what I do. It was a great little aquarium — but permit me to put extra emphasis on the word little. I revisited a few tanks more than once and lingered in the gift shop to buy a plushie sea turtle for my awesome little granddaughter,  yet still the whole visit took little more than an hour.
After the aquarium I wandered about the Boston Harbor area for a while, taking photos of the lovely arbor-covered walkway and fountains. Then I stopped in at a great local diner called Anthony's where I had the best breakfast sandwich I've ever had.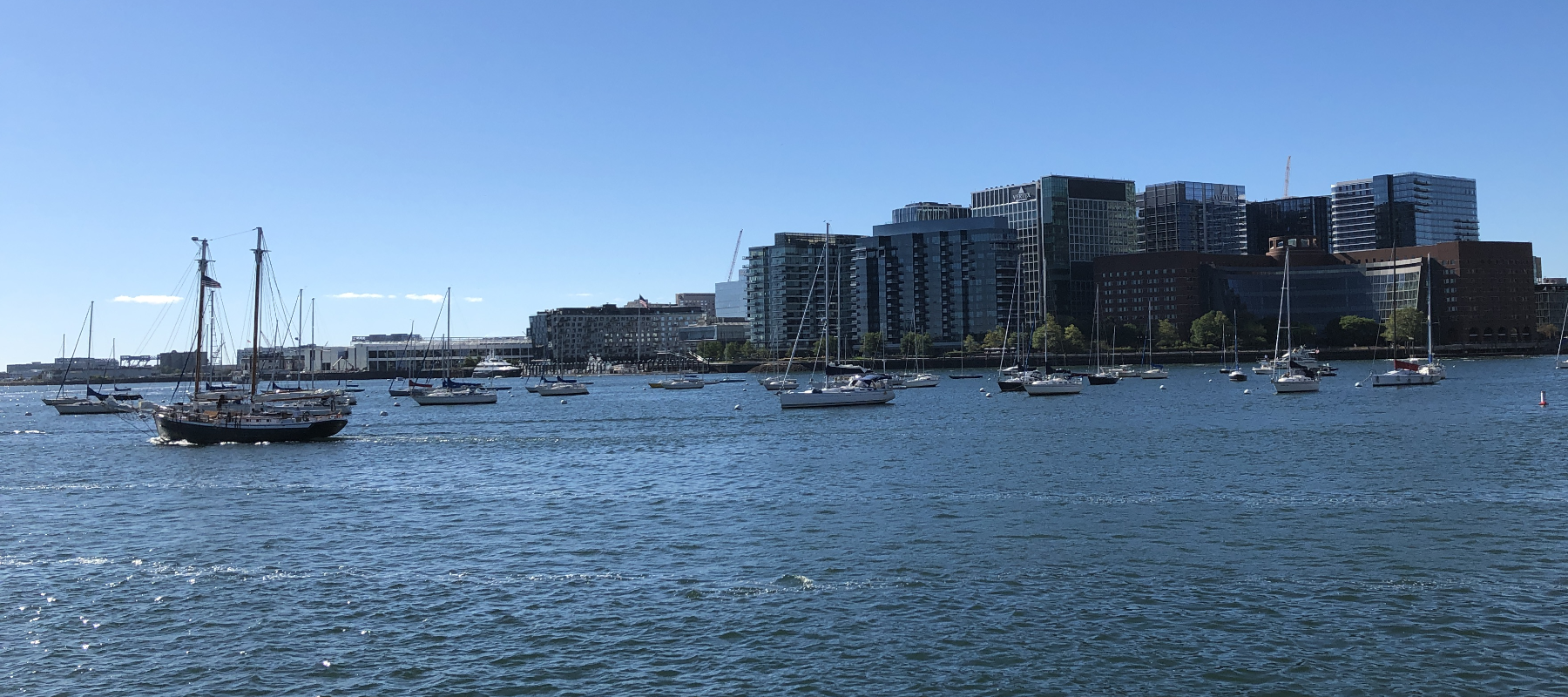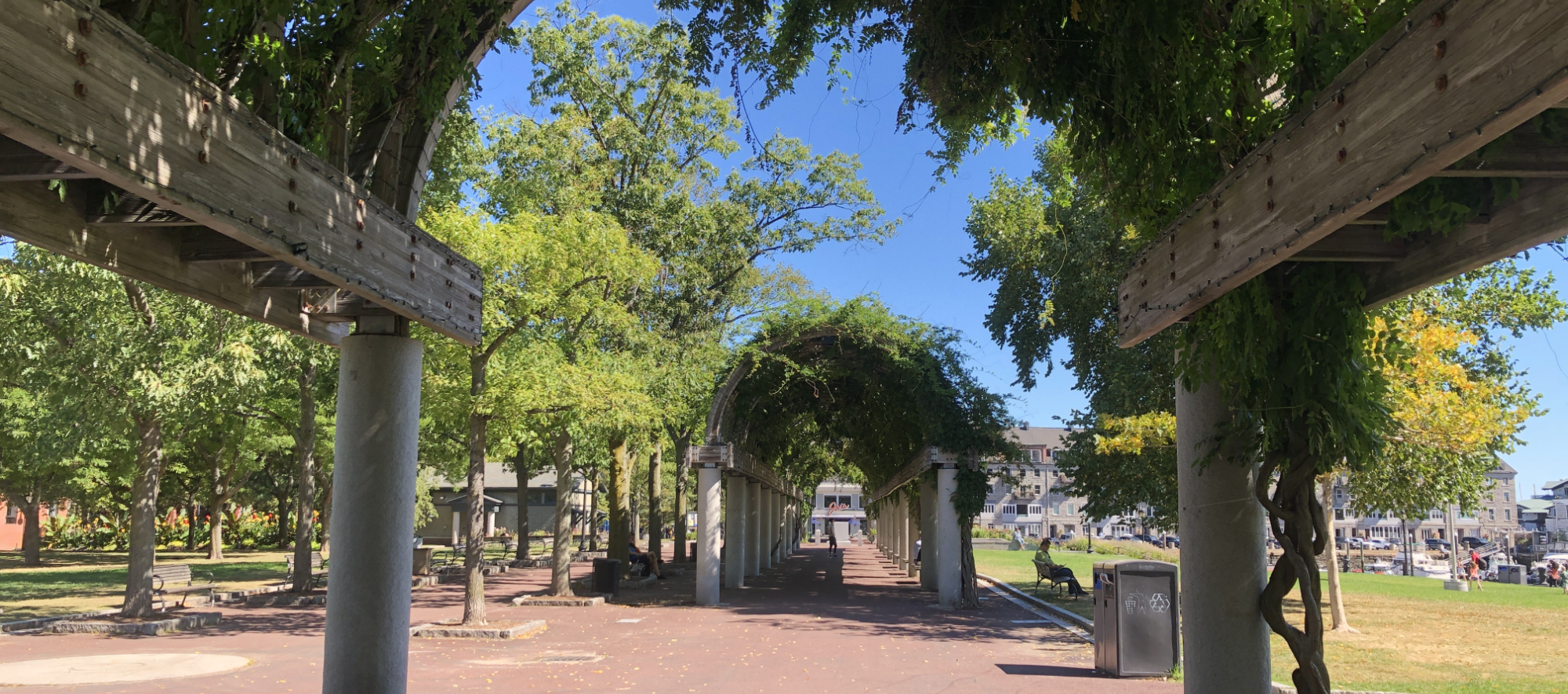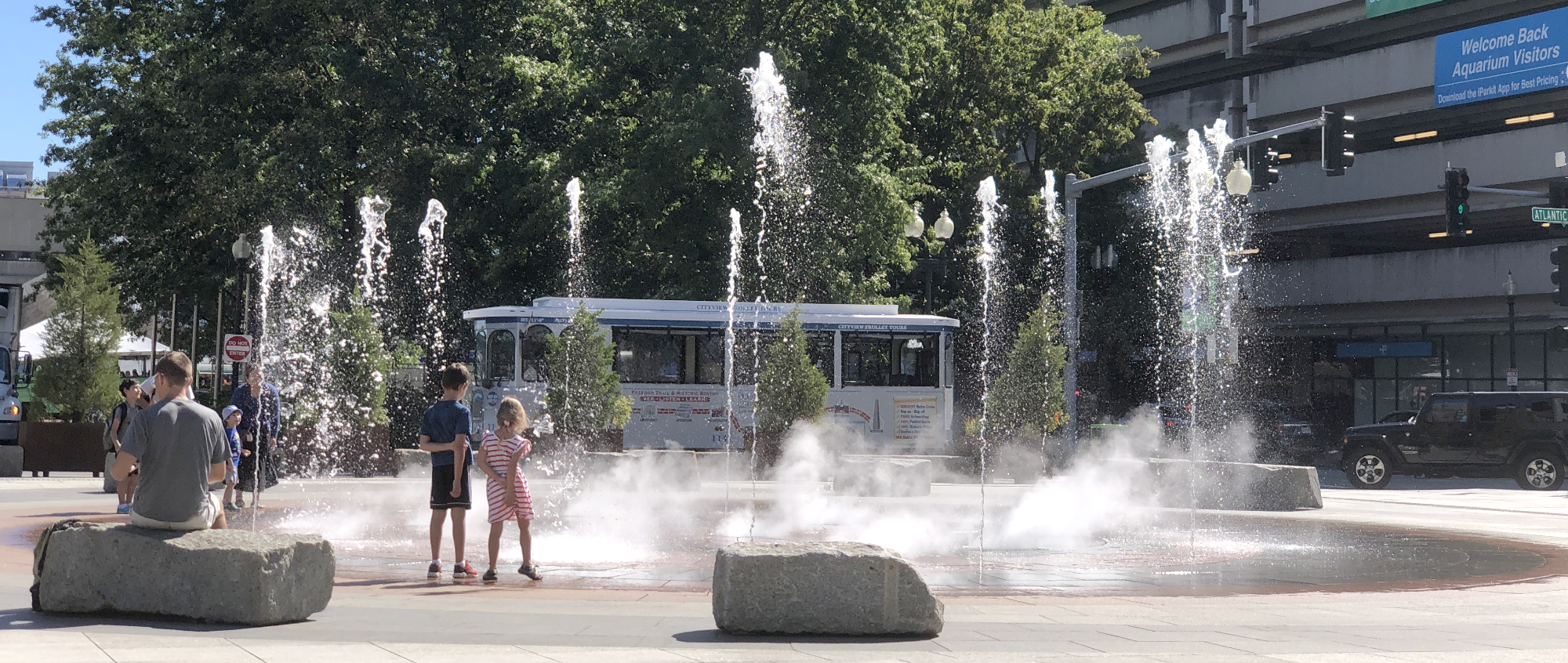 It was now shortly after noon. With nothing in the area sparking much of my interest, I decided I'd head back to the hotel and start the process of getting to the airport. But when I consulted my phone and checked the map, I realized I was a mere 25-minute walk from the hotel. I could do that! An hour later after a wonderful walk and visits in a few shops, I got to the hotel.
I reclaimed my luggage, then Willie called me a taxi. Willie then stood at the curb with me, telling me about his family, their move here from Savannah, Georgia, and life in Boston. He ended with a passionate discussion about his religion (he was a Jehovah's Witness). Once a conversation turns toward religion I normally run away, but I was enjoying how engaged Willie was, how meaningful this was to him. Frankly, his joy reminded me of the squirrel lady from earlier in the week. Yes, it was a long 30 minutes, but it was actually very nice.
My flight home was completely uneventful, as all the best flights are. And at the end, I was very glad to be home.
I'll leave you with this timelapse of the sunset: