My brother and I enjoy seeing interesting or notable performances of the music of Philip Glass. Having learned of an unusual new performance of the music of Einstein on the Beach taking place in Brussels, we knew we had to make a brief trip there from our homes in Portland, Oregon, USA to attend. This would be our fifth time traveling together for a Glass event, and our third time doing so internationally.
June 3-4, Travel and Pissing Statues
We left Portland on Monday, June 3 and arrived in Brussels early on Tuesday. The Brussels airport is modern and clean, but considerably smaller than the airports in the other European cities I've visited, so it was very easy to navigate, as was the train station beneath the airport.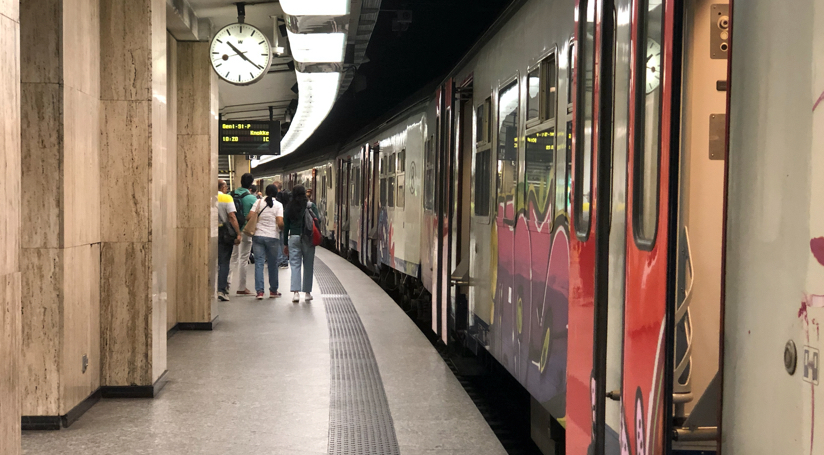 The train took about 20 minutes, then we spent another 10 minutes or so walking to the flat I'd rented on AirBnB. It was early enough in the day that it was too early to actually check in, but we went there anyway in the hope that we could leave our luggage with them while we explored the city center. We were pleased that they went ahead and gave us the flat early (although after the trip I saw that my AirBnB user review was downgraded from 5 to 4 stars because of this).
The flat was extremely spacious and very modern with two good-sized bedrooms, lots of windows, and a strange little private deck. The location was ideal: located in nearly the very center of Brussels in easy walking distance from a metro station and many museums, restaurants, and other things to see and do.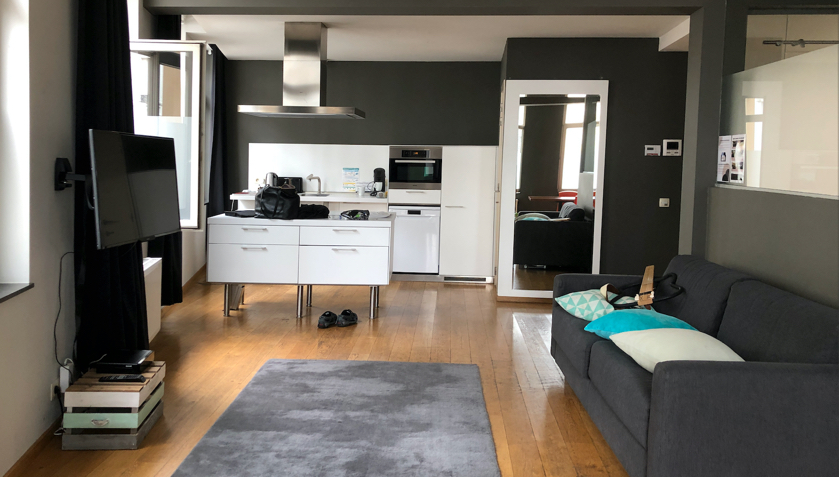 Of course, being so central has the downside of being surrounded by traffic and the noise that brings. This wouldn't be such a big deal, except that as there was no AC and we were there in the early days of a hot June, we had to keep the windows open if we were to be at all comfortable.
And so, exhausted from travel and jet lag, we hung out in the apartment just a short while to check email, plug in to top-off our devices, and chill. It's wonderful to have a place with plenty of room for us to work and hang out together, which is why I don't like to just get hotel rooms when there's more than just me. [With only one exception (in December 2019, described here), my experience using HomeAway and AirBnB has been pretty positive.]
We were both very hungry and it was way too early (not even noon) to give in to the exhaustion we both felt, so we headed out in search of a restaurant. We found a little cafe, had a small lunch: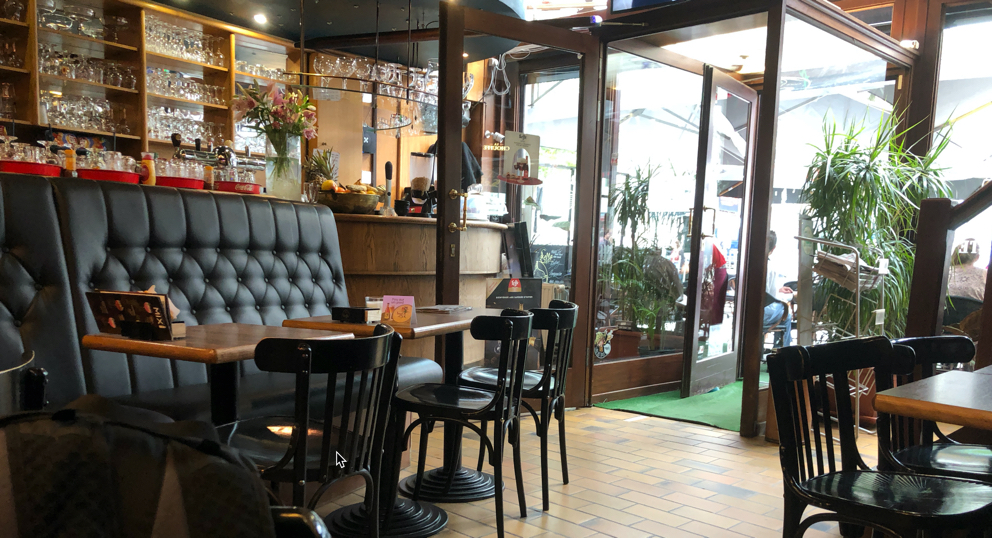 … then enjoyed seeing some sights. One of the first things we noticed was that the town center was decorated with bicycles as the theme. We asked someone, and they explained to us that the locals were very proud that the Tour de France, which was launching on July 6, was going to start out from Brussels. We enjoyed spotting the yellow bicycle decorations all over town throughout our visit.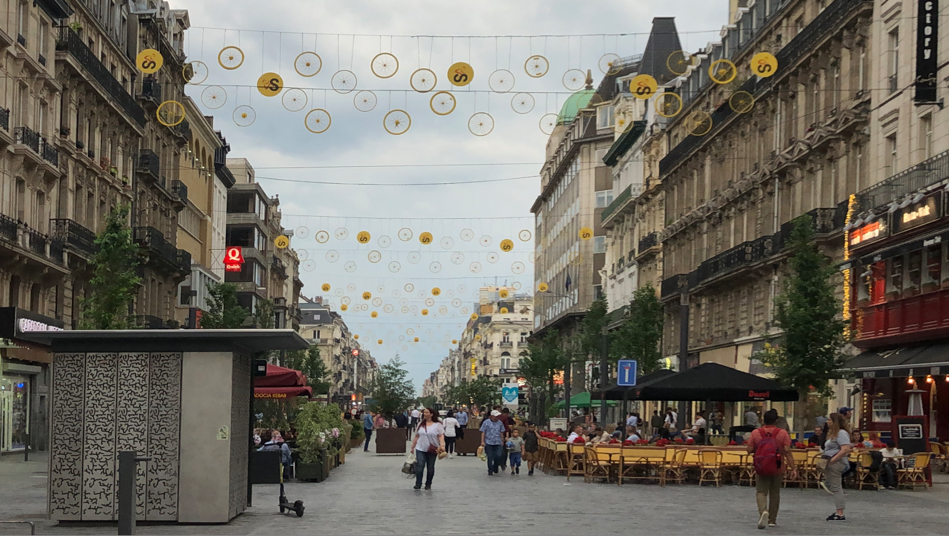 After a bit of wandering, we stopped at a grocery store to load up on fruit, bottled water, and supplies for breakfast — then got back to the flat at around 1:30. It didn't take long for us both to feel incapable of functioning, so we went off to our rooms, set our alarms for just two and a half hours, and took much-needed naps.
In the late afternoon, refreshed and ready to stay awake the rest of the day, we fought the urge to have coffee as we studied maps and planned what we wanted to do.
I came across a dot on the map for "Jeanneke Pis," which is a pissing fountain erected in the 1980s as a direct gender-balancing response to "Manneken Pis" — the absurdly famous fountain featuring a small boy urinating into a pool. It was so funny to us how famous these statues were and how the tourists flocked to them, and decided we needed to add ourselves to that throng of piss-curious onlookers. Honestly, it's like we are a bunch of second-graders giggling about pee. As the Manneken statue was very famous, it was easy to find, but we walked all over the place to find Jeanneke, taking many photos along the way: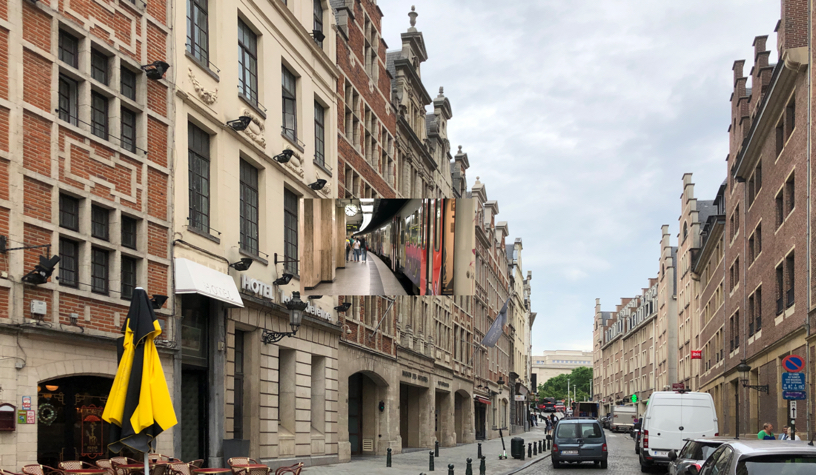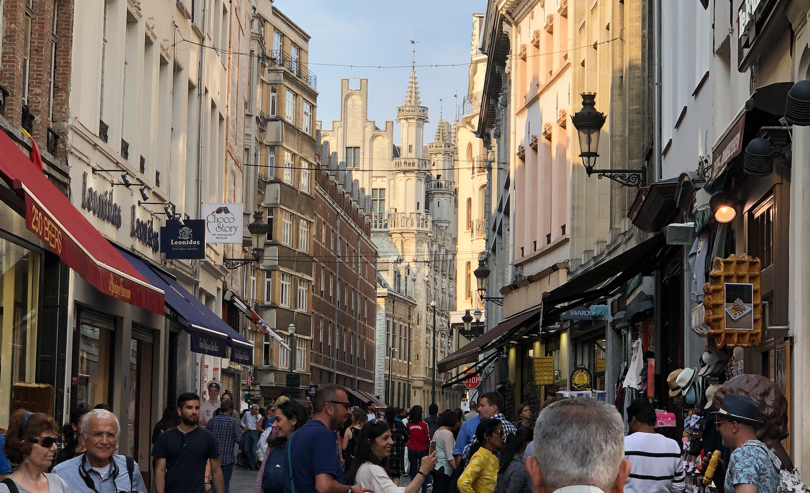 I can never resist taking pictures of street art: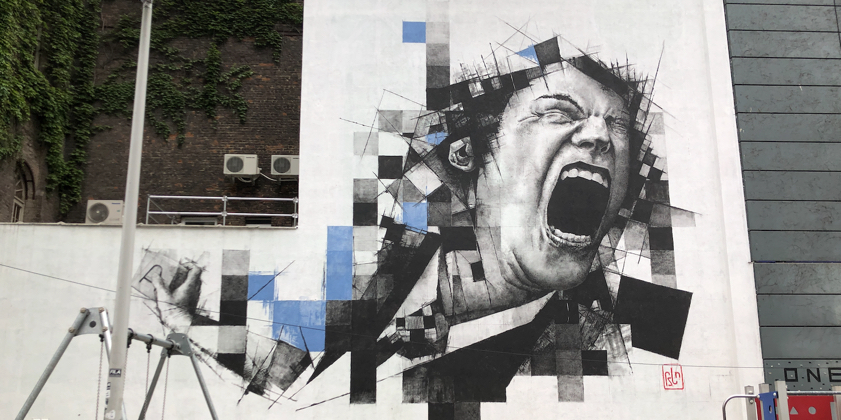 Finally we found the second one. Here they are: Manneken is the boy and Jeanneke is the girl. A bit vulgar, in my opinion, but maybe that's just me.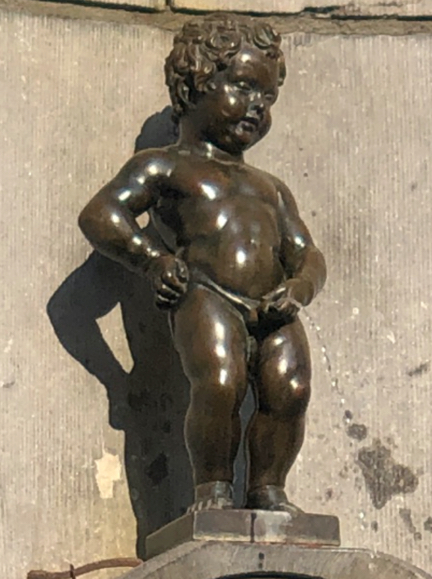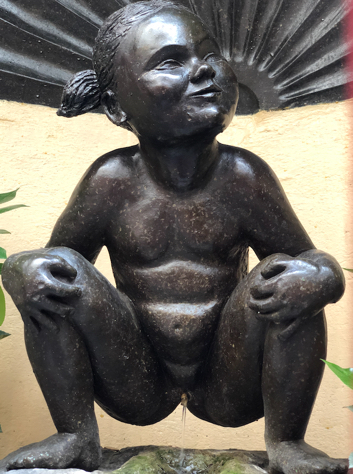 During this march all over central Brussels looking for Jeanneke, we passed by the Grand Palace. It was a large square flanked by beautiful old buildings with incredible detail. It was jaw-droppingly amazing and just the sort of thing I'd normally take 80 or 90 photos of. But sadly, since I had spent the last few hours heavily using the GPS in my phone in an effort to find those two pis statues, my battery was fading fast and I was trying to minimize the photography so that my battery would last long enough to direct us back to our flat. (Shame on me for leaving the house without my Qi powerbank!)
And frankly, the place was so teeming with tourists that it would have been difficult to get a good shot anyway. Here's a quick snapshot I took of some gilded buildings that I would dearly love to have another chance to photograph someday: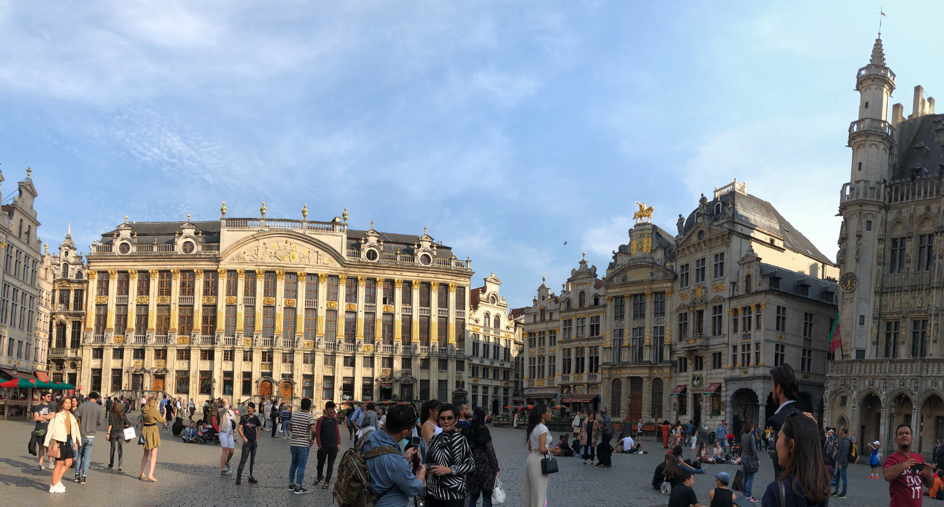 And here's the top bit of one of my photos, and a closer-in crop beneath that to show some of the amazing detail: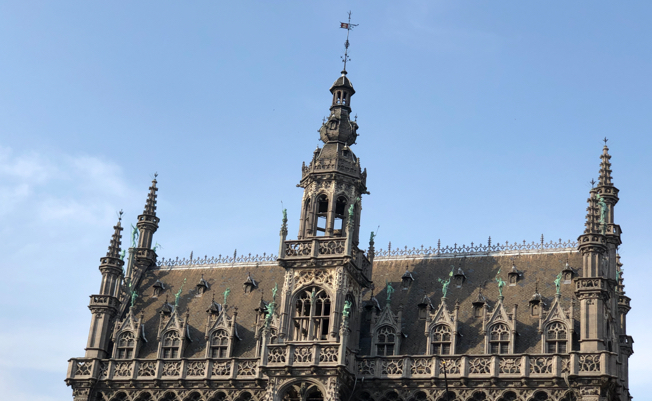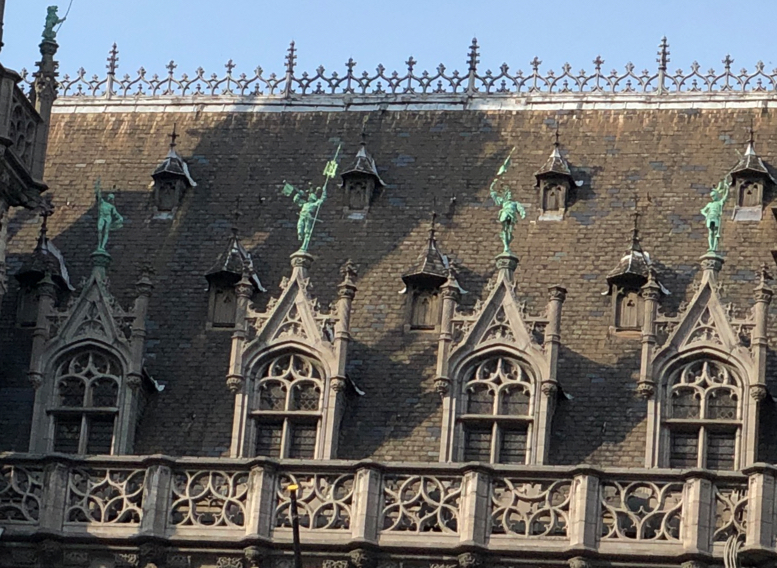 We went back home, thoroughly researched how to use the metro tomorrow, then headed back out for dinner. We stopped to purchase our metro tickets to save ourselves from having to do it in the morning, then ended up at an excellent Chinese restaurant. Here's my brother, Tim, impersonating a walrus: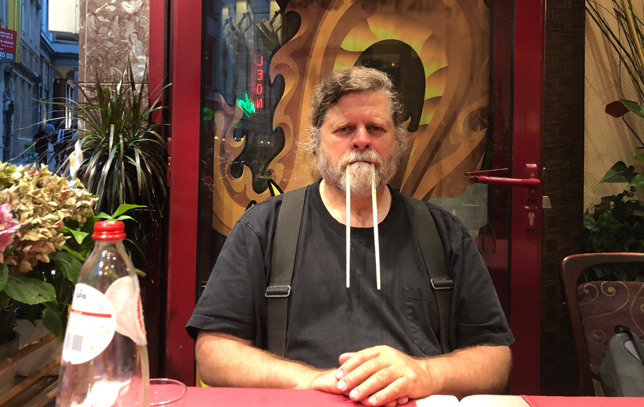 June 5 – Museum and Einstein
The next day, June 5, we got up early, walked across the street to a nice coffee place to get some caffeine to bring back with us to have with our breakfast, then spent a few hours catching up on work and planning our day. By the way, it's nice that we have a kitchen so we can have breakfasts here, but the kitchen is not stocked too well. Notably: there was no salt, which made the eggs we made for breakfast a little disappointing!
I'm not a buyer of gratuitous souvenirs, but I do like to buy a local treat to bring home to share with the group of knitters that I meet up with nearly every week. I knew Brussels was famous for its chocolates, and I aimed to find some. I noted a few likely likely places that showed up on my Google map, then we set off with the goal of finding chocolate, coming back to the flat to drop off my purchases, then heading back out.
We saw more wonderful sights of the city, including this street art: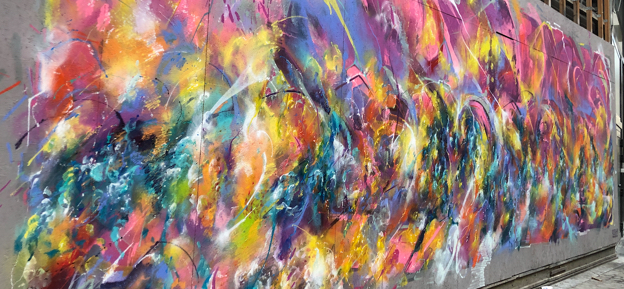 And I loved the texture of this facade: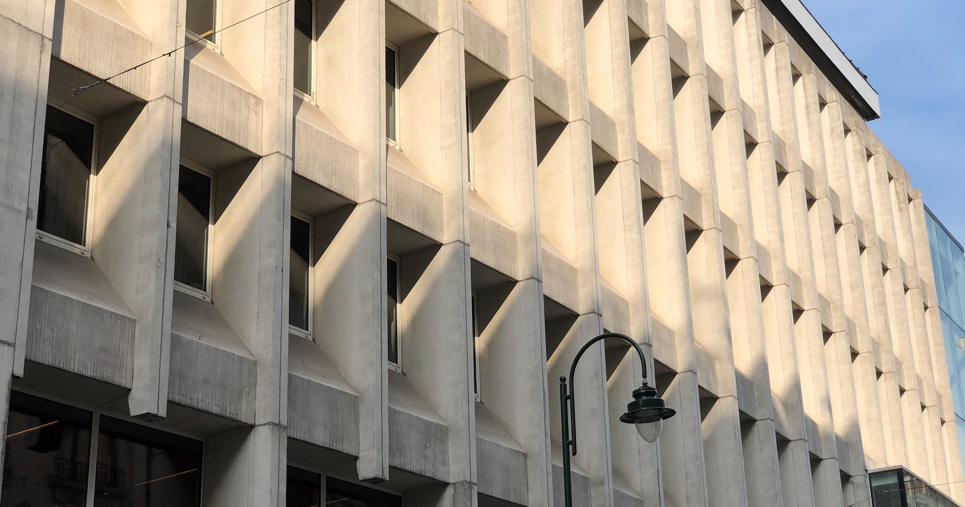 … but we didn't get my chocolate. The first store we went to was closed down, and the next two were filled with the same exact stuff that I'd seen in the shops at the airport. I decided to hold out for something special, and if I failed I could just get something at the airport on my way out.
So with the Great Chocolate Hunt off the list, we headed to the Brussels Royal Museums of Fine Arts (plurals intentional).
We took the train just a few stops north, and got off at the stop by the Parc de Bruxelles. What a lovely park! They had several areas where they created walls by intertwining the branches of the trees — it must have taken a decade or more of effort!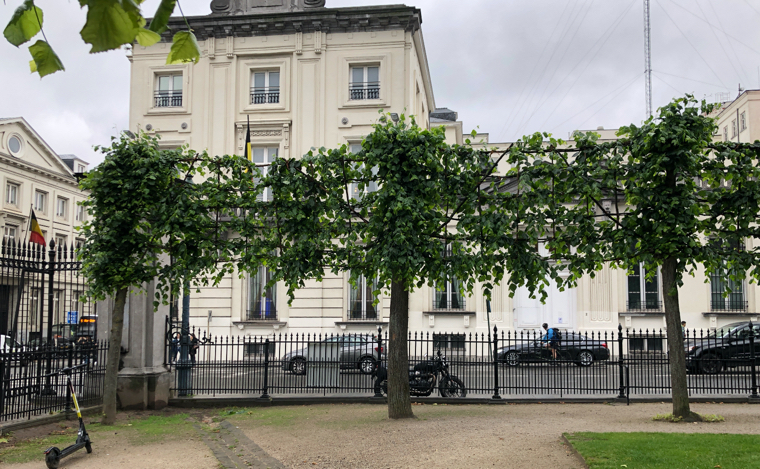 We walked all the way through to the south end of the park, then on down a little ways to the Museums. This is a complex of museums, and "complex" in this case is an appropriate group word, because we had a very difficult time figuring out what was where. I could try to give you a blow-by-blow, but basically "We saw a lot of cool stuff." It was mostly "old masters" stuff, but there were also a small number of modern pieces that I really liked, as well as interesting statues.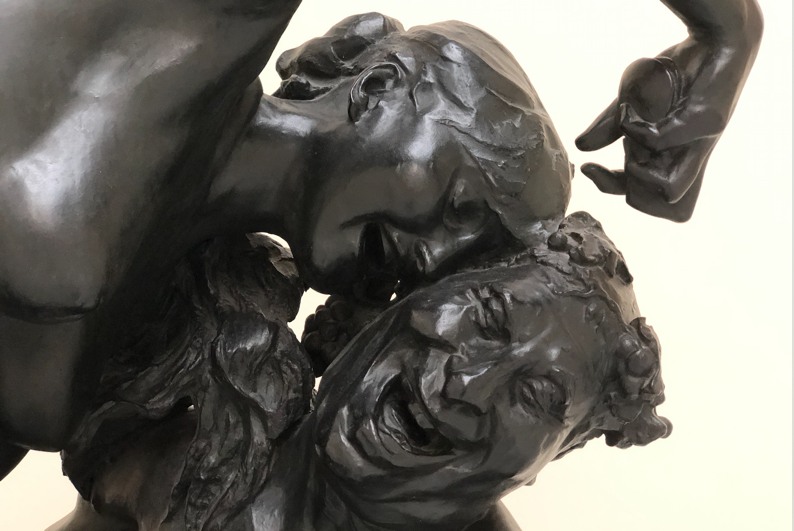 Of the "Old Masters" stuff, I found myself completely entranced by the details in the paintings of clothing. Look how this artist painted the stitches and the sheen: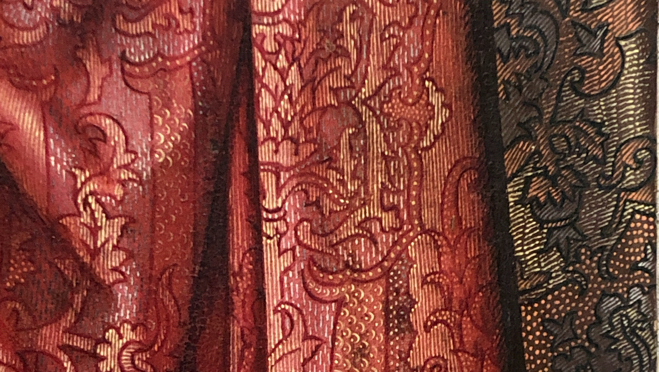 There was also some pointillist stuff: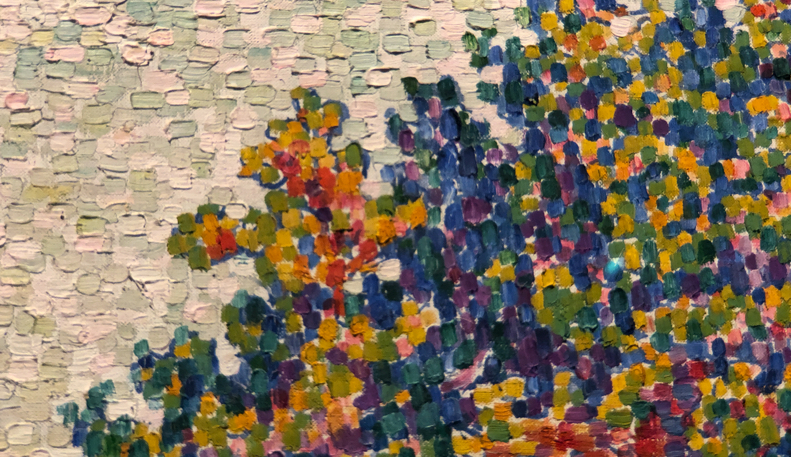 The exhibits wound down five floors, and by the time we'd seen it all we were both exhausted, had aching feet, and weren't relishing the idea of walking up five flights of stairs to the exit, not to mention the long walk back to the metro — so we took the elevator. Image our delight when the elevator doors opened and we saw a huge elevator with two benches! Thank goodness for that long, slow elevator ride.
Once we left the museum our intent was to head straight to the train station — but the view was so lovely that I had to take some pictures. We walked around that part of town just a tiny bit (it was much more modern than our neighborhood). There was an arch made of yellow bicycles: more public art in honor of the upcoming Tour de France.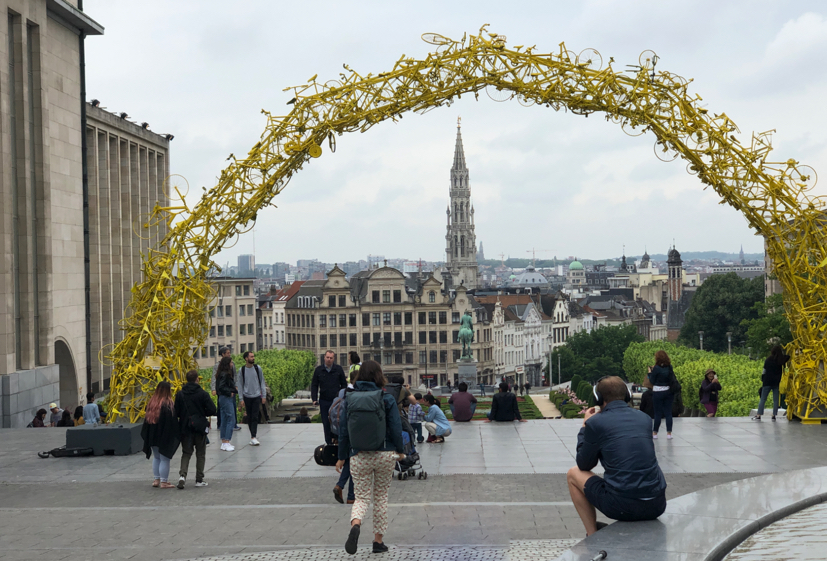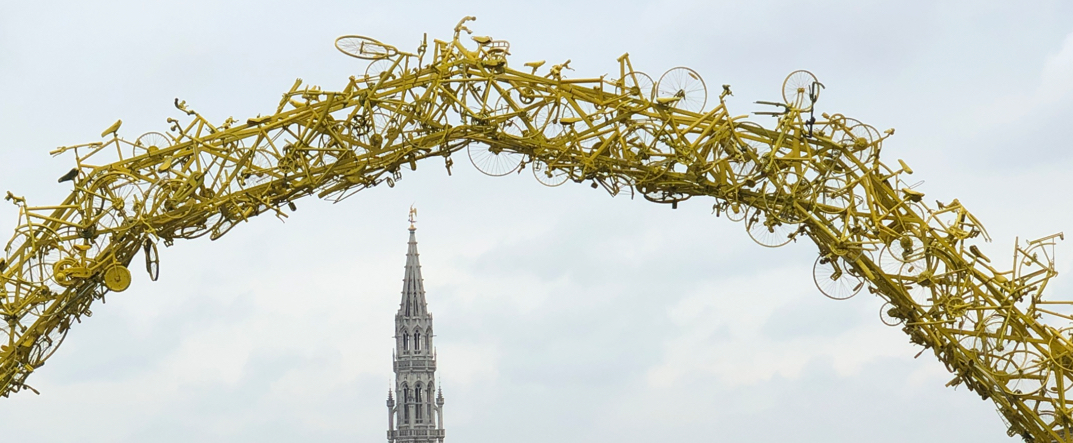 Then we went back up through the park, to the train station, and onto the train.
At our station we stopped in the store near our flat for more bottled water then went "home" to rest and give our generous doses of ibuprofen time to relieve the pain in our feet for a while. Then at just after 4:00 we headed out for our concert.
Typically when I travel to a different city for a Philip Glass concert, I like to get a place to stay that is close to the event venue. However, as the venue was far across town, too far from "the sights," I'd opted instead to get a place in the central city, which meant we needed to travel to get to the concert. We decided to use Uber, as the train route was a little indirect. The Uber guy completely ignored us, talking on the phone the whole time, but that doesn't matter, as we got there safe and sound.
We enjoyed some espressos at the venue, then walked pretty far to find a place for dinner — passing this interesting building along the way that appeared to have been struck by a flying saucer: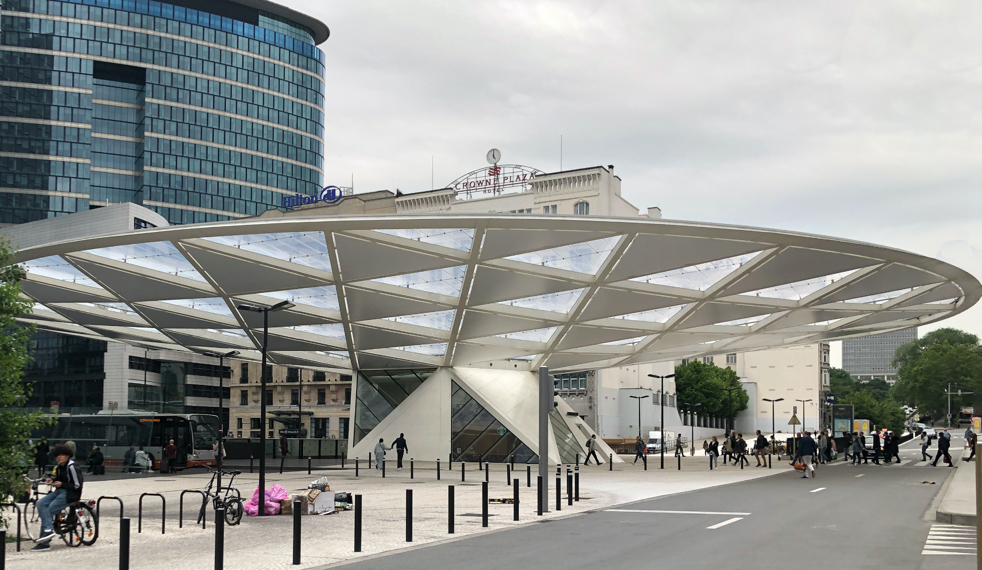 After dinner and the long walk back (O, our aching feet!), we returned to the theater and prepared for the show: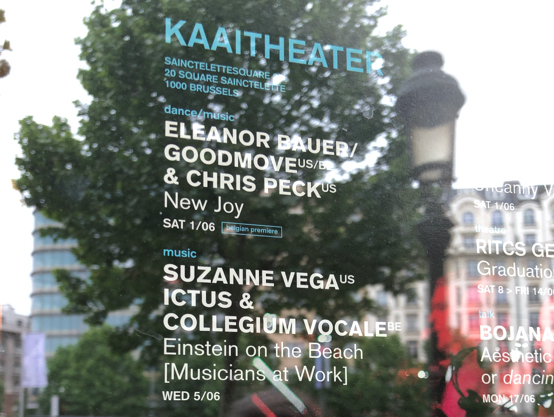 The actual Einstein on the Beach opera gradually starts the music while people are still finding their seats, and they did that here, too. I would never take pics during a production (I'm not a monster!), but it was okay for me to do it during this pre-show time.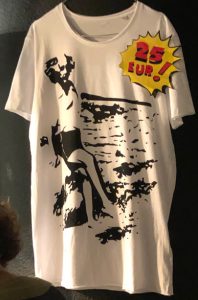 The "real" production of this show is over 5 hours long and performed without intermission. This performance was not the full opera, but was just over 4 hours long. And look at the tee-shirt they were selling in the lobby (no I didn't buy one)!
The production was good — but not superb. One of the keyboardists made quite a lot of mistakes, the synths were especially synthey, if you know what I mean, and they added in a random sequence that was musically interesting but didn't really fit. And the lighting was unpleasant: at the end they were rotating mirrors that put extremely bright light directly into the audience members' eyes.
But despite all that, it was interesting. They had two conductors: a traditional conductor and a person who counted out the segments and helped the musicians and the singers keep track of their repetitions and where they were in the piece. It was fascinating to watch. Also, this is such a long and musically difficult piece that when people were not actually performing, they would put their instrument down (unless they were a member of the chorus) and go find a place on the stage to just lie down and relax.
After the show, which was at the end of a very long day, we headed directly to the flat. We each retreated to our rooms and packed. The next day we got up very early, took the train to the airport, and flew home. This was a great trip, and one that added Brussels to my list of cities I'd love to spend some more time in.