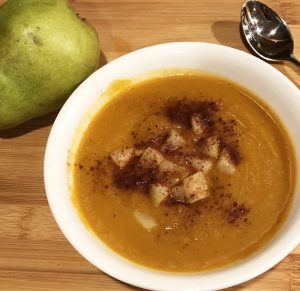 This is a squash soup with a savory sweet flavor. Try it with pear or apple, and don't forget the cinnamon. This would be great topped with Sweet Potato Hash, but is just fine without it. If you want to make it a bigger meal, add chicken.
Ingredients
butternut squash
chicken (or vegetable) broth
leeks
shallots
garlic
carrots
Anjous pear (cubed)
tomato paste
coconut milk
sage
cinnamon
nutmeg
ginger
cumin
maple syrup
lime juice
salt, pepper
Directions
Roast a whole butternut squash at 400 degrees for an hour or until easily pierced with a knife. White it's roasting, start some chicken broth simmering in a soup pot.
Sauté a bunch of leeks, shallots, garlic, and carrots with a pinch of salt then add it all into the pot.
After simmering for a while, add the butternut squash, a bit of tomato paste, herbs to taste, and cubed pear to the pot. Cook until the pear is tender.
Puree the result, lower the heat to below-simmering, and add coconut milk a tablespoon at a time to smooth out the texture, taking care not to overwhelm the soup with coconut flavor. Adjust sugar/acid/salt with maple syrup, lime juice, and salt. Add pepper to taste. Serve topped with sautéed diced pear and ground cinnamon.