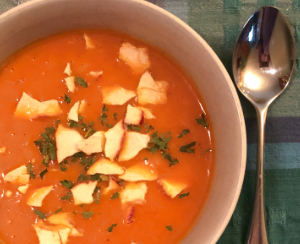 Rich and a just little sweet, this soup is perfect any time of year with a salad or on its own.
Ingredients
Homemade chicken stock
Onion
Garlic
Carrots
Tomato paste
Salt, Basil, Ginger, Marjoram,
Oregano
Brown sugar
Lemon juice
Apple cider vinegar
Salt
Butter
Directions
If you don't have homemade chicken stock and you don't want to take the time to make some, you might as well stop reading now and order a pizza. Start only with simple, pure, unadulterated chicken stock.
Peel and chop some carrots and start them roasting at 425F. Turn them after you see their edges browning.
While the carrots are roasting, heat up the chicken stock to boiling, then reduce to low heat. Sauté some onions until they're sweet, enliven the garlic, and add them to the soup pot. Add the carrots when they're nicely roasted.
Add a couple tablespoons or more of tomato paste and blend the soup until smooth. Add the herbs and make a first attempt at adjusting the salt. Then, to intensify the soup, add a tablespoon of apple cider vinegar, a teaspoon of lemon juice,  a  tablespoon of brown sugar, then readjust the salt to balance the sugar and acid.
Work in a tablespoon of butter to finish the soup, and serve. Garnish with a little parsley. Optionally add a little something extra for texture, such as chopped nuts or fruit. In the photo here, we garnished with dried apple chips.