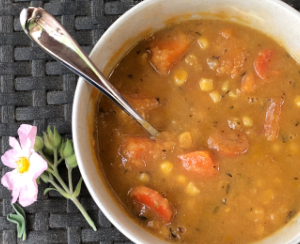 Knowing that I love anything with sweet potatoes and also that we had some sweet corn kernels in the freezer to use up, Dave concocted this amazing soup for dinner yesterday. I put this at the top of my favorite Dave creations. The vegetables perfectly compliment each other in the pureed base, and the whole corn kernels and sweet potato chunks give the perfect additional bursts of flavor, not to mention giving the soup a wonderful "not just a puree" texture.
Ingredients
sweet potatoes
corn
onion
carrots
celery
soy sauce
garlic
ginger
thyme
marjoram
basil
chives
nutmeg
cumin
maple syrup
apple cider vinegar
lime juice
almond milk
butter
Directions
Chop the sweet potato into large-bite chunks. Start the soup base, then prepare the roasted sweet potatoes and set aside until everything is ready for final assembly.
Soup base: Simmer equal amounts of raw carrots, celery, sweet potatoes, and corn in water with a little salt. Sauté some onions to sweeten them, but not enough to brown them, and add them to the pot. When the flavors are extracted from the vegetables, discard most of the vegetable matter, and puree the remainder.
Roast Sweet Potatoes: Toss some sweet potato chunks in peanut oil and salt, and roast at 420 degrees. Turn the potatoes every 10 or 15 minutes until browned on the outsides.
Final assembly: Briefly sauté some onions, carrots, celery, corn, and garlic on medium heat to sweeten them a bit, but not enough to brown them, then add them to the soup base along with the roasted sweet potato chunks. Add herbs and soy sauce, and simmer gently for 15 – 20 minutes. Smooth the texture by adding a few tablespoons of almond milk. Adjust salt, acid, and sweet. When the vegetables are done, reduce the heat, and finish by working in a spoonful or two of butter.