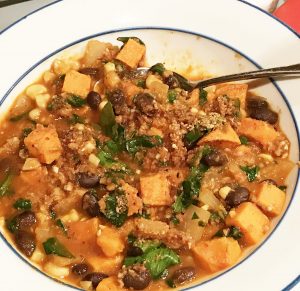 Building on my obsession with anything that contains sweet potatoes, Dave has continued experimenting with new dishes. Here I present this hearty sweet potato curry. It is a bit like a stew.
It is fantastic on its own, or could be served over rice, faro, barley, or pasta.
Ingredients
roasted sweet potato cut into chunks (3/8-inch to 1/2-inch)

onions

black beans

corn

chicken stock

tomato sauce

coconut milk, full fat

spinach

cumin

curry powder

sage

nutmeg

lime juice

maple syrup

salt
Directions
Potatoes:
Peel and cube the potatoes, then thoroughly toss them in a tiny bit of oil (I used peanut oil) with plenty of salt. Arrange the cubes on a roasting tray so they are not touching each other (if they're touching, they'll steam each other instead of roasting). Roast at 400ºF until 90% done, then add to the curry to finish cooking.
Curry:
Cut a generous bunch of onions into bite-sized pieces and sauté them on medium low heat with a bit of oil until light gold and tender. Add chicken stock, tomato sauce, beans, and corn, cook a bit, then add enough coconut milk to smooth out the texture without overpowering the flavor. Add cumin, curry powder, sage, and nutmeg, cook a bit. Make final adjustments to the acid-sweet-salt ratios with lime juice, maple syrup, and salt. Stir in the roasted potato cubes, and a wad of chopped spinach. Cook until the spinach is just slightly wilted, then serve.
Tip: Make a tasty topping: tear up some bread, toss in a tiny amount of oil, and toast in the oven/broiler until golden. Throw the toasted bread pieces along with some cashews, salt, pepper, and some sugar or artificial sweetener into a blender or food processor and pulse until finely chopped. Sprinkle over a bowl of sweet potato curry, on salads, or whatever.