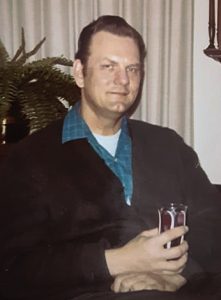 Between my mother and father, I had seven aunts and uncles: fourteen if you include their spouses. My folks moved across the country from Minnesota to California long before I was born and were strangely withdrawn from the families they had left behind. So even though I had a vast army of aunts, uncles, and cousins in the midwest, I only ever met a small handful of them.
My father's brother, Uncle John, moved close by in California, so my brothers and sister and I grew up knowing just that tiny part of the clan. From my mother's side, we only really knew my mom's sister, Aunt Margie, and her family: her husband Uncle Swen, and her daughters Bonnie and Nancy. Because they lived in Minnesota, we saw them only rarely — but the sisters put some effort into keeping their broods at least somewhat connected.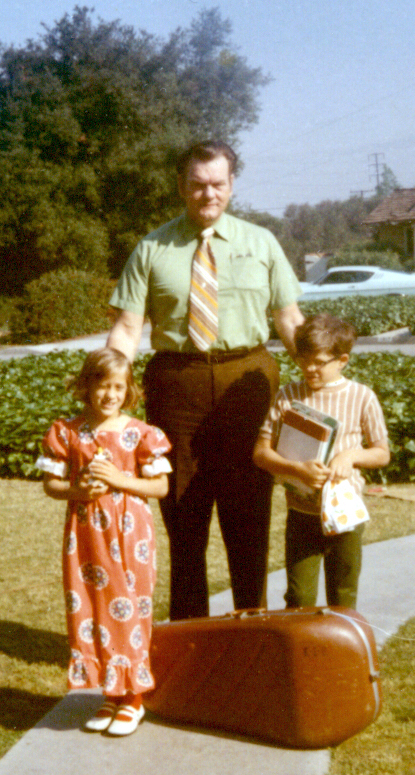 But what I'm really writing about here is my Uncle Swen.
Solidly built and 6'5″, Swen was simply the tallest human being  had ever seen. As a tiny kid of probably around four years, I felt like there was something so magical about this giant man. I loved climbing onto him and chattering on about whatever was going on in my world. What I felt around Swen was safe. Protected.
I have no memories of seeing him any time later in my life, so in my mind he will always be my own personal giant. (That said, here's a picture of him when I was in first grade.)
Life went on for me and for all the many branches and twigs of the family tree. All the kids grew up, my Aunt Margie and Uncle Swen went their separate ways, eventually my own parents split apart, and life went on.
I never saw Swen again.
Years later, nearly fifty years after I'd last sat in my giant uncle's lap, I learned that Swen had passed away. I knew nothing about what his life had been, and if I'm honest, hadn't thought much about him in all the years that had tumbled by. Or rather, when I had thought of him it was with great fondness, but the years between such thoughts were many.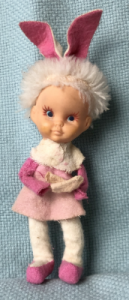 So imagine my surprise, when I learned that after he'd died and his daughters went to his apartment to pack up his belongings, they found sitting on his bedroom dresser a little doll that I had given him from my Easter Basket when I was very little. I'd completely forgotten about this doll. Even after his daughters mailed it to me and I held it in my hands, I still had so vague of a wisp of a  memory of it that I can't swear it's not actually just wishful thinking.
But no matter. The fact that my Uncle Swen had connected with his tiny niece all those years ago and had kept that memento means a great deal to me. And that this, let's face it, very creepy-looking doll was not just in a box of keepsakes in an attic but on display in his room makes it mean so much more.
There's a moral to this story somewhere. Actually, there are several.
One is that, no matter how alone you are, somewhere, someone just might be thinking about you with fondness. How many times have you remembered some random person from high school or earlier and it put a smile on your face. You have no idea how often there are people whose paths you once crossed who might be smiling as they remember you right now.
And then there's the flip side of that: We all live on in the memories of the people whose lives we have touched. Make it your goal that every memory of you is something that people will smile about.