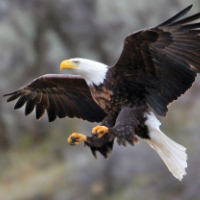 A number of years ago, my brother and I were driving toward town in Ilwaco, Washington. It was a crisp early-Autumn morning, and the sun was positioned just right so that everything was backlit.
Just as we pulled up to a stop sign, a bald eagle swooped low in the sky in front of our car.
Perfectly framed in our windshield, maybe 15 feet up in the air, the eagle let loose a massive wet, white stream of poo. Brilliantly, dramatically lit by the morning sun, the bright stream narrowly missed our truck and splattered, glittering into the street in front of us. 
After a moment to recover, my brother and I continued our drive in laughter, having been treated to a majestic show.