After spending five days in London, I headed to Granada with my daughter, Laura, and her husband, Pearce.
Journey to Spain: Saturday, February 3
We left the London flat at about 8:00am, leaving Tim behind, as he was flying home later in the day. We took the Underground to Heathrow, and flew to Madrid… getting there just before 4:00. It looked flat and dry, reminding me a little of flying over central Arizona.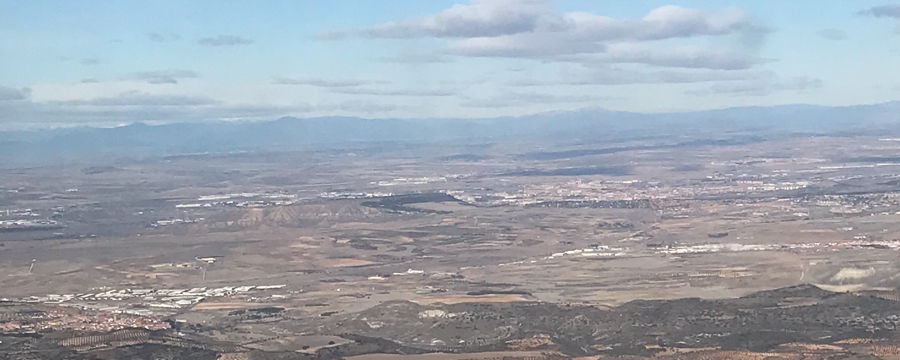 The Madrid airport  has really interesting-looking ceilings with undulating waves of wooden slats:

We walked to the other end of the terminal to catch our connecting flight with only about 15 minutes to spare. The flight to Granada was short and in a tiny plane:
It was about 5:00pm when we arrived in Granada. We were all so tired that we decided to take a taxi into town instead of the bus.
Driving the 20-30 minutes to central Granada, we could see huge snow-covered mountains nearby:

By the time we checked into the apartment (this one arranged by Laura) and caught our breath, it was about 7:00pm. We wandered around town to look for dinner. The streets were narrow, with tons of little shops targeting the tourists.
The first place we went into ended up being just for dessert, drinks, and hookah-smoking, so we got out of there. We finally settled on a place in the tourist area in the center of town, but it turned out to be remarkably bad.
After a completely unsatisfying dinner we meandered back toward home. When we got back to the flat, even though it was only about 8:15, we all headed off to bed. The kids took the one bedroom, and I took the sofa bed. Tomorrow we'll explore, although rainy weather was expected.
La Alhambra: Sunday, February 4
I woke up at around 5:00am, got up, dressed, put my sofa bed back together, then spent a few hours getting some work done. At around 8:00am we all went down the street to look for a place to eat, then we headed to La Alhambra, which was literally just two or three doors up from our apartment.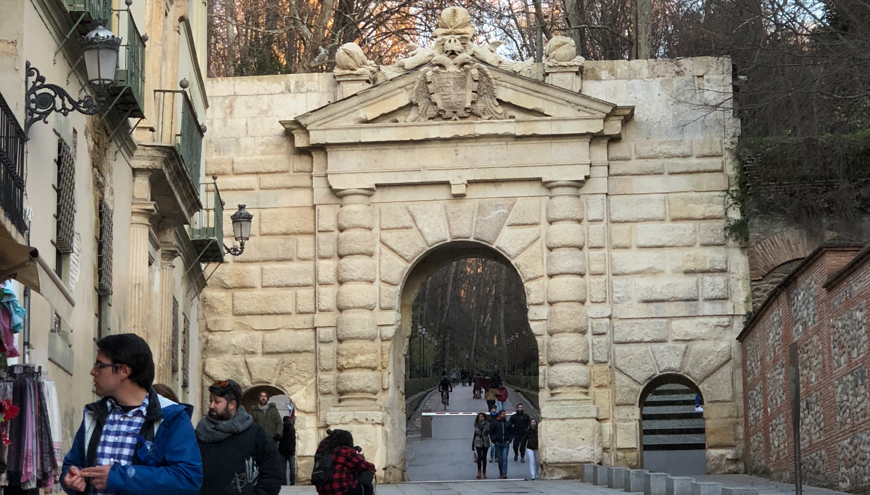 We got there at about 10:30 and explored for about six hours. Or rather, I finally had to call it a day at 4:30, but Laura and Pearce stayed on for a few more hours.
There were many stray cats in La Alhambra. They know humans provide food but they are also a bit afraid of the humans. One of them inadvertently bit me when I stupidly hand-fed it a piece of tuna.
Especially to someone from the US, where 300 years is old, seeing the buildings in La Ahambra was unbelievable. The style was a marriage of Spanish, French, Moor, and Roman influences, as this area was in each of those hands at one time or another through the centuries. I found this place immensely beautiful and terribly moving and inspiring.
I took nearly 500 photos, and none can come close to showing how amazing the place is. Following are some brief highlights.
La Alhambra is on a hill overlooking Granada: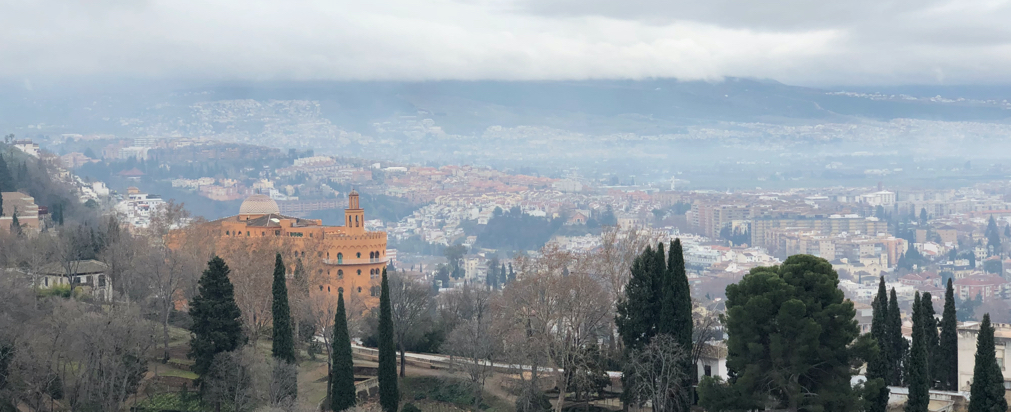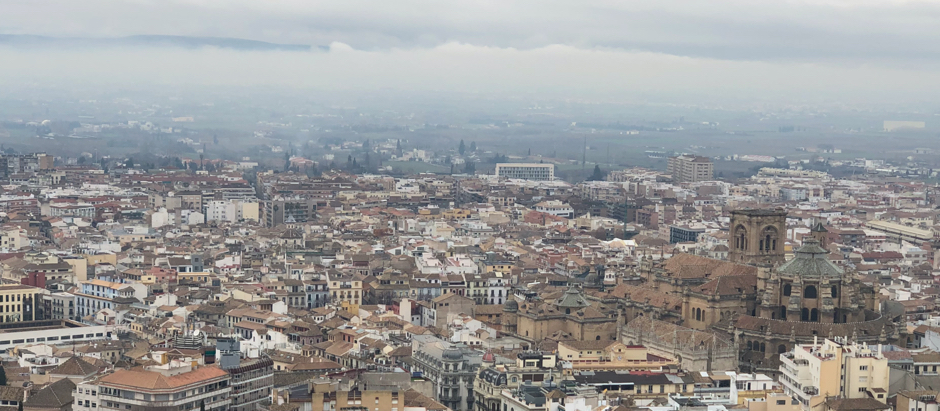 Many of the streets and walkways in this part of Granda and in La Alhambra are very old with stones pressed into the mortar in a pattern. This was taken to an artistic extreme inside La Alhambra.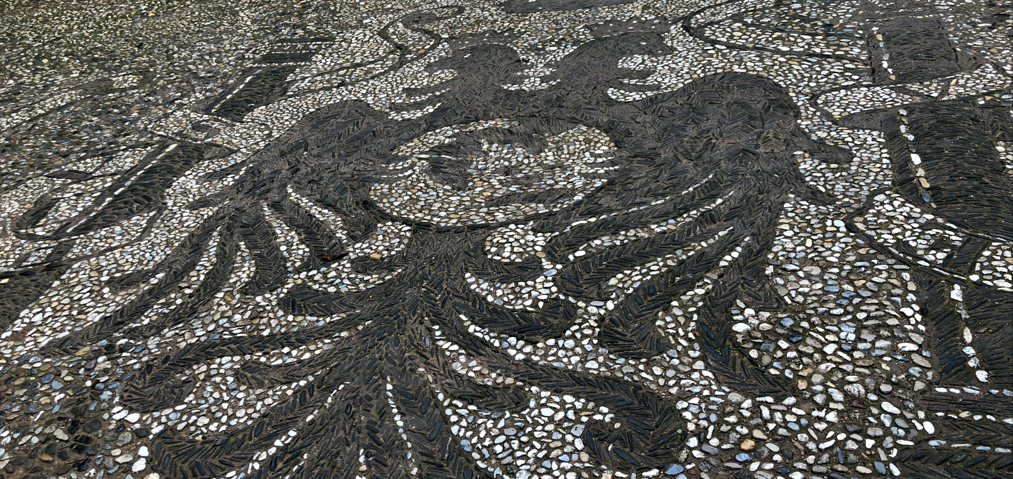 The ancient architecture was amazingly well preserved, which stunning carving and Moorish script and tile in many of the archways: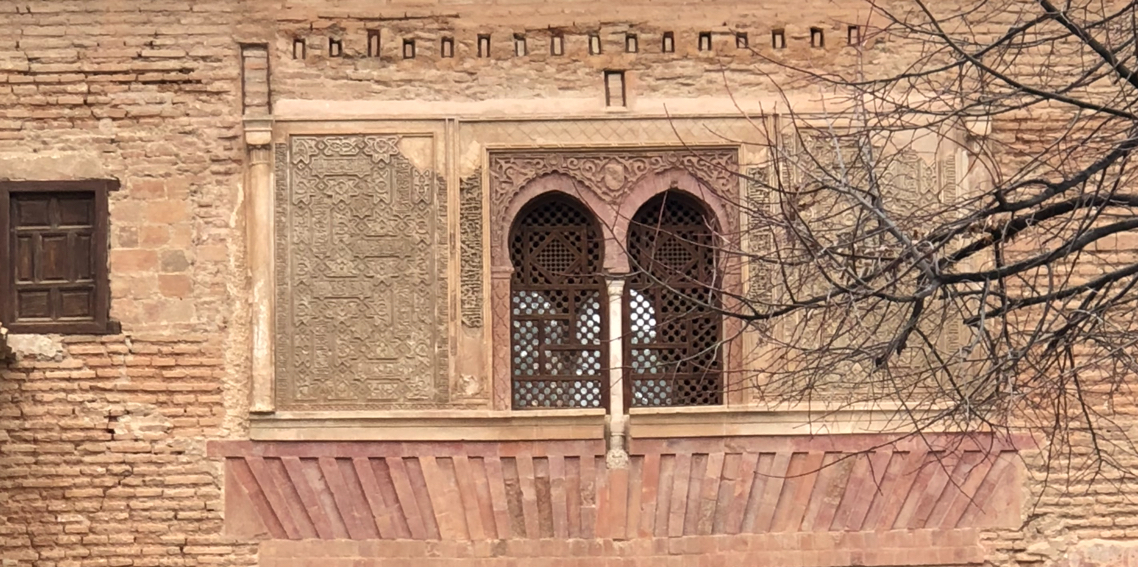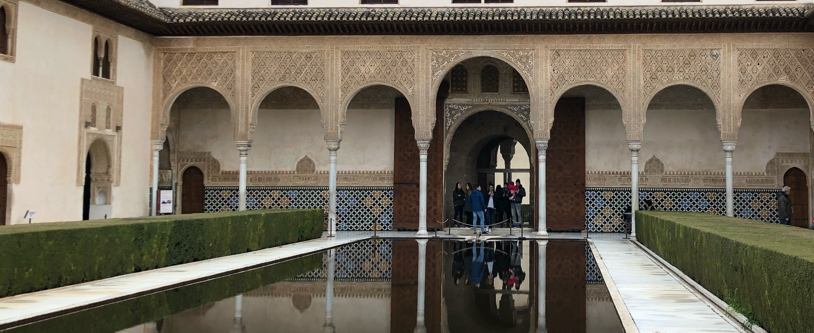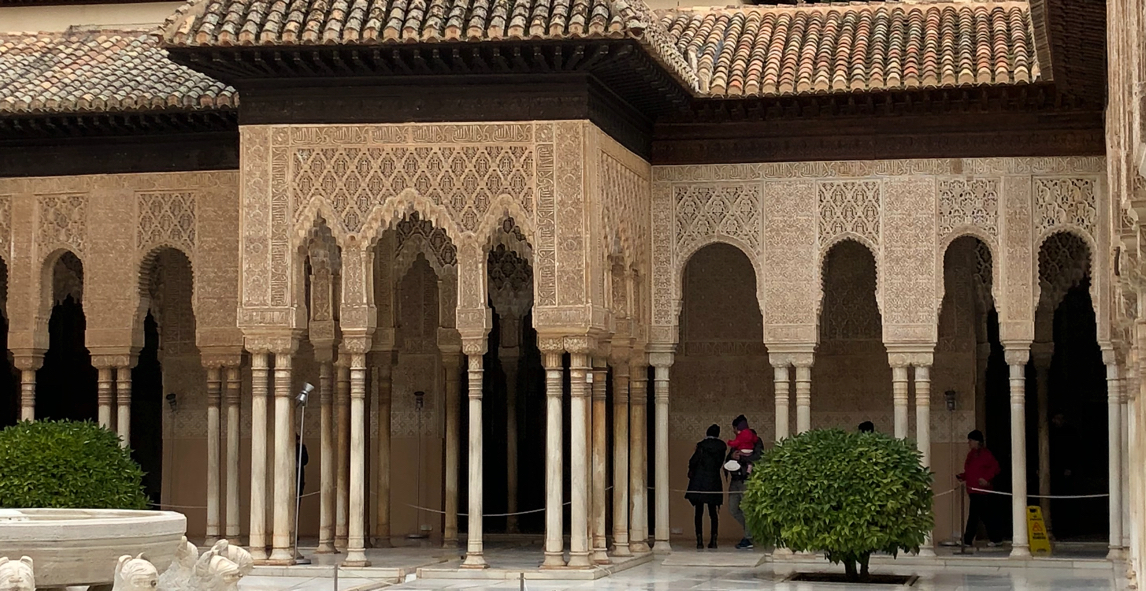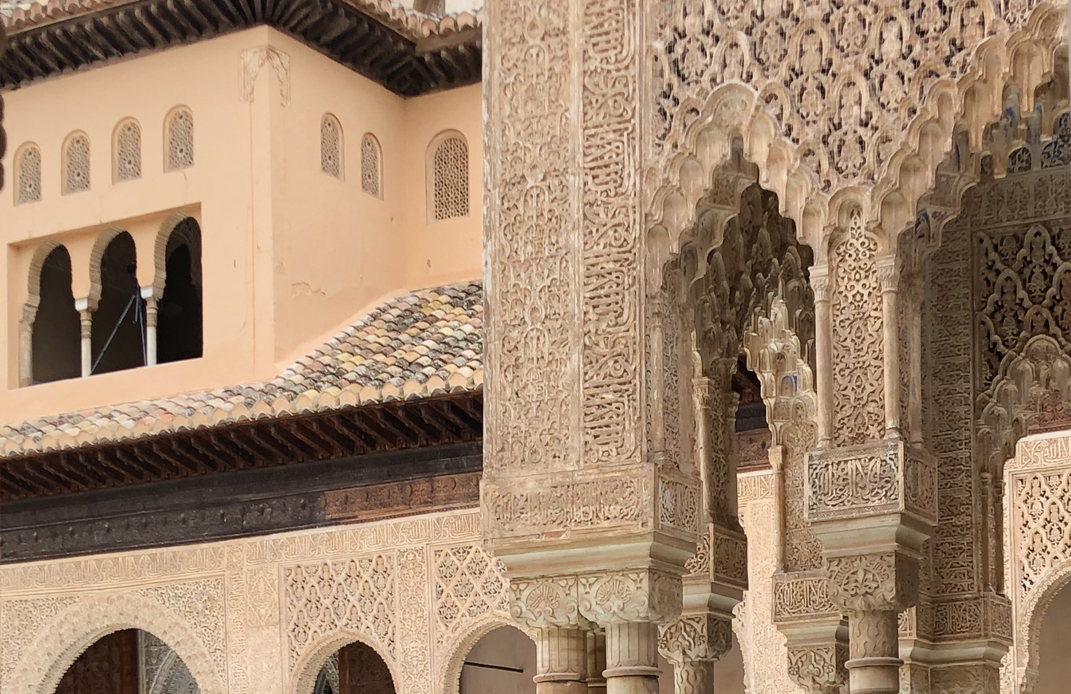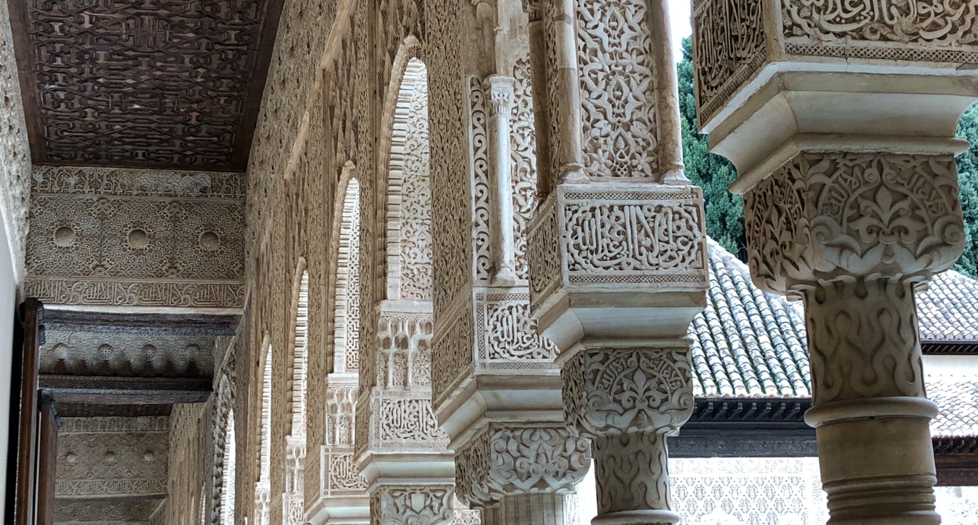 To imagine that all of this work was done by hand and that it has lasted all these years was remarkable: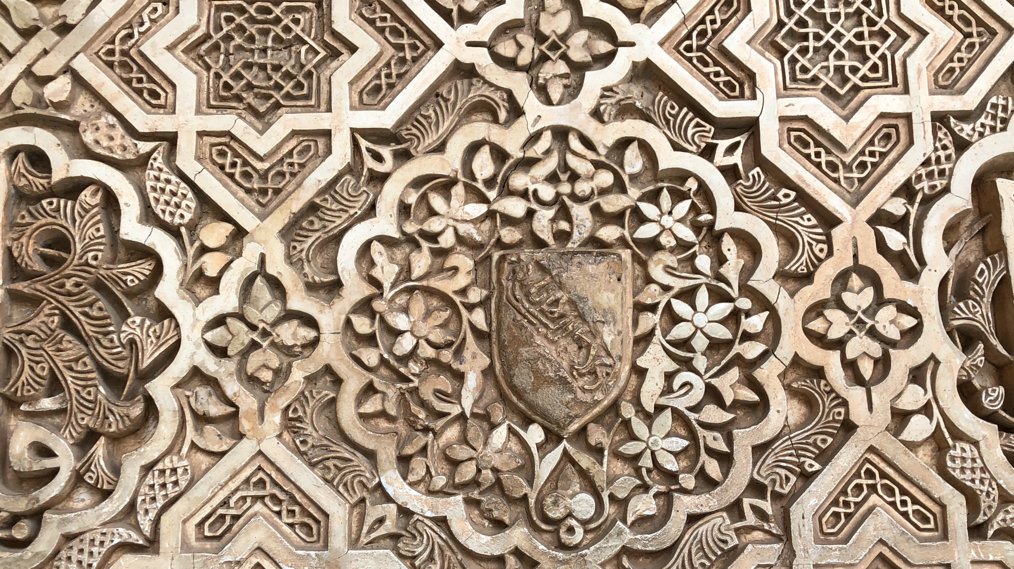 Exhausted from hours spent marching all over La Alhambra, we went out for dinner and wine. After the very dissatisfying dinner we'd had the night before, we were determined to do better this time: Laura researched and found a place that looked good, and off we went on our quest for great Spanish cuisine! We finally reached our destination, only to find that the place we'd targeted was closed for remodeling. So we again ended up in a not so great place, although it was many times better than the previous one! On the plus side, we got to see more of Granada.
We quested for a place for dessert and a drink, and we found a fantastic place called Fontana. If only we'd found it an hour earlier, it would have been a great place for dinner. Afterward we went home and called it a night. I spent about 30 minutes packing up to get  ready for the next leg of my journey: a solo trip to Paris, with a brief two-hour stopover in Madrid.
Madrid: Monday, February 5
My trip started out with the smoothest sailing. It took me only a few minutes to make my way, carry-on-sized roller-bag in tow, from our little apartment to the taxi stand on the main road. I verified the cost with the driver, and was in a warm taxi and on my way within about five minutes of leaving the apartment. (This was the second of two taxi rides in Granada in which the driver was blaring loud American hard rock on the radio.)
When I got to the airport, I had a small struggle when their security scan seemed to spot a pair of scissors in my bag. I said there wasn't a pair, but then remembered that I actually might have a small pair in my knitting bag. I thought I left that at home! But after a search of my bag with no scissors found, they let me though. I reflected on how much more stringent the security was here. In any case, I was soon comfortably sitting at the gate drinking espresso and munching a baguette with Spanish ham for my breakfast. I was ready to fly to Madrid, then in an hour, take a connecting flight to London, and then onto a train for Paris. [Yes, a ridiculous route, I know. The reason involves a long story with zero entertainment value. Let's just skip it.]
The flight was mostly uneventful, but once we descended toward the airport in Madrid and flew beneath the clouds, I could see that it was snowing. This wasn't too concerning, as I was only going to be there in the airport for a few hours before flying on to London. But as time went by, the snow didn't slow down, and I could see concern on my fellow travelers' faces.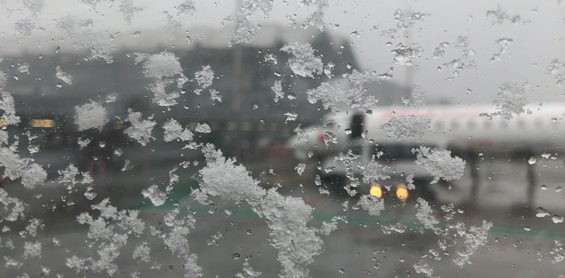 In the Madrid airport, I wandered around a bit, but mainly was just anxious to start my journey home.
Well into the time that we should have been boarding, with the snow still steadily falling, the Iberia Airlines staff came to the gate to say that all their flights out of Madrid had been cancelled. Or rather, I can't tell you exactly what they said because they spoke only in Spanish. I asked the crowd at large if anyone spoke English, and a fellow with a comically heavy Scottish accent told me the news. He also told me that the staff was directing everyone to go to the Iberia Lounge for more information.
Finding this lounge was quite a trick, not to mention a fair distance away from one extreme end of the terminal where our gate was all the way to the other side. I finally got to the lounge and joined a very long queue. When I reached the front of the line after nearly thirty minutes, I was told that this line was only for Iberia Airlines premier members and was shooed away. I explained I was one of the jilted travelers and I needed info, but they refused to acknowledge me other than to tell me to go away.
Thus began my full day at the airport in Madrid, courtesy of Iberia Airlines.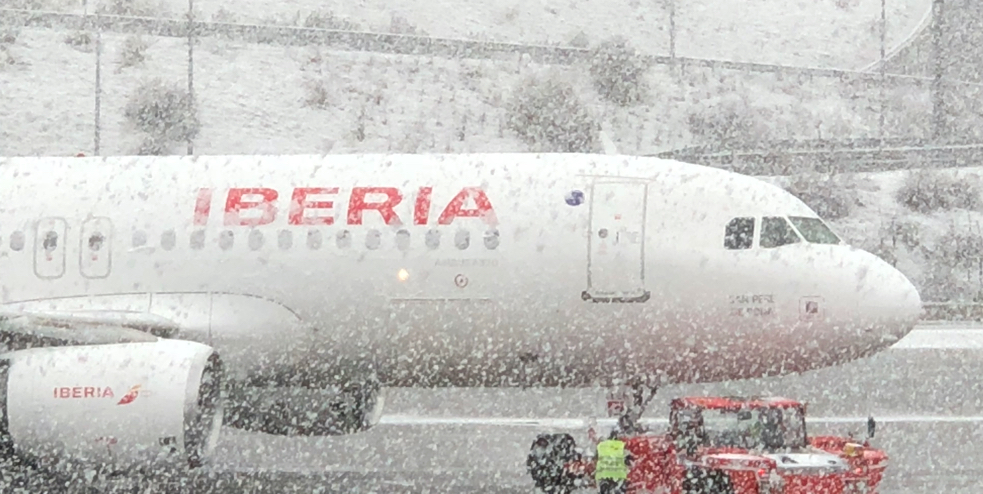 I bought a cup of coffee, found a comfortable, quiet place to sit, and started making some calls.
When I called customer service for Iberia Airlines, I was speaking with people with incredibly heavy Spanish accidents, and no doubt frustrating them because I didn't understand them very well. One Iberia employee just talked over me louder and louder to prevent me asking questions. They explained there was another flight, but because I had arranged my flight with British Airways, any changes had to come from them. Or of course they'd be happy to sell me a brand new, expensive, last-minute ticket on another flight. Nope.
British Airways routes all their calls to a call center in India, so that was a different heavy accent, but at least one with which I am a little more familiar. However, the story was eerily similar: they said that because it was an Iberia Airlines flight that had been cancelled, there was nothing they could do unless I wanted to buy a new ticket. When I got off this call, I called right back so I could speak to another human in the hope of getting a different answer.
This time I got the same story, but after careful questioning on my part I learned that the biggest issue was that Iberia Airlines had already registered all the passengers from the cancelled flight as checked in, but when the flight was cancelled, did not check us back out. So, as far as the computers were concerned, all the passengers on that cancelled flight had already successfully flown out.
There was nothing British Airways could do.
By the way: What's the best way to deal with situations like this? Be calm, patient, intensely friendly, and even a little self-deprecating: "I am so sorry I did not understand you sir — please forgive me. Can you please repeat that again? Thank you so very much for your wonderful patience with how slow I am!"
So, back to calling Iberia Airlines to get them to clear up the computer problem. After trying and failing with the first person to get them to change my checked-in status, I called back to try again, and failed again. The third time, the person said that I should go down to the ticketing area and speak in person with someone there.
So even though that meant I'd eventually have to come back through security, that's what I did.
… and it was a sheer madhouse down there. In addition to the normal hubbub of a Monday morning at a busy airport, there were probably many hundreds of extra people from snow-bumped flights.
This is a huge airport, and just finding the customer service desk was a big deal. Once I found it, there were maybe 75 or more people waiting for their turn to talk with one of the 4 people staffing the desk. I soon saw that there was a kiosk for taking a number (nice to not have to stand in a queue). I got my number and waited. And waited. And watched the sign showing the four current numbers being served and noticed how they didn't seem to advance to the next number.
I found a spot on the floor in a little corner where I could see if the being-served numbers changed, then got back on the phone with British Airways. Maybe because this time I probably was sounding very desperate, I finally got someone to stay on the phone with me and get the situation fixed. Sortof.
After six phone calls, I was finally booked and checked in on a flight that would leave at about 5:50pm to Gatwick in London. Of course, I wasn't sure what I would do when I got there, as I would have long since missed my train to Paris.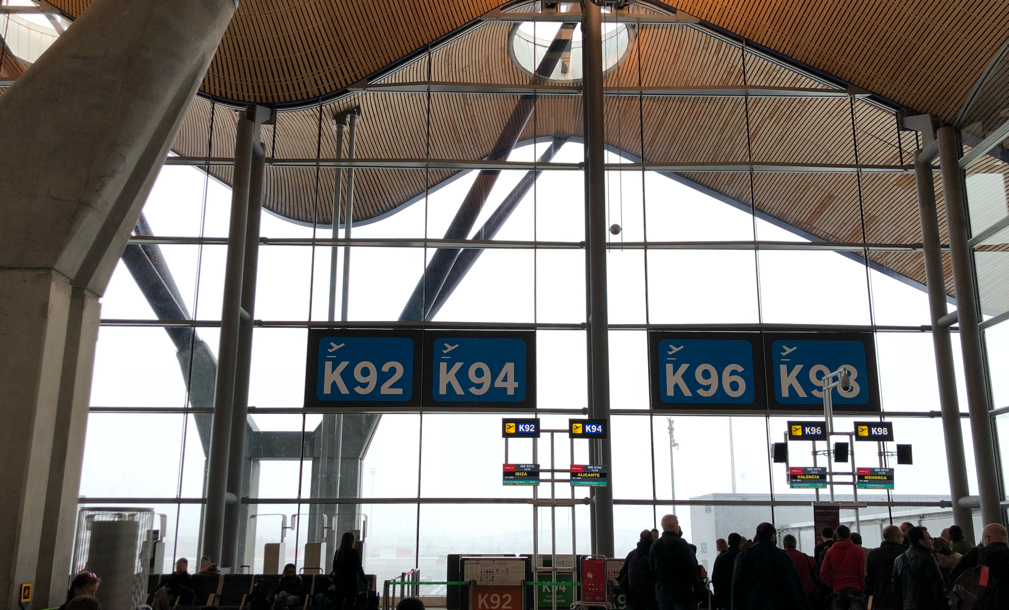 My boarding pass said that the flight would be through Gate H in Terminal 4, which is nearly where my originally-cancelled flight had been, so off I trundled back through security. I'd forgotten about those scissors, and this time they found them and confiscated them. It is a very small pair of scissors — the blades are probably about 1.5″ long, but they are extremely pointy. I was sad to lose them: they were very expensive and I'd had them for a very long time. Oh well.
Anyway, when I got back up to the H gates and looked at the display board of departing flights, my flight, instead of the gate, said "Satellite Terminal." I asked several people and nobody knew what that meant. I searched for anybody official-looking and finally found someone who said that I should follow the signs to "T4S." Oh yes, of course. How could I have missed that?
There is so much more that happened in Madrid. A bus to another terminal. Another cancelled flight. Another bus to another terminal. And finally, a call from my worried daughter: she had bought me a new plane ticket. Soon I boarded a plane and flew directly to Paris.
In Paris, with snow falling, I took a taxi from the Charles de Gaulle airport to my tiny hotel not far from the Arc de Triomph. I was in Paris at last… with one full day of my three-day trip gone: it was just past midnight.