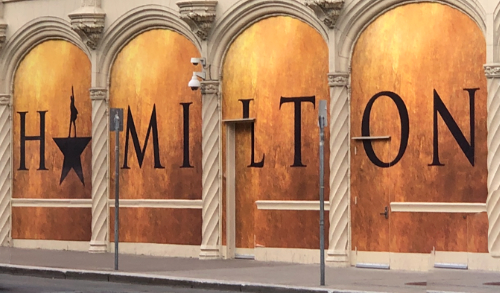 I lucked out recently. My brother and his wife had arranged to see Hamilton in San Francisco with a Bay-area friend. When that friend announced that he was not going to be able to join them, his loss was my gain, as my brother generously offered me the ticket along with a plane ticket and hotel stay for the overnight excursion.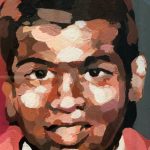 On the Saturday of the trip, I got to the airport pretty early. I really enjoy hanging out at PDX to linger over everything. (More about PDX here.) PDX has a great program of rotating art exhibits throughout the airport. There was a really interesting display of what I am calling "macro pointillist" art by Jeremy Okai Davis, and another display of wildlife sculptures made from knit fabric and felt by Rachel Denny.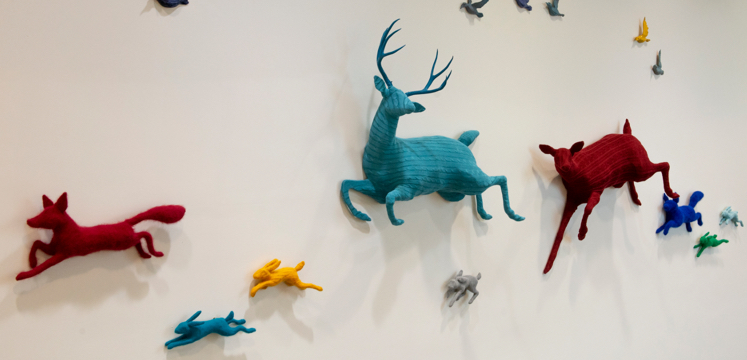 The flight takes only about 1.5 hours, and when we got to SFO, I enjoyed more art. I was delighted to see net sculptures from Janet Echelman hanging from the ceiling, which I recognized from a different trip. Here is the picture I took at SFO: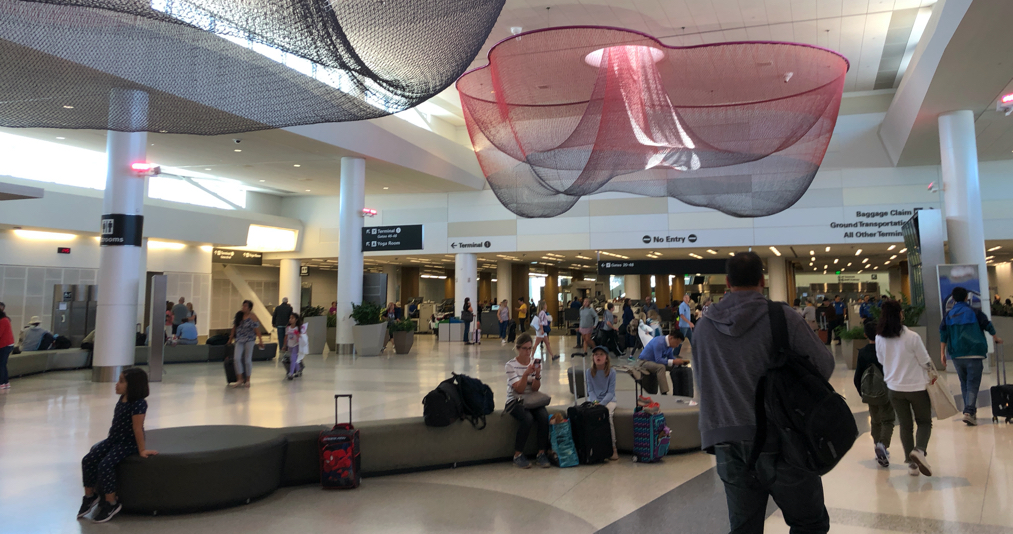 And here's a picture I took of the same artist's work in Amsterdam in 2013. The massive net was suspended centered above the canal in front of the opera house, and with the dramatic lighting it was spectacular.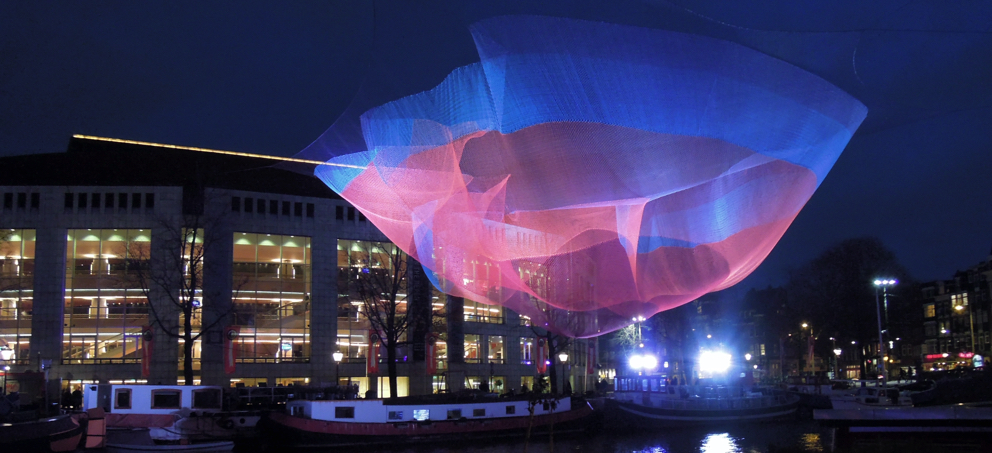 After a quick SkyTrain ride from the airport to the BART station, I fiddled with a nearly incomprehensible ticket kiosk to get our train tickets. It was a little disconcerting how so many things were out of order: of the many kiosks, three were out of order. When we approached the electronic turnstile to get to the trains, all but one was out of order and we had to single-file through a single one. It wasn't bad, and I'm not saying we were inconvenienced. It just gave me a sense of a hint of chaos just out of view.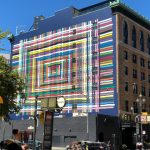 After a short wait, we took a comfortable 45-minute train ride to the Civic Center district of downtown San Francisco that seemed to be far from the tourist areas. This building with the colorful striping was the first thing that caught my eye when we came up from the subway, and this huge painting of an old man's face — I'd guess it was 12 or 15 feet high — was brilliant.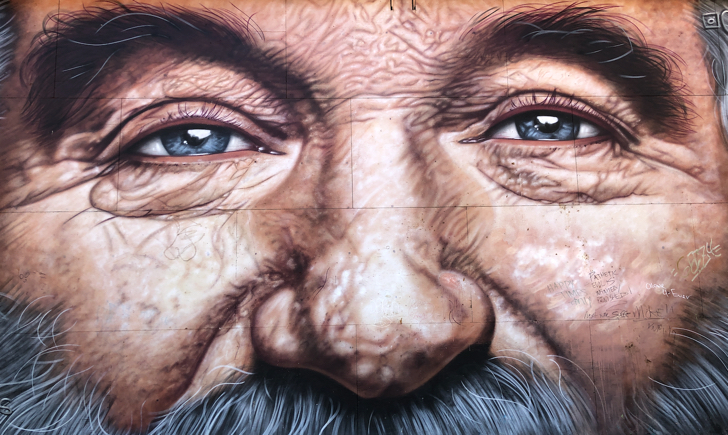 We walked just a few blocks to our hotel. The place is called Hotel Yotel, and it has very tiny rooms that are ultra modern and what I'm sure some pretentious designer somewhere would call uptown industrial chic. While I had a lot to nit-pick about, it was clean and safe and perfectly adequate for our very short trip. (But, erm, please don't consider that a recommendation: here's my review on Yelp.)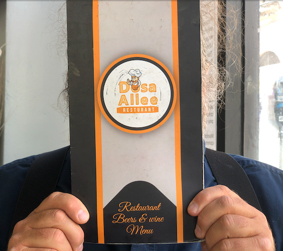 After regrouping in the lobby, we wandered about in search of a restaurant, finding ourselves at a wonderful little Indian restaurant called Dosa Allee. I don't know about you, but every time I eat at an Indian restaurant I finish my samosas and dosa then wonder why the hell I ordered a main entree. So this place is genius (despite the misspelling on their menu), as their specialty is just Indian appetizers. Perfect.
After a fantastic meal, we wandered back to the hotel for a short stop before our show. While there I tried and failed to get online, then tried and failed to figure out how to turn the bathroom light off. Then I went downstairs and tried and failed to understand what the heck the fellow at the front desk was saying when I asked about the light: "It is a special switch that uses kinetic energy — when you press it, it will turn off."  You know, I think dang near every light switch I've ever used could be described that way.
My travel companions soon joined me in the lobby and we headed to the show, which was a very short walk away at the Orpheum Theater. This little gem was built in 1926 and remodeled for a second time in 1998 to its current state, seating just over 2000 people.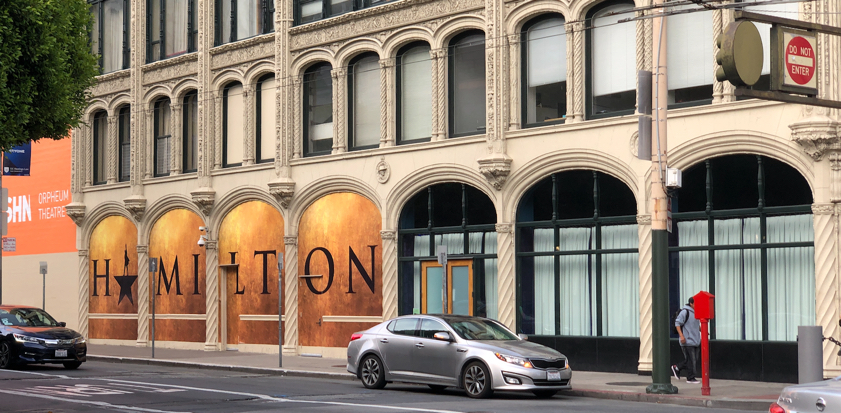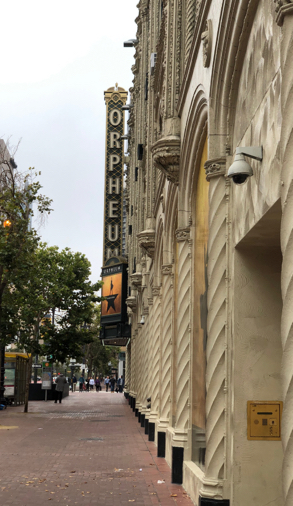 As for the show, I'm gobsmacked.
It was every bit as excellent as its reputation suggests, and more. Until I saw Hamilton, if asked what I thought was the finest musical, I'd have said Jesus Christ Superstar. Now I'm not sure if I'd say that or Hamilton. Ask me in a year.
It was a stellar show, and I'm so grateful for having been able to see it. I was struck so many times during the show by the sheer weight of the history — that the souls and dreams of real people who lived hundreds of years ago were being portrayed by actors and deeply felt by this and hundreds of other audiences.
It's a little mind-blowing. A quote from Jane Austen's book Emma is perfect for this: "I was speechless, and I have not stopped speaking of it since."
Talking afterward about our experience,  I said that the creator of this show, Lin-Manuel Miranda, is the Speaker for the Dead for Alexander Hamilton.
If you've read Orson Scott-Card's book Speaker for the Dead then you are nodding knowingly right now and have a real sense of what I mean, and if you haven't read it, it's not something I can easily explain. Let's just say that Miranda's excellent writing, wonderful music, nimble choreography, and magical stage-craft all work together to make you feel like you truly understand Hamilton (and, to a lesser extent, Burr). You feel like you have visited the past and locked eyes with these men and have shared a deep, knowing moment with them.
It's a wonderful show that makes me feel, several days later, still very affected. Not to pile on the hyperbole, but it's a work of staggering genius.
After the show we walked the few short blocks back to the hotel, made plans for tomorrow, then went off to our rooms. I figured out how to turn off the damn bathroom light (the switch was on the face of the mirror — who puts a light switch there!), tried and failed to get online, then called it a night.
The next day after a quick breakfast at a local eatery we BARTed our way back to the airport where we parted ways: my brother and his wife were off to San Jose and I was heading to my SFO gate with almost four hours to kill. I like airports. I didn't mind.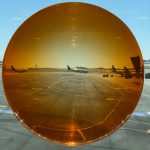 I enjoyed a few initial amusements: a cute kid running around with his arms out making airplane sounds…  a card in a gift-shop window that quotes a line from Love Actually… a cool installation using colored concave glass to provide a visually distorted view of the tarmac.
Then I discovered exactly what I'd hoped to find: a nice, quiet out-of-the-way area with plenty of outlets and comfy seating where I could finally catch up on email. (This area is hidden in the walkway between terminals 1 and 2, just as the one at PDX is between the two main gate areas.)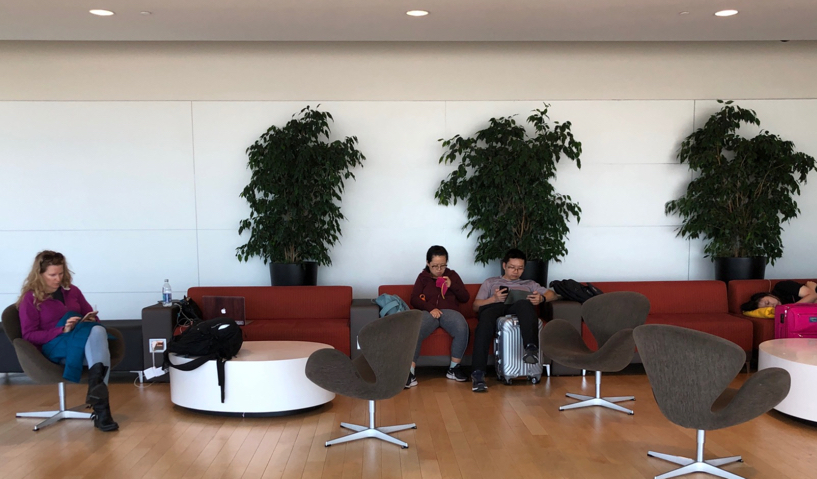 After an uneventful flight to Portland, I was happy to get home on Sunday afternoon. Another great trip, and a show I'll never forget.