This is Part 4 in my series about building a new home. The full series is here, or see the previous post: Buying land in Long Beach.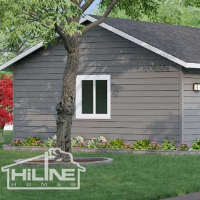 Our path toward building a new home starts with a vast set of preliminary tasks that I've grouped into a single category called Lot Prep. This involves quite a few steps (and possibly a few hurdles) that must happen before hammers or nails can come on the scene. Some of these steps are practical, such as identifying where the house can go and putting in a well. But many other steps will be an adventure in bureaucracy. I will detail all of this in another post, including the many fees and permits involved.
The Lot Prep journey will take at least four months, most likely many more. While all of that slowly moves forward, Dave and I are working out exactly what house to build.
Building a home on a tight budget
As I mentioned previously, our budget meant we needed to go with a builder with pre-designed house plans rather than going full-custom with an architect. (To be clear, I think building a completely custom home can be much more within reach than most people think. If you're planning to build a home, I urge you to look into this option before passing it by.)
We first learned about these builders with the pre-designed plans when we were looking at a lot in Silverton. At that time, we identified two likely home builders, Adair and HiLine, and decided we liked HiLine the best. At first this was because we preferred the HiLine floor plans, but we later found far more online complaints about Adair, making us feel pretty good about our choice.
We view our home as a combination of home and business headquarters, so the floorplan needs to provide comfortable office space during the day and room to unwind in the evening. As to size, we aimed for something between 1600 and 1900 square feet: We live in 1800 now, which I think this is a bit too big and Dave thinks is a bit too small.
After many months of deliberation, including pulling floor plans into our chosen vector and raster editing software to monkey around with, we have selected HiLine's 1940-square-foot model, aptly named "1940."
Yeah, not the most elegant name. Maybe it'll seem better if I use a fancy font?


No? Well, anyway…
We tweaked the plan to add a window, remove the tub from the primary bathroom, tweak the walk-in closet, and move the garage door. Here's what our revised plan looks like (click to see a larger image):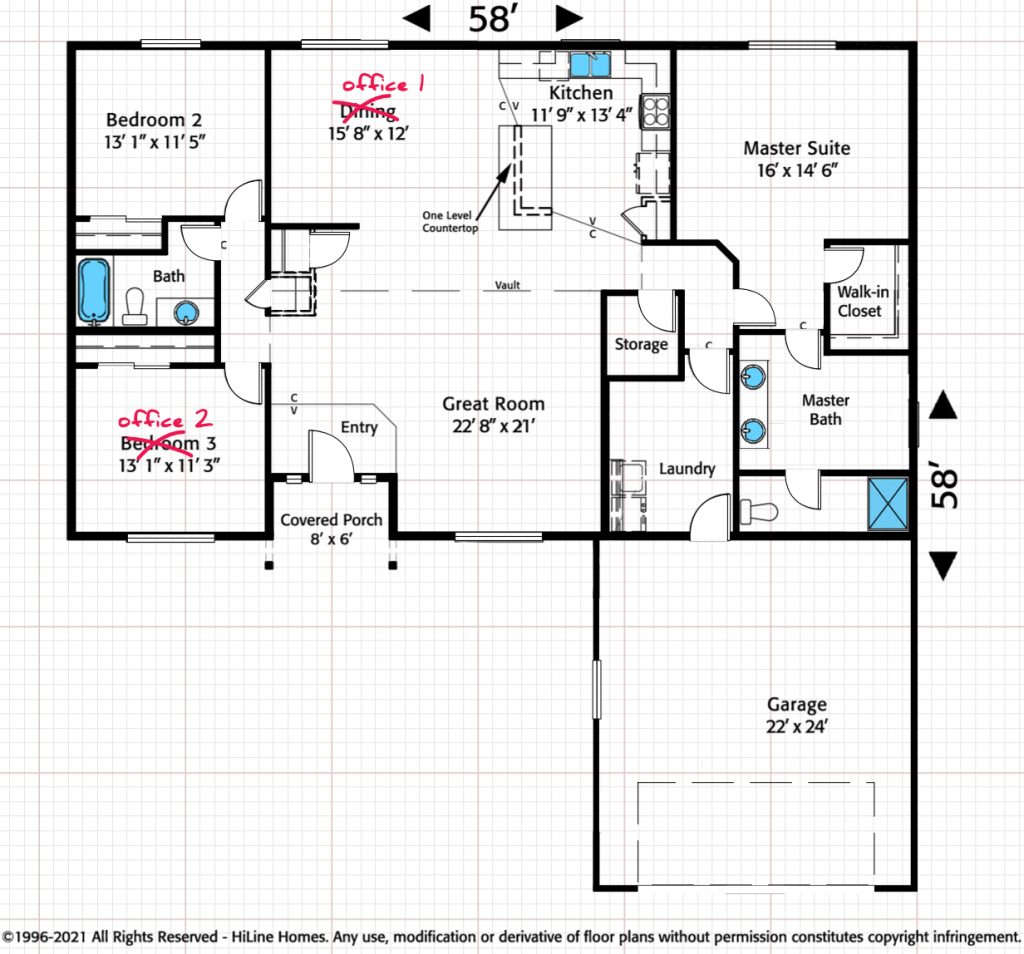 We toyed with elongating the home by four feet to enlarge the dining room main office and the front guest room second office. But remembering our budget constraints, I backed away from my computer and stopped tweaking. Will we tweak this plan some more? Probably. But only with a close eye on the budget.
In addition to the floor plan, we are also working on other plans:
Network: A networking plan with CAT6 Ethernet cables inside the walls and jacks in most rooms.
Storage: A huge number of shelving units. Hello, IKEA; although I am sorely tempted to try my hand at some built-ins.
Covered outdoor areas: A large covered deck in the back, and possibly a covered walkway leading from the parking area in front of the garage to our front door.
There are hundreds of other things we'll need to plan soon. But these are the items on our list right now, as they will affect our final plans with HiLine.
Here's the next post in this series: Part 5: You bought a wetland?!