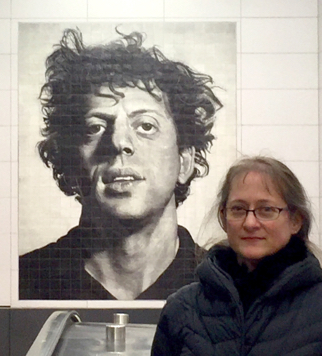 Back in the 70s, there was a band of merry Grateful Dead fans who traveled the world following their favorite band. These were the devoted Dead Heads.
I am a Glass Head.
I try to temper my obsession with Philip Glass a bit so as to not spend too much dough on travel, but whenever I can, I travel to wherever I need to go to see a performance of Philip Glass music. As time went by I got others interested in Philip Glass, and now my brother, Tim, often travels with me.
When I started on this post I thought I'd only list the Glass performances that involved travel (and thus make me a Glass Head), but I guess I might as well make this a list of all my Glass performances regardless of where they were. Starting in the age of Covid, and hopefully thereafter, this includes streamed performances.
And so, behold, my obsession, listed here in reverse-chronological order, with those for which I traveled set in orange, and those which I streamed set in green.
---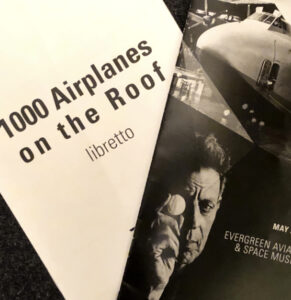 #25) 1,000 Airplanes on the Roof – May 20, 2023 (McMinnville, OR – Evergreen Aviation Museum)
This was a wonderful production of early(ish) Glass music. The setting for this production was inspired: beneath the tail of the enormous and famous Spruce Goose plane inside a massive glass-ceiling building nestled among the vineyards in Willamette Valley. This is a ~75-minute spoken word piece, with a small ensemble of 6 musicians, including a soprano, conducted by Nikolas Caoile. In addition to the only actor in the production, Ithica Tell, I think the stars of this show were the amazing conductor and Sarah Tiedemann, who played (among other things) a "wind synth": a fascinating synthesized wind instrument.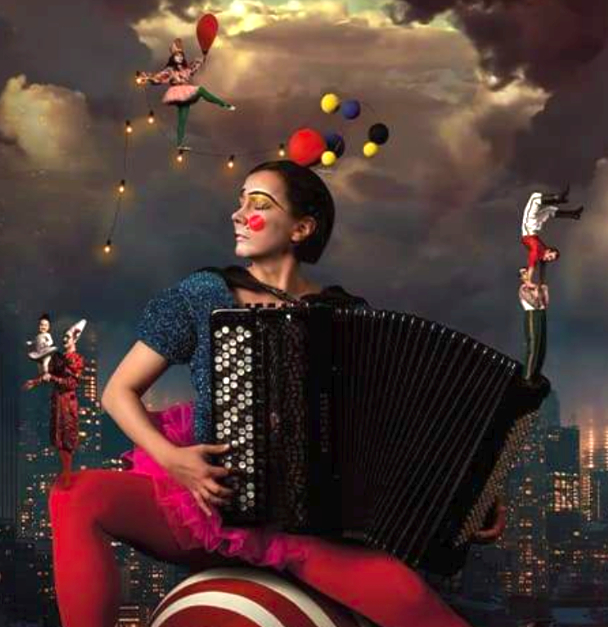 #24) Circus Days and Nights – June 5, 2021 (Streamed from Malmö, Sweden)
Philip Glass purchased the rights to the circus-themed poetry of Robert Lax at least ten years before this opera's premier. This is about the circus, and perhaps about how transformative thinking is a thread throughout one's life. Featuring acrobatic performances from members of the Cirkus Crikör, which commissioned the opera, this was a visual treat and very much worth spending the paltry streaming fee and my Saturday morning watching it. As with much post-Trilogy Glass opera, this definitely falls closer to the category of traditional opera than I normally like, but, perhaps due to the stunning visuals, it grabbed and held me from beginning to end. [Malmö Opera: Circus Days and Night]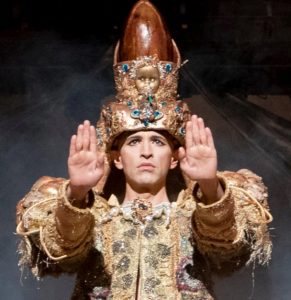 #23) Akhnaten – December 4, 2019 (New York City, NY – Metropolitan Opera)
As this production went on a second tour, I didn't want to miss seeing it again. I understand that they plan to take it out again in 2021-22. Interestingly, when I saw this the first time (see #17 below), there was a bit with the chorus singing in the last act which was surprisingly quiet, so I came away saying that the acoustics at the Dorothy Chandler Pavilion had issues. Yet in this production as well, that chorus was distant-sounding, unlike the way it sounds in the original recording, which of course was my introduction to this piece. So I guess this production intentionally had the chorus be quieter, and I need to stop knocking the DCP.  [See more about this trip to New York here.]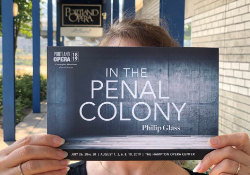 #22) In the Penal Colony – August 6, 2019 (Portland, OR – Hampton Opera Center)
This was in a very small theater at the Portland Opera house. This intimate setting was ideal for this thoroughly grim opera. If you've read Kafka's book on which it is based, then I'm sure you can imagine. Though as modern as you would expect from Glass, this was very much a traditional sounding opera, which made parts of it unpleasant for me, but at least there were no sopranos! [Here's more about my take on traditional opera.]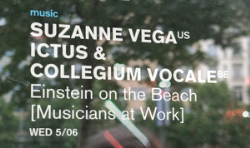 #21) Music of Einstein on the Beach – June 5, 2019 (Brussels, Belgium – Kaai Theater)
Suzanne Vega, who collaborated with Phil years ago on his Songs From Liquid Days, performed with the Ictus Collegium Vocale Gent with two conductors on the stage. This was a somewhat compressed version of EotB, but was still quite long: When musicians were not performing they would sit or lie down on the stage to await their time to join back in the performance. [See more about this trip to Brussels here.]
#-) Terra – April 15, 2018 (Portland OR – Newmark Theater)
Terra is a modern ballet set to music by several people, including Philip Glass. I go back and forth on whether I should count this as a performance of Philip Glass music and have decided against it (hence the lack of the number on the title). It was a wonderful performance, but I wish there had been more of a Glass focus in the music.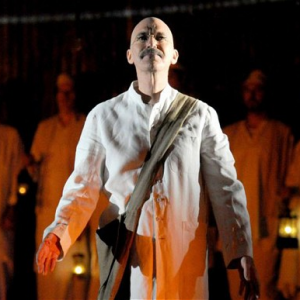 #20) Satyagraha – February 1, 2018 (London, England – London Coliseum)
Having seen Einstein on the Beach (twice) and Akhnaten, this completed my attendance of Phil's "Portrait Trilogy" of operas about world-changing figures in history. This was another remarkable opera, and one that I would like to see again someday. More than Akhnaten, seeing this has a huge impact on the experience and gives it a much deeper impact than just hearing it. [Read about this trip to London here.]
#19) Dracula, with Kronos Quartet – October 25, 2017 (Portland, OR – Arlene Schnitzer Concert Hall)
This was a wonderful performance by the Kronos Quartet, as always performed with the film running on a screen behind. Phil joined Kronos on keyboard, making it a quintet for the night. I've heard Mr. Glass say that he wrote a simpler keyboard part specifically so he could easily sit in on these performances. My kids joined me for the evening, and I think this sealed my daughter's fate as a Philip Glass fan. I attended a special reception afterward, at which I met a very exhausted Philip Glass. [More about this here.]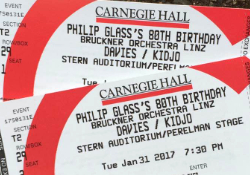 #18) Symphony #11 Premier – January 31, 2017 (New York City, NY – Carnegie Hall)
Not only was I seeing the actual premier of this symphony, and not only was I seeing it at Carnegie Hall: I was seeing this on Phil's actual 80th birthday. Yes, he was in the audience, and I was disappointed that the audience didn't get to sing him Happy Birthday. (This performance also featured performances of one of my favorite Glass pieces, Days and Nights in Rocinha, and also a fantastic performance by Angélique Kidjo.)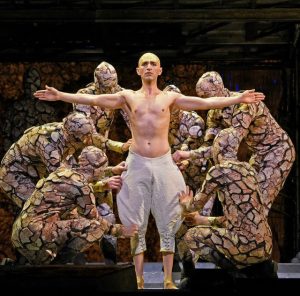 #17) Akhnaten – November 10, 2016 (Los Angeles, CA – Dorothy Chandler Pavilion)
This was my first time seeing this, the second in the Portrait Trilogy of operas. This was a spectacular performance, part of the premier run of the production with countertenor Anthony Roth Costanzo singing the lead and a talented troupe of jugglers performing on the stage. I have never seen a production of this opera without Costanzo in the lead, byt I can imagine he will be the quintessential Akhnaten for all time.
#16) An Orchestral Tribute to David Bowie – January 29, 2016 (Boston, MA – Kresge Auditorium, MIT)
This concert, at which Glass's 1st and 4th symphonies (both based on Bowie albums) were performed, was arranged on the occasion of the death of David Bowie as a way to pay him tribute. All of the musicians were local amateurs, as opposed to an organized symphony, and the proceeds went to fund cancer research. This was just an overnight trip for me, and my first/only time in Boston. See more about the symphony and a little about this trip here.
#-) Philip Glass in Conversation with Christopher Mattaliano – May 14, 2015 (Portland, OR)
This was part of a tour for Phil to promote his book, and so I don't count it toward the numbering of his performances that I've seen. Every audience member was given an autographed copy of the book. One notable neat thing about this event was that I ran into a colleague from work here: Hi, Greg!
#15) Philip Glass: The Etudes – March 2, 2015 (San Francisco, CA – Davies Symphony Hall)
This was a wonderful performance in which Philip Glass, Timo Andres, and Maki Namekawa each played a part of his 20 etudes. Phil had been working on these etudes for many years, and had only recently completed the 20th and final one. I'd heard Maki playing Phil's work before and she's fantastic, but Timo was new to me. His power and expression playing the Etudes was impressive.
#14) Einstein on the Beach – January, 2012 (Amsterdam, Netherlands – Het Muziektheater)
When I got home from California (see #13 below) I told my brother about how incredible it was to see Einstein on the Beach live. I told him that I wished I'd arranged to see it again, and he said "We should go!" We jumped online,  saw that every show in the United States had long since been sold out, then nabbed two of the few tickets left at one of the performances in Amsterdam. [I write about the trip to Amsterdam here.]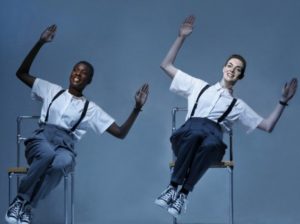 #13) Einstein on the Beach– October 26, 2012 (Berkeley, CA – Zellerback Hall, UC Berkeley)
This is the first in the Portrait Trilogy of operas. It was incredible. Breathtaking. And as soon as it was over I kicked myself for not having purchased a ticket to see it again the next night. An interesting note: As the first note was played (after the lead-in that plays as people are seating), the music suddenly stopped, there was a pause, and (I assume) Michael Riesman's amplified voice announced that the synthesizers had crashed and they needed to reboot. The audience chuckled and I wondered out loud if they were running Windows, to the amusement of those seated nearby.
#12) Galileo Galilei – April 3, 2012 (Portland, OR – Newmark Theater)
Another more traditional opera from Philip Glass. Beautiful Glassy bits here and there, but there was too much in there that was hard for me to listen to… too much that sounded like traditional opera and not at all like Philip Glass. I need to give this and Orphee a deep listening someday to try to find a connection.
#11) Orphee – November 6, 2009 (Portland, OR – Keller Auditorium)
My second-ever opera. While I loved the Glassiness of the music, this was getting a bit close to sounding more like a traditional opera, and I wasn't thrilled. The Orange Mountain Music recording of Orphee was recorded during the handful of performances here this week.
#10) Philip Glass, Solo Piano – February 15, 2006 (Eugene, Oregon – Jaqua Concert Hall)
Sadly, the program I kept does not list the pieces that were played. Honestly, there's a good chance that it was the same lineup as #9 below. At all three of the Solo Piano performances I attended, after the applause and most of the audience had left the auditorium, Phil came back onto the stage with a stool and then took questions from the audience. At one of these, I was picked to ask a question. I asked what his favorite was of his operas. He said that it must be either Satyagraha or Akhnaten. He mused a bit and chose one, but this was so long ago that I don't recall which it was.
#9) La Belle et la Bete– 2004 (Oakland, CA – Oakland Opera Theater)
Here's another case where I kept only the program, which does not have a date on it. This was produced as a full opera with acting costumed singers, not paired with the Cocteau film, as I'd seen it before (see #3-7 below). This was my first-ever actual opera, and it was pretty wonderful. Although I'd heard this particular opera live before, seeing it performed in this way was a wonderful first-time opera experience. There were some bits which got a bit too traditional opera for me, but there was still a rich vein of very Glassy music throughout.
#8) Philip Glass, Solo Piano – October 30, 2005  (Portland, OR – Cabell Center Theater)
This is another case in which the program I kept does not list the pieces that were played. Just as in my first Glass performance (#1 below), after many of the attendees had filtered out of the auditorium, Mr Glass returned to the stage with a stool and he spent about 20 minutes taking questions from the audience. I asked him which were his favorites among his operas, and, if I am recalling this correctly more than fifteen years later, he said something to the effect of, "it was either Akhnaten or Satyagraha—probably Akhnaten."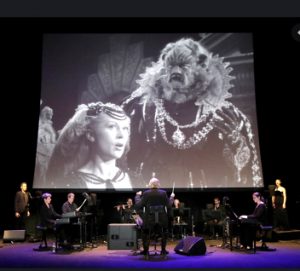 #3-7) Philip on Film – October 15-19, 1999 (Portland OR – Portland Art Museum)
This event was five nights in a row seeing films featuring the music of Philip Glass, with the music performed live on a stage in front of the films on a screen behind the performers. Films included, Powaqqatsi (Reggio), Dracula (Browning), La Belle et la Bete (Cocteau), Koyaanisqatsi (Reggio), and Shorts—five short films. There are still performances like this of one or more of the Qatsi films: I encourage anyone who can to go see it. You may also get the chance to see the Kronos Quartet performing Dracula (see #19 above).
#2) Monsters of Grace – April 7, 1999 (Portland, OR – Arlene Schnitzer Concert Hall)
This piece, dubbed a "Digital Opera in Three Dimensions" has music by Philip Glass, with lyrics that are adapted from poetry by the great Sufi, Rumi. The stagecraft was created by Robert Wilson, and it involved a lot of digital stuff for which the audience was given 3D glasses. Personally I found the music to be fun, sometimes delightful, and the stagecraft was a bit meh.
#1) Philip Glass, Solo Piano – 1995 (Portland, OR)
This included Opening (from Glasworks), Witchita Vortex Sutra, Three Etudes, Mad Rush, the fourth Knee Play (from Einstein on the Beach), and Five Metamorpheses. I kept the program, but not the ticket stub, and so I'm not sure what the actual date was that I saw this show.
---
I present to you: Glass on a Train.
I did not take this pic. It amazes me, as famous as he is, that Phil can be in public and be pretty confident that most people won't recognize him. That woman in the little jean jacket was just going about her day, not knowing she was sitting next to the most famous living composer in the world. Here's my story of when I met Mr. Glass.