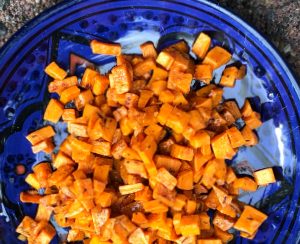 Don't let the title fool you: this is another of Dave's amazing creations. He had me put my name to it because it was my idea to create a general topper out of sweet potatoes (think Bacon-bits, but healthier, tastier, and vegan!). When he makes a batch of this, I have a container of it in the fridge for a few days to heat up then add to salads, soups, squacamole — dang near anything! (I think it would be great on apple pie. Hmm: I wonder how it would taste on vanilla ice cream?)
Ingredients
1 medium sweet potato, finely diced (We've also tried this with grated sweet potato… either way is good: you can't go wrong.)
1/2 tsp salt
1/8 tsp pepper
1/4 tsp sage
1/8 tsp nutmeg
pinch chili powder
1/4 tsp thyme
1 tsp tomato paste
2 tbsp onion, minced
1 tsp maple syrup (optional)
Notes
Toss the diced sweet potato in just enough oil to coat all the surfaces of the potato pieces (Dave used about 2 tsp of sesame oil). Sauté on med-high heat with the other ingredients until done.
Tip 1: Add the spices and tomato paste early to release their flavors, but wait until nearly done to add the minced onion so that it doesn't overcook.
Tip 2: Your mileage may vary, but I like this to be cooked until it's getting dark.