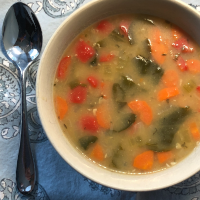 Chickpeas, also called garbanzo beans, are a great source of fiber and protein. Combined with lemon juice, lentil thickener, chicken broth, and other ingredients, this is a hearty chickpea soup with a delicious broth.
Ingredients
Homemade chicken stock (made with Onion, Garlic, and Ginger)
Thickener: Pigeon pea lentils, Celery
Carrots
Celery
Peas
Red pepper
Tarragon
Thyme
Cumin
Parsley
White pepper
Salt
Lemon juice
Apple cider vinegar
Spinach
Directions
For the soup base, start with chicken stock (homemade is better than store-bought) and thicken it a bit with puréed well-cooked lentils and celery.
Add cooked chickpeas (homemade is better than canned), vegetables of your choice (e.g., diced carrots, celery, red pepper, and peas) and let it cook for a while to let the flavors combine.
Add the herbs (the key is getting the right amount of tarragon — it ties the lemon and chickpea flavors together magically). Balance the salt and acid to intensify the flavors. Add a handful of spinach at the end and let it cook down for a few minutes.