Following five days in New York City with my brother and sister, it was time for me to start the next leg of my trip: a week in Lisbon for client meetings. This was my first time to Portugal and I was looking forward to seeing it.
Saturday-Sunday, Dec 7-8 – JFK to Lisbon
Saturday started [too] early: I was ready to go by 5am. I called for an Uber as I was getting my coat on, and the driver was already waiting for me by the time I was outside the apartment: perfect timing. I could have walked or taken the subway, but with a roller bag, a backpack with two computers inside, and my shoulder bag — I didn't want to!
It's really neat to be in Manhattan, where everything you see is something you've seen or heard of in movies and TV all your life. In just 10 minutes, the drive took me through Times Square to Penn Station, which is right next to Madison Square Garden.
Inside Penn it was a little confusing for this newbie to figure out what to do next, because there are three different train companies and the Metro running trains out of the same place. Once I figured things out it was very easy, but I had to ask a few fellow travelers for help. [By the way, almost every person I encountered in NY was friendly and helpful in response to my questions. There was one time during the week when, pausing at a corner, someone behind my brother curtly told him to get out of the way, but that was the only "mean New Yorker" moment we had all week.]
Anyway, back at Penn Station: I took a Long Island RR train from Penn to Jamaica Station. At this early hour, the train was nearly empty: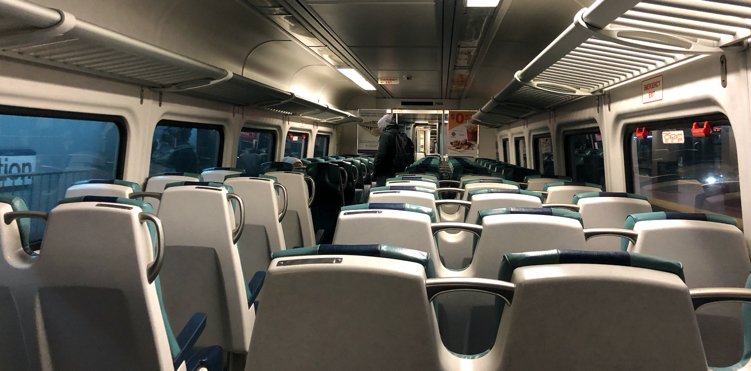 Then I took the SkyTrain to JFK, which took me directly to my terminal, arriving during sunrise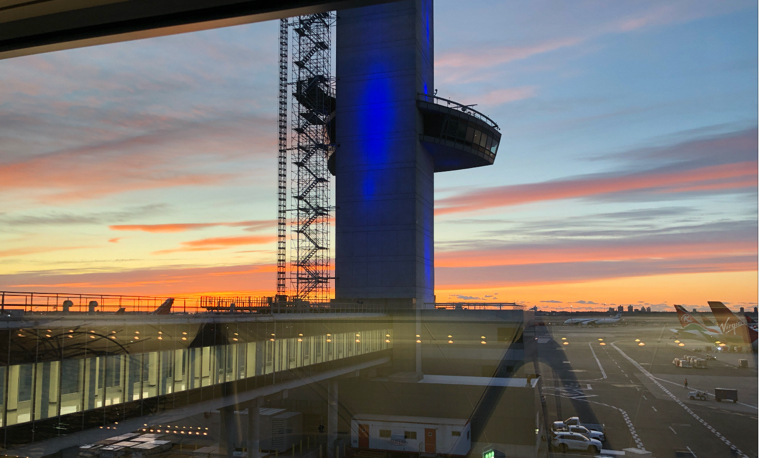 I checked in, dropped off my bag, went inside… and couldn't for the life of me find my gate. Finally I found a Delta person who I asked for help. And that's when I learned that I had neglected to pay sufficient attention to two little letters after the "9:30" in my departure time: PM.
Yes: I had arrived at 7am for a 9:30pm flight. I had 14.5 hours until my flight. Oh, my goodness.
Since I was carrying a backpack with two laptops, it just wasn't reasonable for me to take a train back into the city, and besides that, I was already pretty tuckered out from my long days walking around the City and MOMA with my brother and sister. I decided to just hang out at JFK and use some of the time to get some work done.
I headed to the Delta Lounge where I figured I could find a cozy corner and settle in for a day of work. I travel a lot. Not nearly enough to be one of those million-milers, but I was in their Silver category so perhaps that would be good for something. It wasn't. They informed me that us lowly Silver Medallion members are not elite enough for them unless I want to pay a $350-something club fee or some such thing.
That's absurd — no.
So I had a very long day of wandering JFK Terminal 4: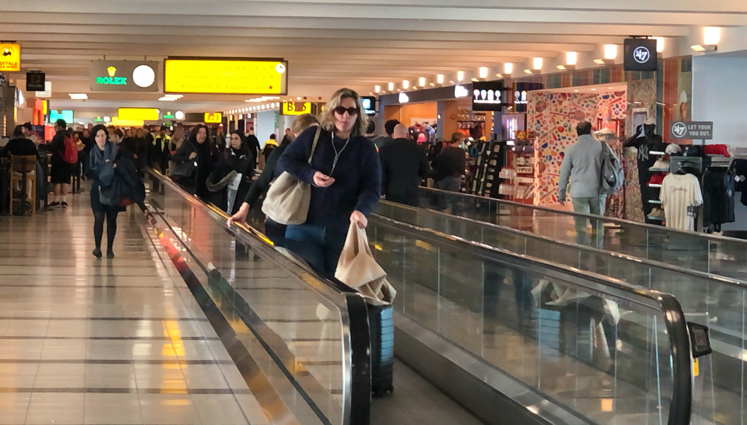 Looking for places to work (since, again, I couldn't get into the lounge):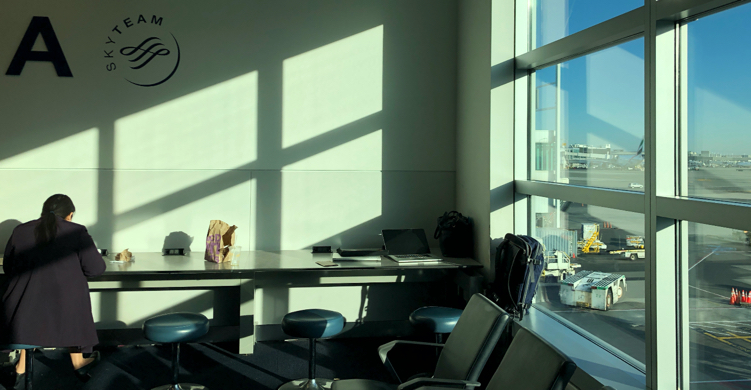 Trying to take creative photos: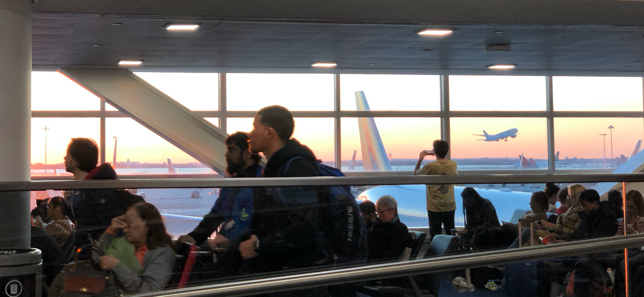 And just generally waiting: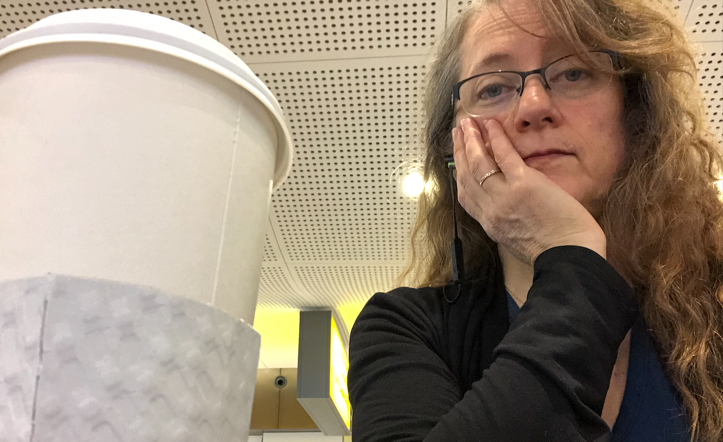 I went from sunrise to far beyond sunset at JFK: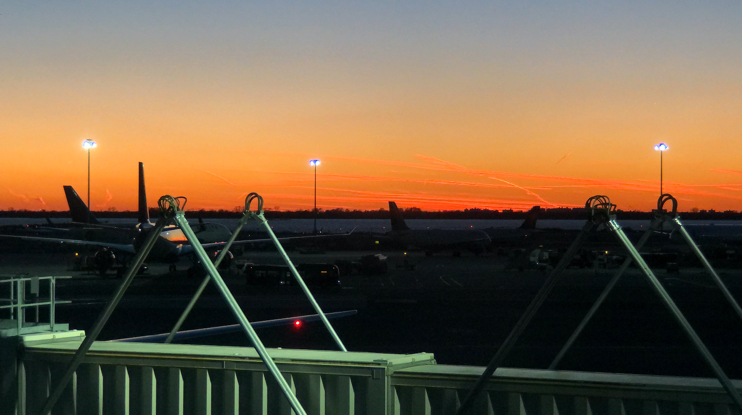 At least I got some good work done. But especially as this day came after five days of getting up early, walking all day, and staying up too late — it was astoundingly brain-numbing and not a good way to prepare for a business trip.
When I finally got to Lisbon just after 9am on Sunday, I took a taxi to my hotel. There were lots of very old and very interesting things within a longish walk of my hotel, but I arrived exhausted, and it was a very foggy and gray day. Instead of exploring, I took a 90-minute nap then spent the day organizing photos and preparing for my coming week of meetings.
Finally I ordered room service for dinner, then went to bed early for what I hoped would be a nice Benadryl-fueled sleep.
Monday-Friday, December 9-13 – Lisbon
Especially coming on the heels of my stay in an extremely substandard apartment in NYC followed by a 14-hour day at JFK, I was so very ready for a posh hotel. I'd elected to pay an extra 22 Euros/day for a top-floor "Executive" room, which I'd been looking forward to all week, so I was a little disappointed when I checked in and they told me none of their nicer rooms were available.
But that's okay. My hotel  in Lisbon was just fine. See?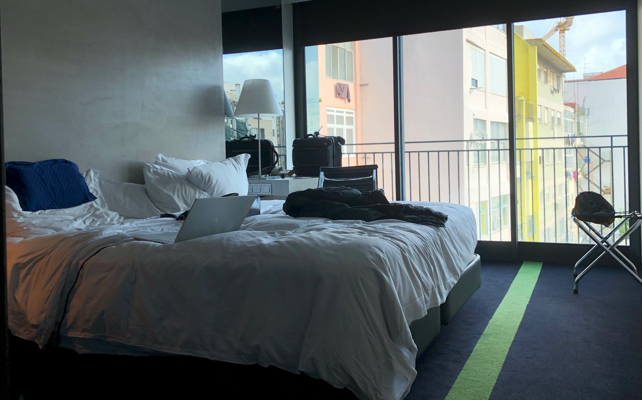 This was a comfortable, safe, and perfectly fine hotel — if a little strange. Here's the hallway leading to my room: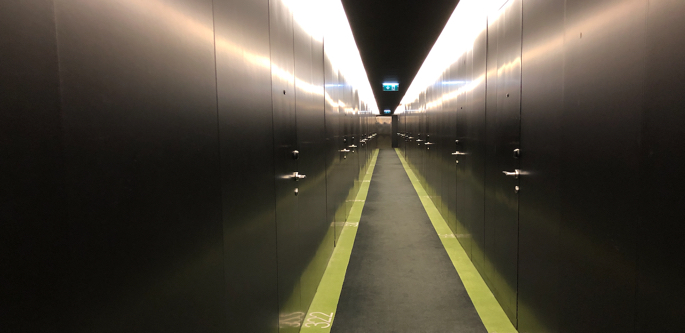 All through this stay, all of us in these meetings tried to come up with the best description of this hallway. Entries such as "mental ward" and "prison block" were floated, but the best in my opinion was "morgue hall of body-drawers."
The view out my window was about as non-photogenic as possible. Those who know me know that the bulk of my photography is of what I see out my window, so this was just a bit sad. On just one day there were pretty fluffy clouds which gave it some level of being photogenic, but this was the only nice shot I got all week.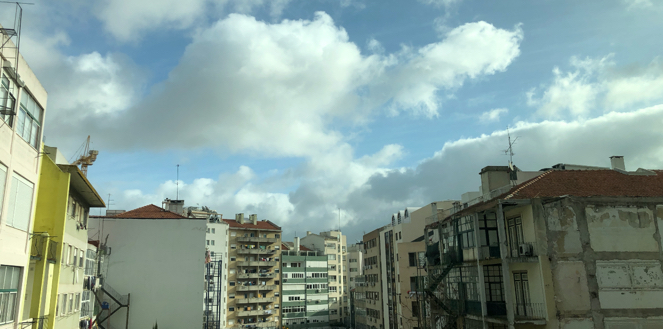 One evening while here, four of us Ubered to a place called TimeOut Market that can best be described as a gourmet food court. We liked it so much that, yes, we went back another night.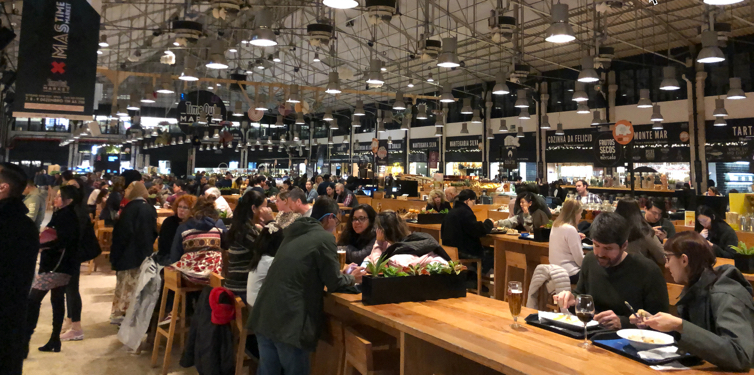 There were many little restaurant stalls, all with excellent, sometimes downright gourmet foods. Start at the large bar to get a glass of port, wine, or beer — then wander the perimeter to see all your options before making your choice. Warning: Lisbon food is 90% seafood. If you are not partial to seafood or are vegan, be prepared for limited choices.
In a store here that sold only port, we bought three taster-glasses of 10-, 20-, and 30-year old port. It was amazing. I bought a bottle of 1985 (not pictured below!) for my port-appreciating sister-in-law (which we shared the weekend after I got back from my trip. It was wonderful):

The people I was with ordered octopus , and I had a ham and cheese platter with sweet-potato chips for dinner, followed by one of these amazing little custard pies: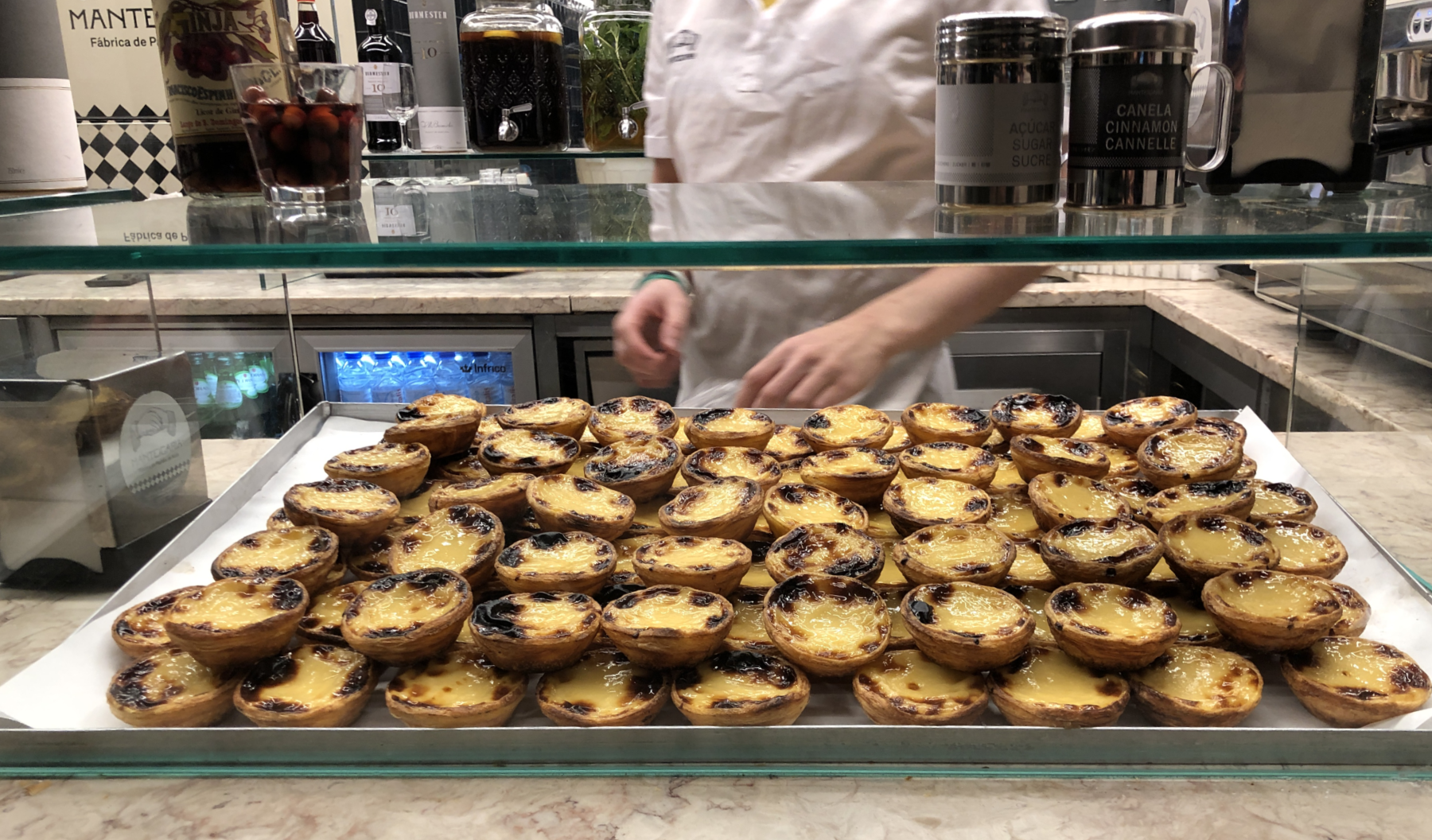 After a long week of meetings, on Friday I had some time to actually go for a walk. I found some amazing street art and graffiti on 100+-year-old buildings: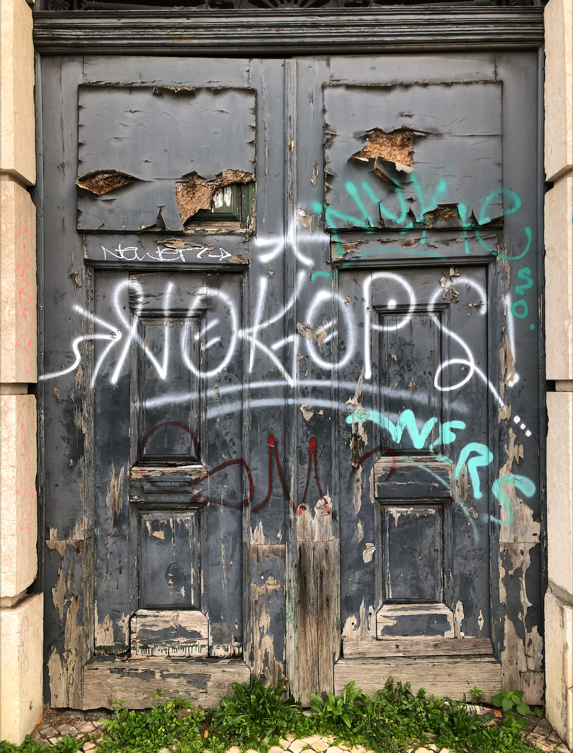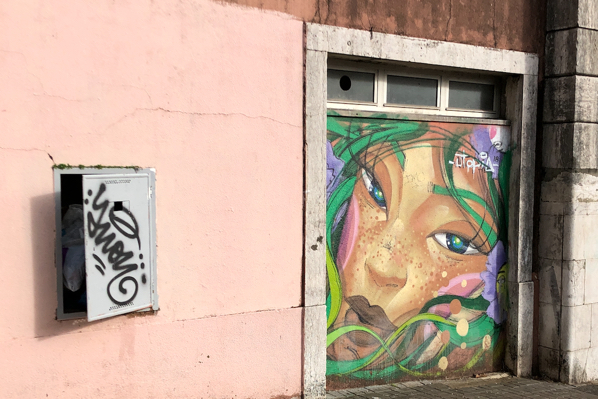 And enjoyed the beautiful old tile work that is on so many buildings here: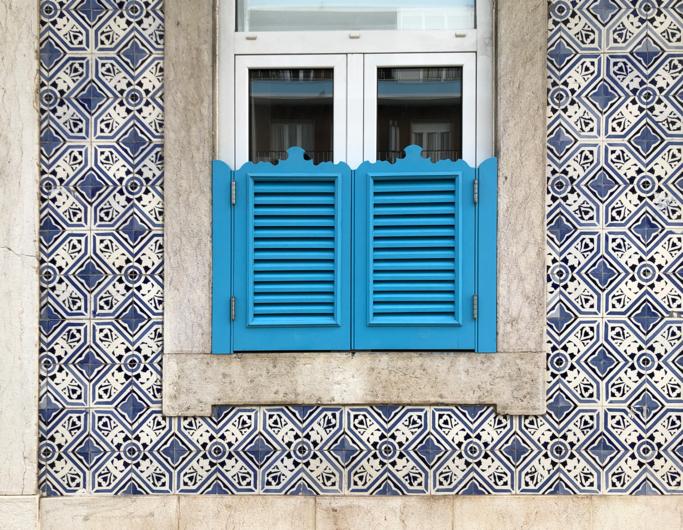 And there were lots of interesting architectural elements: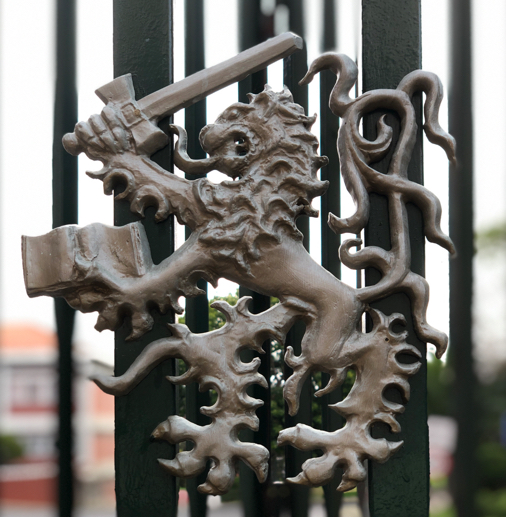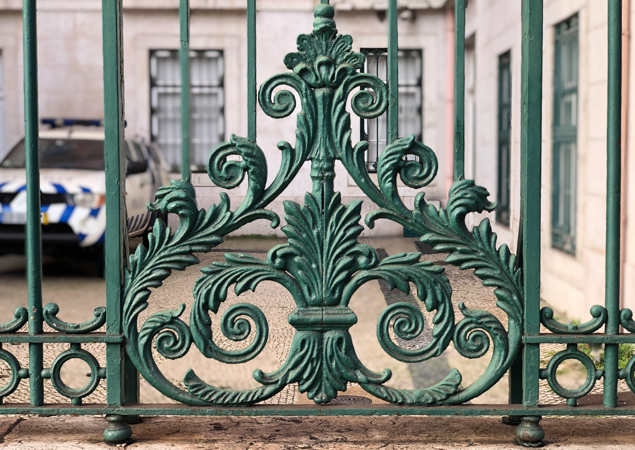 On this walk I was trying to reach the coast, which I had heard was beautiful. But even in early December, it was in the low 60s (F) and a bit humid. As I live in a place where a humid day is a rarity, I am a complete wimp about humidity, so after just 40 or so minutes, I turned around and headed back to the hotel.
After a cooling shower and packing for my trip home the next day, I took myself to the hotel restaurant, thinking I'd have a quick dinner and an early night. But apparently the Portuguese are like the Italians in that dinner must never start early nor end quickly: my small, simple meal— vegetable risotto and sparkling water— took more than two hours.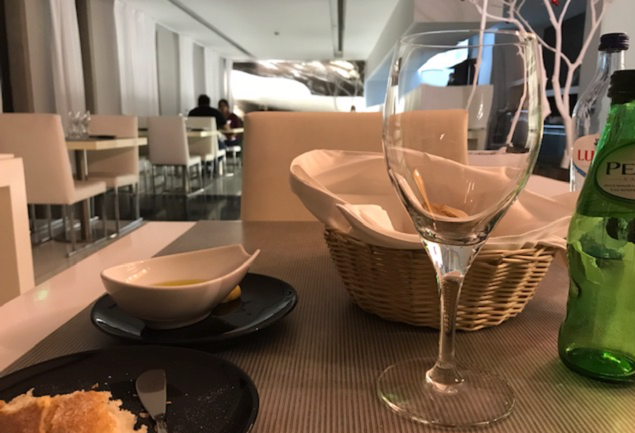 On Saturday morning, I had a nice drive to the airport… then a long flight home.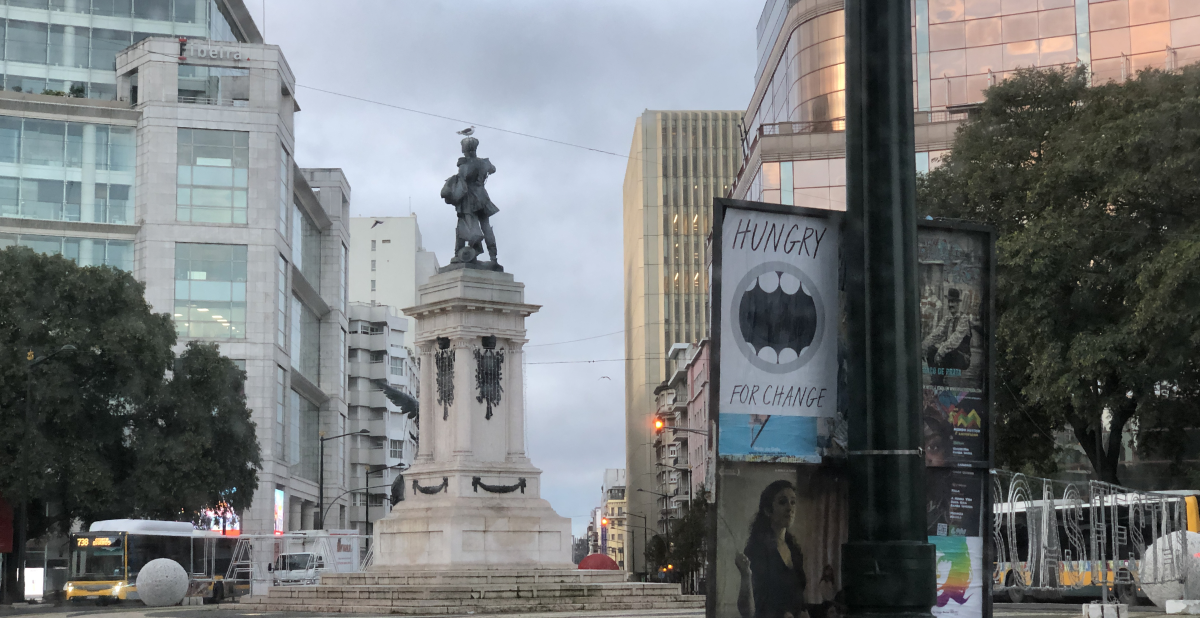 Lisbon seems to be a wonderful place that I would like to visit again. I'd absolutely want to rent an apartment and stay for a few weeks or a month.
---
Below are more photos from this trip.