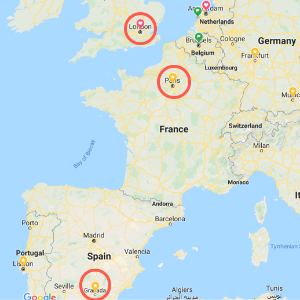 Having seen Philip Glass' Einstein on the Beach and Akhnaten, I had just one more opera to see, Satyagraha, in order to have seen Glass' entire "Portrait Trilogy." When I learned, in mid-2017, that a revived production of Satyagraha by the English National Opera was going to premier in London in 2018, naturally I got tickets for myself and my brother, Tim.
My plans to head to London for this opera snowballed into a nearly two-week trip to London, Granada, and Paris. Tim would join me in London, as would my daughter, Laura, and her husband, Pearce. Then Laura, Pearce, and I would head to Granada while Tim went home, and then I would head back up north to finish my trip solo in Paris, then fly home from London.
The travel begins: Sunday, January 28
I left my house just before 3:00am, and was already on the other side of airport security at PDX by 3:55. Getting up before dawn has even an inkling of cracking isn't fun, but having no traffic on the freeway and no line for security at the airport almost makes it worth it.
As usual, I enjoyed my time hanging out at PDX (and I write more about PDX here). They have art exhibits everywhere that they rotate often enough that it is different almost every time I fly, so I always take the time to wander around and see it. On this visit, they had several installments of mixed media art. Here's a spectacular piece made with rolls of felt protruding an inch or so above the canvas — the artist is Xander Griffith: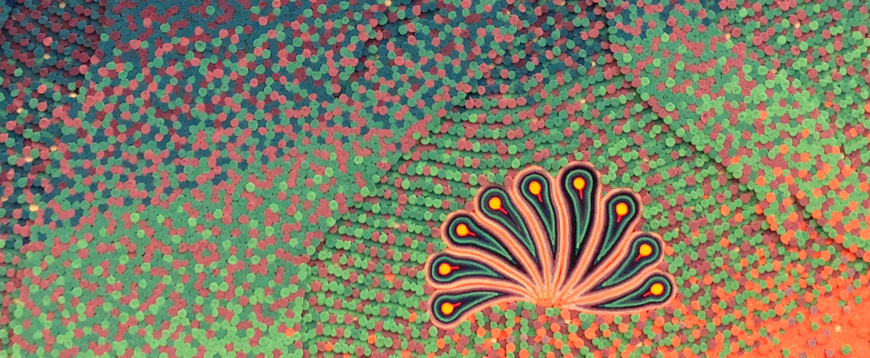 And here's a closeup of another piece that was very interesting: all the outlines are soldered or welded metal, such as what is used for stained glass. Then various materials— some stained glass, but mostly fabrics but also leather, paper, and other stuff—is used to color everything in. The artist is Greta Latchford: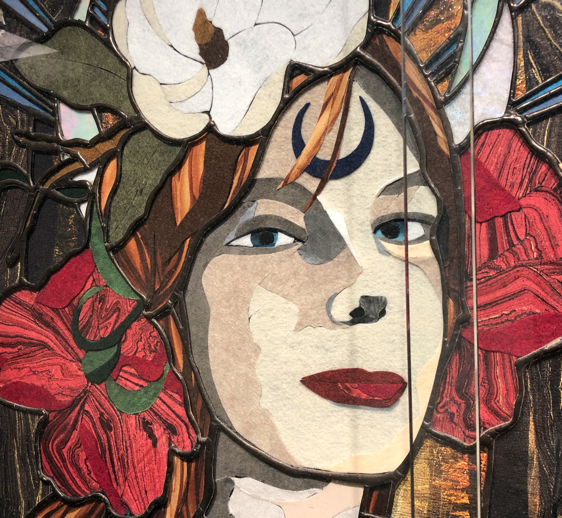 Unfortunately, my favorite store in the airport, CC Mckenzie, was closed this early, but my favorite restaurant in this terminal, Henry's Tavern, was open. I sat in my usual spot: the corner booth where I can be out of the way yet see all the travelers walking by. I started my trip with a healthy meal and killed some time drinking coffee and making sure I had plenty of podcasts and other stuff loaded on my iPad while I am in this free WiFi world.
The flight to Newark was uneventful. I spent a few hours watching HGTV and doing a jigsaw, but then got out my computer and got some work done. As I have a lot of work to do, I felt a little guilty about having wasted time on television, so it amused me that, as we were filing off the plane, a fellow passenger commented that it looked like I'd been very productive.
The view from PDX is much nicer than at Newark, except for the distant NYC skyline:


Finding my way around the massively crowded and busy airport was a challenge. Having checked in for the flight online the night before, I knew what terminal to go to but wasn't sure about the gate. In the absence of any departure displays that I could find, and as there were no humans staffing the British Airways counter, I found a quiet place to sit and call Alaska Airlines (the issuer of my boarding pass). After a long time on hold, the human on the phone told me I needed to call British Airways. When I called British Airways, after a very long time on hold, (but at least the hold music was lovely), the human said that I'm all checked in, I should just read what it says on the departure signs, and disconnected the call.
I chose not to let this frustrate me. I had many hours to kill, so I decided to stop worrying and just wander about and find a comfortable place to wait.
Going through security was very different than in Portland, mainly because they didn't have special treatment for the TSA-Pre people here and I've become spoiled by that!
After finally making it through the ridiculously long security process, I decided I was feeling shakily hungry. I stopped in at a restaurant called Belgian Beer Cafe and ordered grilled vegetables with BBQ sauce. (For the record, I enjoy BBQ sauce on just about anything.)
Finally I boarded the plane and settled in for a long flight. I had paid an extra $75 to upgrade to "Premier Economy" for my flight to Heathrow. On US domestic flights this little extra is not very noticeable: you get a few inches of extra legroom, early boarding, and perhaps your beer is free. But on most international flights, this little upgrade is practically like being on a domestic first class flight: free wine and champagne, nicer meals without plastic cutlery, and more. Well worth it.
Although, despite trying, I got no sleep at all. As usual.
Arrival in London: Monday, January 29
My brain was fried by the time I got to Heathrow. Tim arrived an hour earlier and had waited for me just outside security so we could travel to our flat together. By then I had been awake for 24 hours, so I was grateful to let him direct our next steps.
We took an express train to Paddington Station. This is considerably more expensive than just taking the Underground, but it is far faster and was frankly worth it to this jetlagged, weary traveler.
Paddington has wonderful iron work and was lovely.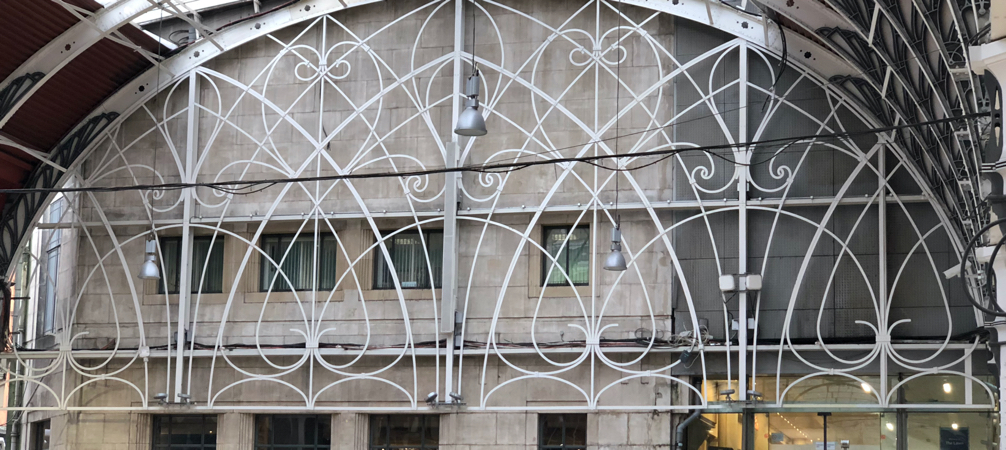 From Paddington Station, we walked toward the flat I'd rented through AirBnB, stopping at a little place called Craven Cafe to eat breakfast and kill time until we could check in. This little hole-in-the-wall spot was delightful. I ordered a scone with jam, and Tim had eggs and toast. Soon, Laura called, asking where we should meet. After a bit of miscommunication, we eventually all converged at the flat, just a block away from the famously upscale Harrod's Department Store.

The flat was a very nice three-bedroom place that was large, comfortable, and amusingly tacky, with an abundance of chrome, mirrors, and silver-colored velvet furniture. It made me wonder if the owner had inherited the flat from an eccentric aged aunt and didn't bother to redecorate before renting it out:

But the kitchen was really cute: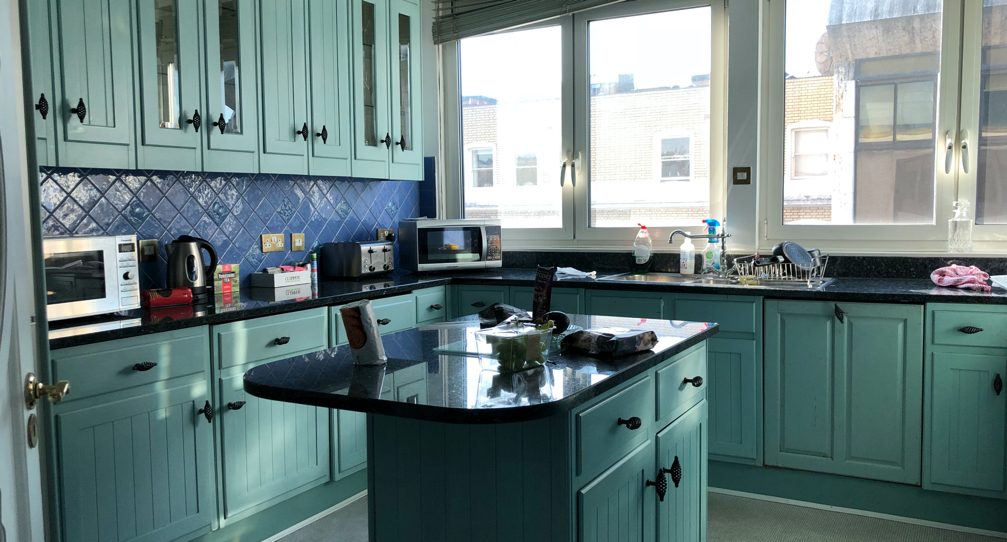 After claiming bedrooms and dropping off our luggage, all four of us went to a local pub. We had actually been aiming for an Indian restaurant that Google told us was a mile away, but we couldn't find it and by then were tired of walking. We were there for several hours and had a really wonderful time. I had a steak and ale pie (very British!) with a Guinness.
After that we just walked around a while, winding our way back to the flat and enjoying the sights along the way. We went through the Knightsbridge area and through the South Kensington campus of the Imperial College, all under a dramatic sky with a blazing full moon that was usually partly obscured by clouds: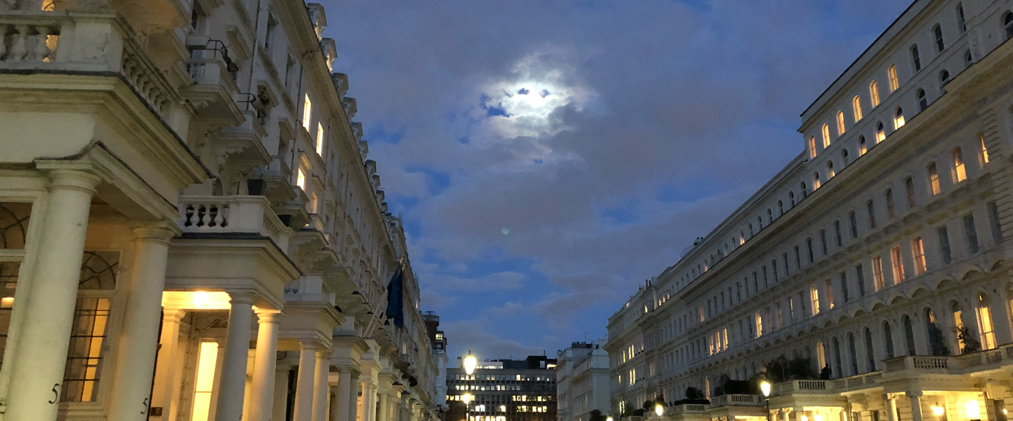 When we got back to the flat, we sat in the living room and chatted a bit. Laura disappeared early to go to bed. I wanted to stay up at least until 9:00, but by around 7:30pm I couldn't take it any more and had to crash. I woke up at about midnight and again at 4:00am, but went right back to sleep each time, waking up reasonably refreshed at about 8:00am. That's right: I slept for nearly 12 hours!
The Tate: Tuesday, January 30
Laura and Pearce went to the National Gallery, and Tim went for an all-day visit to Bristol to meet with a colleague. This left me on my own for the day, so I decided to head to the Tate Modern museum.

I wasted some time in the flat obsessively checking maps and figuring out what to do, but my lack of any sense of direction coupled with my total unfamiliarity with London and my "wow, I am in a foreign country!" mindset made any meaningful preparation incomprehensible. Finally I just googled what tube stop I needed to find, and took off.
By the way, Harrod's has doormen in front, and they are dressed in a particular shade of green. You know Tiffany's teal? The image to the right is a doorman wearing Harrod's green.
Anyway, after stopping in at a few stores (not Harrod's!), I headed to the Underground, loaded up my Oyster card, and figured things out with a little help from a friendly employee inside the tube station.
I stopped in at a pub by the Thames for some lunch and ordered a chicken and avocado sandwich. It was remarkably awful, made with what must have been frozen avocado. After lunch I headed back outside and resumed my journey toward the Tate, taking many photos and chuckling about how many construction cranes I saw along the way. (By the way, right-click an image and choose "Open in New Tab" (or something like that) to see larger versions of these and almost any online photos.)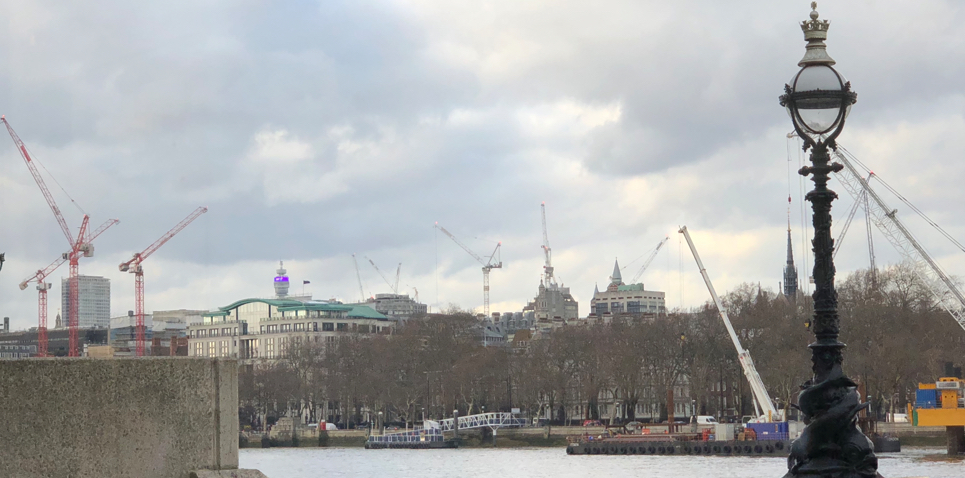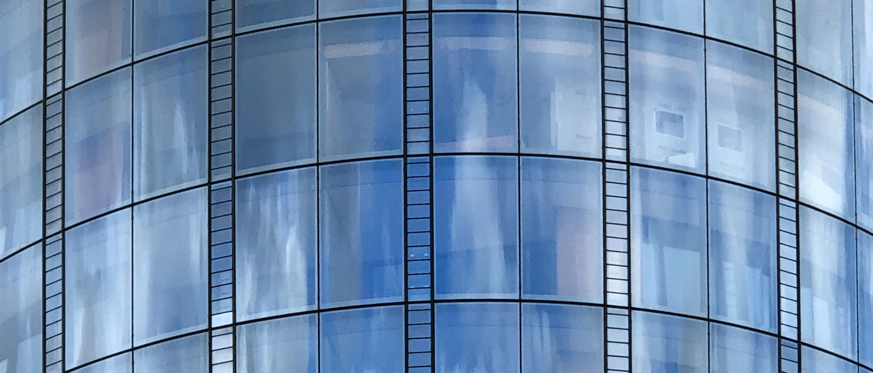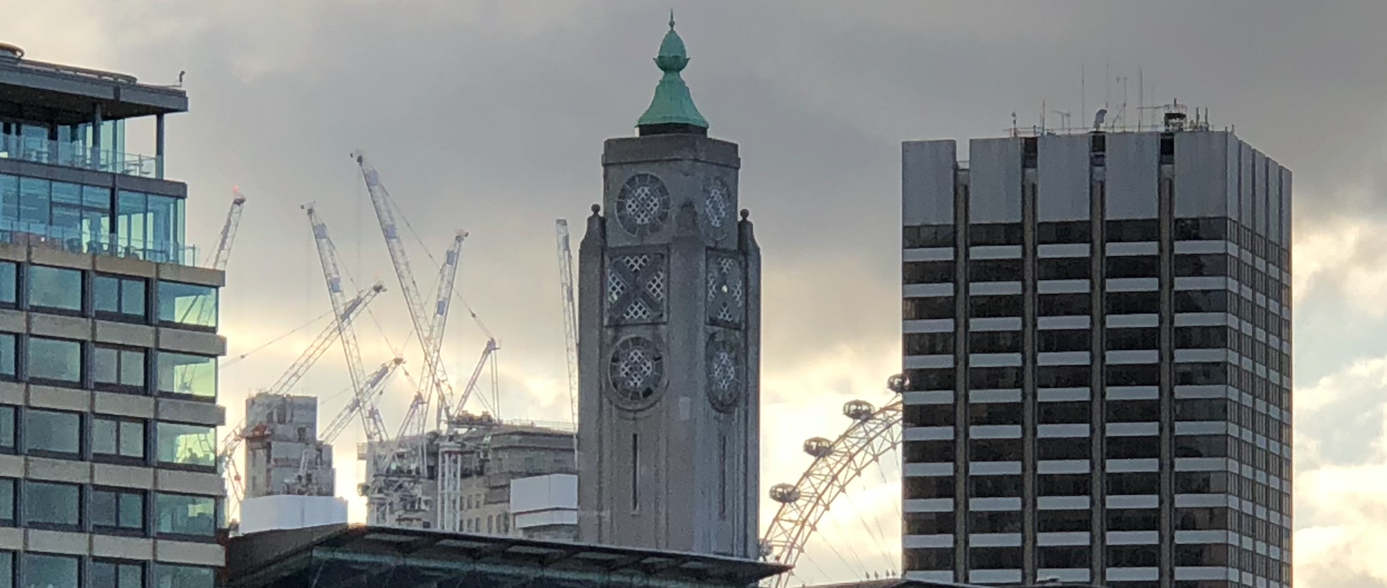 The sky had been moody and threatening rain all morning, but soon cleared up: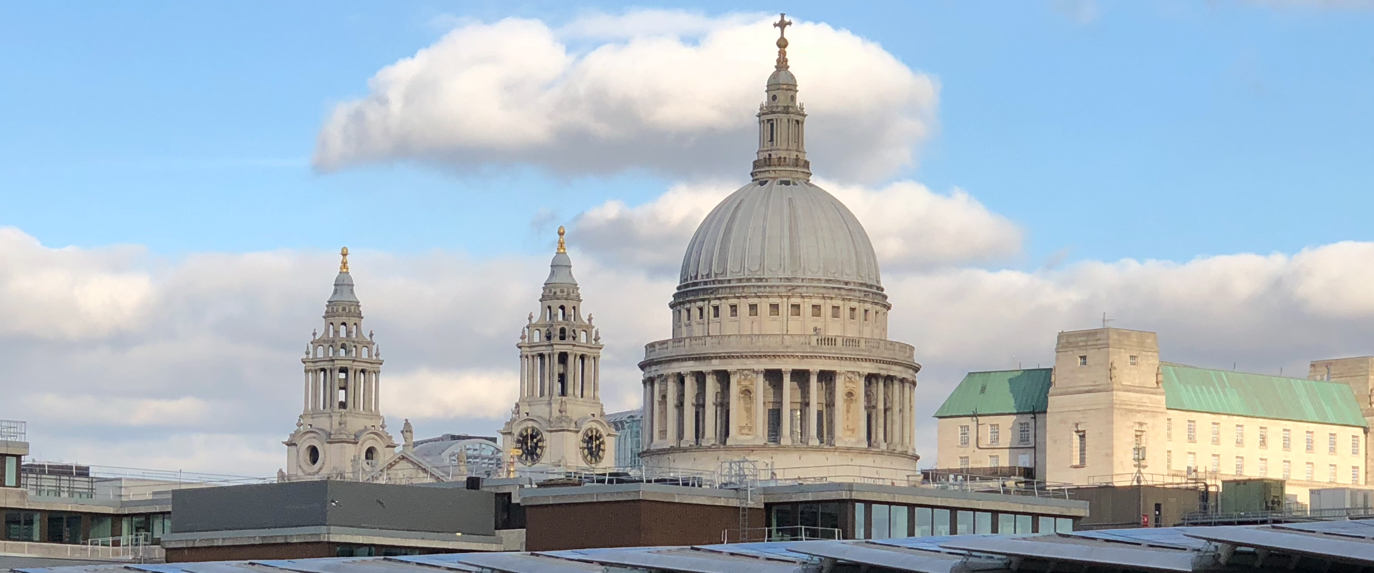 I made it to the Tate, and had a wonderful time. I think I prefer the MOMA in New York, as they put effort into organizing the collections somewhat, whereas here at the Tate, the art was a jumbled hodge-podge. Nevertheless, I saw many wonderful works of art. I saw a few classic Warhols, a Mondrian, some very interesting, sinisterly-animalistic sculptures, and more: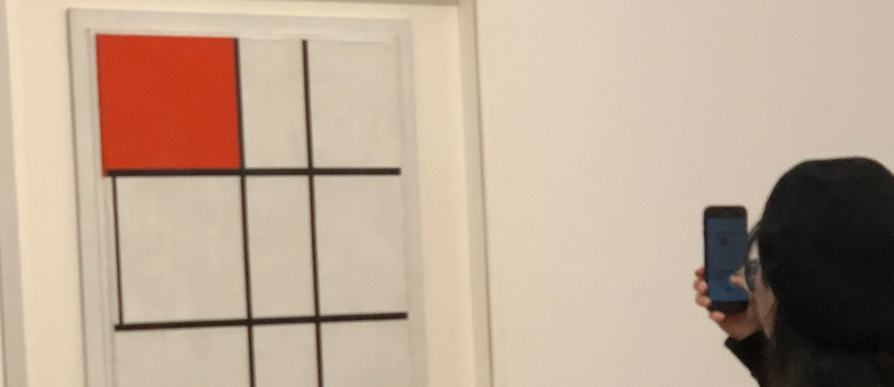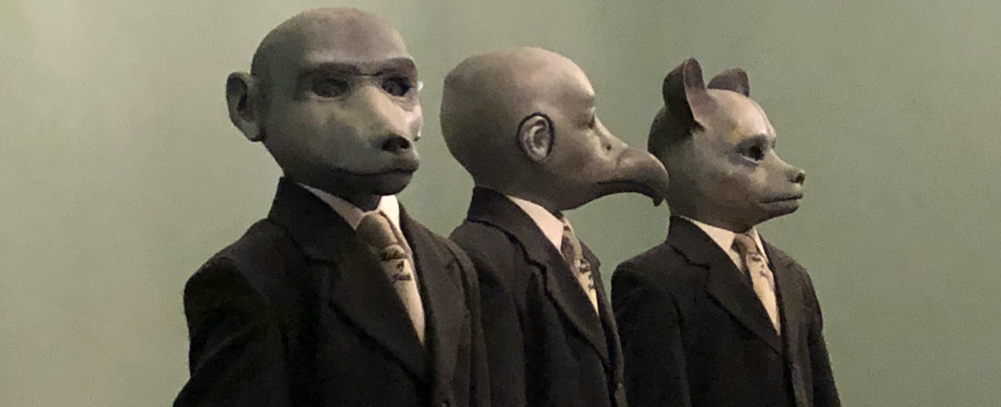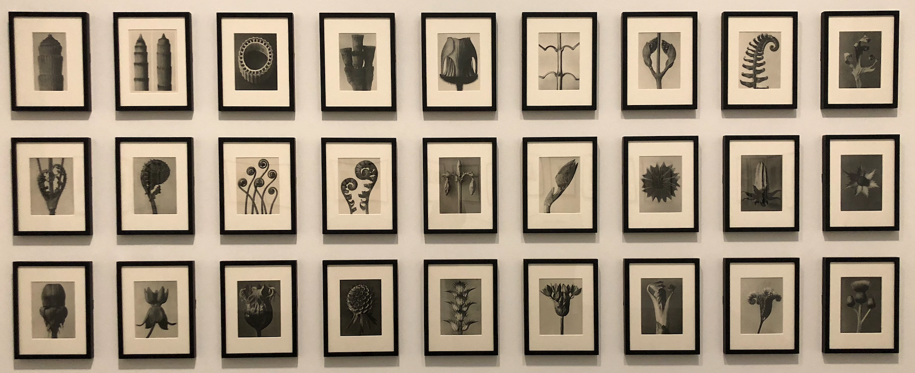 … and I enjoyed this display in which quotes from several artists wrote themselves on these canvases:
I was at Tate Modern long enough for the art to do what modern art does best: it opens the mind to make it plumb the mundane for meaning. After I walk out of almost any museum of modern art, I can probably be stopped in my tracks to photograph an artfully squashed bug, all while getting teary-eyed and effusive from its deep significance.
I left the museum to head to Southwark Cathedral to meet up with Laura and Pearce, passing the Globe Theater and other sights along the way: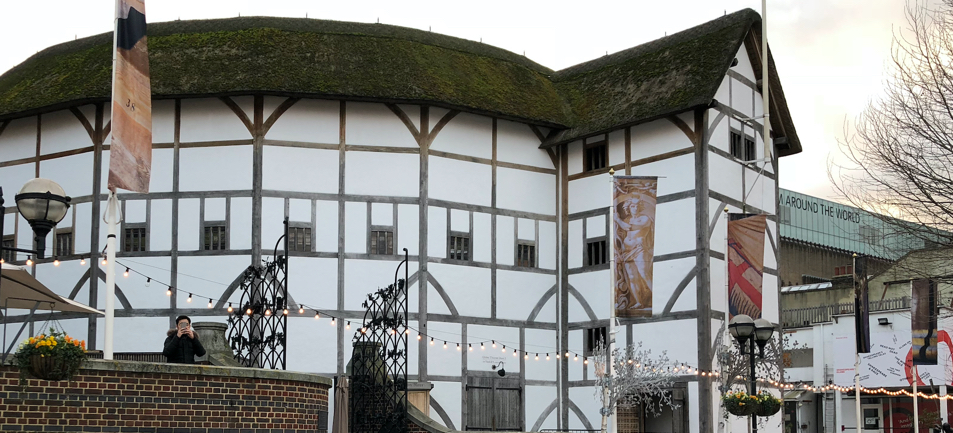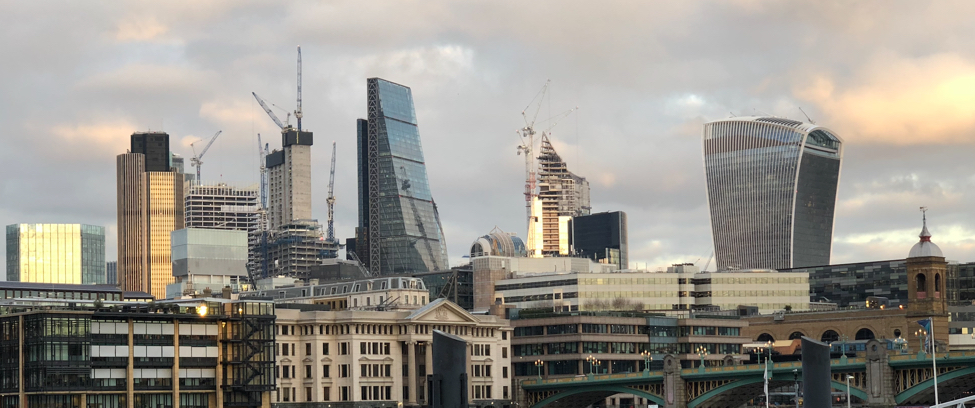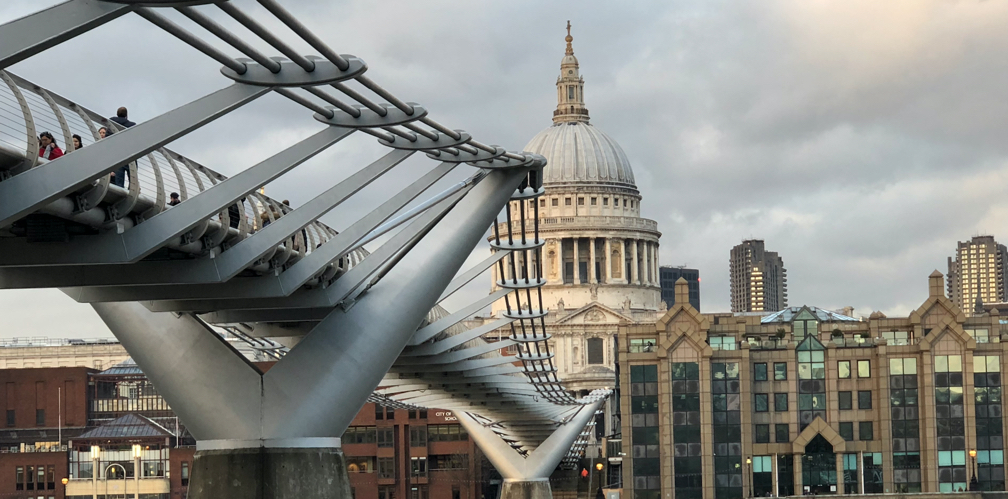 The Southwark Cathedral was William Shakespeare's church, and thus he is honored (but not buried) there: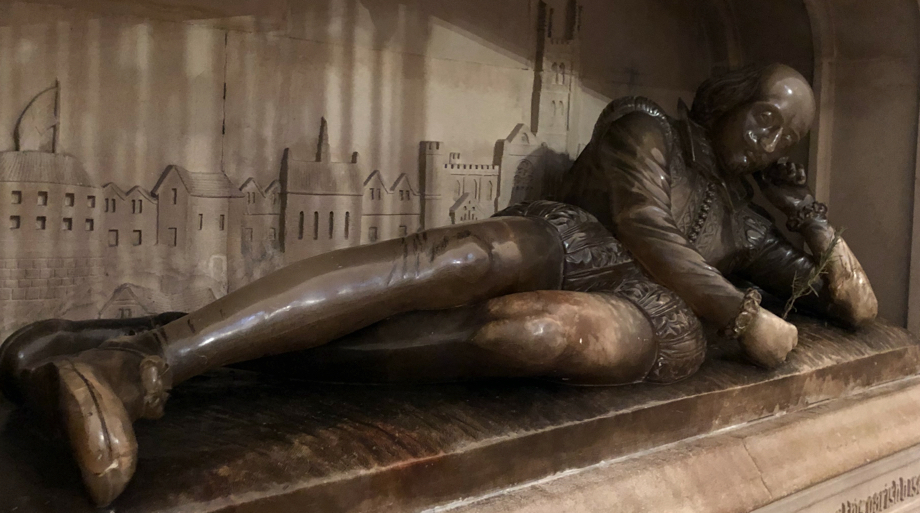 … whereas Edward Stuart Talbot, the bishop of Southwark (among other churches) is actually buried there (if I'm not mistaken):

I've never visited the Sistine Chapel. Until I do, I think this is the most photogenic ceiling I've ever seen: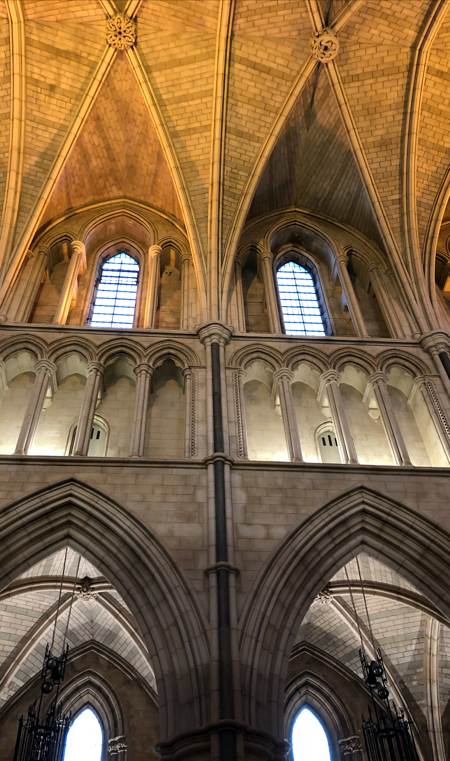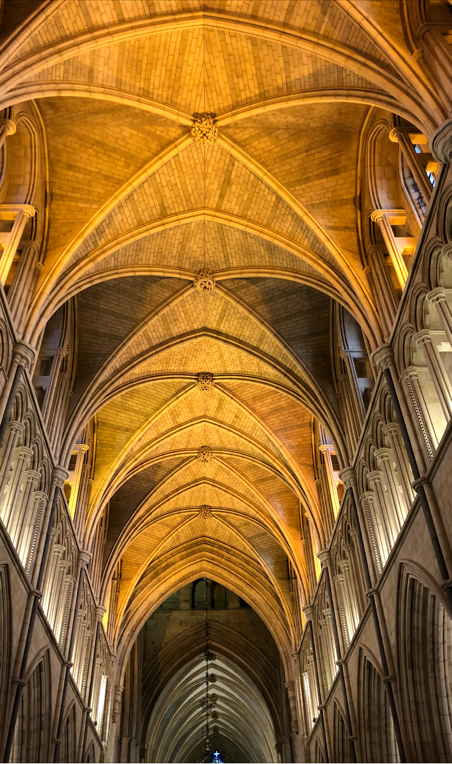 After the Cathedral I met up with the kids at a pub for a beer, then we headed to dinner at an Indian restaurant where Tim joined us, as well as Olivia, a friend of Pearce and Laura's.
On the way back to the flat, we were all amused by this graffiti (at this point we were just one year into the absurd drama that was the Trump presidency):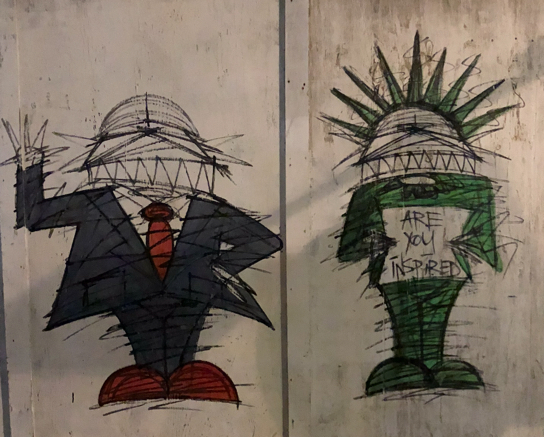 London tourists & Wicked: Wednesday, January 31
Laura and Pearce made plans to spend the day visiting friends in the city, so Tim and I made other plans. We started by going to the Coliseum, the building where the English National Opera is based, for a tour. When there is any significance to the place at all, I enjoy touring the venues before I go to a performance, as it usually helps me more fully grok the experience.
The tour of the Coliseum was ridiculously detailed: we were 48 minutes into it before we finally started walking around and looking at things. (Yes. I timed it.)
The building is very nice, and it was especially interesting to hear about their challenges of fitting the business of the opera into this small venue (compared to today's huge performance spaces).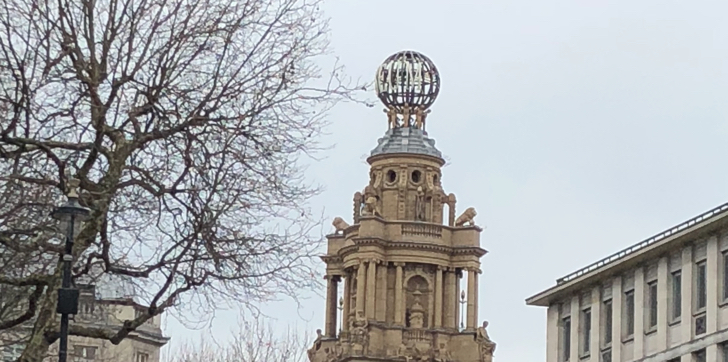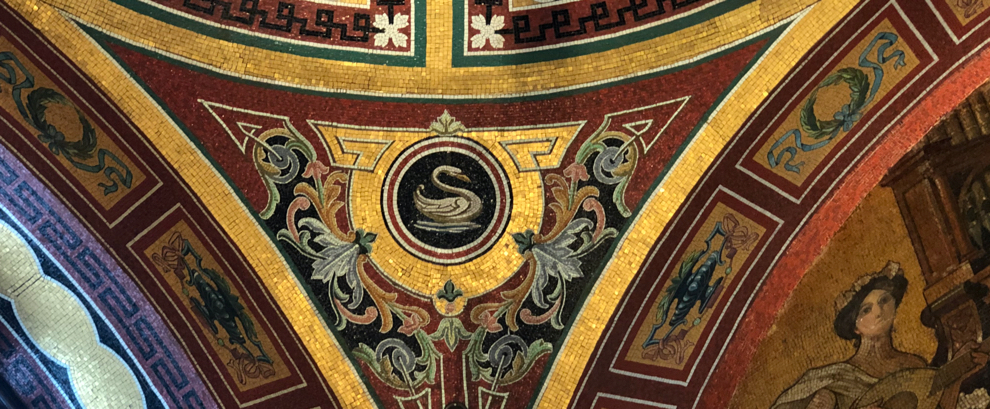 Finally we moved into the auditorium, and we could see the set builders putting together the set for that night's show (I don't recall now what it was):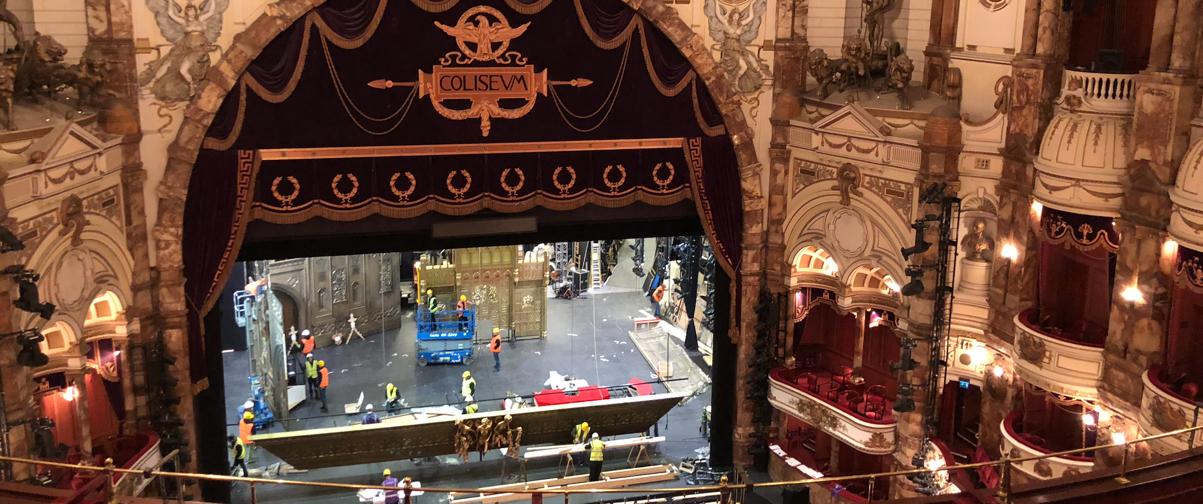 Then we went into the orchestra pit, and all the music on the stands was for Satyagraha, which fanned this Glass-fan's heart: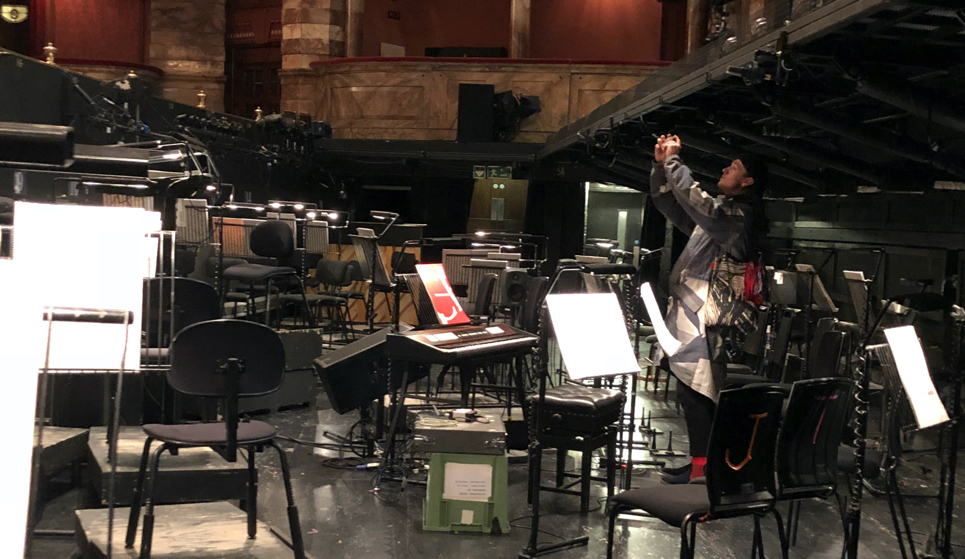 As we were leaving by way of the interior "employees and performers only" hallways, I spotted this poster from the 2010 production of the show: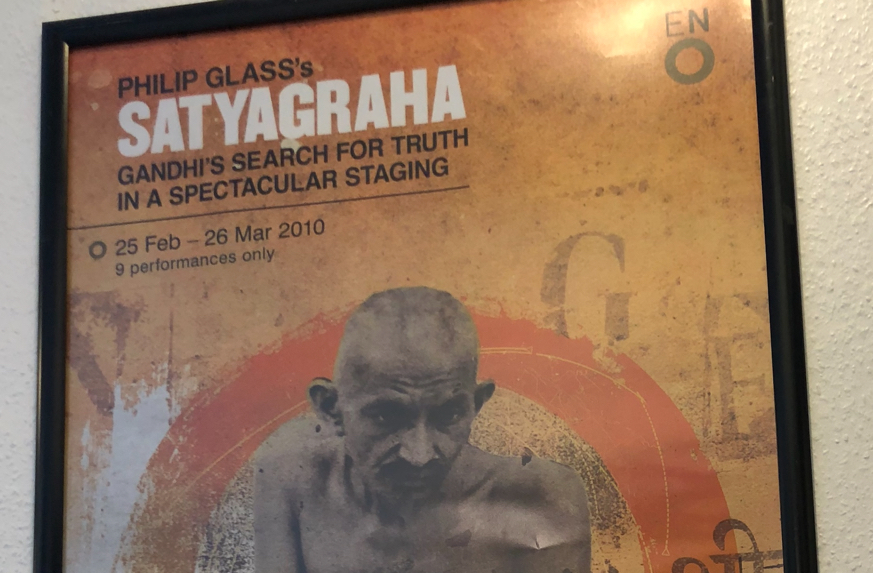 After the tour we briefly walked around Trafalgar Square, then went back to the flat to meet up with Laura and Pearce. We decided to go visit the London Eye — the famous giant ferris wheel on the Thames. Tim went online to pre-order our tickets, reserving a time just before sunset so as to have the best golden-hour views. We waited a short time, then we set off.
It was very cold and windy, but as we had pre-ordered our tickets we didn't have to stand in line and were almost immediately ushered into our glass-encased pod, which looked like this: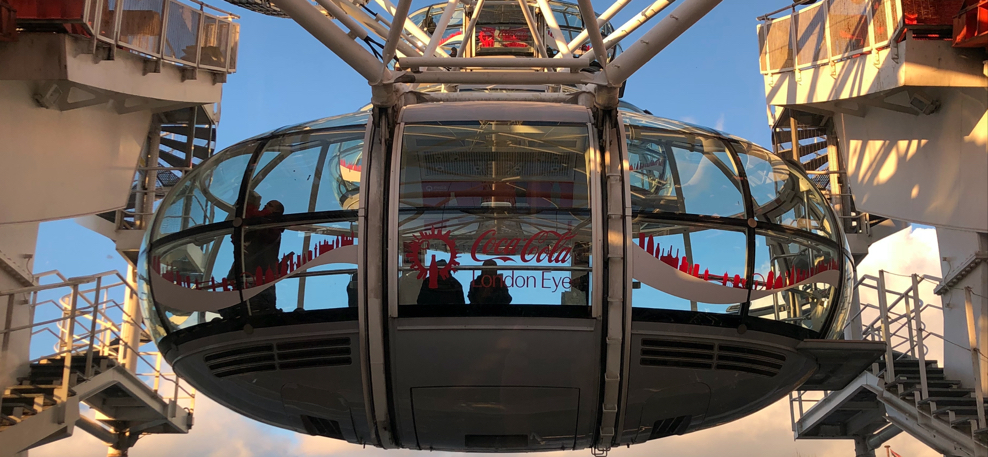 The ride takes about 45 minutes and yields positively spectacular views. It is well worth the time and cost. With great effort, I've gone through the 50+ photos I took and narrowed it down to just these seven (note that Big Ben was shrouded in scaffolding for restoration work):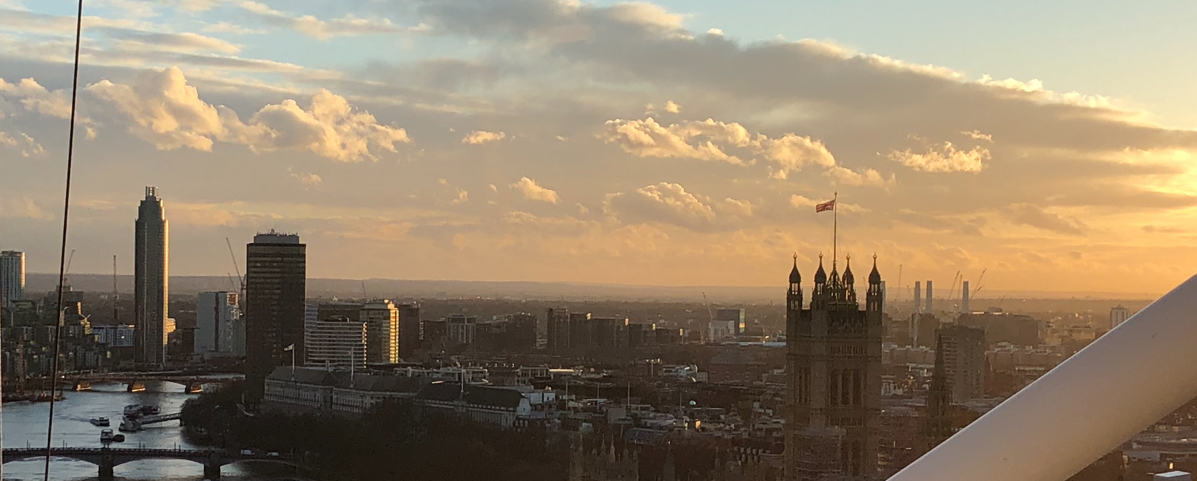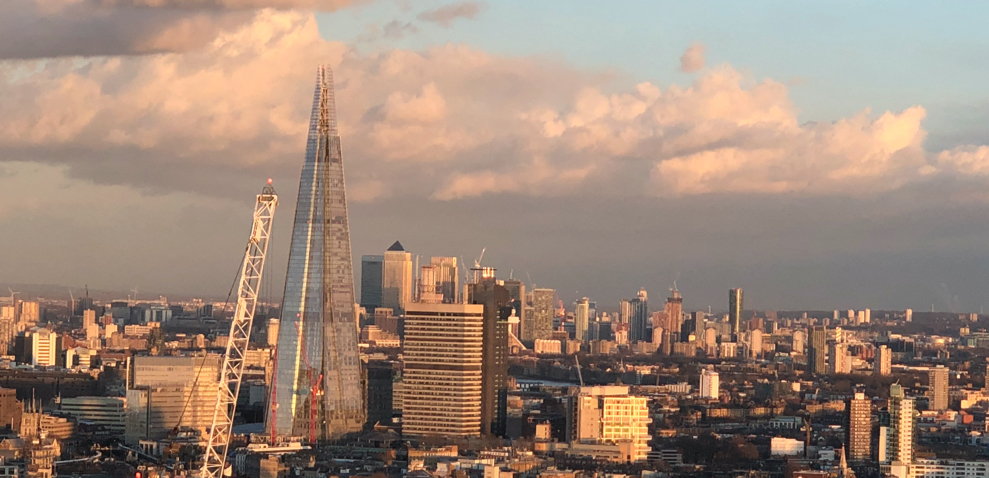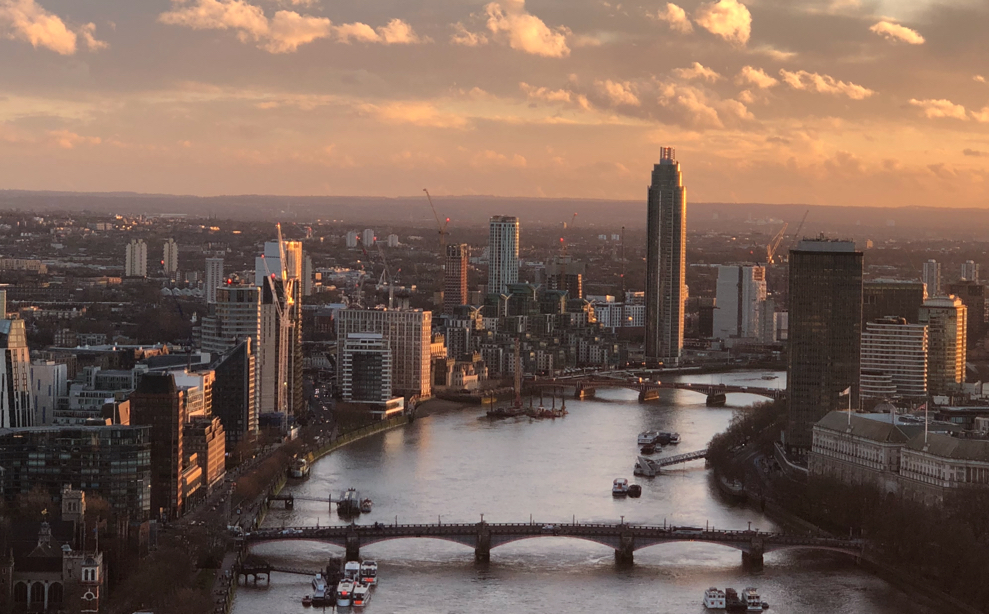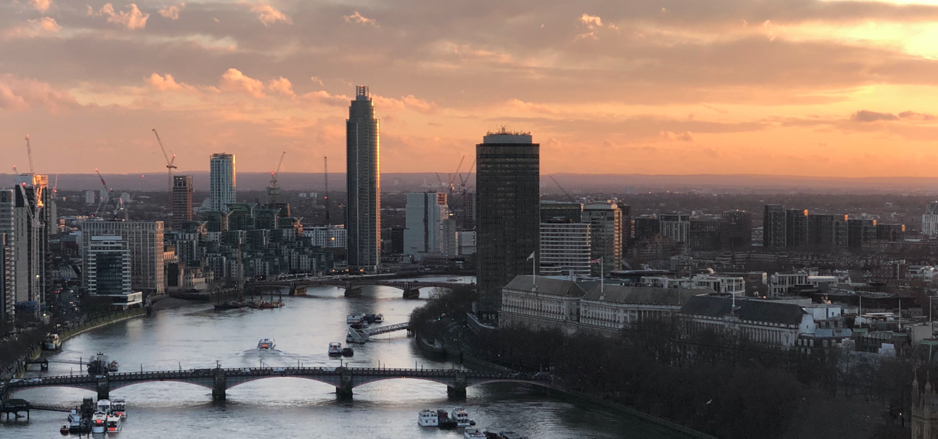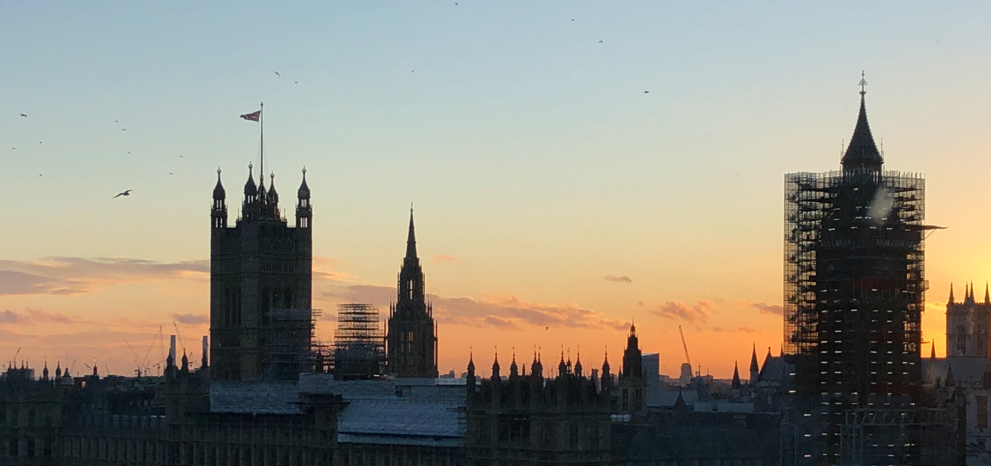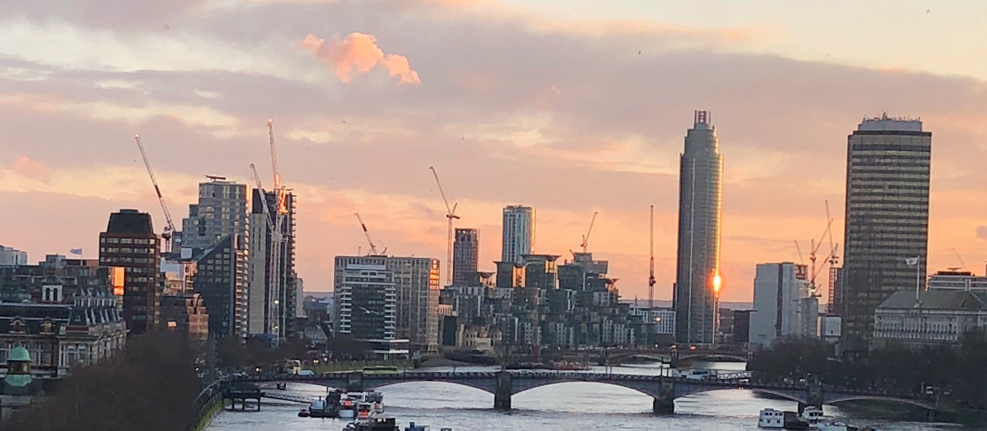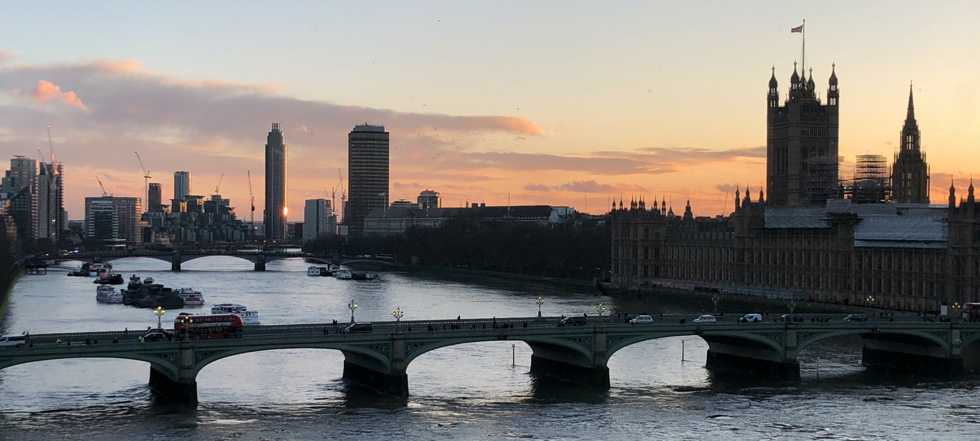 … and a rare seflie with Tim. How is it that anyone can feel comfortable taking selfies?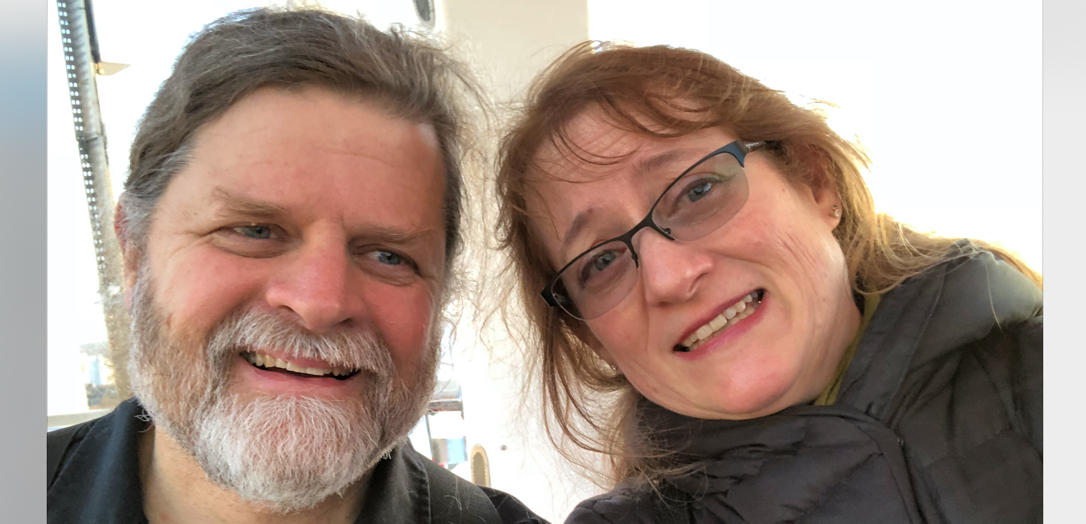 Afterward, we walked across the London bridge: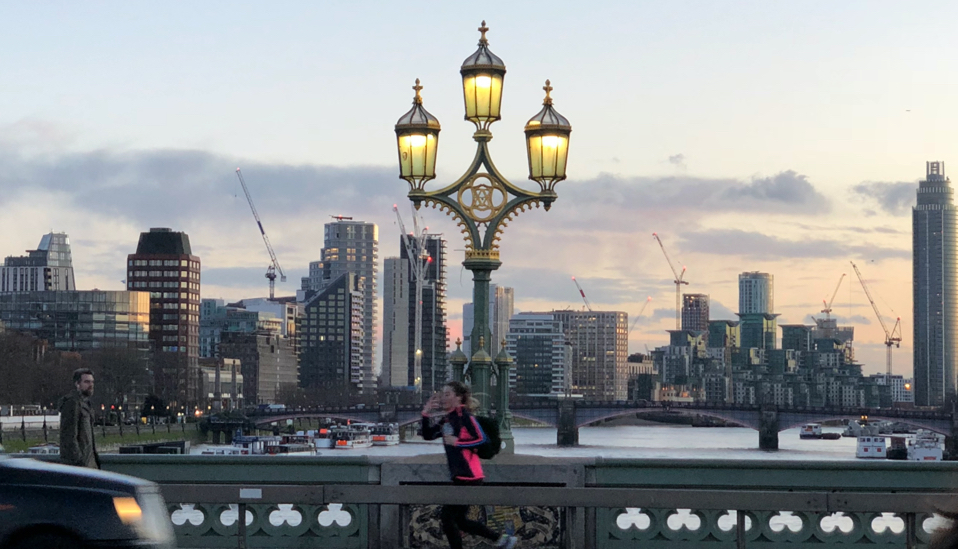 … but found it too aswarm with tourists on the other side, so we headed back to the flat.
As we were in one of the world's top two places to see live performances, London and NYC, Tim bought us tickets to go see Wicked at the Apollo Victoria Theater. Pearce's interest in musical theater is measured in negative numbers, so he stayed in the flat while Tim, Laura, and I went. (The show was very fun, but not as good as I'd expected.)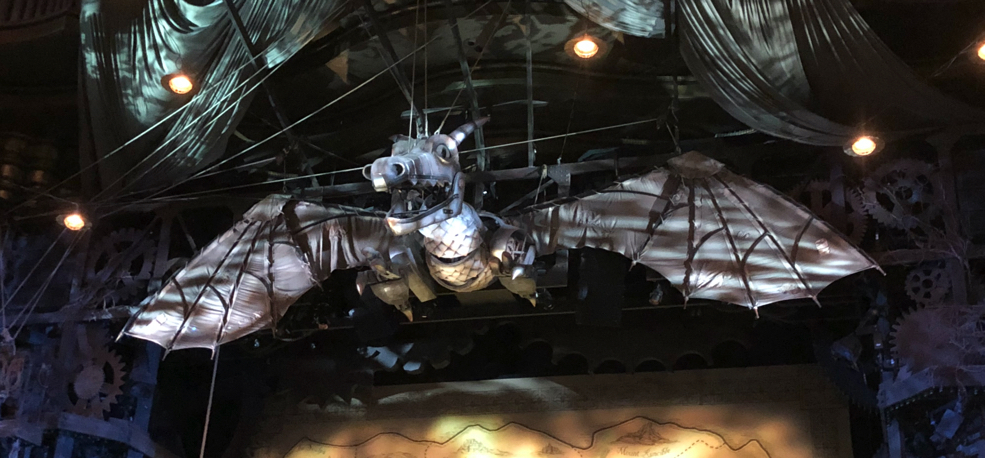 Satyagraha: Thursday, February 1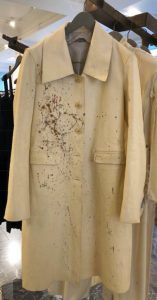 I had a slow, easy morning getting ready for my day. Laura and Pearce left early, as she was seeing him off to Gloucester to visit his brother who lived there. I then met Laura at around noon in the shopping district on Oxford/Regent Street. We went to the famous Selfridge's Department Store, where we saw some absurdly, stupidly expensive stuff, like this pre-splattered coat for only £2,030:
When I sent my Dave an email with this photo, he replied, humorously asking: Will the presplattered coat ever go on sale? Is it returnable? Does the price include tailoring? Is it dry-clean only?
We went to another store, one more appropriate for us mere mortals, and I bought a new Radley handbag.
Then we stopped in for a late lunch at a pseudo-French cafe across the street from our flat. I ordered soup, and the server brought it to me with a giant spoon: like, a spoon for serving up massive dollops of food onto a plate. It was absurd. I asked if she had something smaller, and she brought me a tiny stir-sugar-in-your-micro-espresso-cup -sized spoon. I asked if she maybe had something in-between, and she brought me an iced-tea spoon, which is still smaller than a "normal" spoon and had a long handle, but better than the other two. It was hilarious, and I'm betting I will be featured in this server's best "annoying American tourist" story for the rest of her life. (And of course, one cannot talk about one's spoon being too big without paying homage to Don Hertzfeldt.)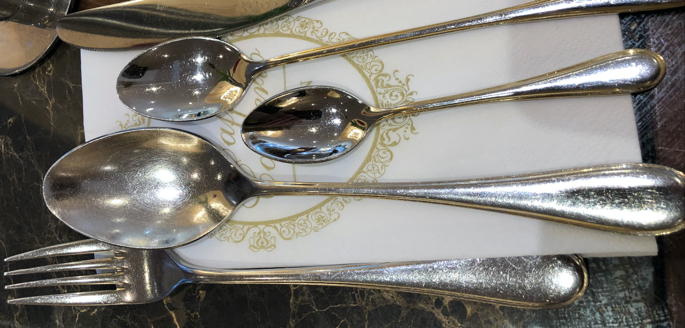 After lunch we had about 45 minutes to get dressed and head toward the Coliseum, where Laura's friend, Olivia, was meeting us for dinner before Tim and I went to our show.
We went to an Italian tapas-style restaurant called Fuma (I think). Olivia and Laura shared their dishes since they are both vegetarian, and Tim and I shared our dishes. I liked the food, but I wouldn't care to return, although the place and the experience was fun.
After dinner, Tim and I excused ourselves from the rest of the group to go to the Coliseum, arriving about 30 minutes before the show started. Our seats were excellent, and, well, the show was fantastic.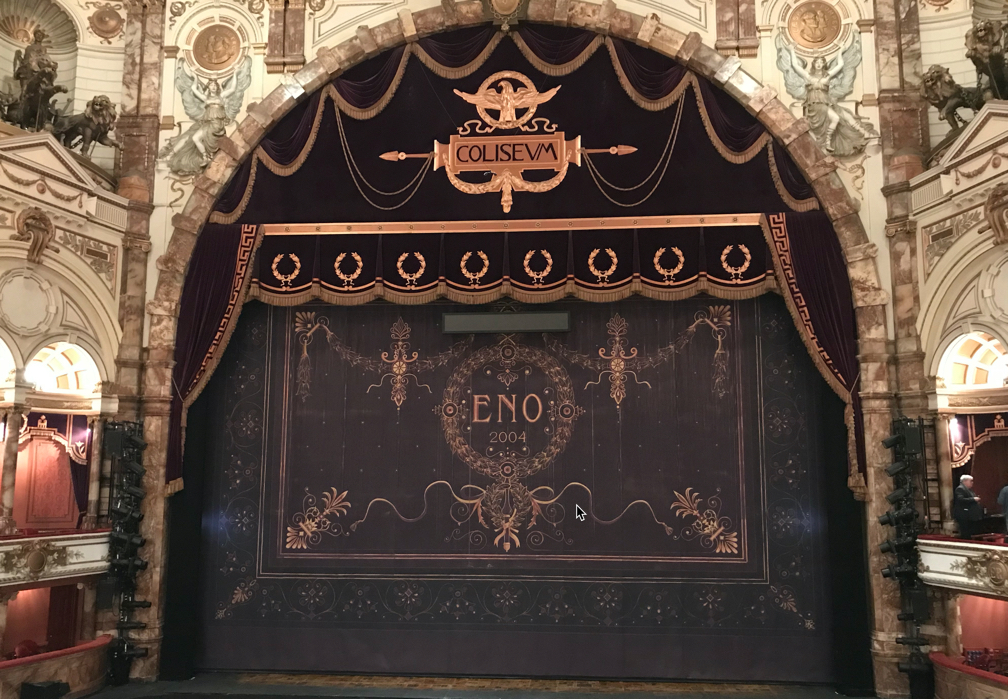 Musically, I have always had a slight preference for Akhnaten. However, now that I was seeing it on stage and had a better understanding of it, Satyagraha was incredibly moving, especially the third Act with MLK (see the photo, below, stolen from somewhere online). Here is a good synopsis of this opera on Opera Log.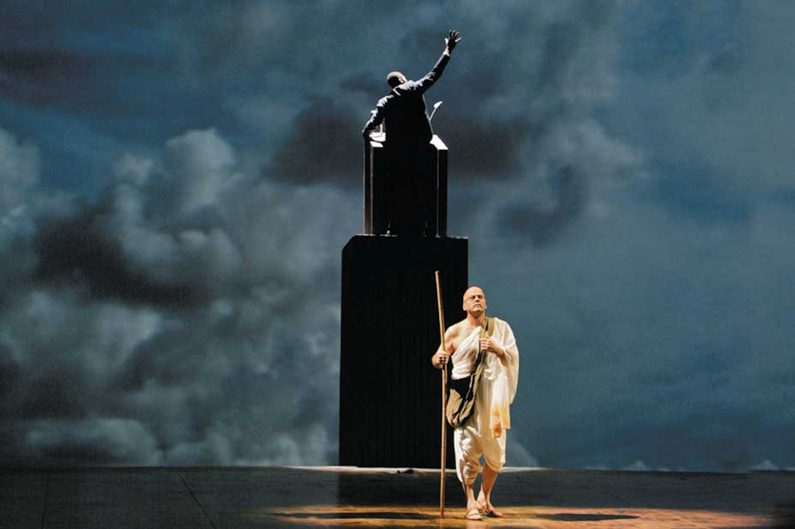 After the show, still walking on clouds from the wonderful experience we'd had, we went straight back to the flat, checked email, and called it a night.
British Museum & Young Frankenstein: Friday, February 2
Today, Tim and I set out out to wander about on our last day in London. I wanted to return to Trafalgar Square because we'd seen so little of it when we were in the area the other day.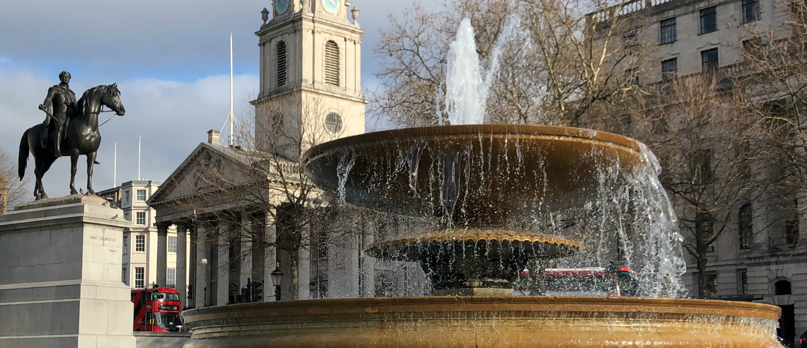 I don't recall if someone told us about this or if Tim or I read it somewhere, but apparently the sculptor of the famous lions of Trafalgar Square used a house cat as his model for the paws—not realizing that a cat's paws were very different from those of a lion.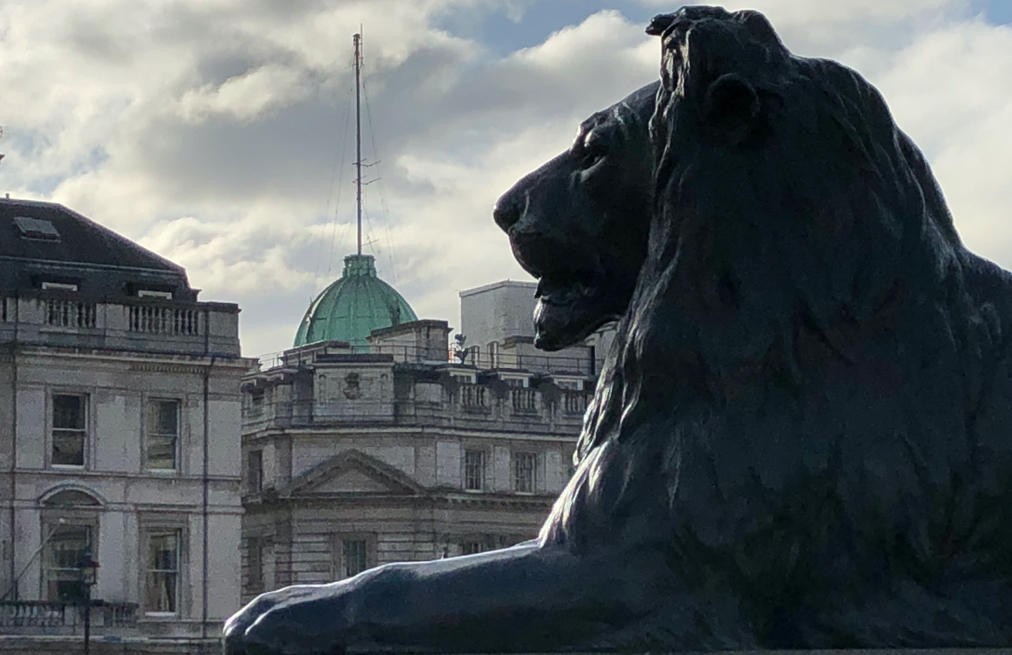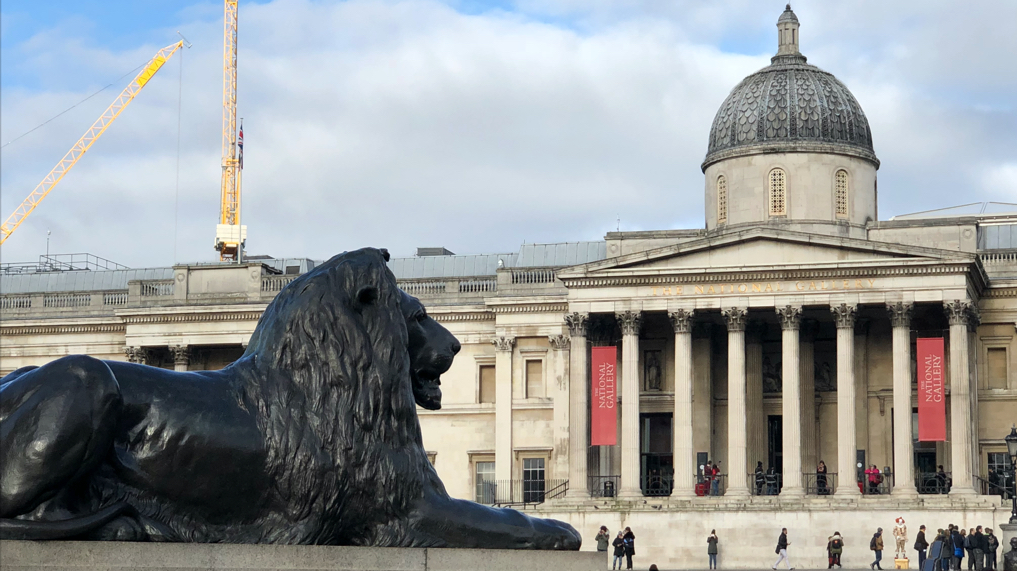 This last photo I took because I was aghast at this sculpture. I understand that people were up in arms about it when it was first installed, and I can't say that I blame them. In hindsight, it brings to mind the thumb sculpture I saw just a few days later in front of the Pompidou in Paris: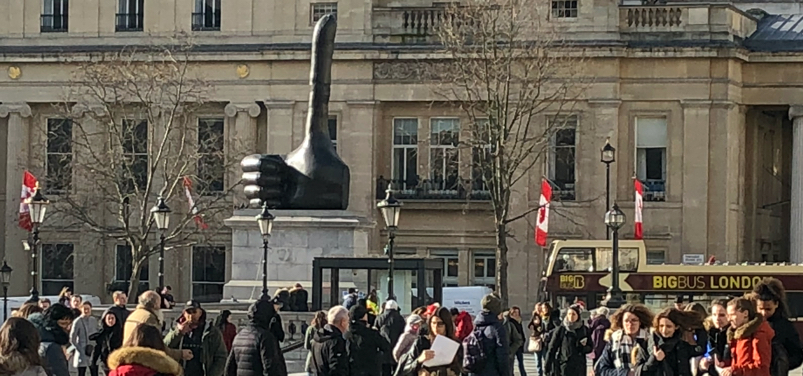 Next we headed to the British Museum. Look at this awesome ceiling!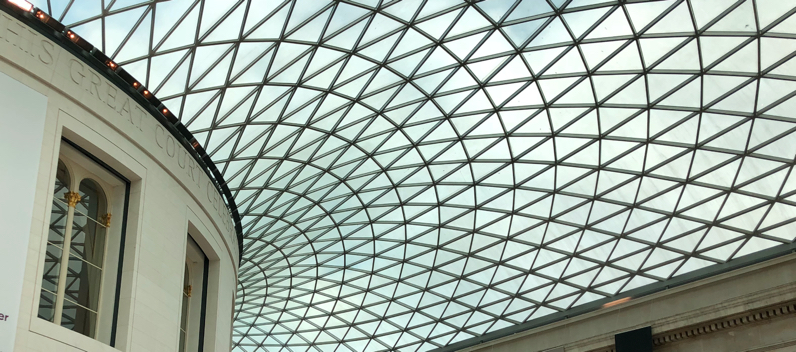 There was a tremendous amount of ancient art, including the actual Rosetta Stone, which made me wonder why these things were here and not in Egypt: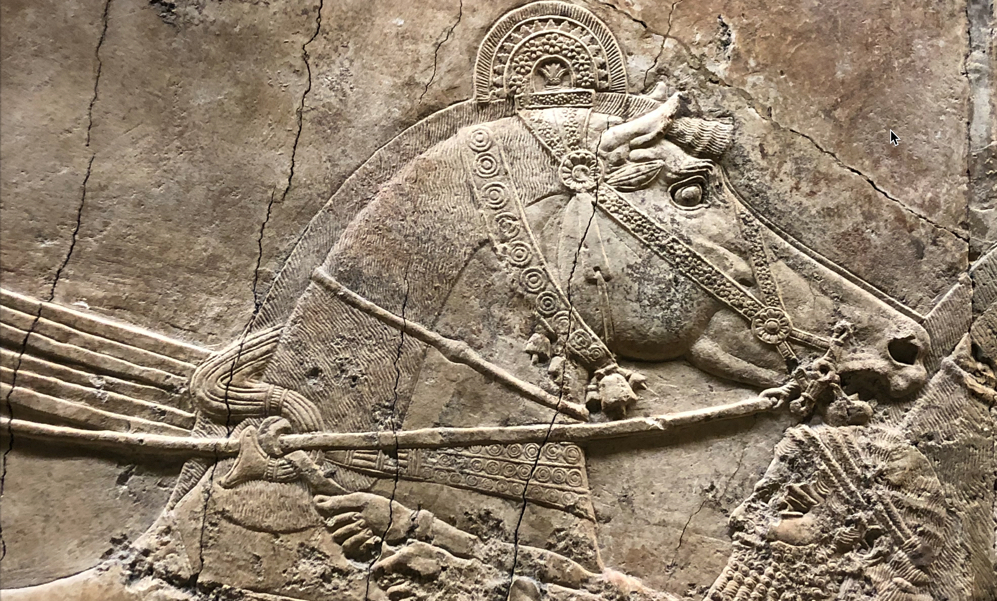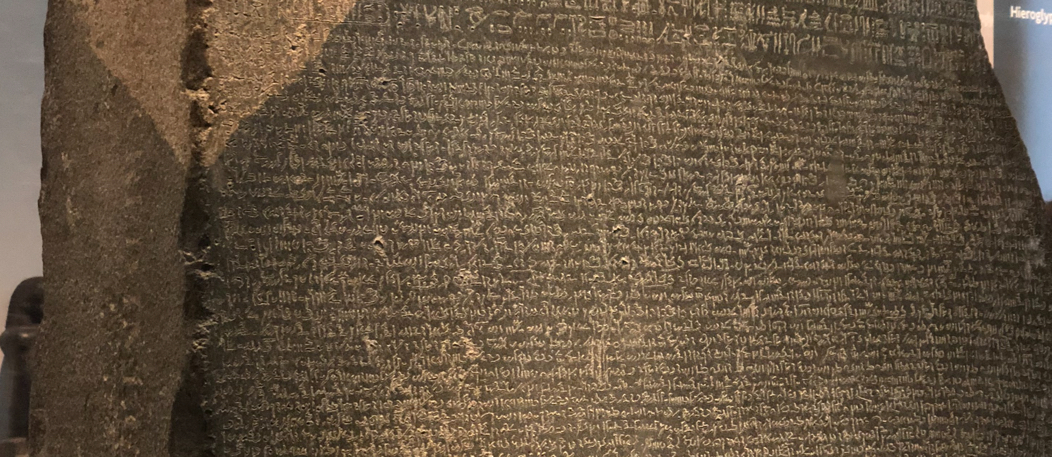 After dinner, we went back to the apartment to recharge, then Tim and I headed back out to see the musical Young Frankenstein at the Garrick Theater on Charing Cross Road. It was incredibly good, and easily on my list of must-see theater performances: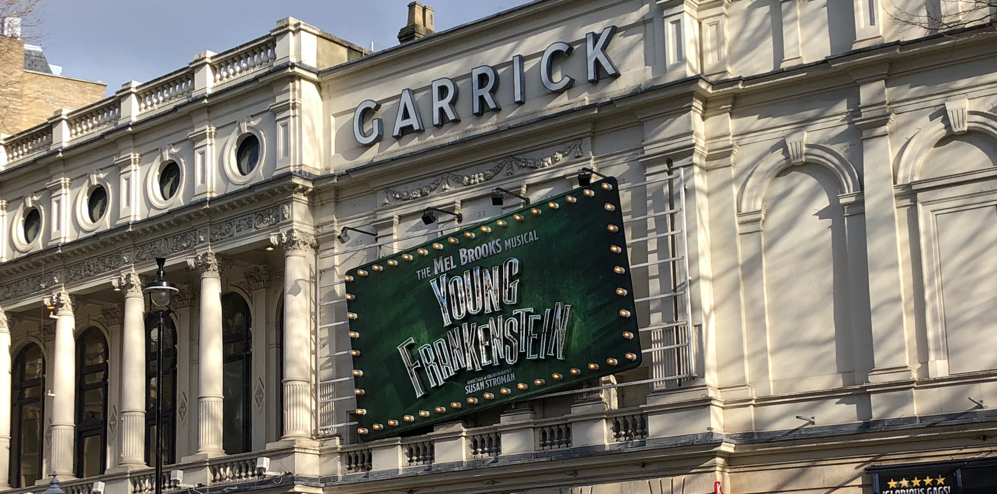 When we got back to the flat, we made plans for our departure for the next day. Tim was returning home to the US, while I was going to join Laura and Pearce on a trip to Granada, Spain.
On the day we left, Saturday, February 3, I got this nice sunrise photo from the living room window of our flat: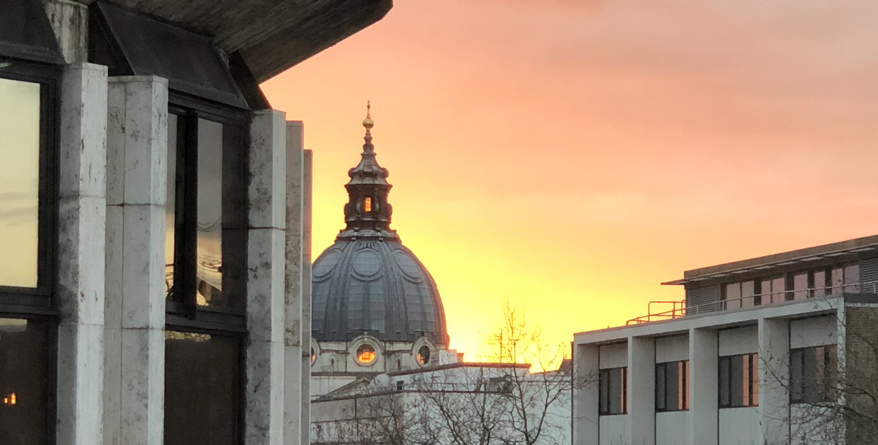 This is maybe the only pretty building visible from the flat. I had to wedge myself into an odd corner and hold my camera at an angle to get this picture, so I'm surprised it turned out as well as it did.