Plastic bits in the ocean and in the food chain have created a big, scary problem. If all of us would take a few small steps to minimize disposable plastic usage, the cumulative effect could make a big difference.
Many of us bring our own bags to the store, but we can do more. Here are five steps you can take to help reduce one-off plastic use:
1. Stop buying laundry detergent in those big jugs.
Those huge plastic jugs add a lot of plastic to the world's landfills, and those giant cardboard boxes of powdered detergent aren't recyclable.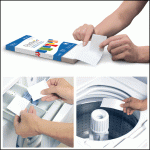 Instead use sheets that are made of compressed detergent. Its packaging uses less plastic and its light weight reduces transportation fuel consumption and carbon emissions warming the planet by 94% compared to the liquid and powder detergent of today's leading brand.  I used compressed detergent sheets from TruEarth for several years and my clothes are just as well cleaned as they were when I used the name-brand jug. Blueland also has laundry products.
---
2. Stop using plastic straws.
175 billion plastic straws make their way into landfills and our waterways and oceans every year. Plastic straws are one of the 10 most common trash items found on our beaches, and they have been blamed for the death of many marine critters.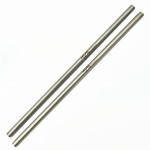 You could use paper straws, but they start to get soggy after about 20 minutes. Instead, try a stainless steel or titanium straw.
Also consider sending tweets to these CEOs, asking them to stop using plastic straws (which is the #1 source of all the straw litter) in their fast-food restaurants: McDonald's: @SteveEasterbrk   —Wendys: @toddpenegor33 and @tpenegor33
(Anyone care to send me more CEO Twitter account links to include here?)
Also see Strawless Ocean and The Last Plastic Straw if you want to do more to help.
---
3. Stop using disposable baggies.
There is plenty of uproar about plastic grocery bags, but not much is said about the millions and millions of single-use "baggies" that are used for sandwiches, snacks, and other food storage in most homes.
We have a good supply of plastic containers that we use for food storage in the house instead of baggies. Yes, they're plastic: but at least it's not single-use like baggies are. We also reuse packaging that other foods came in: for example, bread bags.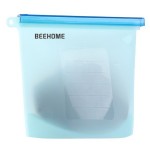 I tried these reusable silicon zip-lock "bags," but I found them to be incredibly difficult to close. So I really don't recommend them.
If I had a kid's school lunch I was packing, I would have looked further into a solution for this, but as all my good storage needs are for in the house, the plastic containers and reusing bread bags has been working for us.
---
4. Stop using store-supplied produce bags.
As long as we're on the theme of plastic bags, many folks who get an A+ for bringing their own bags from home to carry their groceries home are still using the free plastic bags in the produce section.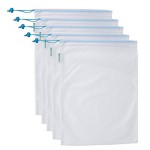 While some grocery stores are using compostable bags, that is still a single-use solution. Instead of using these bags, you can do one better and use fabric mesh bags that you bring from home. These are also handy for storing produce in the fridge, and you can toss them in the washer from time to time.
And as long as we're talking about these plastic produce bags, the folks at RecycleBank have set up a tool so you can find a drop-off location to recycle them + other plastic bags. Here's that link:  https://www.plasticfilmrecycling.org/recycling-bags-and-wraps/find-drop-off-location/
---
5. Stop using  plastic coffee pods.
One website I found said that 25% of US homes have a Keurig or other brand coffee maker that uses single-use coffee pods, or K-Cups, and that the number of these pods in US landfills could wrap around the planet 10 times.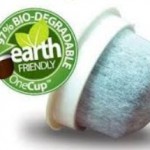 Instead, use a percolator, french press, or drip system. If you must use a Keurig-style one-pod coffee maker and don't want to load a reusable pod, then use the OneCup: a 97% recyclable pod from the San Francisco Bay coffee company.