Travel days: Saturday-Sunday, December 1-2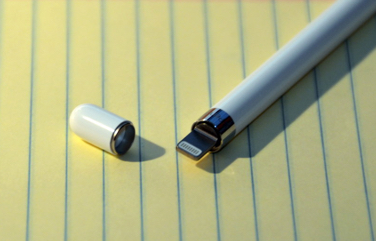 I started my trip by flying from Portland to Schiphol Airport in Amsterdam.
The fellow sitting next to me on the plane perked up when I pulled out my iPad and Pencil shortly after takeoff from PDX and we talked geek stuff for quite a while. He commented on how I have no cap on my Pencil, asking if I had lost it. I told him no, that it didn't have a particularly snug fit, so I pre-empted losing the cap by just not using it. He said he had just bought some spares for his that were extremely snug and he had way more than he needed, and he gave me one… which I somehow lost by the time we were halfway into the flight. I spent the second half of the flight occasionally looking around for it, a few times even with the aid of the flashlight on my phone: but it was long gone.
The Amsterdam airport looked to be a neat place to hang out, with lots of lights and shops. It was my first time here, but I didn't take the time to check any of it out because the line for customs was quite possibly the longest line I had ever seen. It was about 10 people wide and reached far into the shopping area and on as far as I could see in both directions.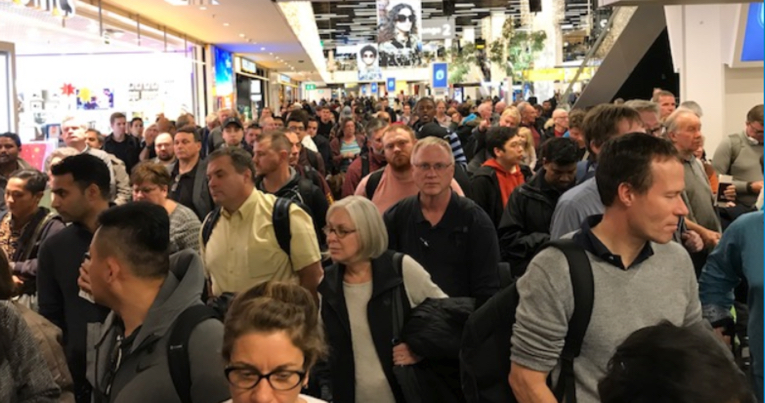 Once I got through the massive throng of people that was that line, a process that took well over an hour, the customs agents inside were exceptionally friendly and relaxed.
Once past customs, I had about two hours to kill until it was time for my flight to Munich. And here's where my utter Philip Glass fandom shows up: I was vastly entertained by this moving walkway. At the end of the walkway, a recording of a female voice plays saying "Mind your step" in a sing-song way that, to me anyway, sounded just like the first part of Philip Glass' Neuköln — the 4th movement of his "Heroes" symphony.
Anyway, aside from geeking out on that walkway, I munched on stroopwafels and was surrounded everywhere by the KLM logo (shown here beside my iPad and its jigsaw app):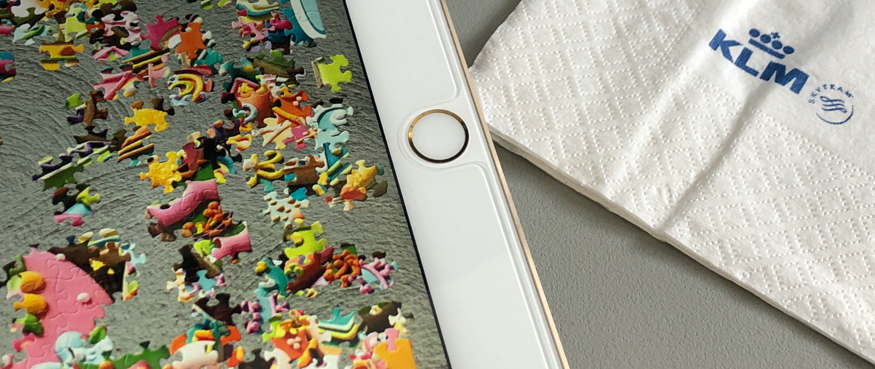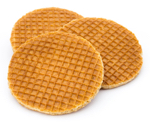 At some point well before time to head to Munich, my body began to insist that it was time to go to bed. I spent the last bit of time before my flight just walking around so that I wouldn't drop off to sleep, and once on the plane, I did drowse a bit.
We landed in Munich after a ~75-minute flight, and it was very nice to go into the airport on a quiet Sunday morning: the place was a peaceful ghost town and a nice change from the chaos in Amsterdam. It was especially nice that, since I was entering Germany from a fellow EU country, there was no customs to deal with at all.
My taxi ride was uneventful, except to say that the countryside around Munich is lovely, the old architecture once you get into the city is straight out of a fairy tale, and I was entertained by hearing "Rocking Around the Christmas Tree" (in English) on the radio along the way.
My hotel in the "Old Town" area was Spartan, but homey and just fine.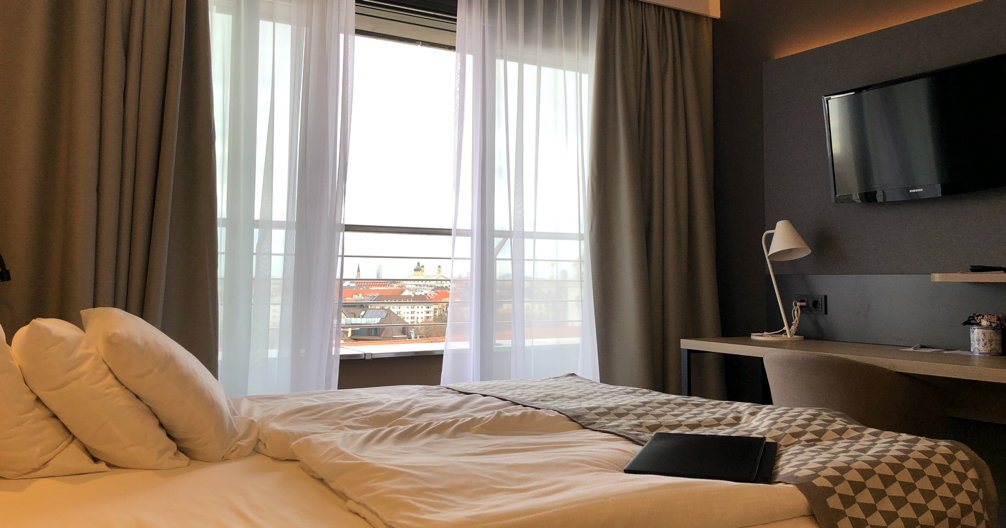 But more important than the room is the view from the window. I happened to catch it just as the afternoon sun peeked out from behind the clouds: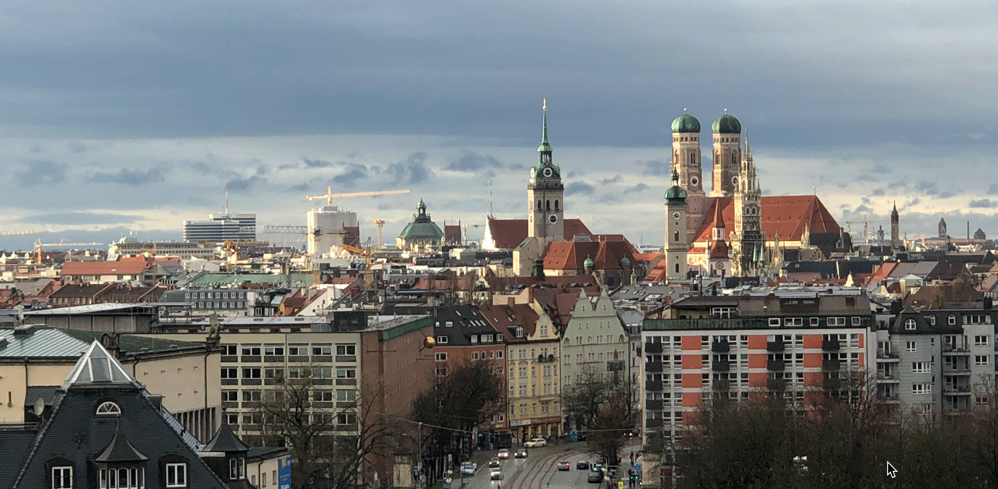 And here's the full view:
What with unpacking, plugging in my various devices, catching up on email, and taking some pictures out the window, I managed to use up most of the afternoon. I stayed up as late as I could, eating some room-service dinner and polishing up a few presentations I'd be giving later in the week, then was sound asleep by 9pm.
Christmas Market: Monday, December 3
Today I had until 3pm before my first morning started: time to play tourist! I knew that the world-famous Christmas Market was taking place not too far away, so off I went.
Of course I had to take a pic of this very American place that I passed on the way: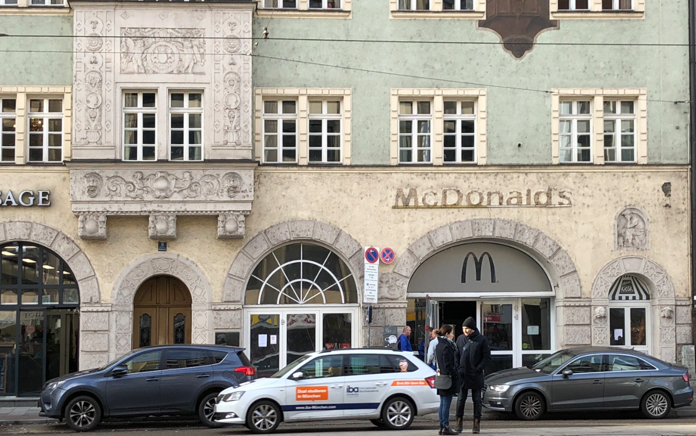 There were many interesting architectural elements that caught my eye: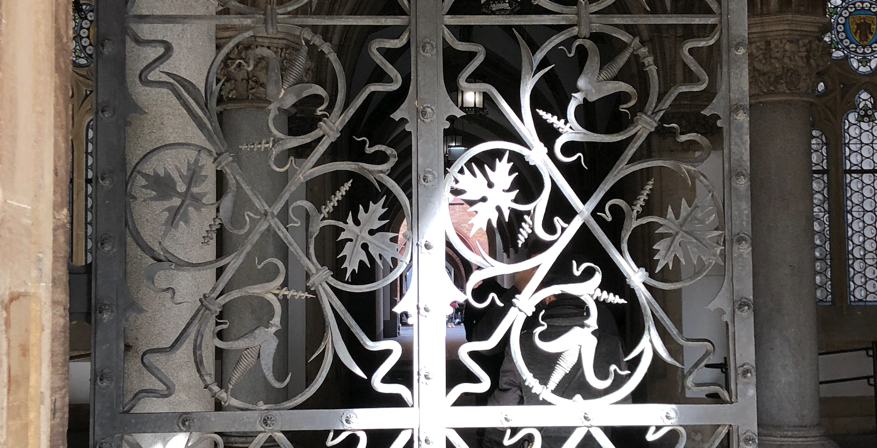 But many were high up in the air, forcing me to stand with my phone high above my head and hope that the shot was framed okay: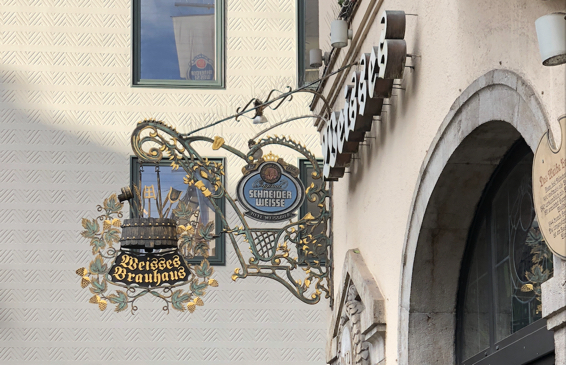 The weather was incredible — in fact, this was the only sunny day the whole time I was in Munich: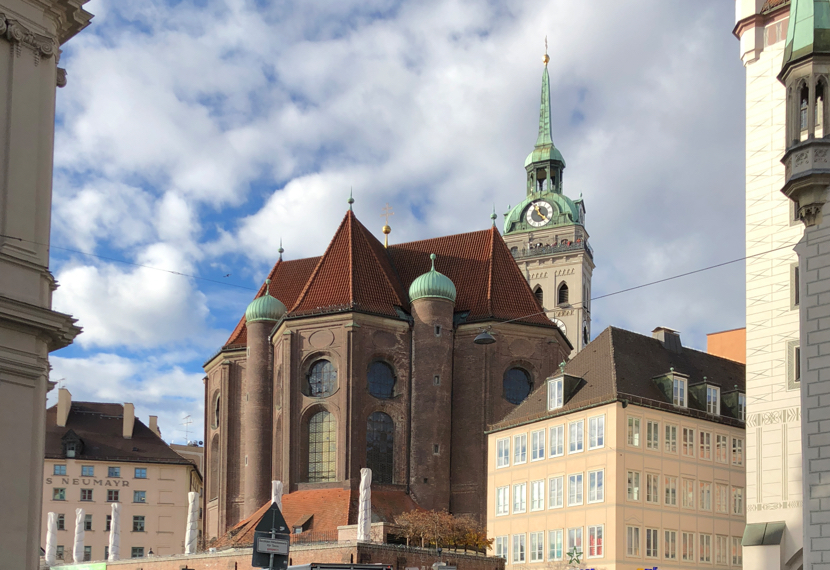 I finally made it to the Christmas market. It was more geared toward an evening thing, and so it wasn't completely set up — but it still had quite a few people. The stalls sold Christmas ornaments, tourist stuff, and food, and everything was festooned with evergreen boughs. It smelled wonderful!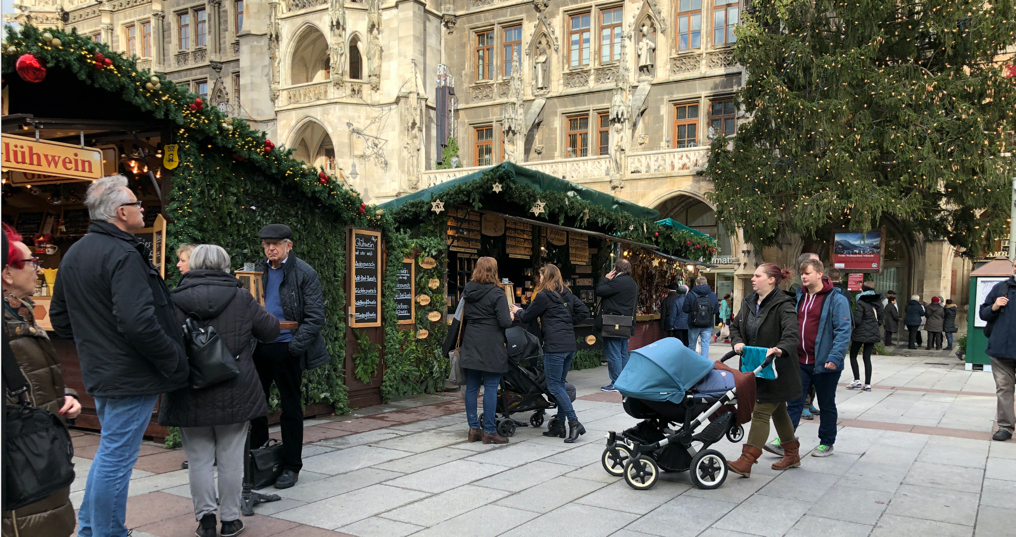 But what was the most amazing was that this tourist-centric market was set up in a historic square, with incredible palatial buildings all around it: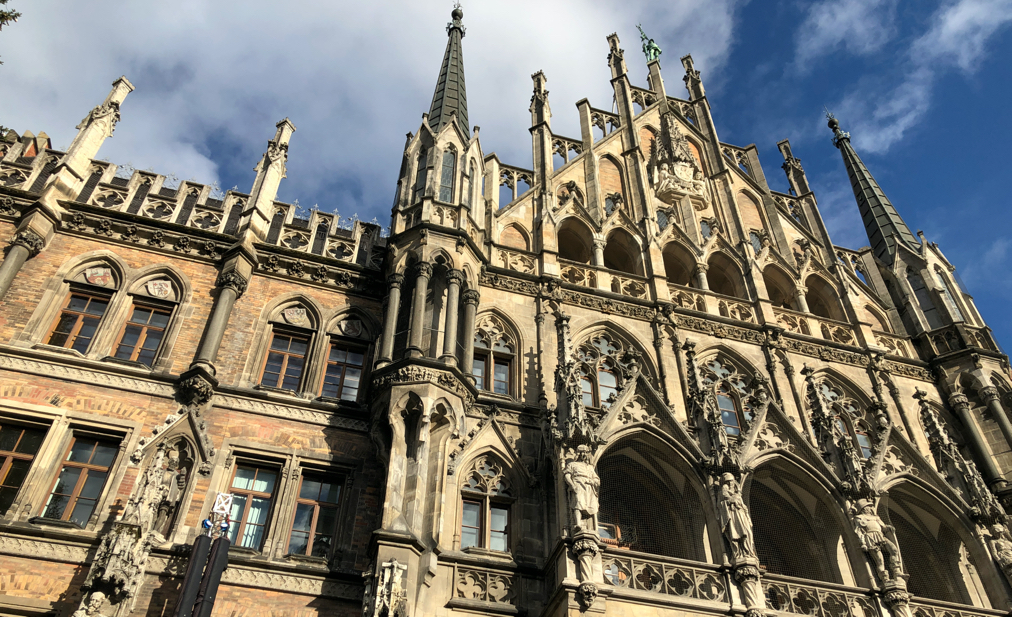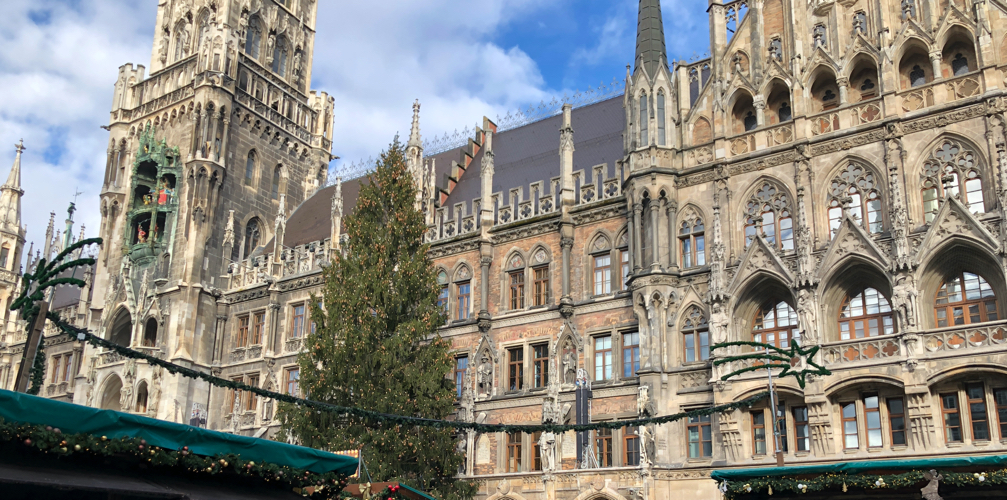 So much was high up in the air — nearly impossible to capture well with a camera. I felt strong solidarity with this guy: gobsmacked by the beauty and powerless to capture it: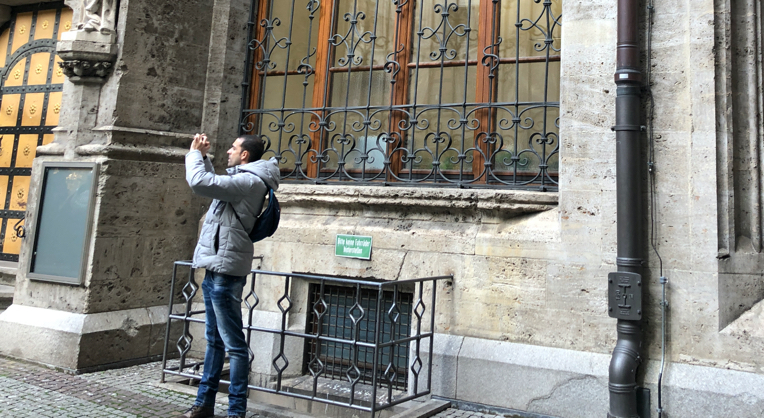 I prefer to stick with horizontal photos here, but there was just no other way to capture some of this: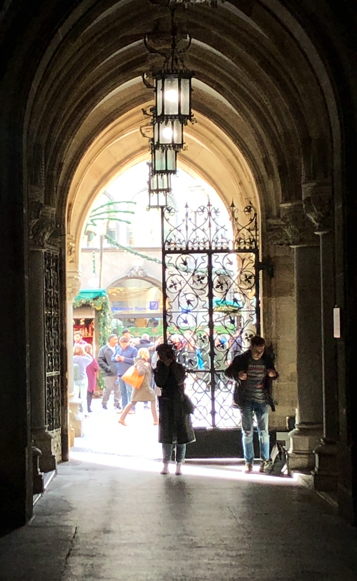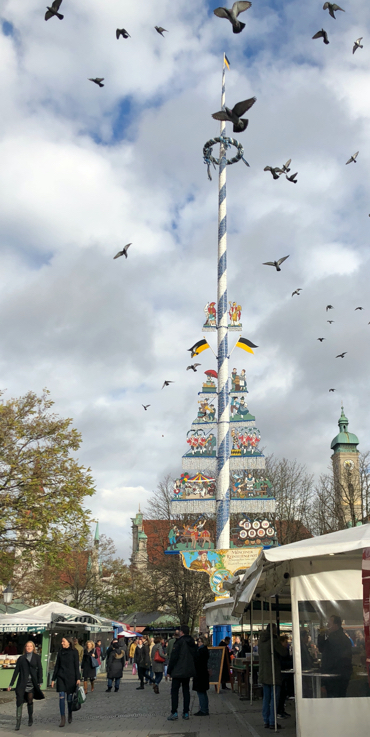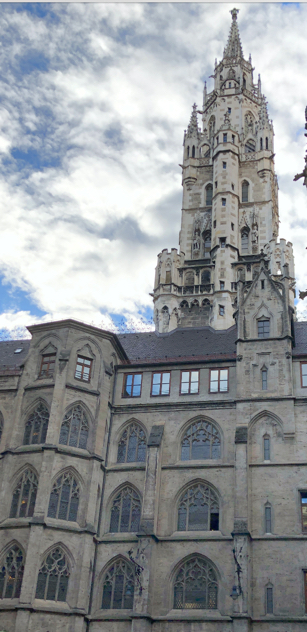 And all the while, the clouds blew across a gorgeous blue sky, and it was just beautiful: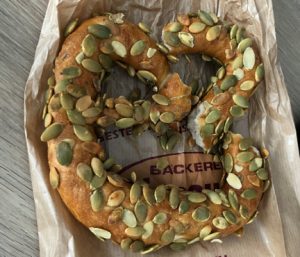 Finally, after many hours wandering the city, I was very hungry and had to hurry back to the hotel for my first meeting. I stopped at a bakery on the way for this amazing pretzel and some dense, dark German seed bread to munch on as I walked.
Unfortunately I was hit hard by my jetlag by the time I got back, so I was happy to find lots of bottles of Diet Coke by the meeting rooms so I could get hopped up on caffeine to help me make it through the rest of the afternoon.
Science Museum: Tuesday, December 4
Today and for the rest of the week, it was cloudy and gray, making me so very glad I'd explored the day before: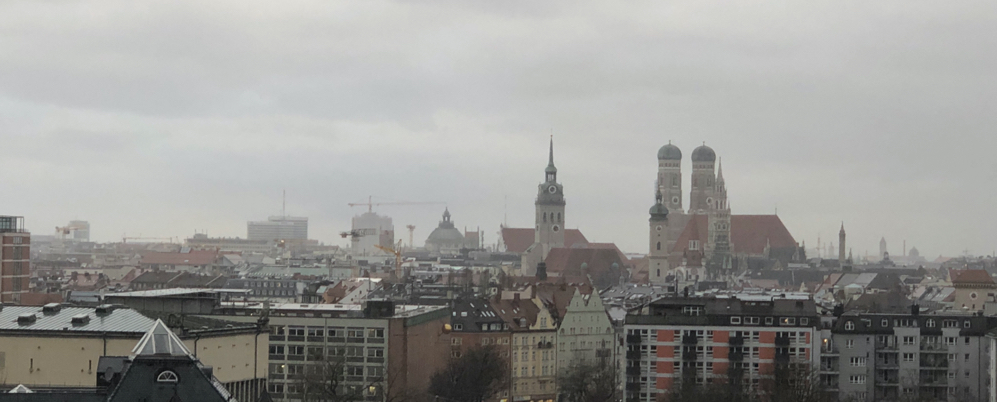 After a long day of meetings, most of which were technologically over my head, at 6pm a group of about 100 of us gathered in the hotel lobby to walk as a group the short distance to the nearby Deutsches Museum of Science and Technology.
I wish it had been daylight when we got there because they had some huge industrial equipment in front that would have been interesting to photograph. We milled about in the foyer for half an hour, waiting for others to join us, then we went into another room where they gave a cool demonstration on electricity, including one bit where they had a volunteer get into a Faraday cage that they zapped with electricity to demonstrate its safety.

Then we broke into separate groups to get guided tours of different areas of the museum

This was extremely interestingly, but it went on for a looooonnnnnnng time!
We finally all ended up in a small foyer where apparently there were appetizers and champagne – but the place was such a compact crowd that there was no way to get to the food, let alone to the bar. I was about to sneak away when the doors on the opposite end opened and we were led into a very nice room – finally I could sit down! But it looked like they were only just getting started setting up the buffet, and as it was already 8pm I decided I'd had enough. I snuck away and fetched my coat from the cloakroom.
My GPS took me on a twisty walking path along the river that looked like an ideal murder scene, but I got back to the hotel just fine. I stopped in at the convenience store at the gas station next to my hotel and bought my dinner: 1.5 liters of sparkling water and a tuna sandwich.
Meetings: Wednesday-Thursday, Dec 5-6
While it wasn't what I'd call sunny, the sun appeared now and then just enough to create contrast with the clouds and make things look beautifully dramatic. Here are some views from my window over the next few days, some taken using my Moment zoom lens: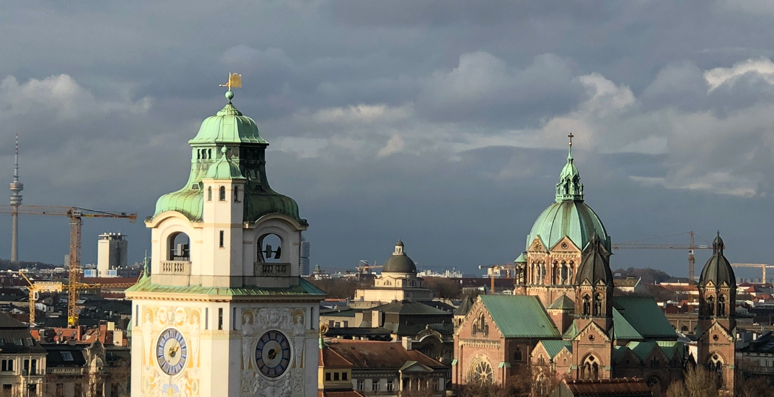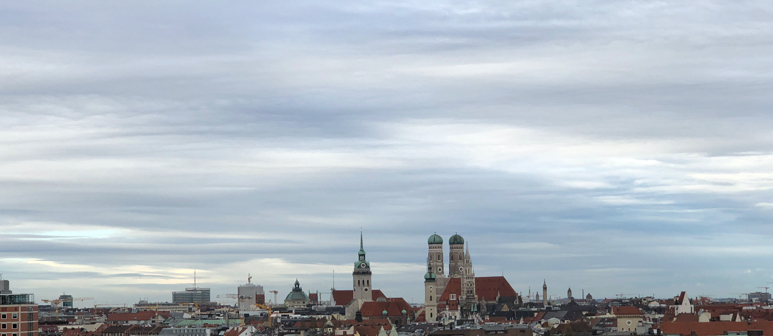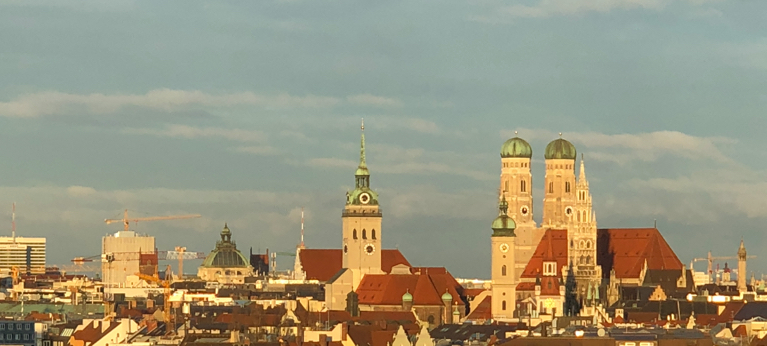 On Thursday, everyone went to a beer garden for dinner but I just didn't have it in me to go. I had a quiet dinner in the hotel restaurant, Deer Ragout with a dessert of gingerbread trifle, then I went off to my room to pack for the next phase of my Munich trip.