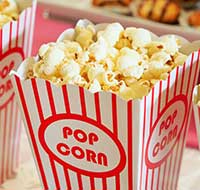 Those who know me know that I tend to be, well, a bit obsessive. One of the many ways I revealed this, back before I put a stop to it for my own peace of mind, was my obsessive list of all the films I saw from 1998  through 2009. During this time I kept a list of every film I saw in the theater (not including videos and DVDs), along with my rating from 1-5 stars. I went to 491 films in this 11 year period, an average of 44 films per year. 
This list actually started out as a large book intended for storing business cards that I was using to store theater ticket stubs — sort of a scrap book of my movies. However after a few years I noticed that the ink on these fade fairly completely, so I transcribed them all and put them on my website, taking the opportunity to go completely overboard with obsessiveness and add the star rating and link the titles to the Internet Movie Database (the links were somehow lost for the 2009 titles when I pulled this into my blog, sorry).
I stopped updating this at the end of 2009 because I was getting too obsessive about it, and I figured seeing fewer films might be a good thing. I mean, I love films. But there really are better things to spend so much time and money on, right?
A note: if I saw the same film multiple times, it was counted each time. So, for example, if I say I saw 36 films in a year, that could easily have been only 34 different films.
So:  I present to you: My obsessive film list:
---
2009 (26 films)
| | | |
| --- | --- | --- |
| Dec 26, 2009 | Avatar (3D) | |
| Dec 25, 2009 | Sherlock Holmes | |
| Dec 21, 2009 | Avatar (2D) | |
| Dec 10, 2009 | The Fantastic Mr. Fox | |
| Nov 28, 2009 | Twilight: New Moon | |
| Nov 20, 2009 | The Informant | |
| Nov 10, 2009 | Men Who Stare at Goats | |
| Oct 16, 2009 | Surrogates | |
| Oct 10, 2009 | Zombieland | |
| Oct 6, 2009 | Invention of Lying | |
| Sep 25, 2009 | 9 | |
| Sep 6, 2009 | Cold Souls | |
| Sep 3, 2009 | District 9 | |
| Aug 23, 2009 | Harry Potter and the Half Blood Prince | |
| Aug 15, 2009 | The Proposal | |
| Aug 13, 2009 | Hangover | |
| Aug 9, 2009 | Up | |
| May 25, 2009 | Terminator Salvation | |
| May 10, 2009 | Star Trek | |
| May 7, 2009 | Star Trek | |
| May 7, 2009 | X-Men Origins: Wolverine | |
| Apr 23, 2009 | This American Life | |
| Mar 14, 2009 | Watchmen | |
| Mar 3, 2009 | Coraline | |
| Feb 28, 2009 | The Wrestler | |
| Feb 23, 2009 | Curious Case of Benjamin Button | |
| Feb 21, 2009 | Slumdog Millionaire | |
---
2008 (19 films)
| | | |
| --- | --- | --- |
| Dec 26, 2008 | Milk | |
| Dec 18, 2008 | The Day the Earth Stood Still | |
| ?? | Tropic Thunder | |
| Aug 03, 2008 | Mamma Mia! | |
| Jul 27, 2008 | The Dark Knight | |
| Jul 20, 2008 | Wall-E | |
| Jun 28, 2008 | Wall-E | |
| Jun 28, 2008 | Wanted | |
| Jun 21, 2008 | The Happening | |
| Jun 1, 2008 | Sex and the City | |
| Jun 1, 2008 | Prince Caspian | |
| May 10, 2008 | Iron Man | |
| May 9, 2008 | Forgetting Sarah Marshall | |
| May 9, 2008 | Iron Man | |
| May 1, 2008 | This American Life | |
| Mar 12, 2008 | There Will Be Blood | |
| Feb 22, 2008 | Jumper | |
| Jan 16, 2008 | Walk Hard | |
2007 (14 films)
| | | |
| --- | --- | --- |
| Dec 6, 2007 | Enchanted | |
| Dec 5, 2007 | No Country for Old Men | |
| Oct 31, 2007 | Darjeeling Limited | |
| Oct 22, 2007 | Across the Universe | |
| Sep 05, 2007 | Superbad | |
| Jul 24, 2007 | Ratatouille | |
| Jul 23, 2007 | Sicko | |
| Jul 23, 2007 | Harry Potter and the Order of the Phoenix | |
| May 28, 2007 | Shrek the Third | |
| May 15, 2007 | Hot Fuzz | |
| Jan 29, 2007 | Notes on a Scandal | |
| Jan 20, 2007 | The Queen | |
| Jan 20, 2007 | Pan's Labrynth | |
| Jan 08, 2007 | Children of Men | |
2006 (39 films)
Dec 13, 2006
Happy Feet
Nov 28, 2006
Stranger Than Fiction
Nov 27, 2006
Casino Royale
Nov 21, 2006
Casino Royale
Nov 09, 2006
Borat
Nov 16, 2006
Stranger Than Fiction
Nov 08, 2006
Flushed Away
Nov 08, 2006
Running With Scissors
Oct 24, 2006
Marie Antoinette
Oct 16, 2006
Man of the Year
Sep 02, 2006
Little Miss Sunshine
Aug 18, 2006
Little Miss Sunshine
Aug 16, 2006
Talladega Nights: The Ballad of Ricky Bobby
Aug 11, 2006
The Devil Wears Prada
Aug 09, 2006
Night Listener
Aug 08, 2006
Monster House
Aug 08, 2006
Scoop
Aug 08, 2006
Lady in the Water
Aug 08, 2006
Barnyard

I saw FOUR movies on this hot Sunday… It was a blast!

Jul 09, 2006
Click
Jul 03, 2006
Superman Returns
Jun 20, 2006
A Prairie Home Companion
Jun 10, 2006
The Break-Up
Jun 04, 2006
X-Men: The Last Stand
May 28, 2006
Over the Hedge
May 27, 2006
DaVinci Code
Apr 29, 2006
Akeelah and the Bee
Apr 23, 2006
American Dreamz
Apr 16, 2006
Thank You For Smoking
Apr 08, 2006
Syriana
Apr 06, 2006
V For Vendetta
Mar 18, 2006
The Libertine
Mar 12, 2006
Failure to Launch
Feb 24, 2006
Transamerica
Feb 11, 2006
Walk the Line
Feb 04, 2006
Walk the Line
Jan 22, 2006
Capote
Jan 20, 2006
Match Point
Jan 05, 2006
Brokeback Mountain
2005 (50 films)
| | | |
| --- | --- | --- |
| Dec 27, 2005 | Chronicles of Narnia | |
| Dec 24, 2005 | Fun With Dick and Jane | |
| Dec 19, 2005 | King Kong | |
| Dec 17, 2005 | King Kong | |
| Dec 11, 2005 | Chronicles of Narnia | |
| Dec 4, 2005 | Aeon Flux | |
| Dec 1, 2005 | Harry Potter and the Goblet of Fire | |
| Nov 25, 2005 | Harry Potter and the Goblet of Fire | |
| Nov 20, 2005 | ShopGirl | |
| Nov 11, 2005 | Zathura | |
| Nov 5, 2005 | Good Night and Good Luck | |
| Oct 9, 2005 | Wallace & Grommit: The Curse of the Were Rabbit | |
| Sep 28, 2005 | Howl's Moving Castle (Hauru no ugoku shiro) | |
| Sep 24, 2005 | FlightPlan | |
| Sep 5, 2005 | 40 Year Old Virgin | |
| Sep 4, 2005 | A Sound of Thunder | |
| Aug 20, 2005 | Broken Flowers | |
| Aug 15, 2005 | Must Love Dogs | |
| Aug 7, 2005 | Batman Begins | |
| Jul 31, 2005 | March of the Penguins (Marche de l'empereur, La) | |
| Jul 24, 2005 | The Interpreter | |
| Jul 22, 2005 | Wedding Crashers | |
| Jul 22, 2005 | Charlie and the Chocolate Factory | |
| Jul 17, 2005 | Fantastic Four | |
| Jul 12, 2005 | Howl's Moving Castle (Hauru no ugoku shiro) | |
| Jul 11, 2005 | War of the Worlds | |
| Jul 9, 2005 | War of the Worlds | |
| Jul 8, 2005 | Bewitched | |
| Jul 4, 2005 | Bewitched | |
| Jun 15, 2005 | Mr. and Mrs. Smith | |
| Jun 12, 2005 | Howl's Moving Castle (Hauru no ugoku shiro) | |
| Jun 2, 2005 | Star Wars Episode III | |
| May 28, 2005 | Star Wars Episode III | |
| May 15, 2005 | Hitchhiker's Guide to the Galaxy | |
| May 7, 2005 | Hitchhiker's Guide to the Galaxy | |
| Apr 24, 2005 | The Interpreter | |
| Apr 10, 2005 | Fever Pitch | |
| Apr 2, 2005 | Sin City | |
| Mar 13, 2005 | Robots | |
| Feb 24, 2005 | Constantine | |
| Feb 20, 2005 | What the ___ Do We Know? | |
| Feb 19, 2005 | Hotel Rwanda | |
| Feb 6, 2005 | Closer | |
| Feb 6, 2005 | Million Dollar Baby | |
| Feb 6, 2005 | Sideways | |
| Feb 5, 2005 | Kinsey | |
| Jan 29, 2005 | Finding Neverland | |
| Jan 23, 2005 | The Incredibles | |
| Jan 15, 2005 | The Aviator | |
| Jan 3, 2005 | The Incredibles | |
2004 (36 films)
| | | |
| --- | --- | --- |
| Dec 29, 2004 | The Life Aquatic | |
| Dec 25, 2004 | Phantom of the Opera | |
| Dec 22, 2004 | Spanglish | |
| Dec 17, 2004 | What the ___ Do We Know? | |
| Nov 26, 2004 | I Heart Huckabees | |
| Nov 20, 2004 | Ray | |
| Nov 6, 2004 | The Incredibles | |
| Oct 31, 2004 | I Heart Huckabees | |
| Oct 20, 2004 | Team America: World Police | |
| Oct 16, 2004 | Shaun of the Dead | |
| Sep 26, 2004 | The Fogotten | |
| Sep 19, 2004 | Sky Captain and the World of Tomorrow | |
| Sep 6, 2004 | Garden State | |
| Aug 23, 2004 | The Village | |
| Aug 15, 2004 | The Manchurian Candidate | |
| Jul 25, 2004 | CatWoman | |
| Jul 17, 2004 | Spiderman 2 | |
| Jul 16, 2004 | Farenheit 9/11 | |
| Jul 10, 2004 | Spiderman 2 | |
| Jul 5, 2004 | Harry Potter and the Prisoner of Azkaban | |
| Jul 3, 2004 | The Terminal | |
| Jun 13, 2004 | The Stepford Wives | |
| May 31, 2004 | Shrek 2 | |
| May 19, 2004 | Shrek 2 | |
| Apr 28, 2004 | Kill Bill, Vol. 2 | |
| Apr 17, 2004 | Kill Bill, Vol. 2 | |
| Apr 12, 2004 | Hellboy | |
| Apr 3, 2004 | Eternal Sunshine of a Spotless Mind | |
| Mar 26, 2004 | Eternal Sunshine of a Spotless Mind | |
| Feb 25, 2004 | 50 First Dates | |
| Feb 21, 2004 | 50 First Dates | |
| Feb 6, 2004 | Something's Gotta Give | |
| Jan 25, 2004 | Cold Mountain | |
| Jan 19, 2004 | Big Fish | |
| Jan 15, 2004 | The Last Samurai | |
| Jan 2, 2004 | Lord of the Rings: Return of the King | |
2003 (31 films)
| | | |
| --- | --- | --- |
| Dec 22, 2003 | Lord of the Rings: Return of the King | |
| Nov 26, 2003 | The Matrix Revolutions | |
| Nov 8, 2003 | Mystic River | |
| Oct 29, 2003 | Kill Bill, Vol. 1 | |
| Oct 22, 2003 | Kill Bill, Vol. 1 | |
| Oct 19, 2003 | Luther | |
| Oct 16, 2003 | Luther | |
| Oct 12, 2003 | Lost In Translation | |
| Sep 24, 2003 | Bubba Ho-Tep | |
| Sep 14, 2003 | Matchstick Men | |
| Sep 6, 2003 | Finding Nemo | |
| Aug 31, 2003 | The Whale Rider | |
| Aug 30, 2003 | The Italian Job | |
| Aug 23, 2003 | Marci X | |
| Aug 15, 2003 | The Pirates of the Caribbean: Curse of the Black Pearl | |
| Aug 13, 2003 | Terminator 3: Rise of the Machines | |
| Aug 9, 2003 | The Pirates of the Caribbean: Curse of the Black Pearl | |
| Jul 31, 2003 | Terminator 3: Rise of the Machines | |
| Jul 27, 2003 | The League of Extraordinary Gentlemen | |
| Jun 3, 2003 | The Matrix Reloaded | |
| Jun 1, 2003 | Bruce Almighty | |
| May 16, 2003 | The Matrix: Reloaded | |
| Mar 14, 2003 | Far From Heaven | |
| Mar 3, 2003 | Daredevil | |
| Feb 28, 2003 | Gangs of New York | |
| Feb 23, 2003 | About Schmidt | |
| Feb 21, 2003 | The Hours | |
| Feb 14, 2003 | Adaptation | |
| Feb 9, 2003 | Chicago | |
| Jan 8, 2003 | Catch Me If You Can | |
| Jan 5, 2003 | Lord of the Rings: The Two Towers | |
2002 (49 films)
| | | |
| --- | --- | --- |
| Dec 29, 2002 | Two Weeks Notice | |
| Dec 22, 2002 | Star Trek: Nemesis | |
| Dec 8, 2002 | The Santa Clause 2 | |
| Dec 4, 2002 | Trials of Henry Kissinger | |
| Dec 1, 2002 | 007: Die Another Die | |
| Nov 23, 2002 | Harry Potter and the Chamber of Secrets | |
| Oct 25, 2002 | Naqoyqatsi | |
| Oct 15, 2002 | Banger Sisters | |
| Oct 4, 2002 | Sweet Home Alabama | |
| Sep 21, 2002 | The Fast Runner | |
| Sep 15, 2002 | Serving Sara | |
| Sep 7, 2002 | Possession | |
| Sep 6, 2002 | Signs | |
| Aug 30, 2002 | The Good Girl | |
| Aug 28, 2002 | Simone | |
| Aug 17, 2002 | Signs | |
| Aug 7, 2002 | My Big Fat Greek Wedding | |
| Jul 27, 2002 | Pumpkin | |
| Jul 14, 2002 | The Bourne Identity | |
| Jul 13, 2002 | Mr. Deeds | |
| Jul 10, 2002 | Minority Report | |
| Jul 8, 2002 | Men In Black II | |
| Jul 7, 2002 | Minority Report | |
| Jul 5, 2002 | Sum of All Fears | |
| May 27, 2002 | Star Wars: Attack of the Clones | |
| May 25, 2002 | About A Boy | |
| May 22, 2002 | Spiderman | |
| May 6, 2002 | Spiderman | |
| Apr 19, 2002 | The Sweetest Thing | |
| Apr 15, 2002 | Italian For Beginners | |
| Apr 5, 2002 | The Rookie | |
| Mar 31, 2002 | The Time Machine | |
| Mar 29, 2002 | Death to Smoochy | |
| Mar 22, 2002 | Ice Age | |
| Mar 12, 2002 | Fellowship of the Rings | |
| Mar 10, 2002 | The Count of Monte Cristo | |
| Mar 2, 2002 | Iris | |
| Feb 23, 2002 | I Am Sam | |
| Feb 12, 2002 | Gosford Park | |
| Feb 11, 2002 | Monster's Ball | |
| Feb 9, 2002 | In the Bedroom | |
| Feb 9, 2002 | Lantana | |
| Feb 4, 2002 | The Royal Tenenbaums | |
| Feb 1, 2002 | A Beautiful Mind | |
| Jan 31, 2002 | Amelie | |
| Jan 29, 2002 | A Beautiful Mind | |
| Jan 25, 2002 | Kate & Leopold | |
| Jan 10, 2002 | Fellowship of the Rings | |
| Jan 2, 2002 | Fellowship of the Rings | |
2001 (42 films)
Dec 14, 2001
Ocean's Eleven
Dec 8, 2001
Ocean's Eleven
Nov 19, 2001
Harry Potter
Nov 11, 2001
Shallow Hal
Nov 8, 2001
Monsters, Inc.
Nov 2, 2001
Monsters, Inc.
Oct 23, 2001
From Hell
Oct 15-19, 2001
"Philip on Film" festival
hosted by PICA
Shorts:  The Man in a Bath, Passage Diaspora,
Evidence Notes,
Anima Mundi
Powaqqatsi
Dracula
La Belle et la Bette
Koyaanasqatsi
Oct 12, 2001
Zoolander
Sep 29, 2001
Serendipity
Sep 23, 2001
The Others
Sep 10, 2001
O
Aug 10, 2001
Curse of the Jade Scorpion
Aug 26, 2001
Jay and Silent Bob Strike Back
Aug 10, 2001
Osmosis Jones
Aug 1, 2001
America's Sweethearts
Jul 29, 2001
Shrek
Jul 27, 2001
Planet of the Apes
Jul 21, 2001
The Golden Bowl
Jul 14, 2001
Legally Blonde
Jul 13, 2001
Final Fantasy: The Spirits Within
Jul 6, 2001
A.I. Artificial Intelligence
Jun 16, 2001
Tomb Raider
Jun 8, 2001
Evolution
Jun 3, 2001
Memento
Jun 2, 2001
What's the Worst That Could Happen?
May 26, 2001
Shrek
May 19, 2001
Shrek
Apr 28, 2001
Bridget Jones' Diary
Apr 15, 2001
Someone Like You
Apr 10, 2001
Traffic
Mar 09, 2001
Crouching Dragon, Hidden Tiger
Mar 02, 2001
Sweet November
Feb 17, 2001
Traffic
Feb 15, 2001
O Brother Where Art Thou
Feb 10, 2001
Head Over Heels
Jan 29, 2001
Crouching Dragon, Hidden Tiger
Jan 21, 2001
Chocolat
2000 (47 films)
Dec 31, 2000
What Women Want
Dec 27, 2000
Miss Congeniality
Dec 26, 2000
Cast Away
Dec 22, 2000
Cast Away
Dec 19, 2000
Unbreakable
Dec 10, 2000
Bounce
Dec 7, 2000
Unbreakable
Dec 2, 2000
Best In Show
Nov 19, 2000
Charlie's Angels
Nov 10, 2000
Charlie's Angels
Nov 03, 2000
Bedazzled
Oct 22, 2000
Meet the Parents
Oct 14, 2000
Pay It Forward
Sep 19, 2000
Nurse Betty
Sep 09, 2000
Space Cowboys

(Huge break between films because — face it — there haven't been many good ones out lately!)

July 24, 2000
X-Men
July 16, 2000
Me, Myself, & Irene
July 10, 2000
Chicken Run
June 30, 2000
Chicken Run
June 17, 2000
Small Time Crooks
June 05, 2000
East is East
June 03, 2000
Shanghai Noon
May 28, 2000
Mission Impossible 2
May 20, 2000
Virgin Suicides
May 16, 2000
Time Code
May 12, 2000
28 Days
May 05, 2000
28 Days
Apr 23, 2000
American Psycho
Apr 19, 2000
High Fidelity
Apr 15, 2000
All About My Mother
Apr 03, 2000
Mission to Mars
Mar 27, 2000
Drowning Mona
Mar 23, 2000
Magnolia
Mar 12, 2000
Wonder Boys
Feb 25, 2000
Wonder Boys
Feb 22, 2000
One Winter Behind God's Back (Hungary)
Feb 18, 2000
Return of the Idiot (Czech)
Feb 18, 2000
Dark Side of the Heart (Argentina)
Feb 14, 2000
1999 Madeline (France)
Feb 13, 2000
Topsy-Turvy
Feb 11, 2000
Me Myself I (Australia)
Feb 06, 2000
Girl, Interrupted
Jan 26, 2000
Magnolia
Jan 16, 2000
The Straight Story
Jan 04, 2000
Galaxy Quest
Jan 02, 2000
The Green Mile
Jan 01, 2000
The Cider house Rules
 1999 (72 films)
| | | |
| --- | --- | --- |
| Dec 29, 1999 | Galaxy Quest | |
| Dec 27, 1999 | Stuart Little | |
| Dec 17, 1999 | Bicentennial Man | |
| Dec 10, 1999 | Toy Story 2 | |
| Dec 05, 1999 | Dogma | |
| Dec 03, 1999 | The World is Not Enough | |
| Dec 02, 1999 | Being John Malkovich | |
| Nov 22, 1999 | Dogma | |
| Nov 21, 1999 | Being John Malkovich | |
| Oct 28, 1999 | Fight Club | |
| Oct 24, 1999 | Three Kings | |
| Oct 21, 1999 | Fight Club | |
| Oct 06, 1999 | American Beauty | |
| Oct 04, 1999 | American Beauty | |
| Oct 03, 1999 | Mumford | |
| Oct 02, 1999 | Three Kings | |
| Sep 26, 1999 | Blue Streak | |
| Sep 11, 1999 | Stir of Echoes | |
| Sep 05, 1999 | Run Lola Run | |
| Sep 07, 1999 | The Sixth Sense | |
| Aug 29, 1999 | The Sixth Sense | |
| Aug 28, 1999 | Inspector Gadget | |
| Aug 17, 1999 | Bowfinger | |
| Aug 13, 1999 | The Thomas Crown Affair | |
| Aug 10, 1999 | Drop Dead Gorgeous | |
| Aug 06, 1999 | Mystery Men | |
| Aug 03, 1999 | Runaway Bride | |
| Jul 19, 1999 | Eyes Wide Shut | |
| Jul 18, 1999 | Star Wars Episode 1: The Phantom Menace | |
| Jul 14, 1999 | Tarzan | |
| Jul 13, 1999 | Buena Vista Social Club | |
| Jul 10, 1999 | Notting Hill | |
| Jul 06, 1999 | South Park: Bigger, Louder, and Uncut | |
| Jul 05, 1999 | Summer of Sam | |
| Jul 02, 1999 | Wild Wild West | |
| Jun 29, 1999 | Red Violin | |
| Jun 25, 1999 | Big Daddy | |
| Jun 23, 1999 | Cookie's Fortune | |
| Jun 20, 1999 | Tarzan | |
| Jun 17, 1999 | The Mummy | |
| Jun 15, 1999 | Star Wars Episode 1: The Phantom Menace | |
| Jun 13, 1999 | Austin Powers: The Spy Who Shagged Me | |
| Jun 05, 1999 | Notting Hill | |
| May 30, 1999 | Star Wars Episode 1: The Phantom Menace | |
| May 29, 1999 | The Love Letter | |
| May 28, 1999 | Star Wars Episode 1: The Phantom Menace | |
| May 11, 1999 | Election | |
| Apr 22, 1999 | Life | |
| Apr 12, 1999 | Ed TV | |
| Apr 10, 1999 | The Matrix | |
| Apr 06, 1999 | The Matrix | |
| Mar 28, 1999 | Ed TV | |
| Mar 20, 1999 | Analyse This | |
| Mar 17, 1999 | Wing Commander | |
| Mar 07, 1999 | Hillary and Jackie | |
| Mar 07, 1999 | Gods and Monsters | |
| Mar 06, 1999 | Rushmore | |
| Mar 03, 1999 | Message in a Bottle | |
| Feb 28, 1999 | The Other Sister | |
| Feb 23, 1999 | Affliction | |
| Feb 21, 1999 | Shakespeare in Love | |
| Feb 18, 1999 | Blast From the Past | |
| Feb 17, 1999 | Blast From the Past | |
| Feb 13, 1999 | The Thin Red Line | |
| Feb 07, 1999 | She's All That | |
| Jan 24, 1999 | Life Is Beautiful | |
| Jan 23, 1999 | Shakespeare In Love | |
| Jan 22, 1999 | Elizabeth | |
| Jan 21, 1999 | Stepmom | |
| Jan 05, 1999 | Life Is Beautiful | |
| Jan 03, 1999 | Waking Ned Devine | |
| Jan 01, 1999 | You've got Mail | |
1998 (66 films)
| | | |
| --- | --- | --- |
| Dec 27, 1999 | A Bug's Life | |
| Dec 26, 1998 | Patch Adams | |
| Dec 23, 1998 | You've Got Mail | |
| Dec 19, 1998 | Star Trek: Insurrection | |
| Nov 25, 1998 | A Bug's Life | |
| Nov 24, 1998 | Enemy of the State | |
| Nov 23, 1998 | The Waterboy | |
| Nov 21, 1998 | Meet Joe Black | |
| Nov 20, 1998 | The Siege | |
| Nov 18, 1998 | Practical Magic | |
| Nov 15, 1998 | Wizard of Oz | |
| Nov 13, 1998 | Antz | |
| Nov 08, 1998 | The Waterboy | |
| Oct 30, 1998 | Pleasantville | |
| Oct 25, 1998 | Beloved | |
| Oct 13, 1998 | Antz | |
| Oct 08, 1998 | What Dreams May Come | |
| Oct 06, 1998 | What Dreams May Come | |
| Oct 02, 1998 | Antz | |
| Sep 20, 1998 | There's Something About Mary | |
| Sep 22, 1998 | Antz | |
| Sep 19, 1998 | Rush Hour | |
| Sep 16, 1998 | The Slums of Beverly Hills | |
| Sep 04, 1998 | Saving Private Ryan | |
| Sep 03, 1998 | 54 | |
| Sep 01, 1998 | Ever After | |
| Aug 27, 1998 | There's Something About Mary | |
| Aug 25, 1998 | Saving Private Ryan | |
| Aug 21, 1998 | Snake Eyes | |
| Aug 18, 1998 | The Avengers | |
| Aug 11, 1998 | There's Something About Mary | |
| Aug 09, 1998 | Ever After | |
| Aug 07, 1998 | Doctor Dolittle | |
| Aug 05, 1998 | Ever After | |
| Aug 04, 1998 | The Truman Show | |
| Aug 03, 1998 | There's Something About Mary | |
| Jul 31, 1998 | The Mask of Zorro | |
| Jul 29, 1998 | There's Something About Mary | |
| Jul 21, 1998 | There's Something About Mary | |
| Jul 19, 1998 | Lethal Weapon 4 | |
| Jul 17, 1998 | The Mask of Zorro | |
| Jul 12, 1998 | Gone With the Wind | |
| Jul 07, 1998 | Armageddon | |
| Jun 30, 1998 | Godzilla | |
| Jun 27, 1998 | The X-Files | |
| Jun 23, 1998 | The X-Files | |
| Jun 21, 1998 | Hope Floats | |
| Jun 18, 1998 | Fear and Loathing in Las Vegas | |
| Jun 17, 1998 | The Truman Show | |
| Jun 13, 1998 | A Perfect Murder | |
| Jun 10, 1998 | The Truman Show | |
| Jun 05, 1998 | The Truman Show | |
| Jun 04, 1998 | Bulworth | |
| May 28, 1998 | Godzilla | |
| May 25, 1998 | Les Miserable | |
| May 19, 1998 | The Horse Whisperer | |
| May 15, 1998 | The Horse Whisperer | |
| May 12, 1998 | Lost in Space | |
| May 09, 1998 | Deep Impact | |
| May 04, 1998 | Sliding Doors | |
| May 01, 1998 | City of Angels | |
| Apr 16, 1998 | City of Angels | |
| Apr 06, 1998 | Lost in Space | |
| Apr 02, 1998 | Primary Colors | |
| Mar 26, 1998 | The Big Lebowski | |
| Feb 02, 1998 | Wag the Dog | |