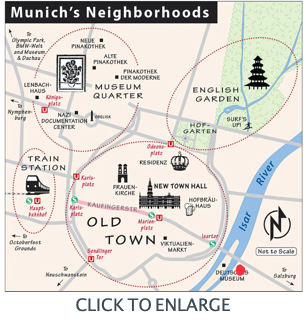 After spending a week in Munich for meetings, I was looking forward to some extra time to do some serious exploration of the city, focus on photography, and maybe do some shopping.
In preparation for this trip, I spent several hours online doing my research into Munich neighborhoods and I booked a hotel on the other side of the city. My theory is that when you want to explore a city, it's best to do so from more than one starting point so as to get a better, more well-rounded feel for the place.
S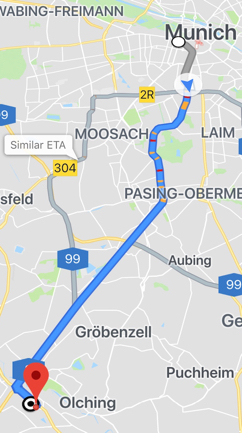 uch was my theory, sitting in an Uber on Friday morning. But as we headed away from the city center and got onto a freeway, I knew something was wrong. Opening up Google Maps, I realized that I'd inadvertently checked myself into a hotel in the small, nearly rural suburb of Munich called Olching that was 32 kilometers away!
As we sped past empty fields and industrial parks, my mood could best be described as what the cloudy, gray sky was looking like outside. I should have had the driver turn around and take me back into the city — but I was tired, I had all my luggage with me, and I really had no idea where else to go other than effing Olching.
Here is the view outside the window of my new hotel. Fancy, eh?: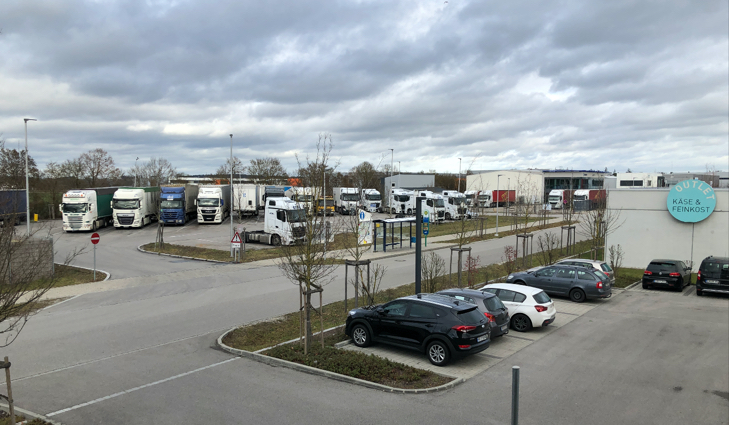 And here is the view of my hotel, conveniently sporting the words "My Hotel,"  from the one restaurant (other than a McDonalds), across the street: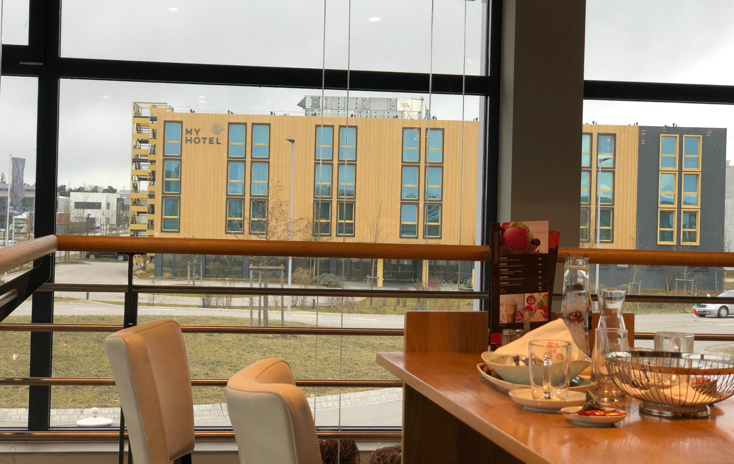 The hotel was just like the American motels scattered all across the United States to provide a no-frills quick bed and shower to weary travelers. It was clean, quiet, and safe, but oh so very disappointing. Aside from a McDonald's, a restaurant across the parking lot (it was actually a German bakery chain with a small restaurant upstairs called Ihle Cafe Geiselbullach), and a gas station with convenience store, there was nothing else nearby. And there was quite a lot of rain — so no long walks through the countryside, either.
Determined to salvage my weekend, I Googled to find anything else at all in the area. There was nothing that wasn't an expensive taxi ride back to the city. Oh yes — I said taxi: no Ubers that far away from the city center. And most of the taxis only took cash: which meant the few euros I had left in my wallet needed to be conserved for my return trip. And finally, just over 30 minutes away from the big city, I had yet to find anyone nearby who knew more than very, very little English.
I decided it would be stupid to remain grumpy and that I needed to make the best of it. I had a very nice lunch at Ihle Cafe Geiselbullach, went to the convenience store at the gas station to stock up on munchies, then headed back to the hotel. Then, aside from a trip across the parking lot for a McMuffin breakfast the next day, I spent the entire weekend in my hotel room, getting lots of work done, enjoying some reading, and watching interesting German television…
like this Russian version of "So You Think You Can Dance":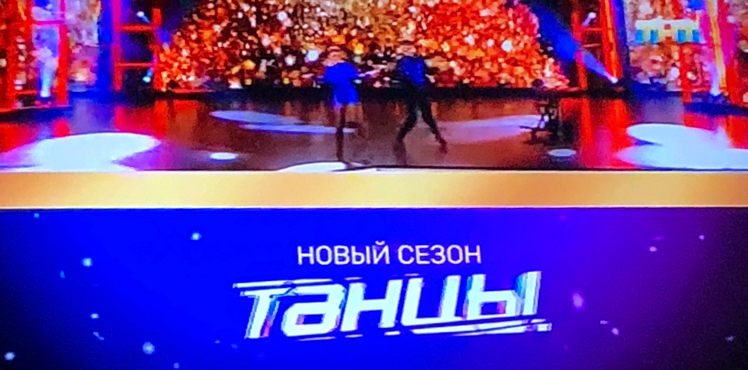 This very odd older movie seemed to be about Abraham Lincoln, with a tall, very Lincolnesque actor. However many scenes included these very white Indians (I think that guy looks like Jon Hamm) and Mexican bandits wearing hilariously fake-looking straw sombreros: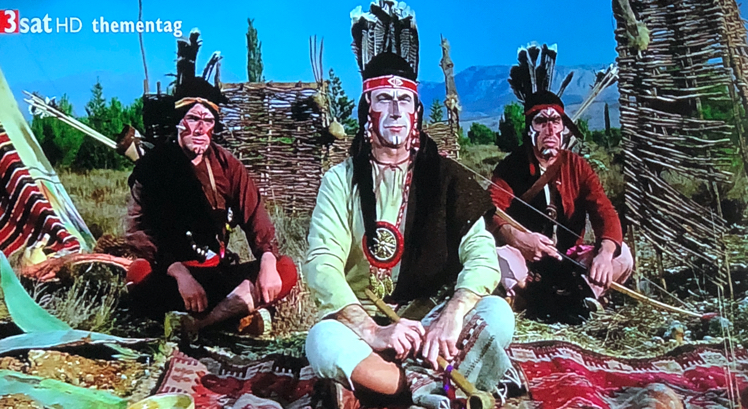 Yeah. Two full days of that.
A few times I decided I just HAD to go somewhere, but then heavy rain made me decide to just read more. And get more work done. And watch more unfathomable TV.
Going home
Finally, after intense worry making arrangements for a taxi to the airport, and more worry that my euros would run out, I left the hotel while it was still dark on Monday morning to get to the airport in Munich.
I wasn't sure to what extent I would encounter rush-hour traffic, so I had allowed plenty of time for the trip. So much, in fact, that I arrived about an hour before the ticketing/check-ins counter were open. As I waited, I watched them very closely inspect everything, making me wonder if there had been a bomb threat or something: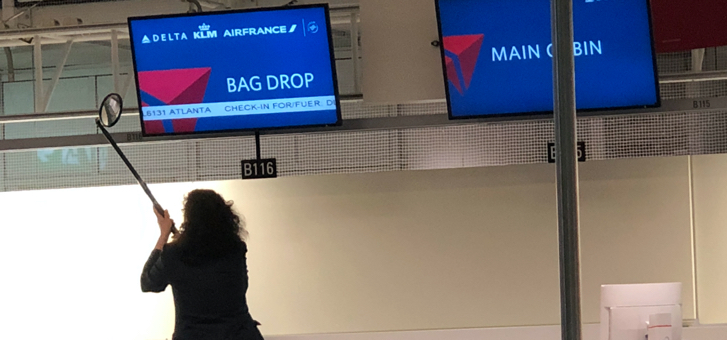 While I waited for them to let me check in, the overt-atheist in me was incredibly amused by this sign: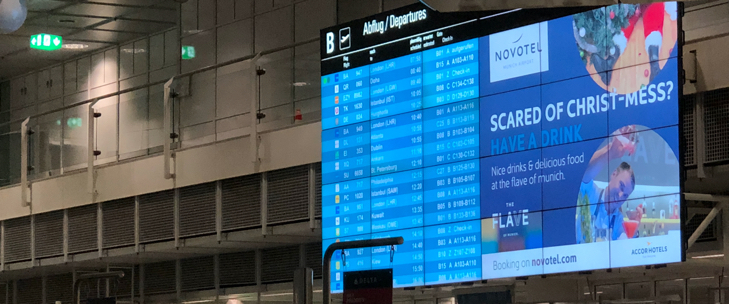 Finally I was on the plane for my long flight to Atlanta, where I would connect to a flight to Portland: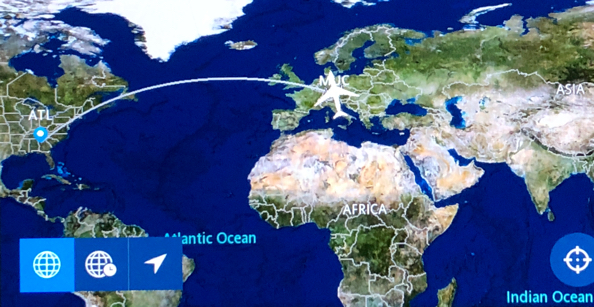 After my long trek home, when I finally got to PDX, I think I was more relieved to see these doors than ever before. There really is no place like home — or your home airport: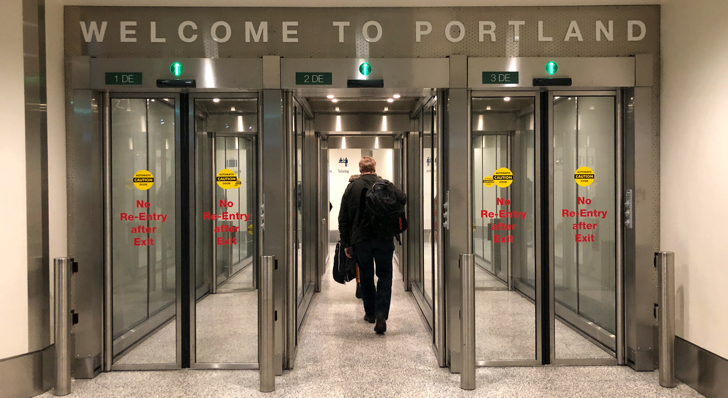 The moral of the story
The end of my trip, was a bit unpleasant. What I learned is this:
#1)  I either needed to invest in guidebooks for my destinations or hire a travel agent to help me book my extracurricular activities when I'm traveling abroad. This was a stupid mistake, and it was made after literally hours of what I thought was very careful planning. I obviously needed help!
#2) The time you have, no matter where you are and no matter what happens, is entirely up to you. I won't claim that I had a great time and that I don't mind how my trip ended, but there was a lot to be amused about, and it was all up to me to enjoy it as much as I could. And I did. We all need reminders of that sometimes.
And hopefully never again.