If I travel four times in one year, that is a very light year. in 2019 I had 13 trips that involved getting on a plane, and in 2018 I had 7. While I hope not to repeat that 2019 schedule again, let's just say this: I travel a lot.
After your first half-dozen flights, you tend to start forming definite ideas about the best approach to travel. I wrote a post about my advice for solo travelers, but I also wanted write specifically about my luggage choices.
By the way, if you'd like to see more about my trips, here's my post about my international trips, and here's my post about my Glass travel. And as long as I'm sharing links, here's my guilt-trip about the carbon footprint that comes with being a traveler.
Checked bag: keep it small
As I discuss in my post of general travel advice, I almost always check my bag. My checked bag is just a carry-on size, so even after I've collected my luggage from the carousel, it's still a manageable size to handle.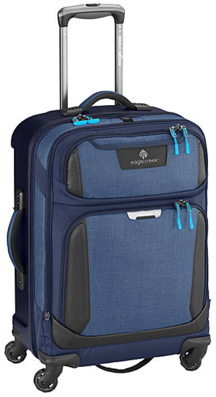 My reason for favoring a smaller bag is this: Lugging a huge suitcase to and from the airport, even a roller, is horrible. It's even more so when using public transit, and especially when traveling internationally, as you so often tend to encounter cobblestone to bump-bump-bump along. Cobblestone is especially fun when you are rolling your bag down a cobblestone sidewalk at 4:00 am, wincing with every loud bump and hoping the neighbors aren't being awakened. Yes, you will make a racket rolling a carry-on bag too, but it isn't quite as loud. Unfortunately, I am speaking from experience here.
An exception is that, when I go on a trip to manage a tradeshow, I often need to hand-carry an extra 15 books or 50 t-shirts or some other last-minute purchase. This is when I pull out my giant suitcase and then suffer through getting stuff to my hotel. Just imagine how much fun it was when I had two full-size, very heavy suitcases plus my carryon shoulder bag on a trip to Germany.
My normal checked bag is the Eagle Creek AWD tarmac Carryon. Note that this guy is 22.75″ tall — which is technically a carry-on for domestic flights, but not for some international flights. I love the Eagle Creek brand, but I have my eye on Osprey for the next time I need to buy luggage. It is more expensive, but I think it will be quite a lot lighter. Before you buy, go into a luggage store and pick up an empty suitcase. You want your starting point to be as light as possible!
Carry-on bag #1: rolling bag
In order to be able to use my small carry-on sized bag to check, this sometimes means I will have some overflow that I must carry on. Of course, the more you carry on, the more stuff you have to deal with and the more space you need.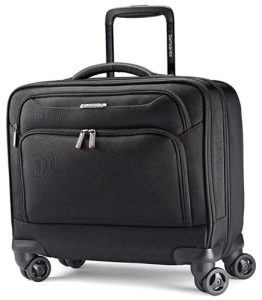 My situation is a little unusual in that I often must carry two computers (one Mac, one Windows) when I travel.
Because of my computer situation, I use a rolling computer bag that is about half the size of a typical carry-on roller bag. It has both my laptops, all my power cords, and whatever overflow I wasn't able to cram into my checked bag. When I board a flight, as soon as I get to my seat I get one of the laptops out before putting the bag in the overhead bin so that I won't have to get into it during the flight. I use the Samsonite Xenon 3.0 Mobile Office Laptop Spinner bag. It's not ideal, but I've tried quite a few alternatives and so far like this one the best. If I only had one computer to carry, I would have wanted the version of this bag made for women, only because it looks nicer… but I seriously doubted that it would deal well with two laptops.
Carry-on bag #2: Shoulder bag or backpack:
I have gone back and forth between a series of large shoulder/tote bags and a backpack. I've used large shoulder bags all these years, but I find a backpack very compelling.
I like the idea of distributing the weight of your bag across your back and not having a bag slipping off your shoulder at inopportune times. I especially like the thought of how much easier the journey from airport to train to hotel would be without schlepping a shoulder bag around.
I did my research and tried out a few bags.
I started with an impressive Thule Crossover 25 backpack. It was beautifully made and, as I'm incredibly vain, didn't make me feel like I looked like a total dork when I wore it. But it wasn't roomy enough for what I needed it for. It would be a perfect backpack as a laptop bag for going to the office, but not good enough for travel — especially with two laptops.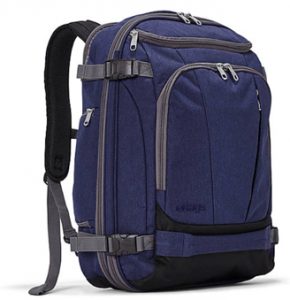 Next I went to ebags and bought their TLS Mother Lode Weekend Convertible backback. I liked it, but it was so huge — I felt like I was strapping a suitcase onto my back. I exchanged it for the next size down: the TLS Mother Lode Weekend Convertible Junior bag, and this bag is juuuust right. It zips all around and opens like a suitcase, so you aren't stuck trying to cram things into a vertical space (which was the main thing that made the Thule an impossible choice for me). It has an internal strapping system so stuff isn't shifting all around as you walk. Also, the backpack straps can zip away and you can treat this like a more conventional briefcase-style bag with a shoulder strap and top and side handles.
I like this backpack, and I am sure that I will use it from time to time, but after several months of this grand experiment with backpacks, I think I've settled on the shoulder bag.
This is partly because I've been a shoulder-bag person all my life, and the old adage of teaching an old dog new tricks has some sway here. I'm used to being able to easily reach in to my bag to get something while on the go without having to even slow down — something I don't see doing with a backpack. But more importantly, I just don't have a very strong back: I'm in my mid-fifties and already have an artificial vertebrae in my spine! I think if I had a stronger back I'd like using a backpack, but after trying it out for a few trips, I think I'll be going back to my tote bag, which easily fits under the seat.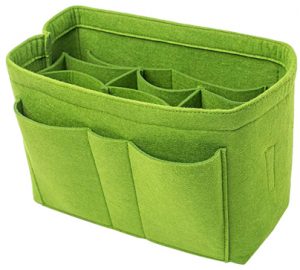 What shoulder bag do I use? I cycle through a lot of different bags. Currently I'm using a lovely leather bag from Hobo, but I often use an Eagle Creek bag (that I think is technically a diaper bag), and a few others. But a key to using any tote bag has been that I use an insert to compartmentalize that giant interior space. I got the one pictured here on Amazon, but I think you can find these in a lot of stores. This had made my tote so much more functional that I've been using my carry-on shoulder tote bag with this felt insert as my everyday laptop bag.