After nearly a week in London, two days in Granada, and a bonus unplanned day in the airport Madrid, I'd finally arrived in Paris: my first time in the famous city. There was a lot I had meticulously planned to see on what was originally going to be a three-day visit. But as my 12+ hour layover in Madrid had reduced my visit to just two days, I had to rethink my plans.
Musee d'Orsay: Tuesday, February 6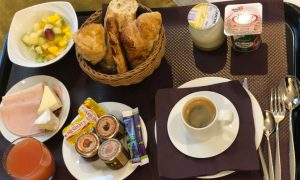 After my exhausting day in Madrid, I slept very well. I got up early and got dressed, caught up on some work, and neatened up my room. The wonderful breakfast (which I'd ordered the night before) arrived at about 9:30, and, croissant in hand, I started re-planning my visit.
There were five things I wanted to see in Paris. In order of priority, these were:
The Fondation Louis Vuitton building, designed by my favorite architect, Frank Gehry
The Louvre (naturally)
The Musee d'Orsay
The Centre Pompidou (museum of modern art)
The Eiffel Tower
Noting where things were located and that several of these places were closed today, I rearranged my priorities: I would focus on the museums on this trip, saving the architecture for another visit. The Louvre and the Pompidou would be open tomorrow, so today I'd do some general exploring and then see the Musee d'Orsay. In this map, my hotel is at the blue dot: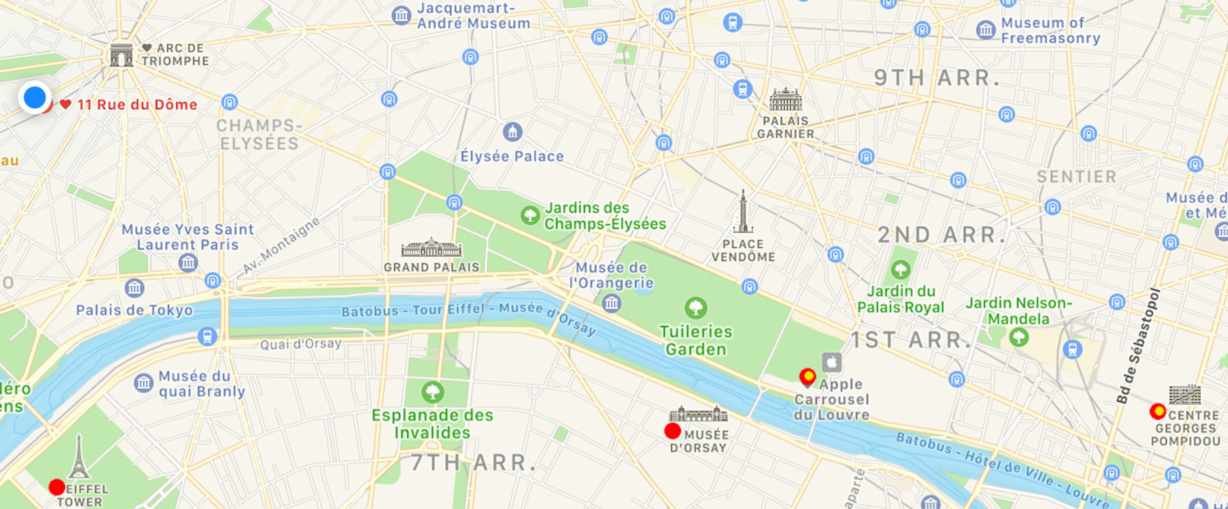 It was nearly 11:00am by the time I bundled into my down jacket and my warm scarf, stepped out into the cold, and headed in the general direction of the museum. I could have taken an Uber or even the train, but decided to walk so I could see more of the city. It was snowing, lightly at first but more as the day went on. However the temperature hovered between 0 and 2 degrees C — so the snow mainly just melted and made everything wet. And a mess.
This storm had taken Europe and I by surprise. When I packed for this trip, I wasn't packing with snowy streets in mind, so I was wearing little suede tennis shoes that did a marvelous job of soaking up the slush. I hadn't been walking long before my shoes were full of water, my feet were cold, and I was wondering if I really wanted to be out there at all. But on I went!
As I got closer to the center of town, I got to see just how intense the flooding was here. So many romantic films have a scene with the two lovers walking along a paved area by the river. That area was completely underwater: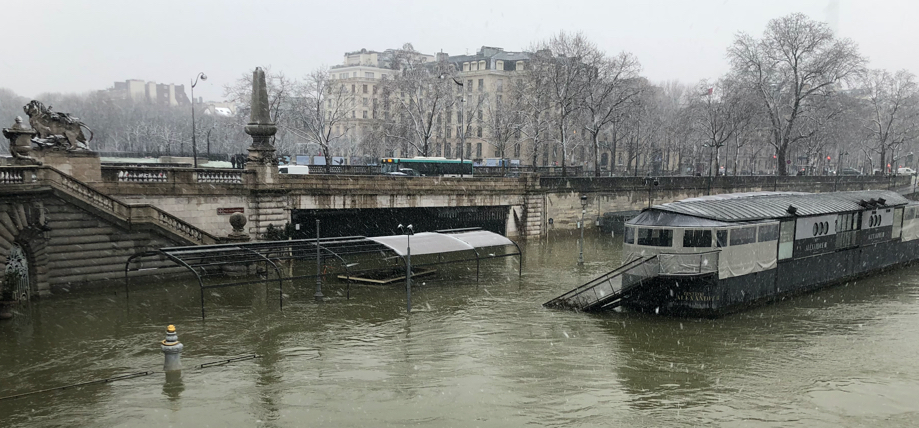 .. and the river had risen so much that boats could no longer pass beneath the bridges: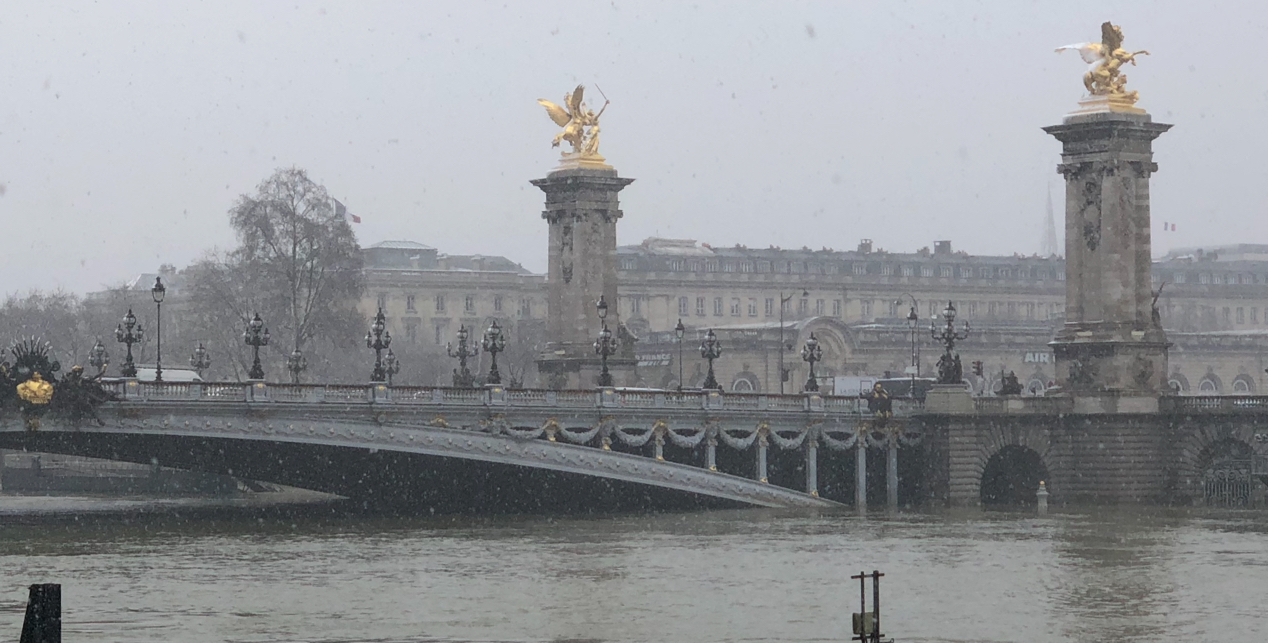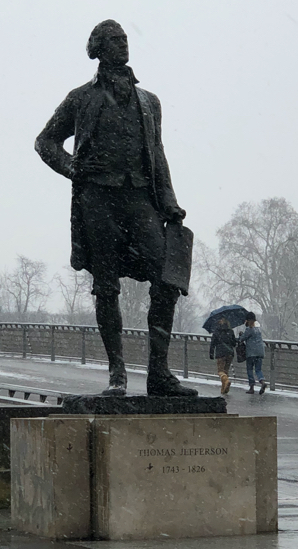 There are statues almost everywhere you look as you get closer to the center of the city, including this one of Thomas Jefferson (one of the main streets here is named after him, too). Jefferson was well known to be an admirer of French political views, which greatly influenced the US founding father's own ideas for his fledgling country.
As I got closer to the museum I saw more and more beautiful sights. As [amateur] photography is one of my chief interests, I was very disappointed that the dark skies and snow prevented me from getting many good shots. I took 50+ pictures on this walk, and very few are worth showing. Everything may have been muted because of the snow, but I could see that the French know how to put on a big splash!
Here is my first-ever sighting of the Eiffel Tower — it's that big, pointy shadow in the sky that you'll only see if you are looking for it. Before seeing this, I'd had no idea of its scale. If it hadn't been so hidden by the fog and snow, it would have been an outstanding thing to see!

Finally, having walked about 2.5 miles because of a few detours I'd taken here and there, I arrived at the museum just after 1:00pm. The museum entrance was at the other end of a line of at least 100 people, but because I had purchased a 2-day museum pass, I was able to go to a different door with no line and just go in. [Are you planning to go to Paris? Absolutely get a museum pass!]
Inside, the Musee d'Orsay was beyond grand. Here's the area inside the main entrance (I took this photo later, on my way out):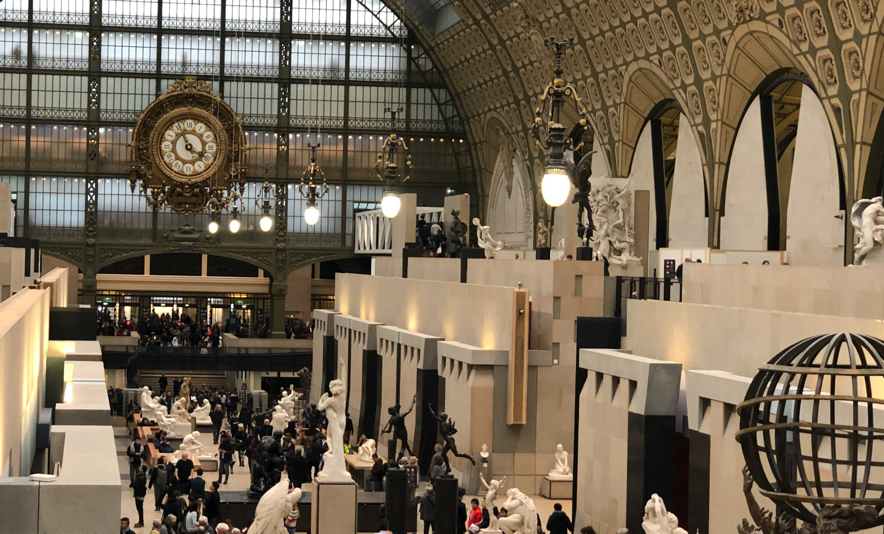 That clock is amazing!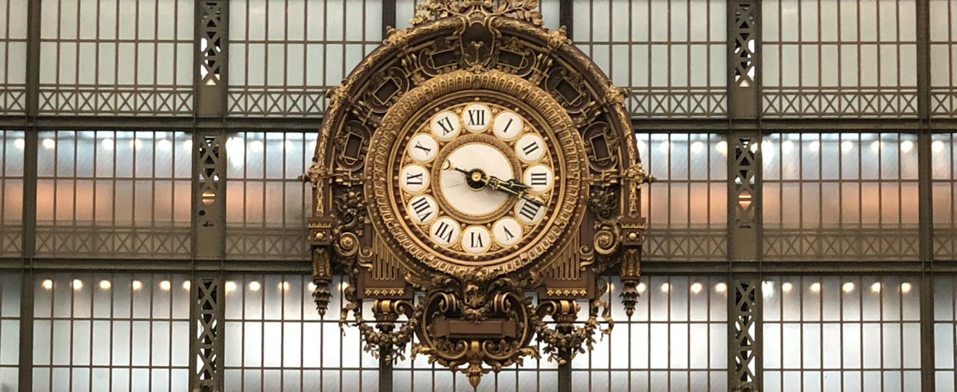 Just inside, down the stairs, is what I think of as a staging area dotted with beautiful sculptures where you can plan what to go see in the museum.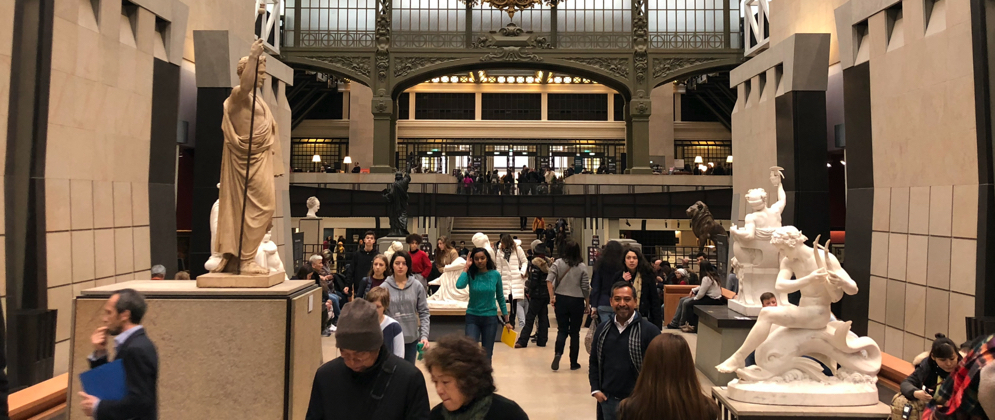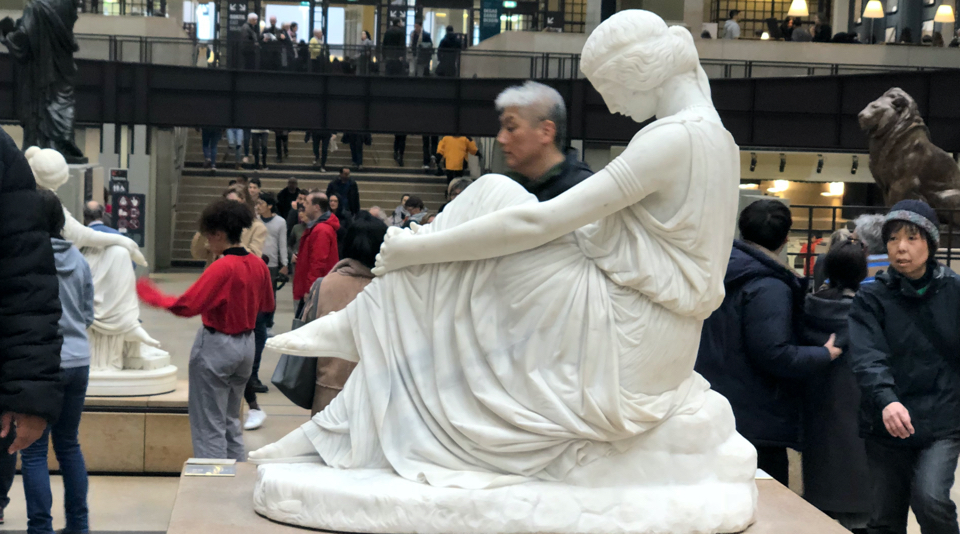 It struck me that this place was preparing its visitors to be amazed. The museum was saying, "Yeah, this is just the stuff I tossed in at the entrance. Prepare yourselves."
What can I say about the spectacular Musee d'Orsay. A friend, while I was still preparing for this trip, had told me that if I had only one day, that this museum should be higher on my priority list than the Louvre. I hadn't seen the Louvre yet, but already I could see what he meant.
I took far fewer pictures than usual, having spent most of my time just admiring the art and stopping to reflect on in. Here are just a few worth sharing: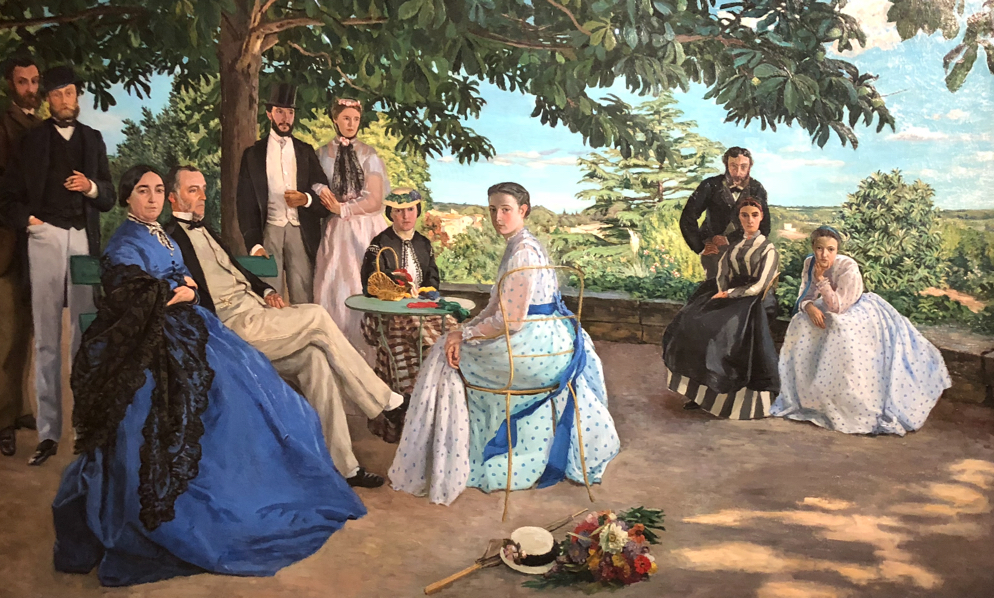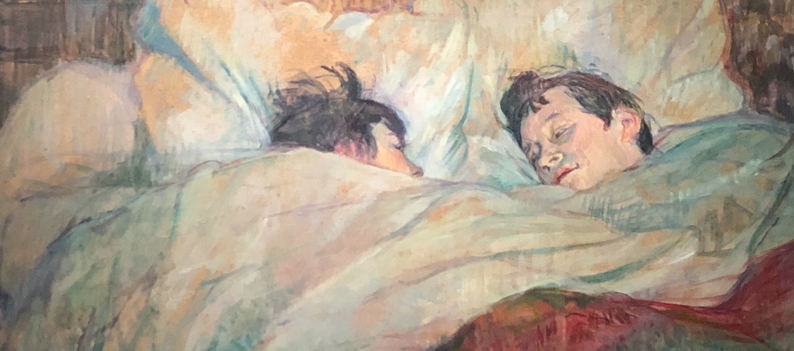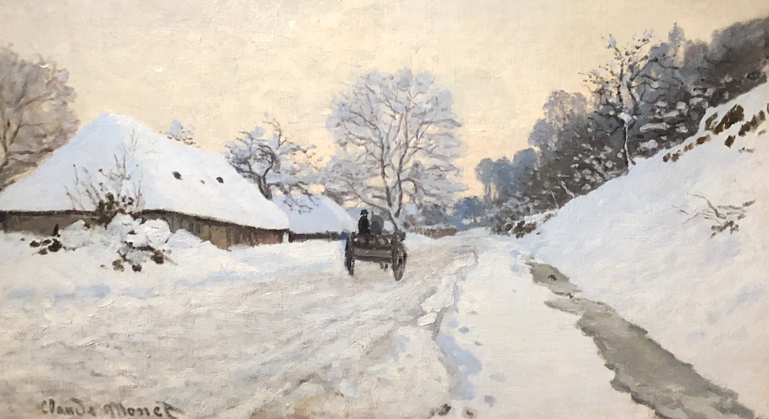 That first one is by Frederic Bazille, the second one is by Henri de Toulouse-Lautreche, and the third is by Claude Monet — lest we forget he painted far more than just water lilies!
I also saw a lovely exhibit of art nouveau furniture and other design: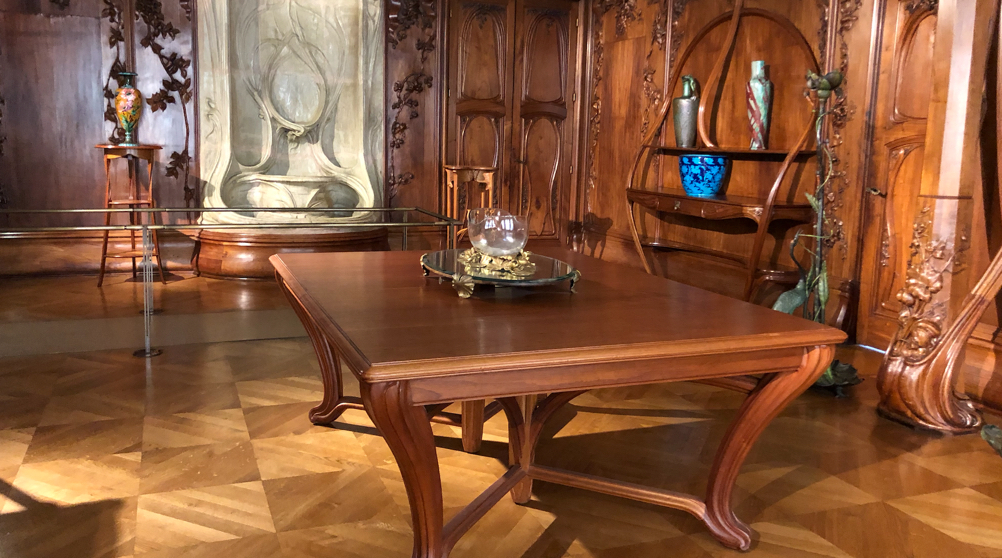 I think I saw probably less than a twentieth of what they had there before my body started telling me it had had enough and if I didn't get it home soon it would throw itself on the floor and throw a tantrum.
It was around 4:00pm by the time I walked out the door. By then, with the sun well on its way toward hinting at setting, the temperature range started to shift lower. The snow was starting to accumulate: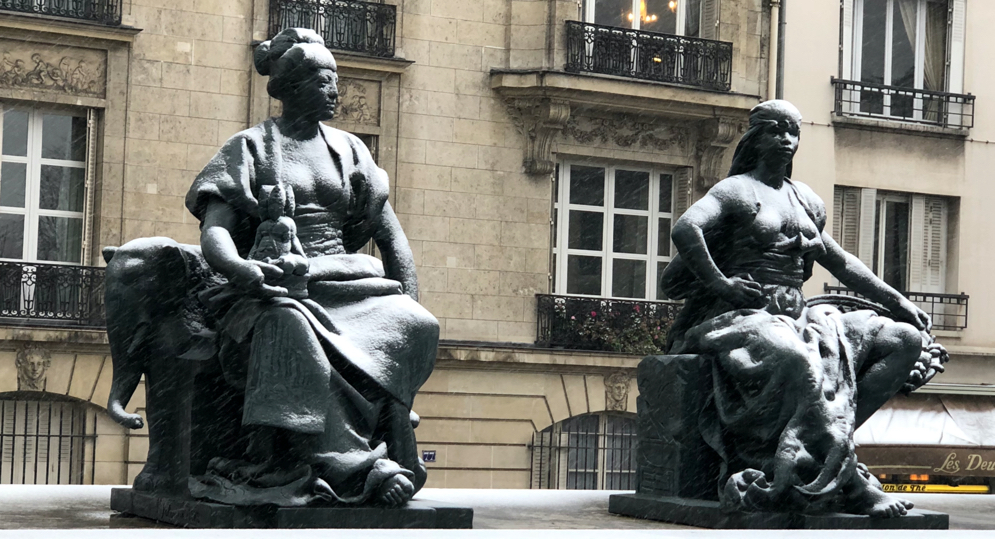 When I left the museum, I needed to get to an ATM, and the closest one, I was told, was next to the Louvre (which was closed). Outside, it was now the twilight part of night, but it made for a moody picture of the Louvre: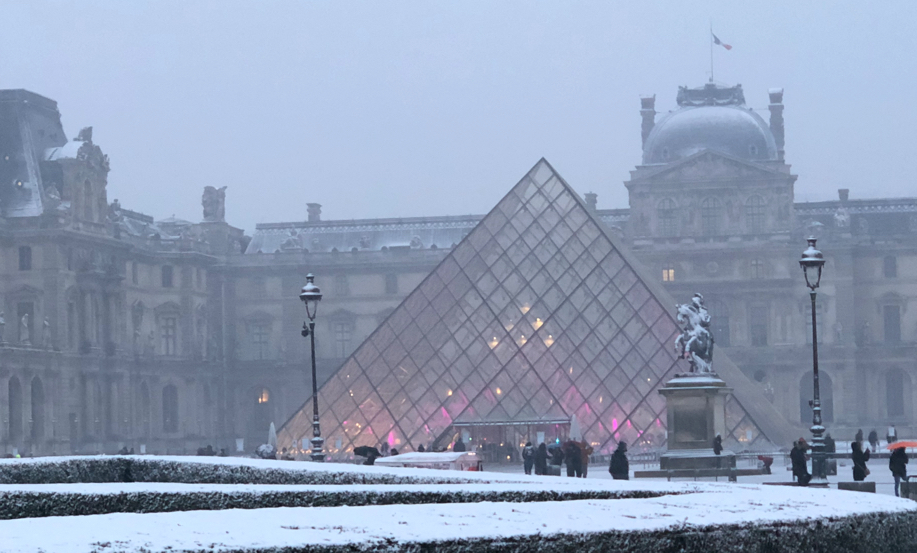 I had been on my feet far too long and was starting to feel miserable. The thick slush on the ground from the day of melting snow was starting to freeze and accumulating snow was turning it white. I was shivering, and my soaked feet sloshed into the icy slush with every step.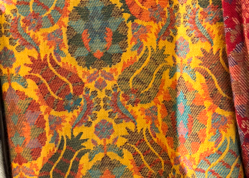 I got the cash I needed at the ATM. Stopping in at a few shops, I saw a beautiful yellow scarf that I almost bought, but decided it was too expensive. Instead I bought some cheap gloves, then called an Uber to go home. It took several tries (I think because there are certain streets on which they are not allowed to stop, and of course that is where I was calling from), but I finally was in the back of a warm Uber and headed toward my hotel home.
It was still snowing when I got to the hotel, although not as much. I went into my room, took off my wet things, sighed with relief — then put on dry socks and my wet shoes to go have dinner. It was already 6:30 and I hadn't eaten anything since my wonderful breakfast.
At this hotel they ask that you leave your key with them at the desk rather than carry it out into the city and risk it falling into the wrong hands. When I stopped to leave them my key, I chatted with the guy at the desk a bit. We talked about how little French I know, he coached me on a few words, and I talked about how much I missed my partner and was more than ready to go home. I also mentioned that since I'd had my "do not disturb" sign out in the morning, I missed my chance to get a refill on my instant coffee and could I get that when I came back.
I went to a fantastic Indian restaurant called Mayfair Garden, just a block away from the hotel. It wasn't open yet, but they saw me waiting by the door, freezing my skin off, so they let me inside to wait.
This was easily the nicest Indian food I've ever had. I had chicken masala, coconut rice, and mushroom naan. I ate more than I should have just because it was so fabulous. I complimented them effusively, and they gave me a 1/2-inch high stack of their business cards to bring back to the hotel.
On the walk back I stopped at the local market for a bottle of Perrier, and I took a few pictures to show the accumulated snow: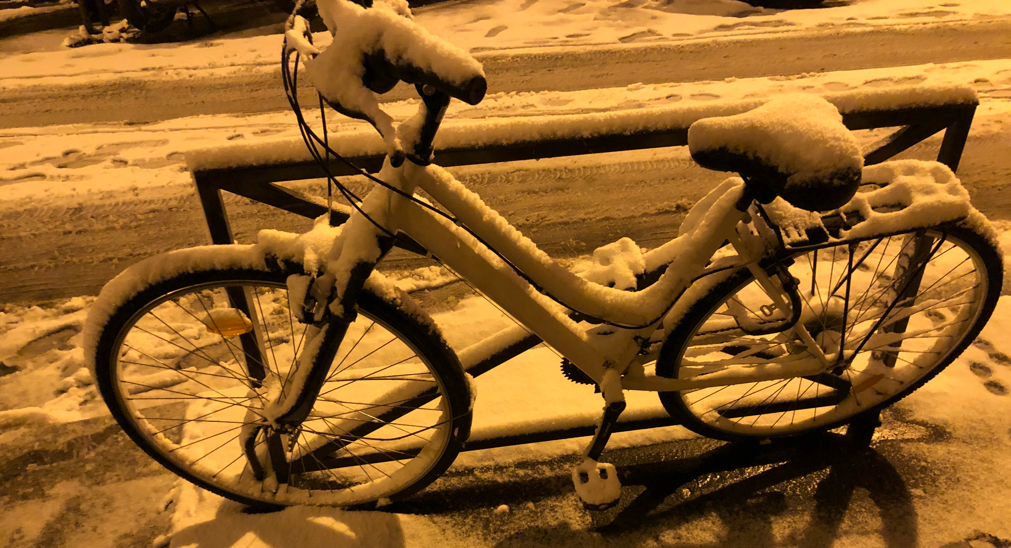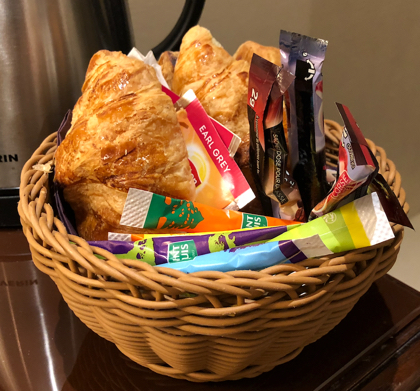 Back at the hotel, when I went to the desk to get my key, the desk clerk gave me a basket with the coffee I'd asked for, plus tea, croissants, and jam. So nice!
I've only encountered one person here who lives up to the rude French stereotype. Everyone else has been delightful.
Here's that exception: I walked into an upscale clothing store earlier that day on the way to the museum. I said "Bon jour," when I walked in and she replied with a long string of French. I said (very apologetically), "I'm so sorry, but I only speak English." To that she said I-don't-know-what in French with a supremely shitty look on her face. I wondered: does she really know no English at all and maybe thought I meant something "ugly American"? (Note to self: "I don't know how to speak French" is a better sentence to use in this case than "I only speak English.")
Anyway, back in my room, I planned my trip to the Louvre for the next day. Unfortunately, the weather was expected to be even colder than today, and the snow was expected to continue until Thursday.
I dreaded another day in my cold wet shoes, but oh well — such is life: I want to see the Louvre.
Louvre & Pompidou: Wednesday, February 7
This morning I got up and ready early, then went into the lobby for their free petit déjeuner: light breakfast. Then I got as bundled up as I could, double-checked the metro stops with the hotel clerk, then headed out into the cold.
"Be careful! don't slip and fall!," the clerk called after me. "Watch out for pick-pockets!" (No, that was not foreshadowing: in my travels I have yet to meet up with a pickpocket.)
Outside, it was a new world. Everything was covered in a light blanket of snow from the entire previous day and night of snowing: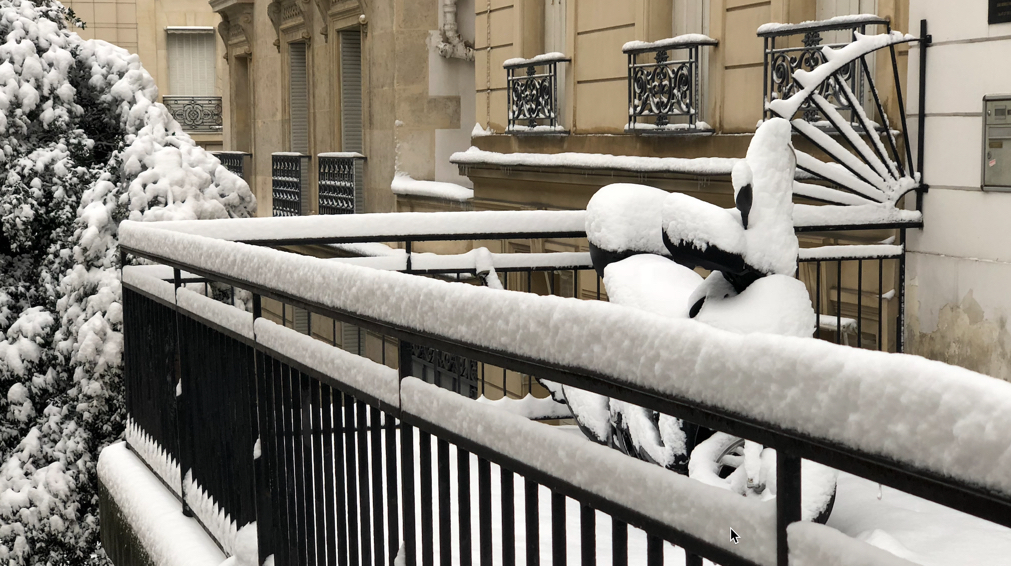 The weather forecast for today was updated to say that no snow was expected, but with a temperature of only 1 degree C, the snow that had fallen wasn't going to go away any time soon. Instead it turned into a thick layer of near-liquid slush—perfect for insinuating itself into Parisian and Tourist shoes alike.
Today I knew that I should not make the mistake of walking to the museum and then not have the energy/walking-credits left over to enjoy the museum, so I planned to take the Paris subway: the Metro. I had carefully researched it (and got those pointers from the hotel clerk), but the problem was finding the Metro station. In London the Underground signs are very visible, making the entrances easy to find. But not so in Paris. I wandered around quite a lot until I finally got to the Metro station, which is right by the Arc de Triomphe (which is not far from my hotel).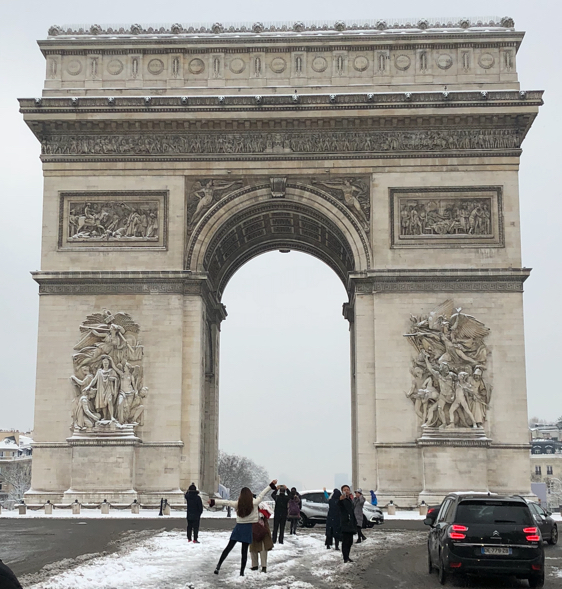 The next confusion was in figuring out how to buy my ticket, but eventually I got to where I needed to be and I was safely on the train that would take me almost all the way to the Louvre. But even without having walked all the way, still very early in the day, my shoes were already full of icy water.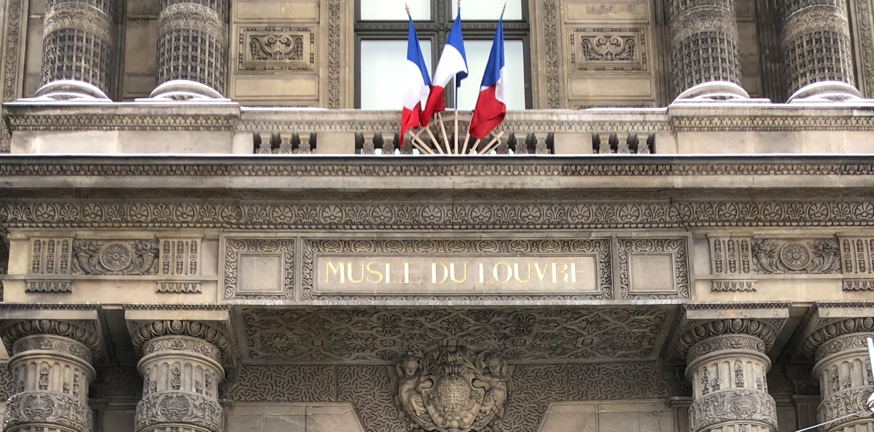 Although there are several ways to get to it, one of the street entrances into the Louvre grounds leads its visitors through an archway to the buildings.
The famous glass pyramid of the Louvre is quite impressive, especially now that I understand what it is there for. The Louvre was originally a castle, built in the 12th and 13th century, and was converted into a museum in 1793. In its early days, it consisted of three different buildings with a massive courtyard separating them. In the 1980s they excavated and put in an underground building to connect the three buildings, and they put the glass Louvre Pyramid over protecting visitors from the weather without it ever feeling like you're actually in a basement.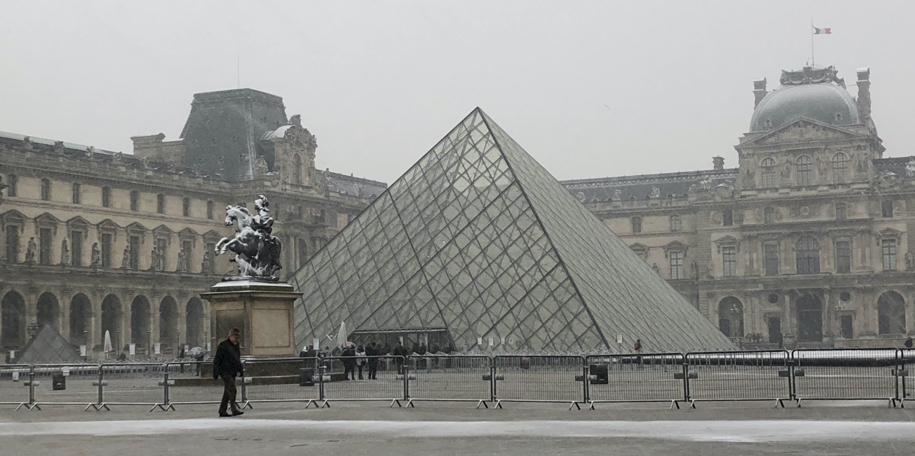 Here's the ceiling of the pyramid from the inside: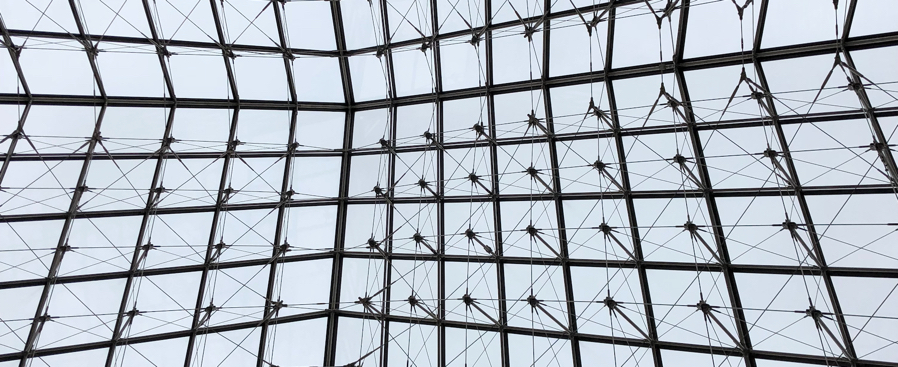 I started my trip to the Louvre in the basement of one of the buildings. Architectural details fascinate me, as does coming face to face with things that are truly old. The construction of the Louvre Castle began in the 12th century, which meant these basement walls were built about 900 years ago. Simply amazing.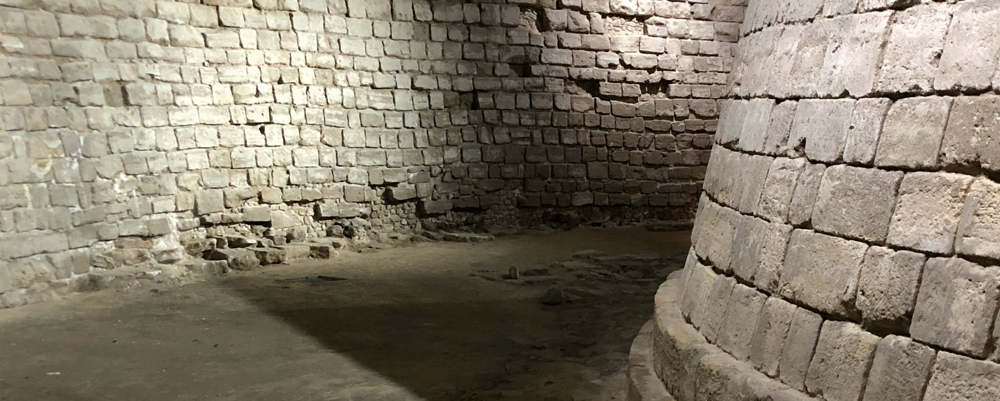 Emerging above-ground, there was of course a stunning array of art to see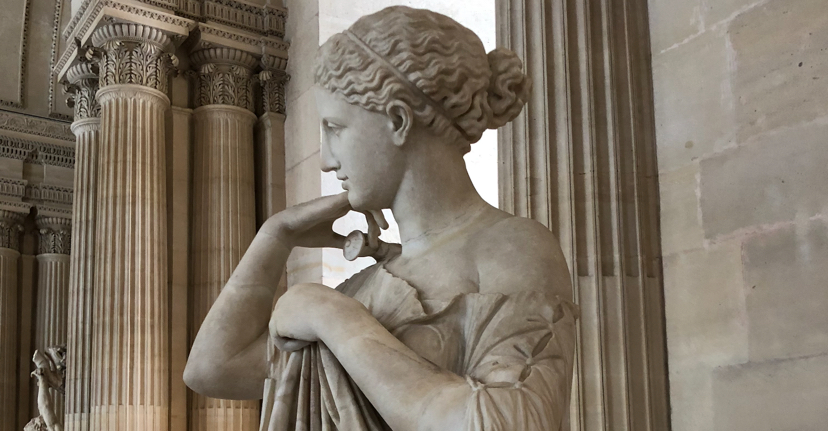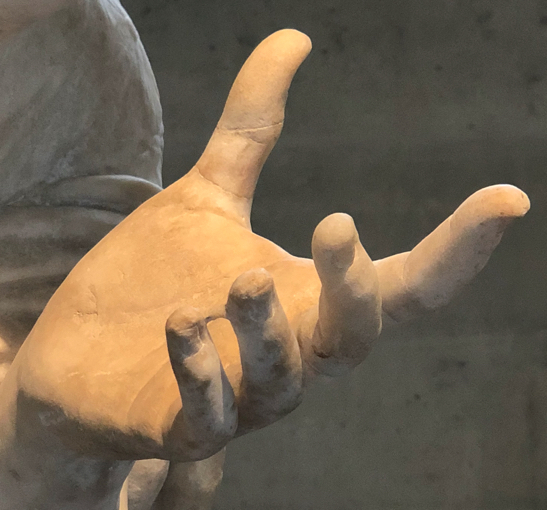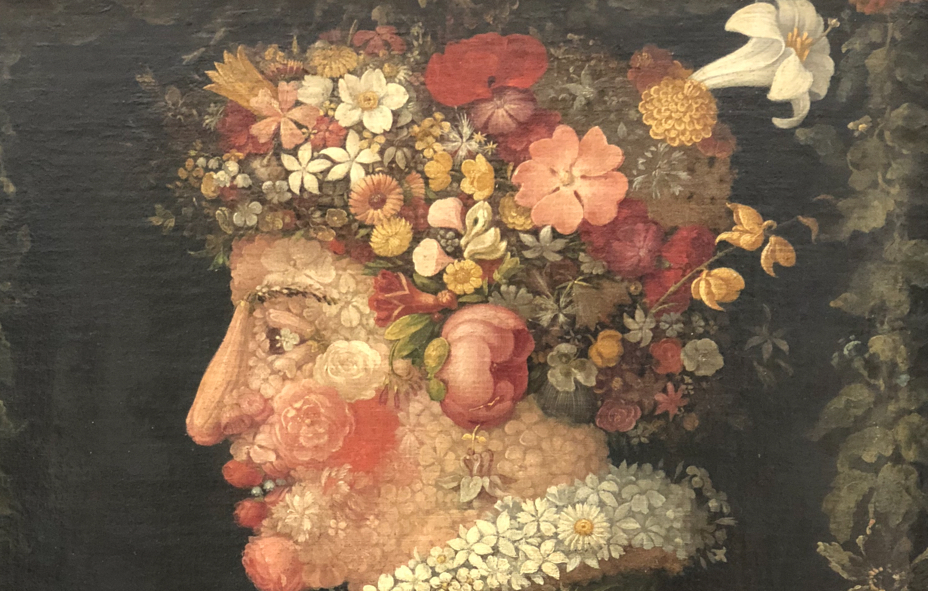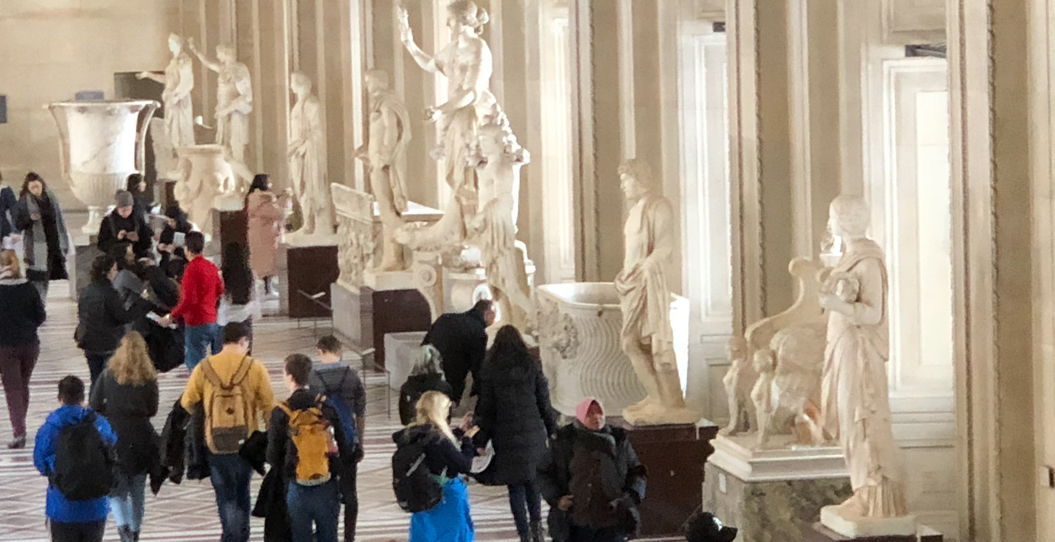 This painting of Venus with Cupid is downright pornographic. Symbolism much?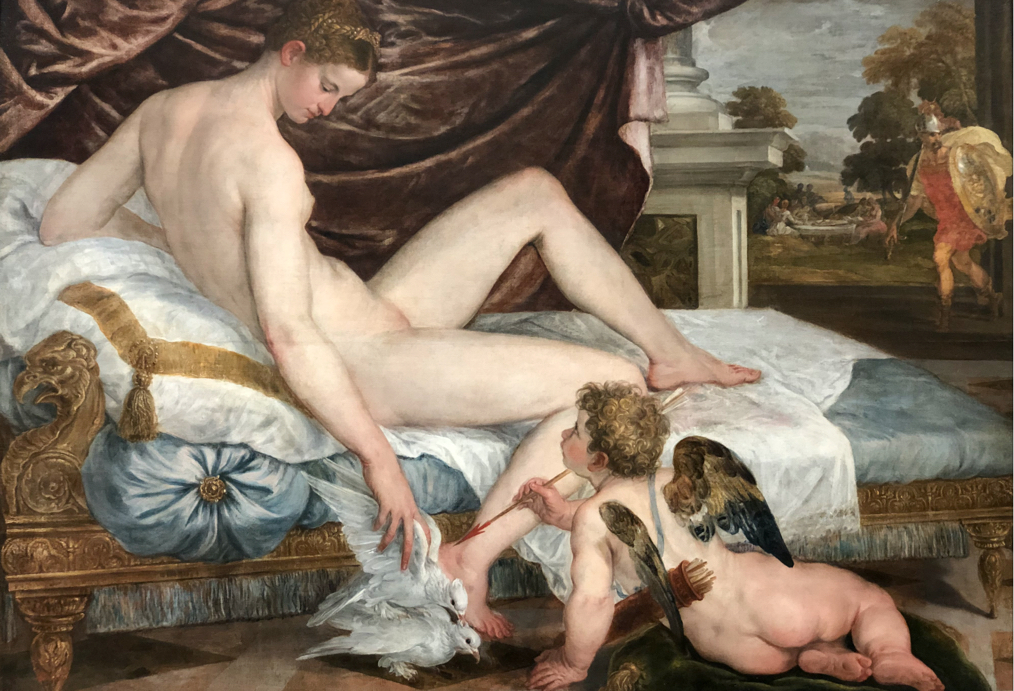 I figured I should make an effort to see the Mona Lisa as long as I was there, but as the crowd was tremendous, I decided to pass. Here's the closest I got:

Truthfully, I found myself more dispirited by my trip to the Louvre than inspired. As some of the most famous works of art in the universe are at the Louvre, I expected my visit to be magical, but it was lacking. There were several aspects to this:
First, there was an institutional vibe permeating the place that got in the way of quiet reflection. With such a massive throng of people to manage, I'm not sure there is a way around this. The Louvre is massive, and it is swarming with people crowding the exhibits, even on this Winter Wednesday morning of my visit.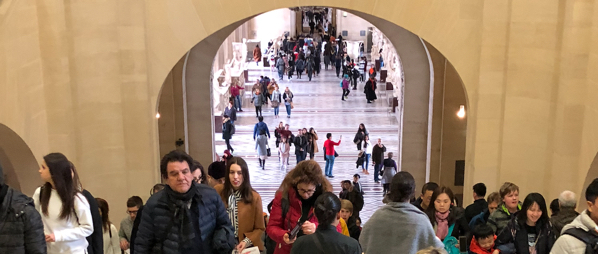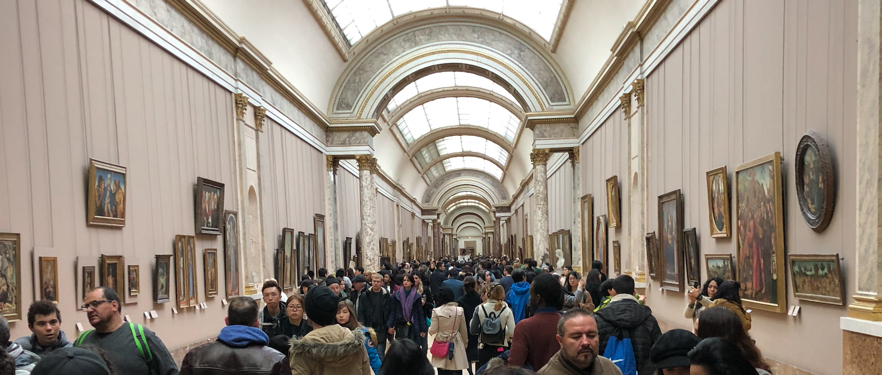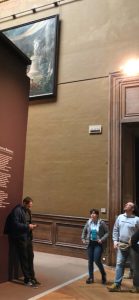 Next, some of the exhibits were impeded by their presentation — either due to the limitations of the shape and size of their rooms, or by the placement of the art. For example, several exhibits had beautiful, detailed paintings hung so high on the wall that it was impossible to get a good look.
And finally, for those not of the Christian persuasion, there sure was an enormous overabundance of Christian art. It was beautiful, of course, and exquisite in its execution. But after seeing roomsful of Christ-, Mary-, and Pope-oriented art my mind raced thinking of those artists of the 14th, 15th, 16th centuries and onward who could have created unimaginable works of staggering beauty, but who depended on the commissions and patronage of the church and the wealthy for their livelihood, and so almost invariably created Christian art. It was of course beautiful, but I was moved by the thought of what these artists could have created if they could have explored more than just one theme. I mean, I know most of them did paint other things, but how much of that has survived the centuries and is hanging in museums today?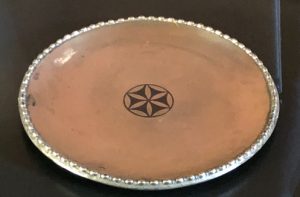 I was starting to feel almost angry about it, but I finally felt the magic inspiration of art when I saw this very simple, very old little dish. It was maybe six inches wide, and it made me picture the humble craftsman making it. I imagined him feeling such pride knowing it was going to be used by a noble person, and so taking extra care as he painted a perfect, simple design in the center. And now, hundreds of years later, tourists from all over the world see it, although only a scant few of us take a second look, let alone picture him with his dye-stained apron and his calloused hands. I gazed at this dish so long that I imagine I caused more people to stop and look than they otherwise would have.
Aside from the dish and a few other things here and there, the things that most made my soul stir was not the art, but the details of the rooms: the artistic cornices, the carvings of a hearth, tiers of arched openings, and the light traipsing across curved surfaces: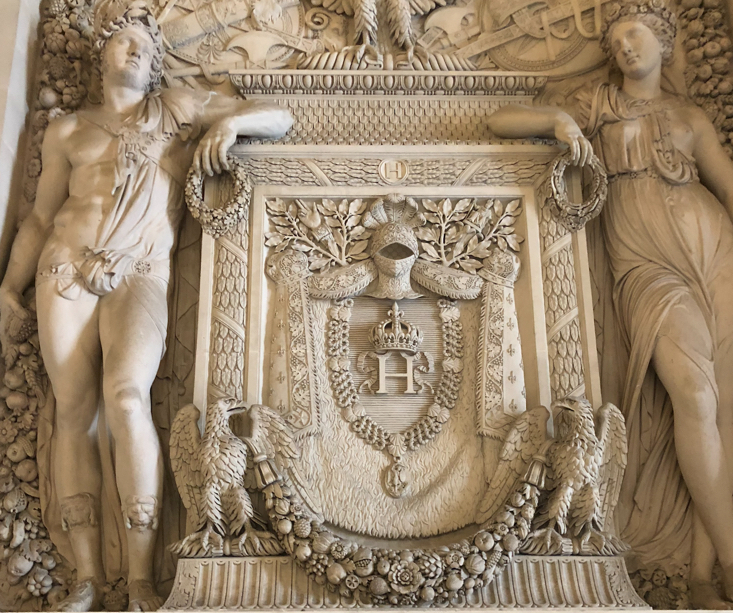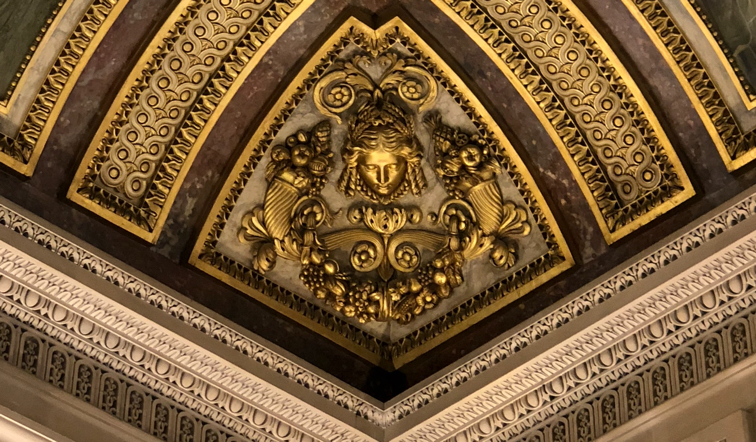 In other words, I was more interested in the walls the art was hung on than in the art itself. The building was the art, and I found it more compelling than the most famous art in the world!
That said, there  was an entire area of Islamic art that I had wanted to see, but it was closed due to the flooding. And there is an antiquities wing that was interesting:

I was getting pretty tired and ready to leave. Thoughts of the hotel were compelling, but it was only about 2:00pm and I had an all-access pass to the Paris museums: so on to the Pompidou!
But first, I'll close with a final story about the Louvre: The universal condition suffered by all women in modern society — long queues to get into a restroom — exists at the mighty Louvre just like anywhere else. In a very, very long line for  "the ladies," I spotted one lone guy. I don't at all mind the mixing of the genders in restrooms, but this was a long line and he could go use the gents' room that had no line at all! After fifteen minutes in this line, I was just starting to get little annoyed with the guy who was already nearly to the front of the line. But just then, he gave the woman standing next to him a pert kiss on her cheek then took a nearby seat to wait for her. He wasn't an annoying guy taking space in a ladies' line. He was a considerate partner keeping his significant-other company while she stood in an interminable line! Ah, life's little reminders not to judge.
Oh, and one more story: I had been torturing myself all day about not having purchased that beautiful scarf I'd seen the day before, so I decided that I had to have it! I went back to the store, and it was gone. Dang! […and this tortures me still!]
Off I went to the Georges Pompidou Museum. This involved a long-ish walk through a ridiculous amount of slush. I took a picture of the slushy street, as it reminded me of Escher's Puddle.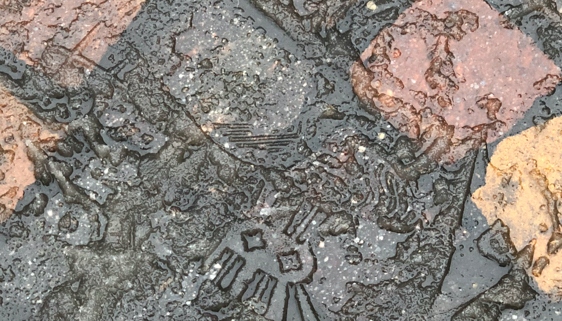 My feet were so soaked that I could feel the water slosh in them and my socks loudly squelched with each step. Along the way I stopped in at a shoe store and bought a pair of socks, thinking that when I got to the museum I could duck into the restroom (lines be damned!), discard my completely soaked socks, and put on some dry ones. But a few blocks on I remembered that I was wearing tights under my pants, and, as I wasn't going to discard my tights, the dry socks wouldn't help much. (So my souvenir from Paris is a pair of Nike socks!)
The Pompidou gives you a good head start on what to expect in art by what it displays in front of its building: the golden thumb sculpture by Casar Baldaccini. I've seen a few things of his that I like — they look like melted piles of plastic. But this thumb? I don't get it.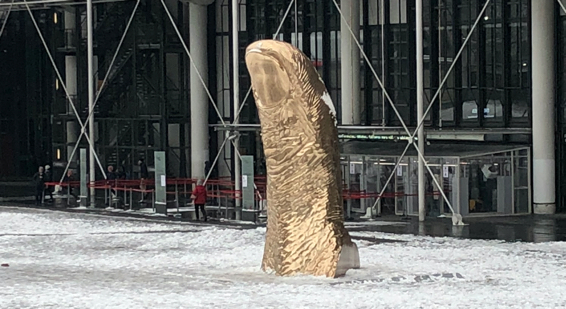 I adore modern and contemporary art. When I'm in a regional museum that has a bit of everything, I appreciate the great talent and beauty of more traditional "great masters" style of art. But it's only when I get to the more contemporary stuff that my heart sings. In quite a few cases, I'll take a Kandinsky over a Rembrandt! So even though I was tired after a day at the Louvre, I was looking forward to ending my day with the spiritual stillness that modern art can bring.
However, the visit to this museum was disappointing.
The art at the Pompidou is a good example of why so many people say they don't like modern art. One installation was a series of photos of the artist cutting his hands and feet with a razor blade. Another was a giant canvas with straight red stripes. Another was a canvas with a nail sticking out of it with light casting a harsh shadow of the nail. This is the caricature of art that I would call abstract art, and I was disappointed that I'd squandered so much of my final day in Paris to see it.
My favorite thing about the Pompidou was that I finally got a view of the Eiffel Tower from its sixth (top) floor. It was through slightly dirty windows and obscured by the foggy, gray distance. But it was still my best view of it yet.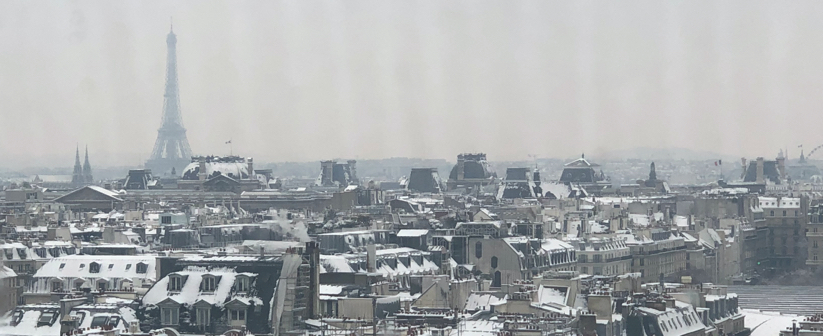 But I do like this sculpture outside the museum. It reminds me of the Blue Bear at the Denver Convention Center.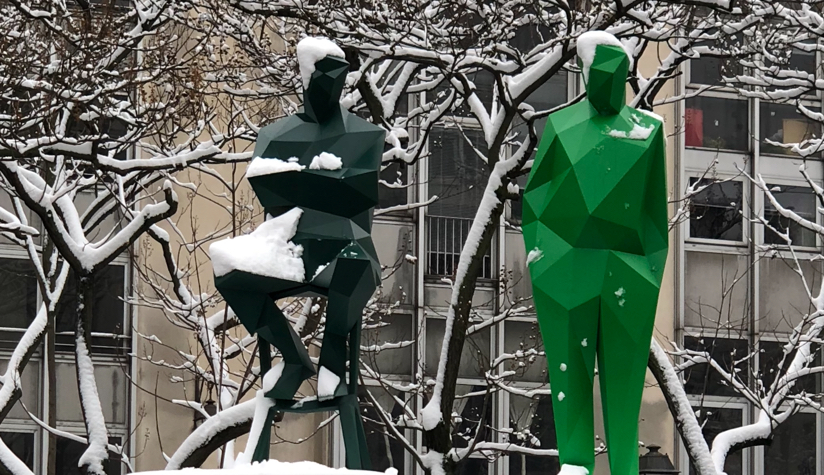 I'm glad that I went to the Pompidou. I felt a little that I'd wasted my very little time left in Paris on it, but it was definitely interesting, and the architecture was something, at least.
As I said before, I love modern art, probably more than any other kind of art. As it is less literally representational, it forces us to open ourselves to find deeper meaning in everyday moments in life. I felt that the abstract art at the Pompidou trivialized what I love about modern art, and yet I was aware of the intense hypocrisy of this opinion. The artists exhibiting at the Pompidou are expressing their meaning in their own way and who the hell am I to dismiss it? I hadn't enjoyed the art here, but I enjoyed pondering the "what is art, anyway," question while I was there.
By now it was after 4:00pm, and I decided to attempt taking the Metro home rather than spending another 30 Euros on an Uber. After a long walk to a station, I was happy to finally be sitting down. I saw on the route sign that there is a stop named for Franklin D Roosevelt:

When I got off the train it was just a short walk to my neighborhood, and by now with the snowing having stopped and the sun just starting to set, things were very pretty and finally photographable. If only I'd had this kind of lighting earlier!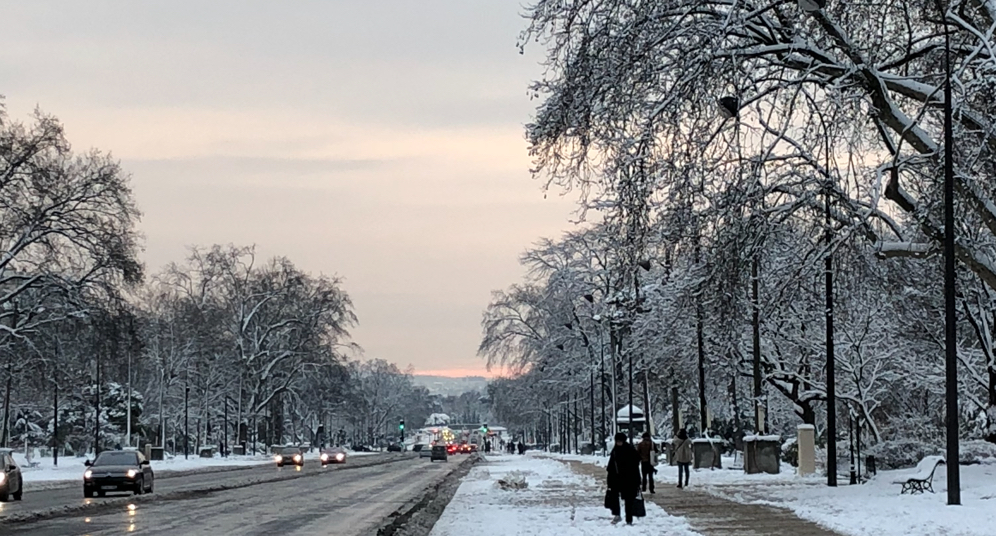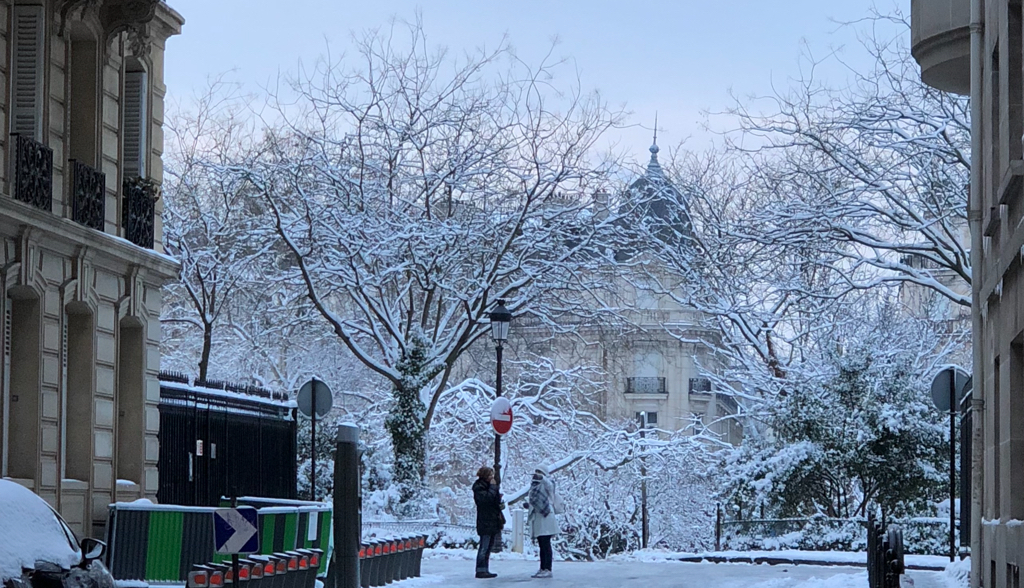 I stopped in at the little market by my hotel and got a half-size baguette and some fruit. When I came into the hotel I asked the clerk for a spoon for my fruit. He went in the back and came back with silverware and a plate of meats and cheeses for me to have with my baguette. This place was so wonderful!
I ate my dinner while writing notes about my day, then packed my bags, and was in bed by 10:00pm.
Leaving Paris: Thursday, February 8
Today I would take a train to London, stay the night there, then start my journey home to the United States tomorrow. My train was scheduled to leave Paris at 1:00pm, so had a very nice, casual morning.
I had originally planned to take the Metro to the train station, but once faced with it, the thought of wrestling with my luggage down the stairs and through turnstiles and rolling bumpily along cobblestone streets was just too terrible to consider. So I checked out of this wonderful little hotel and called an Uber.
By the way, my experience at this hotel, the Hôtel Du Bois Champs-Elysées, was just wonderful and I highly, highly recommend it. It was a small boutique place, but I was treated just as well, better, than at a 5-star hotel. Going to Paris? This is your hotel (I stole this image from their website):

The streets outside were much, much better than yesterday, but my shoes were still cold and damp from my adventures the days before. Paris was great, but I was so very done walking around it. Next time, I'm coming in the spring!
My Uber driver, Mohammed, was delightfully chatty and we managed to converse all the way to Gare du Nord train station, despite my nonexistent French and his very broken English.
Mohammed, probably in his early 60s, was originally from Morocco, but moved to Paris in the 1980s. When asked, I lied and said I was from Vancouver, Canada. He said "Ah, the first woman I loved was from Canada! That was in one-nine-eight-four." We talked about how terrible Donald Trump is. I told him that most of the Americans and Europeans I work with hate Donald Trump. "Not like your Trudeau," Mohammed said. "He is fantastic!" He then showed me a photo on his phone, which is of him scowling in front of the Trump Tower in New York (he visited there in January). "It was many foot," he said. "Foot and foot and foot." At first I thought he was saying "food" and that he meant he did a lot of eating, but later I realized he meant he had done a lot of walking.
When we got to Gare du Nord, I stopped to take my last Parisian pictures. Here is the entrance to the train station: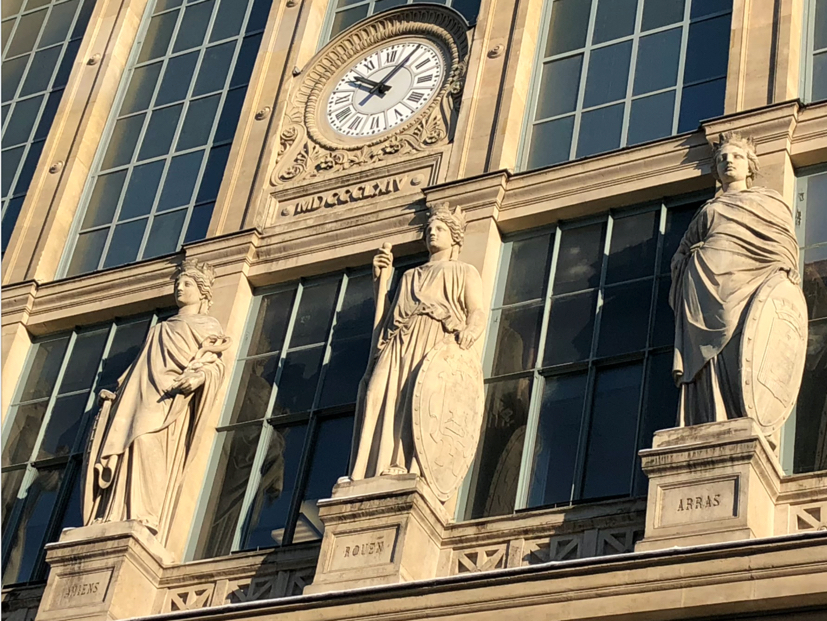 … a really interesting modern sculpture of a deconstructed winged bear that stands in front of the station: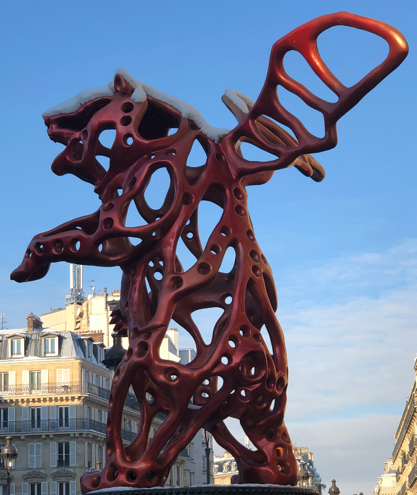 … and the view of the inside (from upstairs):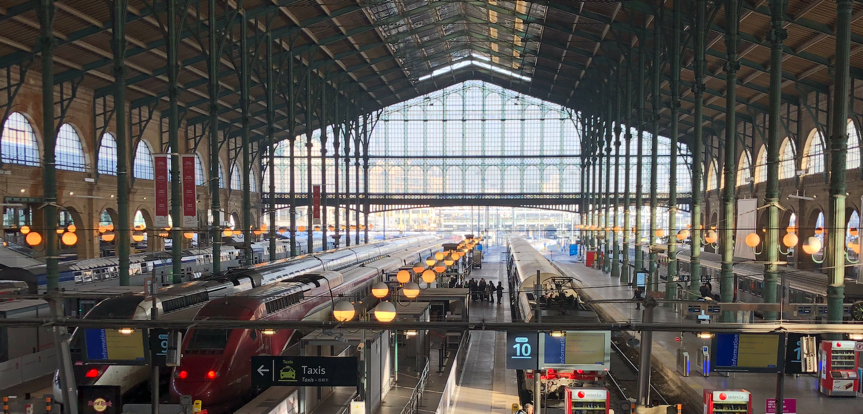 Checking in for the train was very easy. It seems that when you are in the main terminal for the domestic trains it is a bit rough, but once you go upstairs past the international customs check, it is much nicer. I spent my remaining euros on some goodies, including the most amazing sipping chocolate I'd ever had in my life (okay, I had two!), then settled in to wait.
The ride to and then through the "chunnel" was comfortable and uneventful. It should be noted that a train ride in Europe is much more comfortable than in the US. I took some pictures of the snow-dusted landscape along the way, noting the theme of electricity: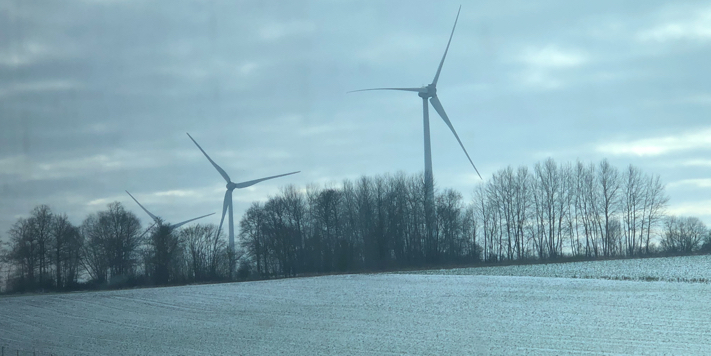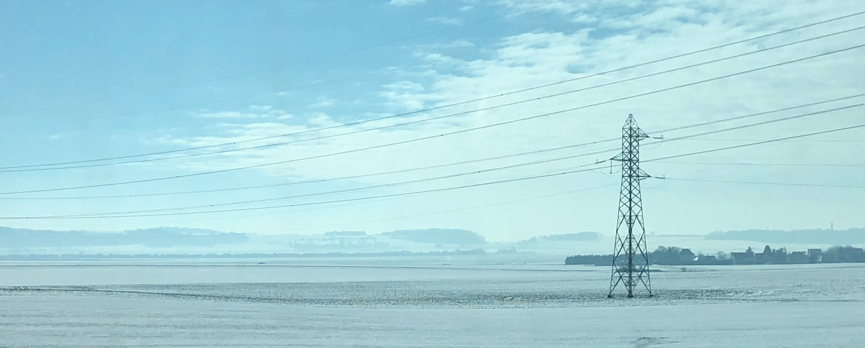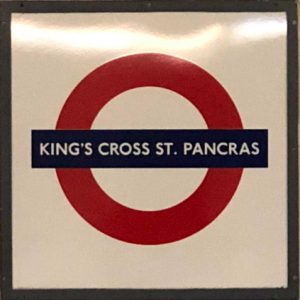 When I got off the train at the St. Pancras/Charing Cross station in London, I knew just what to do. I headed for the Underground, used my Oyster Card to get through the turnstile, used my device to see which line I wanted (consulting with a nearby helper-human to make sure I was right), and went down to the platform.
But then I got a little turned around and I wasn't sure if I was headed in the right direction. (I am amazingly direction-challenged!)
I got on a train, but then I was just sure that I was wrong, so I got off before I went too far in potentially the wrong direction. Once back on a platform I double-checked everything, and got on the train going in the same direction as before. Finally I got off at Paddington Station, wandered about, lost, for about five minutes, then finally got going the right way.
Another 15 minutes later I checked into my hotel. It was about 5:00pm. After dropping off my bags, I left right away in search of dinner. I had seen a distant church spire on my walk to the hotel, so on my way to the restaurant I detoured there to take some pics while there was still light. But when I got there it was so like every other church ever that I didn't bother to stop.
The neighborhood around here is full of places where they are all attached and all look alike. It reminded me of the book The Magician's Nephew, by C.S. Lewis, in which the children could crawl from one house to the next through the attached attics.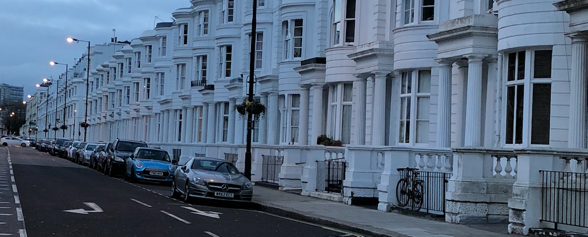 I had a very nice dinner at a tiny little Italian Restaurant called "Bizzarro." When the waiter greeted me in Italian, I grinned and explained that I'd just gotten back from several days in Paris where I never understood anything anybody said, so the more English I heard now, the better. I got a hearty laugh from that, and then heavily accented English from then on.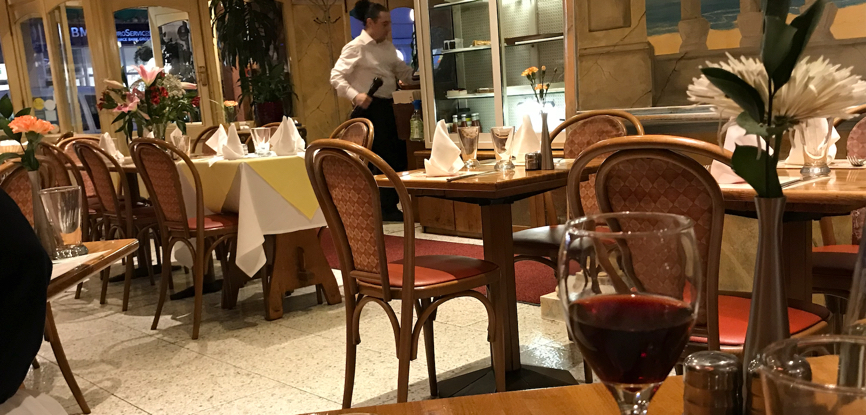 I ordered Spaghetti Bolognese, but the waiter wouldn't hear of it, saying that he instead recommended the lasagna. That's what I ordered, but I ate less than half of it. It was very bland: I wondered what the Bolognese would have been like. I ordered the "Banoffee Pot" for dessert, which is banana pudding topped by toffee. But the waiter recommended the tiramisu, so that's what I ordered. I wished I'd gotten the banoffee.

Back to the hotel.
In my room, I packed as much as I could, readied my devices for charging, and generally got ready for bed — then I sat at the desk and got some work done before ending my day. But I was distracted by a loud fan in the bathroom. After more than 15 minutes trying to find a switch to turn off the fan, I finally called the front desk and had them send someone up to show me how to turn it off. No wonder I wasn't able to find the switch: It was above the door!
By 9:00pm I was ready to go to bed, but that turned into a big process: there was no way to turn off the lights! Or rather, the only way to turn off the lights was to remove the keycard from the switch at the door — which would turn off the electricity to the entire room. But I had devices to charge: that wasn't an option.
So how to get the lights off while keeping electricity going to the room?
For the sconces by the bed, I simply unscrewed the lightbulbs. After quite a lot of hunting I found a switch by the headboard that turned off the remaining "ambient" lights, but turning it off also turned off the power to the sockets on the table by the bed. The only remaining accessible socket in the room was in the bathroom, but it only received power when the bathroom lights were on. Thank goodness I travel with a multi-socket extension cord! Since my iPad is my alarm clock, I trailed its cable across the bathroom floor, and luckily it made it out the door. The bathroom door was frosted glass, so unfortunately a lot of light came into the room. I would have unscrewed those bulbs, but as they were in unreachable canisters in the ceiling, was nothing I could do.
I'm sure all of this sounds relatively straightforward, but it took me a lot of time and trials to figure out. By the time it was all set up, it was getting very late and I was anxious to finally get to bed. By now I was really pissed off at this room.
There were issues with the thermostat which had me up several times during the night. One of those times I realized that there was something wrong with one of my power adapters in the bathroom and not all of my devices were charging, but there was nothing I could do about it. Back to bed, where I tossed and turned until maybe 4:00am.
Homebound: Friday, February 9
In the morning, I considered leaving the lightbulbs unscrewed just to get back at the hotel, but decided not to be a jerk about it.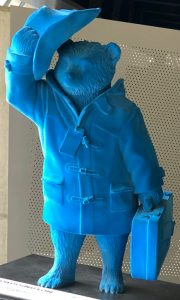 I checked out of the hotel, walked to Paddington station, then took the train to the airport (by the way, they have a cute paddington Bear statue there).
The only other mishap was that, after checking in at the airport, getting through security, and finally making it quite a distance to my gate — about 15 minutes before boarding time — I realized I'd left my wonderful Bose noise-cancelling earphones at security. Damn. I made the impulse decision to step into the electronics shop next to my gate to buy a new (pre-charged) headset for my long flight home. Damn!
So many little things had gone wrong on this trip, but it was eased by my unexpectedly being upgraded to a premier economy seat for this flight to Seattle, where I had a long layover before continuing on to Portland, and home.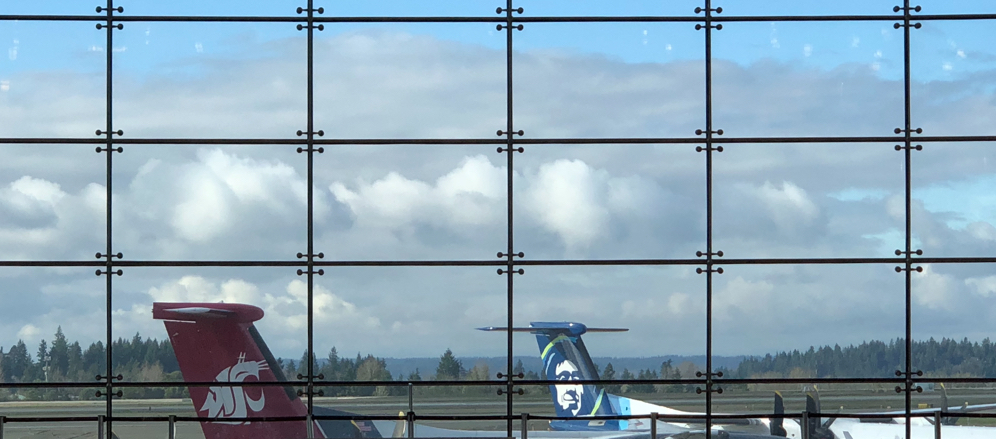 I had quite a few issues at the end of this trip: my favorite [expensive!] scissors were confiscated from my knitting bag by airport security in Spain (even though they were well within TSA guidelines), I spent an unscheduled day at the airport in Madrid, the snow in Paris was unpleasant, the screwy hotel room in London vexed me, and I lost my favorite [expensive!] headset at security at Heathrow.
But all the positives on this trip have filled three blog posts: I had a wonderful trip. I firmly believe that, while we don't often have control over what happens to us, we do have control over how we react to it. I chose to love this trip.
Take things in stride. Smile. Enjoy what you have. And be happy to get home!