If you are traveling to NW Oregon or SW Washington, you'll be flying into the Portland International Airport: PDX. It has frequently been voted the "best US airport," and whenever I travel, I always plan on at least one extra hour just to hang out at the airport — it's that nice.
The carpet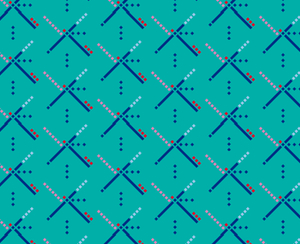 Portlanders are *fiercely* proud of their airport. You can sample a taste of that pride by checking out how nostalgic we all feel about the old carpeting at PDX.
Yes: The Carpet.
Just after the changeover, framed 1-foot-square pieces of the carpet could be purchased for $100. At the time I scoffed at that, and now I bitterly regret not buying one. [More and more bitter as time goes on! If you know of anyone selling their square, let me know!]
Ever since they changed the carpet, whenever I get home to PDX from a long trip, the new carpet is the first thing I notice. I hope someday its familiarity will override my disappointment that it's no longer the original cheerful teal.
The music and art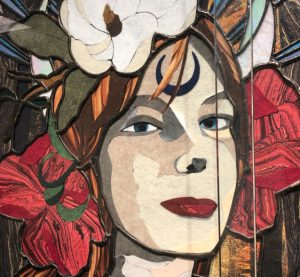 Another thing that makes PDX wonderful is their emphasis on the arts.
No Muzak at PDX: there is often (not always) live music in the various concourses. Typically this is in the form of pianists, violinists, guitarists, and others who do a beautiful job of flavoring the PDX experience. [Note that these musician's are trying to make their living this way: if it gives you a smile, considering giving back in the musician's tip jar!]
As you smile down a hallway with piano music trailing behind you, be sure to look up from the carpet to enjoy the art. PDX features local art installations dotted here and there, with a robust program of rotating art exhibits.
The shopping and food
PDX has a large number of very nice boutique shops that go way beyond tourist stuff, several nice bar/pub restaurants, a store devoted to locally-distilled whiskeys, and more. There is an emphasis on local, so, while you will find a McDonald's and some other chains inside, you will also get some Portland-only, or at least Northwest-only stuff too. One thing that makes all of this especially nice is that the organization that owns and manages PDX, the Port of Portland, enforces a "street prices" rule with all PDX vendors: the pricing of items inside the airport must match what the price would be outside. No $25 burgers!
Here's the official PDX page listing their restaurants and shops. And the new concourse construction, planned to complete in mid-2020, will add more. From this post on the Engineering News Record website:
Seven new retail spots include the state's famed Tillamook creamery, independent record label and craft boutique Tender Loving Empire, and a bar dedicated to women in aviation from the Lightning Bar Collective.
My favorite boutique clothing store, CC McKenzie, is in PDX. I frequently shop there on my way to or from someplace then have them ship my purchase home, unless I change into it or cram it into my carry-on to bring with me.
PDX also has ample shops and eateries on the public side of security, including a nice sit-down restaurant, Beaches. This is a worthy place for you and those picking you up from the airport to hook up for dinner if your plane arrives at the dinner hour. (Because the traffic in the Portland area is horrible: Do. Not. Drive. Away. From. PDX. Until. After. Rush. Hour.)
The concourses
PDX has concourses A, B, C, D, and E. There is more I'd like to write, especially a guide to where the best hang-out spots are. But as they have been working for a few years to expand concourses B and E and will soon demolish concourse A, I think I'll wait for that dust to settle before detailing what to do where.
This construction was originally scheduled to be completed in 2021, was re-scheduled for June 2020, and now, with the pandemic, I'm not sure what the plans are! Here's more about the planned changes, from this post on the Engineering News Record website:
The Concourse E project, designed by Hennebery Eddy and Fentress, creates six new gates for Southwest Airlines along with space for seven new shops and restaurants.

[Currently] at PDX, Concourses C and D are the only full-sized concourses available, although the expansion to Concourse E will bring it on par with the other two main concourses. Plans include a daylight-filled aesthetic that include a sky-wall of upper windows and a wall of windows on the east end to offer views toward Mount Hood.

The interior design will include new seating, outlets aplenty, concessionaires clustered together and faster WiFi.

By removing the oldest part of the Portland International Airport, the cramped Concourse A, which serves Alaska Airlines, Portland will extend the three-gate Concourse B by six new gates for Alaska Airlines.
A local Portland blogger/architect/woodworker, Frank Howarth, was invited to shoot a behind-the-scenes video of the nearly finished E concourse. He wasn't sure if the resulting video was going to be made public, but he did have a few photos to share. Read about this on his website. (Frank's channel about his woodworking projects is on my list of favorite YouTube channels.)
When travel becomes a thing again after the pandemic (that will happen someday, right?), I'll investigate the new concourse and update this post.