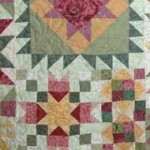 One of the things I enjoy when I have the time is designing and making quilts. This post shows all my quilting projects, starting with my most recent projects and going down to my first. Sadly it's been a long time since I've had any time for this.
For most of these images, click to see a larger photo.
Ribbon and Blues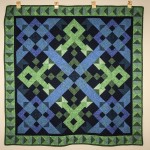 I liked where I was going with my design on "Joyce's Shadow Garden" (see below), but it wasn't quite right. This new quilt was the next try, and Eureka! I love this quilt! I have finished writing the pattern, but I have not had the time to make the second quilt to test the pattern, so I will send the pattern for free to the first few people who ask me for it, in exchange for you sending me your feedback on the pattern.
Jen and Ron's Wedding Quilt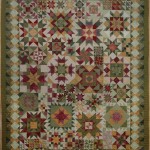 After making quilts for so many other people, I decided to make one for myself. I chose the "Sampler Magic" quilt pattern by Lori Smith, (available here), but just as I was about to get started, my good friend Jen announced her engagement, so this became a wedding quilt.
Click on thumbnails to see larger pics: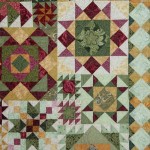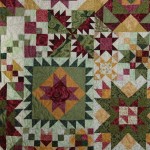 Rainbow Stars
I set out to design a quilt that would be attractive and be more complex than merely a bunch of blocks, but would be simple enough to complete the top in one weekend. I also wanted it to have spaces to show off elaborate fabric. This quilt would be a nice lap-size quilt or a baby quilt, depending on the colors and fabrics you use. This quilt is about 40 inches square and the first one of my designs that I documented and published.
Photos of this quilt below — click on thumbnails to see larger pics: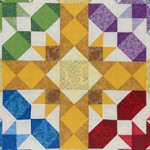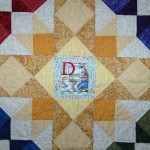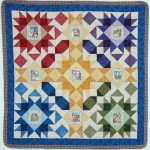 Heritage Quilt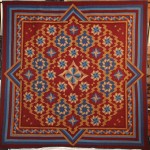 This 8-ft square quilt was completed in 2007. It took me about 2 years to finish (including the time it took to design), and has about 3200 pieces. I designed it intending to enter it in competitions, but by the time I finished I was so tired of the giant blank spot on my office wall that after exhibiting at just one show I hung it up and just said no to more exhibiting. I had the quilting done by a pro — Janet Murdock. I enjoy doing my own machine quilting, but for a show piece (or something like a wedding gift or other "heritage" type of project) it's well worth it to have it professionally done.
More shots of this quilt below — click on thumbnails to see larger pics.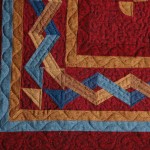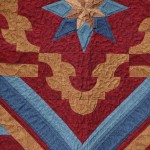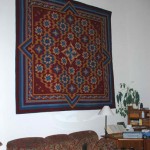 Joyce's Shadow Garden Quilt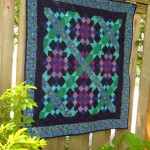 This quilt is the result of one of my first ventures into quilt designing. The fabrics didn't quite turn out as planned, and this is how I learned my lesson about ordering samples first when buying fabric online!
More pictures of this quilt below — click on thumbnails to see larger pics.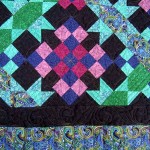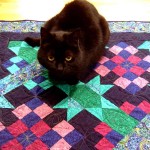 Soft Baby Quilts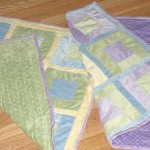 I discovered an amazing fabric called Minkee — an incredibly soft plush that is ideal for babies. It's very stretchy and I don't have a serger, so I used a very simple pattern. I made three of these quilts in one weekend. There was abundant lint all over my sewing room — but the finished product was worth it. (Yes only two are pictured here… I forgot to photograph one of them before giving it away.)
Joyce's Flowered Trellis (set of 4 quilts)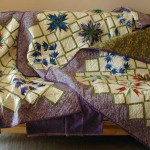 This series of four flower quilts were made using the paper piecing technique. I used Carol Doak's book "Fifty Fabulous Paper-Pieced Stars" as the starting point, then I modified the block patterns quite a lot by removing all the "star" elements to reveal the flowers, then adding the trellis. These quilts took seventeen months to complete (and the adventure included a trip to the emergency room when I sacrificed a fingertip to my rotary cutter – Yikes!). The quilts are named in honor of my mother, Joyce Mattson, who, if she were alive today, would be shocked to learn that I followed in her footsteps to become a quilter.
More shots of these quilts below — click on thumbnails to see larger pics.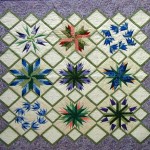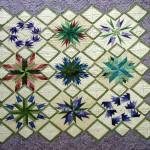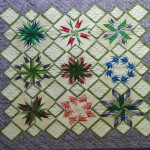 Moonglow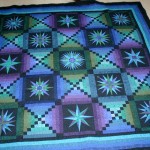 When I first decided to try quilting, I bought this kit and then put it away for that "someday" when I was skilled enough to do it. (This is my typical approach to learn something new: set an absurdly ambitious goal then set out to learn all the tasks and skills I'll need in order to accomplish that goal.) This is an awesome quilt! It was designed by Jinny Beyer, available here.
More pics of this quilt below — click on thumbnails to see larger pics.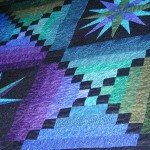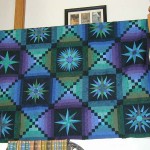 Laura's Quilt
When my mother passed away in 2001, she left behind a walk-in closet packed full of beautiful fabrics, and several lap-size quilt tops. They needed borders and then to be assembled into finished quilts. This is one of those quilt tops. I added the border and quilted it to give to Laura, my stepdaughter and Mom's only granddaughter. It was a great experience: it was like Mom and I worked on this project together for Laura.
Click on thumbnails to see larger pics.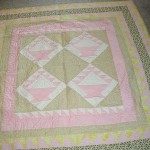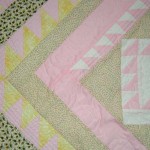 Baby Quilt for Douglas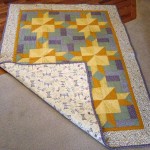 With two weeks to go, I made this quilt for a former co-worker's baby shower. To match the dragonfly fabrics, each of the main squares has a dragonfly quilted on it.
Jen's Quilt
This was my third quilt, and the first non-practice/non-sampler quilt. This is from the "Nickel Quilts" book by Pat Speth. It is Queen-size: with the border it's about 120″ square. I quilted it using my standard sewing machine which was beyond difficult! Lesson learned: send my quilts to pro quilters whenever possible! Most of the fabrics in the quilt other than the backing and border were inherited from my mother's collection.
Click on thumbnails to see larger pics.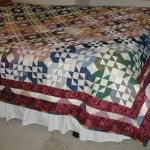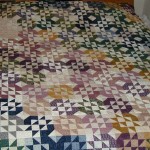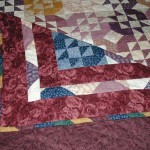 Block Sampler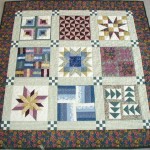 For this quilt I used fabrics from the extensive stash I inherited from my mom. Using a beginner's book, I started learning the basics of block-making. The finished quilt lives in a basket in the living room so it can be used on a chilly evening on the couch with a good book.
First Quilt: Patchwork Test for Pop, then Glenn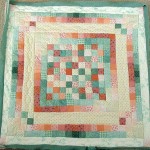 This was my first learning quilt. I found a bag of squares my mom had already cut out and I figured this would be a great way to learn how to even use the sewing machine. I gave the finished lap-quilt to my father-in-law. Later when he passed away, I gave it to the husband of my good friend Nelda. When he passed away, I decided the quilt was having a poor run of luck so I put it into storage. (In this pic I hadn't yet finished the binding.)