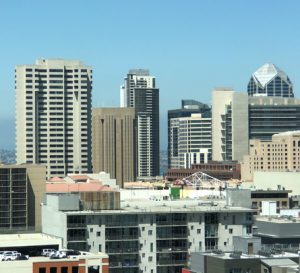 It had been ages since I'd visited my good friends in San Diego. Although I had a massively busy travel schedule this year, I had a window in August and quite a few airline miles to use, so I booked a ticket for a long weekend visit.
When I checked in for my flight I learned that I'd been automatically updated to "Comfort +" because of my mileage status. I felt like I'd won some kind of game! On such a short domestic flight that really doesn't matter, but today it mattered a lot because it was a packed flight and people were practically ready to fight for overhead bin space. Or rather, it would have mattered if I hadn't checked my bag. An important lesson I've learned lately is that it's much easier to go to baggage claim at your destination to get your bag than it is to lug that bag all over the place and try to heave it up into the overhead, not to mention the stress of jockeying for space in the overheads. (This is one of my Tips for Solo Travelers.)
Flying into Los Angeles, where I'd change planes to head further south, the air looked a special China-level of smoggy-gross, but I don't know how much of that is fog and how much it was smog… probably both.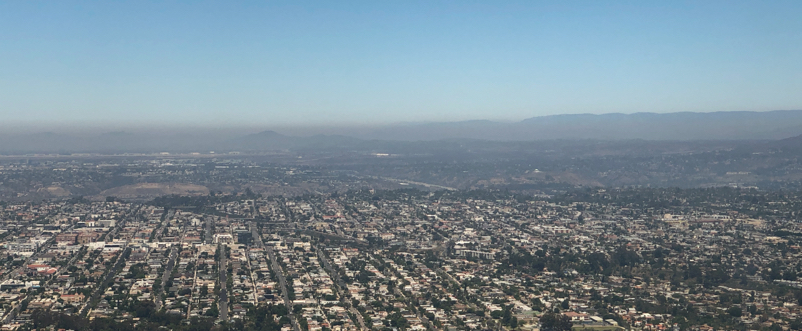 LAX is a busy not-so-great airport, underlining for me how special PDX is (discussed a little bit here). The international terminal is a good place to hang out, but as there is quite a bit of construction around here, I decided it would be smarter for me to head directly to "my" terminal to wait the 2.5 hours for my flight. Unfortunately there's not much here and not even a decent place to sit except in one of the extremely underwhelming and overpriced barely-a-restaurants.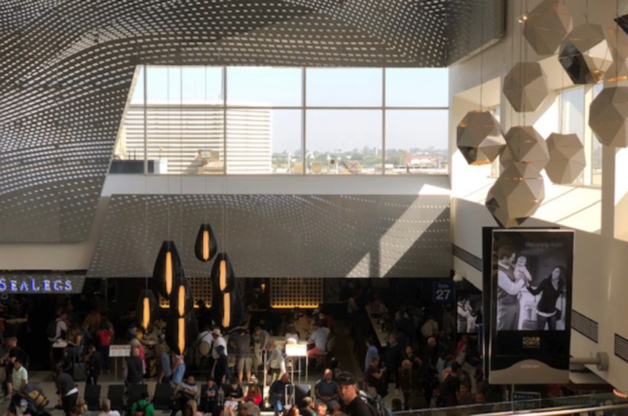 However, as it would be stupid to buy a lounge pass for just two hours, I decided to get a table at one of the aforementioned eateries. I had a bowl of oatmeal with very nice fresh fruit and an IPA — a surprisingly nice combination, I assume more so if it had been a darker beer.
I lingered over breakfast for about 30 minutes then I headed over to my gate. I sat next to an ancient-looking couple who looked like a Mexican Abuelo y Abuela straight out of central casting. At one point the very tiny must-have-been-100 woman said something to me in Spanish that I could swear was asking me the time — but I stupidly answered in English as I pointed to the clock across the room. She looked confused, and I felt bad that I didn't know more Spanish.
Once we all boarded on the plane, almost every passenger had a row to themselves — it was a marked contrast from the crowded flight from Portland and a very nice one-hour flight.
The San Diego airport is pleasant — a nice relief after the yuckiness that is LAX. They have nice art, including a huge fountain (that wasn't turned on), and artistic touches wherever you look: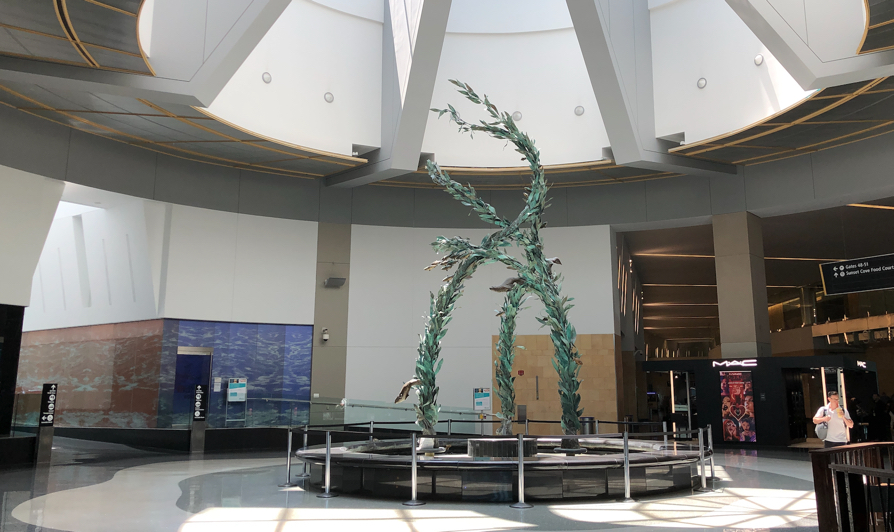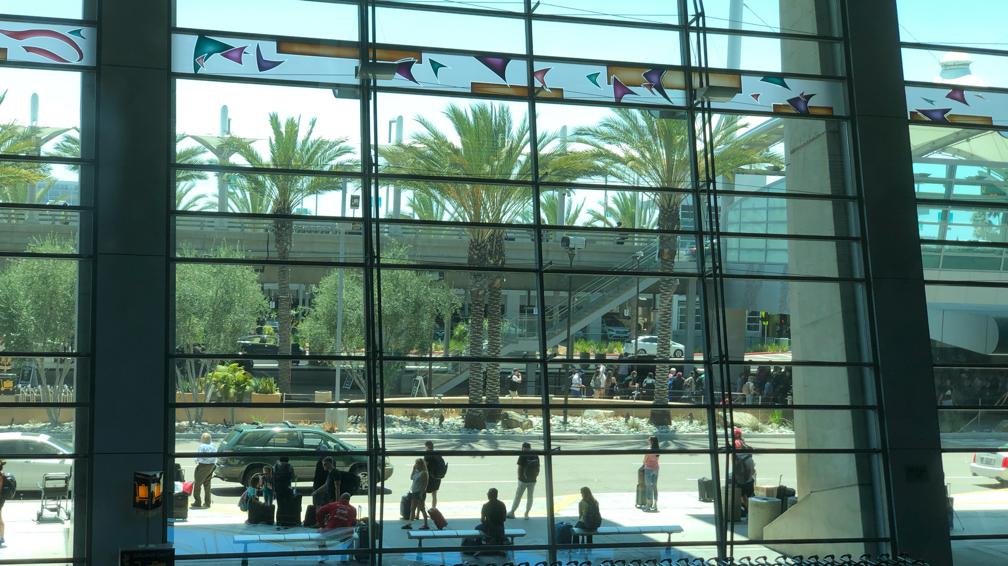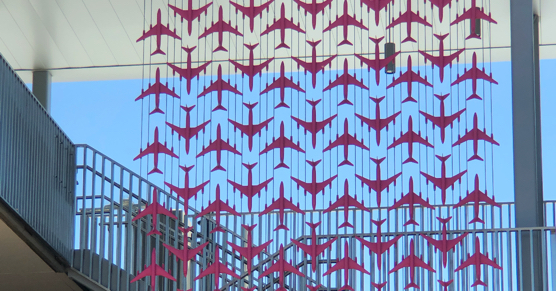 The Uber ride to my friends' apartment took fewer than 20 minutes, and there I was! The view from their corner 11th-floor downtown apartment is wonderful, with walls of windows and balconies facing two different directions. I love the multi-colored building in their view: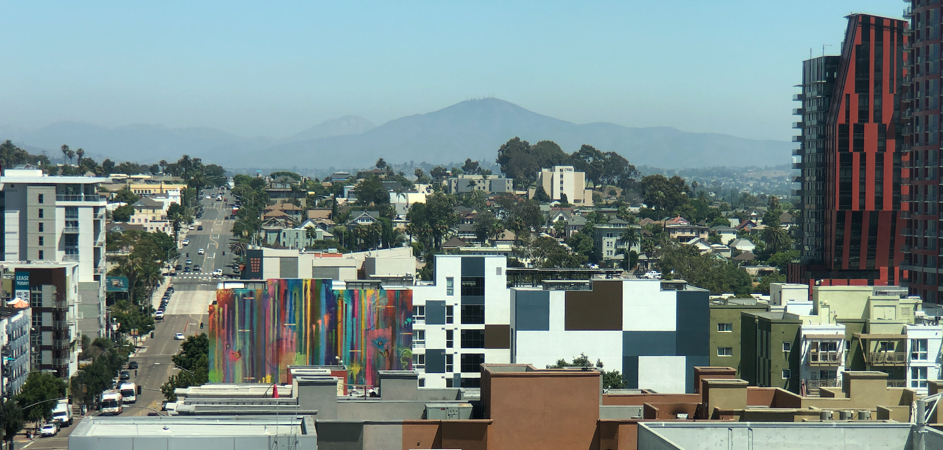 … and the view at sunset is stunning:


Visiting these particular friends is such a sheer pleasure for me that it's hard for me to even explain. This is a couple in which I first befriended the fellow. He and I are very much alike, so much so that I often comment that if I were a guy, he's exactly who I would be. We are both a bit too much into films and TV and are incredible nerds, willing to spend entire days geeking out on our computers. Later, when I met his wife, we also became fast friends. She's warm, pragmatic, and a fount of common sense and generosity. I count myself as lucky to know them both.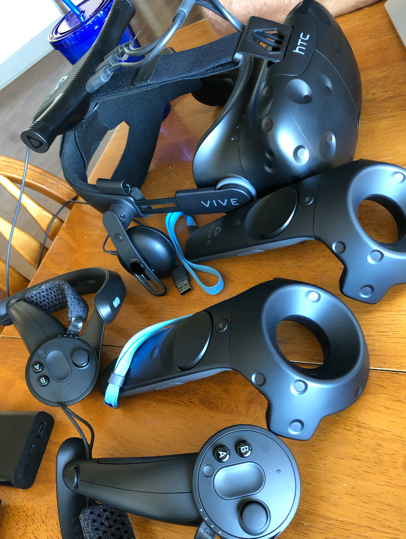 Anyway, the typical to-do list whenever I visit is #1) Not have any hard-and-fast plans, #2) Spend an incredible number of hours talking about our favorite films and TV shows, sometimes bringing out meticulous lists to compare, and #3) Geek out: I bring my Mac questions, as he is a long-time Mac expert and I am only about five years into this realm. We compare new software finds, new hardware wish lists, and sometimes walk through complicated processes for this and that.
I'm not kidding: we seriously geek out.
This time, he had just gotten a new VR rig and I got my first-ever chance to try it out. Especially as I had spent the last few years professionally involved with one of the top VR-related APIs in the industry, it's a bit embarrassing to admit that I'd never even tried VR. This was an awesome opportunity, and it didn't disappoint.
Another fun bit of geekery was when I experimented with taking a photo through the binoculars on the window sill, with surprisingly successful results: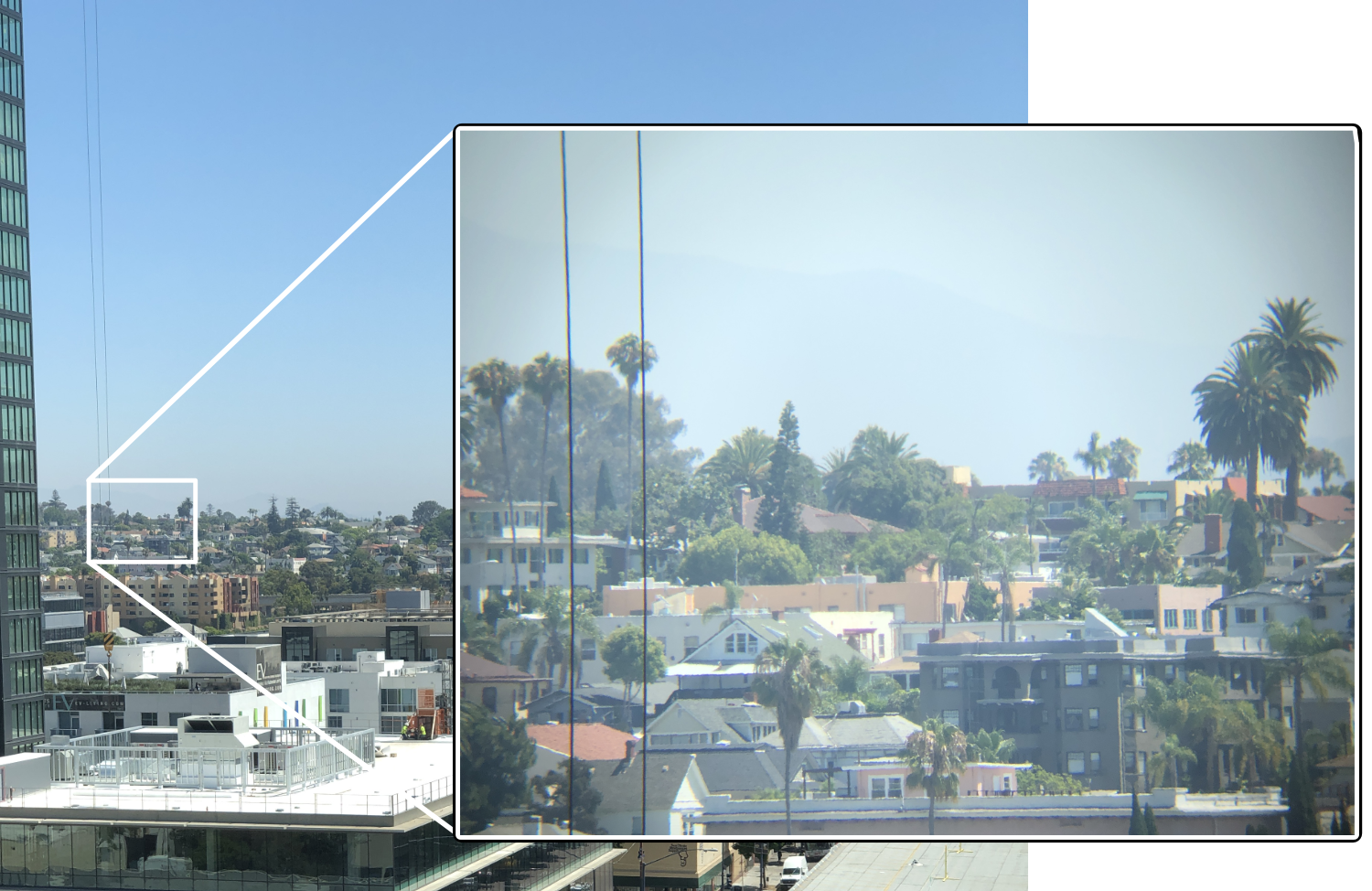 Disneyland
After a few days of movie-talk, geeking on VR and Macs, photography, and retirement planning, we left early in the morning to drive to Anaheim to go to Disneyland. My friends, serious Disney-philes, have annual passes, which meant I was able to get a $100 ticket. Just soak in that a moment: $100. When I was a little kid growing up in Orange County, my family went to Disneyland every Christmas. That's my parents and their five children. I know the place was less expensive back then, but I can't imagine how much that must have cost and how lucky we were.
My friends are the kinds of "kids at heart"people who can't say no to a roller coaster, so we headed for the "Incredicoaster." My friends were delighted with the ride, while I spent the entire time hyperventilating and telling myself I wasn't going to die. Here's someone's YouTube video of this ride. What I learned from this experience is that I absolutely, positively hate roller coasters and will never do that to myself again!
After the roller coaster I caught my breath and we enjoyed seeing the sights. The new Star Wars-themed area was remarkably well done.
It had been nearly 30 years since I'd been to the place, so my main reason for wanting to go was purely for nostalgia. I wanted to smell the eucalyptus, see the Small World castle:
It was a wonderful trip, roller-coaster ride notwithstanding!
Balboa Park
After a very long day at Disneyland, the next day, my last day of the visit, we went to Balboa Park. This is a stunning area outside the city with several museums, restaurants, gardens, and more. We didn't plan for anywhere near enough time to see everything. Next time I will make the time to see at least the modern art museum here.