Another November, another Supercomputing show. Over the last 12 years, always in the week prior to Thankgiving, I'd worked at this show rotating between a small number of cities each year: Dallas, New Orleans, Seattle, Denver, and a few other US cities. Last year the show was entirely virtual due to Covid concerns, but this year — for the first time at least since I'd been involved — the show was going to be in St. Louis.
My travel posts, like my trips, often begin with PDX. This was my first time here since my Dallas trip in February 2020, and it felt like visiting a dear old friend.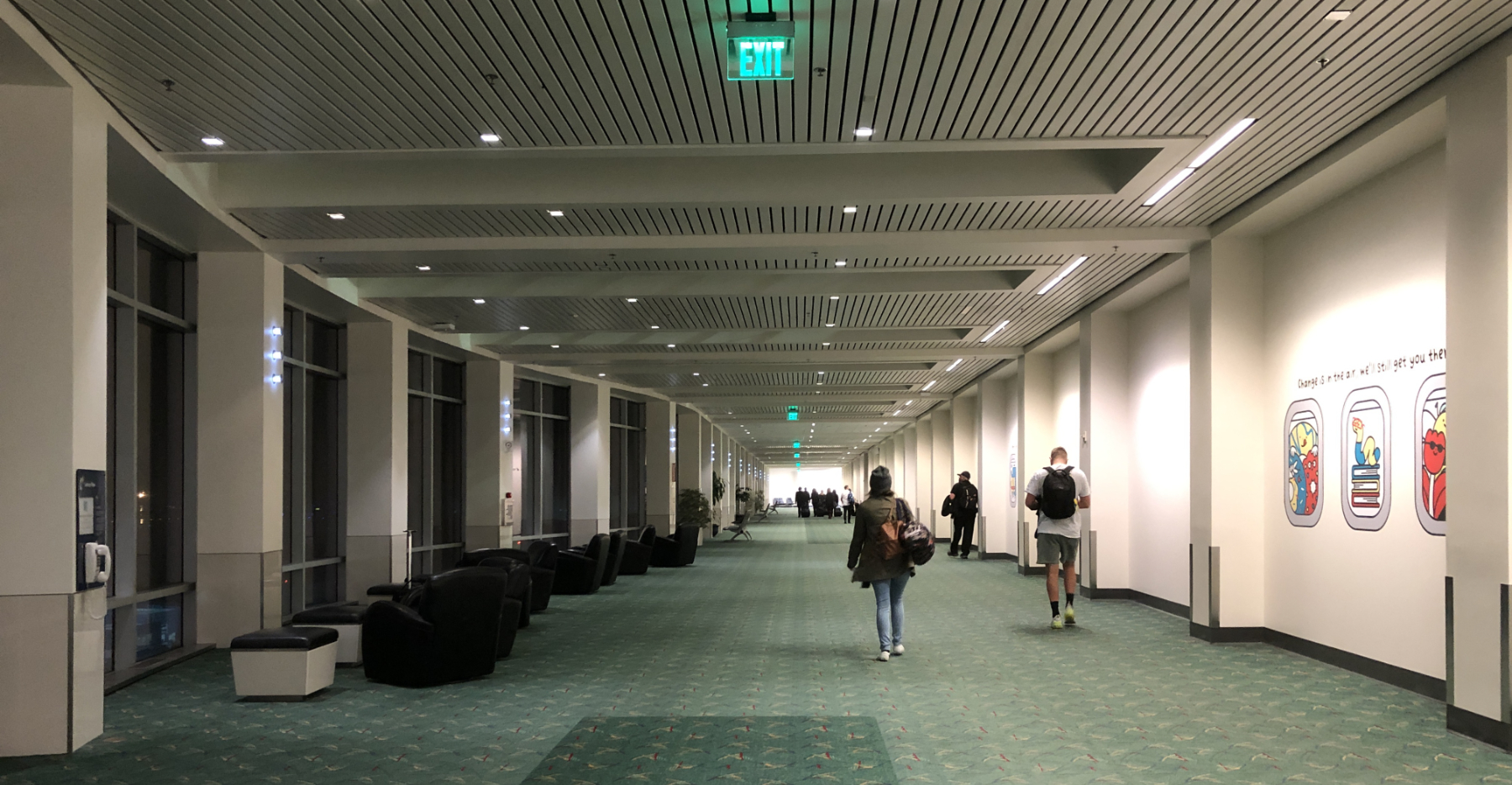 I had a short layover in Seattle, where I was delighted see a few wonderful sculptures. This driftwood horse in the SeaTac gates area is by artist Deborah Butterfield. As several of these horses seem to graze outside of PDX, this made me wonder just how many airports feature her work.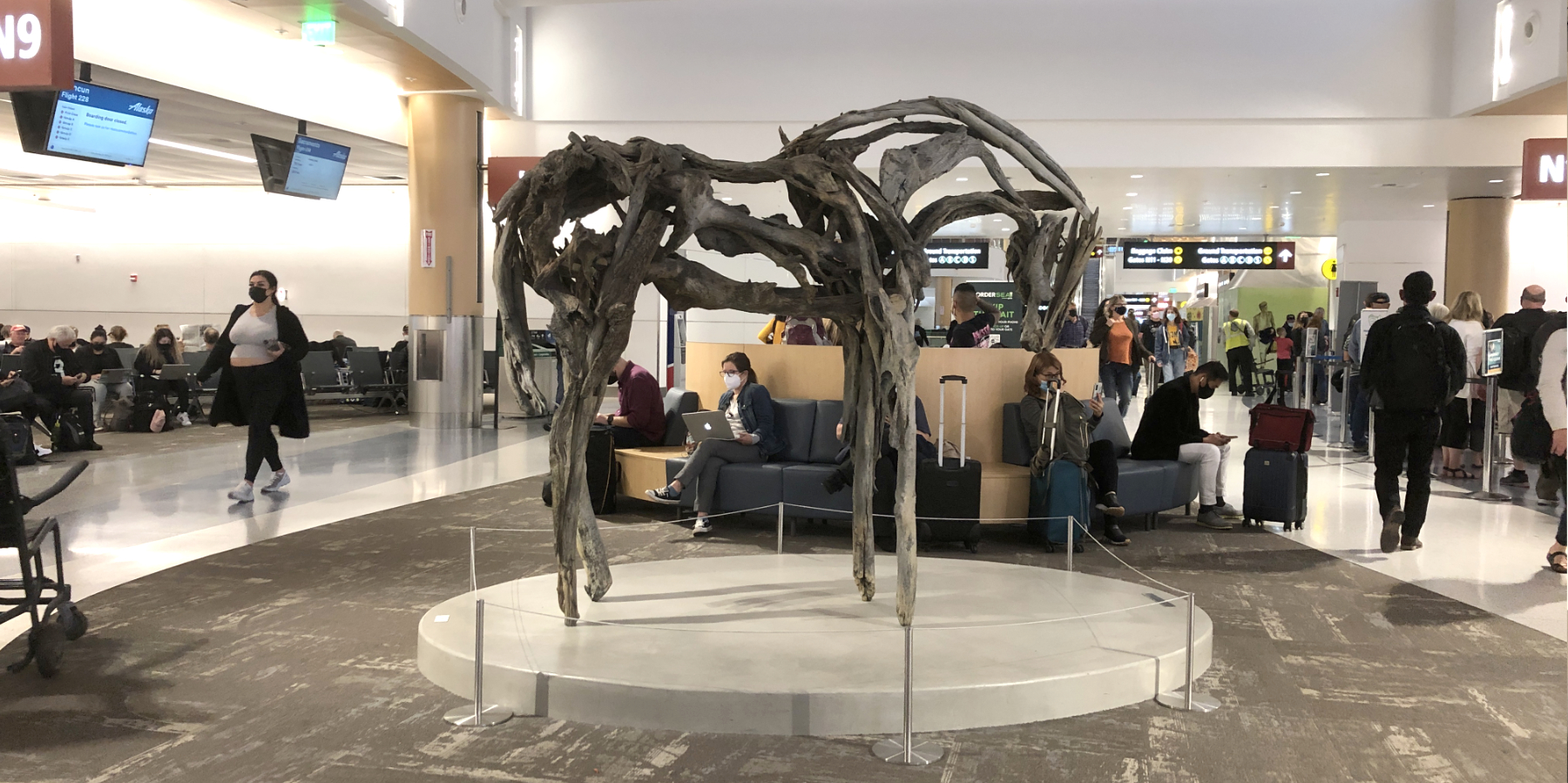 Next up was this massive, organic-looking wooden lattice attached to a wall.

The artist is John Grade, and here's a wonderful write-up abut the piece. I loitered in this hall for a long time admiring this beauty and taking dozens of photos. The perfect lighting  added a myriad of shadows to the overall pattern while highlighting the wood's texture. It was quite the sight.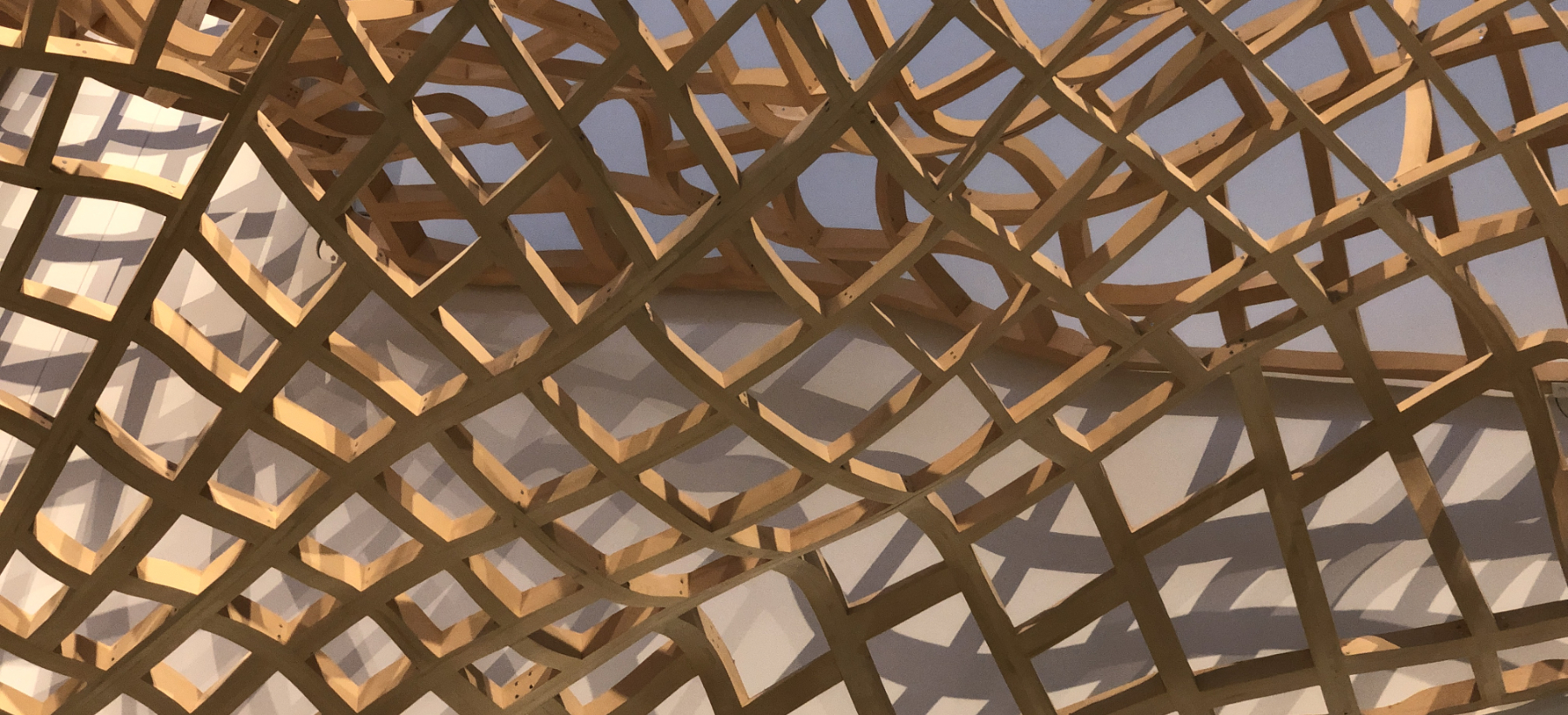 Ah but I digress… I believe I was heading to St. Louis.
Arriving in St. Louis, I had a long walk to get to the baggage claim area. On the way I was distracted by this lovely mosaic that was on the floor: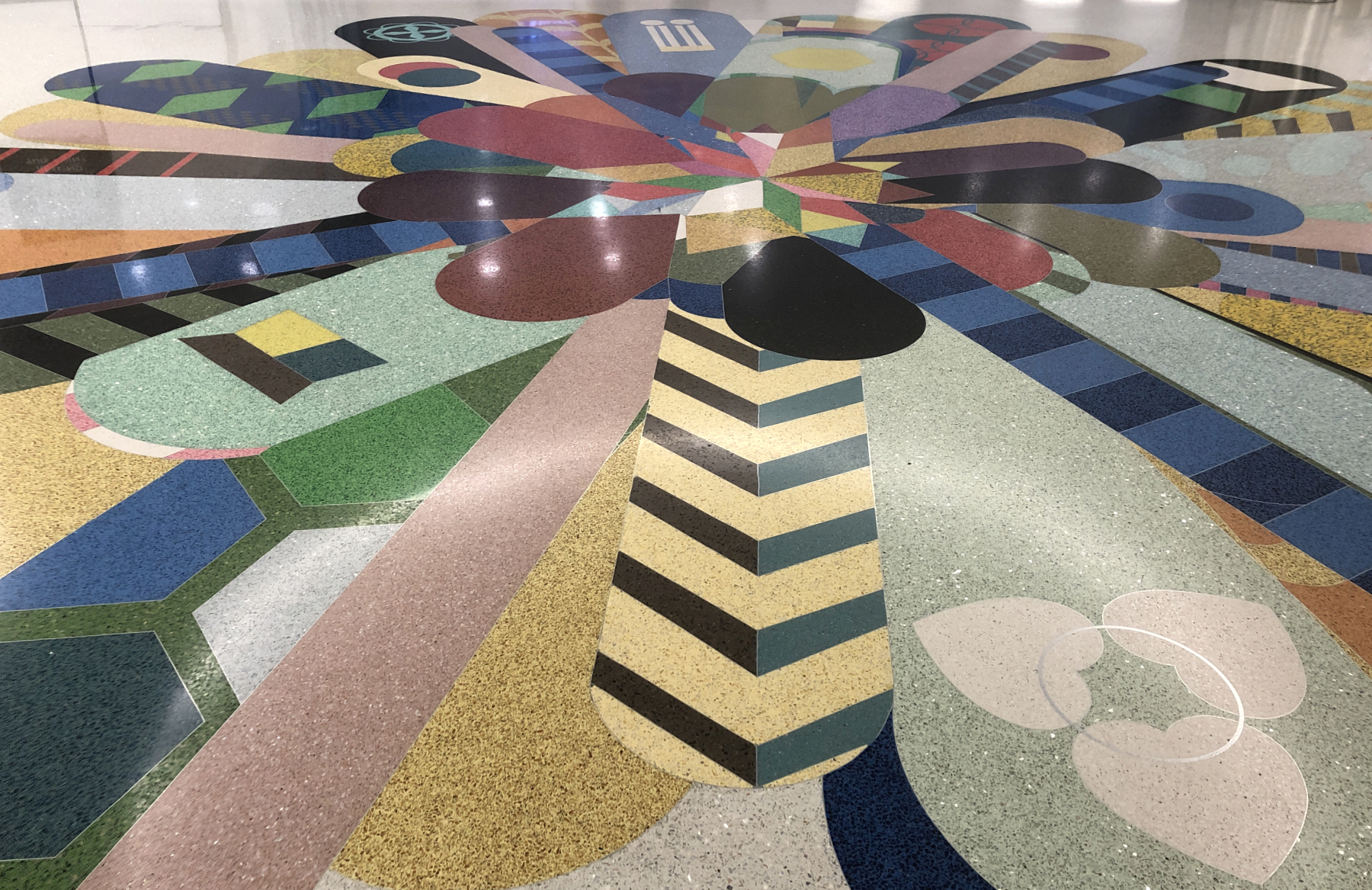 And here is where my trip took its turn for the worse: for the first time since the 1980s, my luggage had been lost by the airline. I spent about 90 minutes waiting, talking with the one airport employee in the baggage area, filling out forms, making calls, waiting some more, then finally giving up and heading to my hotel.
Still in the airport, I passed by another lovely mosaic, this one on a wall near the train station: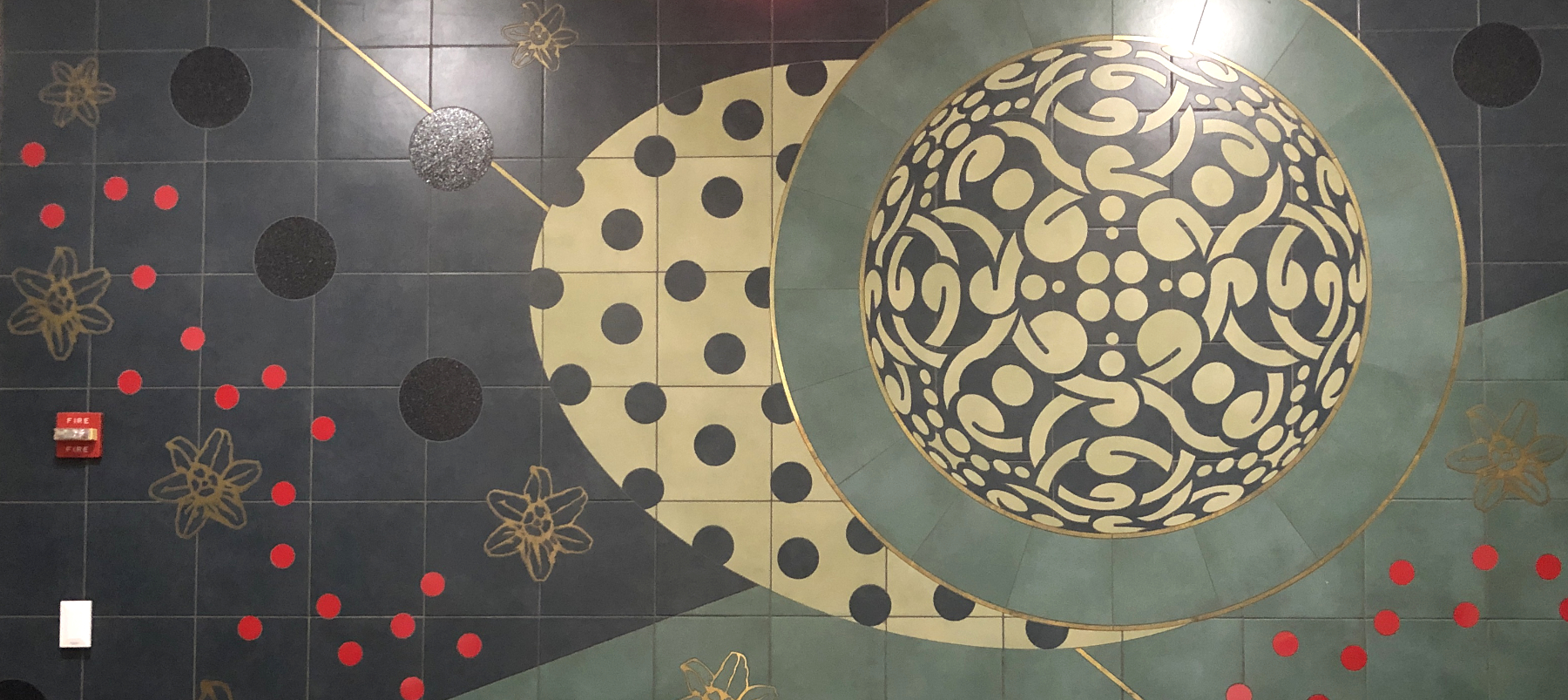 Arriving at the hotel, I was relieved to see that the show supplies I'd shipped to myself were there. But my lost luggage (with a large stash of very expensive tradeshow giveaways inside) had really thrown me for a stressful loop. I don't claim to be a seasoned globetrotter, but I do have quite a lot of travel under my belt. And yet I had made a basic newbie traveler mistake: I hadn't kept any basic toiletries in my carry-on bag. I had to ask at the hotel desk if they could sell me a toothbrush.
The next day I took an Uber to the local Target store for some essentials for myself and my tradeshow booth, then spent the rest of the day doing setup at the St. Louis convention center.
My hotel was located in what was (or perhaps once was, I'm not sure) the St. Louis financial district. Walking back to the hotel after a short day of work, I was struck by how run-down so many buildings were, and also how grand everything must have once been.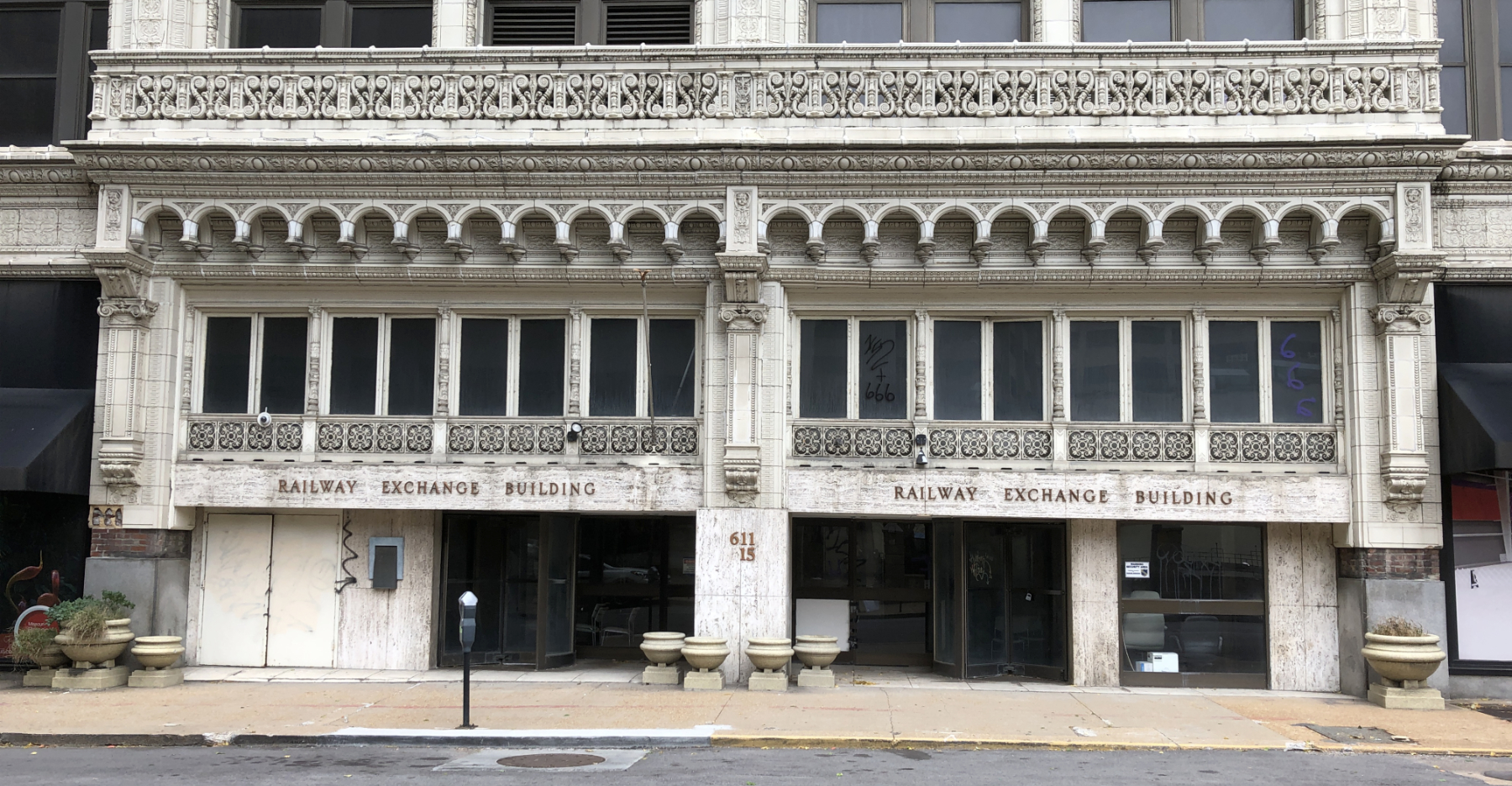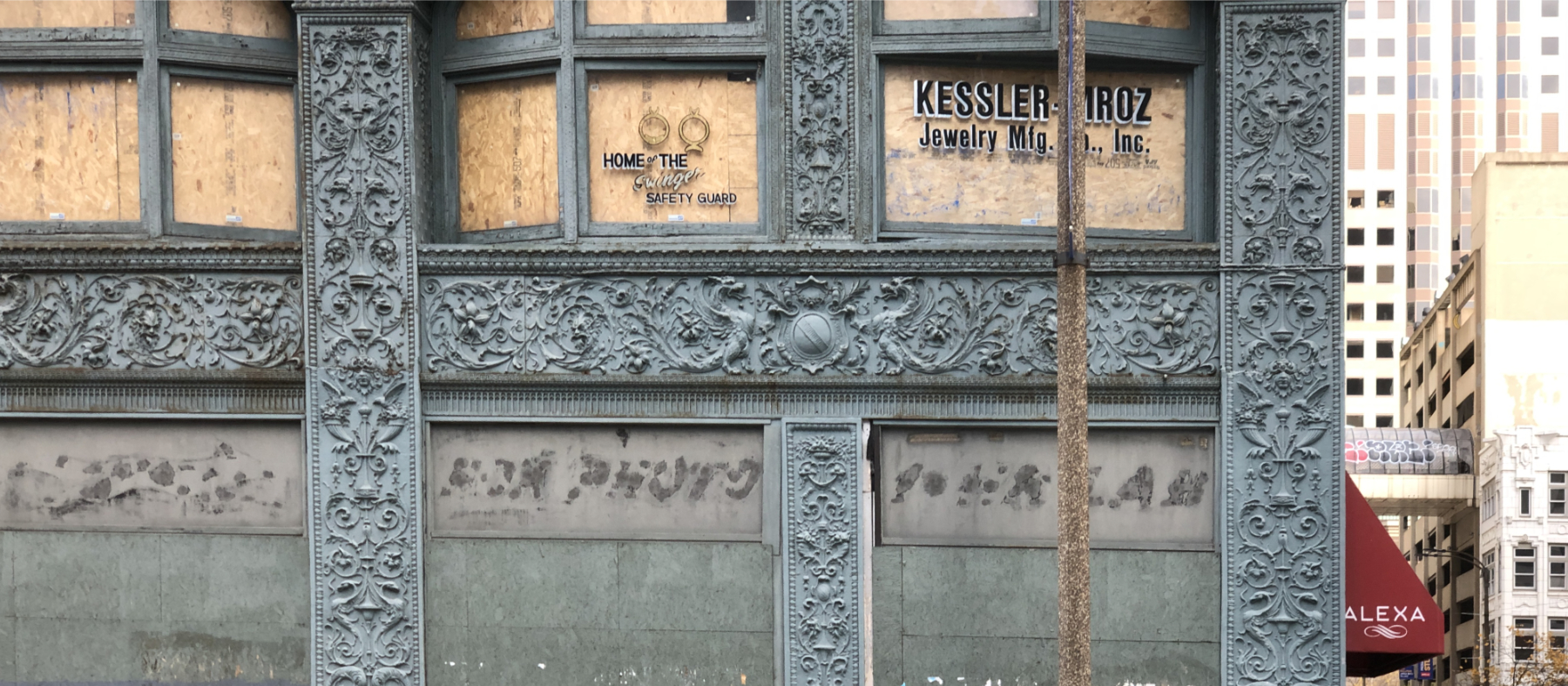 But while there were signs of deterioration all around, there were also the sights and sounds of repair. Traffic cones, heavy equipment, and workers in hard hats. It left me feeling that while this was a downtown that was past its prime, the city was doing something about it and it would rise again. It was actually very heartening.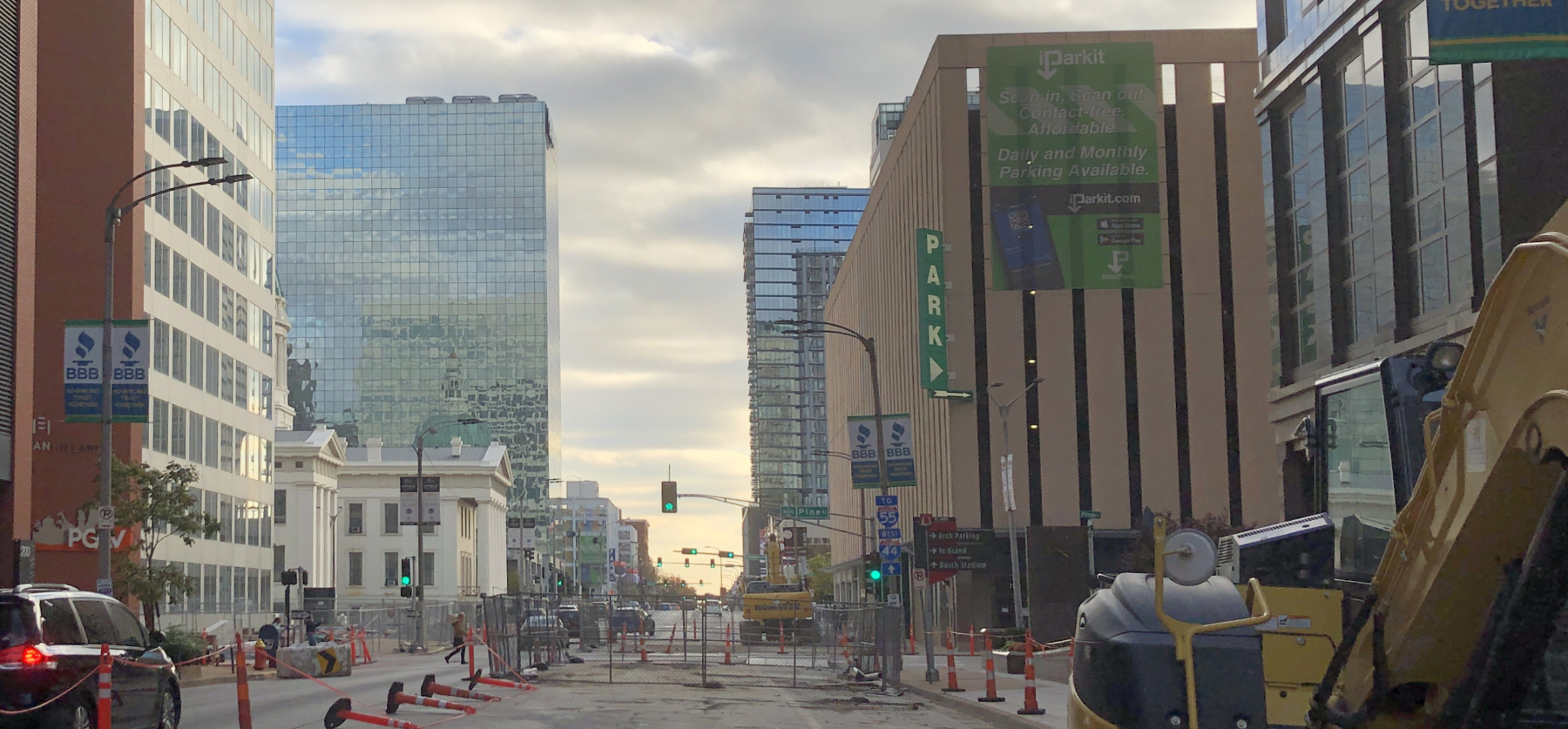 Once you get away from the old financial district, things were nicer.  I was struck by this sculpture of a torso and head.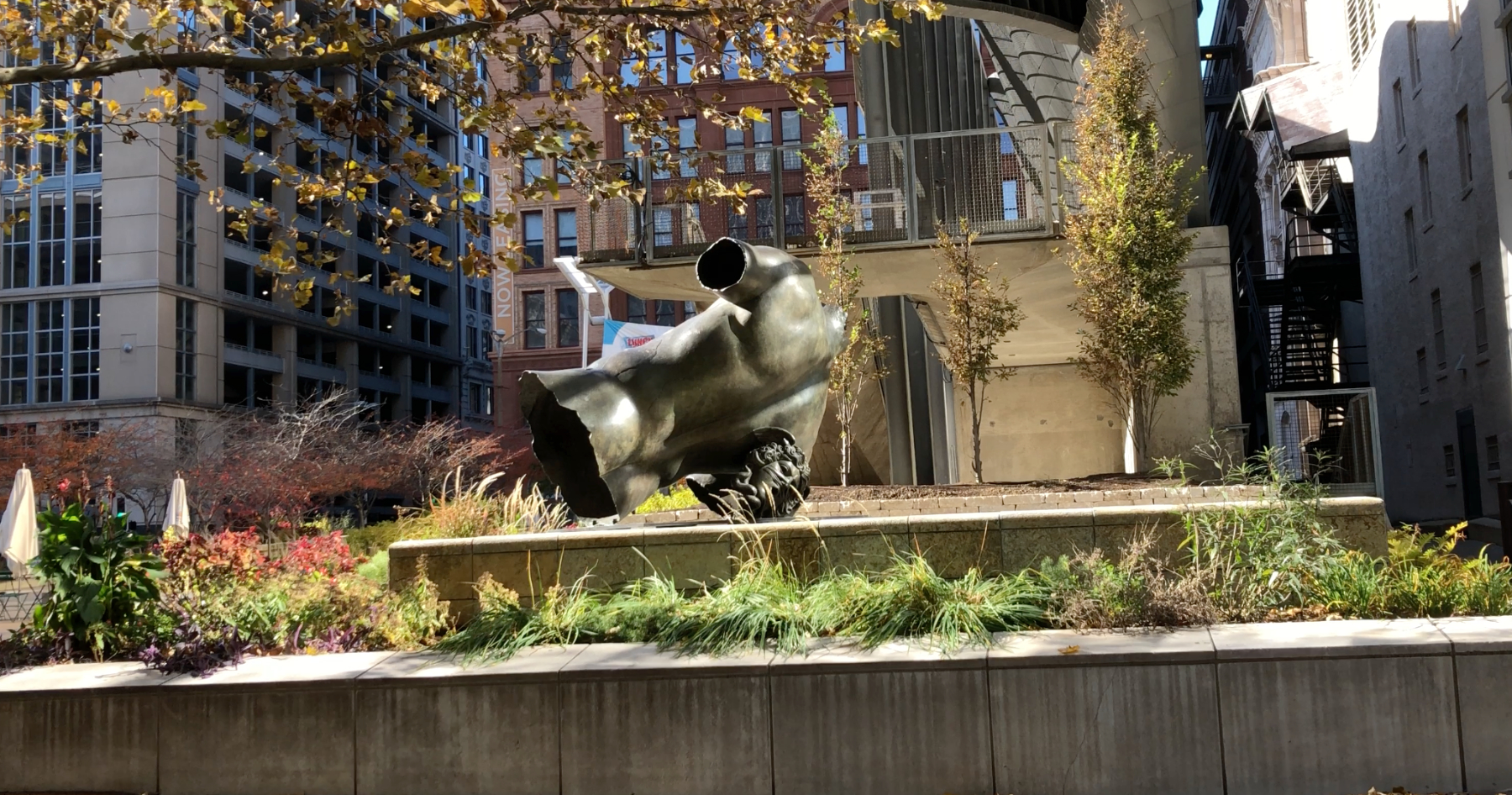 Then was amused when I found another sculpture of a head in a different area. This artist (Eros Bendato) seems to be a St. Louis favorite!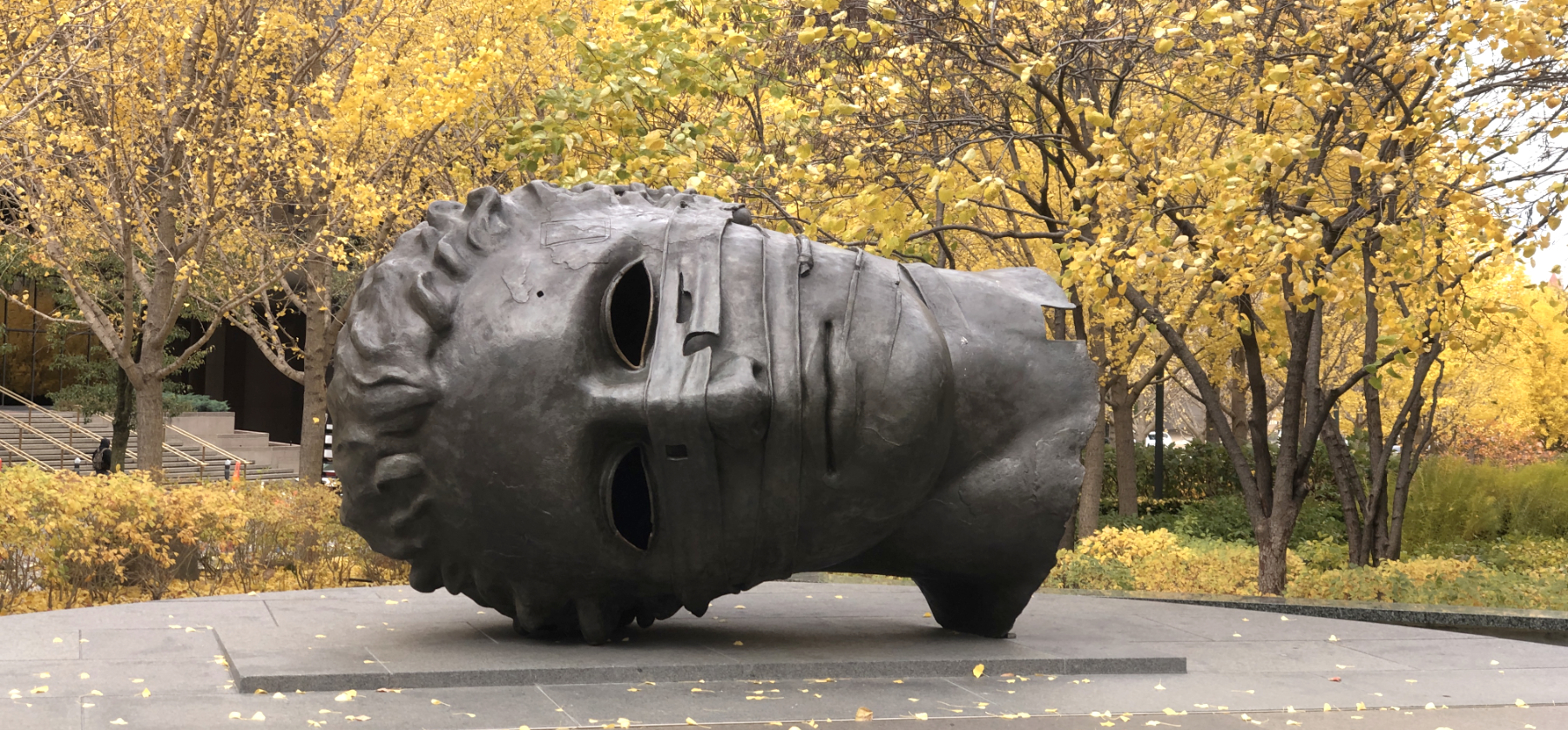 In one hotel where a colleague and I had dinner, we stopped to admire the beautiful stained-glass ceiling (which I neglected to photograph and I am still kicking myself over it). One of the hotel employees joined us and started telling us all about the architecture, the restoration work, and more. He then led us into the elevator and took us on an impromptu tour of the building.
Our tour ended on the top floor where they had an exhibit of the plywood boards which had covered the front windows of many of the downtown stores during the race riots the previous year in reaction to the killing of George Floyd (and others). Artists had painted their messages of hope all over the city, and the hotel had purchased the art to exhibit in their halls. St. Louis' history is steeped in racial conflict, from the Dred Scott case up to today, and this was just one of many signs of this.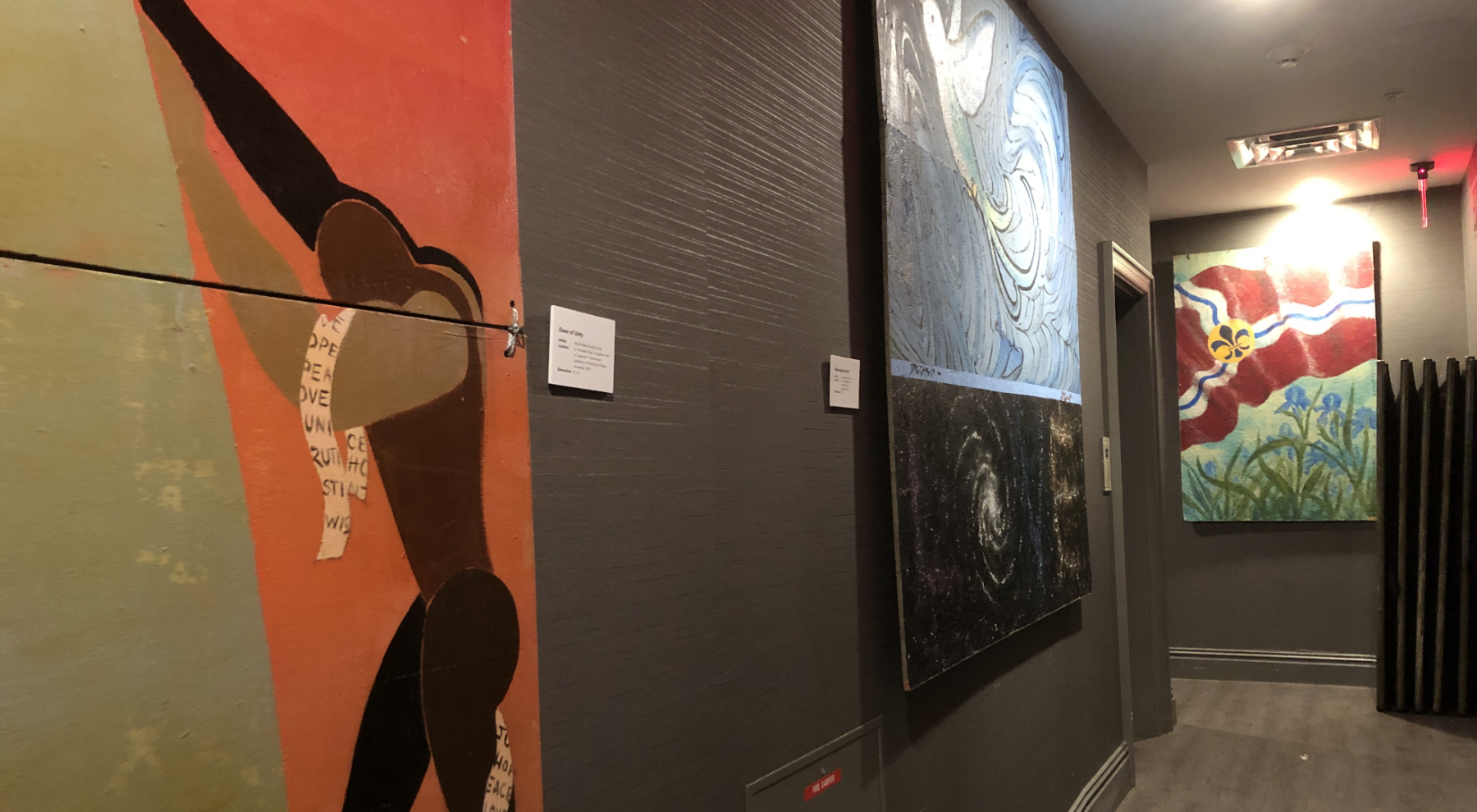 An important factor that deeply affected this entire trip was the impact from Covid. Hospitalizations were still very high and many businesses were operating with very little staff. Employees were staying home, leaving many restaurants understaffed or closed, and leaving many hotels with no food service.
Of course this had a deep and difficult impact on millions of service workers across the country… across the world. But in my immediate world, this meant for dinner I needed to walk to the nearby convenience store for pretzels and chocolate to have for dinner. Not quite the hotel room service I'd had in mind, and it meant spending more time outside of my hotel room and in more Covid-risky restaurants than I'd planned.
Now that they were absent, these workers were quite conspicuous in their absence. I've always considered it important to tip well and be unfailingly kind, but until now I'd never really thought about just how important these cooks, servers, luggage workers, clerks, and hotel staff were to me. My trip was far, far worse without them, and I vowed to never take them for granted again.
On my last day in the city, I had time to walk to the nearby St. Louis Arch, although I learned the hard way that you must make reservations well in advance if you want to ride to the top. (Is it sacrilegious for me to post this photo showing just a part of the Arch?)
Near the Arch is the courthouse, which was closed for renovations, but has a nice sculpture of Dred and Harriet Scott.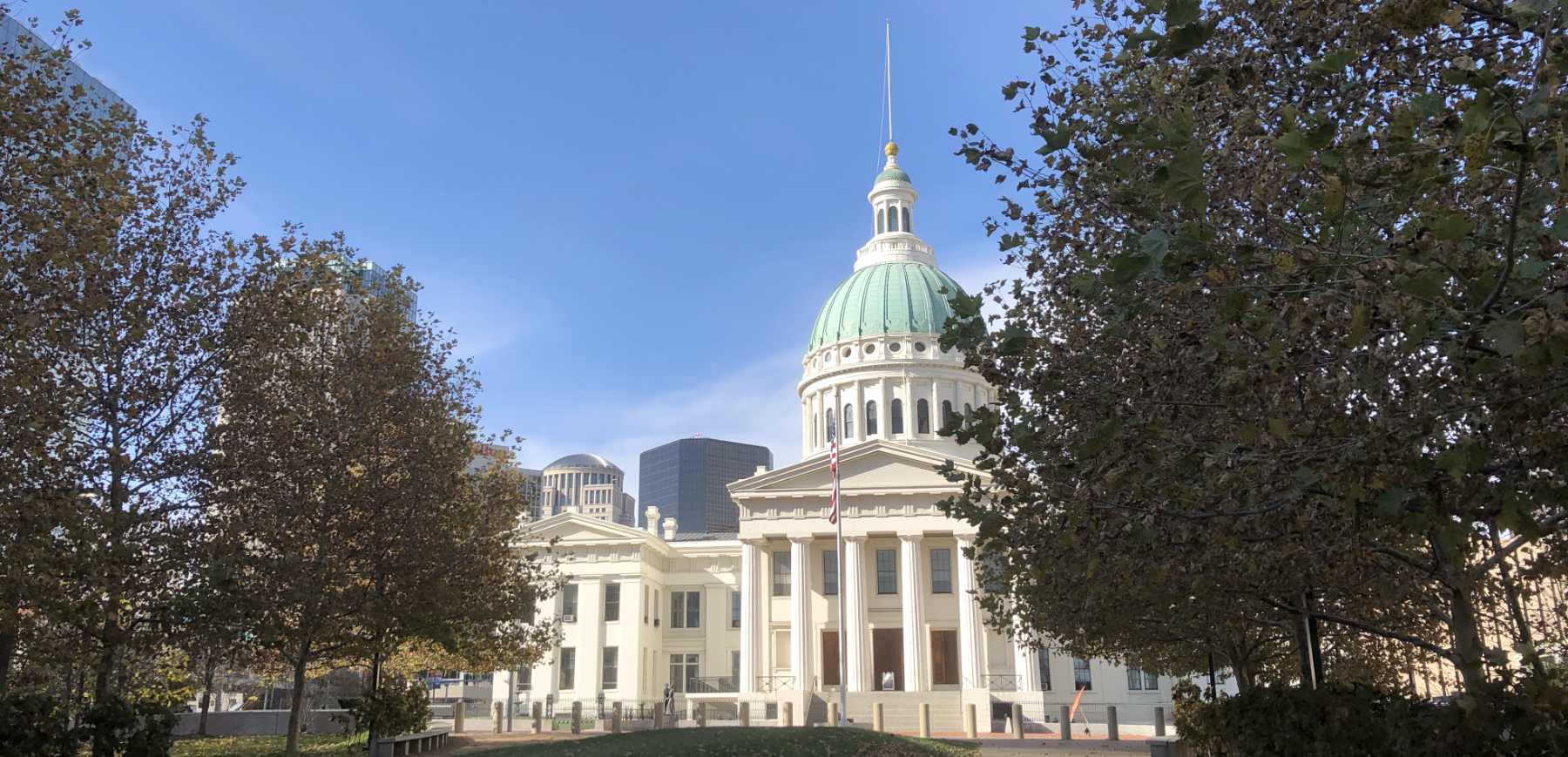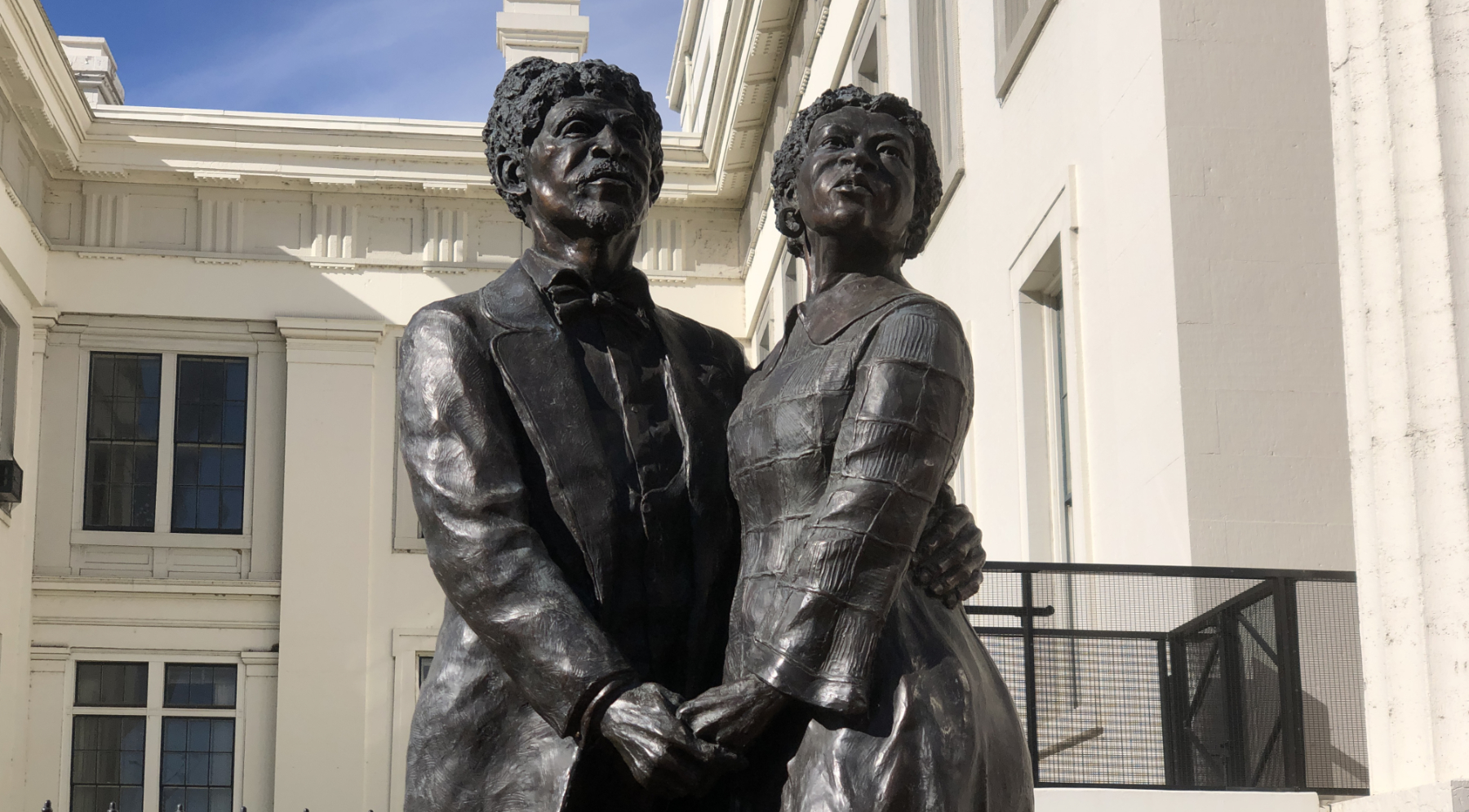 That is most of what I have to report about my trip to St. Louis. On a personal level, it was nice to enjoy traveling again after a 21-month pause, to get out and take photos and learn about new places. There were some interesting reflections and lessons for me here, some acute stress, and a deep longing to go home. On a professional level, it had been a great tradeshow, perhaps my best ever. And on this trip I learned that I'm pretty tired of working tradeshows!
Before I close, of course I must include a photo taken from my hotel window.