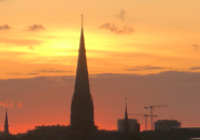 I spent a week in The Hague in mid-September for client meetings. This was such an enjoyable trip. I was at a hotel next to the main train station (Den Haag Centraal), by the edge of Koekamp park, and a not-too-long walk from the heart of the historic city with many beautiful things to see.
While I took more photos than usual in this incredibly photogenic city, I took far fewer notes, making it a challenge to recreate this trip in much detail here. Let's see how I do…
As I spend a lot of time in airports, I like to point out things to see and do in them. At the Portland International Airport (PDX), they have a long walkway between the main gates that provides an excellent place to sit down and chill out (and get some work done!) while waiting for a flight. In the few months since I took the photo below they have made some changes to the area that make it a little more kid-friendly and thus a little less business-traveller friendly — but it's still a good place for a rest. (I say more about PDX here… it completely deserves its reputation as the best airport in the United States!)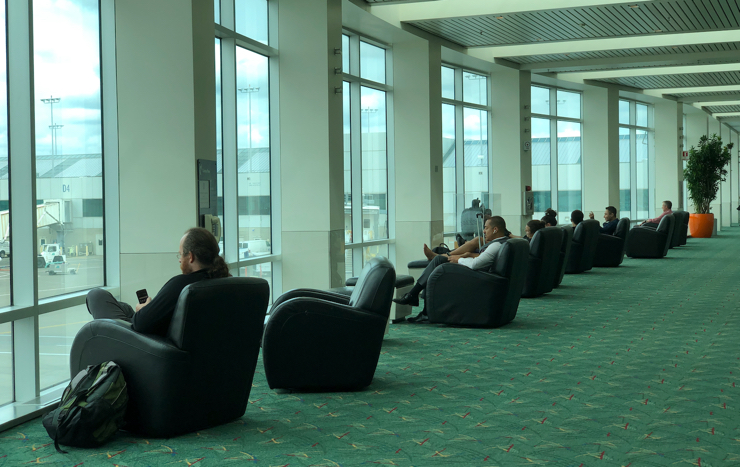 I arrived at the Schiphol airport in Amsterdam early on a Sunday, and it was a mess, as usual. I was in a mass of 100+ people clustered at the doors to the customs area, into which we were being allowed only 12 people at a time. Over an hour later when I was finally through all of that and officially on Netherlands soil, I took a train to the Hague. Here's a photo of the ceiling at Den Haag Centraal train station at the Hague: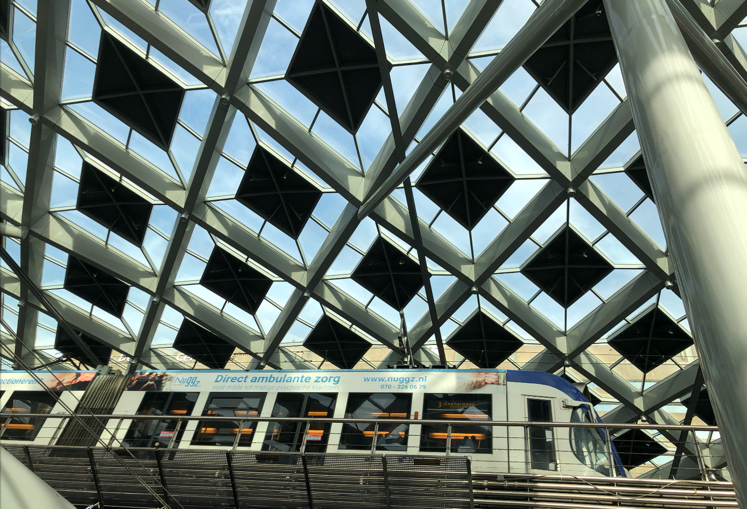 I am ridiculously "directionally-challenged" (more on that here), so just figuring out which way to go from inside the huge train station was a big hurdle. But once I was outside and my GPS kicked in, I easily made it to my hotel, which was right next to the station. It was still early on Sunday, far too early to check in at my hotel, so I left my bags with the concierge and went off to explore.
I wandered only a few blocks away from my hotel and came to a very old, very beautiful area.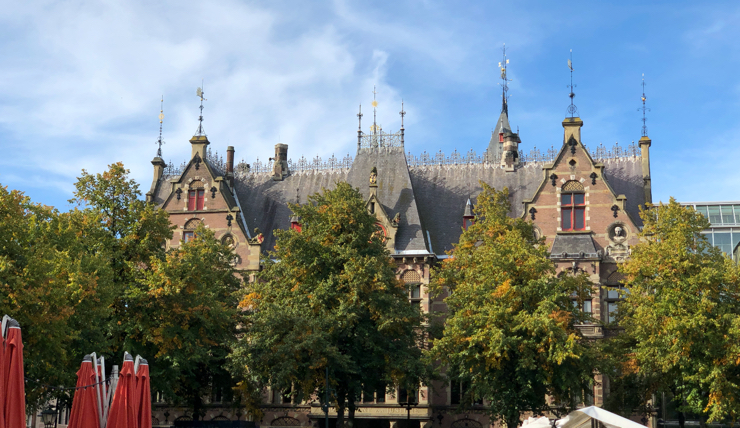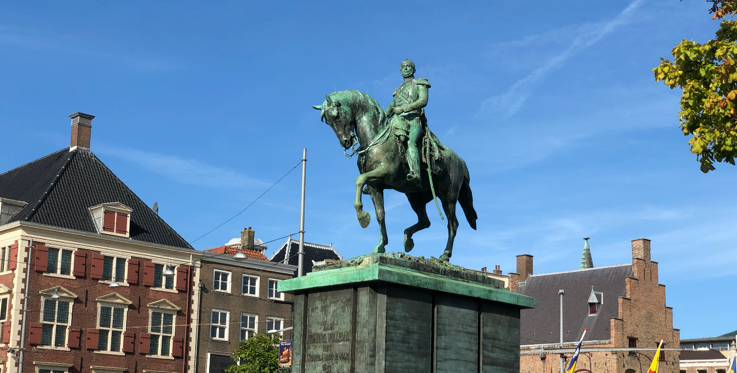 I was pretty tuckered out and adjusting to jet lag. When I came to a row of benches looking out over this lake, I enjoyed just sitting for a while.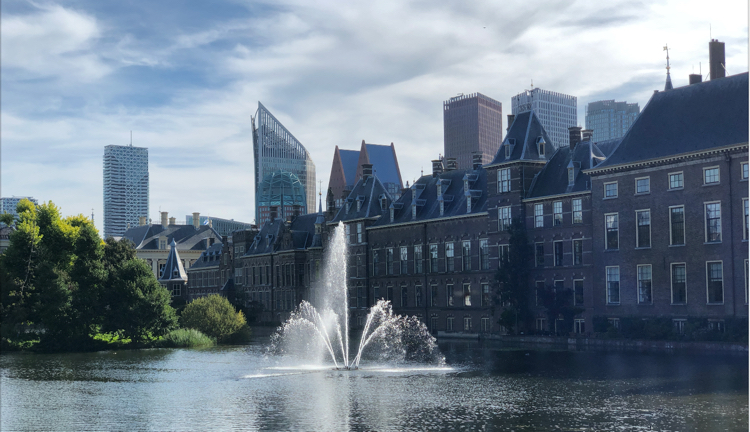 The Historical Museum of the Hague was opening just as I was walking by, so I went in. I am so glad that I did! Unfortunately I took no photos. I learned a little bit of the history of the area, and especially loved seeing a handful of paintings from the mid-1600s through the 1700s that showed the very buildings that I'd just been walking around, including the exact view I'd just enjoyed by the lake — minus the modern buildings and the fountain, of course. Here's an example… let's call this After and Before (the painting is from the 1760s):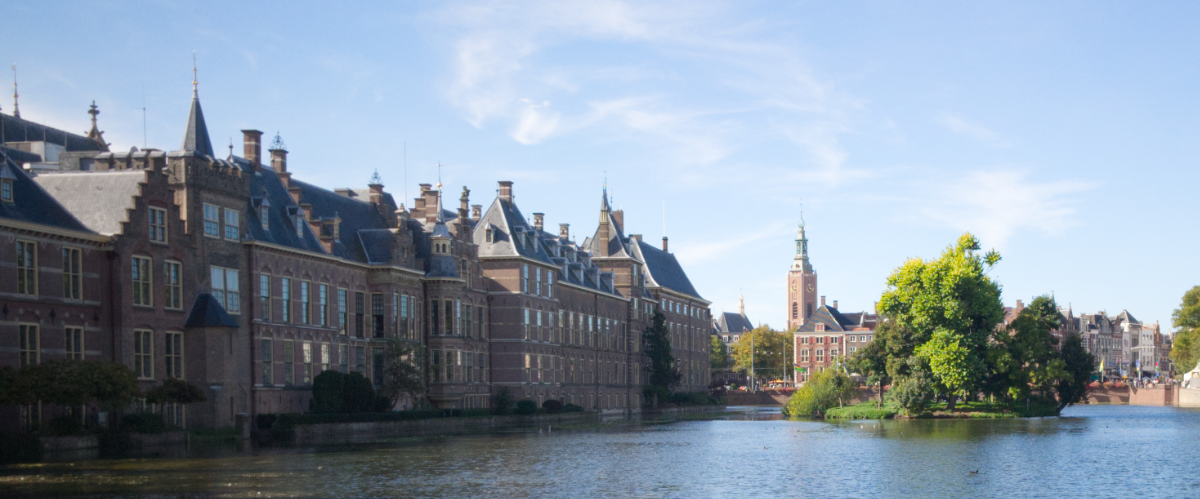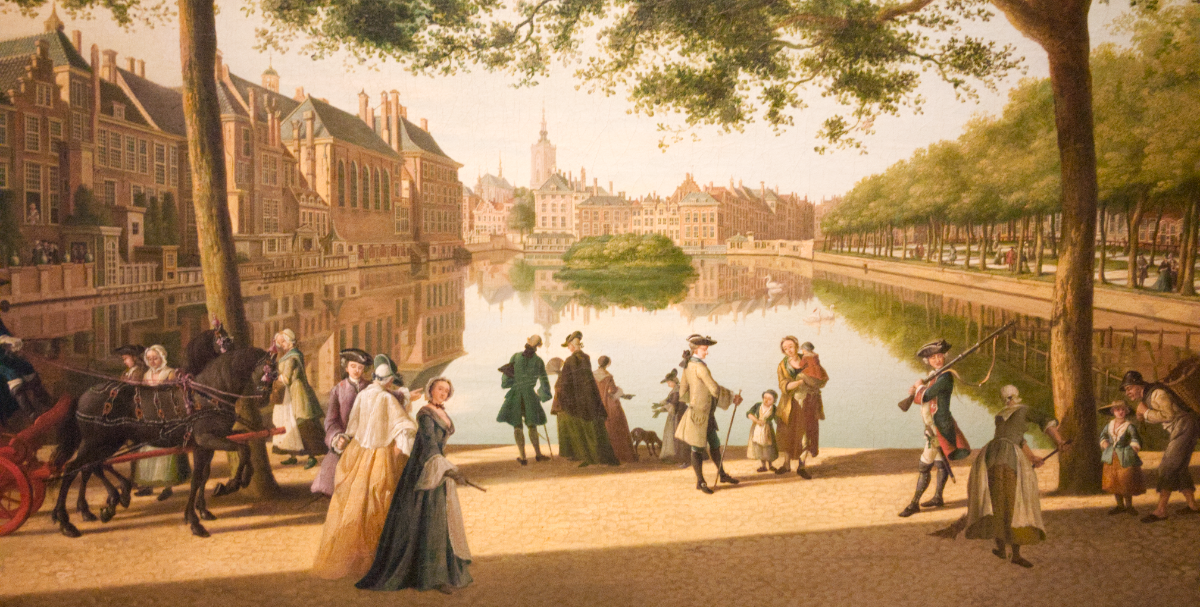 After leaving the museum, I was treated to a wonderful surprise. The folks who organized the trip had told us that while we were in the Haag, there was going to be a procession, called Prinsjesdag, or Prince's Day. However, as I knew I would be busy in meetings during that time, I knew I wouldn't be able to see it. So imagine my surprise when, upon leaving the museum, I came upon a procession of horses — their "dress rehearsal" for the real thing that would take place a few days hence.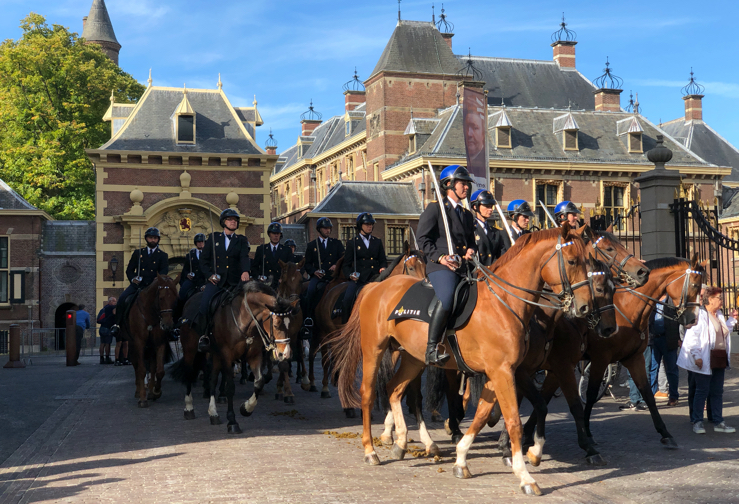 I'd never seen so many horse in one place before, and the sound of those hooves on the cobblestones was so remarkable! There must have been over 100 horses. Each time a procession went by and I thought it was over, here came another formation of horses. And when the last of the horses passed by, they were followed by a lone street-sweeper vehicle to clean up the poop.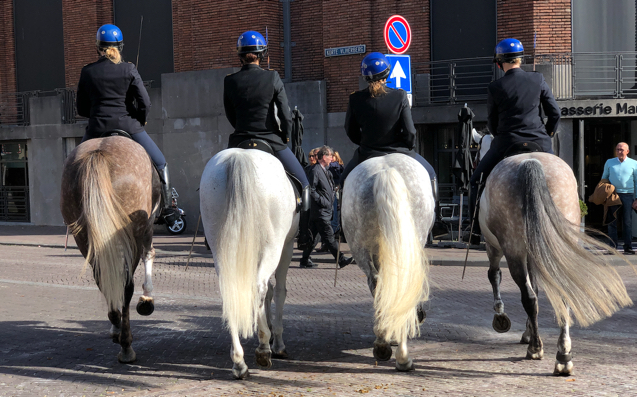 My wanderings next took me to what was some sort of event like a small Renaissance Fair, with people in costume and stalls selling food. I always feel a little shy taking people's pictures, but couldn't completely resist.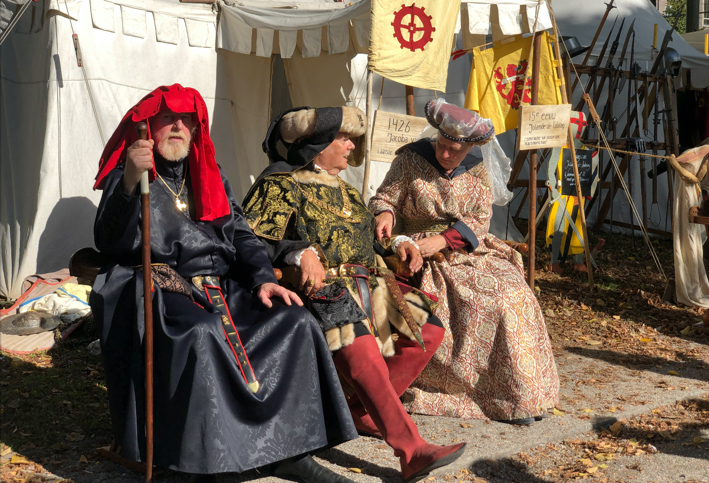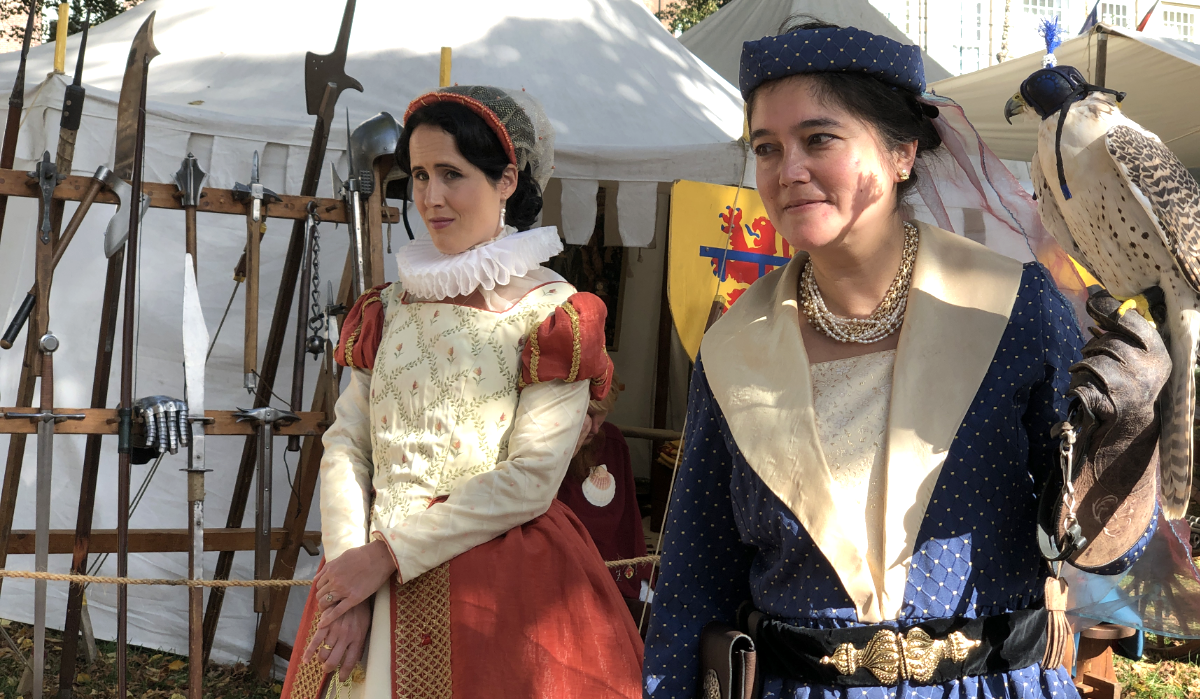 I especially love this little scene…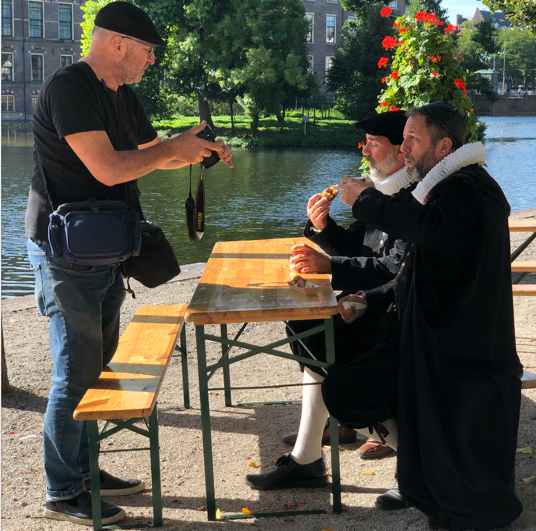 Enough time had gone by that I could check into my hotel — so back to the modern side of town and into my hotel to settle in to catch up on work and call it a day.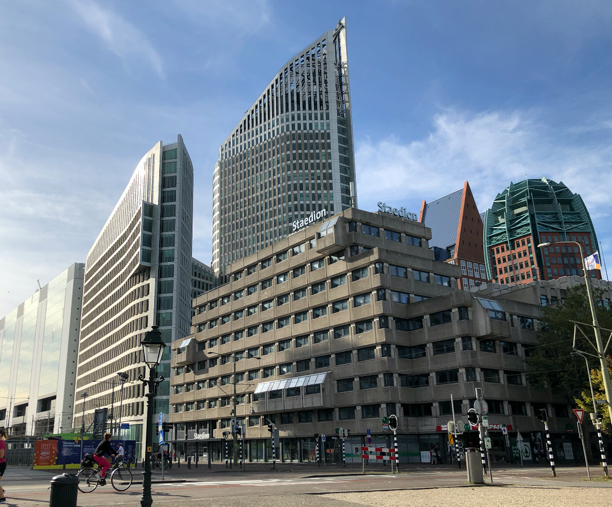 But although I am in the modern part of town, the view from my window looked over the spires of the old city: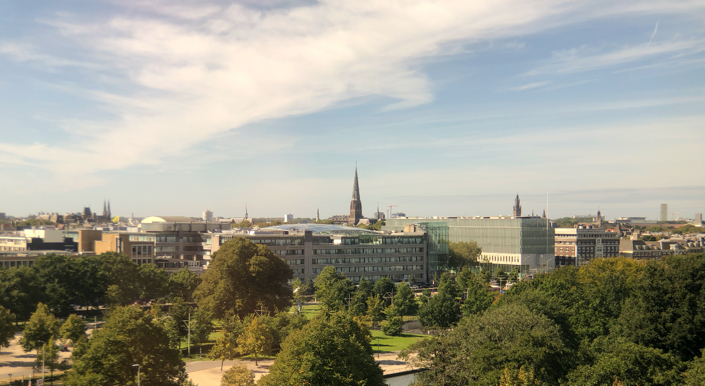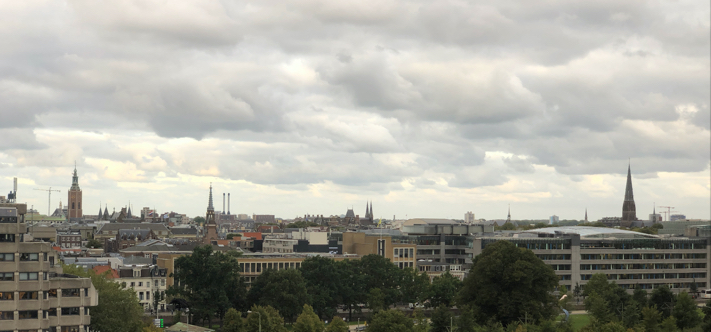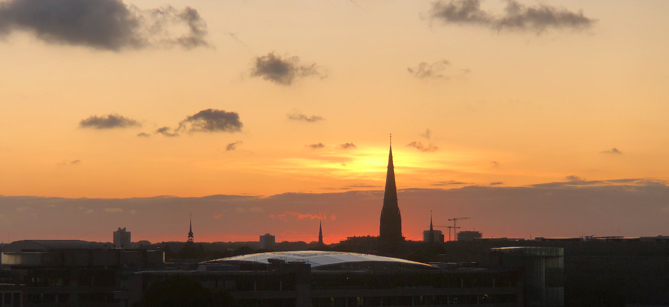 Later in the week, the whole group of nearly 100 of us went to the Escher Museum, which was a ~30 minute walk from the hotel in a lovely downtown area.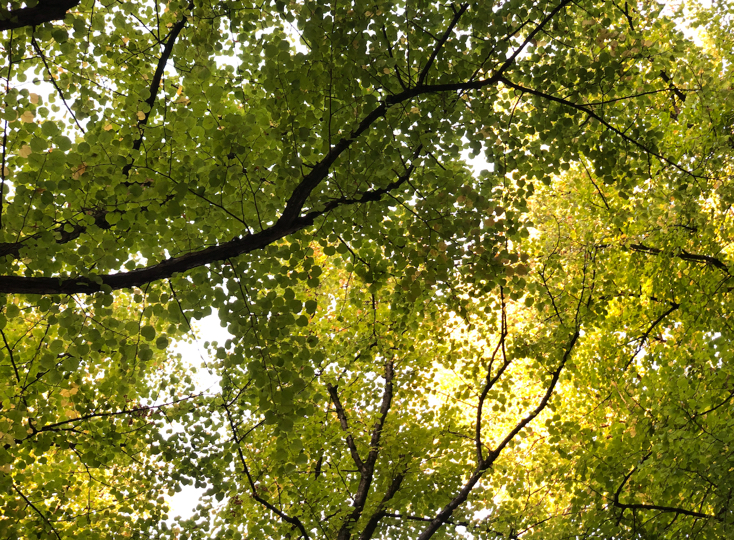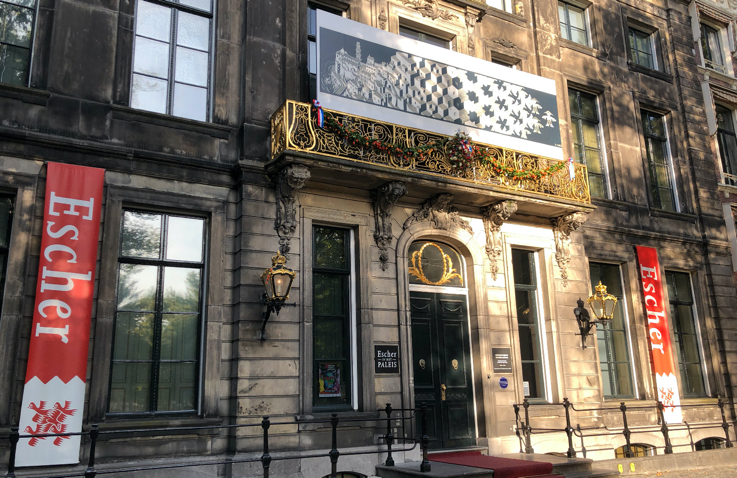 Our docent at the museum was passionate about Escher — it was wonderful how much he loved talking about his subject. There was so much to see and so much that I enjoyed. I'll just include one photo here: my absolute favorite Escher: "The Puddle":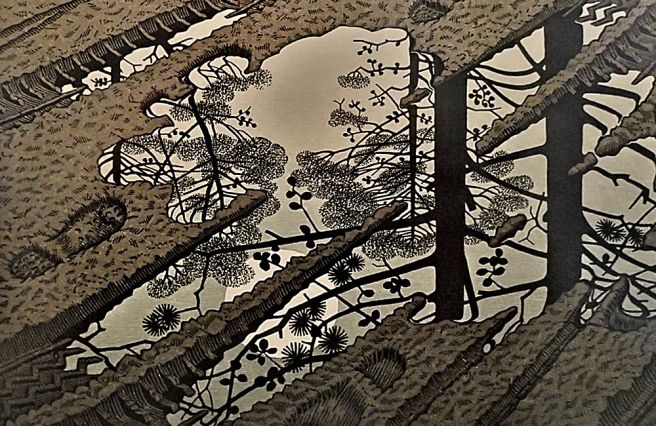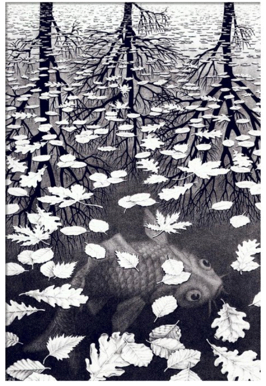 Okay — one more: "Three Worlds." This is one of Escher's more famous works. Its name, of course, calls to how the image shows three ways that we see things interacting with the water: the fish below, the reflections of trees, and the leaves floating on top. The first time I ever saw this piece was in the mid 1980s when it was recreated using computer graphics in a demo reel for Cubicomp. Someday if I can ever find a video of it I'll add it here.
By the way, the Escher museum is in a grand old house, a former palace, and as such, even just the building itself is a museum piece, with beautiful architectural details. Interestingly, nearly every room has a very elaborate crystal chandelier created by the artist Hans van Bentem.  They are strange: a giant spider, a bomb, a skull with crossbones, etc. Rather than add my not-so-great photos, I'll just link to the page on  the Escher Museum website about them.
After the tour, while many of the others headed off to a dinner, I was eager to just get some downtime so headed off on my own back toward the hotel. It was still daylight outside, so I of course enjoyed taking more pictures along the way.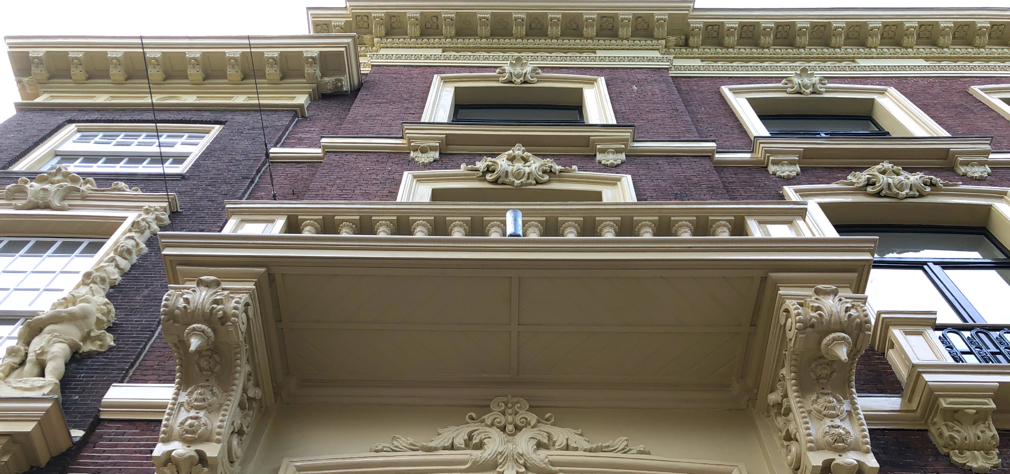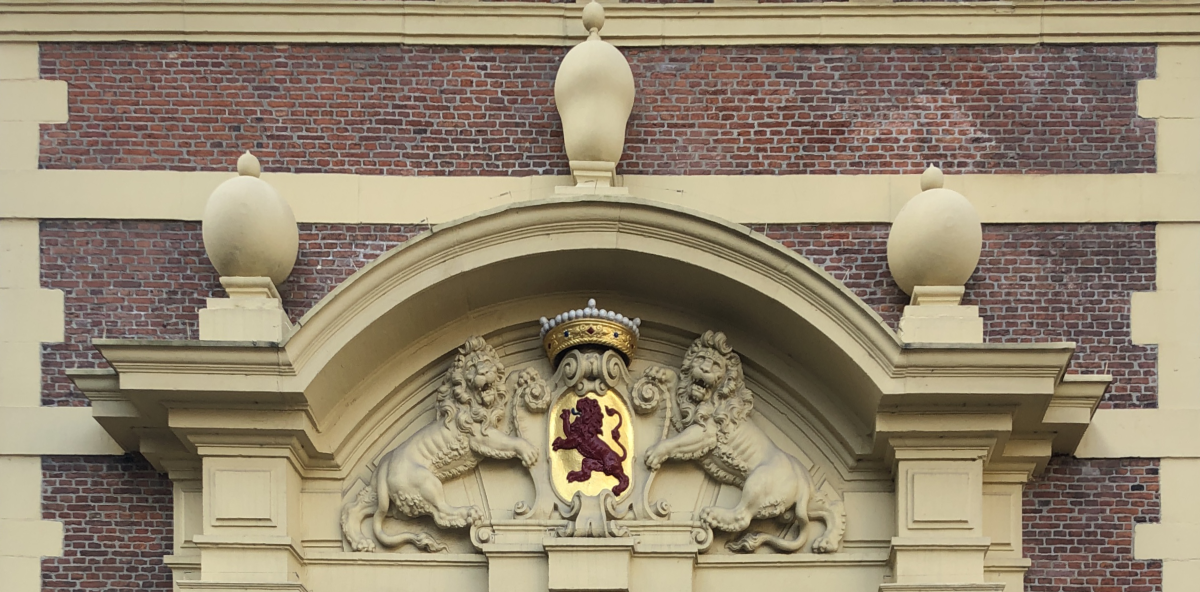 As I usually do on these trips, I spent a good deal of effort trying to get some good photos from my room window — I'll close with some results of that. As you can see, I was obsessed with the contrails at sunset: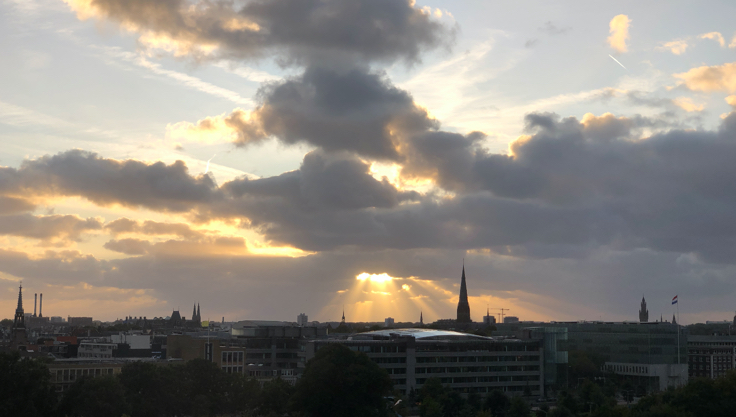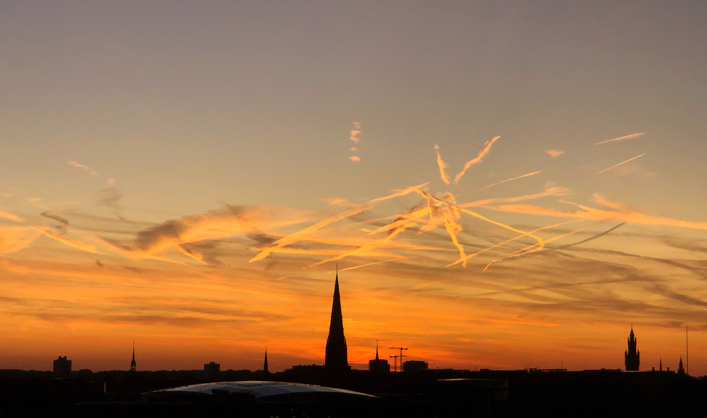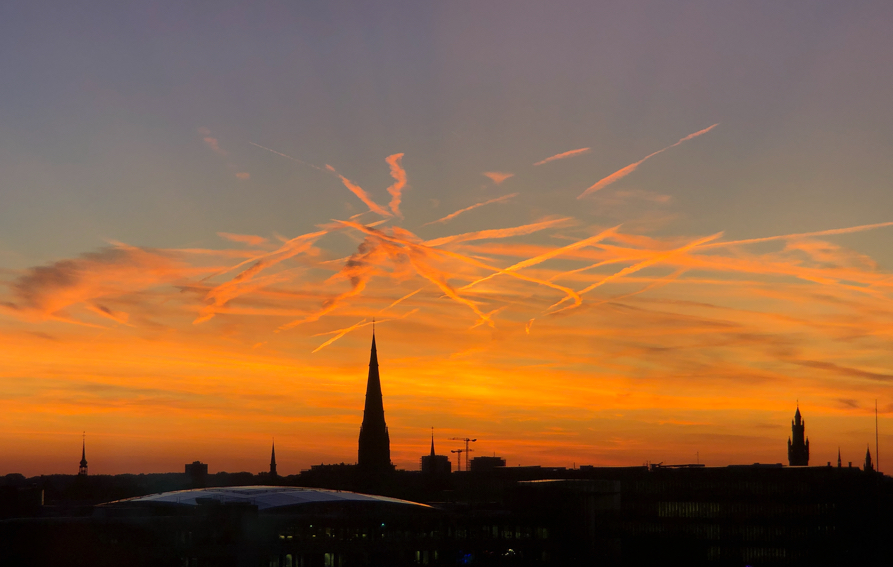 After a productive week of meetings, I headed back to Amsterdam to meet my daughter and her husband to play tourist for a few days before heading home. The Hague was incredible, and definitely helps make the Netherlands one of my favorite places in the world.