At the time that I wrote this, I traveled 7-9 times per year, with 3-4 of those trips being international, and with 5 of those trips being for business. I'm not saying I am the wise-woman of travel, but I have learned a thing or two about traveling solo, and I'll try to share some of that here.
Airports
Many metro areas in the USA and other countries have multiple airports, and sometimes the airport closest to your ultimate destination isn't the best one to use — either because  another airport may have better amenities, transportation in and out is difficult, or something else. If you know anybody from the area, ask them for their advice. And of course, be sure the arrangements you make to get from the airport to your hotel are starting from the airport to which your flight will actually take you!
Many bloggers have written about choosing the best airport for your trip — start here.
Food
Unless you are in a city that regulates airport pricing (such as at PDX in Portland, Oregon, USA), buy your munchies before you get to the airport. I always bring a bag of nuts or dried fruit from home for emergency sustenance, because delays do happen and sometimes you are stuck in an airport where the only food options are greasy or gross (or absent altogether). Or perhaps your schedule is such that by the time you check into your hotel it will be too late to find food. Naturally, beverages or more substantial food won't make it through security, so plan wisely. [I bring a reusable water bottle: many airports have places where you can fill your own bottle with filtered water for free.]
Boarding Groups
Most airlines board by zone, group, or row-number — but regardless of their method, they always first board those who are disabled or otherwise need extra time, those who are active military, and then first class passengers and the hero-flyers who fly so frequently that they get special privileges. If your boarding pass says you are in group #3, don't get too excited: depending on the airline, that might really be more like group #7.
Want more detail about boarding groups? Start here.
If I am not in one of the early boarding groups, then why rush? I just sit near the boarding area with a book, wait for the line to be gone, and try to be one of the very last people to walk on the plane. Be sure to pay attention (and stay awake!) so that you don't keep people waiting, or worse, miss your flight. Of course, I can only do this because I pack so as to avoid needing much space in the overhead bins (see Packing below). 
Economy Plus
If I am on a flight that crosses more than just a few time zones, I look into the "economy plus" or "comfort plus" seats. Depending on the airline, the flight, and the purchase date, this adds around $60 to $150 (sometimes more) to the cost of the flight, but it gets you just enough extra legroom and a few other comforts that it's worth the cost. You'll still be packed in like animals, but not like sardines — and it moves you to a lower boarding number. On international flights, the difference between economy and economy-plus is often considerably more noticeable than it is on domestic flights in the US. But of course, all of this differs by airline. (Note that I am not talking about business class or first class here, which are just too expensive for me to even consider.)
Only you can know if paying extra for Economy Plus is worth it to you. Here are articles from Frommer's and Business Insider for more info.
Packing
Many people pack to avoid having to check a bag. This saves them from having to trust the airlines not to lose their bag and also from dealing with retrieving their luggage. Many of these savvy packers see this as a badge of honor and will brag about the time they took a 3-week vacation in Europe with only a carry-on bag. That's great! But to do this, they must depend on overhead bin space, and thus must stress about getting onto the plane early in the boarding process. They must also have the ability to lift the weight of the bag into the overhead bins — which I only barely have and am losing fast. Also they must drag that luggage around with them while in the airport, which is usually fine, but which may get to be unpleasant when you have multiple flights, delays, and long hours wandering around airports.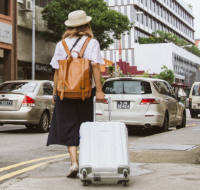 Especially because I carry two laptops with me when I travel, I gave up on packing light and now always check a bag: Having to look for a nearby male to help me with the overhead bin was getting to be too much for my pride to handle. Now that I've decided to just be a person who checks my bag, I'm marveling at how much more pleasant air travel is! With all the travel I have done, I have only one time had a problem with missing luggage — and it was located and sent to me the next day. [Correction: I've now twice had my luggage lost.]
Of course, use common sense: keep your valuables and meds in your carry-on, just in case.
Want more about packing? Here's a post about my specific luggage, and here's one about whether you should bring a pillow.
Transportation
My least favorite part of any trip, but especially an international trip, is getting from the airport to my hotel. Here are a few things to keep in mind:
Hotel address: Especially when in Asian countries, I always print out a few slips of paper with the address of my hotel to hand to taxi drivers. This removes the chance of miscommunication and helps bridge language barriers. This is especially important for international travel. Many hotels post their address in their local language for you to copy and print.
Catching a ride: If you plan to rely on a service such as Uber or Lyft, search to make sure that those services are available in your target city. While you're at it, search for details about your target airport to pinpoint where it is that you must go to connect with your ride or where taxis can pick you up.
Take the train or bus: Once I got beyond  newbie status as an international traveler, I started taking the train to get to my hotel from the airport, and this has become my favorite way to go. It's like starting your trip with a mini-tour of the city. Some metropolitan airports have train stations right there at the airport, so unless your arrival is late at night or you have a lot of luggage, this might be a great way for you to get where you're going. Of course it means you need to do your research before starting out: plan ahead to know the name of your stop and the route to get to your hotel from the train station or bus stop.