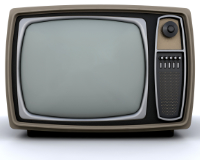 I used to treat this as a shameful secret, but a few years ago I came out with the truth: I love to watch TV.
As apparently lots of folks have extra time on their hands [I started writing this up during the early days of the COVID-19 pandemic of 2020], here is my list of favorites. There are a few here that outshine the others, and there are other shows that I like a lot that don't quite make it to my favorites list, but here are my favorite 50+ shows. [And check out my favorite YouTube channels, too.]
I'll update this as new shows come up that deserve to be added. Here goes, in alpha order:
The Americans. This show stars real husband-and-wife actors Keri Russell and Mathew Rhys portraying a pretend husband-and-wife team of Russian spies living in America and pretending to be your typical suburban couple. It took me several episodes before it grabbed me, but then I couldn't get enough all the way to the end. Created by Joe Weisberg. (6 seasons) [Trailer]
Battlestar Galactica (the reboot, not the original). I have watched this all the way through at least four times. There are some pretty deep concepts there if you care to notice them, or just plain good sci-fi if you don't. If you watch this show, be sure to start at the beginning with the 2003 BSG mini-series. What some collections call the first episode, "33," actually starts where the miniseries leaves off. Created by Ronald D. Moore with music by Bear McCreary. I talk about this show a little bit in this post about supernaturalism in art. (4 seasons) [Trailer]
Better Call Saul. It's the prequel to Breaking Bad, but there's no need to watch BB first. Jimmy's relationship with his brother will break your heart. Created by Breaking Bad creator and X Files alum, Vince Gilligan. (5 seasons — with a plan to end after 6) [Trailer]
Black Mirror. Think of this as Twilight Zone if all the episodes are about technology's impact on society. Not all of the standalone stories are gems, but a few are excellent, and several are spectacular. My favorite episode by far is "USS Callister." [Trailer]
Bojack Horseman. This show took me several episodes to warm up, and then I was completely hooked. There is more real feeling and angst in this silly animated show than in most of everything else on television. Created by Raphael Bob-Waksberg with artist/designer

Lisa Hanawalt

. (6 seasons) [Trailer]
Breaking Bad. If you can get over the fact that almost every single character on this show is abhorrent, and if you can handle watching someone irretrievably ruin his life and the lives of those around him, then watch this for some jaw-dropping acting. It is harsh to watch, but worth it. Created by Vince Gilligan, who cut his teeth on The X Files. (5 seasons) [Trailer]

Brooklyn Nine-Nine. I love this show because it is silly without quite getting slapstick and it goes pretty far without quite going too far. It's the perfect balance of heart and comedy. Created by Michael Schur and Dan Goor. (7 seasons and counting) [Trailer]
Buffy the Vampire Slayer. This show was a huge surprise. While the first season takes a while to get going, this show is intelligent, amazingly written, and pretty wonderful. I'm a bit more than a mere fan of this and every show Joss Whedon has created. Check out my Buffy page on Facebook, and here's a list with links to the music of the show. Speaking of music, the show's musical episode, "Once More With Feeling," was the trailblazer for TV series musical episodes, setting the stage (and demonstrating the value) that other shows copied later. Rather than linking to a trailer here, I will link to this really great 5-minute video: "Why You Should Watch Buffy the Vampire Slayer." (7 seasons + the series continued in graphic novel format.) [And, selfless plug, here's a link to my own book about this show: The Gentleviewer's Obsessive Guide to Buffy the Vampire Slayer.]
Community. This is an outstanding [occasionally absurd] comedy with some amazing talent, a razer-sharp focus on fun, and some incredibly innovative production ideas thrown in here and there along the way. Always watch to the very end for great bits from Troy and Abed (Donald Glover (a.k.a Childish Gambino) and Danny Pudi). Created by Dan Harmon. (6 seasons) [Trailer]
Crazy Ex Girlfriend. This is a strange little musical series, one of three musicals on this list, which takes a unique look at neuroses and obsessive love. It is bizarre, irreverent, fun, crosses many lines, traverses many musical styles, and takes place in ever-forgettable West Covina, California (which is, by the way, where I was born). It originally aired on the CW, so the creators had to clean up the lyrics for broadcast. If you like this show, look around on YouTube for the explicit versions of some of the songs. Created by (and starring) Rachel Bloom. (4 seasons) [Trailer]
Deadwood. If there were an award for the most utterances of the word "fuck" in a single show, this would have to be the winner. I'm not sure why they made one of the main characters so profane, but regardless, this show is about the western town of Deadwood as it grew from lawlessness into a community. Fun fact: This is also one of two shows on this list in which Timothy Oliphant plays a marshal. (3 seasons, and, sadly, their cancellation apparently took them by surprise, leaving untied loose ends when the dust clears.) [Trailer]
Doctor Horrible's Singalong Blog. Created during the Hollywood writer's strike in 2008, this wildly successful musical gem from Joss Whedon was released as a three-part web series… and it practically broke the internet. Starring some of fandom's favorite stars: Nathan Fillion, Felicia Day, and the [legen-dary] Neil Patrick Harris. Get the DVD or Blu-Ray to enjoy the commentary, which itself is another musical. Back to the part where this was a web series: the success of this show took the entertainment industry completely by surprise and, along with Felicia Day's The Guild, will forever hold an honored spot in entertainment history. (1 season) [Trailer.]
Dollhouse. This is another Joss Whedon show. On the surface, the show's premise is based on exploitation, but of course there is a more sinister layer underneath. However TV execs were too nervous about the broad brushstrokes of the show, and Whedon sadly gave in to too many of their demands. The result was a watering down of his ideas to the point that not a lot of people got what he was doing, and the show was cancelled after just two seasons, before it was able to get its stride. It was sad enough when it was cancelled, but even more so when I got my hands on the DVDs and saw the two special "Epitaph" episodes that revealed where this show could have gone had it been allowed to thrive. Here's an article about "Epitaph." The official trailer for this show is rubbish, so I present you with a fan-made trailer. (2 seasons)
Downton Abbey. This is an updated upstairs/downstairs show that captured the interest of an interestingly huge swath of people. This isn't a show that will make you think or will inspire you (except about class-divide topics), but it is comfortable and delightful and the perfect thing for a dreary day. Just for fun, watch this bit about Downton Abbey with American Accents. (6 seasons + 1 movie) [Trailer]
Episodes. This is a clever show about a British husband-and-wife television show-runner team hired to bring a version of their show to the artificial land of Hollywood. From the very start things of course go sideways, including the studio pressuring them to hire Matt LeBlanc as the lead. (LeBlanc playing a fictionalized version of LeBlanc is delightful, although it left me wondering just how much like Joey he really is.) This isn't a fantastic show that you'll rave about, but it is very fun. And they way they end it is delightful. (5 seasons) [Trailer]
Expanse. The Expanse series of books by James S. A. Corey are high on my list of favorites. The producers of this show had to tweak a detail or two to make this work on video, and those changes are a little jarring to those of us who come at this series from the books—but give yourself until the fourth or fifth episode and you'll be well and truly hooked. And by the middle of the third season you'll almost be able to handle

Chrisjen Avasarala'

s freakishly gravel-pit-deep voice. (6 seasons) [Trailer]
Firefly. Another Joss Whedon show, and arguably his very best. If this were not an alphabetic list, then Firefly (or The Good Place… I'm not sure which) would be at the very top. This is a science fiction western with the best gorram dialog ever written, and is why I will see anything Joss Whedon puts out [despite what we've learned about him as a person].  (1 season + 1 movie + the series continues in graphic novel format) [Trailer]
Fleabag. Phoebe Waller-Bridge is amazing in this show she created about a self-absorbed woman in London. Her dialog turns breaking the fourth wall into high art, and I expect film students will be studying this for years to come. (2 seasons) [Trailer]
Galavant. Another musical show that is purely delightful. Pay very close attention to the lyrics in the songs or else you'll miss some fantastic humor (I turned on closed captioning). For example, every dramatic show must have people falling in love, so they took care of that with the wonderful song, Maybe You're Not the Worst Thing Ever. This show was so much fun, and much of the singing is impressive. I was extremely disappointed when it was cancelled. Music and lyrics by Alan Menken. (2 seasons) [Trailer]
Game of Thrones. This gets a bit too porny, especially in the first two seasons, and it is incredibly violent, but the story is epic and well worth watching. Heck, even the opening credits are masterfully made. Many complain about the ending to the show, but I liked it. (8 seasons and counting) [Trailer]
The Good Fight. This is a sequel to The Good Wife, although it's really not necessary for you to watch these shows in order. I enjoy this show (especially the breathtaking opening song and footage!), but it can get a bit over the top in its anti-Trumpism. I mean, I'm very much anti-Trump, and yet this show takes it a bit far. (5 seasons… although the 4th season was badly truncated by the coronavirus.) Side note: The theme music/video for this show is breathtakingly good. [Trailer]
Good Girls Revolt. Think of this show as Mad Men for the news, with women's rights as the main character. Great show. It was too bad that it only lasted a single season. (1 season) [Trailer]
The Good Place. This is another of my very, very favorite shows. If, like me, you prefer shows that make you think, then this show is for you, as it is all about philosophy while also being one of the funniest and delightfully written comedies around. Created by Michael Schur and starring Kristen Bell and Ted Danson. (4 seasons) [Trailer]
SPOILER ALERT: We interrupt our regularly scheduled program for an observation about the Vedic flavoring of the journey the four main characters take in "The Good Place." They live hundreds of lives in the Good Place, over and over again, learning a great deal through each cycle and growing from shallow, broken people into amazing humans who debugged the entire afterlife. It is an amazing metaphor for reincarnation and the Buddhist idea that death and birth are the two greatest moments you'll have for learning. (I shamelessly stole this, practically verbatim, from my brother, Tim Mattson).

Back to our regularly scheduled program.
The Good Wife. In some ways this is just another lawyer show, but it has a backbone of a great story arc. The show starts with a woman in the spotlight when her politician-husband was caught having an affair. (7 seasons) [Trailer]
Great British Baking Show. I can't cook worth a damn. I like to bake, but as I'm perpetually on a diet and have no self control around baked goods, I basically don't bake. But I love watching this show and imagining that I could bake if I wanted to. [Trailer]
Handmaid's Tale. This dark, dark show from an equally dark, dark book by Margaret Atwood is a must-see. I first read the book not long after it was published in 1985, and I've cited it for decades when arguing with those who want to blur the line between church and state. The show was excellently made, perfectly capturing the horrific dystopia of Atwood's novel, and doing so in a way that you could almost imagine being able to happen in the divisive world of today. (3 seasons) [Trailer]
The Hour. I found this 2011 show after finishing Newsroom and was left wanting more. Set in 1950s London, this show about a television news-magazine has the vibe of Mad Men crossed with Newsroom. (2 seasons) [Trailer]
House of Lies. This show staring Don Cheedle and Kristen Stewart Bell is about marketing consultants. When I first sat down to write this list I thought it had lasted just one season, so I am delighted to see I have more to watch! I haven't researched this claim, but I'd wager that its creators were inspired by Hustle. (5 seasons) [Trailer]
How I Met Your Mother. This was a great prime-time scripted show with a great cast. It wasn't make-you-think-tv, but it was always amusing and heartfelt. The only trailers I could find for it don't do it justice, so you'll just have to trust me on this one. (9 seasons) [Trailer]
Hustle. This BBC show from the early 2000s was about a band of con artists in the UK who lived by the rule of never conning an honest person. As long as you can handle the heroes of your show being thieves, then this is a great show. (8 too-short seasons) [Trailer]
Justified. This show is about a southern US Marshal (Timothy Oliphant) ridding the land of baddies, one of whom played by character actress Margot Martindale in what I consider her best-ever role. Created by Graham Yost and based on a book by one of my favorite fiction authors, Elmore Leonard. (6 seasons) [Trailer]
The Knick. Not for the faint of heart, this masterpiece of a show is about the  fictionalized Knickerbocker Hospital in New York in the earliest days of what we would call civilized medicine. Listen for the fascinating juxtaposition of the music style to the setting. Created by Steven Soderbergh. (2 seasons) [Trailer]
Mad Men. What could I possibly say here that you don't already know? Watch it for the period piece. Watch it for a lesson in male chauvinism and a history lesson about how tough it was for women in the mid century. Watch it for the old-timey marketing stories. Watch it to see why Jon Hamm is worth the fuss. (7 seasons) [Trailer]
The Marvelous Mrs. Maisel. A young New York housewife breaks into the the early 1960s comedy business. It can get a tad campy, but this is arguably one of the best things Amazon has ever produced. Great acting, great comedy, great sets and costumes, great premise. Watch this show! (3 seasons and counting) [Trailer]
Master of None. Aziz Ansari's show about a 30-something actor in New York. Ansari's delivery always left me a little cold, but this is just how the guy is and I was just starting to get used to it when the show was disappointingly cancelled when Ansari got tangled up in the MeToo world. (2 seasons) [Trailer]
The Newsroom. I defy anybody from any political persuasion to watch the first seven minutes of the pilot for this show and not be gobsmacked by its brilliance. Created by Aaron Sorkin, who brought you West Wing, so pay close attention to the turbo-charged dialog or you'll miss something! (3 seasons) [Trailer]
Nurse Jackie. Here is another case of an excellent show about a terrible person. We learn in the first episode that Jackie is an addict, an adulterer, a thief, and a rule breaker. We also learn that she cares more for her patients than she does for herself. This is a fabulous, hard-to-watch show that ends perfectly. (7 seasons) [Trailer]
The Office. Here's another one that is so familiar to everyone that there's really nothing I can say. The American adaptation of a British series was created (with others) by Greg Daniels. (I tried to watch the original UK version but didn't care for it.) (9 seasons) [Trailer]
One Mississippi. This is a delightful, quiet show staring Tig Notaro. It is notable now for a bit of plot that she wrote based on an experience she either had or heard about (I don't recall which) with Harvey Weinstein. But put that aside and watch this show just for the simple pleasure of it. (2 seasons) [Trailer]
Parks and Rec. I had so may friends telling me to watch this show, but I just couldn't get into it. Finally I was told that it would be okay if I just completely skipped  season 1 altogether. And that's when the magic happened. So trust me: If you're not enjoying it after the first few episodes, just skip ahead to season 2 and this will become one of your favorites, too. Created by Greg Daniels and Michael Schur.(7 seasons) [Trailer]
Rick and Morty. This is another one that took me a few episodes to get into. It is incredibly strange and full of self-referential easter eggs that reward loyal viewers. It's not for everyone, but if it grabs you, then you won't be able to look away. (4 seasons and counting) [Trailer]
Russian Doll. This was a great time-twister staring

Natasha Lyonne

. Think Groundhog Day but darker. Much darker. (1 season and counting) [Trailer]
Schitt's Creek. Eww, David! This show starts out as a tiresome elitist rich people fish-out-of-water story, but quickly morphs into a heartfelt, wonderful family story. Sometimes annoying (especially the mayor, played by the naturally annoying Chris Elliott), but extremely endearing. Have you seen all the "Rose Apothecary" shirts in the world lately? This show is what they refer to. This is one to watch. (6 seasons) [Trailer]
Severence. This mind-bending show wallows in a masterfully-created creepiness that you can't look away from and that will make you reevaluate your workaholism. We've only seen the first season so far, and I can't wait for season number 2. [Trailer]
Silo. This series is a take on the Hugh Howey post-apocalyptic book series, Wool, in which humans are living in a giant underground structure, or silo. The society is tightly regulated, with a strict ban on any knowledge on the past. There was some stand-out acting in season 1, and if the show runners keep going as they have so far, I think this we're in for a great season 2.
Studio 60. This show, created by Aaron Sorkin, is about a late-night comedy sketch show (imagine SNL) and the insanity behind the scenes that goes into making it. It lasted only one season, and I can see why… but it is definitely worth the watch. It starts with a high-profile person having a public meltdown, just like the film Network and the show The Newsroom. It grabs you and keeps you hooked for the full ride. (1 season) [Trailer]
Ted Lasso. How good is this show? Here's how good: The only reason I still subscribe to the Apple channel is so I can rewatch Ted Lasso: that's how good. You could say this show is about sports, or about an American living in England, or about letting go of anger so you can heal. All of that would be right, but first and foremost this show—which is based on a brief comedy bit that Jason Sudekis did during a comedy tour 20 years ago—is about being kind. The backdrop is indeed sports, in which my interest can only be measured using negative numbers, but even I got into the sports parts of this show. If you want a dose of real kindness… if you want a break from the bad guys, the violence, and the generally negative and twisted stuff that predominates in media today, then watch this show. Watch two episodes, and you'll be hooked. (2 seasons, with 1 more on the way) [Trailer]
Teenage Bounty Hunters. This Netflix show is about two very earnest twin sisters who attend a private Christian school in Atlanta and secretly are assistant bounty hunters. The show is less about them being bounty hunters than about their very typical (and some not-so-typical) teenage issues. The show somehow manages to achieve showing the funny side of things without making fun of them… a thin line they walked very well. (Only 1 season) [Trailer]
Umbrella Academy. I'm a little late to this game, because I don't read graphic novels. I'm so weary of superhero stuff that I thought twice before watching this, but the amazing style and writing in this interesting show quickly won me over. To me the standouts are Aidan Gallagher (Five) and Robert Sheehan (Klaus). Whatever you do, don't skip around: start with ep 1 and go on from there. (2 seasons and counting.) [Trailer]
Undone. Another recent Amazon Original. The story was very good, but you can easily just turn the sound down and be blown away by the astounding graphics. This was animated and rotoscoped, and was amazing. Created by Raphael Bob-Waksberg. (1 season and counting) [Trailer]
Upload. Available on Amazon, this is the story of a guy who dies young and is uploaded to virtual reality, which is an option only for those who can afford it. Which he can't, except that his girlfriend is paying for it. This is fun for all, and especially so for computer nerds and those who have played around in Second Life or other online worlds. I loved season 1, but was not so enamored with season 2. As my nephew observed, the show is squandering its potential, so hopefully they'll wake up and push the romantic trope into the sidelines in coming seasons. Created by Greg Daniels. (2 season and counting) [Trailer]
Veronica Mars. I was told by a bunch of Buffy the Vampire Slayer fans that I should watch this show, and I'm so glad they did. This was my first exposure to Kristen Bell, and I was impressed with her and the show from the very first episode. It definitely is a teen's show, but it is still fun for adults. Is this one of the best shows ever? No. But it is a great show to turn to in stressful times when you want something fun and not too devoid of thought. Created by Rob Thomas. (4 seasons + a fan-funded web movie) [Extra-long Trailer]
Weeds. Made long before legal marijuana was considered even a remote possibility, this show is about an upper-middle-class suburban widow who turns to selling weed to make ends meet. It maybe went on a season or two longer than it should have, but it's still a fun show to watch. (8 seasons) [Trailer]
The West Wing. This Aaron Sorkin masterpiece is about a US President and those who work with and for him in the White House. I don't dare re-watch this show now, as it would be too depressing compared to what we have in the White House as I write this now in 2020. (7 seasons) [Trailer]
The Wire. This is a gritty Baltimore police show that draws at least in part from real-life cases and features stellar acting as it unspools a season-long story arc. If you are not into cop shows, this is a worthy exception just for the monumental talent that went into every aspect of it. In one famous scene, the actors say only "fuck" (and its variants) for about five minutes, and it makes perfect sense—check it out. (5 seasons) [Trailer]