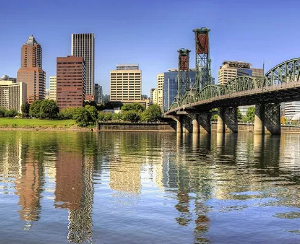 Portland is a great town — a big city with a small-town feel and a lot to do. It's not too difficult to figure out where things are: It's divided east/west by the Willamette River (rhymes with damnit), and north/south by Burnside Road. "Downtown" is on the west side, and in NW Portland, the streets are in alphabetic order (when you get to "Couch" street, it is pronounced "Cooch"). As a general rule, the "nicer/ritzier" stuff is on the west side, and the more "hip" places, like what you would see featured on Portlandia, are on the East side. Of course there are plenty of exceptions to this, but it's a good starting point. See "Neighborhoods" lower on this page for  more information. Finally, if you are traveling in an RV or are otherwise looking to camp, check out a few recommendations just below the section on hotels.
Fun fact: The city blocks in Portland are half the size of typical city blocks in an effort to be a pedestrian-friendly town. Another fun fact: Matt Groening, creator of The Simpson's, is from Portland, and some of the characters in the show are named after streets in Portland. For answers to any obscure question about Portland, visit Stumped in Stumptown (Stumptown is one of our nicknames). The Travel Portland site is a good starting point for exploring Portland.
For more about the area, including heading in and out of the airport, check out my post Visiting the Pacific Northwest.
If you want to head to the coast, see my post on Visiting the Long Beach Peninsula, and Oregon Lighthouses.
Portland Attractions
Hikes, Bikes, and Waterfalls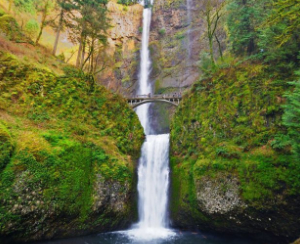 A wonderful place to get a dose of the outdoors is to head to Forest Park. It's the largest urban park in the US that's within a major city's city limits, and has beautiful trails for hikes from easy to rigorous. (I'm not kidding when I say this is a big park: a man and his daughter lived inside the park for years before anyone knew about it. Here's that story.)
Or are you a biker (of the pedal-powered variety)? If so, check out the many bike-friendly path maps here.
Just a bit east of Portland is the Columbia Gorge, where you can see (and have short hikes around) very large and beautiful waterfalls, as well as amazing views of the Columbia river (which is the divider between Oregon and Washington). Take this drive on the Oregon side of the river for a significantly more scenic and enjoyable ride. A drive from Portland up the Gorge is a very nice day trip that will have you back in the city in time for a nice dinner. (One of the McMennamin's is out that way, too, in Troutdale. More on McMennamin's below). If you know anybody from the Portland area then you probably heard us wailing in Autumn 2017 about the Eagle Creek fire — this took place in the Gorge right where these waterfalls are, so I assume the area now pales in comparison to its pre-fire days.
Portland Hotels
Other than stays at a few of the McMennamin's, I've never stayed in a hotel in Portland… so I'm not able to say much from personal experience. These are hotels that I've heard of, so I figure they must at least have a good reputation.
McMennamins: I really love these places. They are extremely funky and hip, and never pretentious. They are sprawling campuses that usually repurpose a former institution building of some kind, with various bars and restaurants, sometimes a theater, often B&B-style rooms, and LOTS of very funky art. The theaters in these places serve pizza, beer, and snacks — very fun. Unless you are looking for luxury, I highly recommend this to get the real Portland flavor. It will never be a "five-star" type of experience, but if you have the time, you should check one of them out. Here's an article with some fun tidbits about McMennamins.
The Heathman: Located right in downtown, this is one of our grand old hotels. It's also one of the only independent hotels in the country that has an on-site lending library. (This is also the hotel where thee reception was held where I met my idol, Philip Glass. Here's that story.)
Benson: This is another of the finest downtown hotels. This one is now owned by a chain, so I don't know if that will affect its charm. For more on this place, see this Wikipedia page.
Rivers Edge: Getting out of downtown, this place is in SW Portland on the river. Looks nice to me.
RV-camping in the Portland Area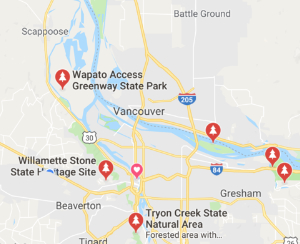 If you are coming to the area in your RV, I don't know of any RV parks close-in to the city that would be very nice places to stay, so you'll want to head to one of the fancy RV parks or to a state park nearby. (Click the map on the right for a larger map showing state parks.) Here are three suggestions of nice state parks nearby:
Milo MacGyver. A very nice place in Estacada, OR about 45-60 minutes from the city.
LL Stubb Stewart. This park is Buxton, which is a 45-60 minute drive due west from the city.  (Not far beyond Buxton is a cute little town called Vernonia — worth a visit.)
Champoeg Heritage. This park is south of Portland (about an hour away, I think), and I can't tell you much more than that. Other than I think the locals pronounce this place like "Shampooey."
Most of this information is courtesy of an RV-friend who has visited a few times (who has a delightful blog about her travels).
Portland Restaurants and Bars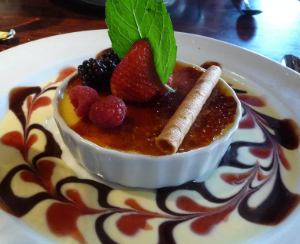 From weird to pretentious: you can find almost anything here. However, I am not proud of this, but I am one of those typical suburbanites who rarely leaves the burbs. My kids sent most of this list to me (and much of the "Portland Attractions" list above). They are definite experts on what to do in Portland, especially when it comes to restaurants, bars, and live music.
Of course the problem with this list is; (1) There are hundreds of excellent restaurants here, so it is important to list them all, and (2) What I think is awesome might not be what you like — your mileage may vary.
Let's start with McMennamin's (see top link in Hotel list above). This is a fun place for locally crafted microbrews. As for meals, it's a good choice, but be mindful of which restaurant you walk into: Most of their locations have multiple specialty restaurants and bars at each place. Some restaurants are excellent, and some serve bar-foody fare.
Tara Thai for excellent Thai food in NW Portland.
Portland City Grill for Happy Hour, expensive-but-worth-it fancy dinners, and a fantastic city view.
Russell Street BBQ (NE) for amazing BBQ.
Jake's Famous Crawfish for the downtown experience. Jake's is indeed famous and certainly serves more than just crawfish: come for their salmon, steak, and amazing desserts, too.
Halibut's Fish House and Pub nearby Thai Noon for the Pub experience and great evening blues/musical entertainment.
Taqueria Los Gorditos in SE for darn good vegan/vegetarian Mexican Food (they also have meat options).
Apex Bar next door to Taqueria Los Gorditos for fine crafted local Microbrews (and pinball if you're into that sort of thing).
Voodoo Doughnut for a truly odd donut experience in downtown. Voodoo is very famous — so much so that there is almost always a line winding around the block: get there before they open! And just to set expectations: Their donuts taste like any others, but the shapes and decorations/toppings are where they get their weird.
Elephant's Deli is a superb gourmet deli experience with more selection than you've ever seen in a deli. The 22nd Ave location is a huge place, huge variety of food and stuff to buy. Great for to-go orders, but they also have lots of seating hidden in the back.
Jimmy Mak's downtown for great jazz/blues/R&B and Happy Hour food/drink/entertainment.
Doug Fir Restaurant and Lounge on Burnside East Side for the quirky Hipster Pioneer Posh Entertainment/Drinks and Great Late Night Food experience plus the variety of hip bistro/brewery bars that surround the area.
Pine State Biscuits in SE on Division for an amazing and extremely popular breakfast/gourmet biscuits café.
Genie's Restaurant on 12th and SE Division nearby for one the best breakfast restaurants in Portland (also quite popular).
Circa 33 is an actual speakeasy left over from Prohibition days. It requires a secret code in book a shelf to get in (haven't gone in the secret room yet but really want to with a group).
Food Carts! This is very trendy in the hipster spots of the country, and Portland is especially famous for its gourmet food carts and cart plazas. Check out a Food Cart Tour.
Rock Bottom Brewery is in a great location near lots of stuff: shopping, nearby hotels, nearby bars.
Deschuttes Brewing (NW) and Bridgeport Brewing (NW) for the Pearl District/brewery experience. (Note from Kathleen M: Deschuttes is the brewery that makes my favorite beer: Black Butte Porter rules–yay!)
Old Towne Pizza in downtown (great pizza, great happy hour after 9pm).
Papa Haydn's is a great downtown place for gourmet dessert and drinks.
Rimsky-Korsakoffee for Desserts and drinks on the east side of the river. Extremely beloved and quirky place.
Or are you into wine? The Willamette Valley is wine country, and there are also many Portland urban wineries: including Enso Winery, Hip Chicks Do Wine,
Seven Bridges Winery, Division Street Winemaking Company,
Helioterra, Vincent and Jan-Marc Cellars,
and more.
Portland Neighborhoods
If you want to explore the town by neighborhood rather than from restaurant to shop to bar, here is an overview. Rather than linking to each one, check out this source of neighborhood-specific info: Portland Neighborhoods. (And click on the image to the right for a larger version.)
St Johns – fun, older, charming part of town across a beautiful bridge
China town – authentic dim sum and general fun with some fun sketchy bit
Mt Tabor Park and nearby Stark Street – great bistros, bars, cafes, theater, a gorgeous park and a generally cool area of town
Ladd's Addition in SE – also know as the "The Lost Woods" — see the map
NW 23rd/NW 21st/Pearl District – so many shops, nice restaurants, bars, cafes, sights, street car, and rich people: it's gentrification at its most gentrified.
North Mississippi/Williams – amazing food, drink, and entertainment
Hawthorne Street – quirky boutique shopping
Belmont Street – drinks and the nearby Pied Cow Restaurant
Division/Clinton – amazing bistros/Clinton Street Theater/pinball/bars/parks/areas to walk around that are pretty/People's Food Co-op