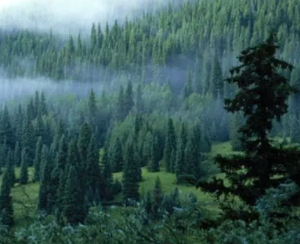 I am very fortunate to live in the beautiful Pacific Northwest — literally in a rainforest. While I live in a pretty typical suburban sprawl just to the west of Portland, it is still very lush and green all year long. I am a 15-minute drive from wild beauty, and a short 2 hours from one of the most beautiful bits of coastline in the US.
Sometimes I am asked by visiting friends (some originating from outside the US) for advice on where to go. This post (or rather, set of three posts) is a compendium of the many answers I've given to that question over the years (along with advice from my friends and family).
Weather: so, a lot of rain, huh?
The U.S. Pacific Northwest is famous for its seemingly constant rain from around September through April, but you can generally expect spectacularly beautiful weather in the summer.
Summer: If you're in this area by late August, this is getting pretty close to the end of our good weather, so you should be prepared for some rain and hope for sun. Other than the deepest part of summer, pack a good rain jacket with a hood, and with luck it'll never have to leave your suitcase.
Winter: If you're here during our half-year rainy season, don't worry. Yes, it rains a lot: but for the first and last month or two, it is an intermittent drizzle that won't interfere with you getting around. In the later part of autumn and earliest part of spring the rain is more pronounced, and in the winter it's anybody's guess if there will be rain, snow, sleet, hail, or even a gorgeous, sunny (but chilly) day.
Getting here, then getting on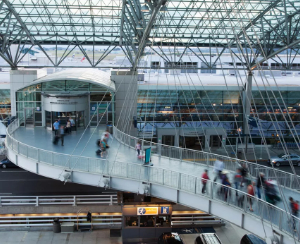 Unless your destination is closer to the  Seattle area, you'll want to fly into the Portland International Airport: PDX. (I love this airport and I write more about it here.) As awesome as PDX is, you probably flew into it to go on beyond the outer door and actually see the Pacific Northwest. Just like any large US city, the traffic in the Portland area is pretty awful during traditional rush hour. It's certainly not as bad as Los Angeles or even Seattle, but it's unpleasant enough that you should consider your options for getting around.
By car: This airport is nicer than most for those who might be picking you up. The spacious parking garage utilizes a system where bright LED lights shine above each parking space, red for full and green for empty. This sounds like a small thing, but it makes looking for a parking space very easy. The view from the top deck of the garage is stellar, and the walk from the garage to the airport is weather-proof: either take the raised walkway under a huge glass canopy (pictured above), or take the tunnel underground. Of course there are shuttle services, taxis, car rentals, and ride-share options here just as in most cities.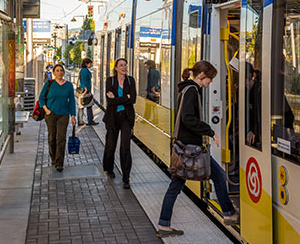 By train: Our public transportation system is called TriMet, and the train is the MAX (info here about MAX). The MAX has a station right at the airport and is a great option to get you to almost any part of the Portland metro area, including points far to the east, west, and south (but notably, not to the north). Do note that while it's a fairly nice commuter system, you will almost definitely need transportation from the station to your final destination, especially if you are heading to the burbs.
If you don't have luggage to fetch, then head to the right when you exit the secure gate area, then take a series of escalators to the train (but you'll need to go inside to get your ticket at a kiosk). If you pick up baggage, then when you're ready to go, head to the extreme south-western exit to find the MAX. [Refer to the airport diagram mentioned above.] There you can get your ticket then head to the train. Note that there is no place to stash your luggage on the train: you'll need to lug your luggage with you to your seat!
Where to next?
Assuming you decide you want to see more than just our awesome PDX while you're here, what do you want to do next? I haven't done a ton of adventuring as I live most of my life staring at my computer, but I can give you lots of suggestions for things to do in the Portland area as well as the coast in Southwest Washington.
Portland: a very small big city
Portland is a pretty awesome city — and no, it's not really like it is portrayed in the show Portlandia. (Well, not entirely.) It is intentionally designed to be pedestrian friendly, and on a clear day you can see the glacial Mt. Hood glowing in the distance from downtown. I am told by bona fide foodies that this is a fantastic foodie-town that rivals San Francisco at 2/3 the price.
If you plan to hang out in the Portland area, move on over to my Portland post for recommendations and more to do in the city.
Heading into the outdoors: Southwest Washington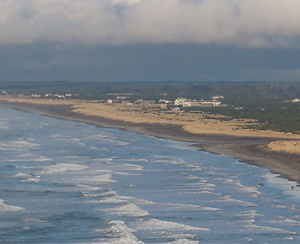 Aside from Portland and its burbs, my experience in the Pacific Northwest skews heavily toward the Long Beach Peninsula in the extreme southwest corner of Washington. This is because my brother has a home there, so that is where I typically head when I take a weekend to play. I don't kayak or surf, but even just finding a place with a view and taking pictures is wonderful here.
If you want to head to the coast, see my post on Visiting the Long Beach Peninsula.
Other west-coast destinations
The west coast is beautiful and well worth exploring. If you plan to explore in the summer time, you should consider booking accommodations (including camp grounds) early/in advance, as things tend to fill up quickly in the summer months.
Northwestern Oregon
One of my favorite quick trips on the Northern part of the Oregon coast is to the Sylvia Beach Hotel in Newport. Each room is inspired by a different author, there are no TVs or telephones, there's a hotel cat, and there's a third-story library full of mismatched upholstered furniture where there is self-serve coffee and tea by day, and hot mulled wine by night. The restaurant in this B&B, called The Table of Contents, is wonderful. This place fills up fast, so if you are interested, book early! There's also a very nice aquarium in Newport. It's of course not of the caliber that you would find in Vancouver or San Francisco, but it is very nice
Other northern Oregon coast towns with lovely B&Bs are Manzanita and Cannon Beach.
Astoria: The northernmost town in Oregon, Astoria is a strange mixture of major port and hippie refuge, located at the intersection of the Columbia River and the Pacific Ocean. One of its claims to fame is that "Goonies" was filmed here, and they close down of the downtown streets ever Sunday in the summer for a farmers market/crafts fair. Learn more from the Astoria website.
Southwestern Washington
Aside from the Long Beach Peninsula, Washington has a lot to offer. Of course there is Seattle (about a 3-hour drive north from Portland), where you can see the Chihuly Garden and Glass museum, and music and science fiction enthusiasts should visit the EMP Museum.
While it takes about a full day of driving north, Washington's Olympic Peninsula is among the most beautiful places in the continental US. See Cape Flattery which is at the north-west tip of the Olympic Peninsula, and is stunning and approachable even by novice hikers. Other neat areas in western Washington (yet up in the north) are the town of Port Townsend and the San Juan Islands.