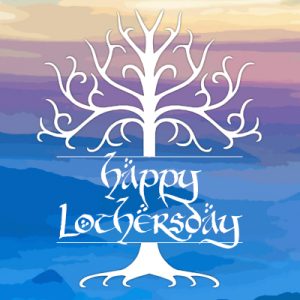 I was raised in a Conservative Baptist household. Christmas morning began with breakfast followed by a birthday cake with candles over which we sang "Happy Birthday" to Jesus. (Yes, I am completely serious.)
I left the church as a young teen. Now, many years later, I don't overtly celebrate Christmas: I have nearly zero decorations at my house, and I don't do much in the way of cards or gift exchanges.
But I love the holiday season, I guess as an interested bystander: I wish this wonderful time started in September and lasted through February!
I love how everyone is in a good mood and little kids are beside themselves with excitement. I like how all the world is playing old familiar music (especially nice instrumental versions, and blues/jazz/funky variants). I love how work slows down and everyone is forgiving about co-workers and colleagues taking tons of time off. I love how the general level of kindness has gone up a notch or two.
I also love all the lights, but have long since tired of the santas and snowmen and other such decorations. But one of my neighbors had a Darth Vader nativity scene in his yard a few years ago. That was awesome.
Reinventing the holidays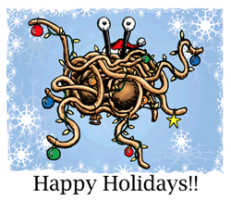 People used to be sufficiently wrapped up in holiday cheer that they wouldn't go hyper if you said Happy Holidays instead of Merry Christmas. Christians, Jews, Muslims, Atheists, and <fill-in-this-blank>s could all enjoy the merriment of the holiday together.
But here in the US, at least in my neck of the woods, in the early 2000s that seemed to change. My cheery "Happy Holidays!" was often answered angrily with "No, it's Christmas! Jesus is the reason!"
I could go off on how, actually, it was a Pagan holiday long before it was taken over by Christianity, but there's really no point. The truth as I see it is that the holiday is whatever you want to make it. So why not make it something for everyone?
The genesis of Lothersday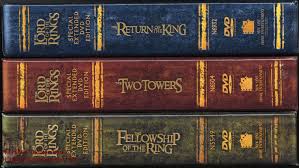 It was about this time that my family was enjoying a new holiday tradition: getting together to see the Lord of the Rings films. In 2002, we gathered for a weekend at my brother's house on the coast to watch the DVD of the first film, then we went as a tribe to a theater to watch the second film. That was when we first  talked about formalizing our own alternate holiday tradition.
The next year, we were back on the coast, this time watching DVDs of the first two films before heading off to see the third, and now we were earnestly discussing the parameters of our new home-grown holiday.
Things morphed over the years, and frankly we are still figuring this out, but here is where we are with it so far:
The official name.  Honoring the Lord of the Rings origin of our tradition, we first called it LotheR day and finally settled on Lothersday.
The official date. Keeping with the LotR theme, we wanted to honor J.R.R. Tolkein's birthday, but as it is January 3, it was a bit too far away. The original trilogy of the LotR films were released in the U.S. on December 19th in 2001, December 18th in 2002, and December 17th in 2003. Looking for more significant dates in that range: Arthur C. Clark was born on December 16, Beethoven was born on, well, sometime in December, and to us the most important birthday in December is that of Sir Isaac Newton on December 25. We chose December 17 as the official date for Lothersday. We treat the range of December 16-25 as Lothersday season, and generally choose the weekend in that range that is closest to December 17 to gather.
The traditions. We're a family of video watchers. Lothersday began with us gathering to watch the Lord of the Rings films, but as the franchise grew to include six films it became a bit much. We did all six films one year, but that once was enough: now we watch the director's-cut DVDs of the first three films. Some years we do this in a somewhat excruciating marathon, but I think it's nicer to watch one film a day. A few years we've watched other franchises instead, but I miss LotR when we do. [Most recently we also watched this Soviet LotR (Part 1, Part 2). It was terrifically horrible.]
While the films are on in the background, some of us are watching with rapt attention while other sit in the room with knitting or other hobbies. Others may have their computers, and still others come and go, catching scenes of the films between quick hikes and kayak voyages.
The food. This is something we're still figuring out. If we stick with the LotR theme, then if we wanted to develop a formal menu we'd need to observe the meal schedule observed by the Hobbits:
Breakfast
Second breakfast
Elevensies
Luncheon
Afternoon tea
Dinner
Supper
But what seems to have worked the best is that we have large leftover-yielding dinners on the first day or two, then everyone fends for themselves for the rest of their meals. And of course there are the cookies, pie, and other goodies that generally accompany a holiday gathering.
The official rap video. Imagine my delight when my niece sent me a link to a video of Stephen Colbert insisting that the LoTR trilogy needed its own celebration. Mr. Colbert: you're invited to join us for Lothersday any time!
Celebrating Lothersday
And so it is that we have been celebrating our alternative holiday for nearly 20 years.
It's nice that our holiday spirit coincides with the general theme of merriment in the world as others are celebrating their own holidays: Christmas, Xmas, Kwanzaa, Hanukkah, and the winter solstice.
In the beginning we were reacting to the somewhat angry backlash we were getting from a segment of the  Christian world, and then we were just having fun by doing something outside the norm. But after more than fifteen years it has become a serious family tradition and is our uber-holiday of the year.
So this December 17 (or therabouts), if people scowl at you for wishing them Happy Holidays, just wish them a Happy Lothersday. Instead of them feeling self-righteous about you not celebrating their particular flavor of holiday, you can leave them wondering as you walk away, whistling the Lord of the Rings theme with holiday cheer.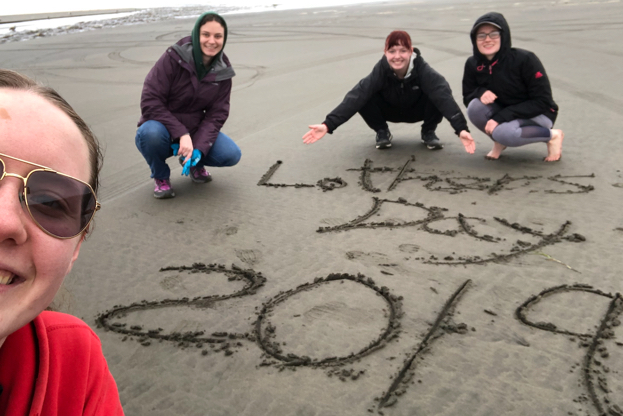 [This post was originally published in December 2017, then greatly revised in October 2020 and again in December 2021. The font used in the Lothersday image is Hobbiton Brush by Nancy Lorenz.]