Travel days: Thursday and Friday, Feb 28 and March 1
As most of my trips do, my travels began with an Uber ride to the Portland international Airport (PDX), which I write more about here. This was a notably wonderful ride. It was during full-on rush hour, so the Uber driver, having carefully studied the Portland back routes, zig-zagged us through the hills to the airport, never once getting onto the freeway. My goodness, how beautiful the drive was! It took just over an hour to get there, but the whole time was spent in an engaging conversation with the driver, a man around my age who moved to the US from Ghana just two years ago.
The flight was uneventful: I got to watch a few films I'd been wanting to see, knit a row or two (I almost always bring knitting projects with me when I travel), and got no sleep at all.
There was nothing but a flat expanse of cloud through most of the flight, so there was nothing to see or to photograph, but windows are generally kept closed on international flights anyway. When we were starting to get positioned for landing I opened the window and tried to get some pics of the sky over Japan.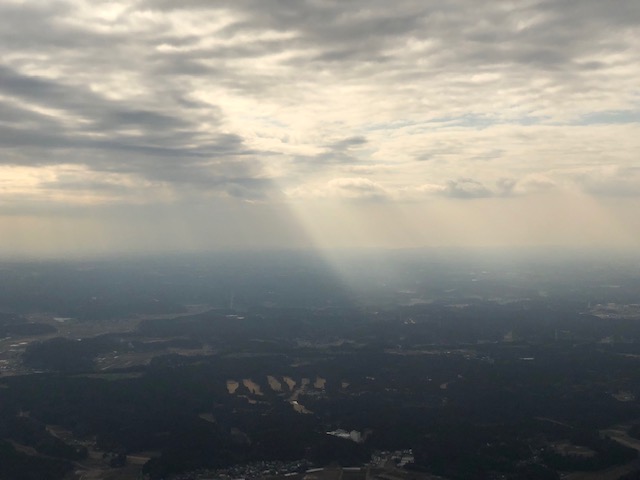 I was lucky to be traveling with a colleague who not only had been to Japan many times, but who spoke fluent Japanese. After we landed at the Narita airport in Tokyo, I followed my colleague through customs, then we ate at a ramen restaurant in the airport that is famous: a movie called Ramen Head was made about the founder. We sat at the bar and watched the ramen-maker, who seemed to be practically reaching his bare hands into the boiling water to grab great handfuls of noodles: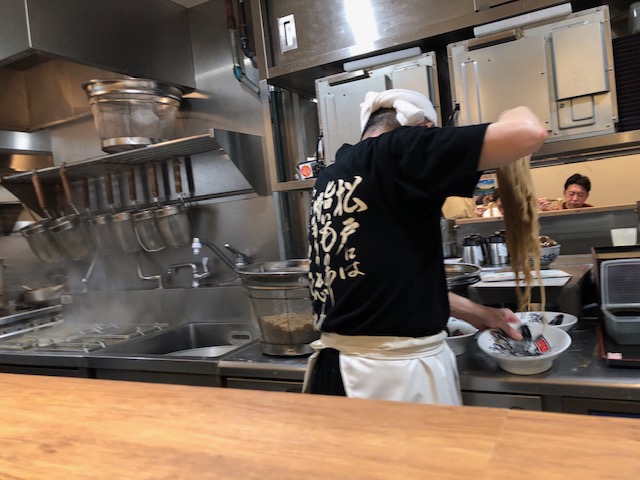 Below is what I had for lunch… well, I ate only about 1/3 of it: that was a lot of food! This picture makes it look like it is mostly meat, but those slices are arranged on top of a huge and carefully arranged mound of noodles (which you can see in the ramen-makers hand in the above picture). The bowl on the left is dipping sauce: you dip your food into it, not pour it onto your food.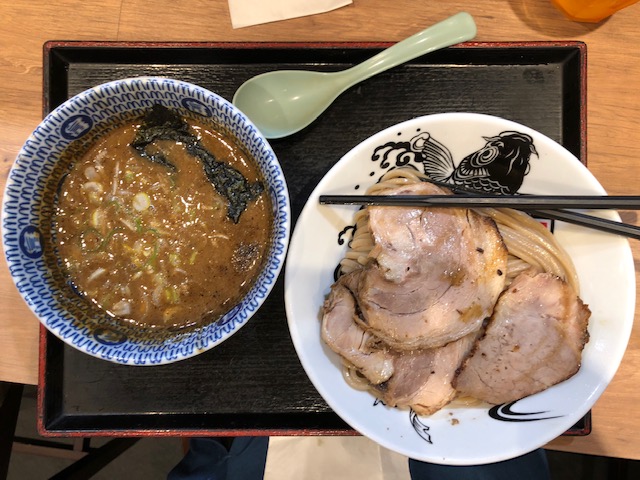 All of this was tasty, although not delicious and not as hot as I would have liked. By the way, in Japan it is common courtesy to loudly slurp your ramen. I'd heard about this in the many videos I'd watched in preparation for this trip — but that didn't prepare me for the reality of it. Loud slurping everywhere! I couldn't bring myself to do it aside from accidentally.
After lunch we made our way down to the subway, got our JR tickets and Suico cards, then went to the platform to wait about 20 minutes for the train to Yokohama. The tales you hear about how clean everything is in Japan is no exaggeration, and there were people here and there who seemed to be there specifically to help and their English was great.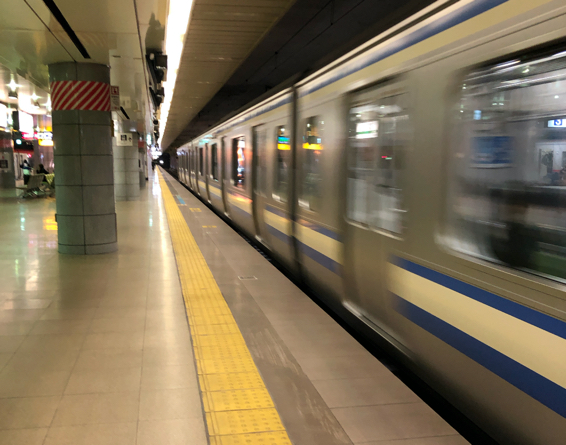 The train ride was incredibly smooth! We switched to a second train in Yokohama to go just one more stop, then after a total of about 100 minutes since we started the rail part of our journey, we got off the train and made our way out of the station.
I was grateful that my colleague had planned to see me to my hotel, as I was completely turned around, as usual. We walked a few blocks together, luggage in tow, then once I saw the hotel, I thanked him for his help and told him I could take it from there, as he had several blocks to walk to his own hotel on the opposite side of the train station. By now I was pretty thoroughly in a jetlag haze and I was ready to be on my own.
There was only a little daylight left, making everything look mysterious and dramatic: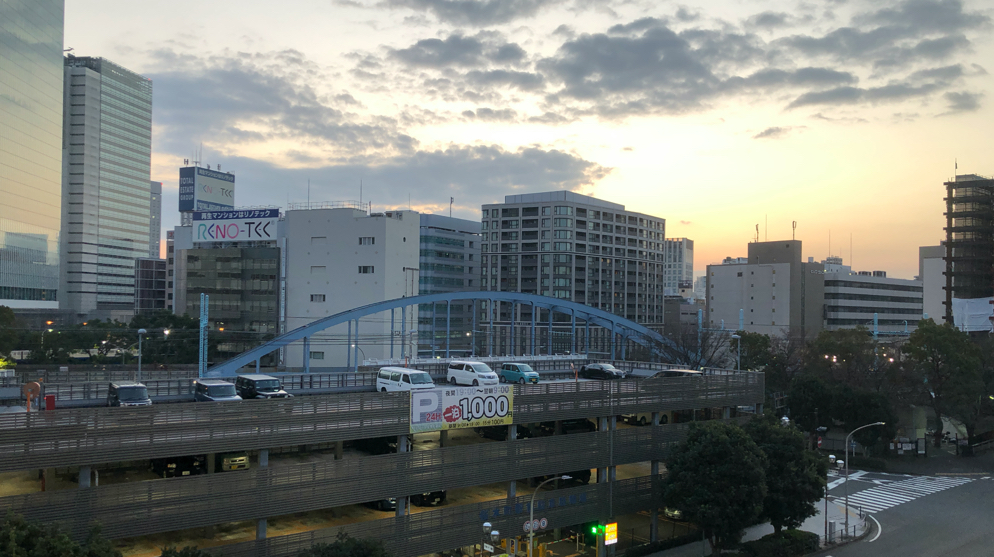 I was going to stay for the first two nights of this trip in a small hotel a little bit away from where my meetings were going to be. This would give me a little time to acclimate to jetlag, settle in, and explore the city without accidentally running into other meeting attendees. I won't go so far as to say I was avoiding my colleagues… but I guess that would be an accurate way to put it! No drama or anything: I just wanted to have these few days to myself before starting my work-week of meetings.
When I got to the hotel and approached the desk to check in, all the Japanese I had practiced in the preceding month went out the window. I couldn't even remember how to say hello or thank you! What's worse, I was so tongue-tied by the Japanese plus having been traveling for I-don't-even-know-how-long, that once I managed to say "Kathleen Mattson checking in," I didn't even speak any English: I just smiled and nodded a lot.
When I was all checked in I bought a bottle of water from a vending machine near my 4th-floor room, unpacked, decided my room was too hot and guessed at which buttons to push on the very complex and completely Japanese-labeled thermostat, opened my iPad to check email, then discovered that I'd forgotten to bring a power adapter.
Rookie move. Damn.
Exploring Yokohama: Saturday, March 2
I woke up at around 2am because my shoulders hurt. The bed was so firm that it was practically just a box spring with a too-thin mattress pad on top. I fiddled around with the pillows for a while and finally came up with a way to build an inclined padded surface for my upper body. It's a good thing I bring my own pillow with me whenever I travel, as it formed a critical part of my makeshift solution! This was now passably comfortable and I went back to sleep.
When I got up at maybe 7ish (I think), I lounged in bed for a nice lazy time, wasted some more time online a bit, then took a few pictures of the view outside my window: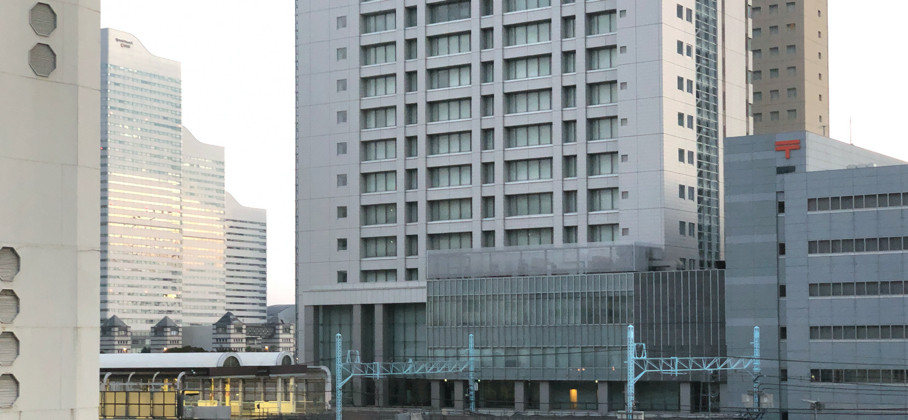 Finally I showered, dressed, and headed to the lobby. I said a proper Ohaio gozaimas, then asked (in English) if they had a power adapter. I was so relieved that they had a spare I could borrow! And I'm so glad I learned how to say arigato.
Back in my room I drank coffee and got a little work done, then by around 11:00 I headed out into the world.
It was a little chilly and breezy, but it was also very sunny, so it was perfect weather for exploring. My goal was mainly to just walk about and take pictures, then look for the Studio Ghibli store, find a nice place to have lunch, and go to an art museum.
This is the street my hotel was on: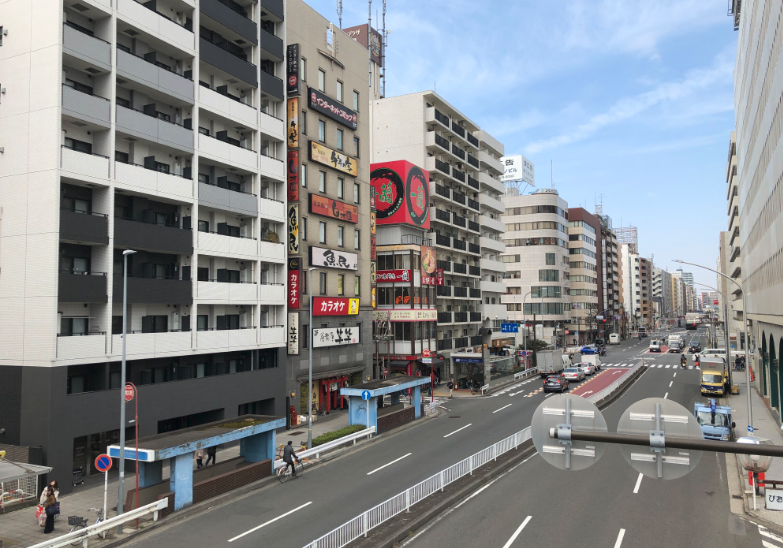 Yokohama has an amusement park right in the center of town, a place with a ferris wheel, a roller-coaster, and a few other rides. It's about a 15-minute walk from my hotel, and it made for some nice photos: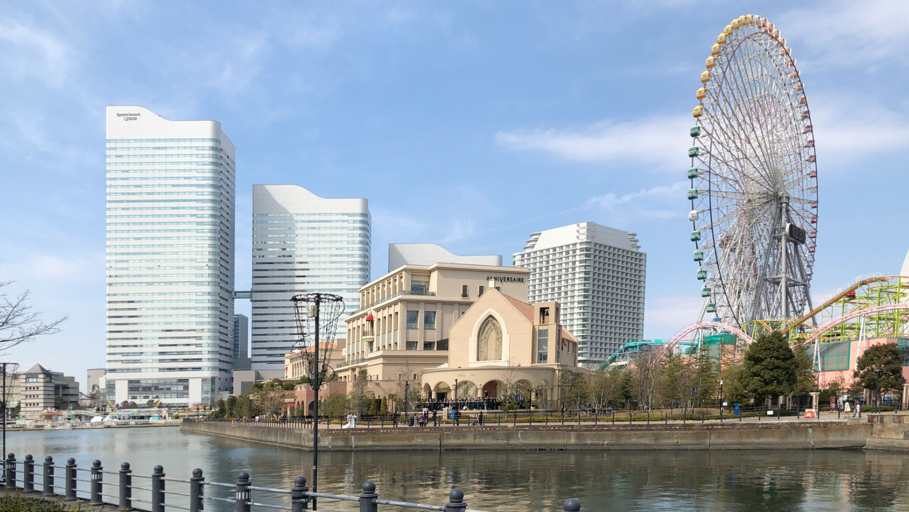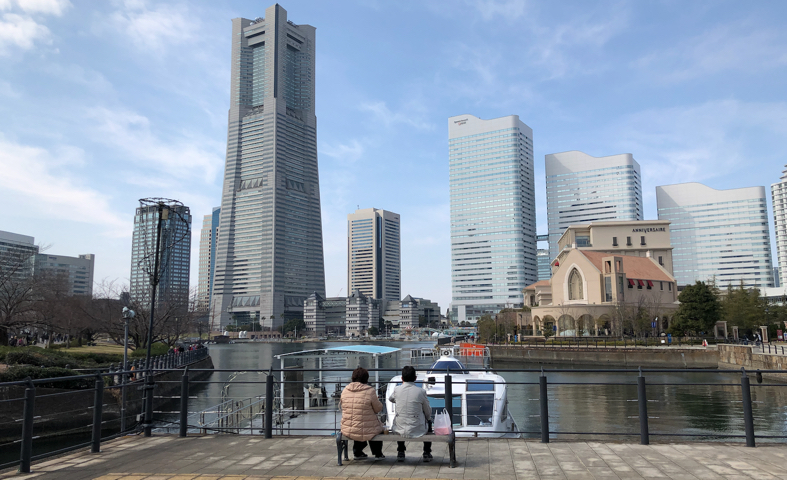 That tall building is one of the tallest in the area – the Landmark Tower. There is an observation deck at top that you can pay something like 1500 Yen to go up to, but I decided not to bother. I had a great time wandering around and taking photos, and I saw a wedding party that looked pretty extravagant.
This twisty stuff is a giant sculpture outside of the Landmark tower. I love how this photo shows the sculpture, a shadow of it, and its reflection — reminding me of an Escher print… and with the little McDonald's in there, unlike an Escher print.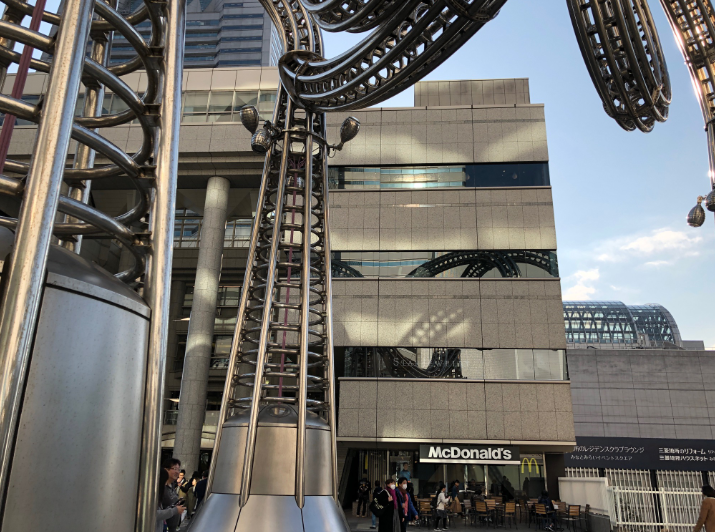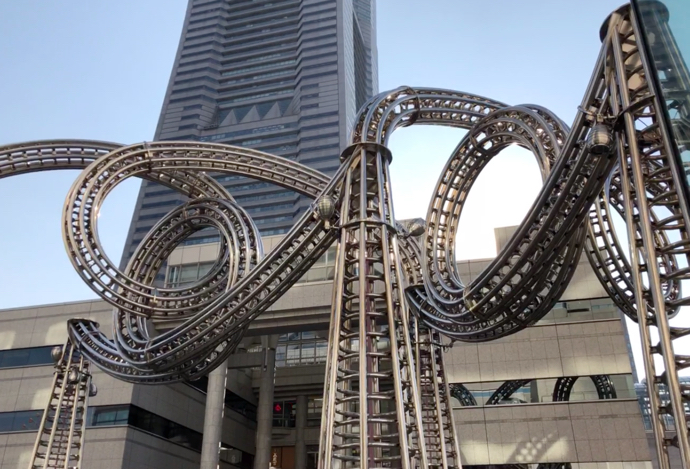 Here's another view of the ferris wheel — the white curved building is the Intercontinental Hotel where I would be staying starting the next day: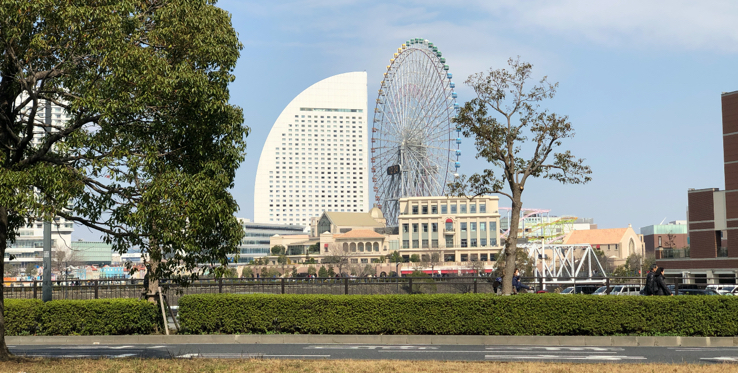 When you are traveling far from home, every difference stands out. I found the blue and white painting on the roads fascinating: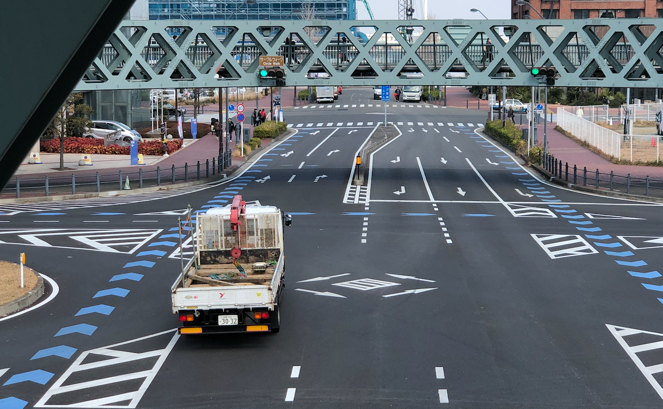 I enjoyed looking in the shops. I found a line of handbags called K that caught my eye, but I somehow managed not to buy one. In one shop I was amused by the very Scandinavian products they were selling. I recall when I was in Seoul a few years back I saw several Dala horses in a store there. Maybe it's an Asian thing to like Scandinavian stuff?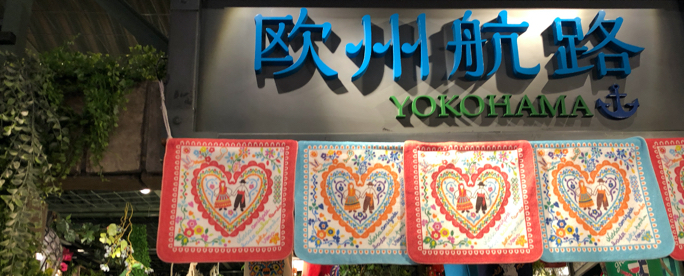 You know how it is said that there are  vending machines everywhere in Japan? It's true, although perhaps "everywhere" is an exaggeration…  a little: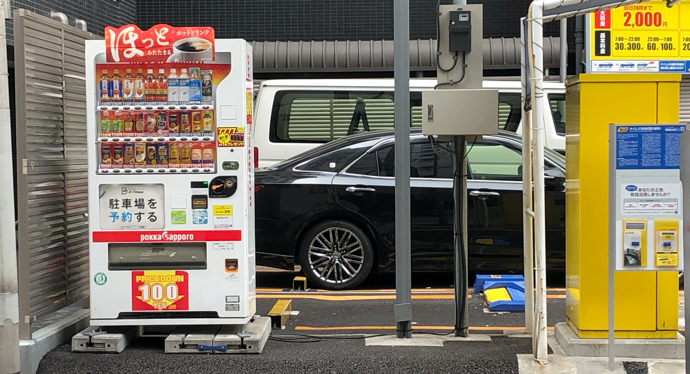 The crowds here are really something else – so many people! But as this is just how life is here, nobody seems to really care too much. They seem to think nothing about standing in a line 30 people deep for just about anything.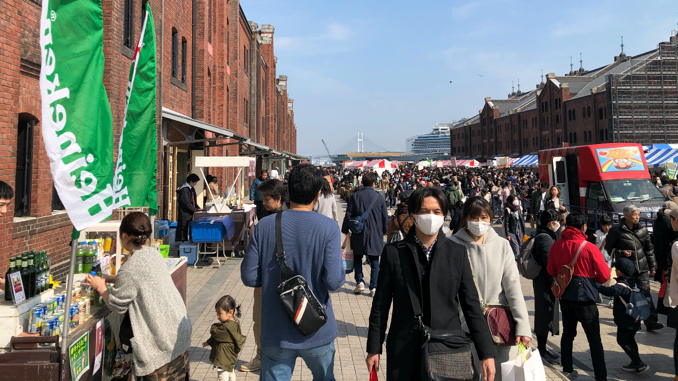 I went to find lunch – it was around 2pm and the crowds had thinned out a bunch: instead of 30 people in line there were maybe 10 or 15.
The restaurant I went to was very cool: one side of it had oversized beds along a wall that small groups of people could lounge on as they ate. I wanted to take a picture of that, but felt it would be too indiscreet. Once I was seated, it was challenging to order my food as there was very little English on the menu. Or rather, the menu had a big English title "Bread Buffet" along the top, but otherwise it looked like a normal menu in Japanese. I ordered pasta (thank goodness for the photos), then the waitress indicated that I needed to go to a buffet to go get my food.
Up I went and wandered the restaurant seeing no buffet. I tried to ask someone but the language barrier was too thick. So I went back to my table, got out my Japanese flash cards (actually, this Chegg app that I had filled with my own notes), and prepared myself so that when the waitress returned I was able to point to the menu where it said "Buffet," then in Japanese say doko desu ka – which means "Where"? Once she realized what I was asking she escorted me to a little counter with various breads. I took a bunch, figuring that might be all the food I was going to get for my meal, but then the waitress came back with my very delicious pasta.
After lunch I walked out into the area with a lot of food carts and stalls through which I had walked earlier to get into the shops — what a huge throng of people!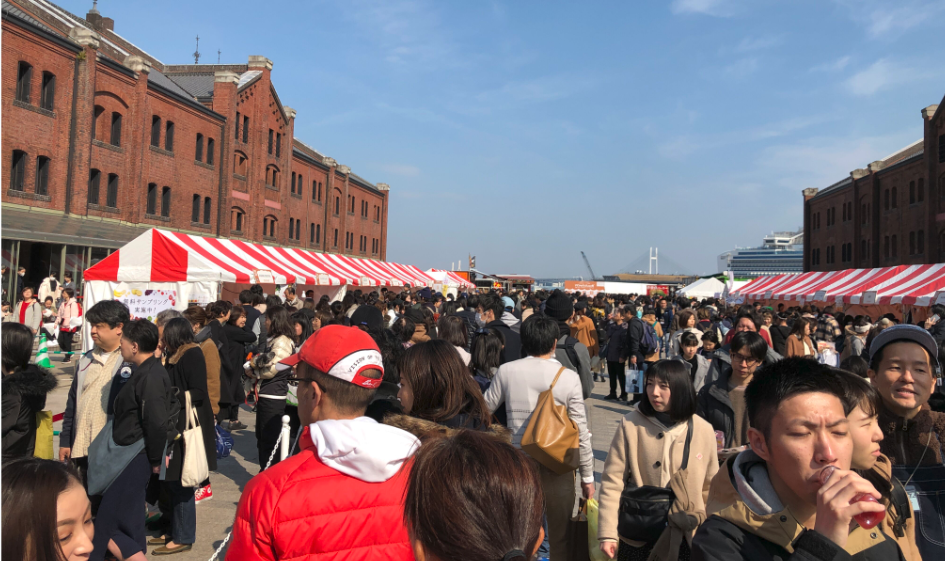 On the outskirts of the crowd I spotted a few really large birds who were circling above and seemed to be carefully watching what the humans below were doing. Three times I saw them swoop down to try to steal food out of people's hands, once with success! I tried and failed to capture this on video, but spent so long at it that I am sure I made people wonder what the hell I was doing. Here's all I got for my trouble:

I decided it was time for me to resume my hunt for the Studio Ghibli store, plus I learned there was a good art museum nearby. I passed by the Cup-O-Noodles Museum (seriously):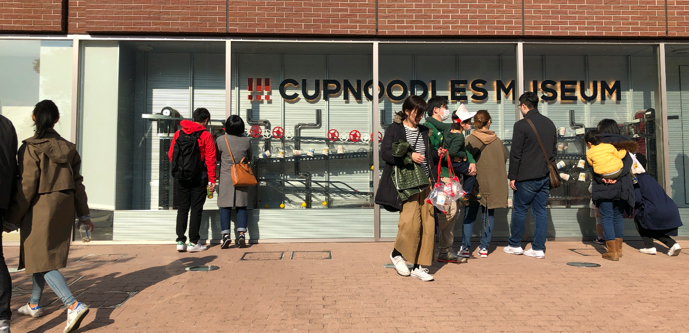 I wasn't far beyond the Cup-O-Noodles when I realized that I was getting tired of walking. Just as I had decided to skip my hunt for the Studio Ghibli store and instead go straight to the museum, I happened upon the store, so I checked it out: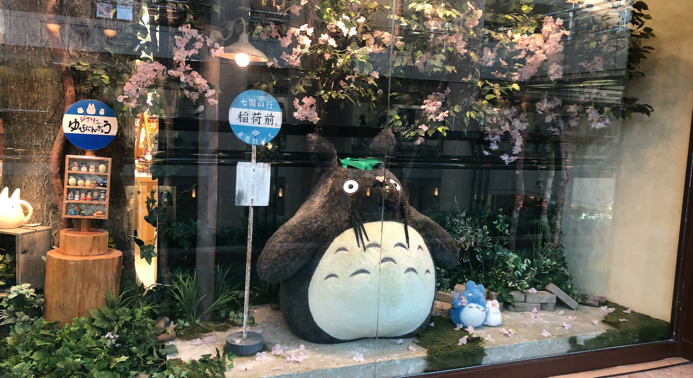 Ho-hum. I'm so glad that I didn't go to too much effort for that! By then, sans a trip to a museum, I was ready to call it a day. I stopped in at a convenience store on my way "home" to buy some food and a can of beer to enjoy in my room, but all of the food looked mysterious and indecipherable – so I just got a bottle of water and a package of mixed nuts to go with the beer.
Changing hotels: Sunday, March 3
I had another long, long night of trying to sleep on my rock-hard bed, but managed to sleep well after about 3am, waking up after 8. I got all packed up and ready to check out to go to my next hotel, but then realized it was raining – hard. I didn't relish the thought of going for a 30-minute walk with luggage in the rain. I'm from Portland, I can handle rain — but this was a lot more of it than I wanted to walk in.
Google told me that a 7-11 was nearby (they are all over the place here, and far more well-stocked than they are in the US), so I went to find it and came back with my first and possibly only Japanese souvenir: a clear plastic umbrella.
I checked out of the hotel (returning the power adapter) and started my walk. Yes it was pretty rainy and a bit windy, but I was one unit in a large crowd of umbrella-carrying people walking around the city, and it felt nice to be out and about – even with my luggage. At one point I passed some kind of demonstration – I'm not at all sure what they were talking about, but they seemed cheerfully serious.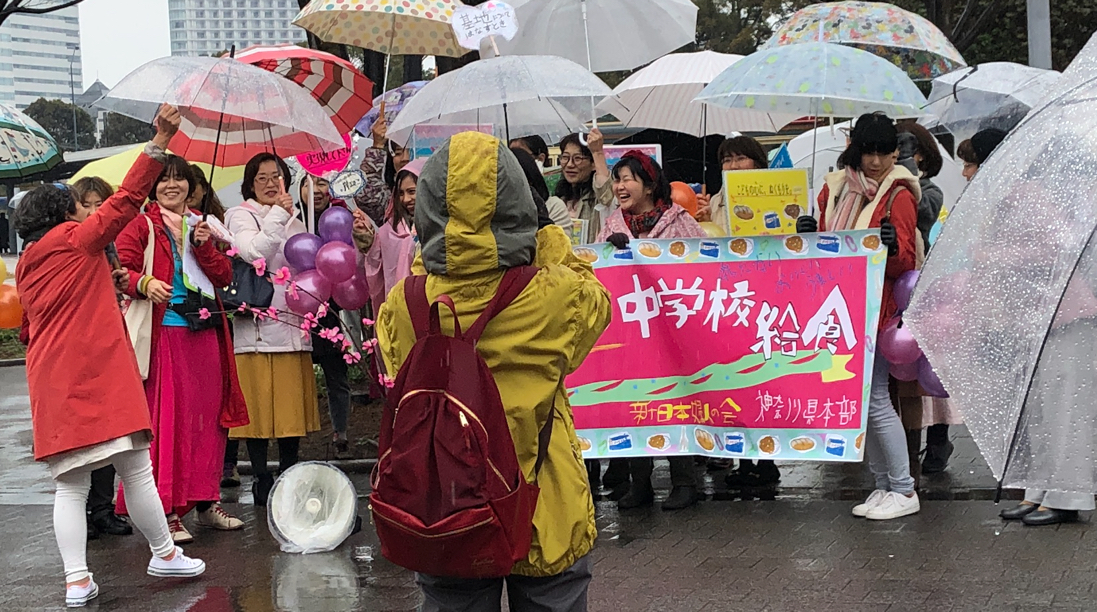 I finally got to my hotel with my thoroughly soaked rollerbag in tow. Here's my new room: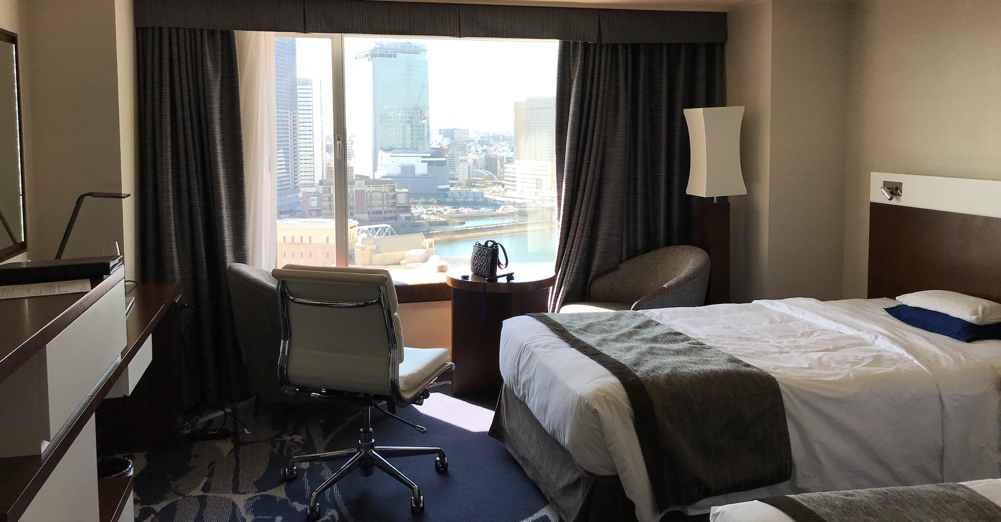 Going from a 3-star to a 5-star hotel is a big step up. While the previous place was just fine, I admit that it was nice to be back in the lap of luxury. Here's the view from my room. Seeing that now-familiar ferris wheel at this straight-on angle was a little strange: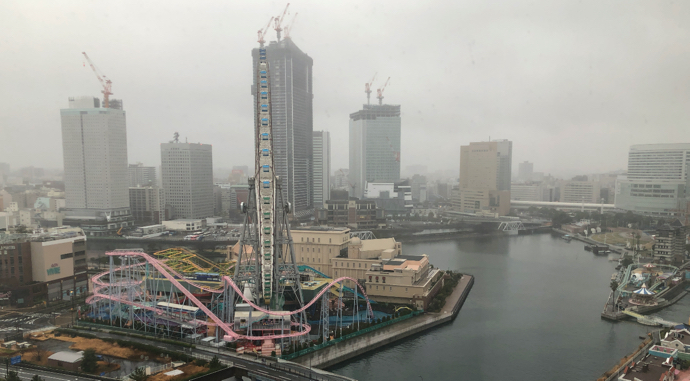 After a day of settling in, sorting through photos, and catching up on some work, I had dinner with one of the two gals who does all the set up for these meetings (and much more). Here I am with a delightfully dark Japanese beer. It was huge, although the waitress insisted that it was size medium!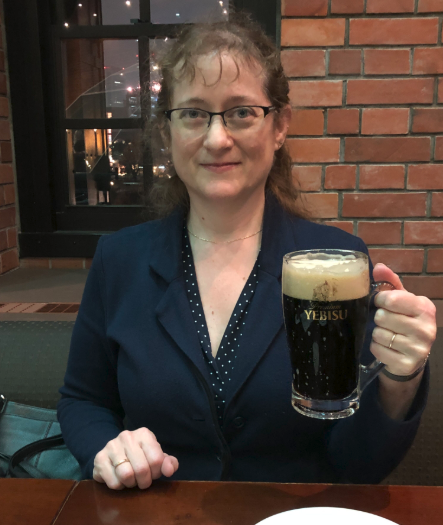 It was a nice evening, and a wonderful opportunity to get to know someone on the team. The walk back to the hotel was especially chilly and wet, so when we got back we stopped in at the swanky hotel lounge for another beer and for dessert. It was called  "apple pie," but it was more like an intact half of a cinnamony baked apple on a dais of lovely sweet crust, served à la mode in a cookie cup…  and it was delicious.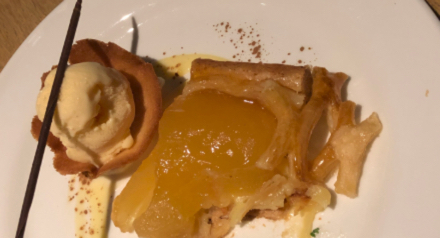 It was 10pm before I was finally climbing into bed.
And here I must say something about the delight and pure civility of a heated toilet seat! As silly as it is, at my 3-star hotel, every visit to the john began with an involuntary ahh brought on by the touch of the warmed seat on my skin. But at this hotel, although there are several spray options available – this is Japan, after all – the seat is not heated, and I found myself missing that. I keep thinking about how this is a perfect example of unnecessary electronicization, if you'll forgive my fake word.
The new hotel: Monday, March 4
I got up very early, showered, and was at breakfast by 7am. The breakfast buffet here left a little to be desired. The scrambled eggs were so very odd that I couldn't bring myself to try them: they looked to have been finely pureed after cooking, making them almost resemble a slightly gritty clay. But the room in which the buffet was served was beautiful, and a nice place to start the day: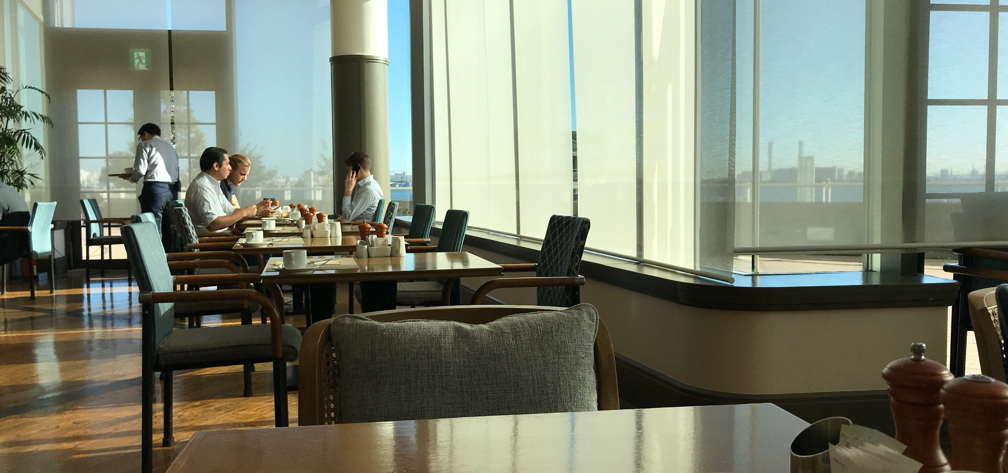 After breakfast I went to my room, ate most of the rest of my mixed nuts, then worked very intently on work for my other clients until mid afternoon. Hungry now, I headed up to the meeting rooms. I had an hour until my meeting, but I knew there would be food laid out. There were some bento boxes left over from the lunch that I had worked through, so I ate some of that (and started fanaticizing about a ham sandwich or a plain salad).
The meeting was long and had little to do with me, however during the meeting I saw on an agenda for tomorrow that I was scheduled to give a presentation – glad I saw that!
Yesterday I ordered a diet coke with my lunch and learned when I saw the bill that it cost about $9. I won't do that again! When this afternoon's meeting ended at 5pm, I went to my room, grabbed my coat, then walked about 10 minutes to a nearby 7-11 to buy Diet Coke (to save for tomorrow: no drinking any tonight and getting caffeinated). I bought five bottles of Diet Coke and a bottle of lemon-flavored sparkling water, all for $8.50. That's more like it. It was brisk outside, but nice to be out in the world. Here's what it looked like about 5 minutes before I stepped outside: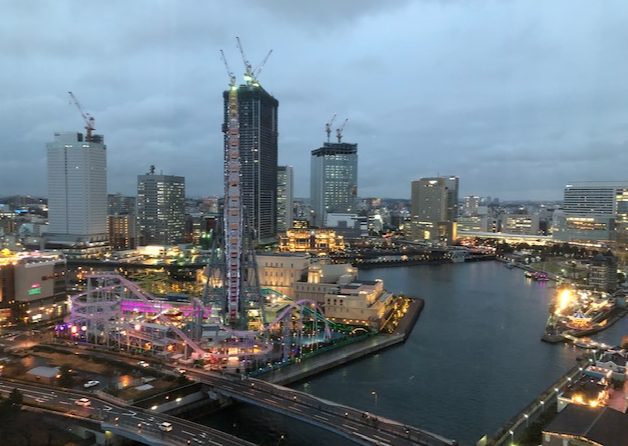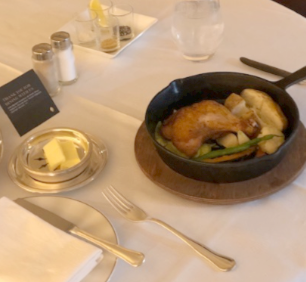 Back in my room, now after 6pm, I put my new purchases in the fridge then ordered room service: roasted chicken with roasted potatoes. By the time dinner arrived I was a little awestruck by its presentation: a cart with a linen tablecloth, a gilt butter dish, and a small cast-iron pan with my meal. But the fanciness didn't slow me down much: as soon as the waiter left the room I fell to and stuffed my face as if I was a starving person. It was about the best roasted chicken I'd ever had, and I don't think this is just hunger talking. About halfway through I wondered what people would think if they saw me eating that way. Good thing I'll never know!
After my amazing meal, I spent the rest of the evening preparing for my meetings the next day.
Adventures with food: Tuesday, March 5
This morning the cranes on the buildings across the river looked to me like prehistoric dinosaur robots proudly roosting and surveying their domain against a foggy sky: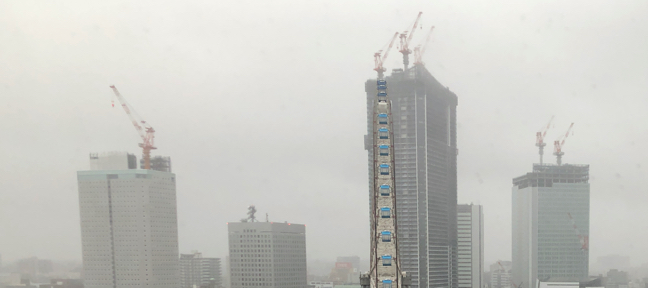 My breakfast was much nicer today than yesterday, mostly because I learned yesterday about what to avoid.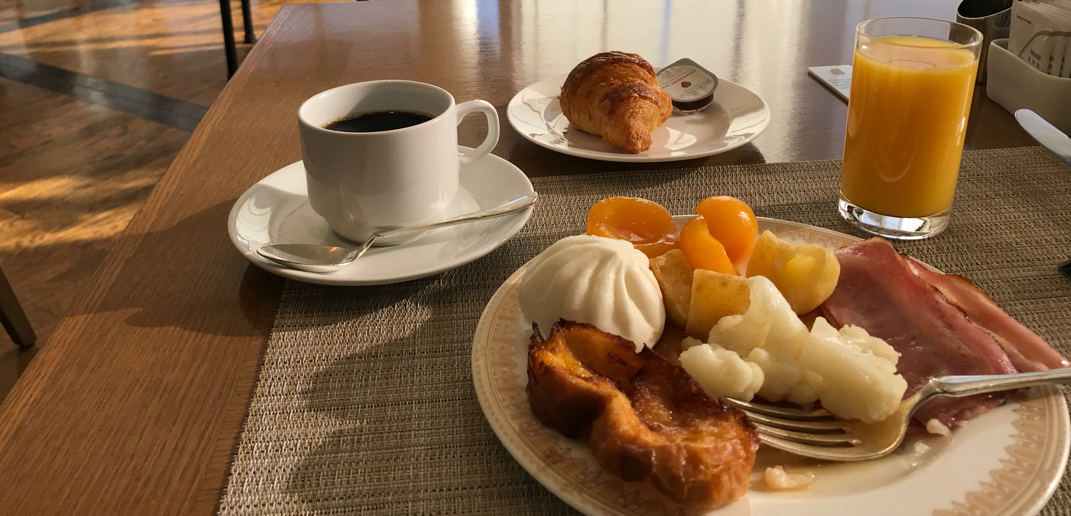 I had boiled cauliflower, ham and french toast with maple syrup, a few potatoes, peaches, steamed dim sum, and a croissant. The amazing French toast was made with baguette and was a bit overdone – perfection! This is what I had every day for the rest of this trip, as I had decided that I  needed to get as filled up as possible at breakfast each day. Why? You'll see…
After breakfast I had to wander around a bit as I tried to remember where the route was to the hidden passage that lead to the convention center. I love this painting that I happened by: I enjoyed the juxtaposition of old and new, with the traditional horse sculpture in front of such a modern piece of art.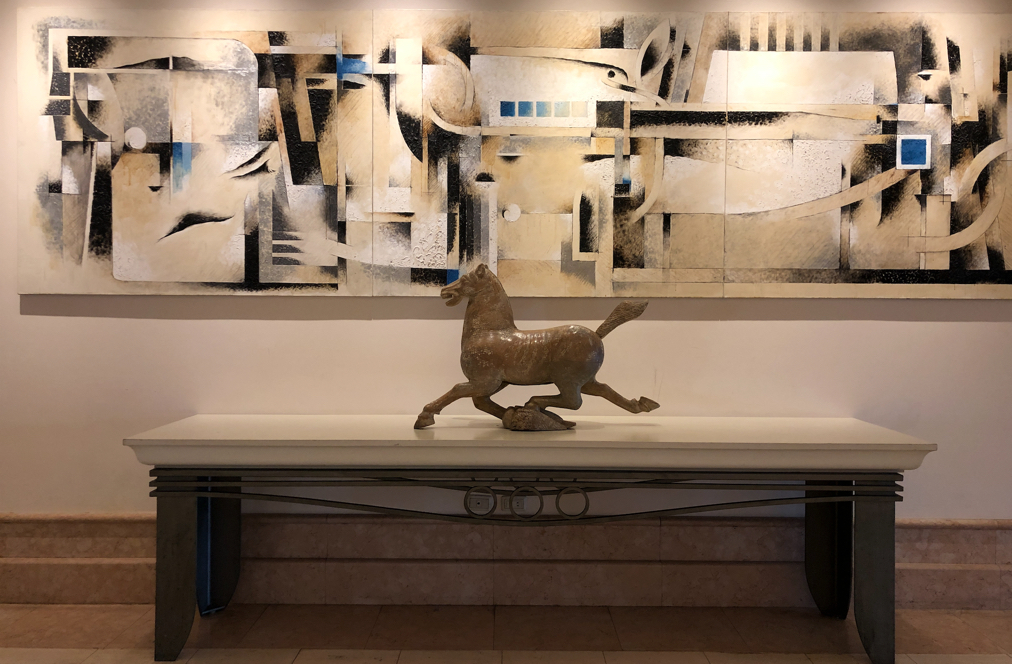 After a long, productive meeting, lunch was, um – interesting. Pretty, but not terribly appetizing or satisfying: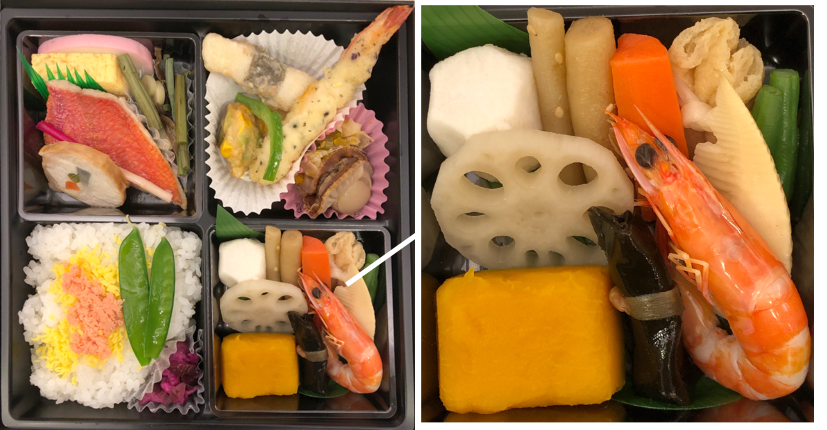 I went into this trip with what I'd hoped would be an open mind about food, but if I'm going to tell the truth, I was struggling with it. That odd disc-thing with the holes in it next to the shrimp was interesting: it had the consistency of a crisp slice of apple. But I couldn't eat the shrimp. Look at his big, sad, beady eyes and his delicate little legs! Interestingly, this is the third time I've had a Japanese meal in this hotel where there were exactly two pea pods. I wonder if that is a traditional thing or has meaning?
After lunch I had a long break during which I stole a quick nap in my room before going to my last meeting of the day.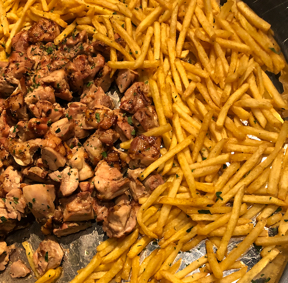 This evening we had a networking social thing scheduled from 6-8pm. I had planned to skip it, but as it was at an Italian restaurant (which, by the way, seem to be very common here), I figured I'd at least enjoy the food, so I went. It was nice to see everyone in this more relaxed environment, but as I am still very new to this group, these networking events are a bit socially painful for this introvert. Having not eaten more than a nibble at lunch, I was very hungry – but I expected Italian food, not a big pan full of french fries with diced chicken in the middle! They later added some actual Italian dishes to the buffet, but by then I was already looking to quietly slip out.
On my way "home" I stopped in at a 7-11 and bought myself a little bag of chocolate – so nice to have some comfort food! Then walking back to the hotel, I passed by some neat stuff. This little hall was closed so I had to take my picture through the windows – an entire back wall had this stained glass art: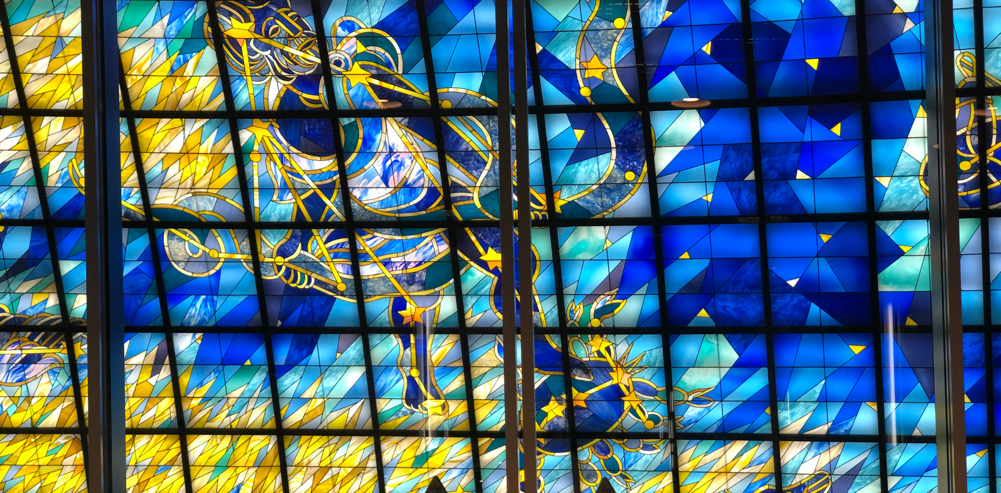 By 7pm I was in my room and calling it a night.
That ferris wheel: Wednesday, March 6
Before breakfast I put in two solid hours of work that I sent to the client, which resulted in them asking me to do a presentation on it later in the day. I focused so much on the work that I almost missed breakfast! I got there just about 20 minutes before the buffet closed. I usually only have only one croissant, but today I purposely ate more than usual so I could deal with skipping the bento lunch. Like every other breakfast this week, I left there covered in crumbs from my croissant. You know, I really don't think there is a way to eat a croissant without making a mess. A delicious mess.
After a rather intense 4-hour meeting that started at 1:30 (they ran out of time for my presentation, which was fine with me), my day was done. I went to my room after the meeting to drop off my computer and grab my coat, then I set off on a quest for Diet Coke and chocolate, then decided I should get some actual dinner too.
On an elevated walkway from the hotel, the view of the ferris wheel was stunning in the late twilight, and I lingered quite a while to watch it change colors again the slate-blue sky: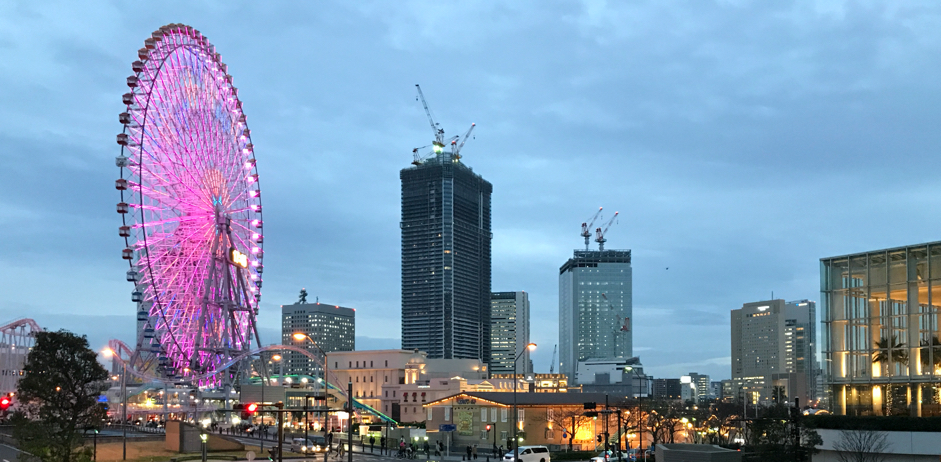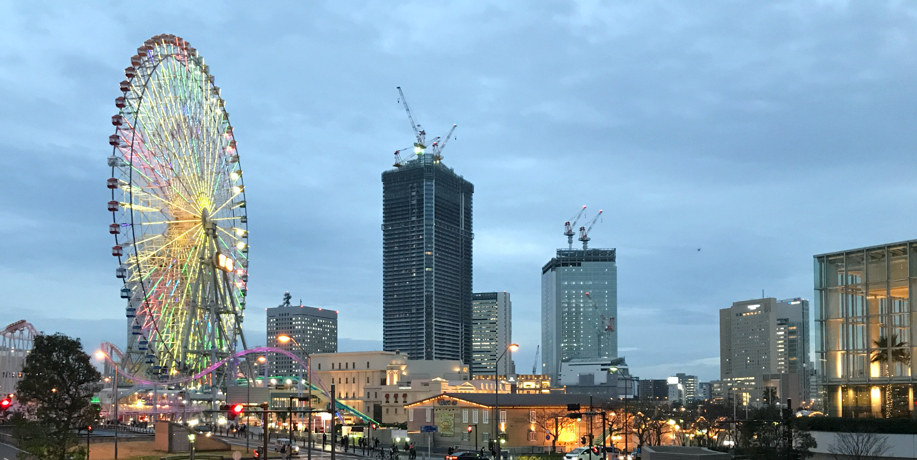 I headed to a mall that is perched on top of the Queen's Square train station, and I ended up at a posh sort of restaurant called Daidaiya on the 4th floor: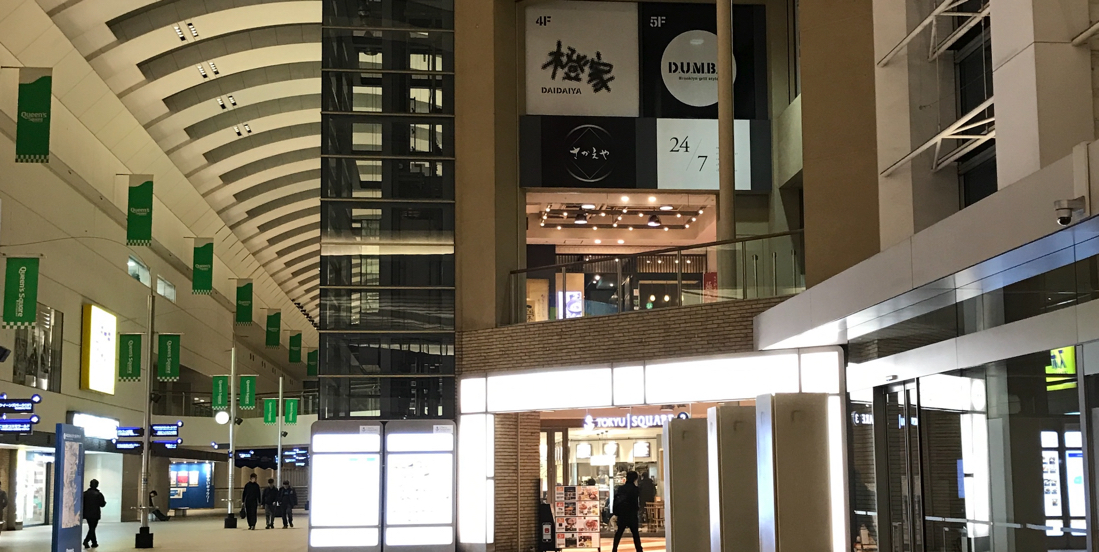 It has a long row of small, private booths that face the window, providing an excellent view of the changing lights on the ferris wheel, of which I decided I'd taken quite enough damn photos, thank you very much. Being directly in front of me and framed in the window as it was, it was like watching a film. So of course I had to shoot some video: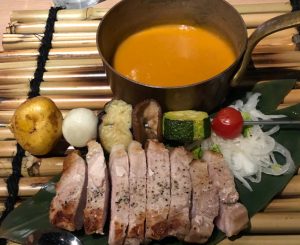 My meal was superb: pork cutlets and roasted vegetables with a pot of hot cheddar sauce to dip it all in — a sort of Japanese fondue. I had that with a carafe of hot sake (which I didn't finish). When I ordered the sake I got the distinct impression it was only on the menu for tourists. Oh well, that's what I am. When the gal came to take my plate away, I said oí shi ("it's delicious!"). She seemed pleased that the Yank had at least put a little effort into it… or else she was placating the tourist.
After dinner I found a "Family Mart" (much like a 7-11) and bought four bottles of Diet Coke (or rather, Coke Zero) and some chocolate candies (or cookies?) called Galbo Choco, then headed back to the hotel and to bed.
Galbo Choco and missing home: Thursday-Friday, March 7-8
Today's breakfast was pretty much like yesterday's, except instead of my usual solo meal, the marketing consultant working with the client joined me. In a sea of PhD physicists and electrical engineers, it was a refreshing break to have a conversation with someone who was more at my own speed! I generally avoid talking much about my work in these blogs about my journeys. Suffice it to say that a few technical decisions were made in these meetings that involved my work and gave me quite a lot more to do — which I enjoyed very much.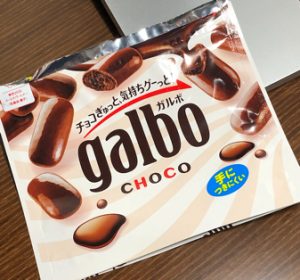 After the meeting I walked over to the convenience store in the convention center and bought several more packets of Galbo Chocos to bring home. These things nearly defy description: think of them as small bits of brownies made with a dense, whipped batter that have been completely desiccated to a chalky consistency, then coated with a thin later of chocolate. This is my new favorite treat that I will forever request from any friend traveling to Japan!
I found myself feeling a little homesick. I missed my husband, Dave, and was feeling what can only be described as Dave-withdrawal.
After a few more meetings, I ended the day with room service: spaghetti bolognese and a glass of cabernet. You can usually rely on finding Italian food in Japan!
The next day, Friday, there was just one more meeting in the afternoon. Earlier in the week I'd come up with grand plans to get up early on Friday to spend the morning in a final blast of exploration, probably in neighboring Tokyo. But truthfully, by this point in the trip I was feeling completely exhausted and just done with adventures. The extent of my exploration was to go up to the top floor of the hotel where they had a lounge with a view I'd yet to see. Yokohama is a very big city with a busy harbor.


I decided to spend a relaxing afternoon in my room catching up on work for other clients while keeping one eye on the harbor below to try to capture on video the elusive amphibious bus. All week I'd caught sight of this thing, but too late to see it actually enter or leave the water. I perched at the little table by the window with my phone/camera at the ready, looking up frequently to make sure I didn't miss it.
And I @#$%! missed it! I looked up and there was nothing. I looked up just a few minutes later just as it splashed into the water — too late as I fumbled to point my phone at it and hit record. I didn't take my eyes off it as it circled the bay, travelled under bridges and around the bend, then came back — all so that I could capture this video of it coming back to land. Not anywhere as interesting as when it went in, but I wasn't about to prolong my vigil to try to catch it agin:
I spent the rest of the evening packing so that I could leave in the morning to start my long journey home, enjoying some final sunset photos from my window. I used my Moment telephoto lens on my iPhone X for many of my photos. It only extends the native 2x lens to a 4x, but that mere doubling of the magnification makes a difference. The first of the photos below is an uncropped image of the harbor cranes, taken using the Moment lens, and the second was taken with just the iPhone X native 2x lens: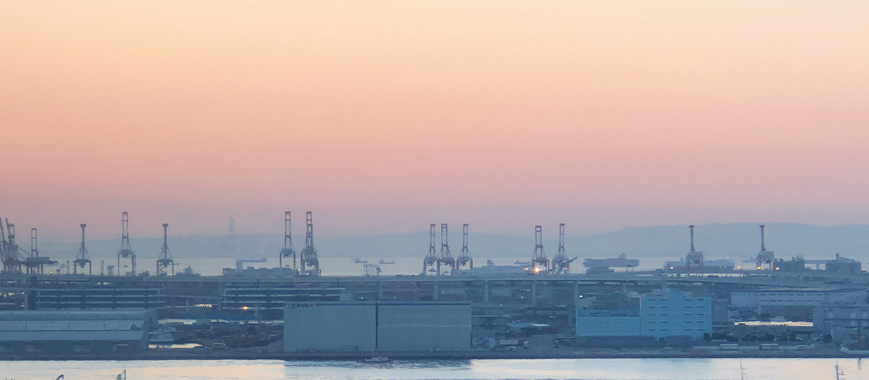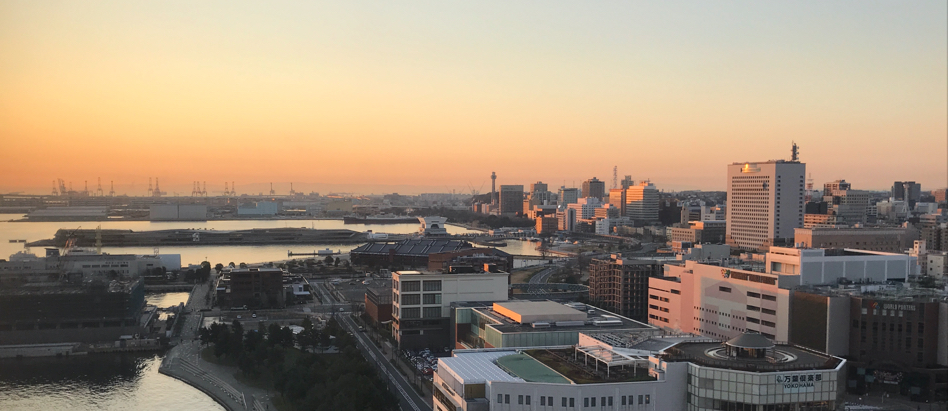 This ended my trip to Yokohama. The next morning, March 9 (my birthday, by the way), I took the hotel's shuttle back north to the Narita airport for my uneventful journey home.
Only because my photos in this blog seem to have focused so much on food, I may as well include my last meal in Japan, which I had at the airport: