This trip would take me the furthest from home: I was scheduled for six days of meetings (Sat-Thurs) in Auckland, New Zealand. As usual, I planned to arrive a few days early, both to give myself a chance to acclimate to the time zone and to play tourist. I booked myself at a little B&B for the tourist part of my trip, a walking tour of the city, and an evening mid-week at a local theater to see a play.
About a week before my trip, in the last few days in January, there was severe flooding in Auckland, with flooding even inside the airport terminal. (The below photo is from the Sam Chui Aviation and Travel site.)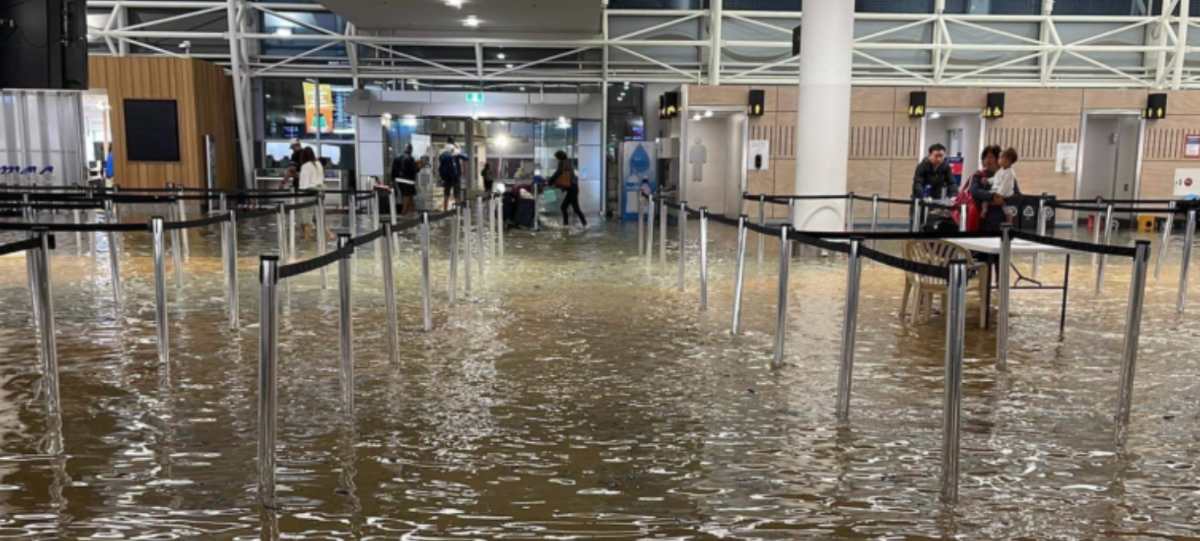 Even though the airport [very impressively] pulled itself together the very next day and this had little affect on the places where I was going to be, this provided a bit of pre-travel drama. And if you're wondering if this is foreshadowing of more weather drama to come… yes, it is.
Travel and the airports
My flight was scheduled to leave PDX in the afternoon instead of the usual "leave for the airport before the sun is up" adventure. I thought it would be nice to be able to have a relaxing day before heading to the airport. But instead my day was spent feeling like I was waiting for the other shoe to drop.
I had a leisurely breakfast with my partner, then spent the rest of my time that day packing and repacking, making sure I could survive for up to three days with just my carry-on bag. Along with my two laptops, this made my carry-on a bit heavier than I'd like, but this was a small price to pay for how much less stressed I was on the trip. Want to lose my luggage, airline? As long as you get it to me within three days, I'll be just fine.
I also prepared two large Ziplock bags of trail mix—mixed nuts and raisins—putting one in my checked bag and the other in my carry-on. I almost always bring a bag of trail mix when I travel so I have a tasty snack and potential meal-replacement at hand. This is great for in case a flight delay has me trapped in an airport with no healthy food choices, or if I'd rather hide in my hotel room than go to a social event or restaurant. And for this extra long flight, I figured I might be grateful for more to munch on the plane.
Finally at about 2 pm I left for the airport for my 5 pm flight.
The art at PDX was wonderful, as usual. Today's display was of large portraits made in crochet, by fiber artist Jo Hamilton. Just amazing, especially if you understand crochet.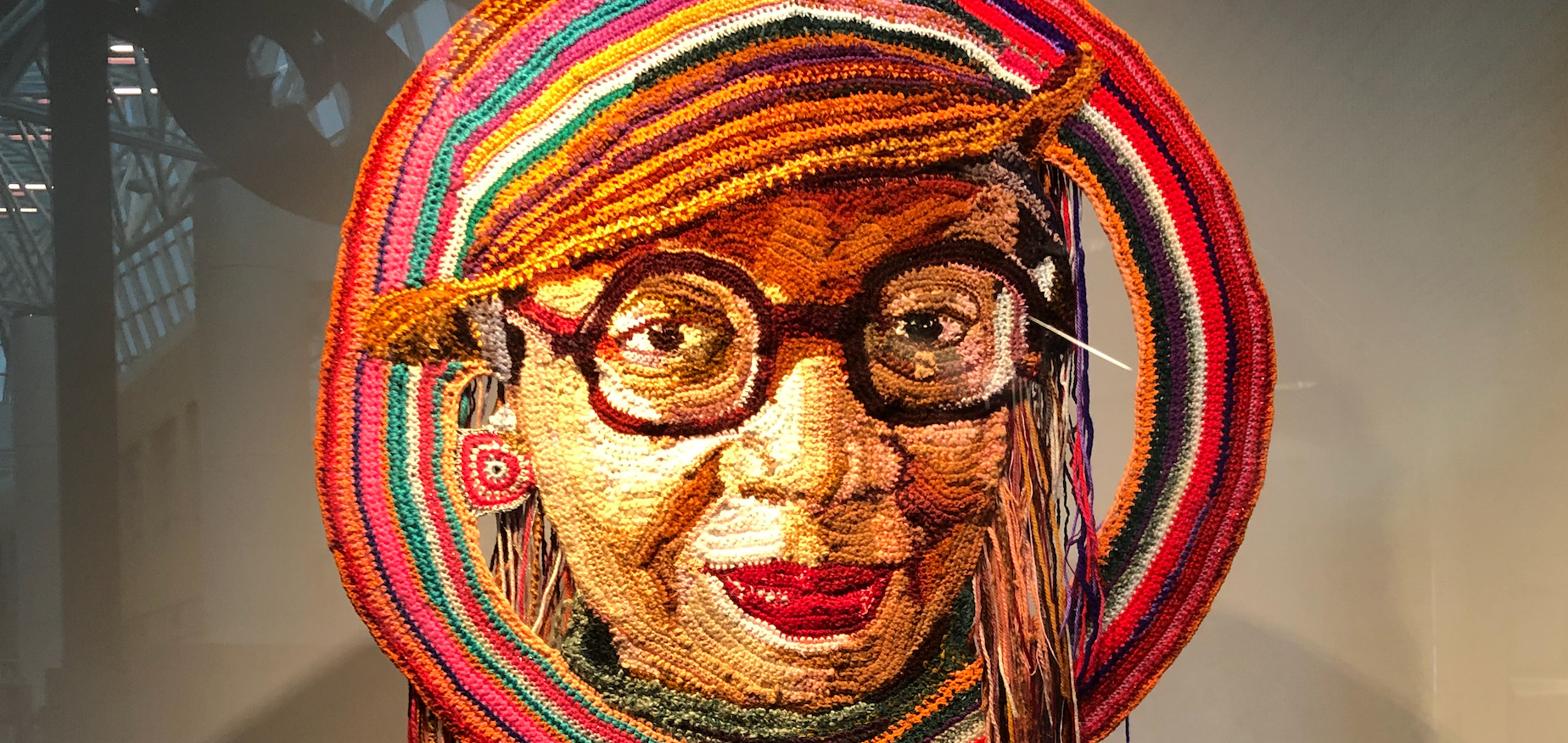 When I reached the TSA security line, I was the only person there. What a great start to the trip! Next pleasant surprise: I had been at the airport for only a short time when I received a notification that my bag was already on the plane. Apparently my bag was anxious for its trip to LAX, as it was settled on the plane nearly two hours before I was. These notifications are one of the things that I really appreciate about flying Delta, as they let me cross that major worry-point off my list, at least for the current leg of the trip.
After a brief and uneventful flight, I landed in Los Angeles just after 7 pm with about three hours until my flight to Sydney. My departing gate was very near where I had arrived, so I had a leisurely walk around the airport just to stretch my legs. I noted with pride [arrogance?] how much nicer my home airport PDX is than LAX.
I walked around quite a lot looking for art before I found a display of this piece, by Lia Halloran, from her series called "Your Body is a Space that Sees."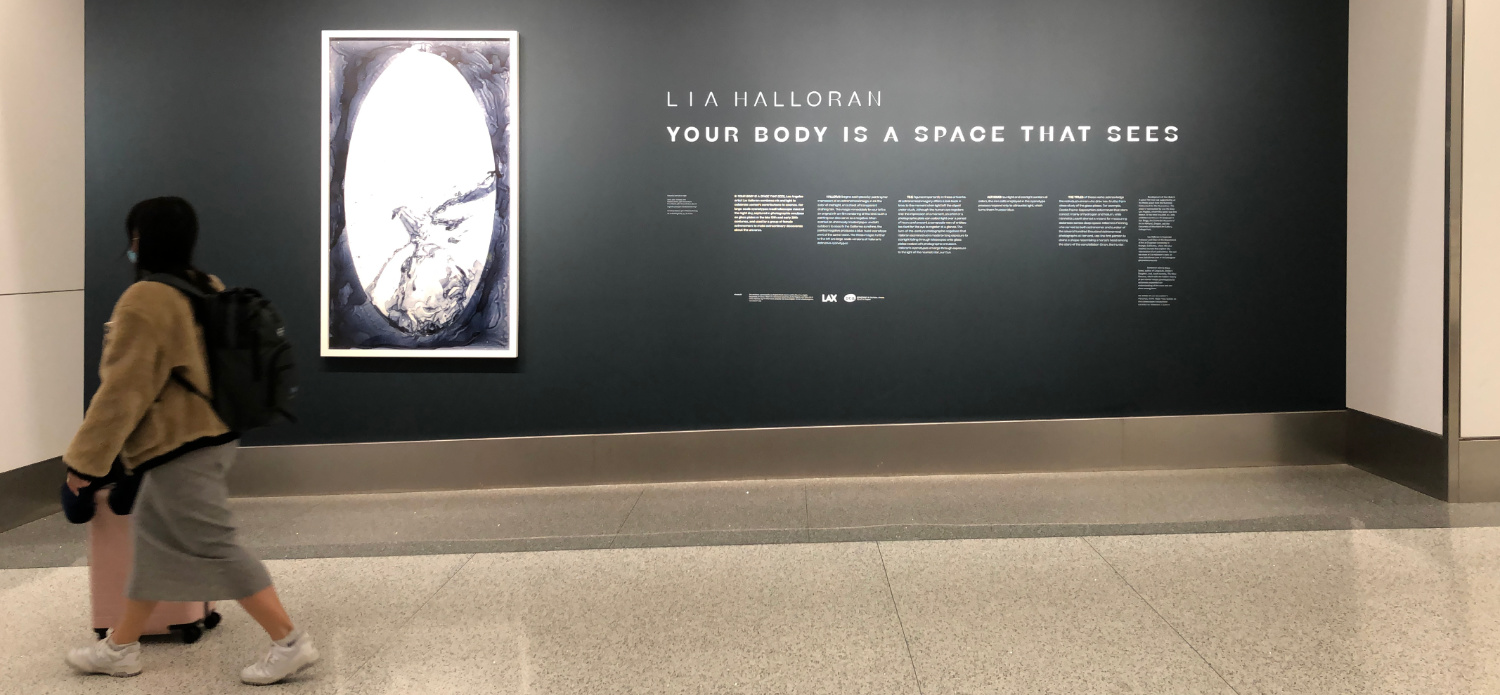 Here's a close-up. This is ink painted on transparent drafting film: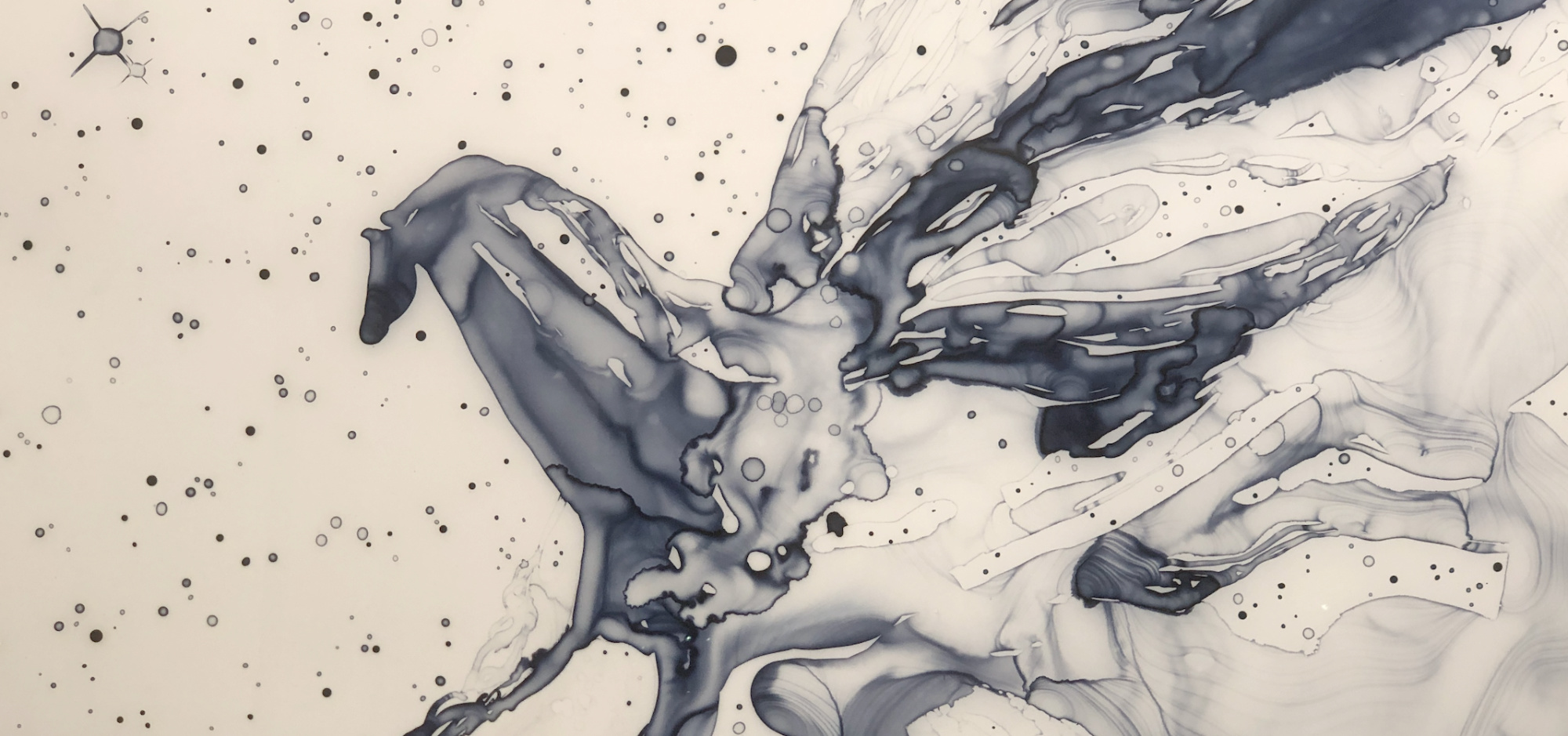 I am pretty sure that there were more pieces to this collection, but after trying for a while I gave up looking. Those who know my obsession with fonts won't be surprised that I was fascinated by the font used in the signage for this art. To be clear, I think the font is a pretty unusable, but it was interesting nonetheless. Here are some close-ups:

After obsessing on the font for a while, I looked for a nice place where I could relax and charge up my devices while waiting another two hours for my flight. I found some interesting stone-sculpted seats, but they were every bit as uncomfortable as they looked.

So I headed back to the gate, found a seat with a working power supply, and settled in with my book (on my iPad).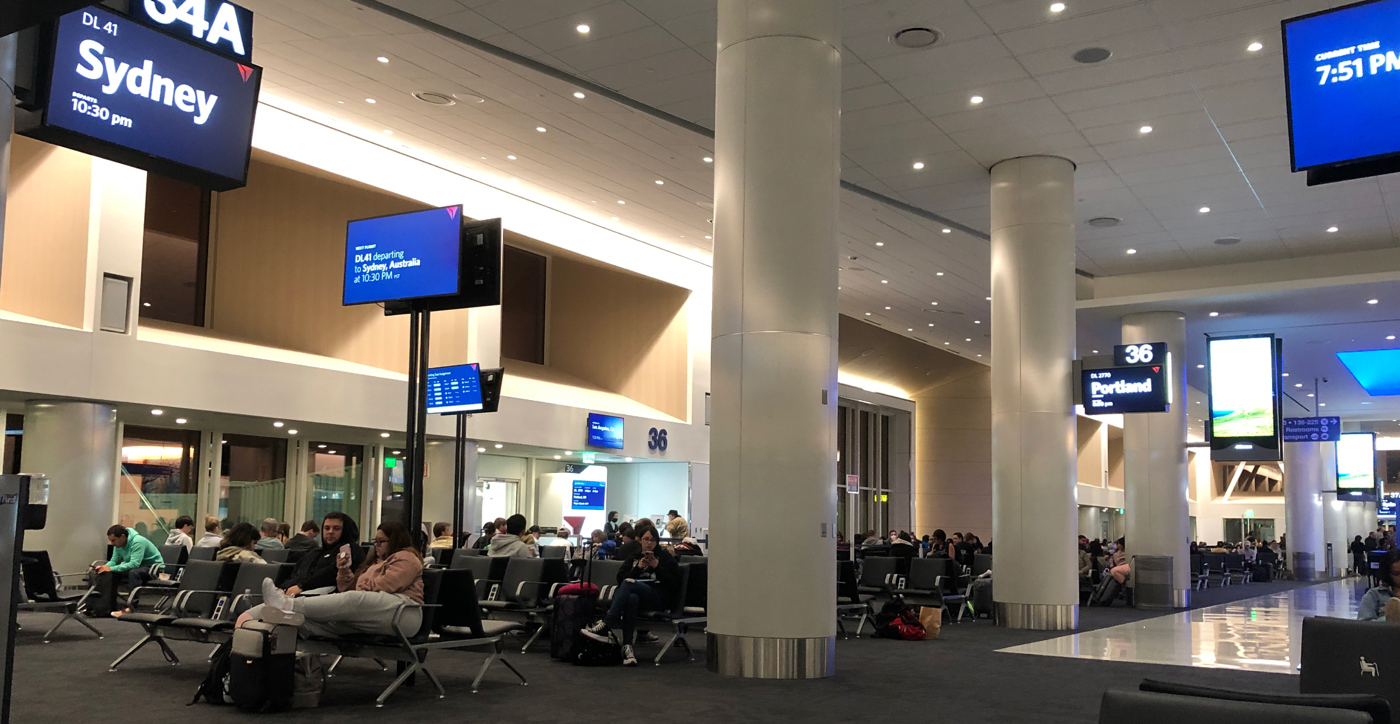 But as I waited, I started to worry. I had two bags of trail mix in my bags. I hadn't considered when packing that Australia and New Zealand are both extremely strict about food (and plants, dirt, and animals) coming in from other countries. Dave had mentioned this to me before I left the house, but by then I was all packed up and didn't want to take it all apart. Was that a mistake?
I'd learned enough from watching this entertaining YouTube channel about border control to know that you must report every single thing asked for no matter what. With all the travel I'd done, I had never had to declare anything, and now the thought of having to do it in one of the strictest countries in the world made me very nervous. So I decided to breakfast mostly on my trail mix rather than buying a meal at LAX or eating the food on the plane. Whatever was left would probably go into the trash at the Sydney or Auckland airport. Of course I had a bag in my checked bag to worry about, too.
Finally I got on the plane for my fifteen-hour flight to Sydney, which left not long after its scheduled departure time of 10:30 pm. During the flight as I munched my way through my bag of trail mix, I watched a few forgettable films, got a little sleep (always a bit difficult when sitting up, but not impossible as I had the window seat), read a bit, and started and completed a *1200-piece jigsaw puzzle on my iPad.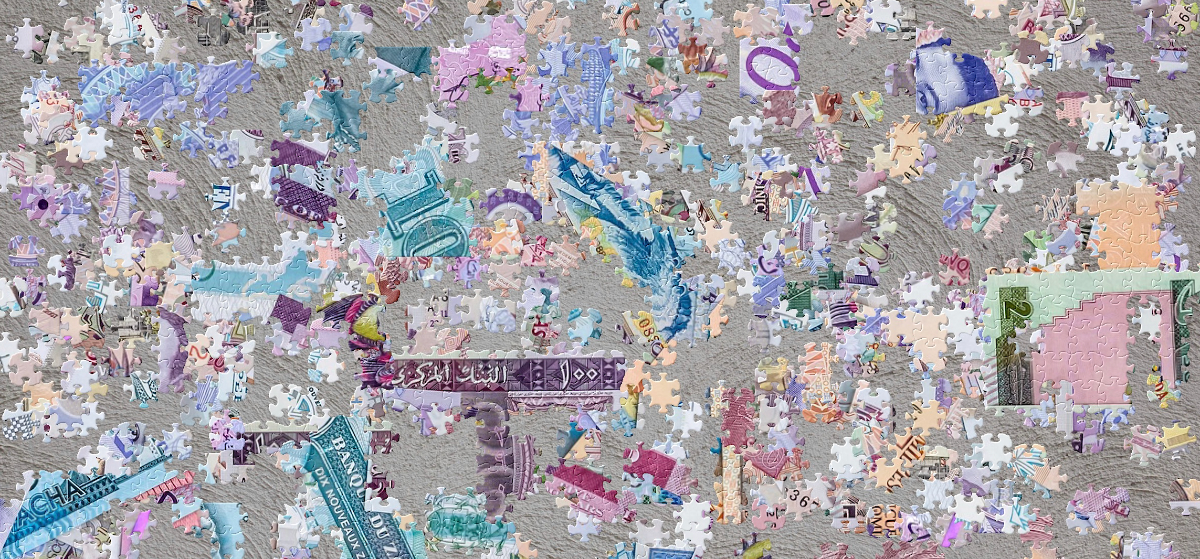 * My name is Kathleen, and I am a puzzle addict. The app I use on my iPad for jigsawing is called Astra Jigsaw. After you buy a few of their images, it unlocks the ability for you to upload and add your own images to turn into puzzles. I highly recommend this app.
I won't quite say "before I knew it we were approaching the Sydney Airport," but this potentially grueling trip did seem to end before my brain was completely numbed.
International flights are always disorienting, and in this somewhat compromised state it was nice to realize as I left the plane that I wasn't going to be questioned about the trail mix in my checked bag after all. I was just connecting to a flight onward to Auckland, so I should have known this, of course.
I wandered about the Sydney airport, walking off the daze of my previous flight with about two and a half hours until my final flight to Auckland.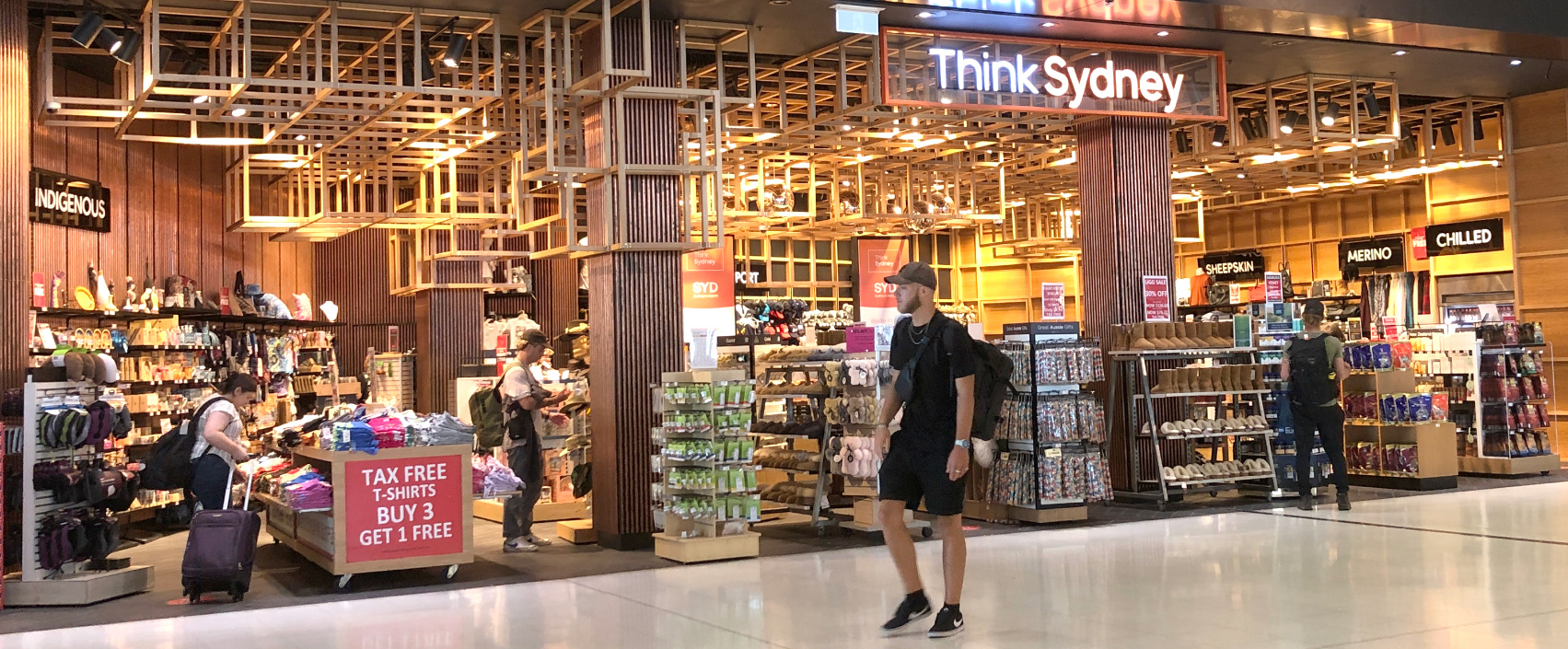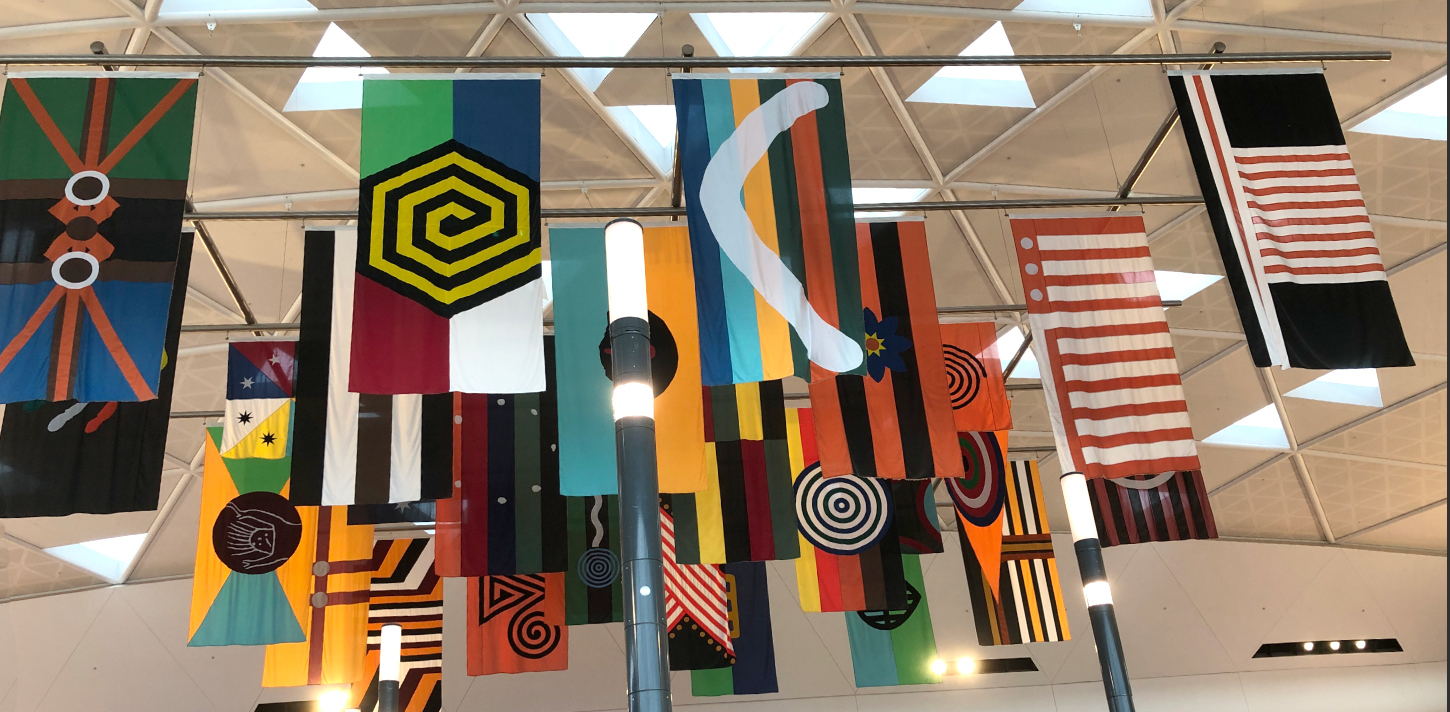 I saw many displays of Ugg boots in the stores —I'd never realized this was an Australian brand. Also I was very amused by the name of their coffee shop.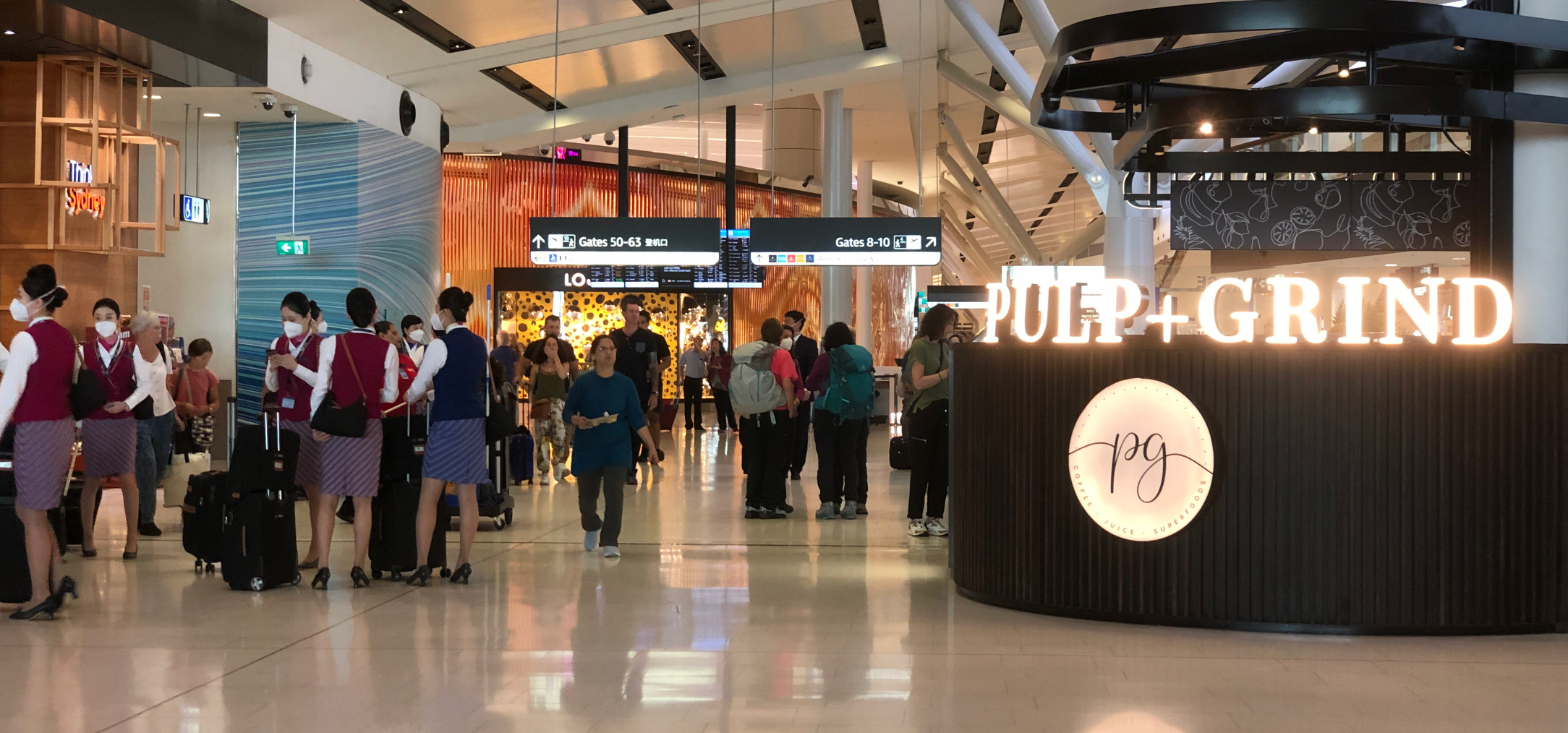 Eventually I wandered to my gate. From the window on one side I could see the Sydney Airport's way-off control tower with a forest of distant harbor cranes as a backdrop. It looked like a fun water slide.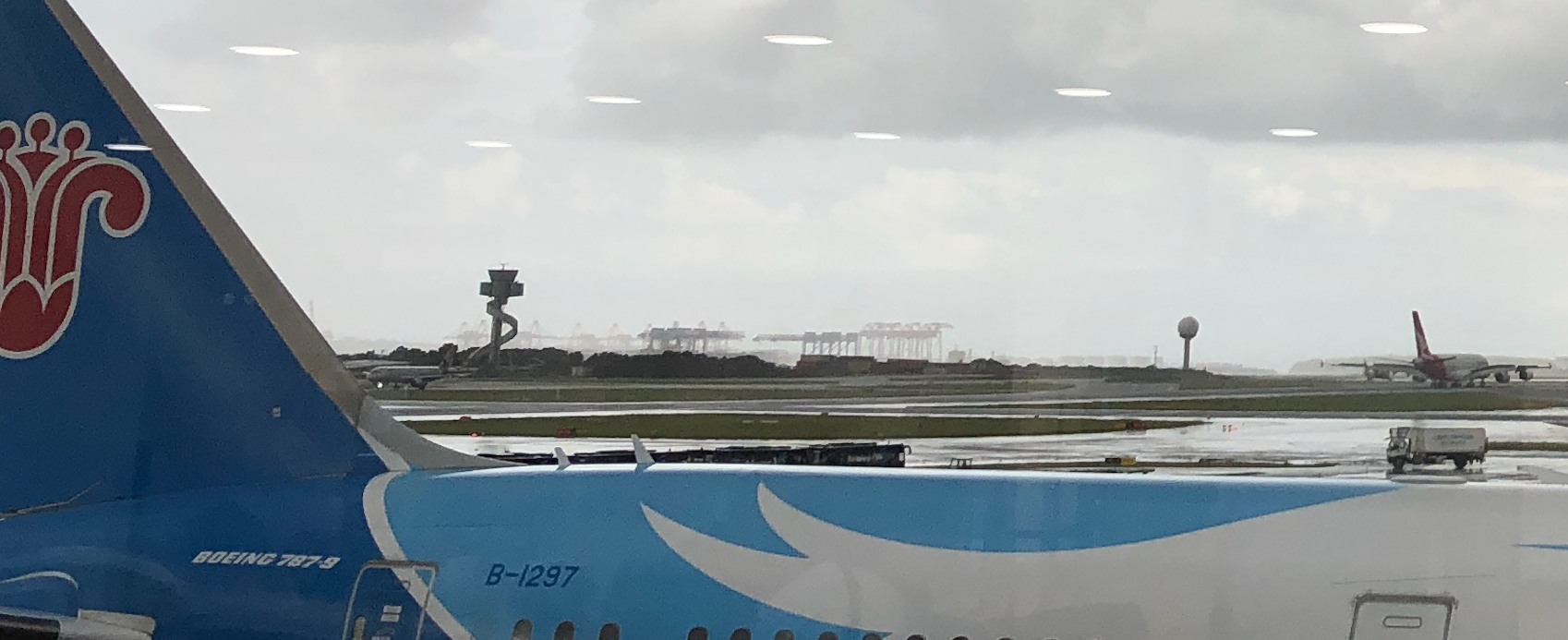 My family has a rule that you cannot say that you've been someplace unless you left the airport and were away from it long enough to need to use the bathroom. So, while I technically can't say I have been to Sydney, I did get this nice photo of the skyline from the window at the airport: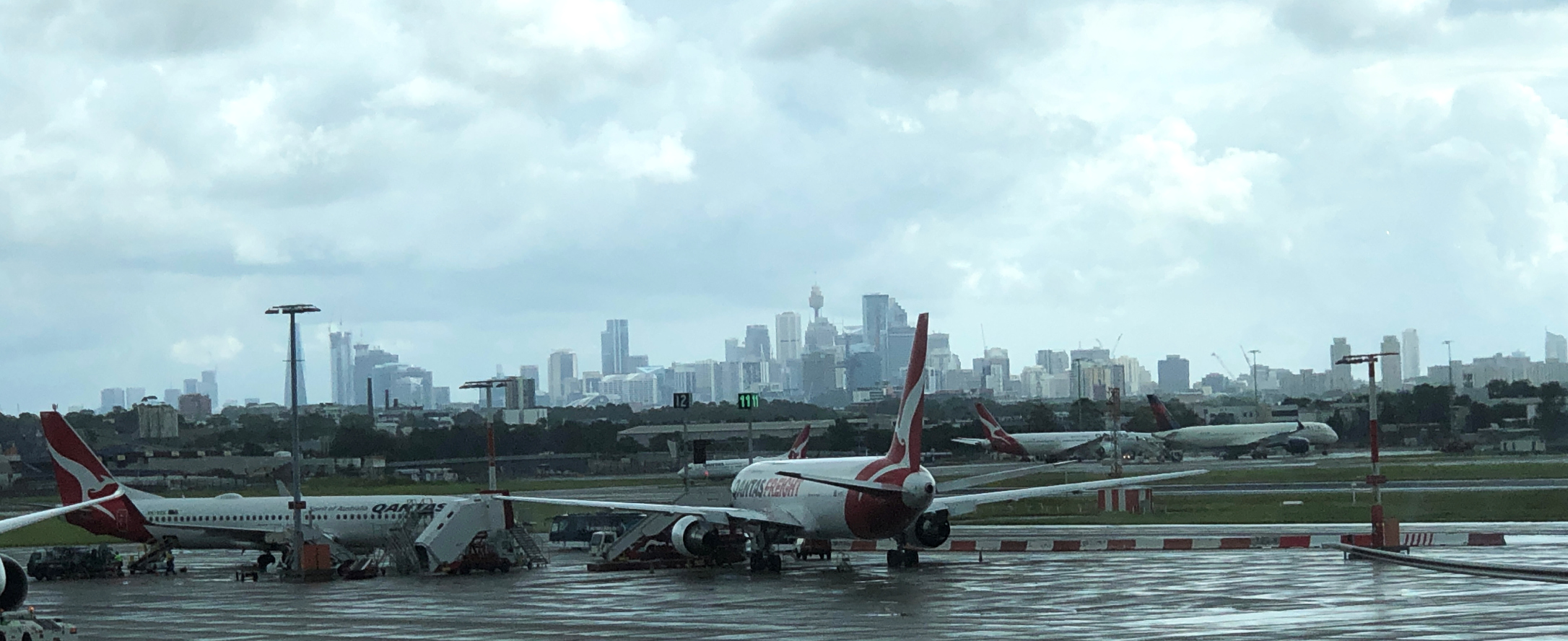 Finally I boarded the plane for what turned out to be a completely uneventful flight to Auckland, and just three hours later, I was walking into the AKL terminal.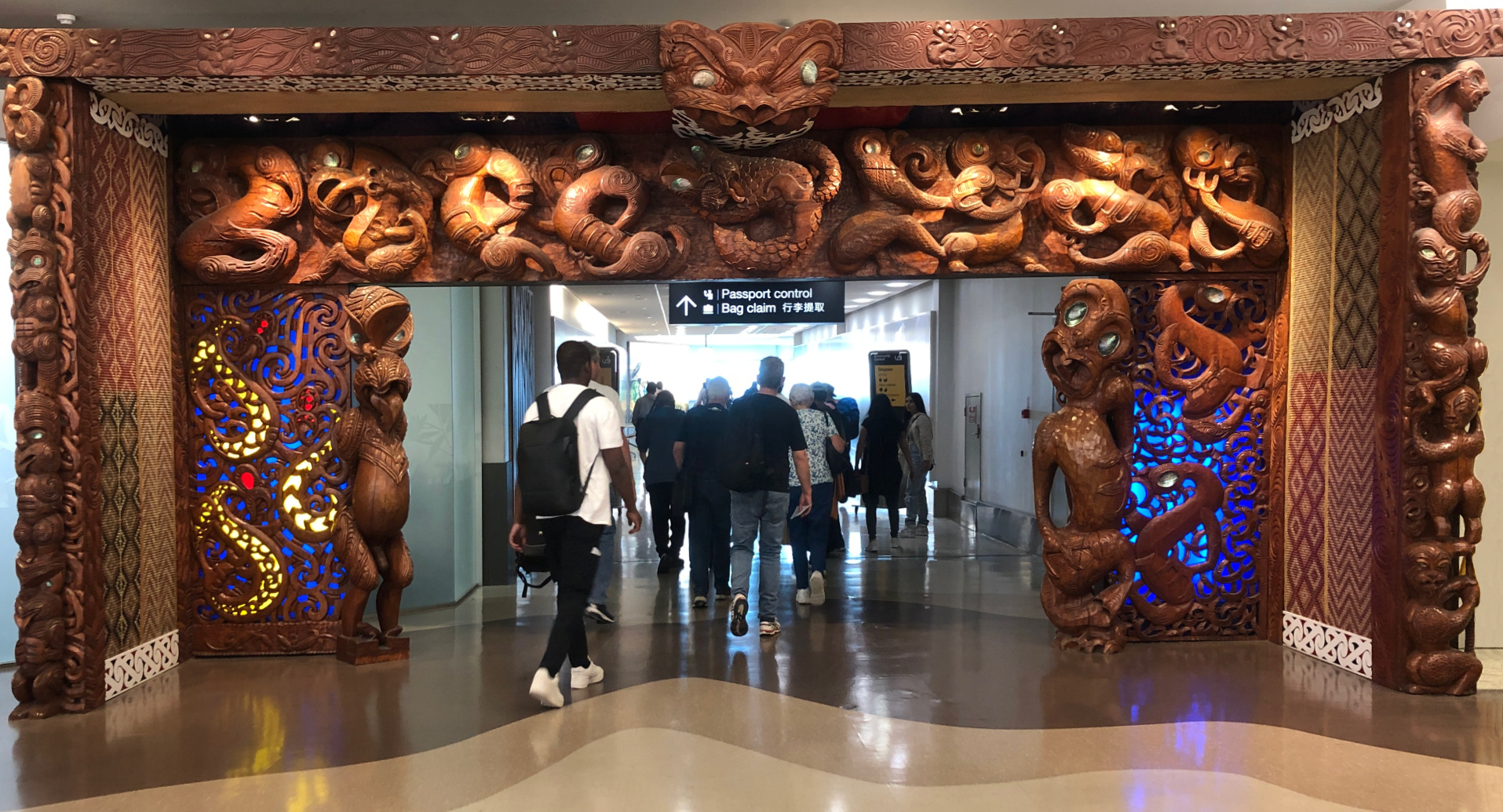 Now to have that chat with the New Zealand border control that I'd been worrying about, although their customs card was less strict than that of Australia. When I spoke with the agent I declared every single thing I had with me, trail mix and all, and not an eyebrow was raised. I sent my carry-on bag through the x-ray conveyor with no alarm bells ringing, picked it up on the other side, and was sent on my way.
I was pretty pleased with my easy trip through customs, but was even happier when I arrived at the baggage claim just in time to pluck my checked bag off the carousel. As this last flight was not Delta, there had been no baggage alert. Not until I had my bag in hand did I realize just how much dread I had been holding onto about the potential for a lost bag. Breathing seemed a bit easier now.
And so, having left Portland on a winter Sunday evening on February 5th, I walked out of the Auckland airport on a summer Tuesday afternoon on February 7th. Combining my sleep deprivation with the general disorientation from so many hours on planes, I was in perhaps the breeziest go-with-the-flow mood any traveler could be in.
I had arranged with the B&B to send someone to pick me up, as it would cost about the same as taking an Uber while saving me some hassle. I strolled to the waiting area in a rather delightful haze, luxuriating in the mid-70s temperature of this serendipitous summer and the gorgeous, unfamiliar trees (much more obsessing about the trees later).
When the car arrived, the driver helped me stow my luggage, I got inside, and we had a lovely chat as we drove just shy of 11 miles (18 kilometers) northwest to the B&B, located at Blockhouse Bay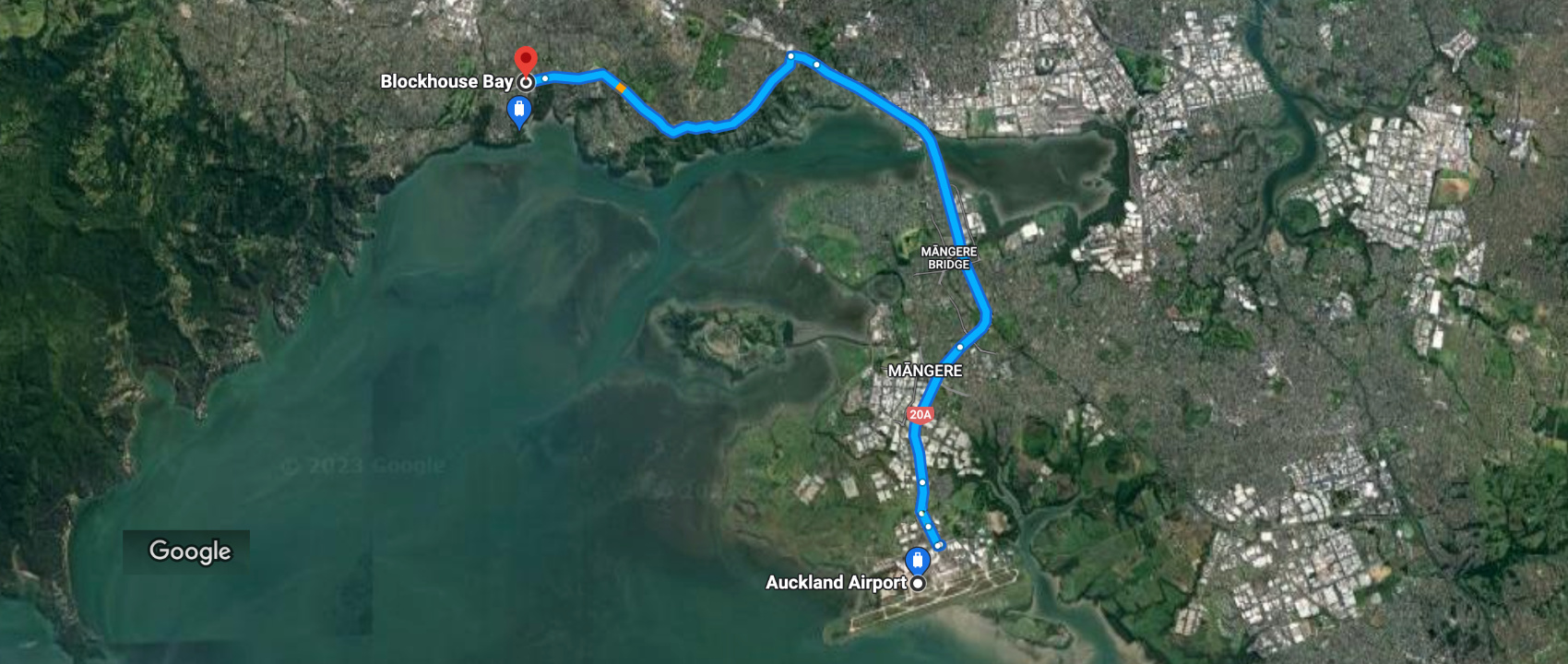 My driver was Tim, one of the B&B hosts, who was picking me up on his way home from work. He works at a quilt shop, where he operates a long-arm quilting machine and teaches sewing classes, so we had a lot to talk about!
The distance wasn't so much, but it took a surprisingly long time due to the traffic. In contrast to so many of the roads where I live in the US, most of the roads we traveled had just one lane in each direction, which slowed everything down quite a bit. Later in the week I asked my hosts their opinion about Auckland for those who might consider moving there. They said that they love it, except for the horrible traffic. I must say that I agree. In fact, I might never complain about traffic in Portland again!
Tuesday: The Dovecote House B&B
We finally arrived at our destination, the Dovecote House B&B, and Tim helped me with my luggage.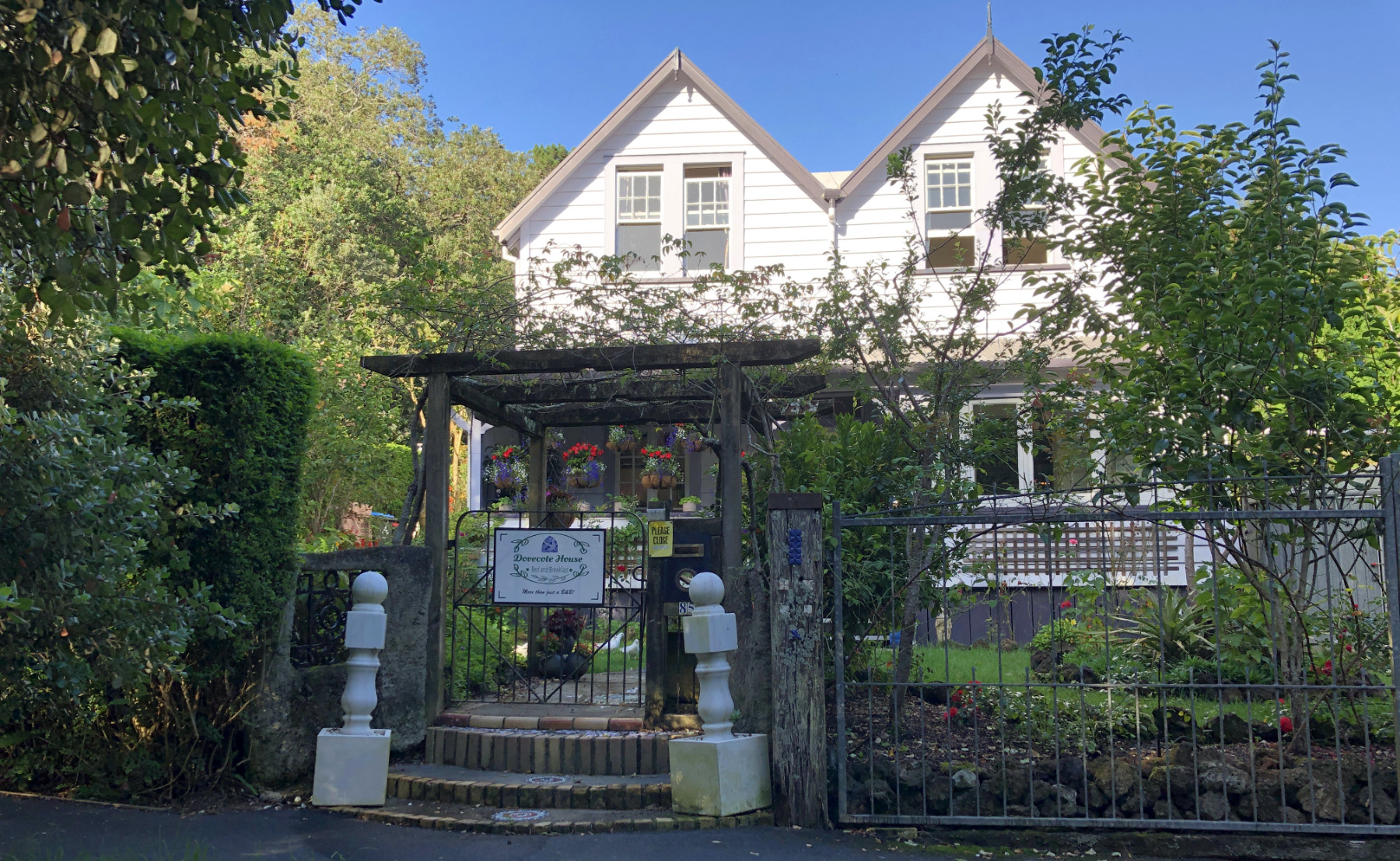 We entered the side gate into a charming little yard that was lush with plants. The rough brick patio had a central fountain surrounded by huge-leafed plants and an ambling path by a small lawn.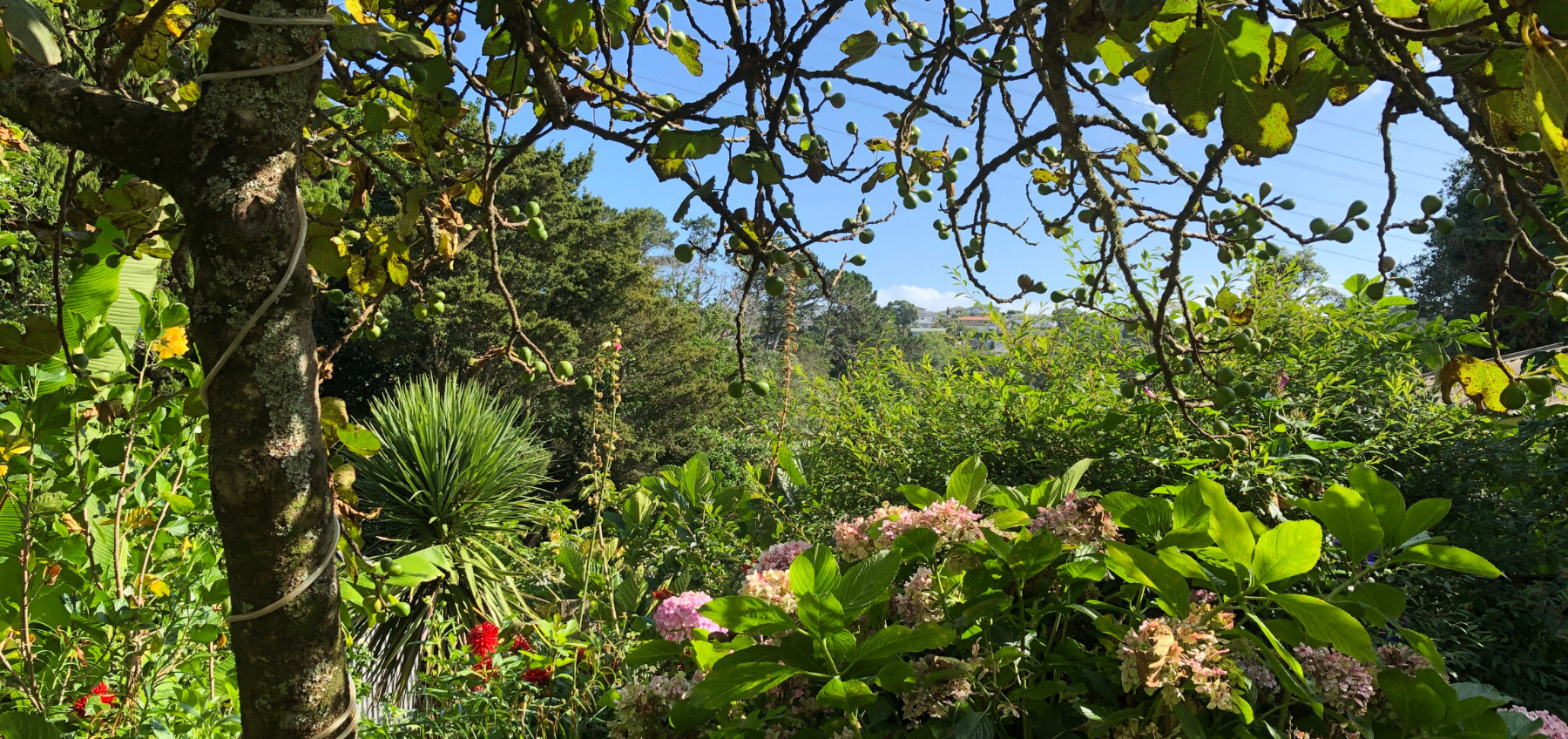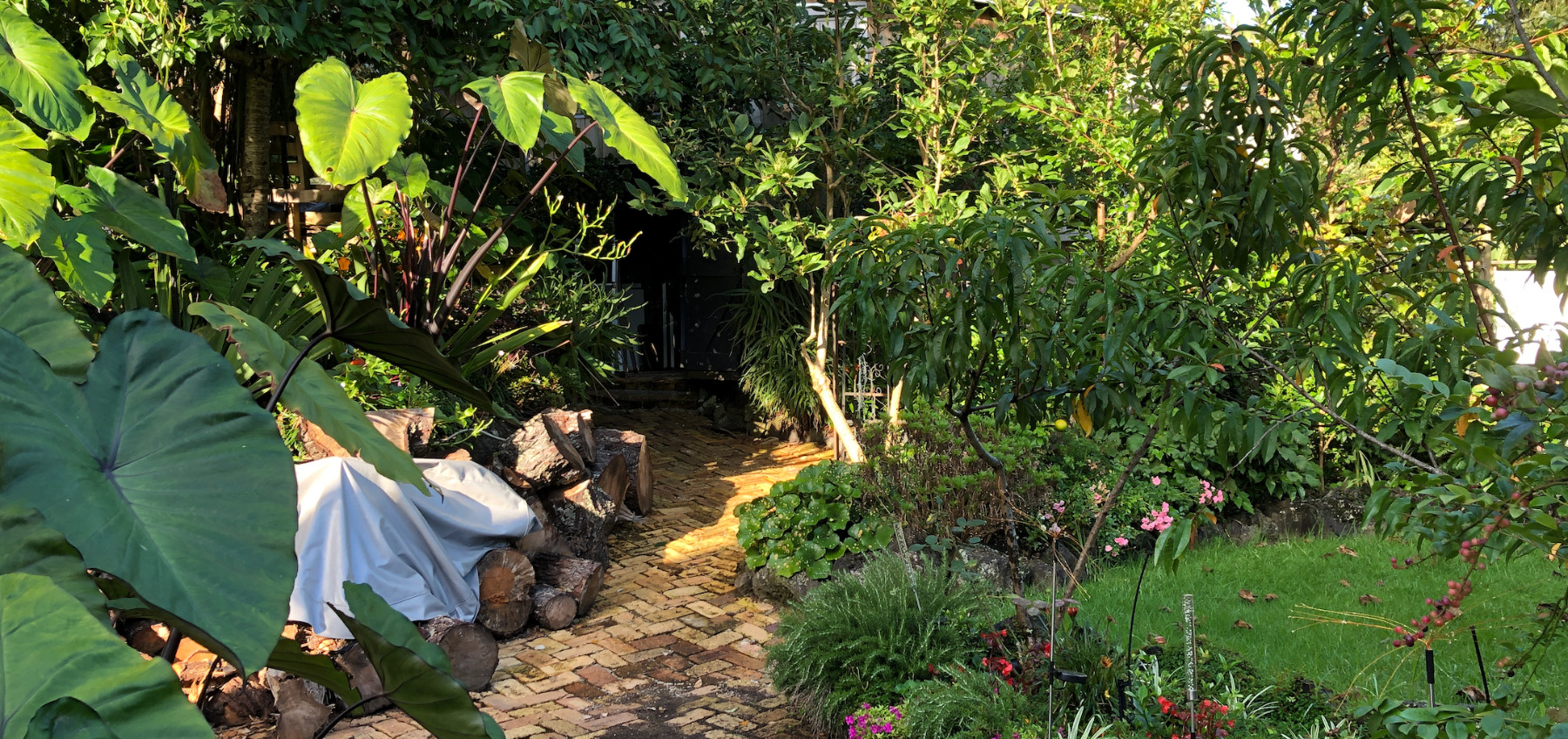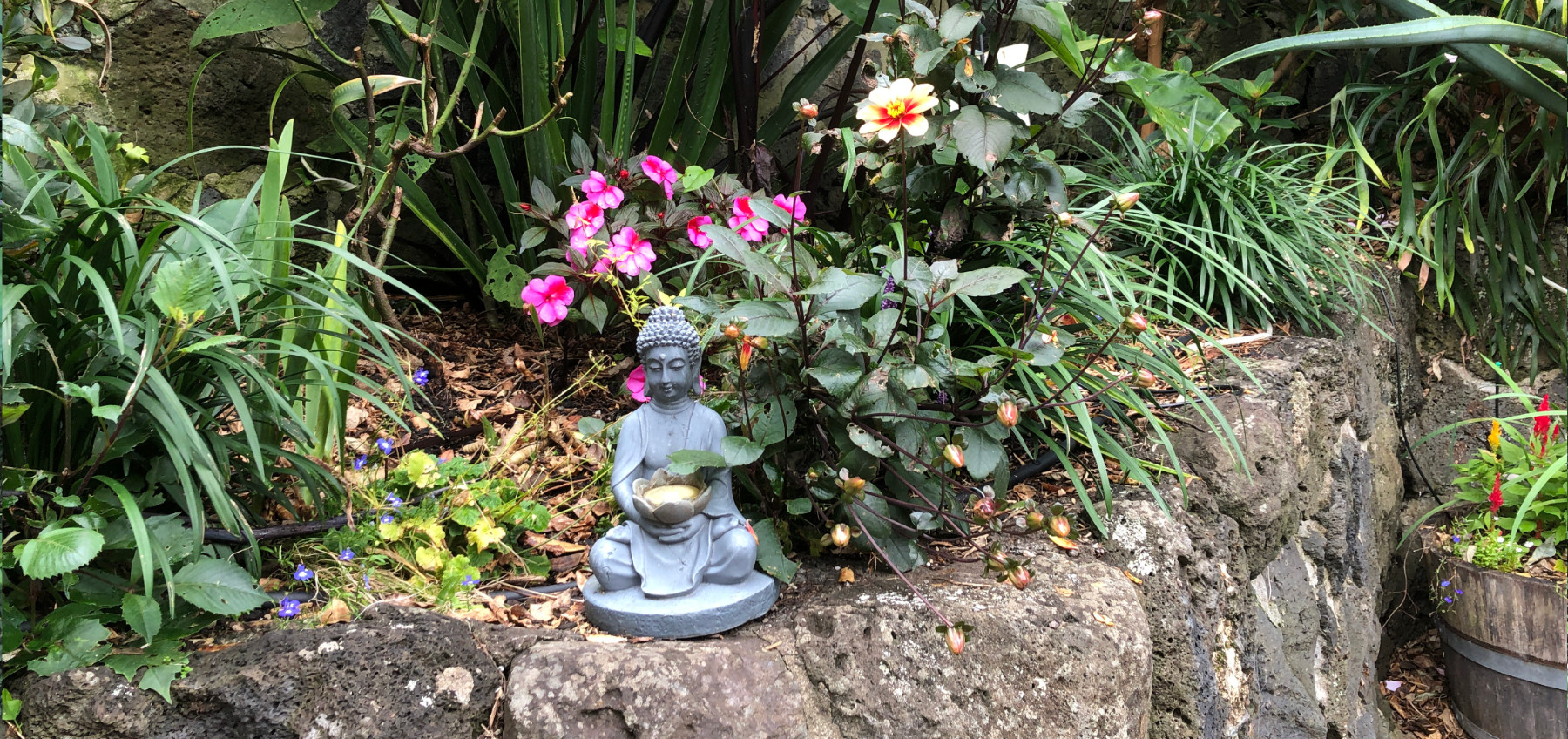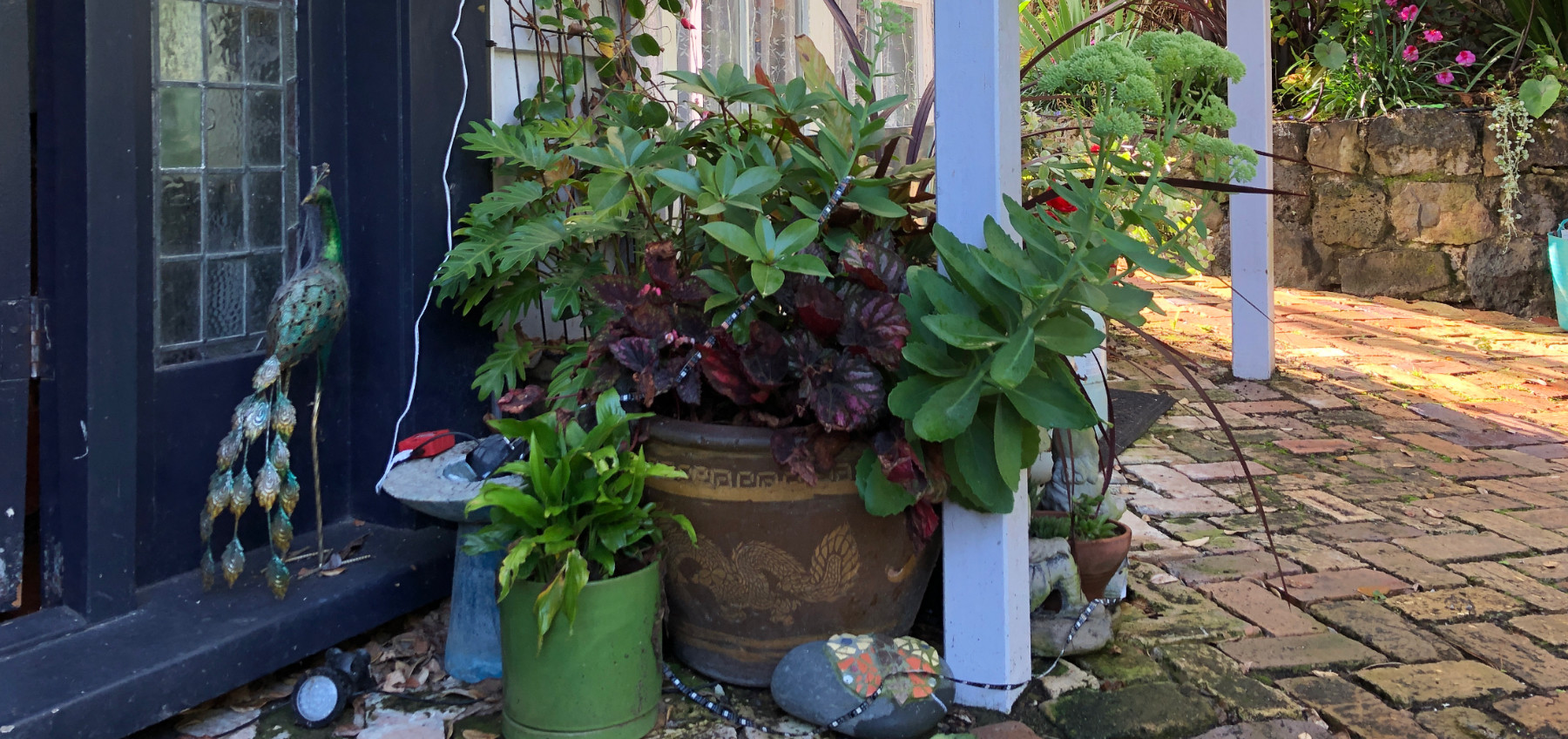 This unique little yard was a perfect segue into the interior of this lovely 100+ year old home.
It was homey, furnished almost entirely with a mid-century-or-older vibe, with high ceilings, a beautiful seating area with large couches, and the wide-open door opening to the yard. What these hosts did so right in their decorating style was that, while much of the art and furnishings matched the older aesthetic of the era of the home, there was also the occasional item that was more modern, eclectic, quirky, and personal. There was something interesting no matter where the eye rested, and the result was a delightfully unique, comfortable, eccentric feel that immediately made me feel relaxed.
Here's the main living room: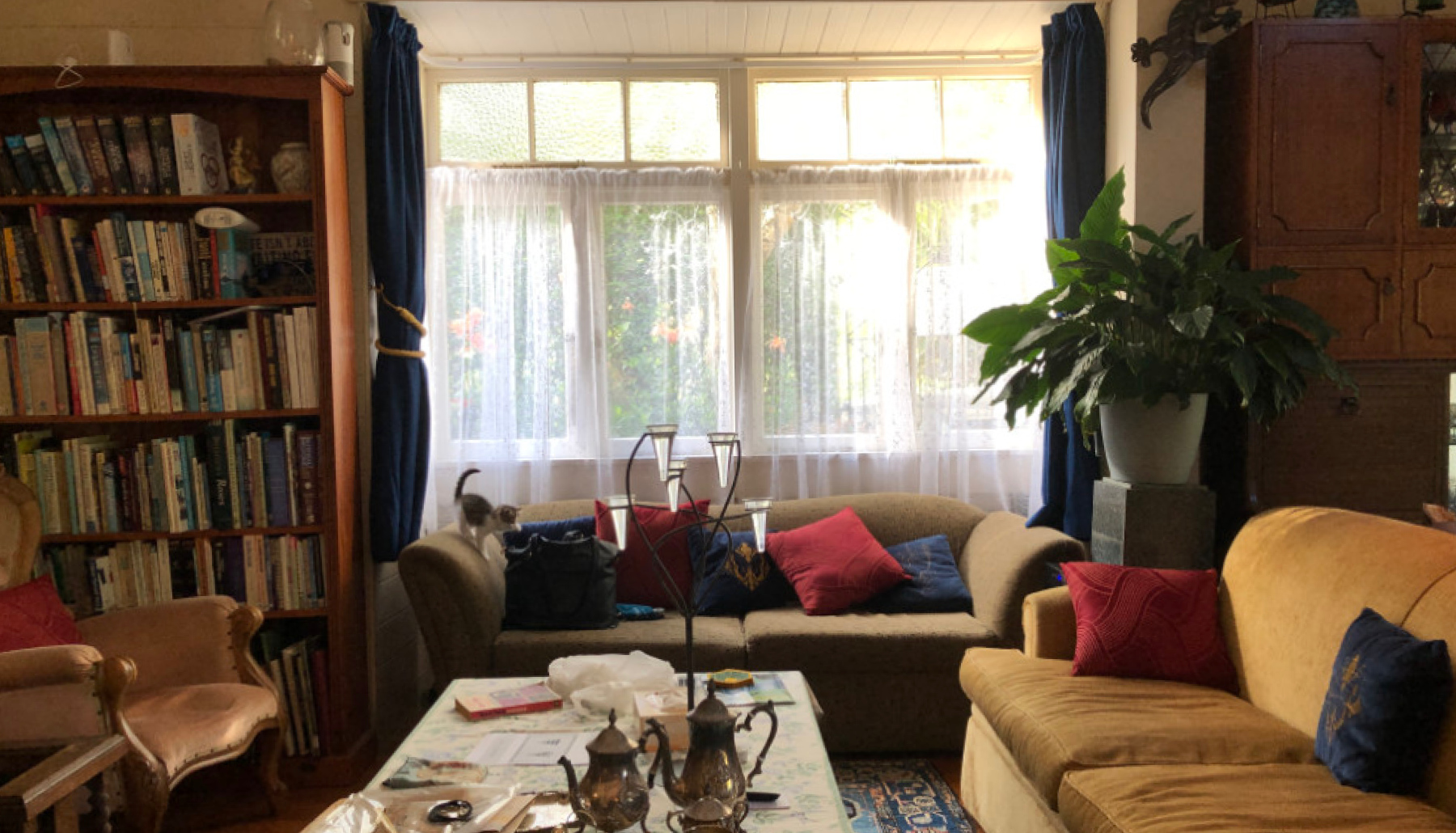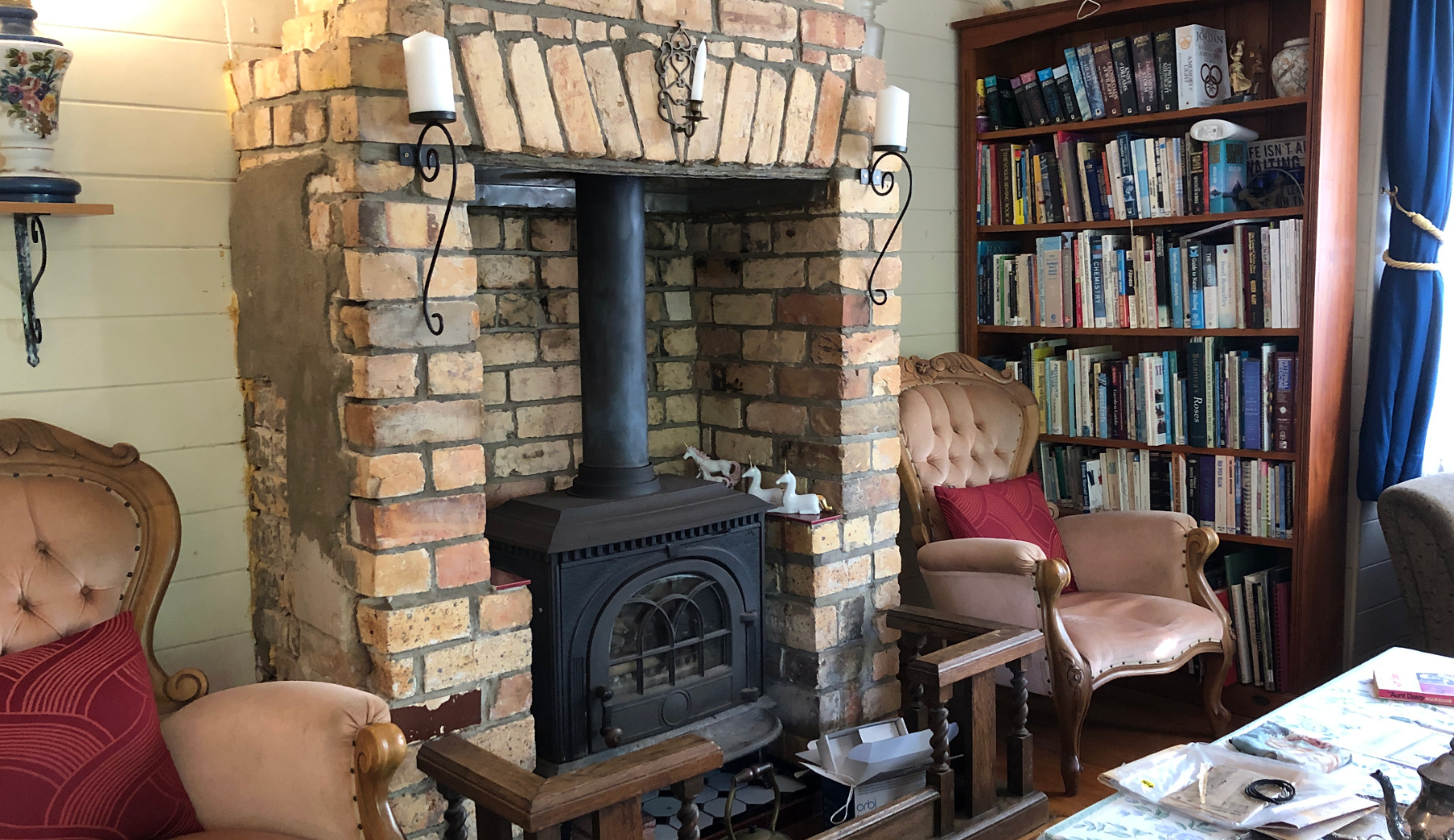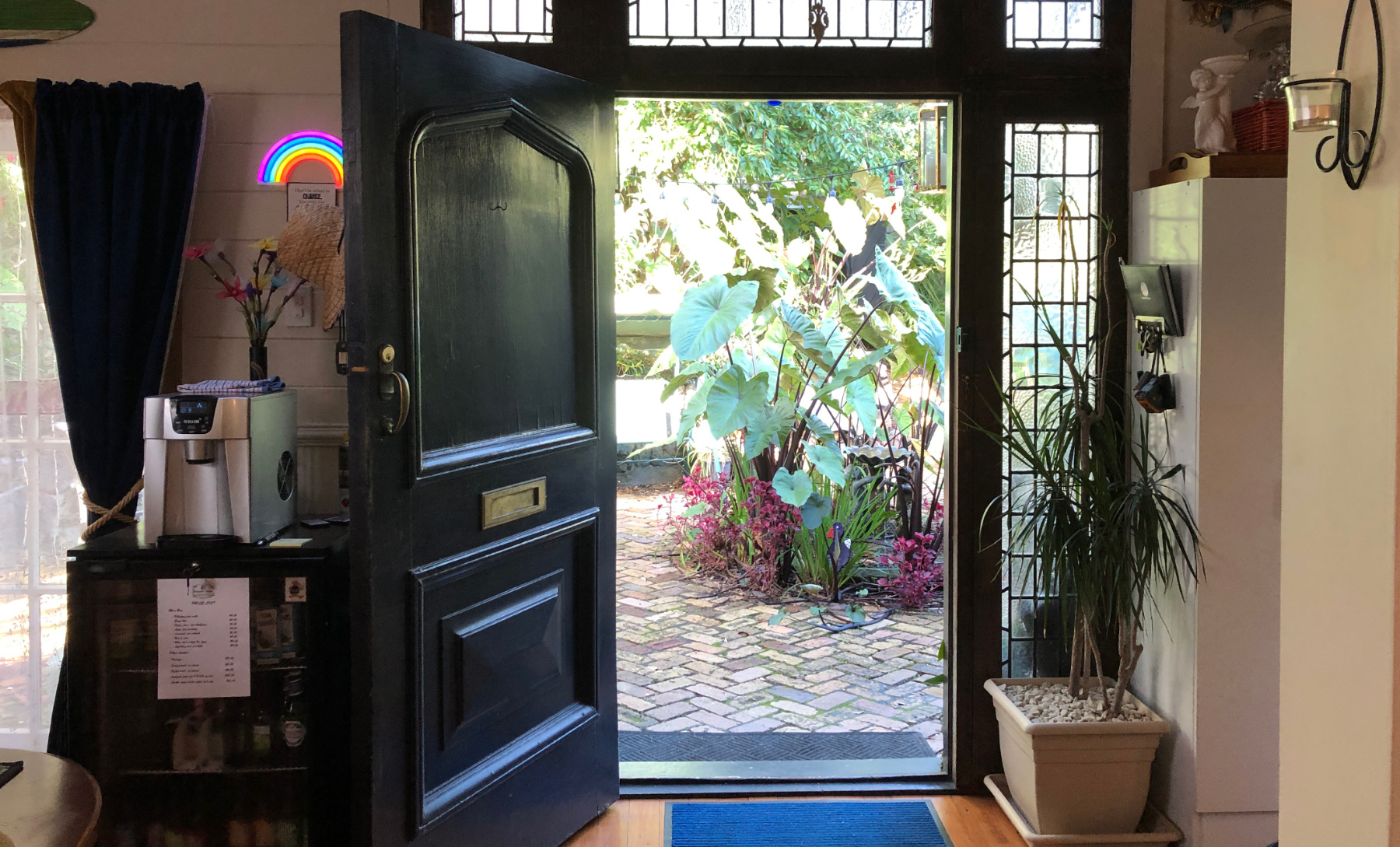 And the dining room: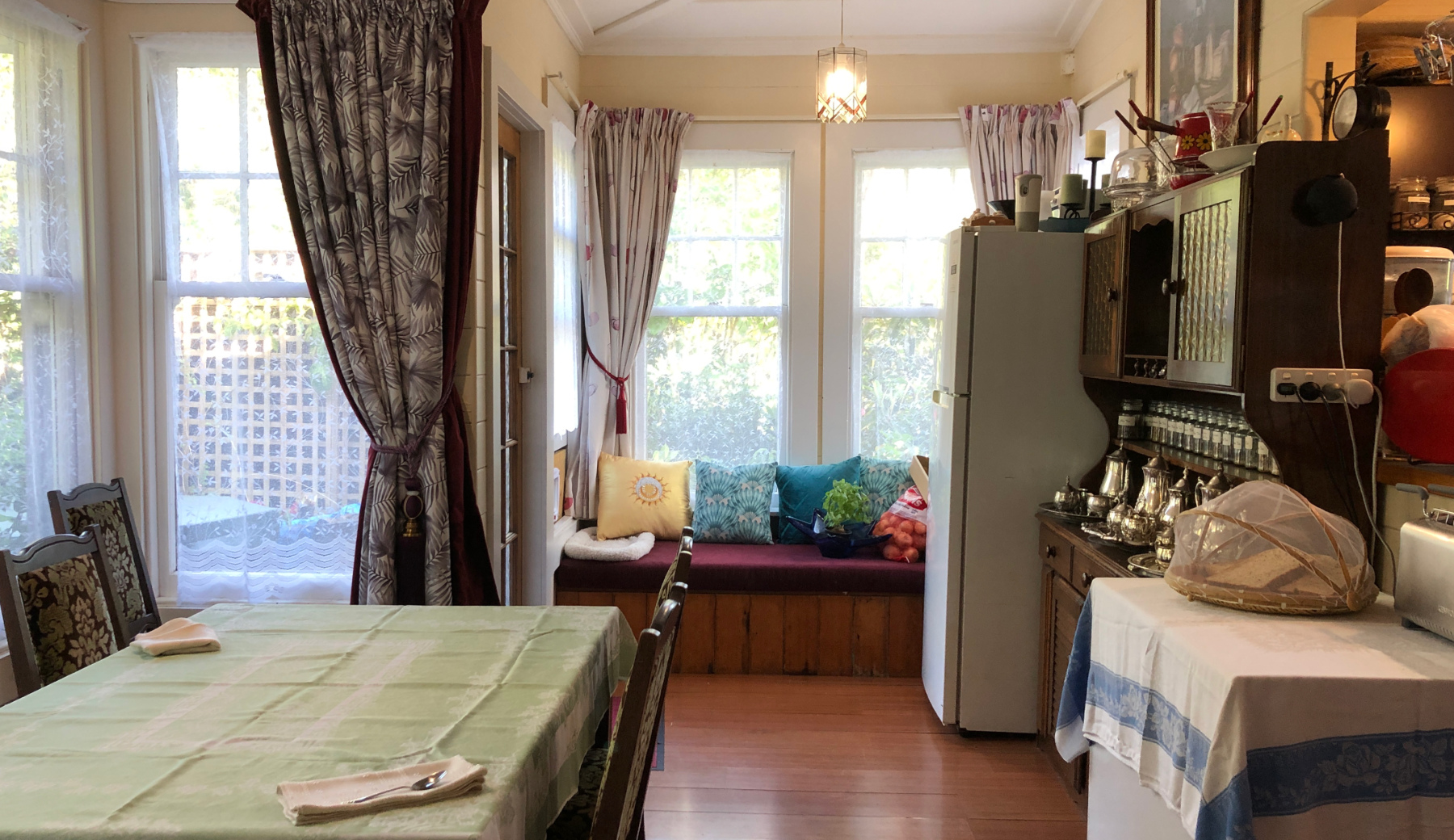 Heading upstairs, there are just two guest rooms. Mine was the smaller one of the two, with lovely views from the window.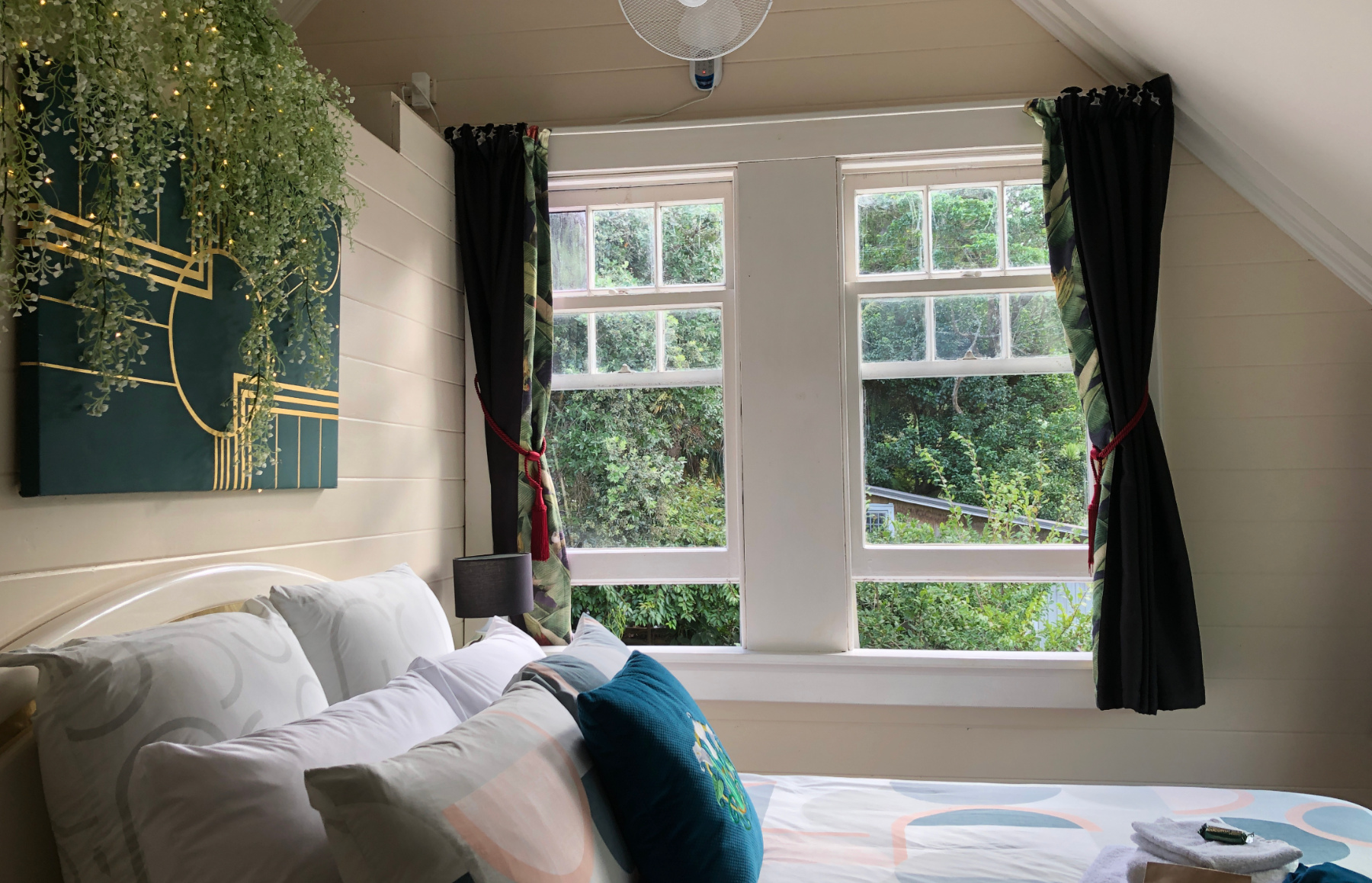 There was an additional room upstairs that served as a guest lounge—and which was my very comfortable office during my stay.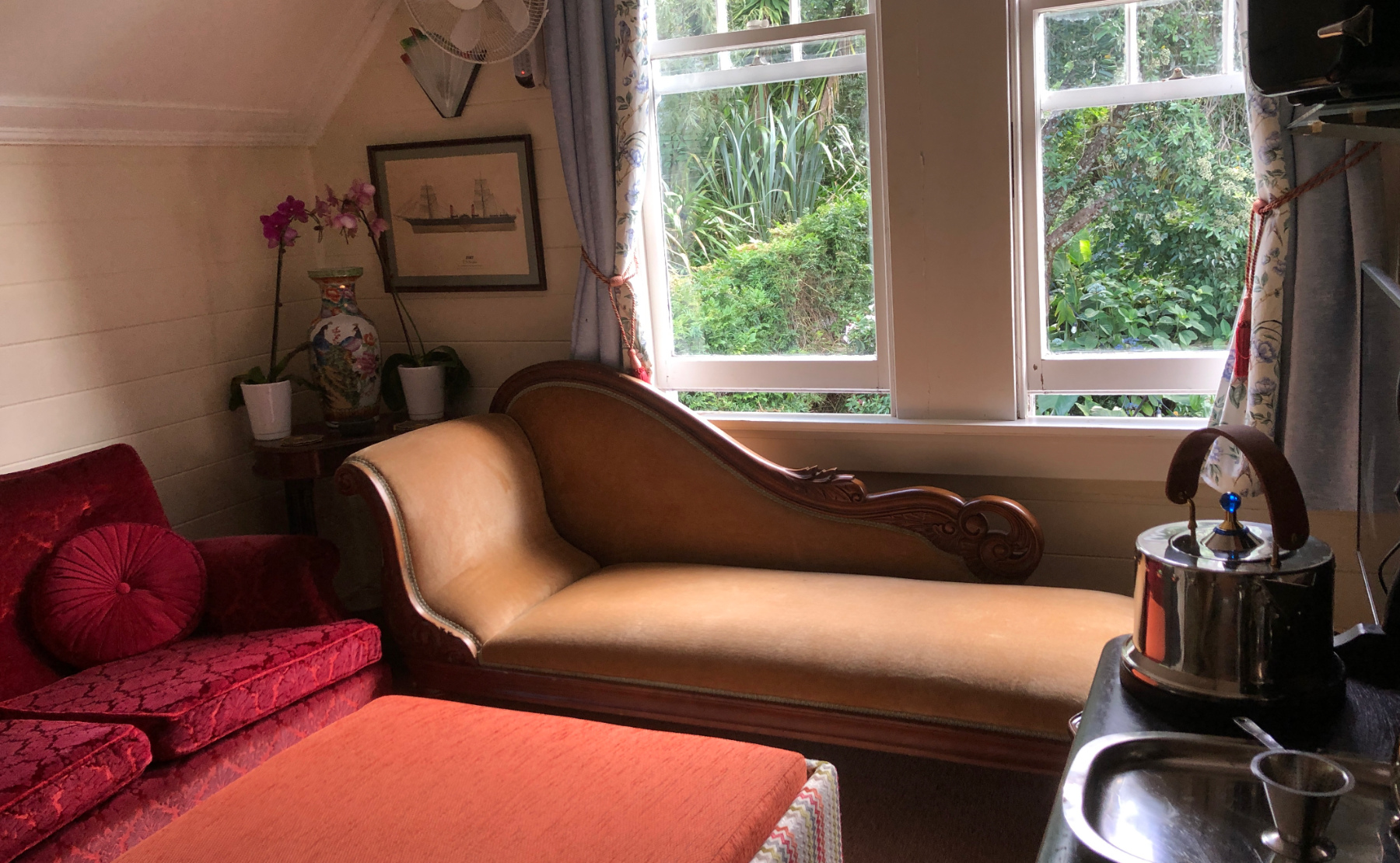 And this wonderful home was topped off by its chief resident: a tiny kitten who knew that the place was hers and that the rest of us were merely here to entertain her.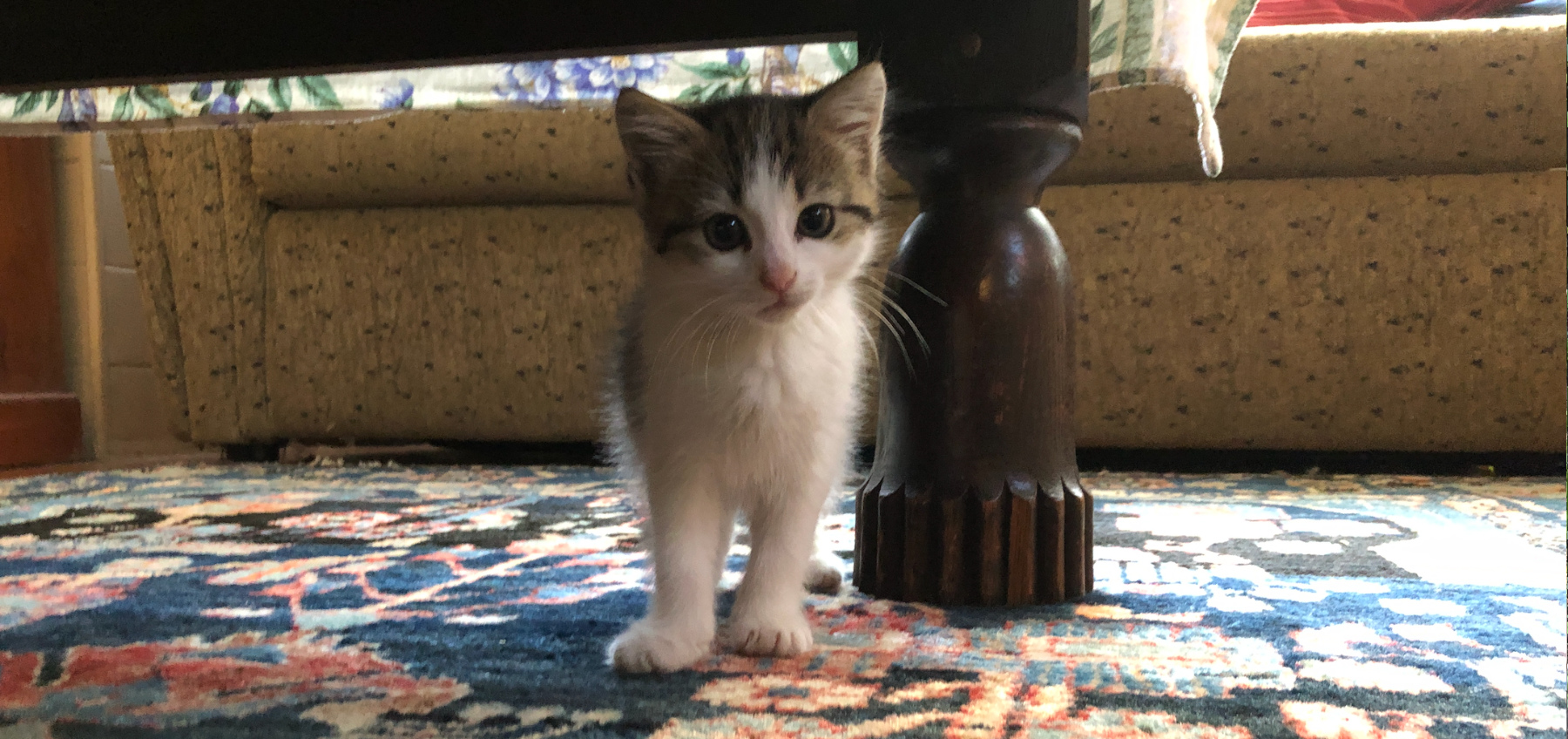 After settling my belongings into my room and wandering the place to take it all in, I went into the yard and out the gate to explore the grounds nearby. This home was in a tiny neighborhood just up a grassy hill from the Blockhouse Bay beach.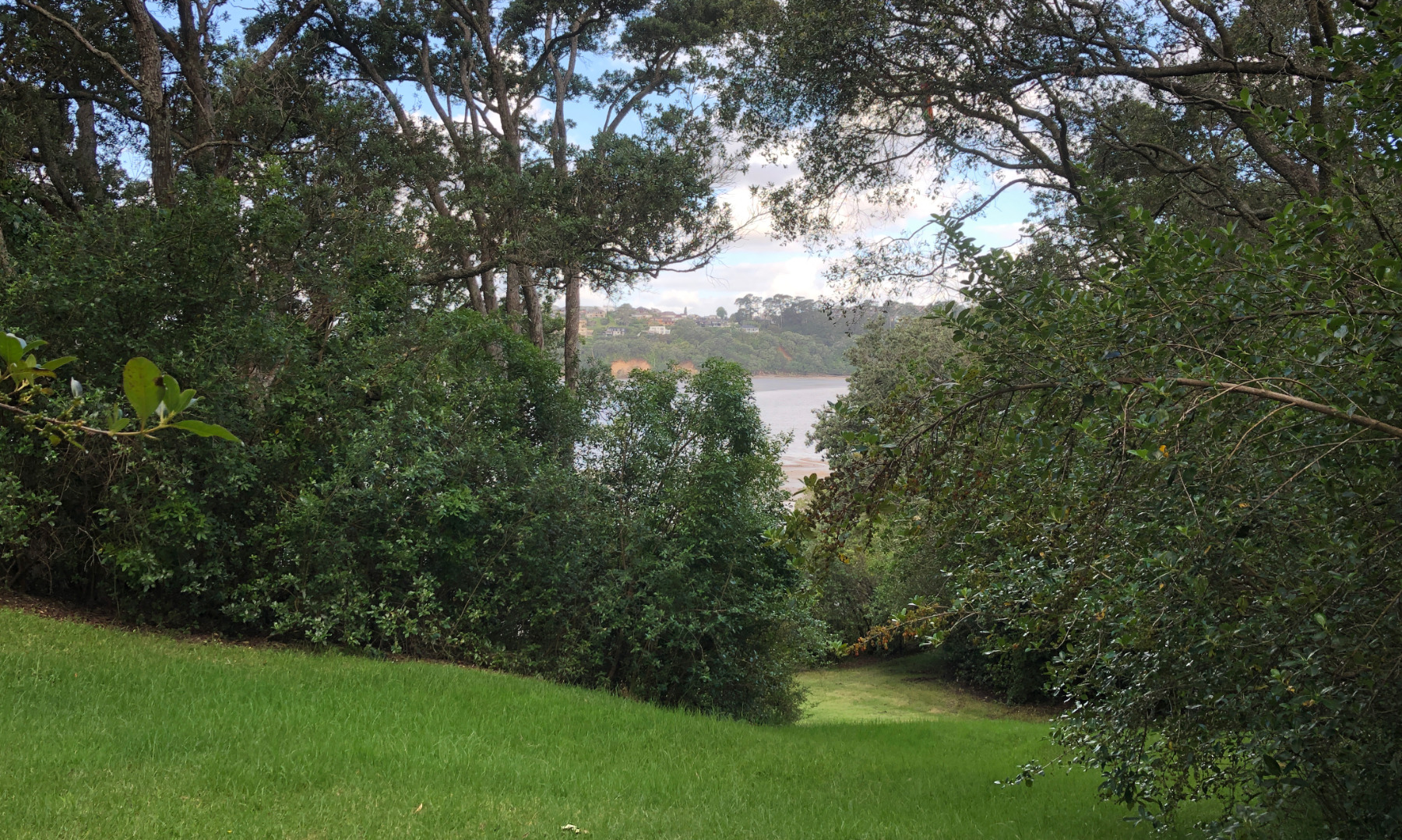 I wandered across the hill above the beach and was fascinated by the amazing trees that seemed to grow horizontally along the ground. More on these trees later…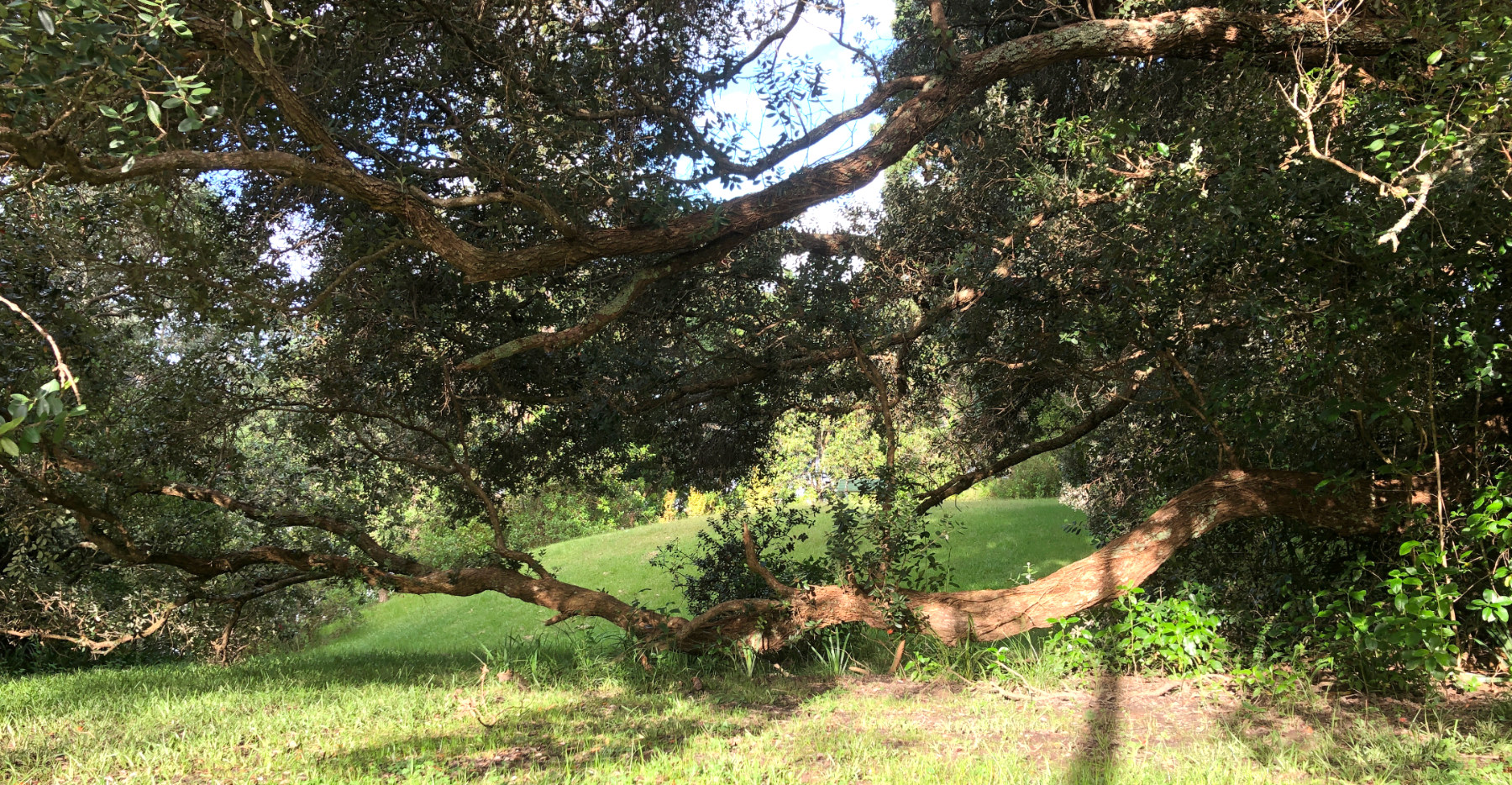 I found a bench (just barely visible behind the tree in the above picture) and listened to the sound of children in the beach's playground below. I know that sounds lovely, but what I was actually trying to do was record the sound of the unique birdsong from the trees around me. Every time the birds started to sing, it seemed to cue the kids to scream. I did finally get a recording, below. Does anyone know what this bird is?
Returning to the house, I met the inn's other guest, Liz, who was here from her home in New Zealand's South Island to visit her brother.
Liz was awesome! She had far more energy than I did, yet I'm guessing she was as much as 15 years my senior. She was a wonderfully colorful character, with piercings going all the way up the edges of each ear, several necklaces, and about a dozen rings on her fingers. She said she didn't feel comfortable leaving her jewelry at home while she was away and so decided to just wear all of it. She had a wonderful sense of humor, seemed to me to be very thoughtful, and I've never seen a person more enraptured by a kitten.
Nathan, the other of the B&B hosts, soon joined us from his office in a far corner of the house where he worked his full-time work-from-home job. We all had a very relaxing time in the living room chatting and watching the kitten play with Liz. Soon, Nathan excused himself to prepare dinner.
Knowing that my brain would be fried from about thirty hours of traveling from my home to this inn, I had arranged to have dinner with the B&B hosts, as had Liz. We had a wonderful time, with rich conversation and more laughter than I'd experienced in a very long time. It was nearly 10 pm when we pushed away from the table.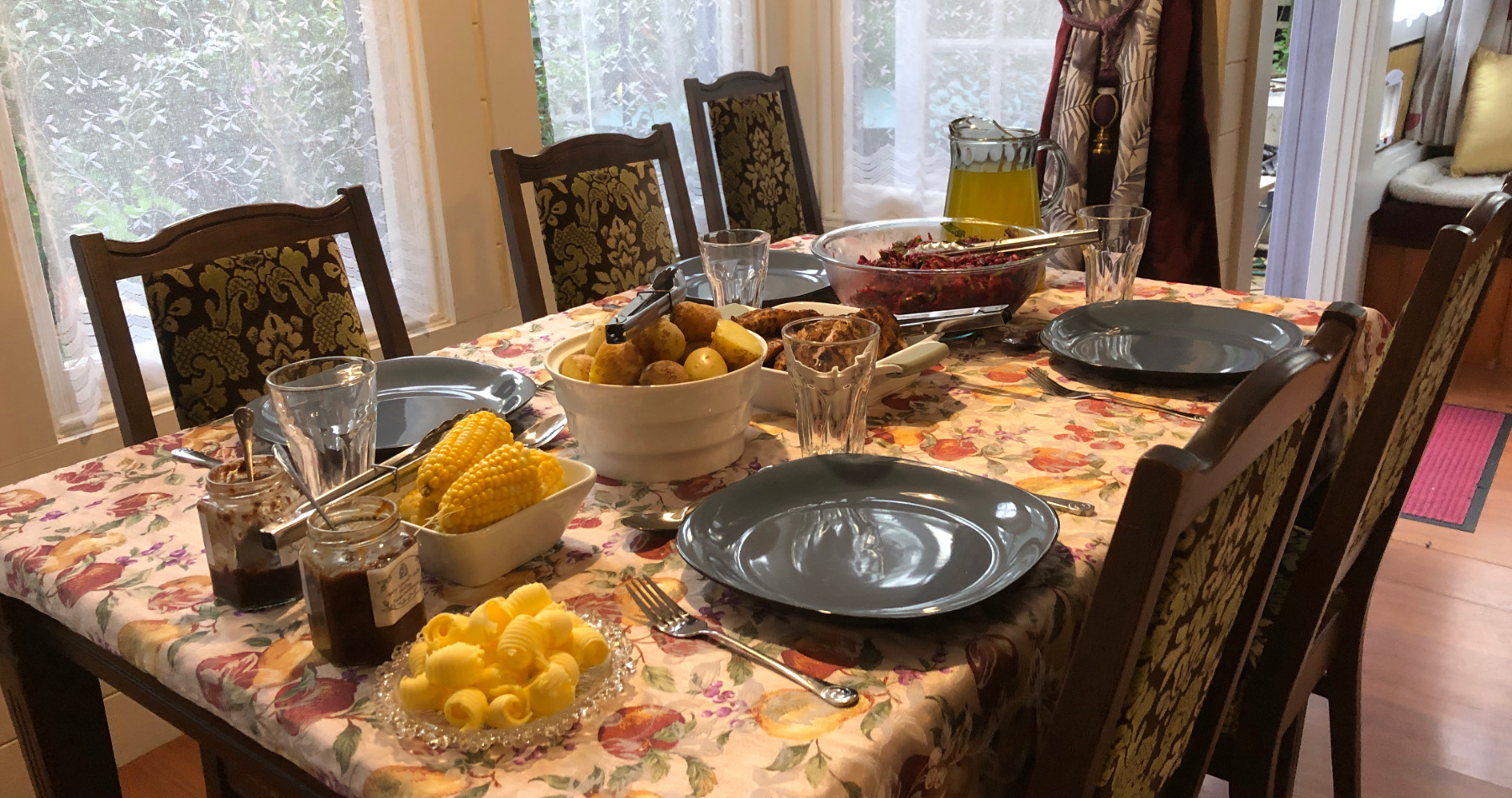 Wednesday: The Aucky Walky tour
The next morning I rose without the aid of an alarm clock, pleasantly surprised that I had slept the whole night through. For the first time ever I was enjoying travel without jet lag! In general, the further you go, the harder the jet lag is—but New Zealand is so far that I'd made it nearly all the way around the clock twice: ending up three hours earlier than Portland, but on the following day. (Yes, it was very confusing for most of the time that I was there, and for another few days after I got home.)
I was in for a lazy morning. I had booked myself on a walking tour of downtown Auckland, but I didn't need to get there until 1 pm. In the morning light, I quietly enjoyed just mindlessly lingering—something I so rarely do. My room had an odd alcove at the top of the wall, which Nathan had ingeniously decorated with an old watering can and fairy lights.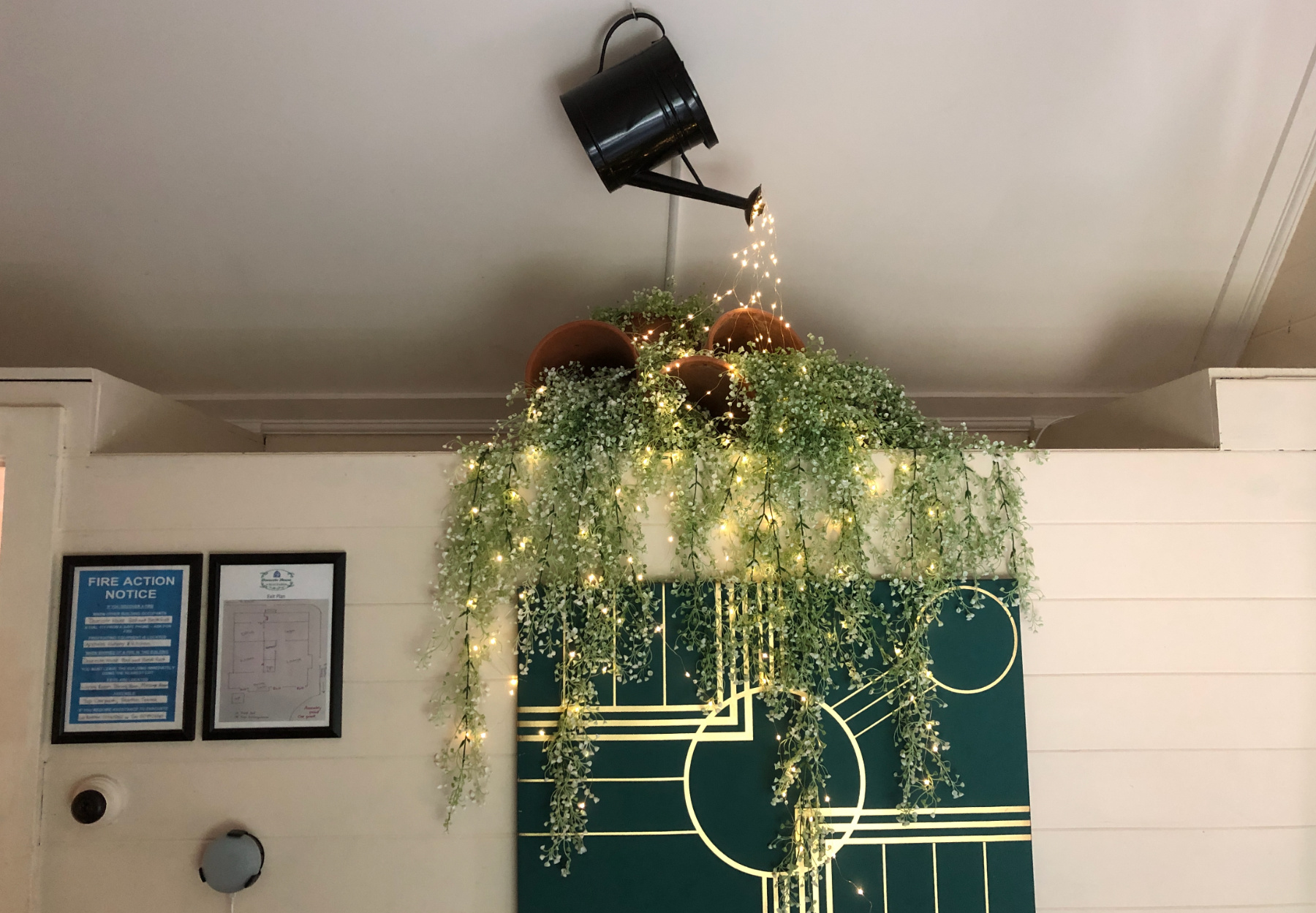 I had arranged to stay here for only two days, then I was to relocate downtown to the hotel where my meetings would take place. But this place was so wonderful that I was beginning to wish I could just cancel the meetings and stay here!
When I made my way downstairs, breakfast was laid out on the table in the dining nook off the kitchen. I waited in the main seating area, scanning the bookcase and playing with the grandmaster kitten until Liz came down, then we had breakfast together.
Breakfast consisted of toast, cereal, juice, and coffee/tea. But picture all of that in a gourmet way. A netting-covered plate of sliced still-warm home-made bread was next to the toaster on the counter. On the table was a jar of honey, a dish of butter, and a rotating tray filled with a dizzying selection of homemade jams and jellies (which the hosts sell at local farmers markets).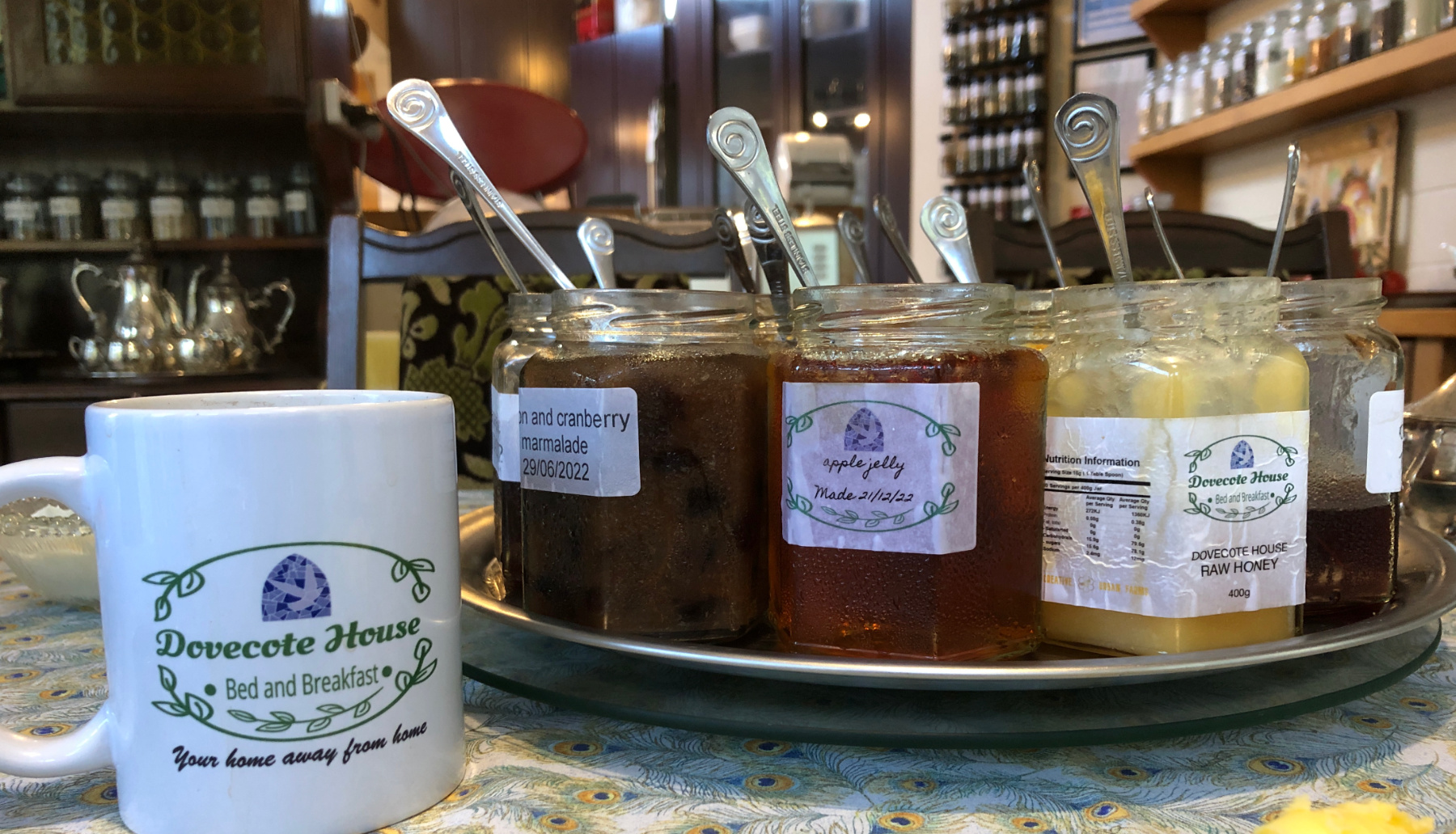 There were also several large mason jars with different types of cereals, a pitcher of cream, and a carafe of juice. As soon as we sat at the table, Tim was there asking what hot beverage we'd like with breakfast. Americano with an extra shot, please. It was delightful.
We had a lovely chat as we ate, and the kitten curled up on a nearby chair for a morning nap.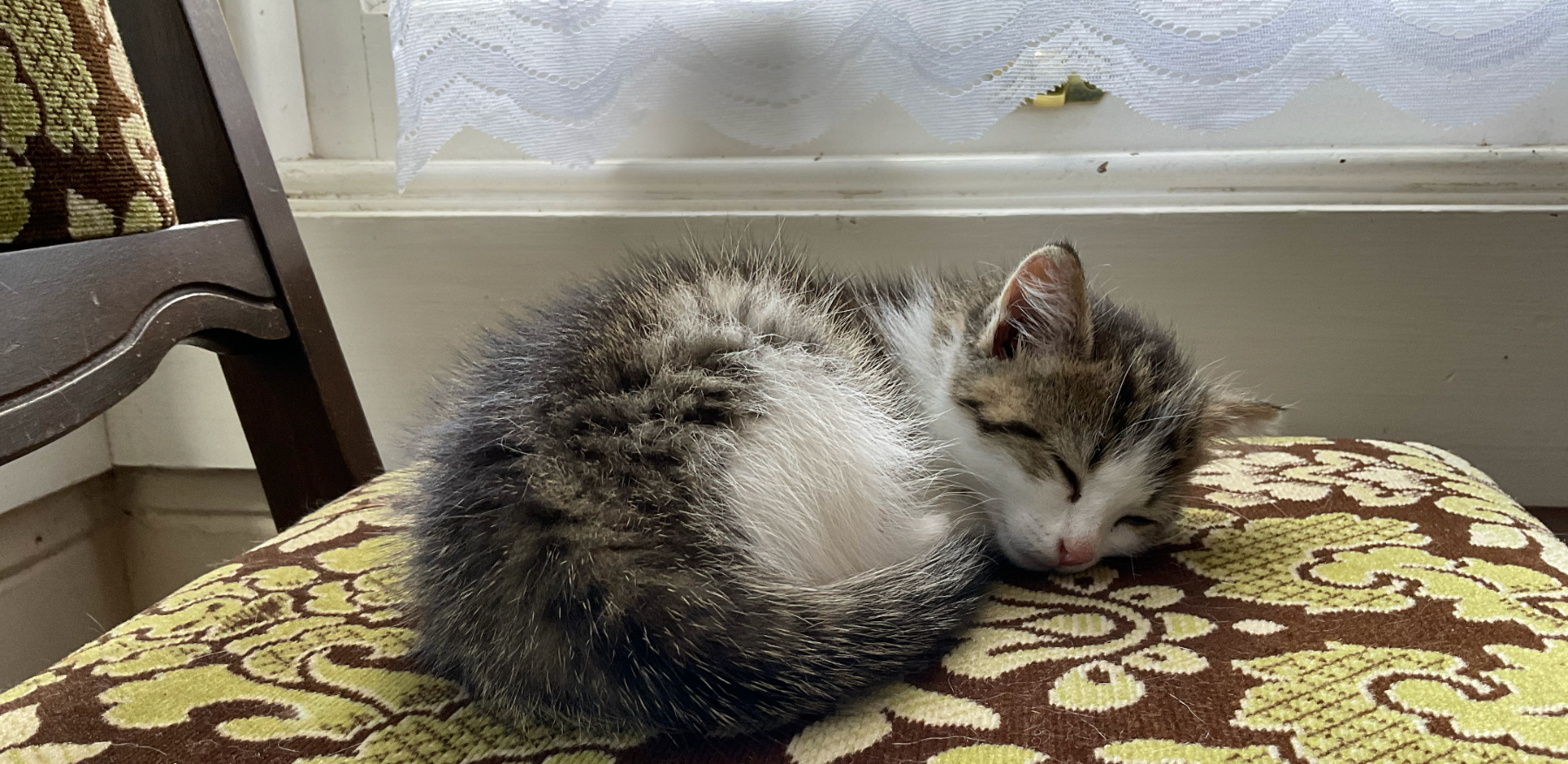 Our discussion turned to the news of a cyclone that was winding its way directly toward Auckland and expected to arrive in the city the following week. Tim and Nathan were not too concerned for their home, situated as it was on a gentle hill well enough away from the beach, but of course there was no telling what would happen.
After breakfast I headed upstairs to get some work done in the guest lounge.
At around noon, Nathan took me north to the city's central business district, or CBD. (This is also the initials for cannabidiol, which is an active ingredient in marijuana, so I found it pretty amusing that the New Zealanders refer to their city center this way.) The meeting place for the tour was one of the city's most distinctive landmarks, the Sky Tower. There is a sky slide and other adventures at the tower that I didn't take the time to see, but would have with more time.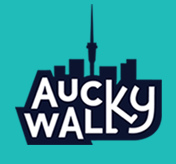 At the base of the tower, Aucky Walky owner and tour guide, another Liz, met me and the five other visitors taking the tour, coincidentally all from the U.S. One couple had only arrived in the country that morning, and another was on a small break from a bicycling tour across New Zealand. The bikers commented that it seemed there was no such thing as a road in this country that was not uphill. I came to agree with them by the end of my stay!
The brilliantly named Aucky Walky tour was a four-course meal across four different restaurants (and a chocolaterie) dotted in and around Auckland's CBD. We had appetizers at the first restaurant, and there Liz talked about some of the foods that are typical in the country. Among many other things, she taught us that New Zealanders refer to ketchup as "tomato sauce," and that we must try Whitaker's chocolate if we got the chance. Oh, and that little green fruit with the fuzzy brown skin and a pattern of black seeds inside? Since "Kiwi" is the friendly slang term for a New Zealander, to avoid inadvertently saying something macabre when you talk about slicing up a piece of this fruit, you should call it by the New Zealander's name for it: kiwifruit.
I thoroughly enjoyed the tour and the food. I loved the I-have-no-idea-what-it-was-called appetizers and the fabulous meat pie. But I confess I didn't enjoy all the food: even though everyone else said they were fabulous, I still say eating mussels is like eating erasers. But aside from the mussels, I enjoyed myself so much that I completely neglected to take any notes of where we went or what we ate and took far fewer photos than I should have.
Here is a sampling of the areas that we walked through: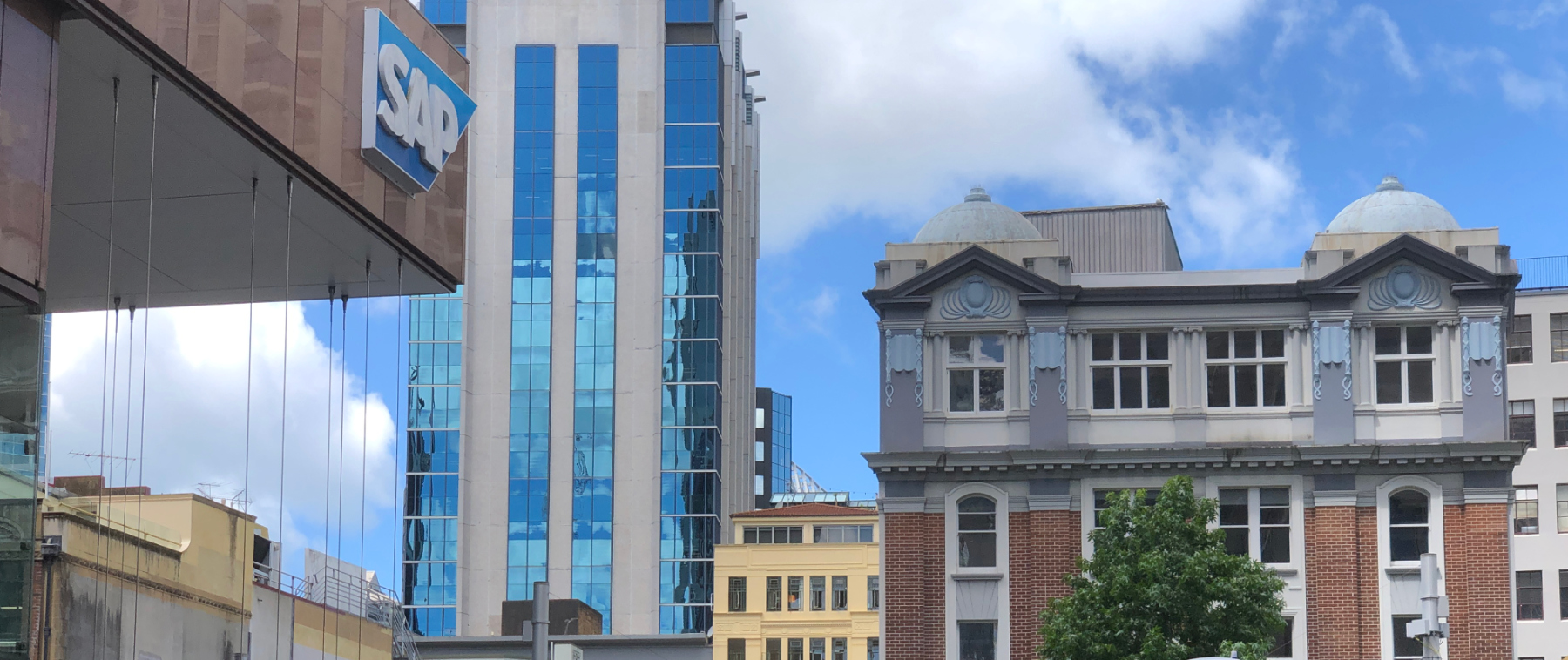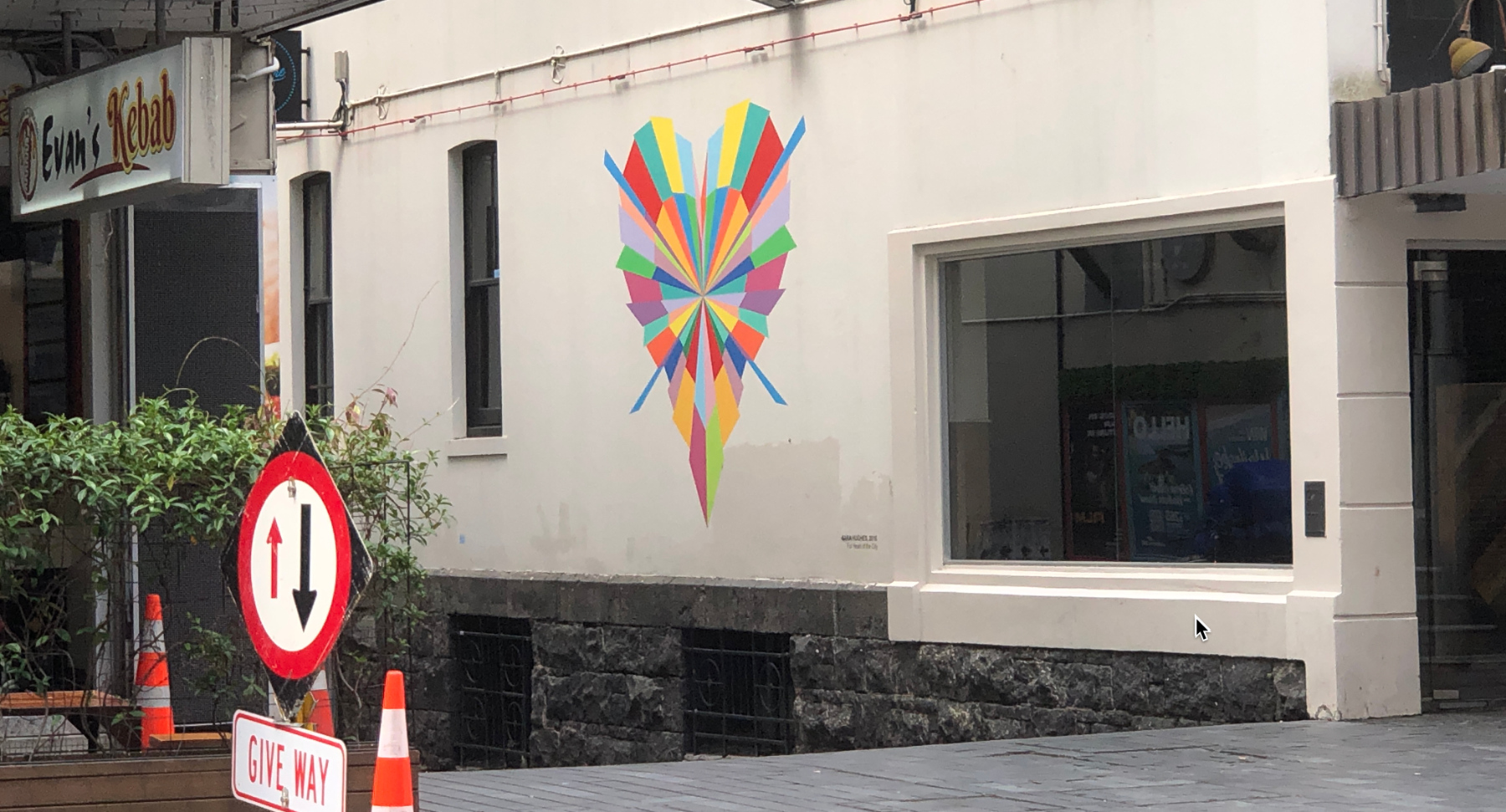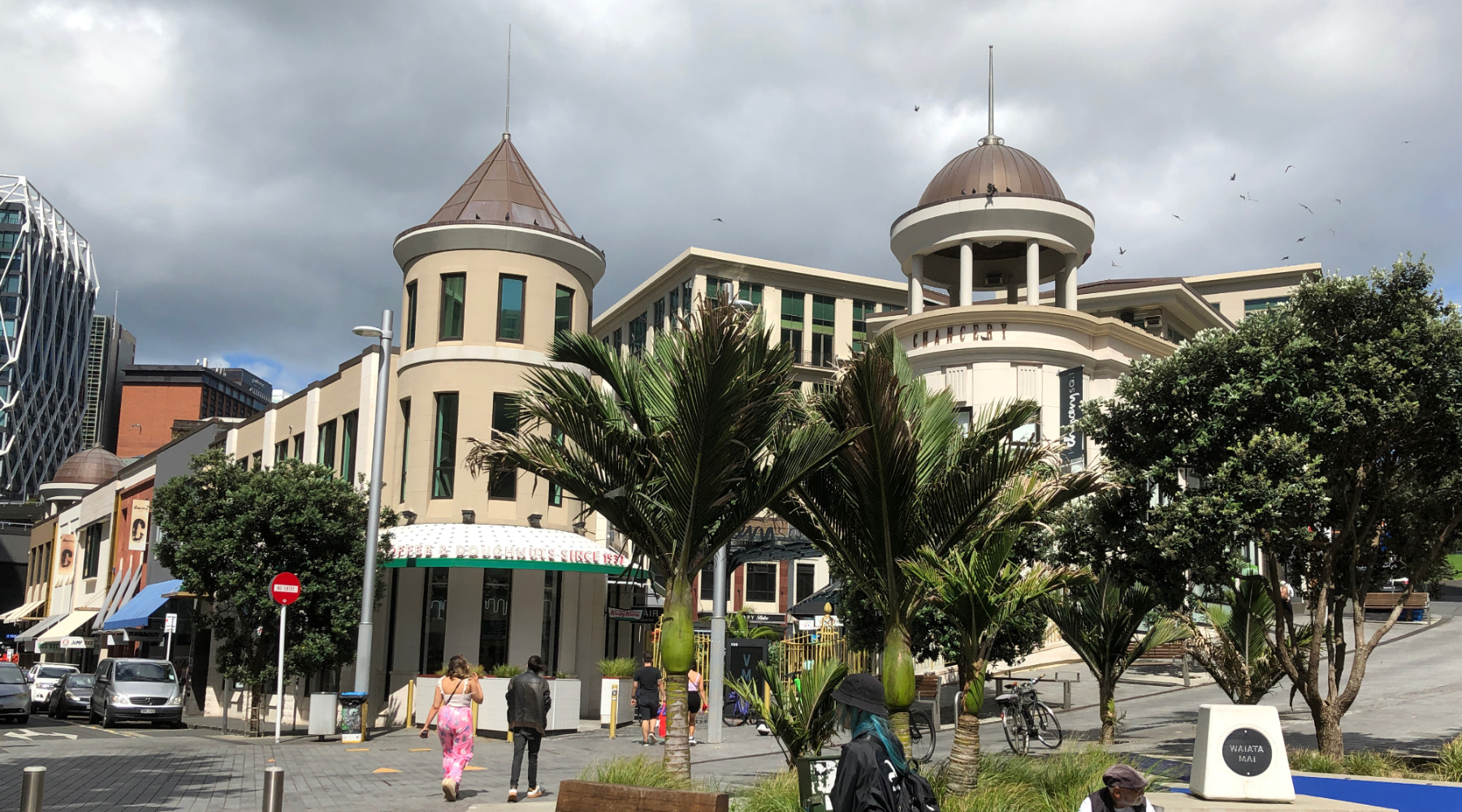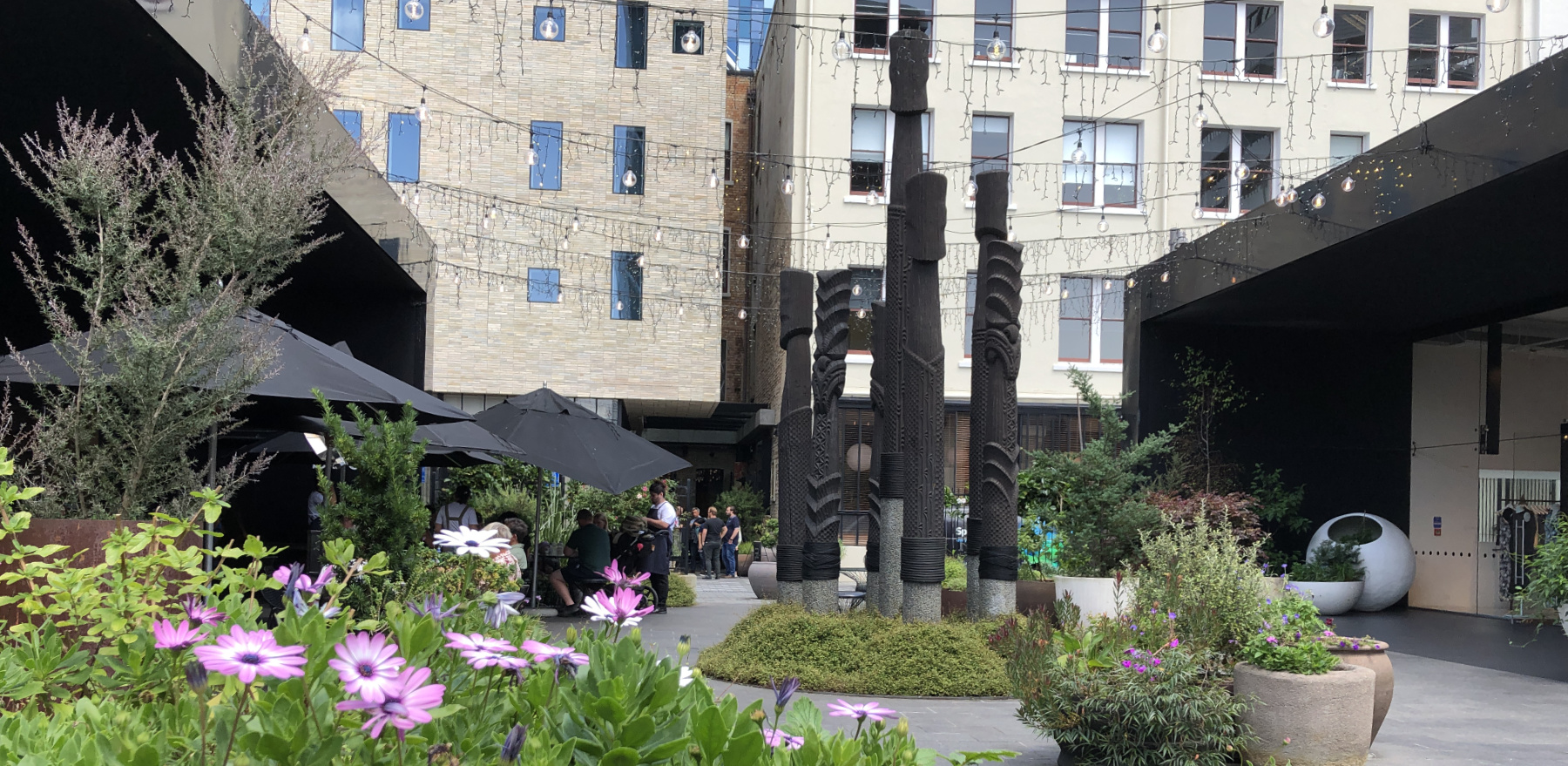 At the fourth place, we had amazing artisan ice cream served in handmade cones and topped with the New-Zealander favorite candy: hokey pokey (which you can sometimes get in the US under the name honeycomb). The fifth and final place was a gourmet chocolaterie called Honest Chocolate. (Yes, of course I somehow remember the name of the chocolate shop.)
We finished the tour in the Britomart area (pictured below), an upscale shopping district by the wharf where cruise ships disgorge their spending-ready tourists. I made note of several shops that I thought I would visit when I relocated to my downtown hotel the next day.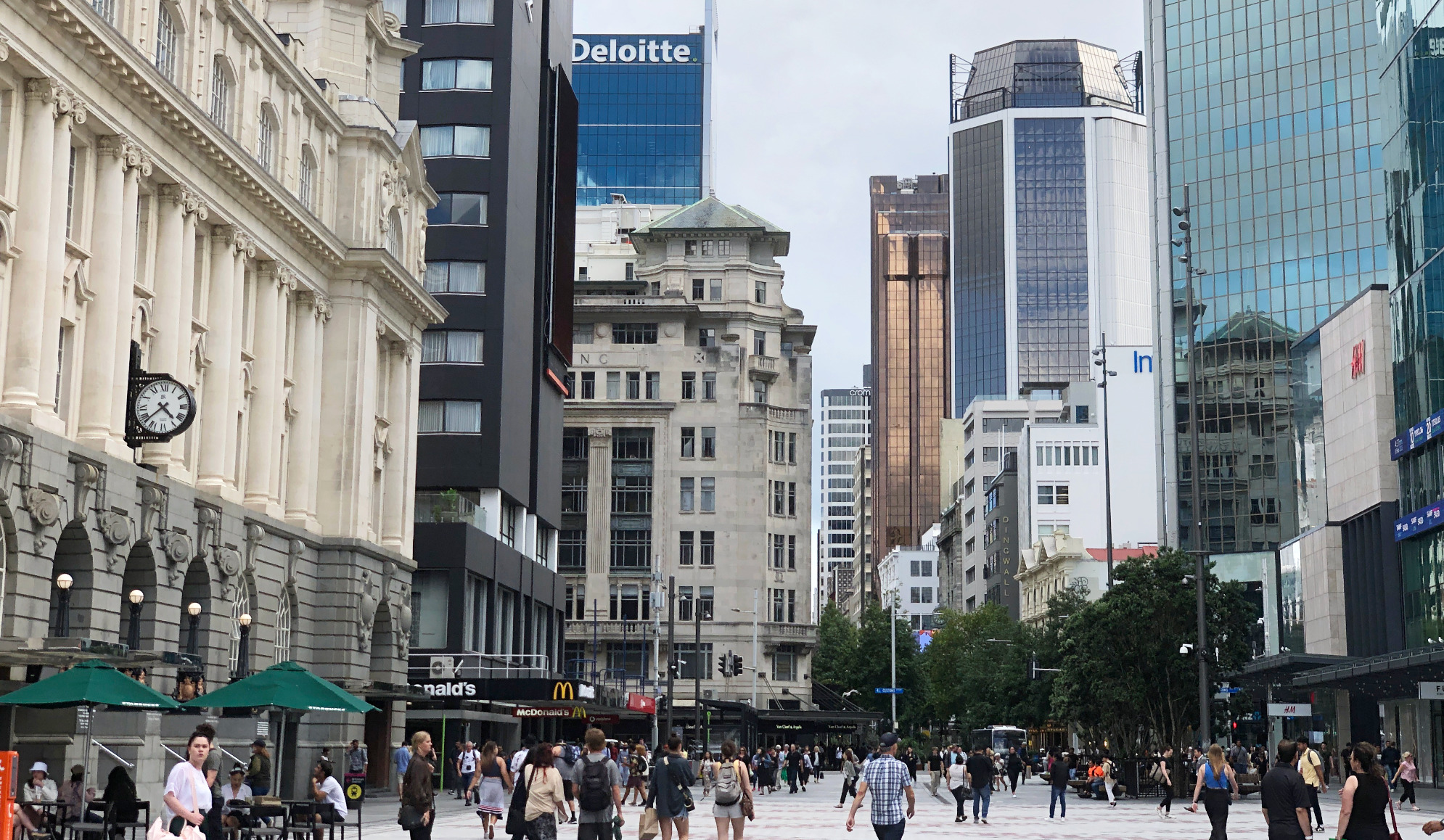 After the tour, our little group disbanded.
Due to there being so many streets in the area that were far friendlier to pedestrians than cars, I asked the tour guide, Liz, if she could direct me to the best place for me to call for an Uber. She asked where I was going, then suggested that since she was heading in the same direction, she could take me about halfway there, and then I could more easily take an Uber the rest of the way.
We jumped on a city bus and spent the 15-minute ride chatting about our businesses, our families, Covid, and more. By the time I disembarked on a quiet little Uber-friendly street, I was not only grateful for the help, I was very glad to have had the opportunity to get to know Liz a bit better.
If you ever head to Auckland, I highly recommend this and the other tours that Liz's company provides. It is a great introduction to the city and to New Zealand customs and terms. I'll put this in their own words:
As Aucky Walky storytellers, we're passionate about supporting the unique businesses and fascinating characters at the heart of Auckland—our artists, cafes, boutiques, bars, galleries, and artisan food vendors. As independent guides, we reveal authentic Auckland every step of the way. Enjoy our local recommendations on where to eat, shop and go!
After a long Uber ride (my goodness, the traffic here is ridiculous), I was happy to arrive at the Dovecote at about 4:30 pm for a quiet rest of my day. Tim was still at the quilt shop, Liz was still visiting her brother, Nathan was in the back room still busy with his work, and the master kitten was asleep on the couch.
I headed outside to quietly explore. I had already photographed the back patio, so I headed to the yard at the front of the house. The gate opens through a vine-covered gazebo with a mosaic walkway that leads across the lawn to the house.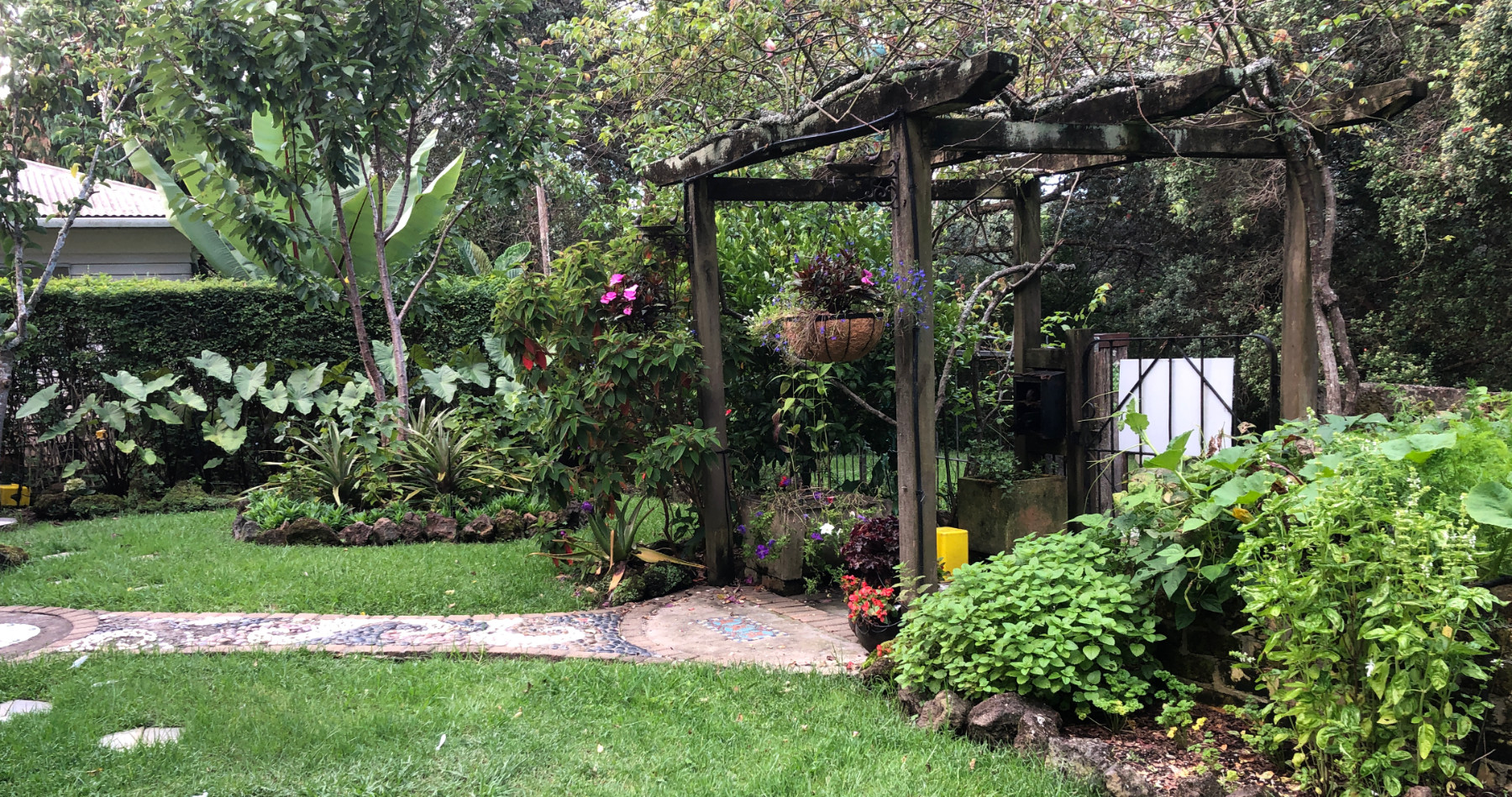 And to the side is a pedestal topped with the dovecote from which the inn gets its name: the birdhouse where three white doves live.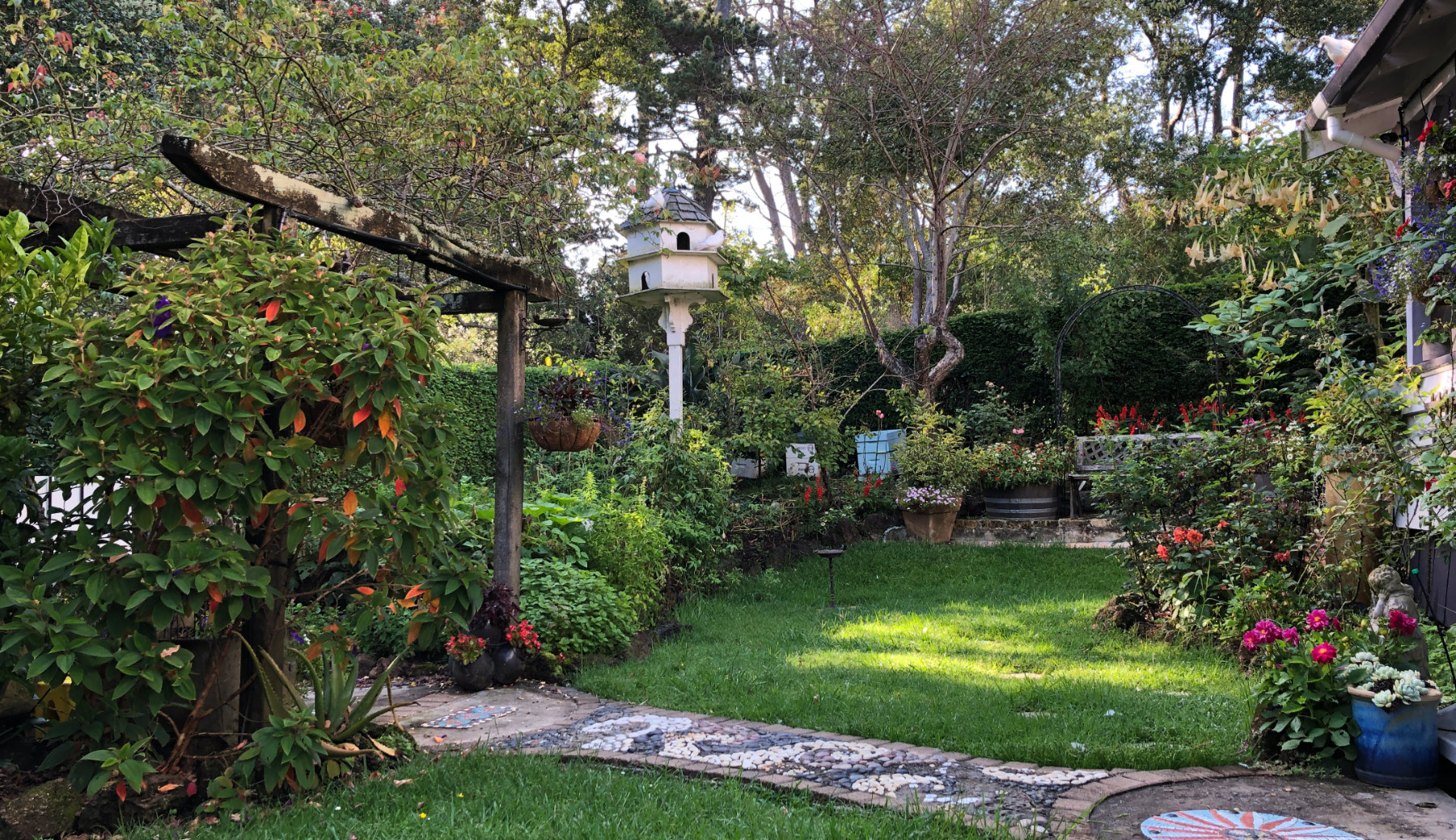 Nathan had just finished up with his work when I returned to the house, and we had a delightful chat in the downstairs seating area. I told him how much this visit was shaping up to be exactly the quiet stress-break that I'd sorely needed and I wished that I'd arranged to stay an extra day. On an impulse, I asked if they were fully booked on Thursday night, and as luck would have it, they were not. I called the big downtown hotel, changed my check-in date to Friday instead of Thursday, then settled in for another quiet evening.
When Tim got home, we talked about quilting and sewing. He showed me photos of some of his fashion and flower designs, and I showed him photos of my quilts.
I had figured that I would still feel quite fed from my Aucky Walky lunch when dinner time arrived, so did not arrange to share dinner with everyone. Instead, as afternoon turned to evening and on into the night, I stayed upstairs in the lounge, working, reading, sorting through photos, and playing with the kitten. Altogether a perfect end to my day.
Thursday: Relax!
I know this is traveler sacrilege, but my Thursday was a completely unscheduled, uneventful day. Breakfast included more kitten photos and a wonderful conversation with Liz and Tim.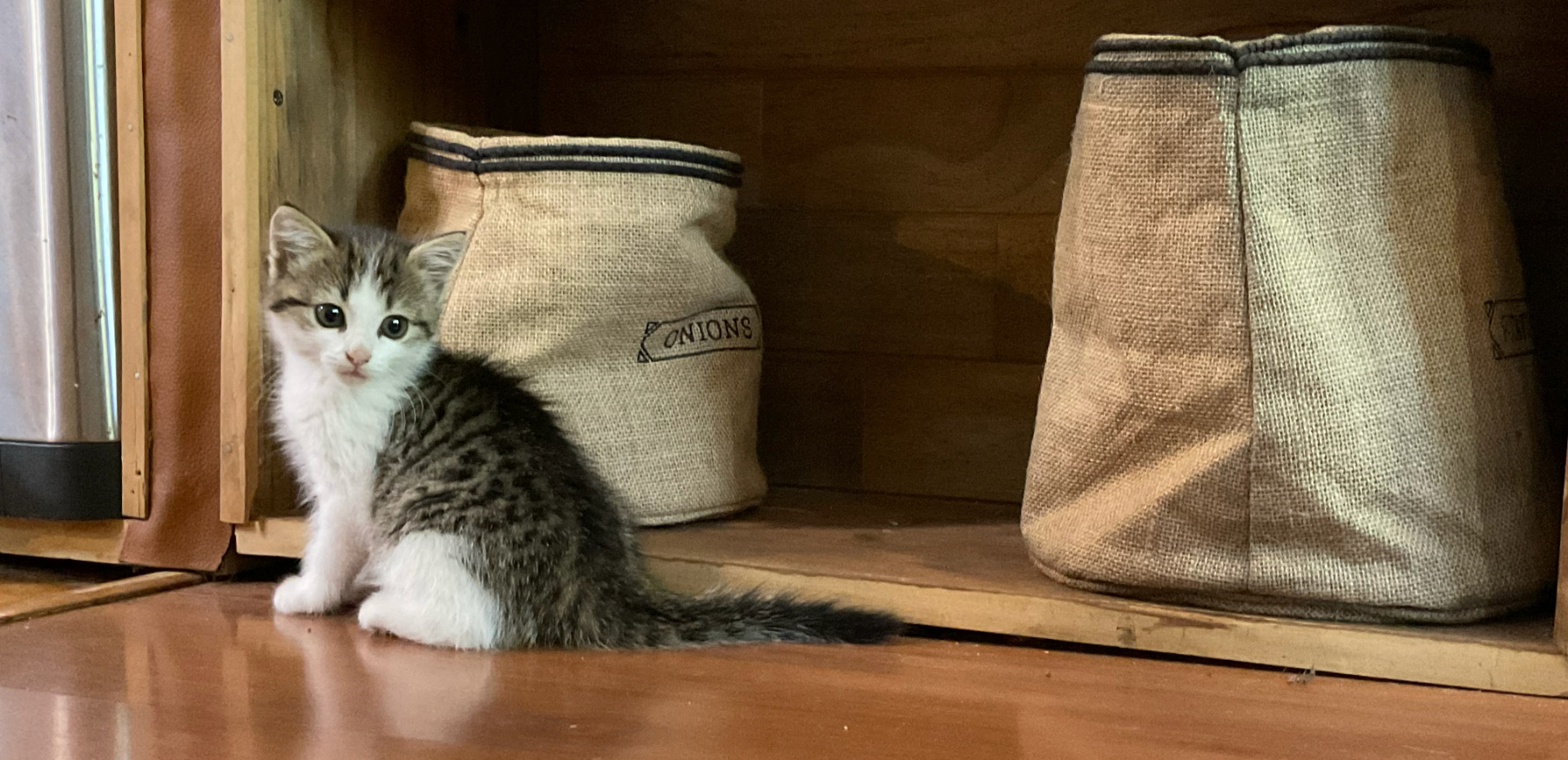 Shortly after Tim left for his job, Nathan announced that he had shopping to do and invited Liz and me to join him. Yes, even though I was in a new place with adventurous exploration around every corner, I instead joined Liz and Nathan as he popped into a local building supply store (much like our Home Depot), then to a quirky antique shop called Just Plane Interesting. Just like any such place, there is much to sort through, from junk to treasure.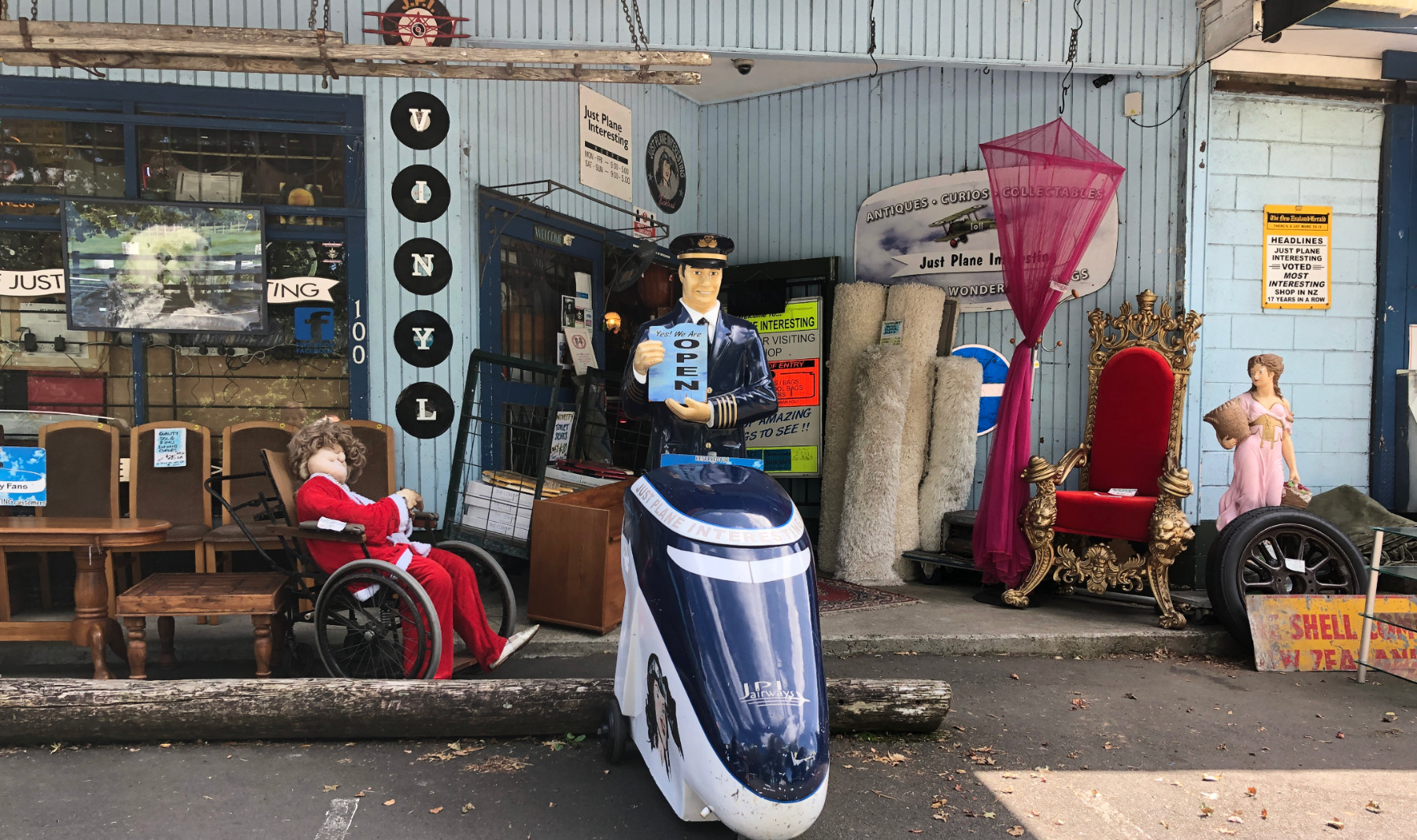 We went to the grocery store for ingredients, then we went home and Nathan cooked up our lunch of salmon sandwiches. After lunch, Nathan headed into his office to start his work day, and Liz and I headed to the beach.
The Dovecote Inn gate opens up onto a short public path which takes you to this beach-front park.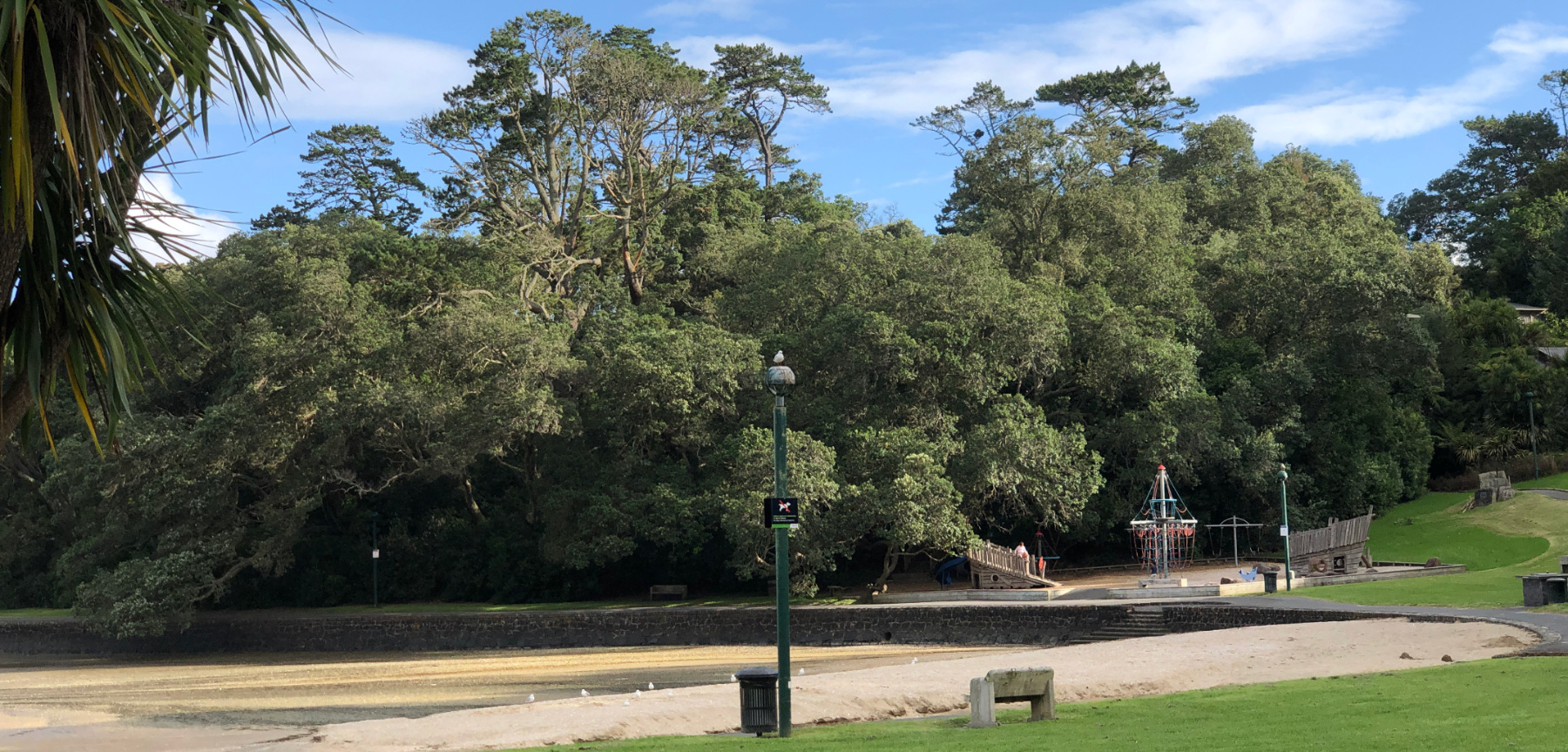 We wanted to walk around the cove to access the long beach stretching across the south edge of North Island, but, as you can see in the photo below, the recent flooding had brought some parts of the hillside down and the area had been closed. The tide was out, leaving a wet sandy expanse that someone was walking across. After staring at him with my zoom lens, we decided he was probably hunting clams or something.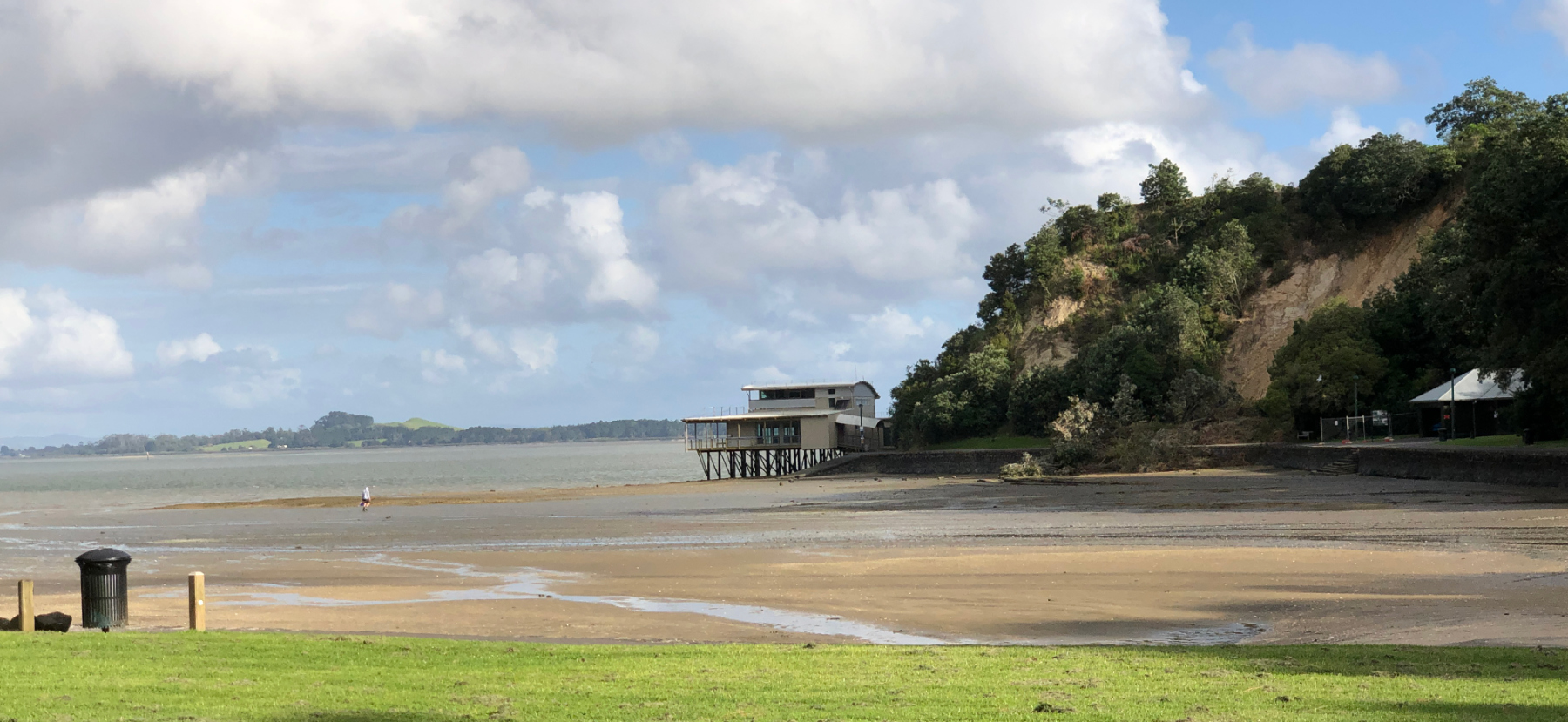 We were entertained that this pigeon had decided he'd rather hang with the seagulls than his own friends.

We saw a couple who had brought folding chairs and their giant hookahs to the beach for a quiet smoke. I don't know what they were smoking, but I still found it all very amusing. But not as amusing as they found it when I asked if I could take their photo.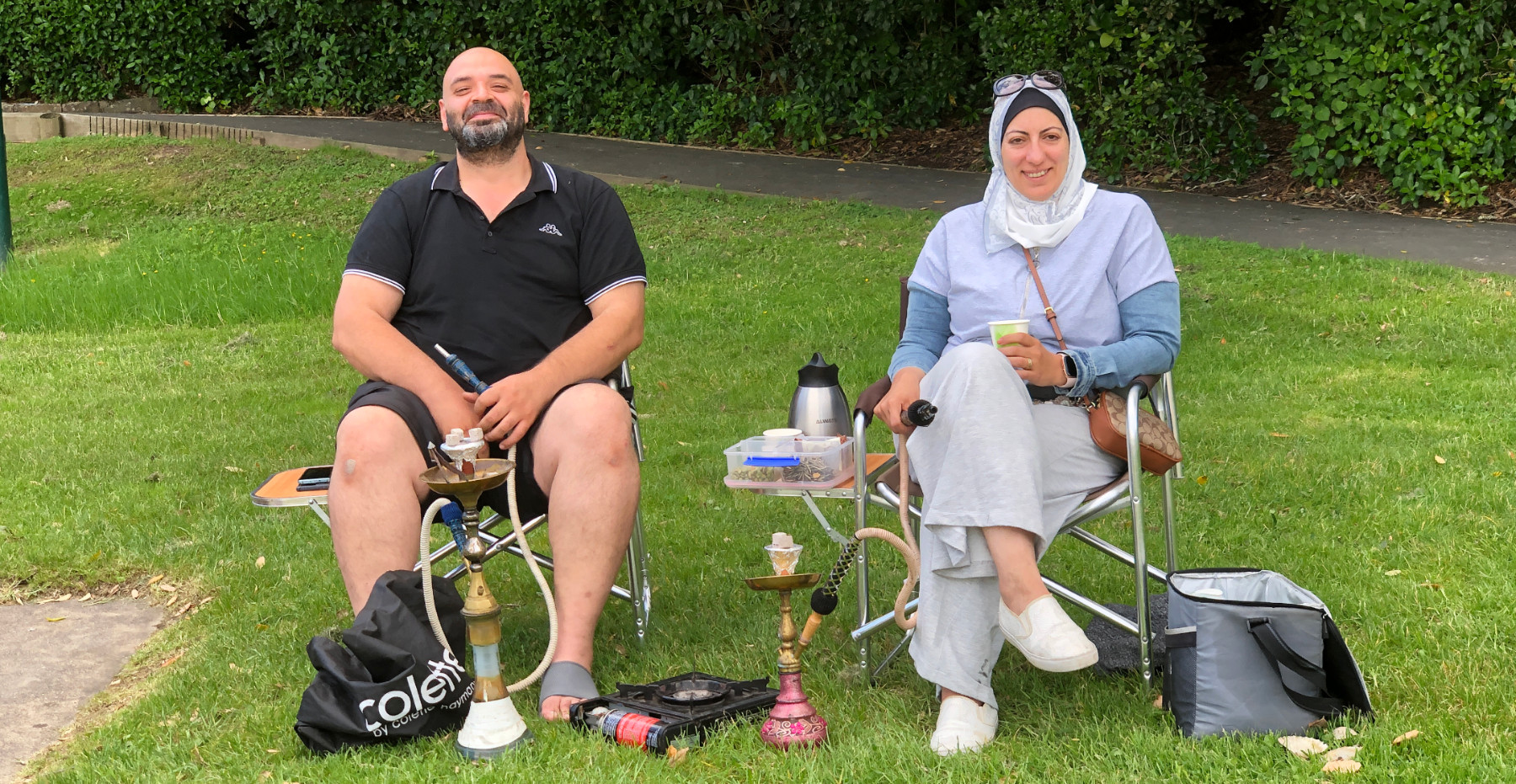 Heading back toward the path, we walked past the little playground where I had heard children playing a few days before (when I was trying to record the birdsong in between the children's screams!).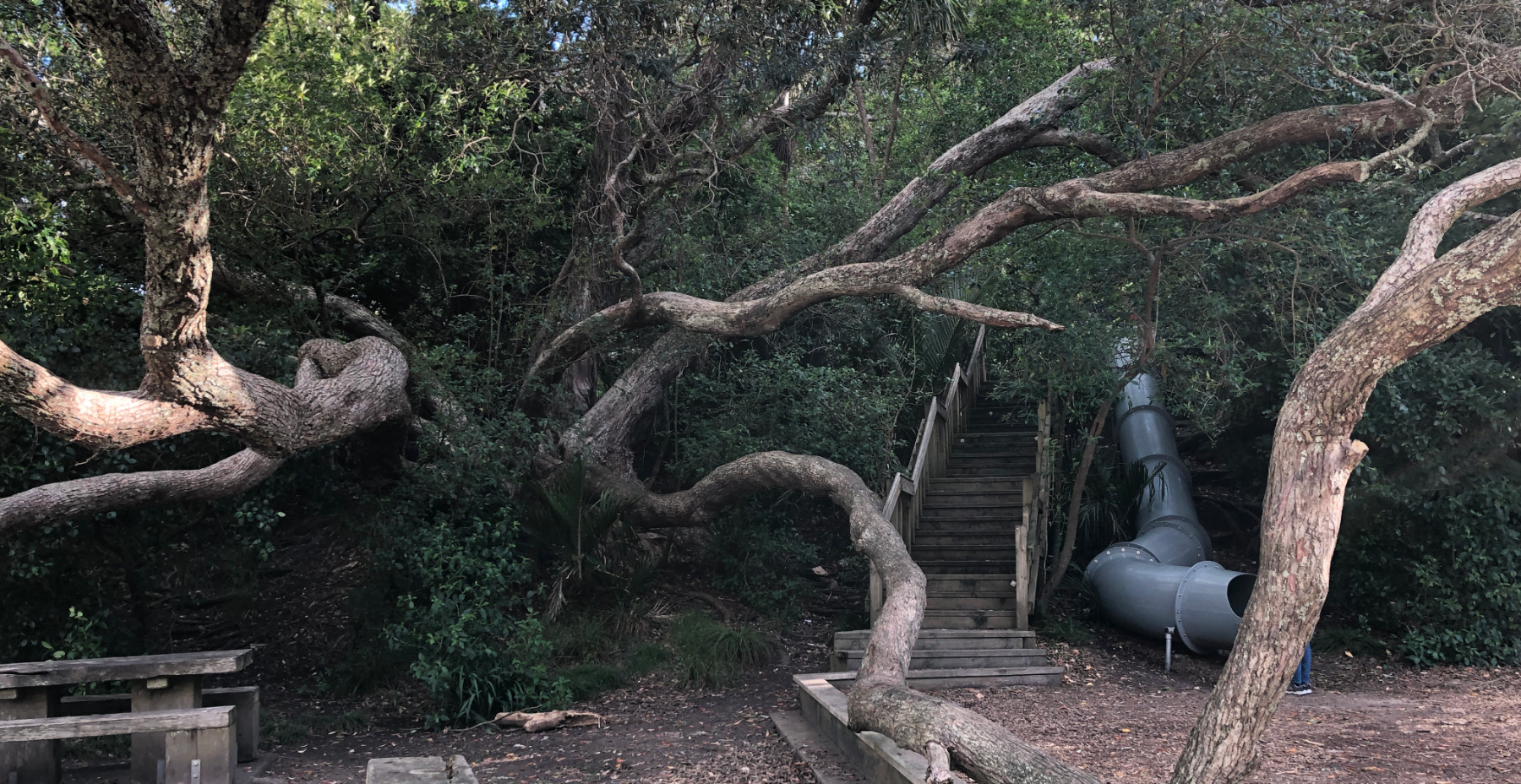 From the moment I arrived in Auckland, what stood out and most commanded my attention (even more than the Dovecote kitten) were the trees. This playground provided a great view of the amazing trees that seemed to grow their branches any which way to lazily trail almost to the ground. I later looked up the name: these are pohutukawa trees, which develop bright red bristly blooms. As the path curved to the beach, there was a small monument with a plaque that gave posthumous thanks to Mr. and Mrs. whoever-it-was who years ago had planted the trees.
And as long as I am on the topic of trees, the photo below shows a lone Norfolk Island Pine seen from the beach park. I wish I had taken more pictures of these astounding trees that sparsely dot the Auckland landscape. As you can see in this photo, they are freakishly tall, and they are so uniform in their branch distribution that if you had never seen one and then saw one in a painting, you might point at it and comment that it looked fake. [More here about this amazing tree.]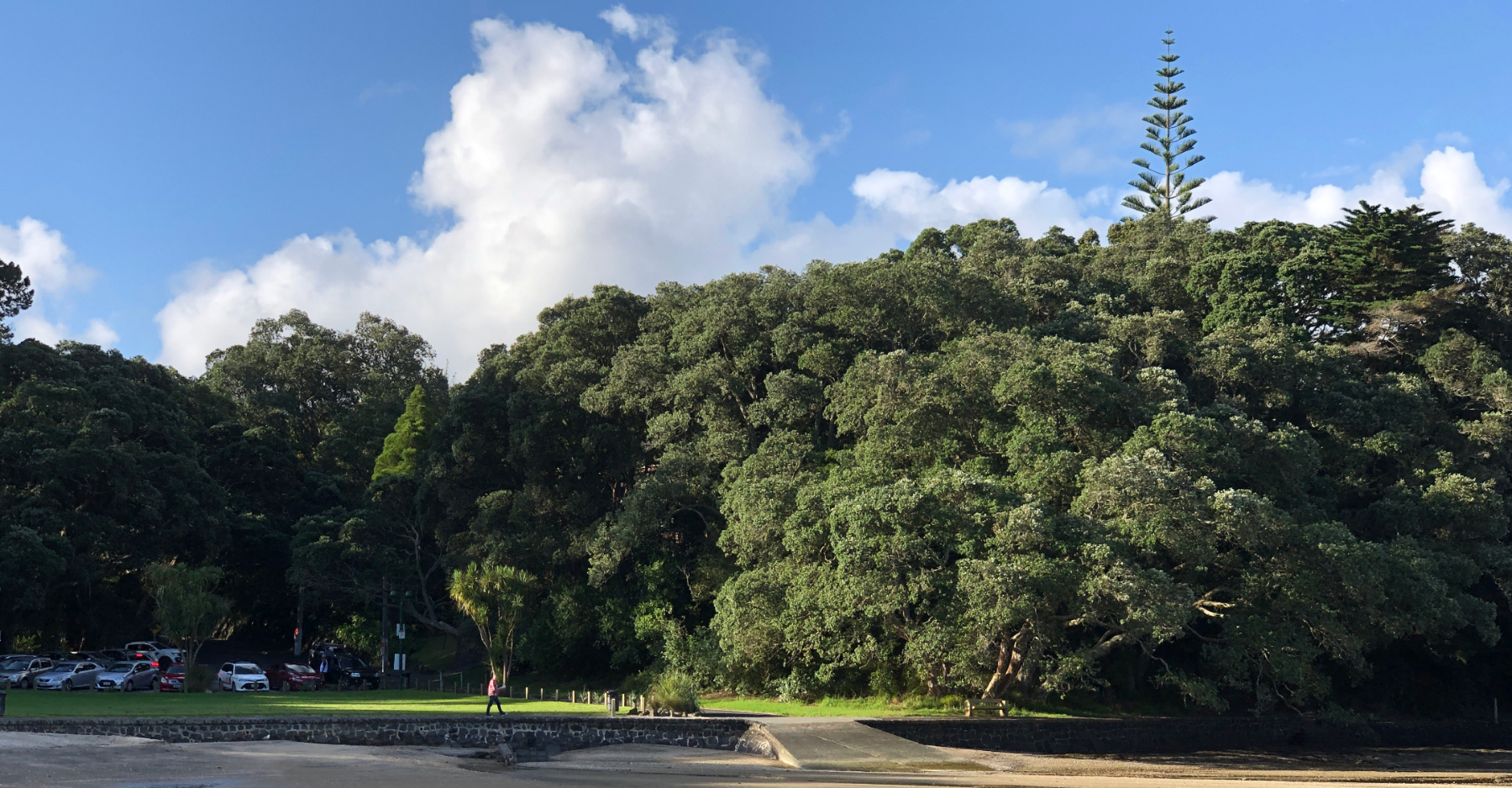 When we returned to the house, I bought a jar of apple jelly from Nathan's huge stock, got all packed up for tomorrow's departure, then spent the afternoon in the guest lounge. When Tim got home from work, he surprised me with a gift of some very nice New Zealand bird-themed quilting fabric remnants. I'm already scheming on how these will be the centerpiece for a new quilt design for my granddaughter.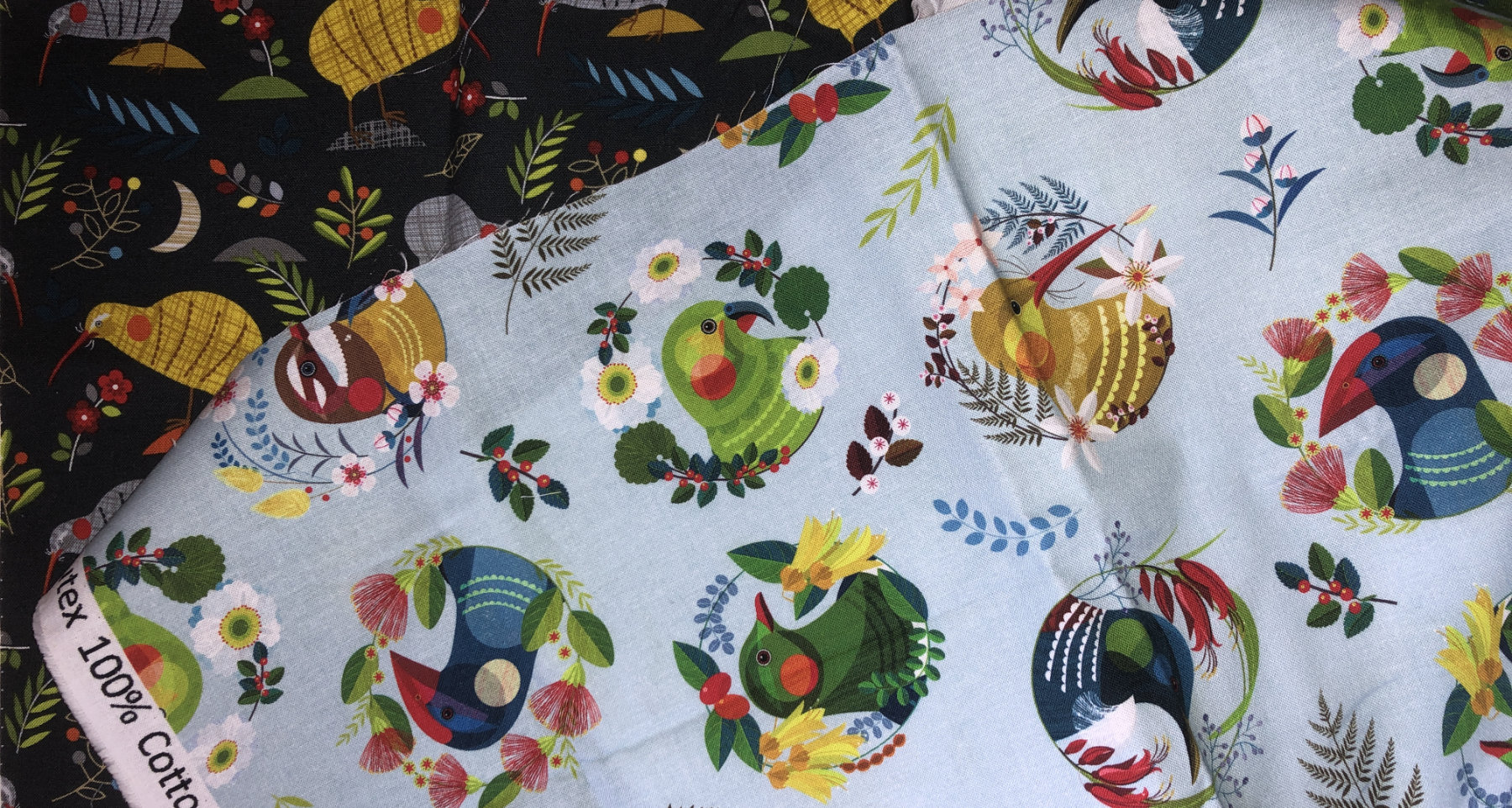 Tonight I joined everyone for dinner, and we had a wonderful time. Good food, great conversation, and lots of laughter. It was the perfect ending to what had been a relaxing, wonderful stay. So glad I came.
Friday: Head to the hotel
Today's plan was for Nathan to take Liz to the airport then drop me off at my hotel. Liz had wanted to look in at a nearby store on the way, so we left the house at about 10 am with plenty of time to spare. The store we went to was a tiny place that sold used clothing and household goods. In the US we call these thrift shops or second-hand stores, but in New Zealand they were called op shops, with "op" being short for opportunity.
After a quick browse and a small purchase, we were off to the airport to send Liz on her way home. Then Nathan headed into the city and dropped me off at the hotel that would be my home and place of business for the next week.
Done with one part of my trip, and on to the next.
I complain about travel sometimes, but the inconveniences are sometimes well made up for when you stay at an upscale hotel. I'll never forget my trip to Chengdu, China—easily the nicest hotel I have ever stepped foot in. Or my experience at a Marriott, in Seoul, where the hotel welcomed me with an elegant dish of thick, sweet whipped cream topped with a huge gold-leaf-tipped strawberry.
This was not that kind of hotel. The Pullman Hotel in Auckland is part of the rather utilitarian Sofitel group of hotels: a solid 3.5-star hotel trying hard to be 4-star. But this 3.5-star hotel with its somewhat utilitarian room was still far nicer than the kind of hotel I could afford when my travel was on my own dime, so maybe it's good to be brought down a peg or two sometimes, right?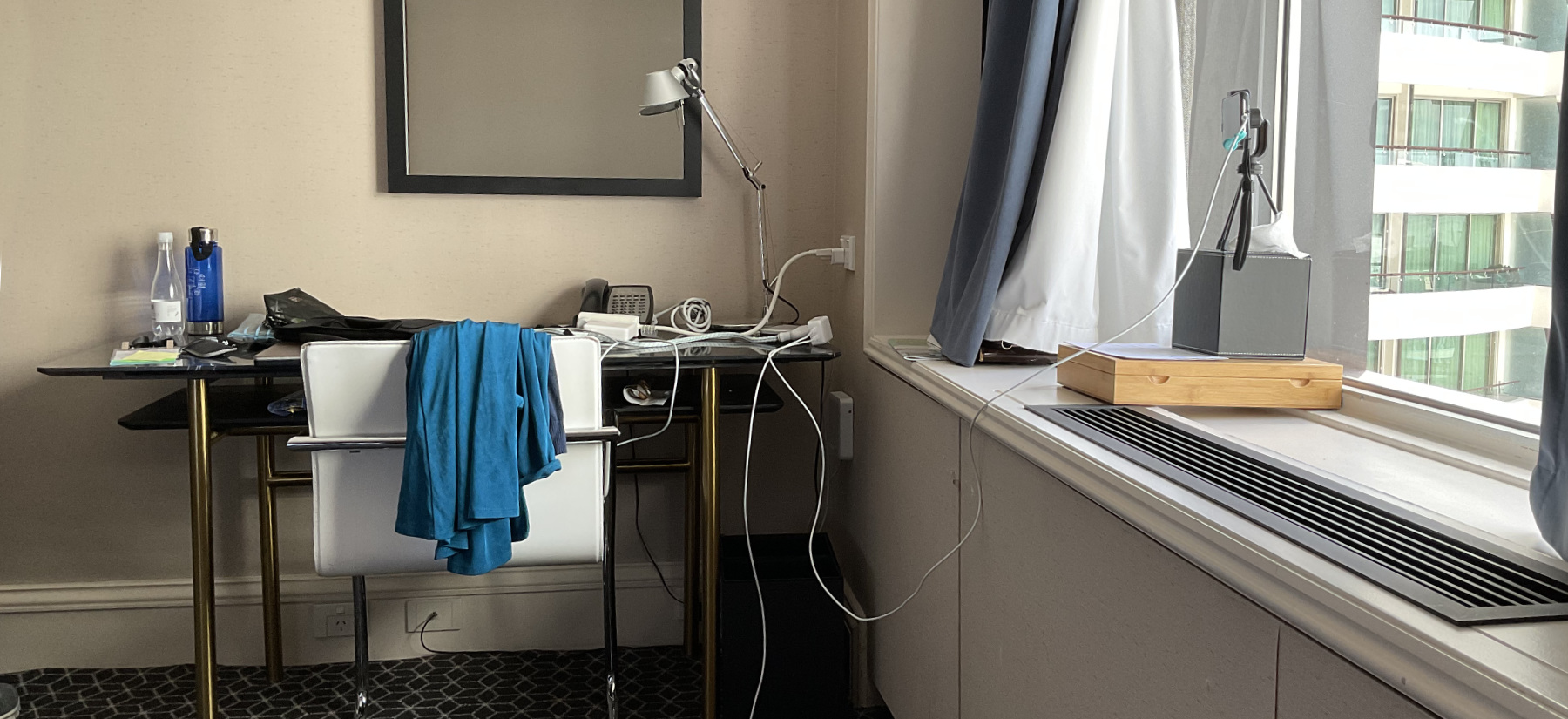 The view from my window on the 8th floor could have been disappointing, but luckily I have an odd affinity for cranes, especially harbor cranes, which I could easily see. I happily planned on many time lapse video experiments (see the resulting video at the end of this post).

After unpacking, I decided to venture back out to the Britomart area to check out some of the shops I had seen on the tour, then find a place to have a late lunch. I opened Google Maps on my phone to plan my route, deciding to start by heading north from my hotel (shown circled in red in the map below) to go through what looked to be a tiny triangular park.

This amazing little paradise, called the Emily Place Reserve, is easily my favorite place in the Auckland CBD. It is home to a stunning collection of massive, wildly lollygagging pohutukawa trees that are so old and untamed that they obstruct several of the paths. What a bizarre, magical place.
Indulge me a moment: I simply could not choose between these photos.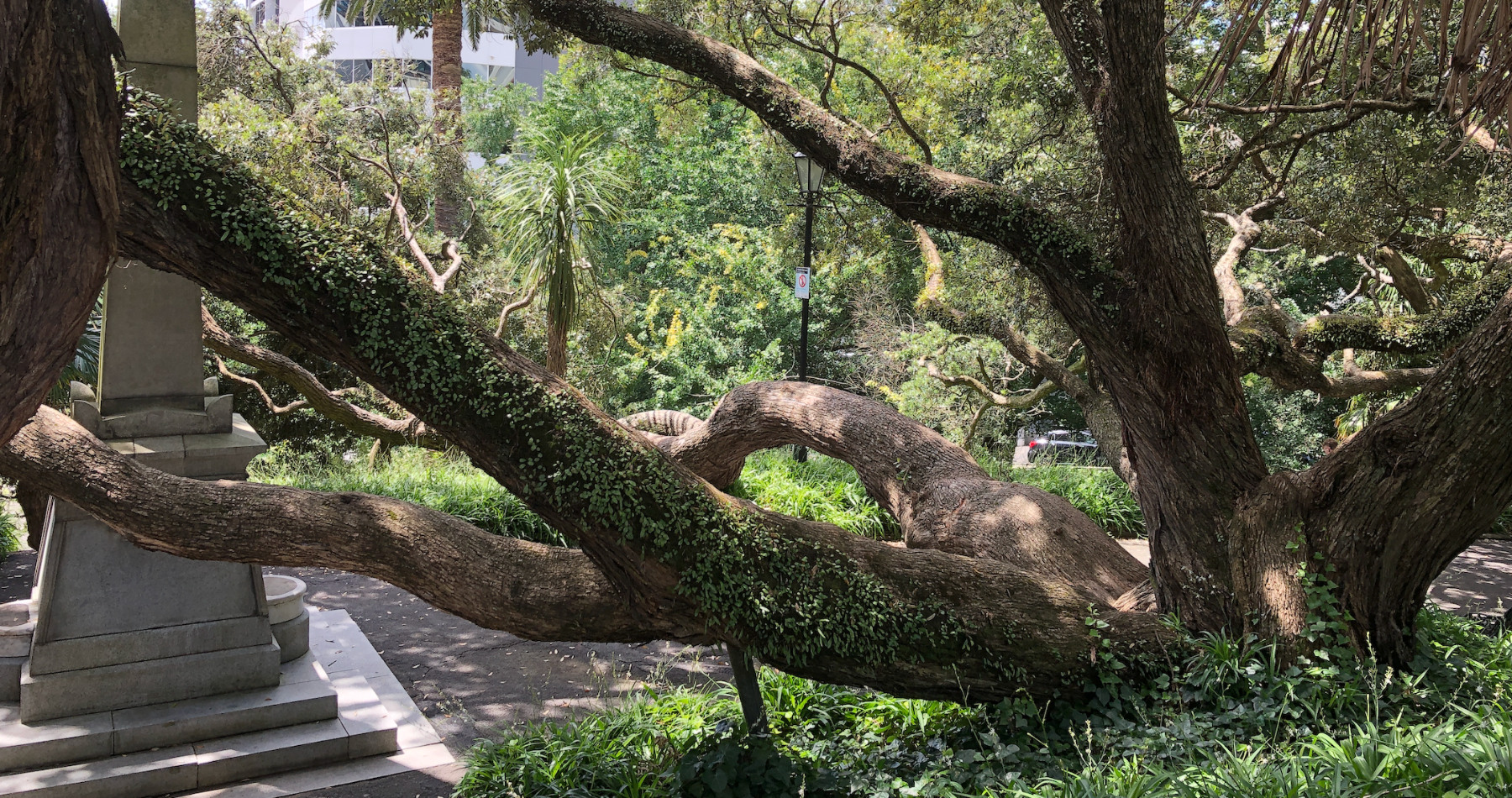 At the center of the tiny park is a monument to respected lawyer and clergyman Rev. John Frederick Churton, erected in 1853.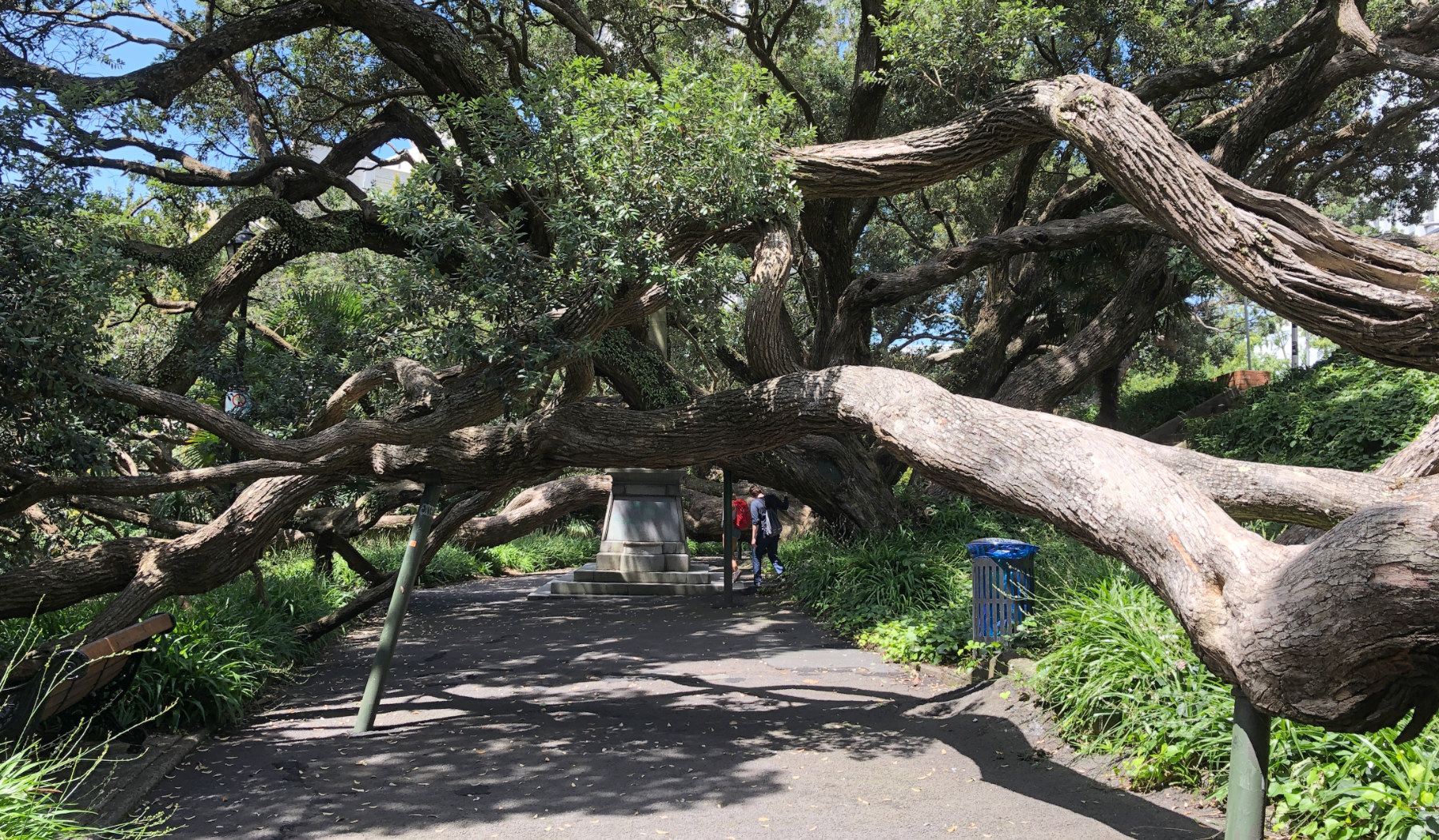 You can see that stout metal vertical poles have been wedged up beneath the branches to support their weight and keep them off the ground.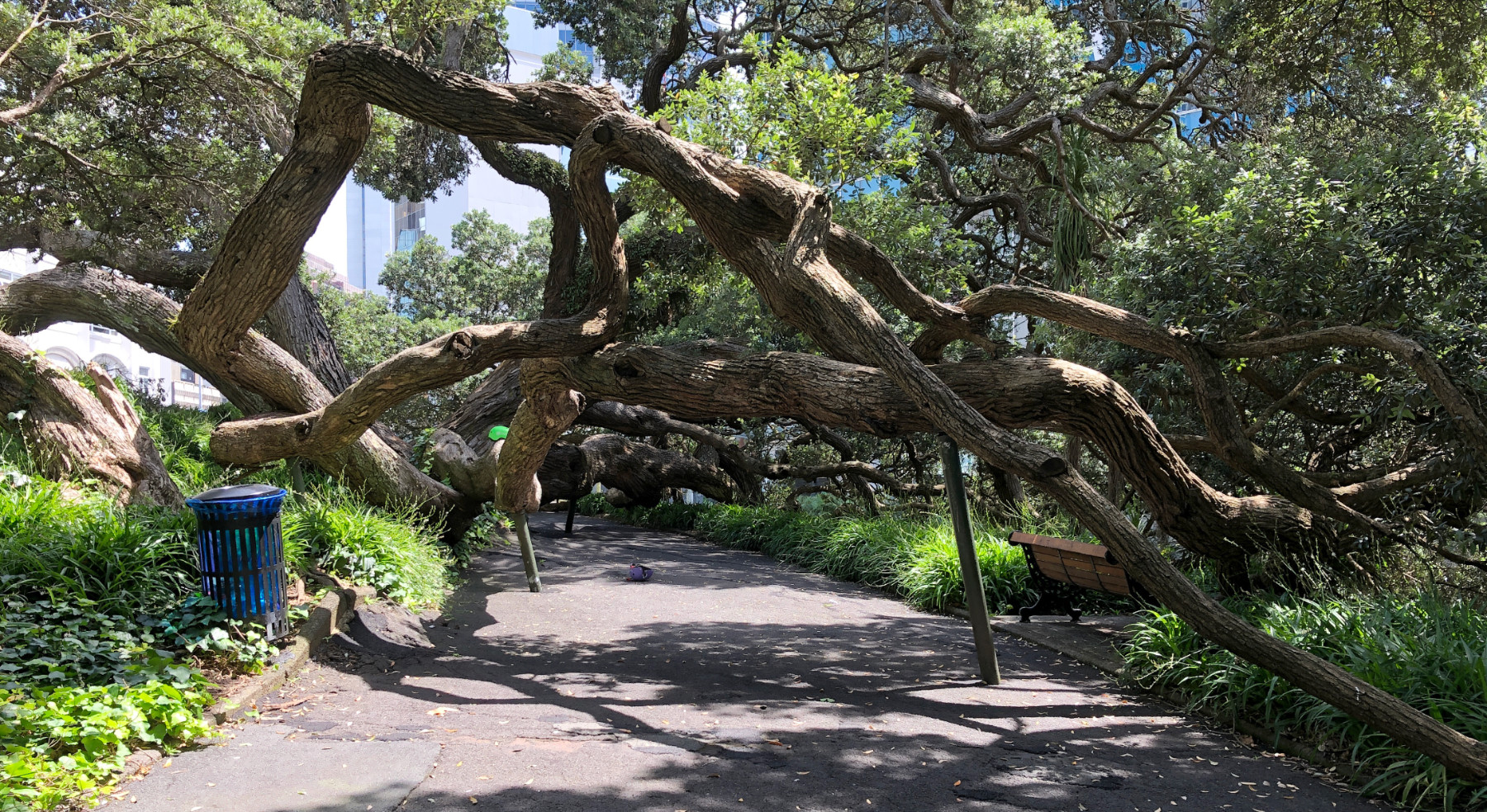 At several spots the trees completely blocked the path and you had to cut through the grass to get by.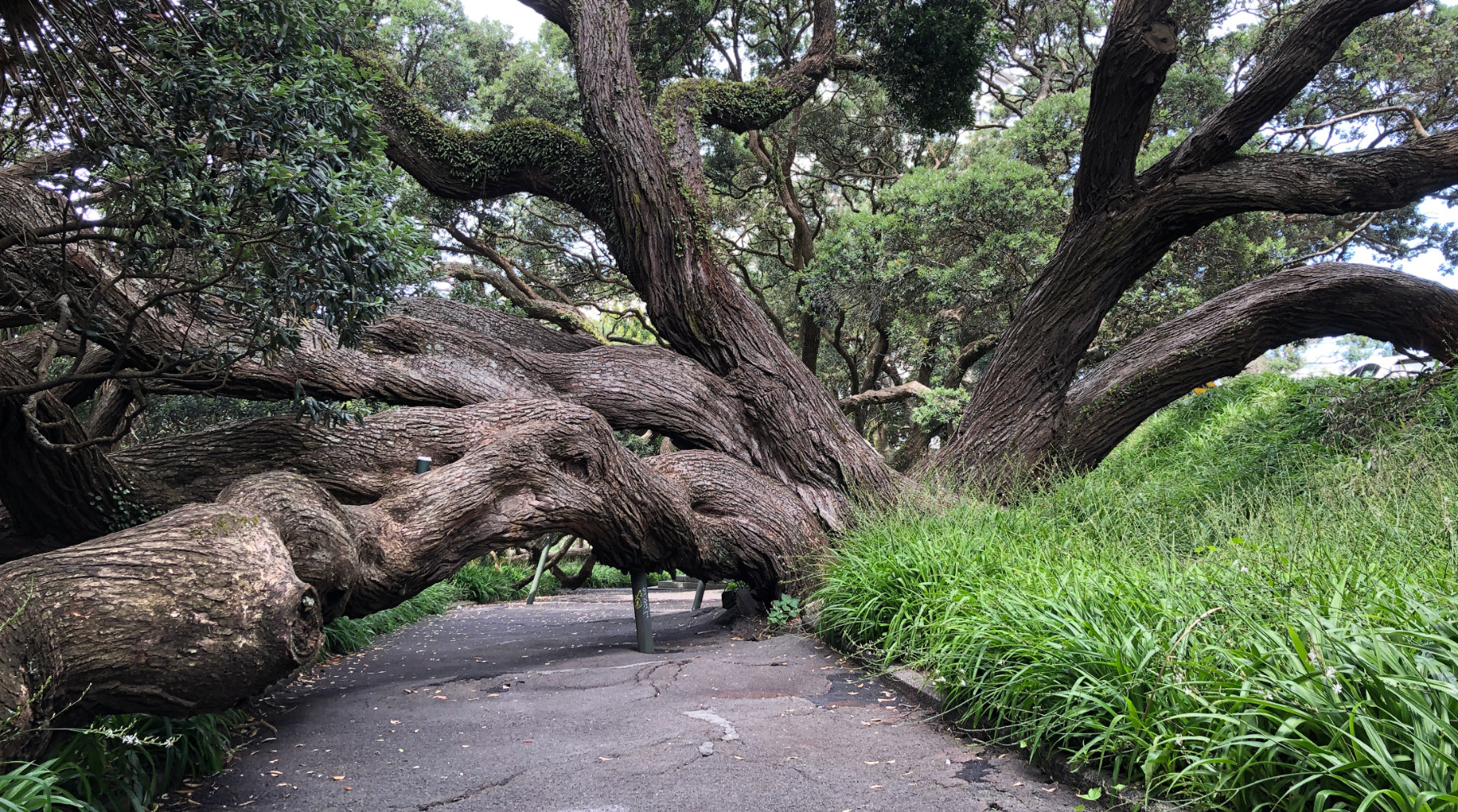 Once in Britomart, I headed to the stores that I'd seen during the Aucky Walky tour. In the first, I saw many lovely handbags with such jaw-dropping price tags that I just turned around and walked out. Earlier in my life I might have splurged on a $400 handbag, but I wish I could go back in time and tell my younger self not to waste money on such things.
In store after store, the prices were ridiculous, even after accounting for the NZ-to-US currency exchange. I appreciated the quality of what I was seeing, but everything in the area was geared toward the deep-pocketed tourists who came in from the big cruise ships in the nearby harbor, such as the one that was in the dock then and there.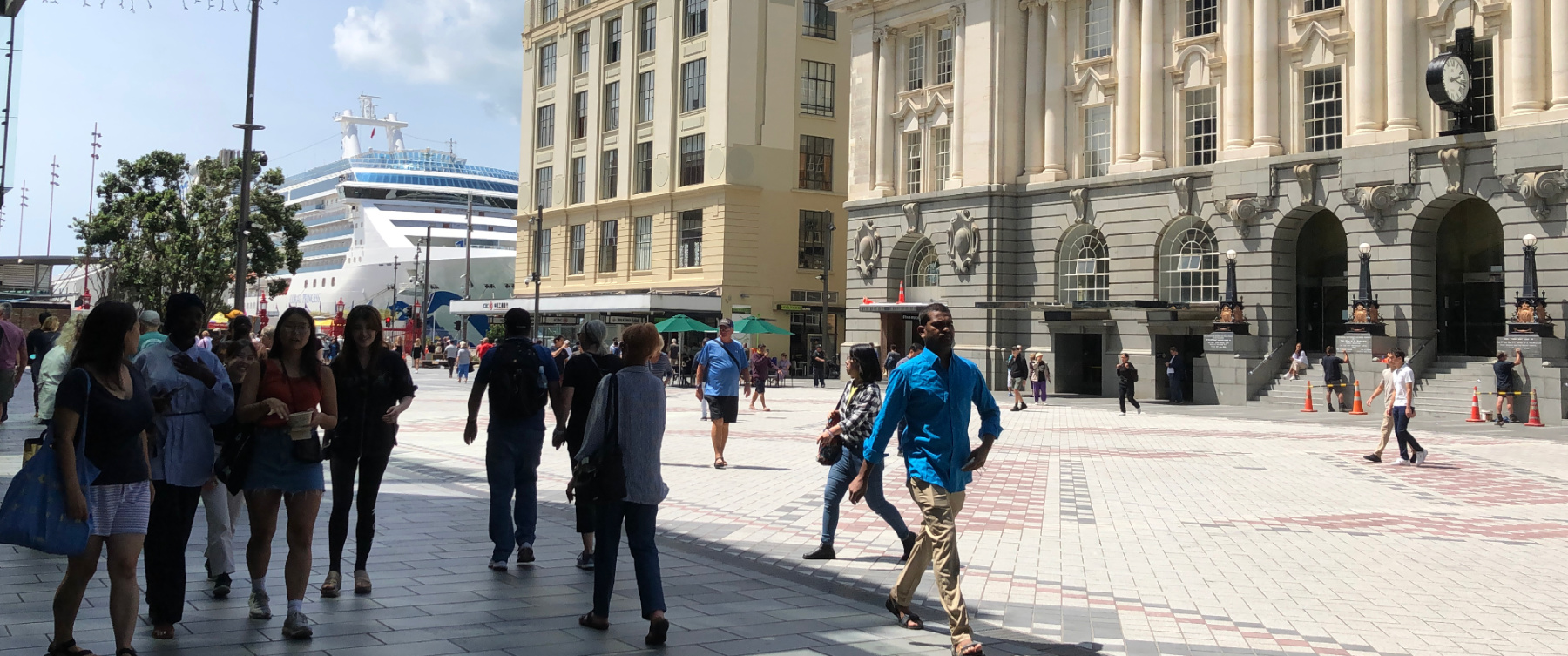 I think the op shops are more my speed! As I toured the ridiculously expensive stores, I also kept an eye out for a restaurant, but nothing seemed very enticing. Finally, by now very tired and regretting that I had such a long walk ahead of me, I decided to go back to the hotel and relax in my room with an early room-service dinner and call it a day.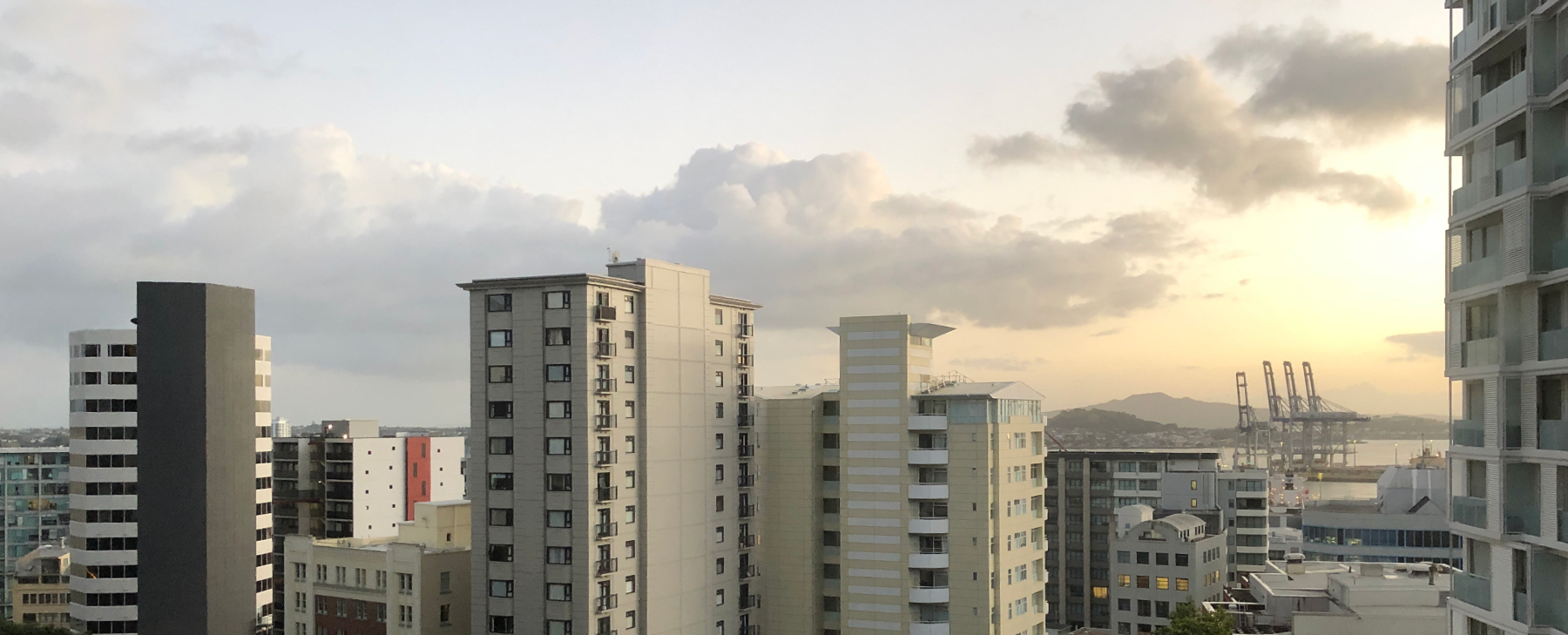 Saturday–Thursday: Meetings and a cyclone
My meetings were six days, from Saturday to Thursday, although the two weekend days ended up being just a few hours each day. Below is what our meeting room looked like, although the teams I am in are fairly small: the other meeting rooms were far larger.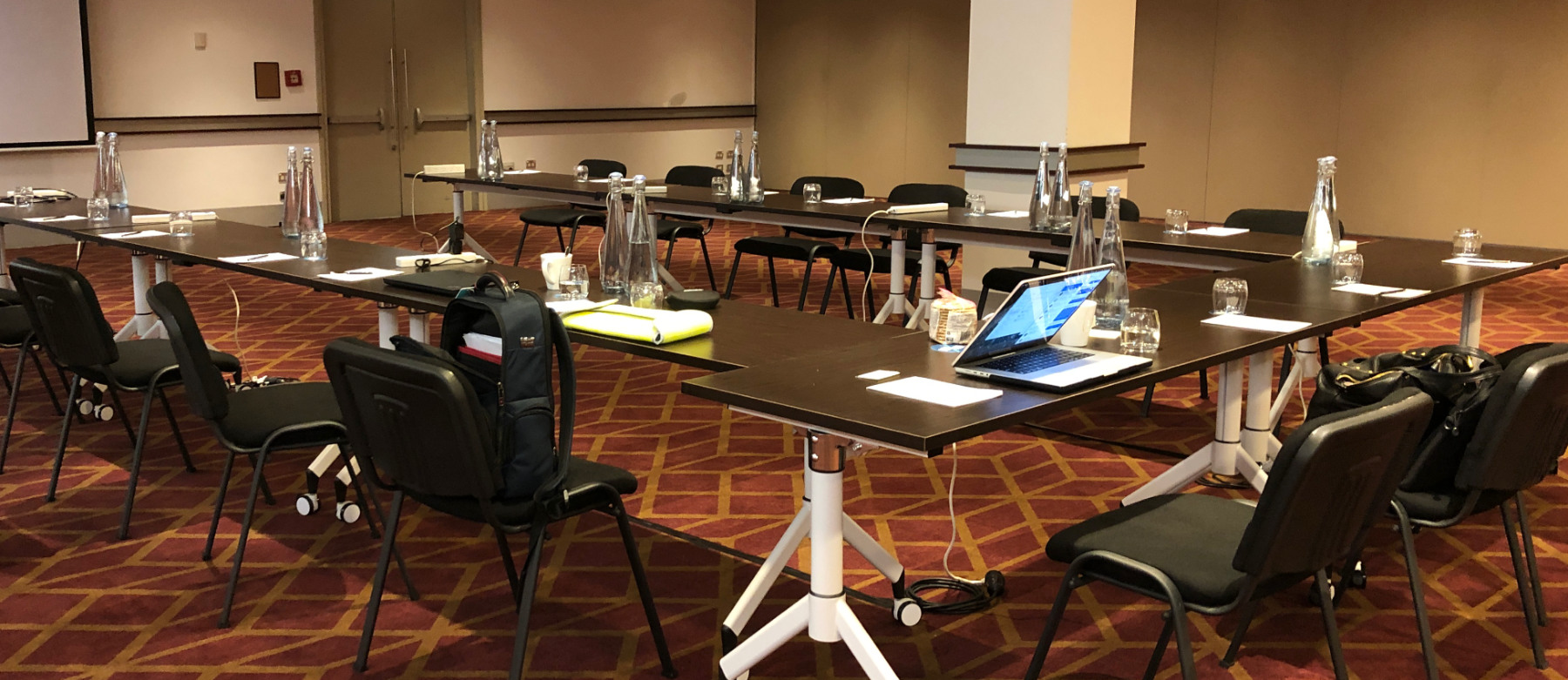 In between meetings, the big topic of conversation was the impending cyclone that had long since been given a name: Tropical Cyclone Gabrielle. While it was on target to sweep across the North Island, the city itself was still holding its breath to see just how direct its path would be.
When I walked around town over the weekend, I saw a few stores adding sandbags near their front doors, but for the most part the locals seemed to be ignoring Gabrielle. On Monday the rain started as the cyclone neared, and the winds started to pick up the next day. I got an email on Tuesday from the Auckland Theater Company saying that the play I had tickets for the next day had been cancelled due to the cyclone. They offered to book me for the play on a different night, but I told them to just consider it a donation. (Always support the arts!)

When the storm finally came, I didn't really notice it from inside the hotel. I stopped at windows a few times to watch the trees move in the wind, but nothing looked particularly intense or dangerous. The next morning, the hotel had men with chainsaws removing damaged branches from a tree, but otherwise things seemed unchanged. Of course, north of the city it was a different matter, with parts of the North Island sustaining damage in the many billions of NZ dollars and the country declaring its third-ever state of emergency.
On Wednesday, with the storm very much behind us and my meetings having ended early in the afternoon, I went out to explore, this time heading south through part of the University of Auckland campus. Here I saw there had been much more damage in the city than I had realized, encountering quite a few limbs that had fallen from the huge trees.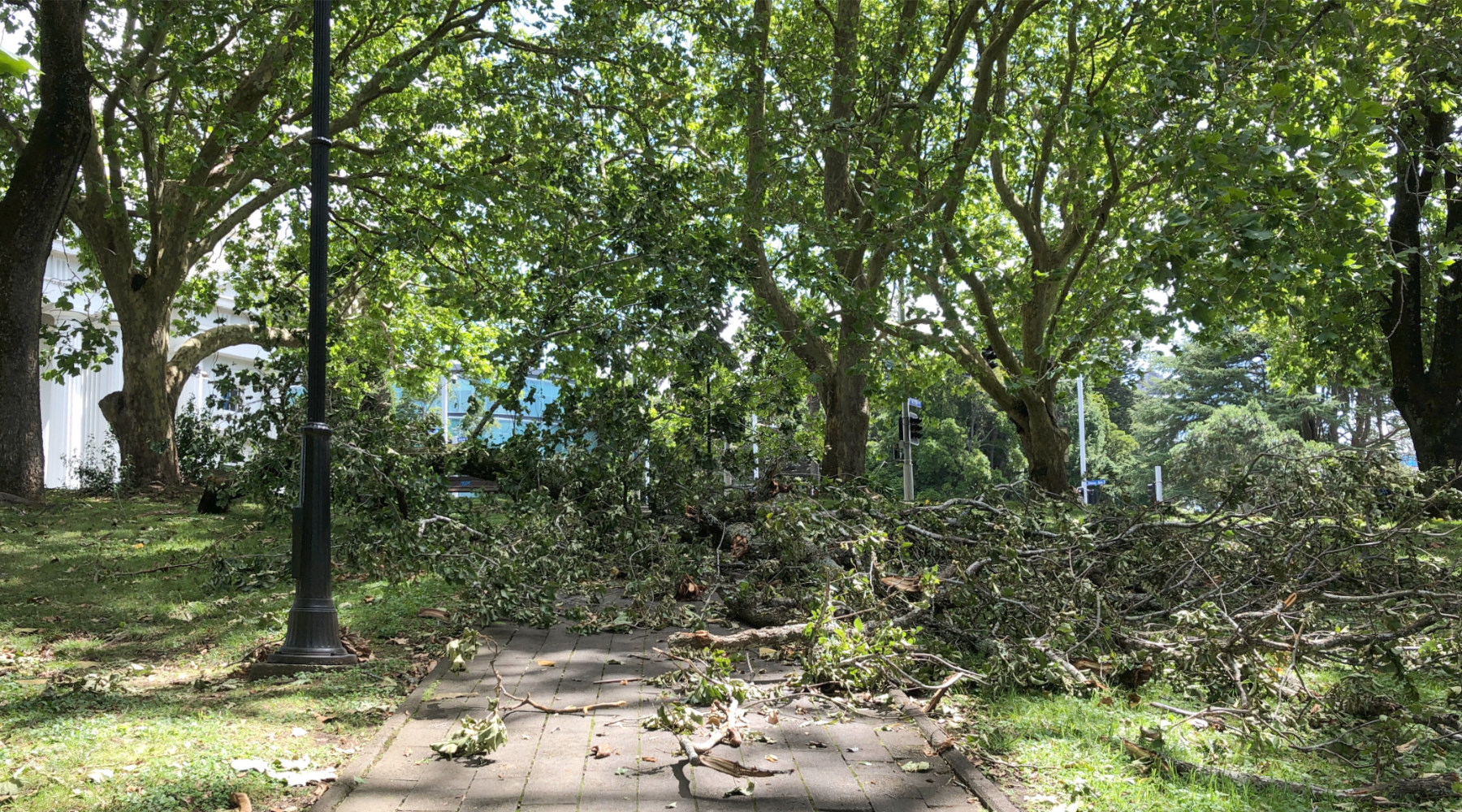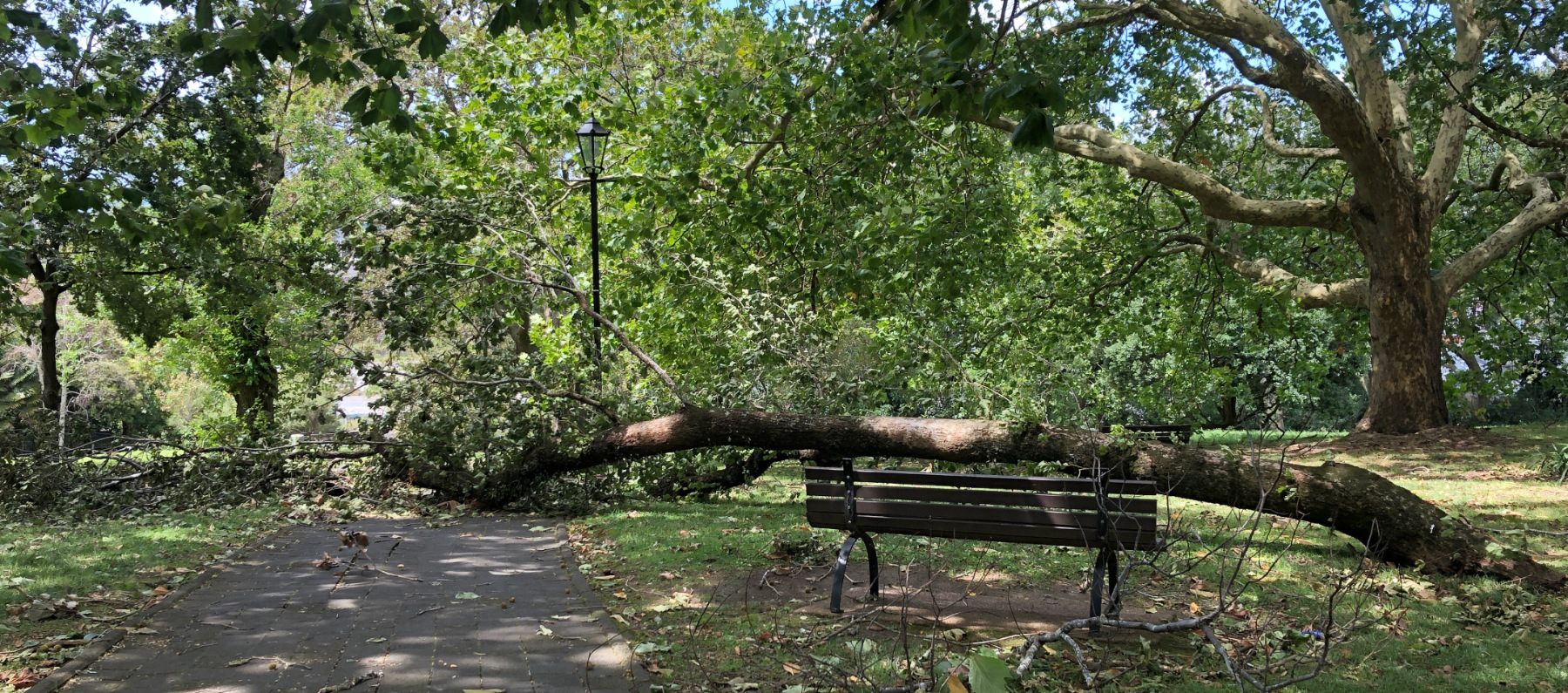 But aside from the occasional fallen branches, it was a pleasant walk.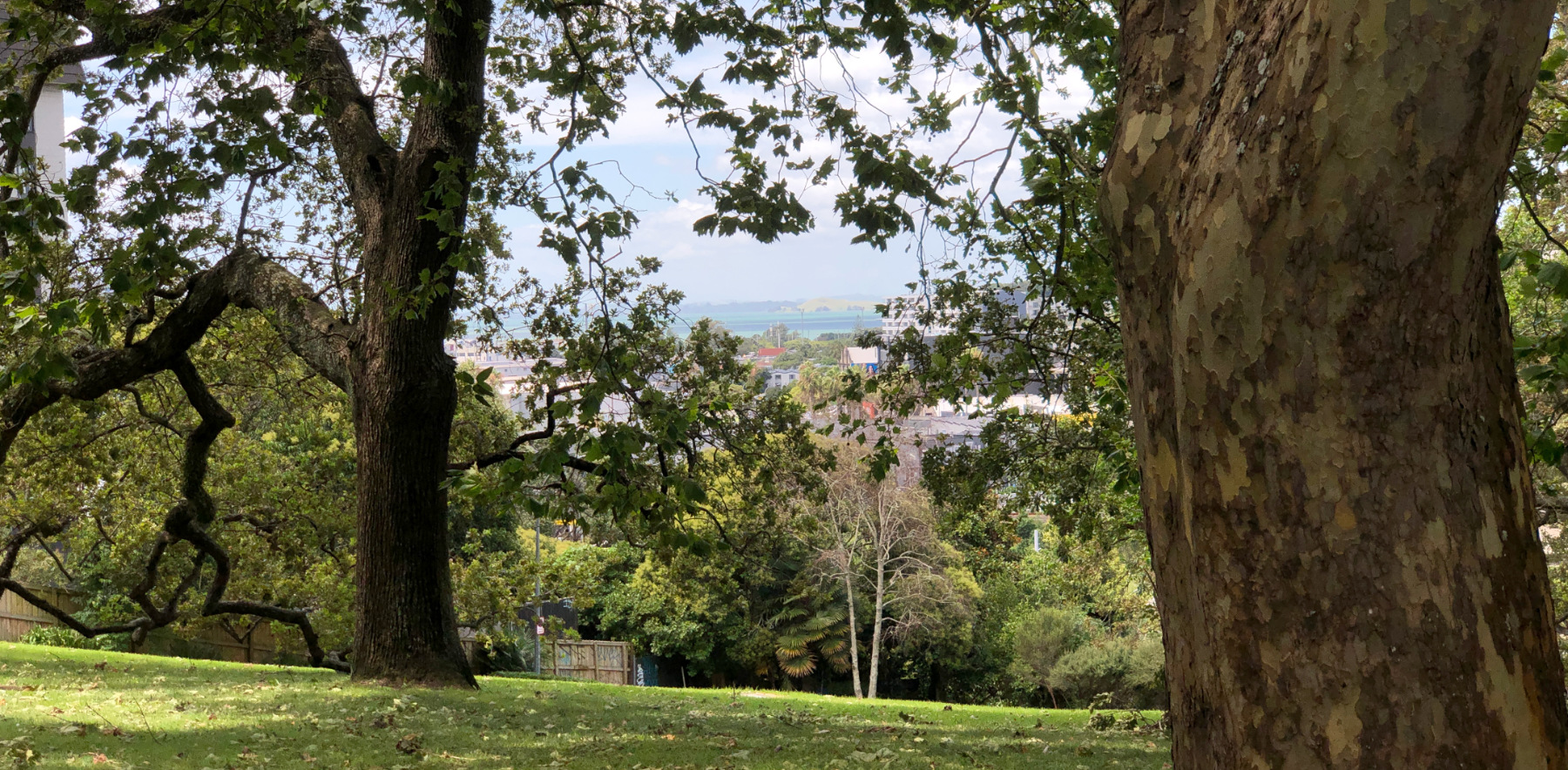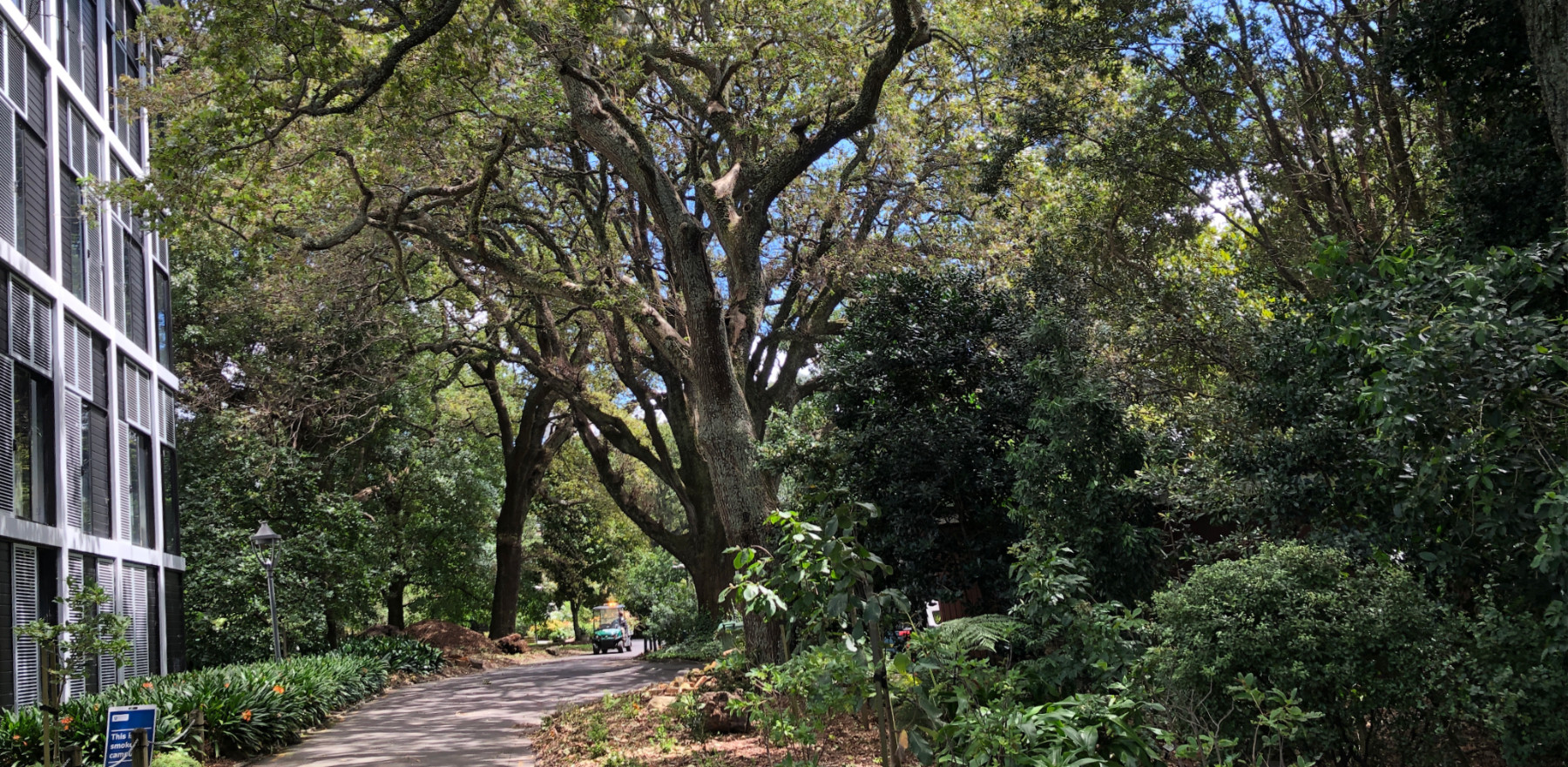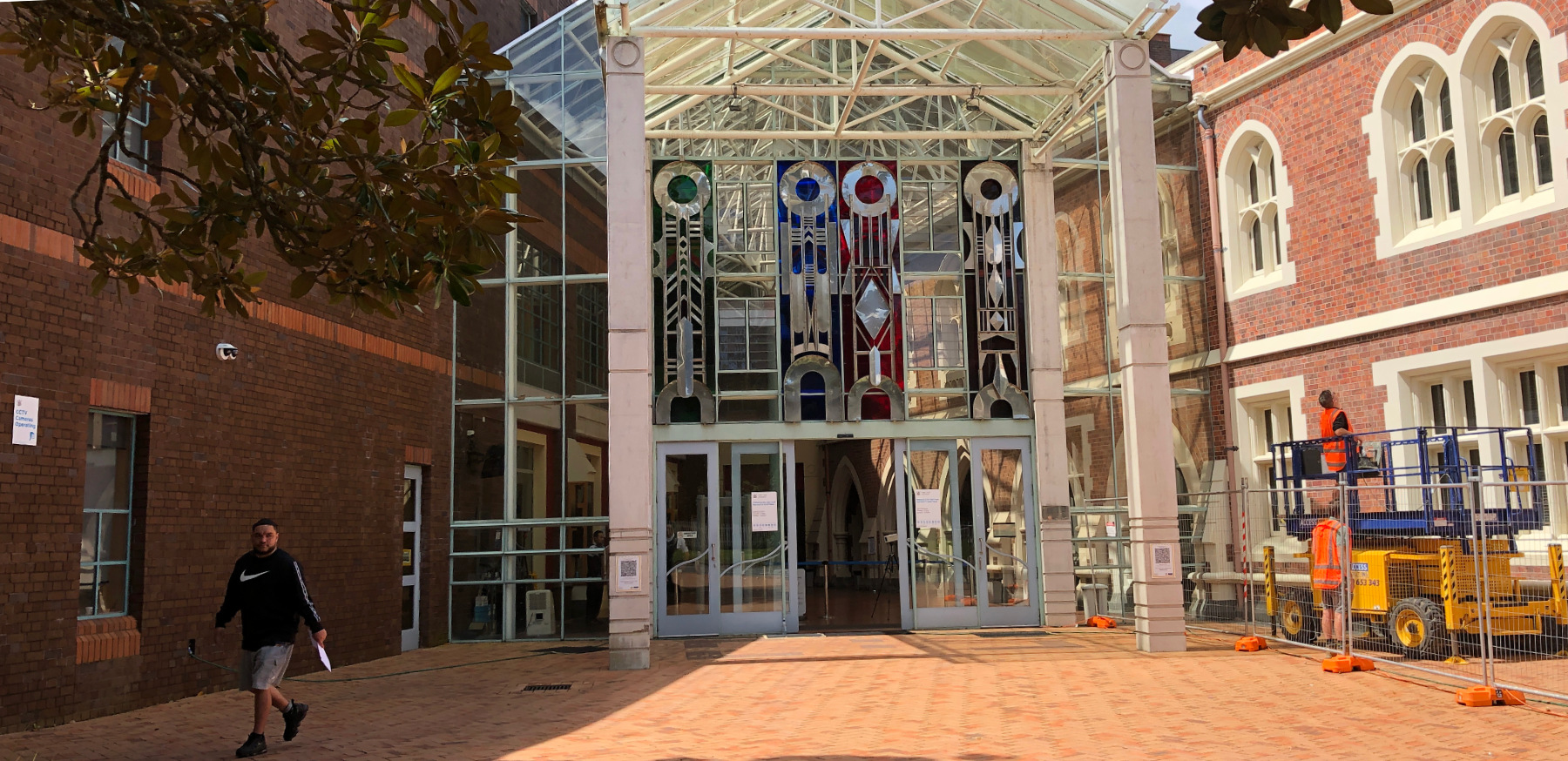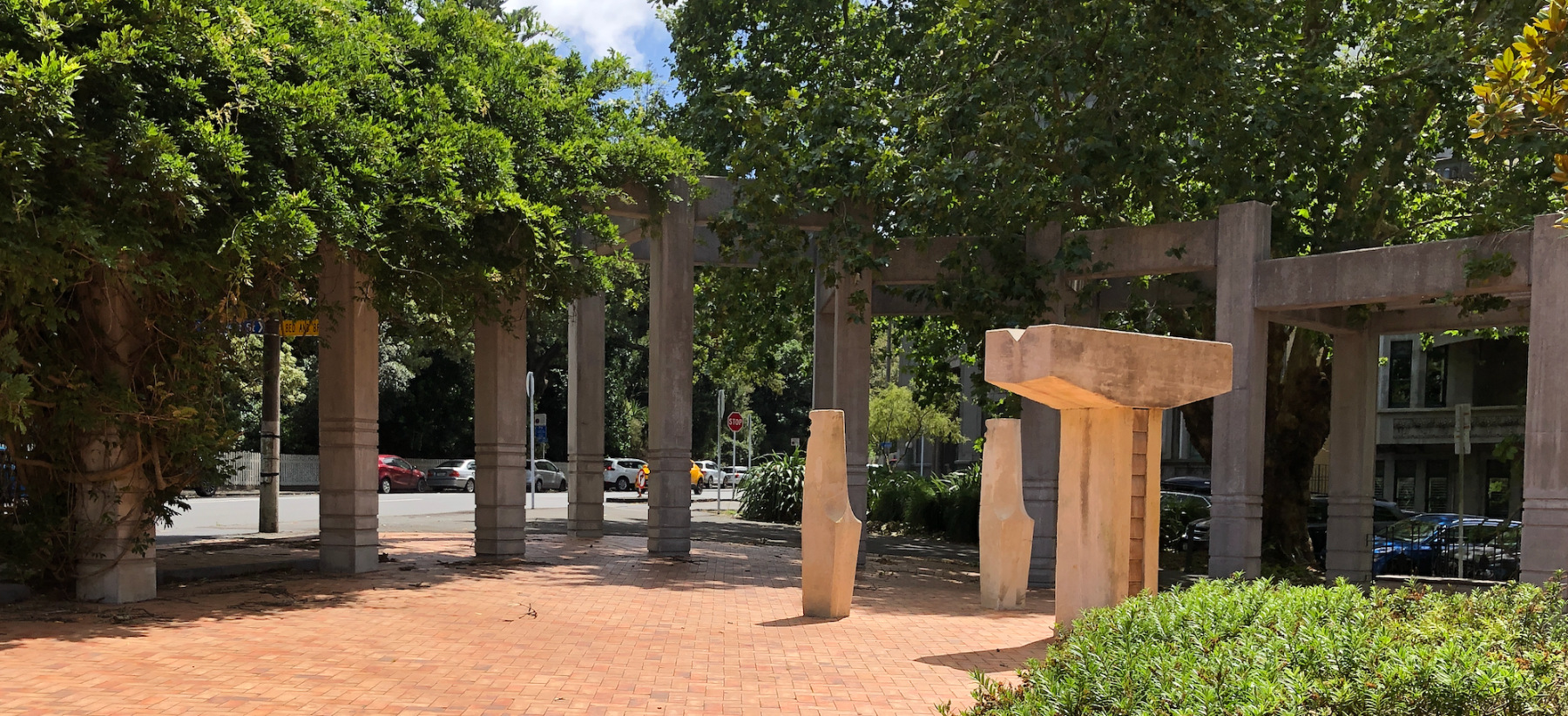 Having come from my home in winter, this walk on a sunny summer afternoon was reminding me what it was like to be a bit overheated. Time to turn around!
Even though I hadn't found any nice shops, I had at least burned lots of calories. As I puffed my way up countless hills, some even with stairs, I remembered the couple from the Aucky Walky tour saying that every New Zealand road seemed to be uphill. My goodness, they're right!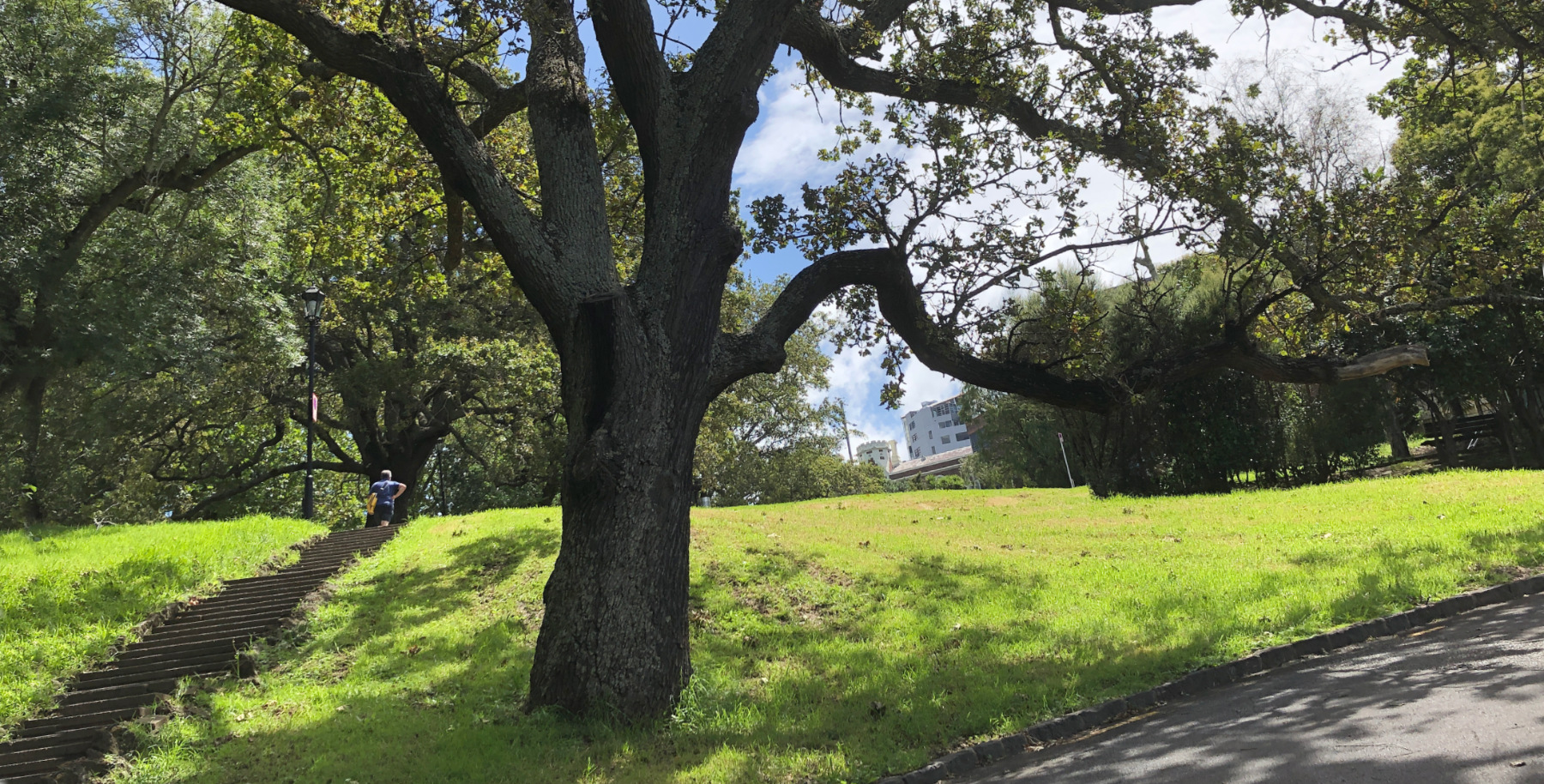 Thursday: The Yacht
This client for whom I do most of my travel always schedules a nice social event near the end of the week. Thursday was our final day of meetings, and at the end of the day the entire group (I think around 90  people?) loaded into several vans and headed to the Princes Wharf for a scenic excursion on a yacht.
There was live music, alcohol, snacks, and beautiful views of the harbor. We spent just over two hours cruising out into the bay and back, watching the sun color the sky orange as it set, then enjoying the lights of the city in the dark. I spent the entire time on deck taking photos, 266 in all, so I want you to be very impressed that I narrowed this down to just six to show here.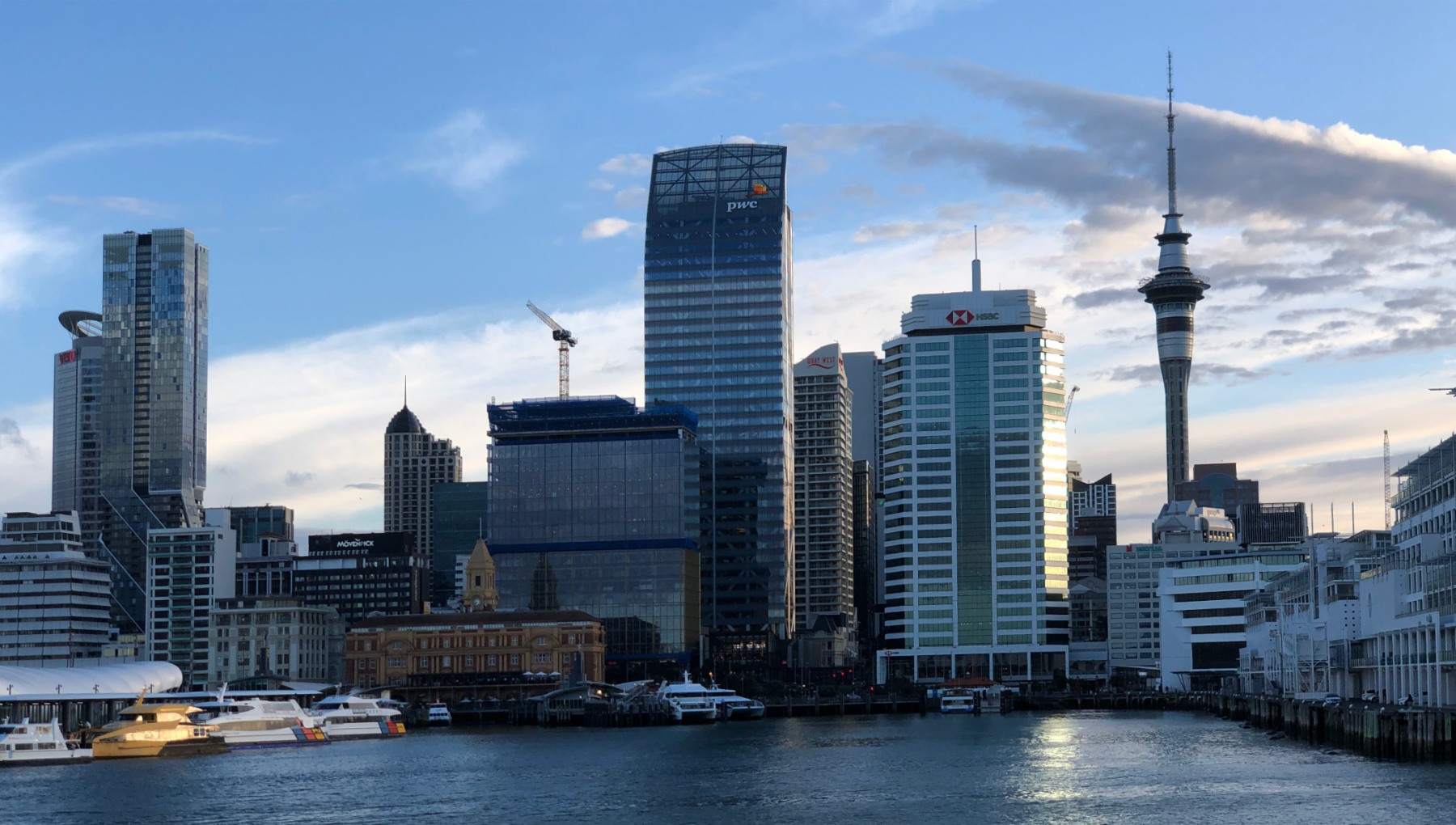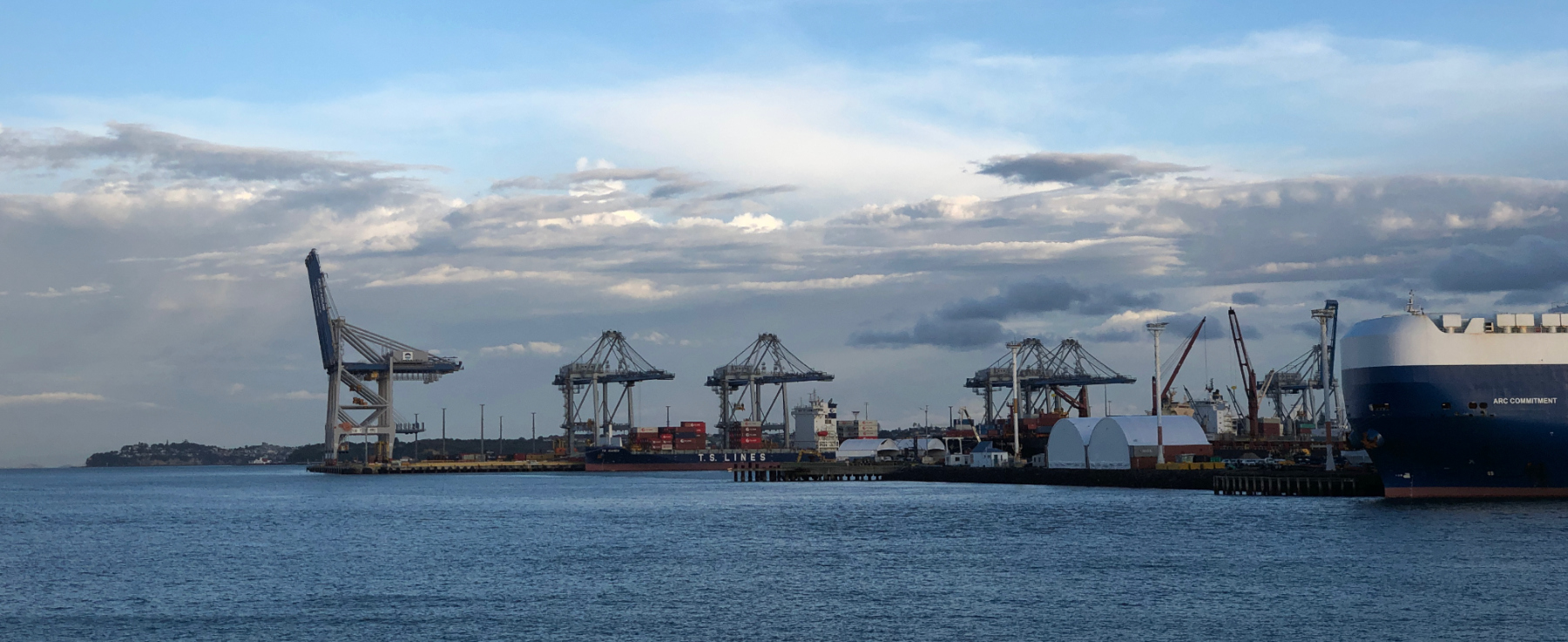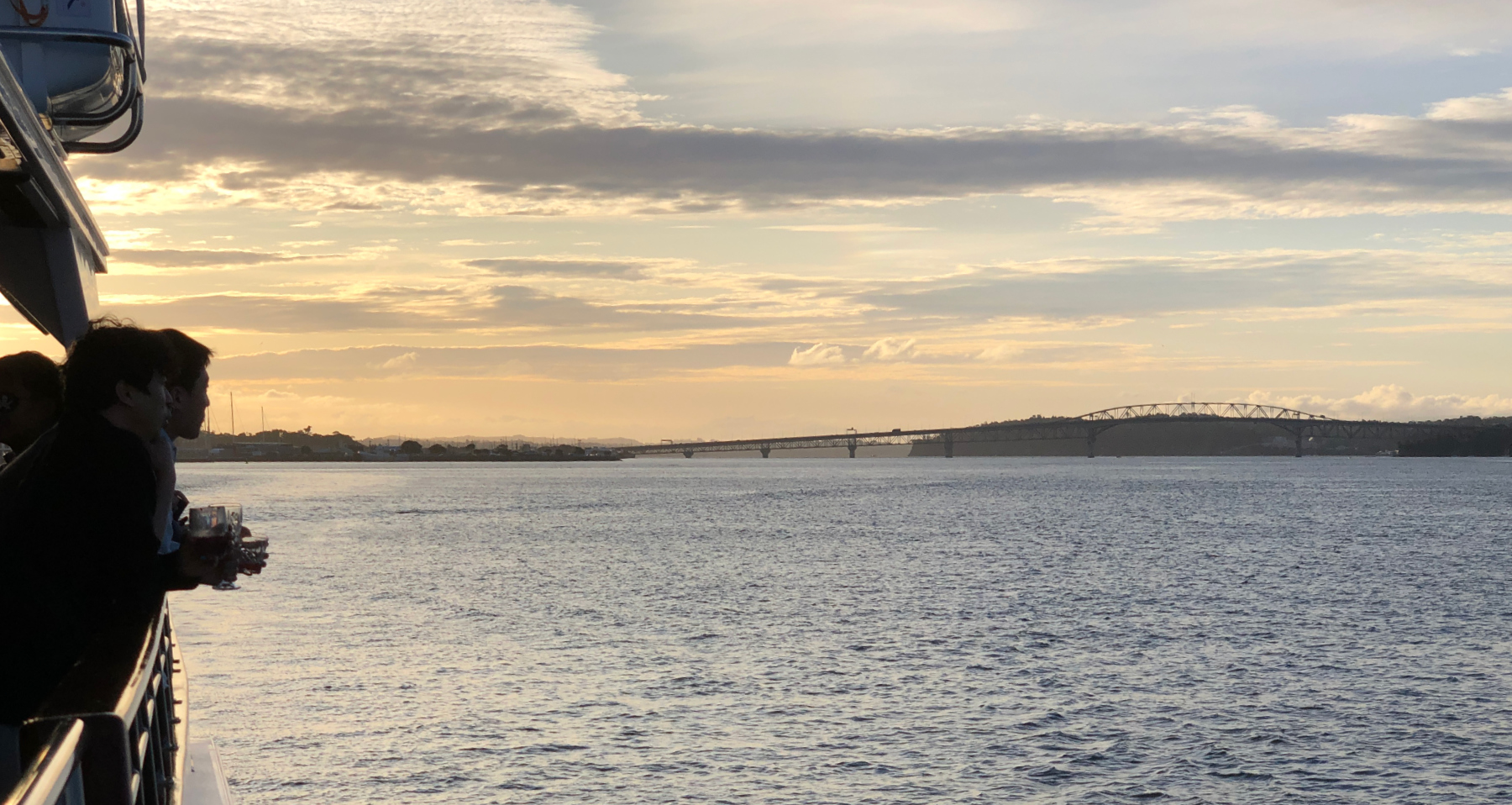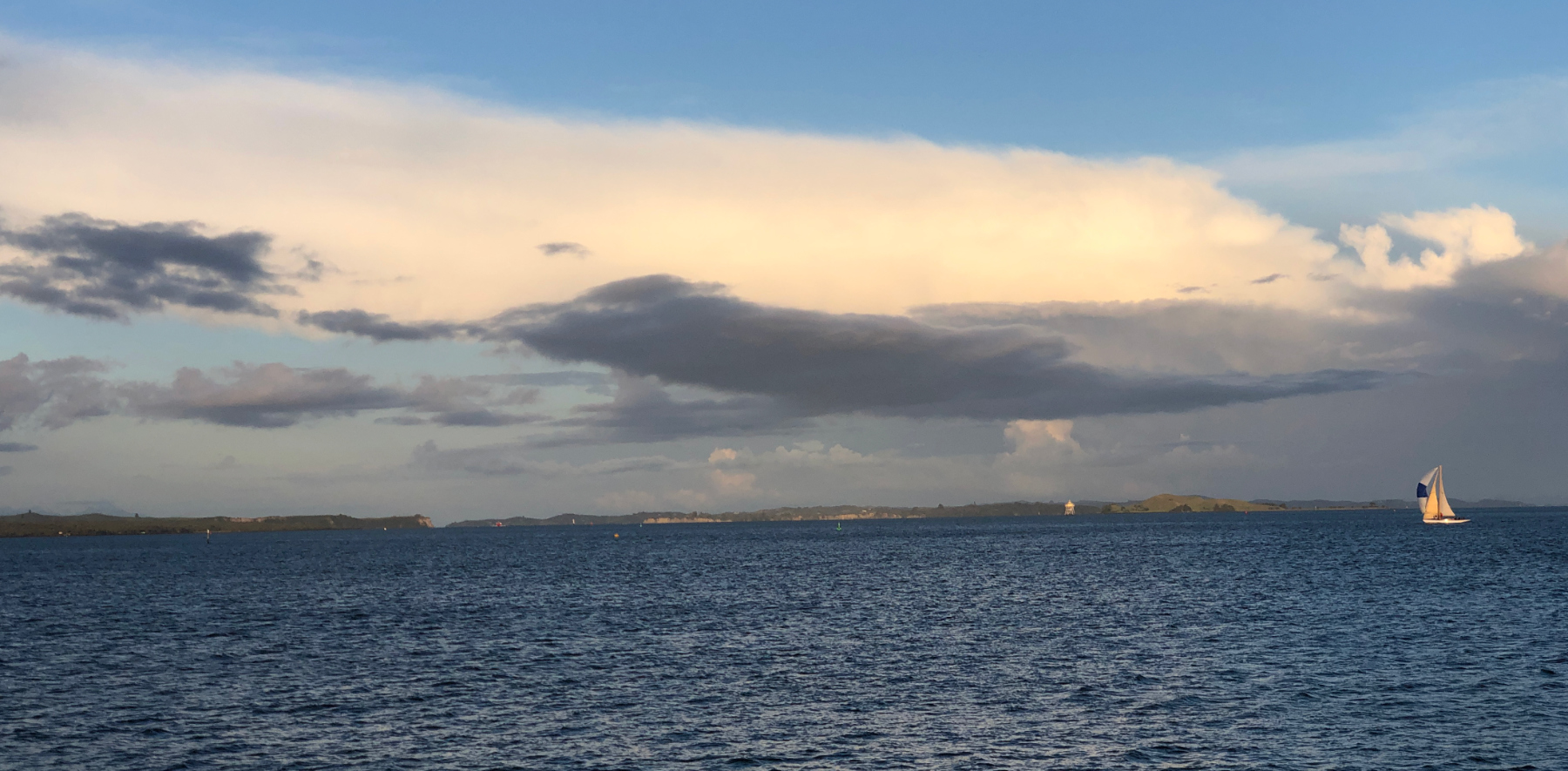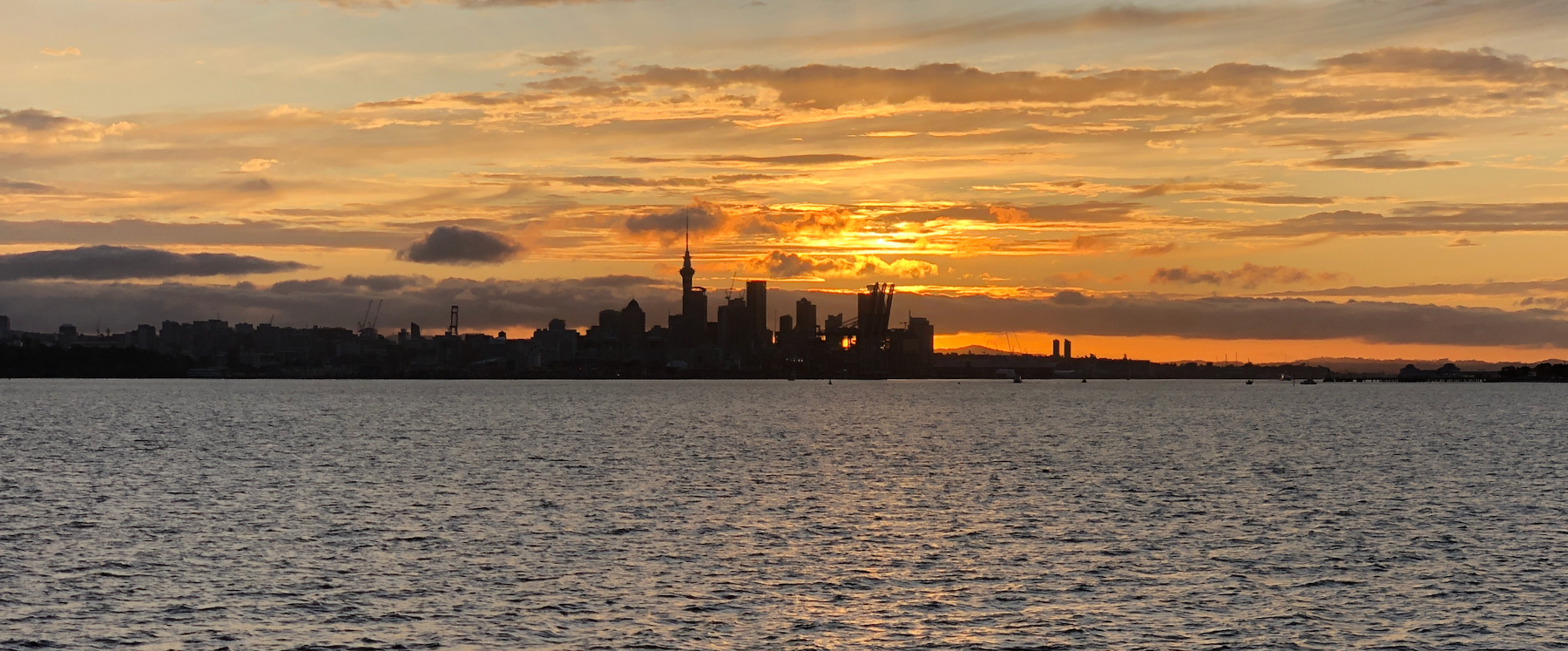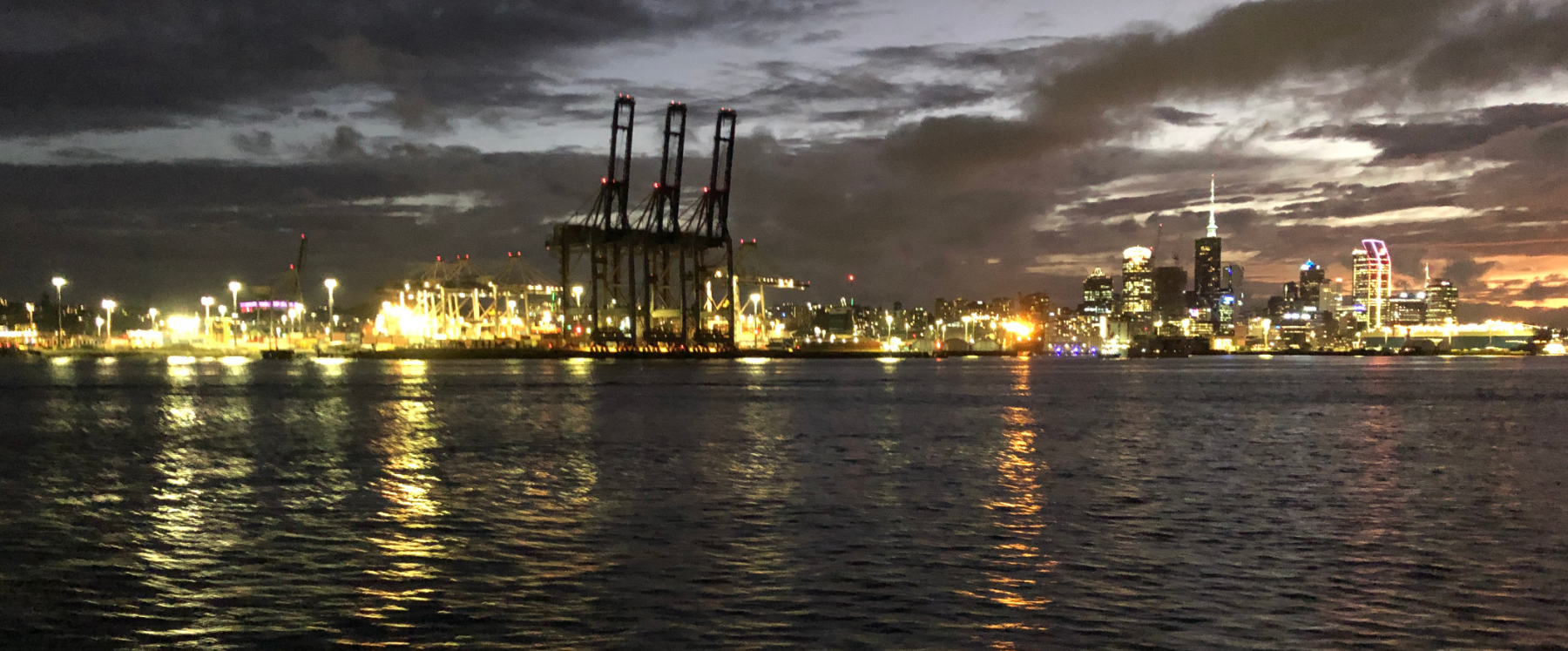 When the sun was finally too far down the curve of the earth to color the sky, I looked up and could faintly see the stars. I am a bit of a space nerd, so it was so amazing to me to look up at the stars and realize that these were constellations that were completely different from what we see in the northern hemisphere. I was seeing stars that I'd never seen in my life. A bit mind-blowing. (Okay, I say "constellations"—but we were never completely outside of the light pollution of Auckland, so really I saw about five stars. But still….)
Travel home
My homeward trip started the next day with a 4 am taxi to the Auckland airport. It was surprisingly busy, but things went fast. In fact, this return trip went even more smoothly than my trip out. Standing in the security line in Auckland, I enjoyed the swirling fish sculpture hanging from the ceiling, then I popped into a shop to buy a New Zealand sheep toy for my granddaughter and some Whitaker's chocolate to enjoy at home.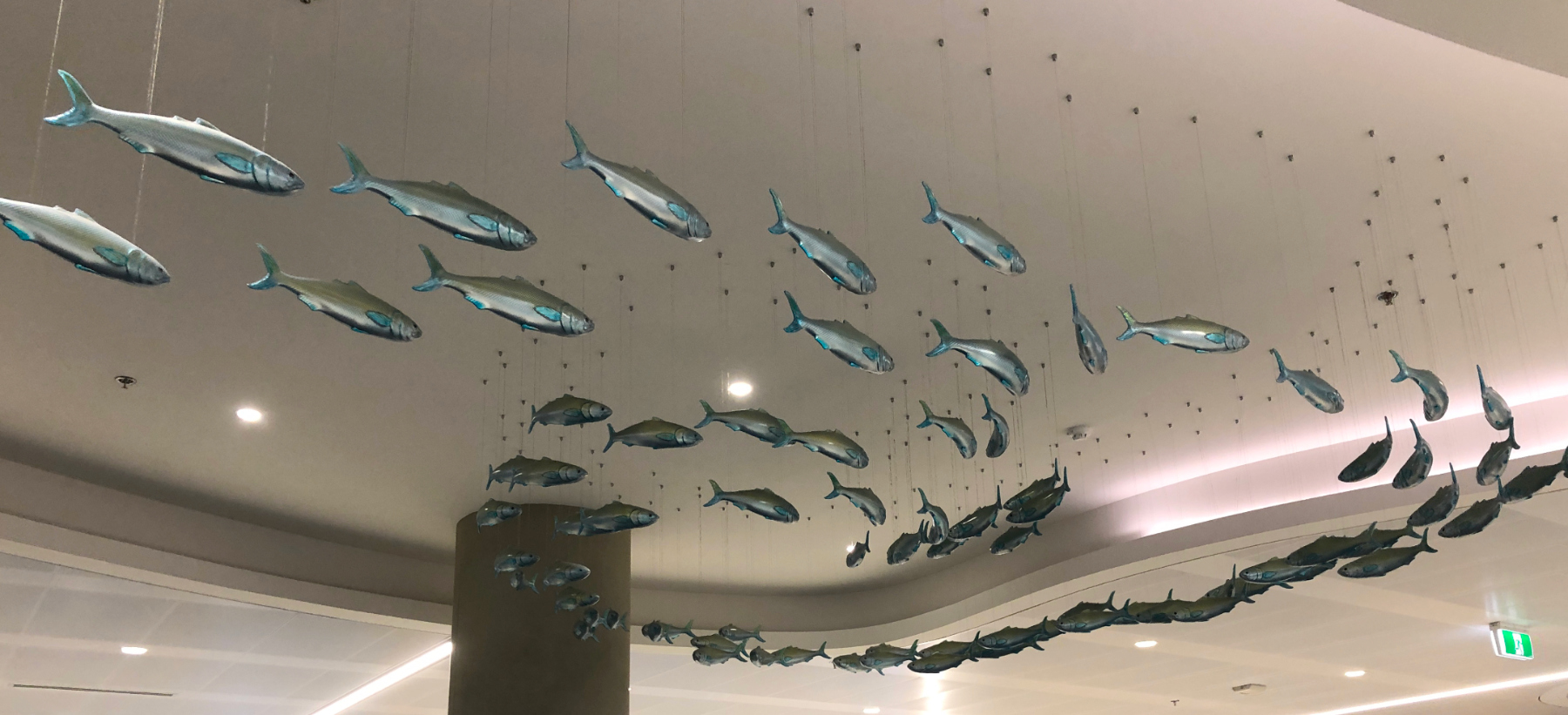 After arriving in Sydney, I had just under two hours until my next flight. I bought a kangaroo toy for my granddaughter, and stopped to stare at this fascinating art (which, despite what you see in the video below, has a clear "Please do not touch" sign below it).
About thirty minutes into my 14-hour flight from Sydney to Los Angeles, the two other people in my row found other seats they liked better. So, after watching a few forgettable films, I was able to lie down across the three seats and get some real actual-to-Zeus sleep. On a plane. Incredible!
This was my first-ever time arriving at LAX from the west, coming into LA from over the Pacific Ocean. It was about 5:30 on a winter morning, still early enough that we were arriving in the city before the sun. It was so dark out that the lights up to the edge of the coast looked just like we were coming upon a lake of fire.
Entering the terminal, I finally found some LAX art to admire: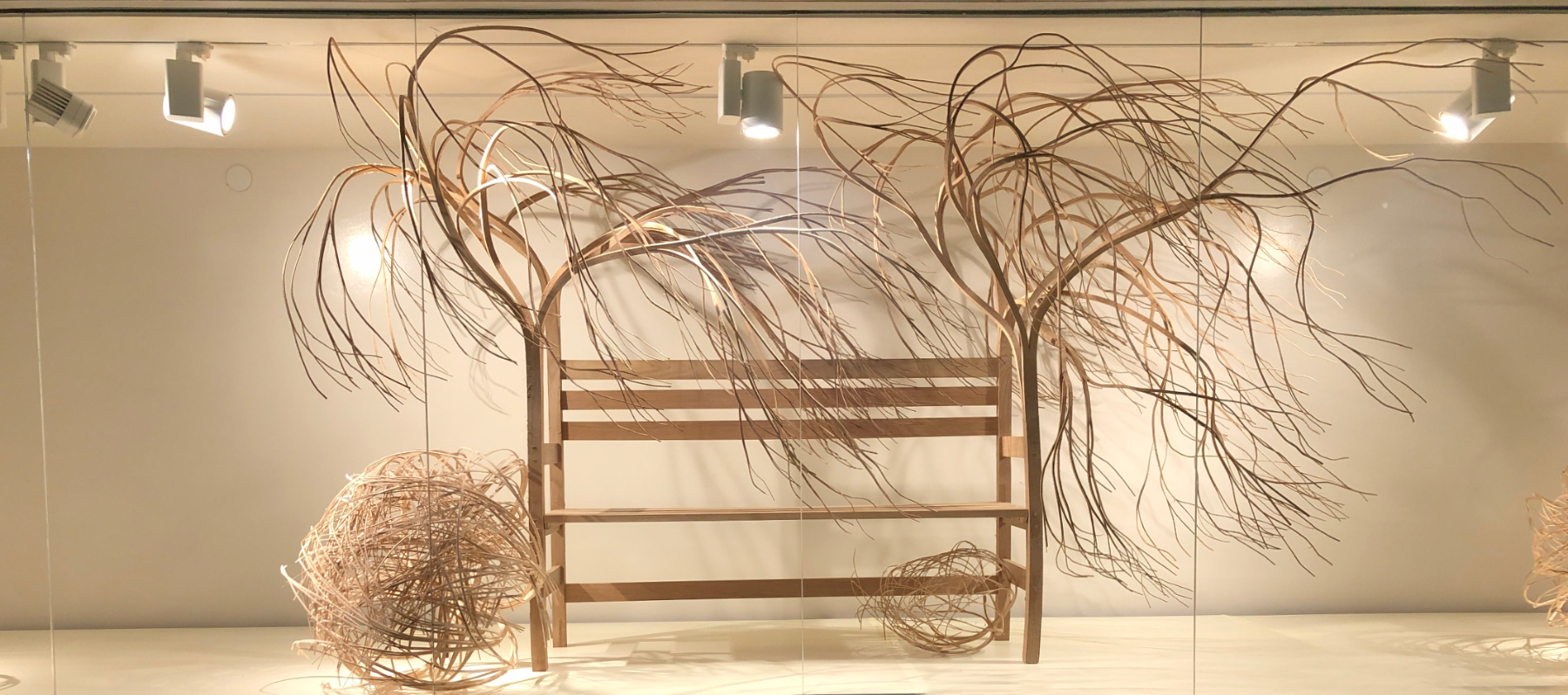 I had four hours to kill in Los Angeles. I wanted food, but was shocked at the airport prices. With my $12 coffee and croissant in hand, I found what must be the single most comfortable seats in the entire terminal. I plugged in, charged all my devices, and enjoyed the opportunity to catch up on email and sort through some photos before getting onto my final flight.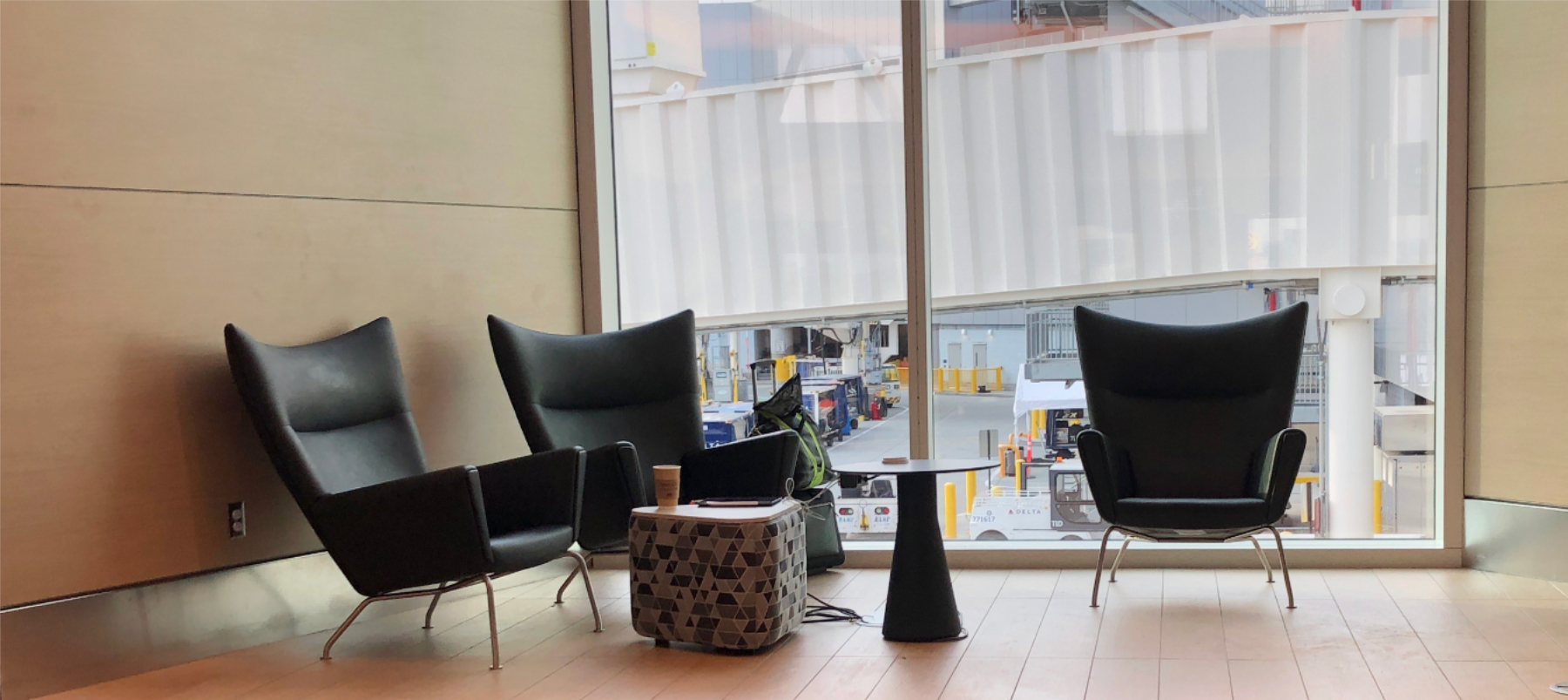 Later, sitting on the plane waiting to depart, I watched as a small black car drove up to the stairs leading up to the plane beside mine and an airport employee went up. A few minutes later he came down carrying luggage with another fellow following him. They got into the car and drove away. This is how a celebrity deplanes, although I have no idea who this was. Yep, I was in L.A., alright.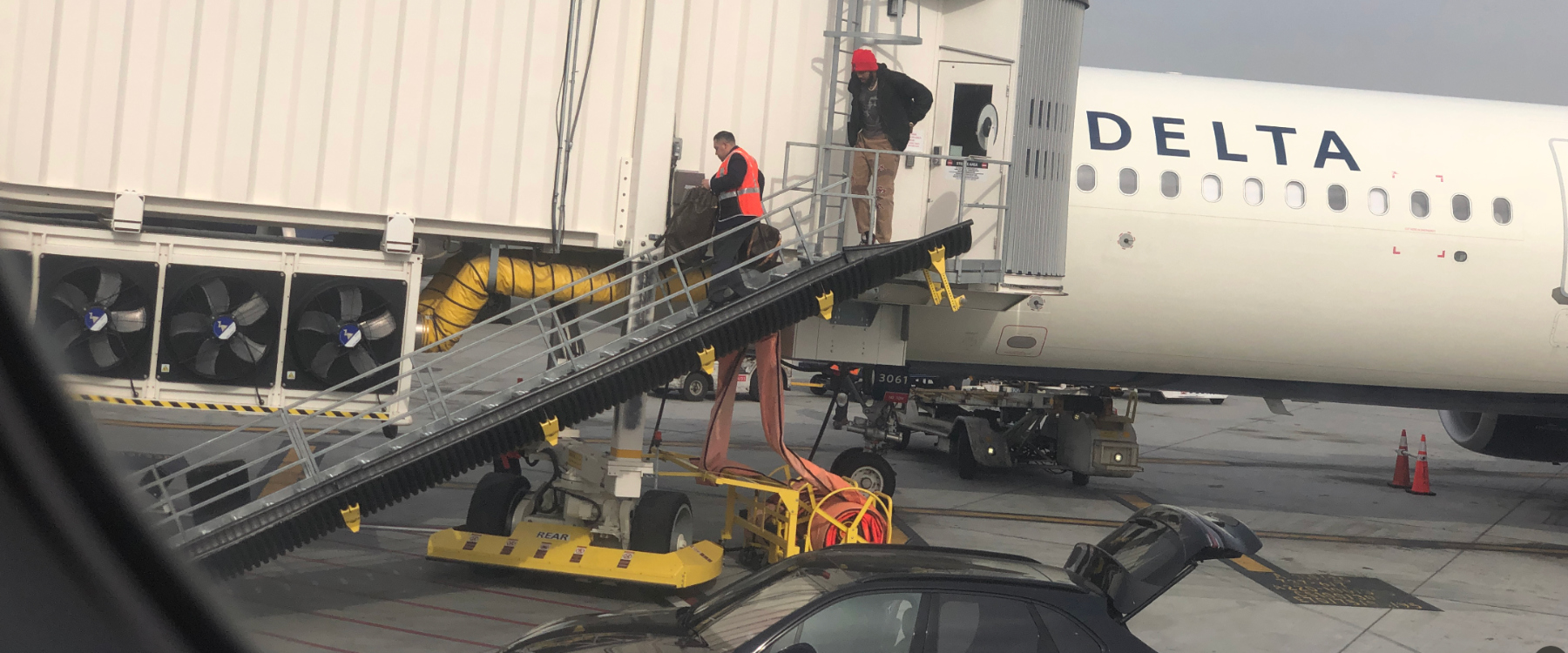 Flying north into Oregon, we passed over Crater lake.

Arriving at PDX, I had my usual "Oh, at last I am home!" feeling when I entered the airport. And a short Uber-ride later, I was home to start my 5-day post-travel quarantine.
The end of my trip
Auckland was wonderful — Of all the many places I've visited, this has left me with far more "I'd love to live there" moments… but of course, a move all the way out there would pretty much be a goodbye to your family and friends in the US and Europe: travel back and forth is just a bit too much in both time and cost to be undertaken often.
The actual travel part of this trip was in stark contrast to previous trips: everything went very well. All the security and the customs lines were fast and painless, nothing was lost, there was no undue hurrying, and I even got to sleep a bit on the plane. It was like the universe was saying, "We're sorry your last few trips were such sheer hell. As a token of our apology, here is a trip in which everything will go perfectly." (I'm not sure why I've cast the universe as a conscious entity that refers to itself as a plurality… it just sounded right.)
This is most likely my final international trip. For reasons I know I will blog about once I figure it out myself, I was getting more and more stressed out about travel and decided I really needed to stop. I have greatly enjoyed and valued the trips and the opportunities to see so much of the world, but I am glad to be able to just stay home now.
Thanks for reading this long post!
Here is my time lapse video of the cranes from my hotel window (I swear, they do move eventually!):
And why not just one more pic of the kitten?