This is Part 2 in my series about building a new home. The full series is here, or see the previous post: The next adventure: Building a home.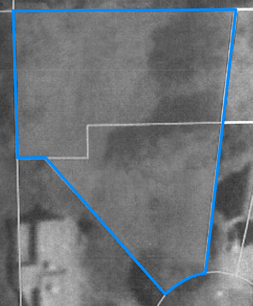 Now that we'd narrowed down the location to the Long Beach peninsula, we focused on a lot that was in the same neighborhood as my brother's home in Ilwaco.
It's actually two lots, combined to be just over 1/2 acre sitting on the top of a 250-foot hill with an asking price of $65K. Only the front, pie-shaped lot is at all buildable. It has a 10-15% down-slope back to the second lot, which is far more steeply sloped, deeply wooded, and backs into a dense forest.
We'd already learned that choosing a lot with a slope automatically adds headaches and cost to a build, so we looked at the alternatives. The majority of the land in the hills of Ilwaco is owned by an organization that has been planning a large community there for years. Their flat, easily-buildable lots are reasonably priced and have beautiful views. But the planned community is gated, which exudes an exclusionary attitude that is just not our style. Not to mention it comes complete with an HOA fee and a ridiculously long legalese-laden contract. No thanks.
We'll take the pie-shaped slopey lot. That is, if we can put a home there.
The small matter of money
A few months earlier, we had found a lot in Silverton that we almost bought. We made an offer on it contingent on our determination that it would work for us. It wouldn't: we had to walk away. But this experience revealed to us a critical aspect of this project that we'd foolishly not thought through: money.
Sure, we had enough for a down payment. But almost all of it was tied up in instruments that either have early-withdrawal penalties or high tax hits if we take it out before we retire.
Thus we realized that when the time comes for us to actually write a check to buy a lot, it would have to come from the sale of our home. Further, we were being told that while offers contingent on the sale of a home are common when buying another home, they are not so often accepted when buying lots.
This meant that, rather than happily staying in our home in Beaverton while our new home is built, we will have to sell our house even to buy the lot. This adds quite a bit of hassle and cost to this project:
The cost of renting a place for the year (or two!) that it takes to build the new house.
The uncertainties and compromises of living in a rental.
Two moves instead of one.
Two address changes.
Renting a storage unit for our extra stuff.
But our choice of the peninsula simplified this a bit: My brother and his wife were in the process of buying a new home about 30 minutes further north on the peninsula and were unsure about what to do with their current place. As we would soon be looking for a place to rent while we built our new place just tens of yards away, it looked like things were just about perfect: We'd rent from my brother.
Two birds, one stone.

Having found a lot and solved the dilemma of where we would live while our home was being built, our project had forked into two sub-projects. First, we had to make sure we could build a home on the lot and then buy it; and second, we had to get our current house into a sell-ready state as soon as possible.
And of course I have one spreadsheet to rule it all.
Let the games begin: preparing our house for sale
We launched into the maelstrom of packing and sale-prep. Luckily I had started on this at the beginning of the year: fixing this and that, painting, and more. I replaced the outdoor light fixtures. Changed the house numbers to a more modern style. Replaced a rotting wood outdoor banister. Repaired numerous tiny drywall issues that were the result of the house settling.
But repairs and touch-ups were a small matter next to the need to de-clutter and pack.
We had a massive collection of books and a generally cluttered home. When we had our Realtor over a year before to get her take on what needed to be done, she pointed out a few small odds and ends, but at the top of her list was that we needed to get rid of most of the books in order for it to look appealing to potential homebuyers. And while we didn't want the place to look cluttered when it goes on the market, we also didn't want to empty it out to the point of having to pay to have the place staged.
To say we had a lot of books is an understatement: we had at least 1200 books. Is there really such a thing as too many books? Doesn't everyone have twelve completely filled bookcases?
Months earlier, when our search for a new home had just started to get serious, I spent several months churning on what to do with these books. First we went through them to choose the ones we will get rid of, earmarking just over half to go to new readers. I reorganized them, moving the "to go" books (nearly 600 in all) into the five large oak bookcases in the front room, and the "keepers" into the seven smaller bookcases in the TV room.
Next I photographed the "to-go" shelves then put together a website to show each binding. Meanwhile, my brother was in a similar position with his books. In a fit of some kind of ridiculous biblioinsanity I told him I'd take care of getting rid of his books, too, and so added about 200 of his books to mine. We photographed them, boxed them up, brought them to my place, and I added them to the website (now up to almost 800 books).

Next, I posted links to the website in my social media and emailed it to friends, offering everyone to email me a list of the books they wanted and I'd bag them up and they could come and get them. I got rid of more than 500 books in two days. I eventually gave the rest of the books to Goodwill, and my neighbor helped me sell the five oak bookcases. (Actually, I started by inviting Powell's Books to send a buyer, but Covid had curtailed their buyers' excursions for a while. Sadly, just a few weeks after I got rid of all the books, they said they could send their buyer.)
Getting rid of hundreds of books was high up on our list, and I was also going through closets to both get rid of things and also pack boxes for our eventual move, keeping track of everything in my spreadsheet. By just a few months into this madness, we were living in a home that was distinctly uncluttered, but piled up in a few places with stacks of boxes. A huge step in the right direction, but still more to do to truly be ready to sell.
And the games go on: can we build on that lot?
Meanwhile, back in Ilwaco, we still had many, many hoops to jump through: because there is so much more to building a home than simply building a home!
First we contacted a local Ilwaco Realtor to help us buy the lot, and we also sent information about the lot to the home building company with which we'd been talking with for the last six months: HiLine Homes.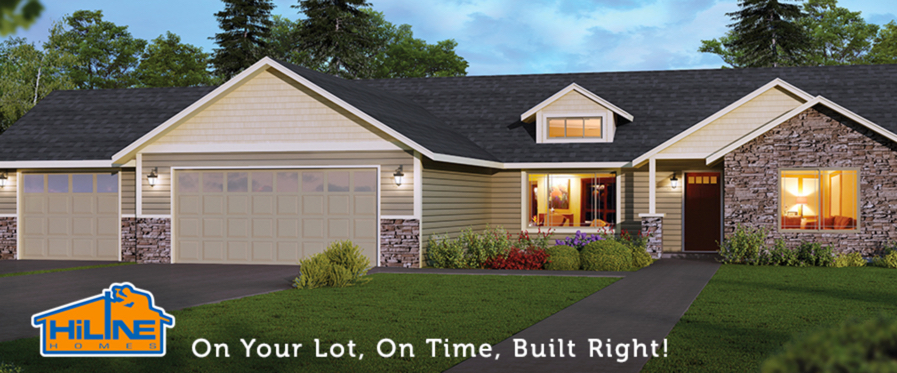 When I helped my brother remodel his Ilwaco duplex in 2010, we worked with a local architect, Dave Jensen. I would very much have enjoyed working with him again on this project, but our budget meant we needed to go a different route: hence our decision to go with HiLine (more on that in a later post).
Our new Realtor, a long-time resident of the area, was skeptical that HiLine would be comfortable with our slopey lot, and so put us in contact with a local architect. He said that he'd had the architect meet him at the lot to walk the land together and they both agreed that, while it certainly was an odd-shaped, slopey lot, something could surely be done with it.
Next, we haunted the Ilwaco city website to gather information about permitting requirements, and we called the city planner to discuss our project. He visited the lot and emailed a few days later saying that the lot was outside of any restricted areas, send us the plat info, and to recommend a firm to do a formal geotech study to document the slope, erosion, soil, etc. He also recommended a local excavation company who could help assess whether a home could be built on the lot.
While we waited for the geotech report, we talked with the excavator and sent information about the lot to HiLine. The excavator came back with a positive assessment, but said that he'd have to clear the lot of the rather massive kingdom of blackberries and brush to really be sure. The following photo shows me on the lot, and that massive brush on the right that goes all the way up and beyond the top of the photo is all blackberry.


As we didn't own the lot, we needed to arrange the clearing with the owner (at our expense, of course), so we got in touch through our Realtor. The owners said they were fine with us clearing the brush, but that we had to also haul away the resulting piles of debris.
So, without having yet actually purchased the lot, we were looking to already spend $3,850:
$650 for the geotech report
$1300 to clear the brush
$1900 to haul the debris away
And this is where we paused.
Should we spend nearly $4K on a lot before we know that we can even build a single-level home there within our budget?
We got word from HiLine that they were probably not interested (because they prefer to only work with lots that are closer to level). Our Realtor recommended an architect to work with, but it took nearly two months of him not replying to emails or voicemails for us to finally connect with him. He said he thought that our budget might be in the ballpark, but that it will be tight. Also, he said the slope of the lot means the house will need to be up on either a daylight basement, pylons, a lower-level garage, or some other such option. It wasn't ideal, but I guess this is okay. At least being higher up on the lot means an even nicer view. He said he would research some options and come up with a preliminary budget to help us determine if we could build the type of home we wanted on the lot.
It took several months of waiting for information and for decisions to be made, all with me sitting on the edge of my seat for so long that I was about to fall off. What we learned in the end was that we'd probably have to go at least $60-90K over our budget to build on the lot.
We could build a beautiful home with amazing views in a neighborhood we liked, but it wasn't worth killing the budget. We decided we had to let this lot go. But we learned some important lessons:
Relationships matter. We would have saved ourselves several months of stress if we'd gone with the architect I already had a good relationship with rather than the architect our Realtor recommended.
Budget. Budget is important, but this will be a home that we live in for the rest of our lives. We still have a goal of living mortgage-free after all the dust clears, but perhaps we decided that, for the right lot, we'd change that to "nearly mortgage-free."
Package home builders. There are more ways to build your own home than starting from scratch with an architect. Your home might not be the custom beauty that sprang from your vision if you go with a package home builder like HiLine or Adair, but their library of floor plans might be just fine… as long as you have a flat lot.
Start with a HELOC. Don't want to have to sell your existing house until after you've started work on your lot? If you have good equity in your existing home, look into getting a home equity line of credit (HELOC) to fund buying the lot and doing the lot prep.
Back to the drawing board, and the search goes on!
Here's the next post in this series: Part 3: Buying land in Long Beach