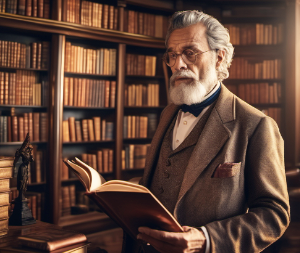 I have a very interesting family. One Lothersday some few years back, taking a break from watching The Lord of the Rings trilogy, we were sitting at the dinner table discussing books.
My nephew and my brother had for a long time been discussing what they thought was the list of the classic fiction that people should read in order to have a well rounded cultural literacy. We all had our opinions to share, which led to a debate. After several sometimes contentious hours of hurtling titles about and filling out a spreadsheet, we came up with a list of classics.
There are some books here that I have not read and others that I really don't think belong here at all. But as this was a group effort, I leave the full list here without my edits. There is a definite English-centrism here as well as some titles that are likely little known outside of the U.S., as this list was constructed by a group of Americans.
[And for more on books, here's my list of recommended fiction, compiled without any input from my family, as I'm sure some of them would completely disagree with some of my recommendations.]
The Classics
1984, by George Orwell
A Christmas Carol, by Charles Dickens
A Scanner Darkly, by Philip K Dick
A Tale of Two Cities, by Charles Dickens
Adventures of Huckleberry Finn, by Mark Twain
Adventures of Tom Sawyer, by Mark Twain
All Quiet on the Western Front, by Erich Maria Remarque
All the Light We Cannot See, by Anthony Doerr
And Then There Were None, by Agatha Christie
Angle of Repose, by Wallace Stegner
Anthem, by Ayn Rand
Beloved, by Toni Morrison
Chronicles of Narnia (all seven), by C.S. Lewis
Count of Monte Cristo, by Alexandre Dumas
Different Seasons: Four Novellas, by Stephen King
Do Androids Dream of Electric Sheep?, by Philip K Dick
Dune (just the first book), by Frank Herbert
Ender's Game, by Orson Scott Card
Flowers for Algernon, by Daniel Keyes
For Whom the Bell Tolls, by Ernest Hemmingway
Frankenstein: A Modern Prometheus, by Mary Shelley
Gone With The Wind, by Margaret Mitchell
Grapes of Wrath, by John Steinbeck
Great Gatsby, by F. Scott Fitzgerald
Hamlet, by William Shakespeare
Heart of Darkness, by Joseph Conrad
Hitchhiker's Guide to the Galaxy, by Douglas Adams
I, Robot, by Isaac Asimov
Johnny Got His Gun, by Dalton Trumbo
King Lear, by William Shakespeare
Lord of the Flies, by William Golding
Macbeth, by William Shakespeare
Moby Dick, by Herman Melville
Poisonwood Bible, by Barbara Kingsolver
Richard III, by Shakespeare
Song of Solomon, by Toni Morrison
Speaker for the Dead, by Orson Scott Card
Strange Case of Doctor Jekyll and Mr Hyde, by Robert Louis Stevenson
Stranger in a Strange Land, by Robert Heinlein
The Death of Artemio Cruz, by Carlos Fuentes
The Handmaid's Tale, by Margaret Atwood
The Once and Future King, by T.H. White
The Path to the Nest of Spiders, by Italo Calvino
The Picture of Dorian Gray, by Oscar Wilde
Three Musketeers, by Alexandre Dumas
Tinker Tailor Soldier Spy, by George Le Carre
Treasure Island, by Robert Louis Stevenson
Twenty Years Later, by Alexandre Dumas
Uncle Tom's Cabin, by Harriet Beecher Stowe
Vicomte of Bragelonne, by Alexandre Dumas
Young Men and Fire, by Norman Maclean