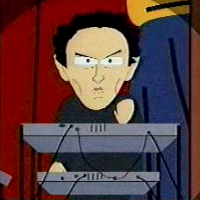 Whenever I talk about Philip Glass to people outside of the musical world, I usually meet with blank stares. When asked if there was anything by Glass that they may have heard, I start listing some of the many, many soundtracks that Philip Glass has scored (and repurposed), and I usually get an "a ha!" from the person I'm talking with.
But aside from all of the films and plays that Phil has scored, I have also happened upon his music in unexpected places. I'm sure there are many more than what I list here, as I am only listing those which I have personally encountered. For example, I hear that there is great use of a Knee Play from Einstein on the Beach in the show Mr. Robot, but I haven't personally seen it.
Saturday Night Live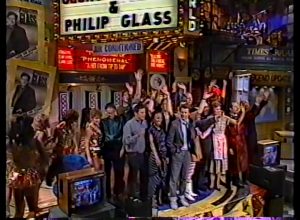 I must start with this, because his 1986 performance on Saturday Night Live was the first time I'd ever heard of Philip Glass. Or, to be more accurate, a rerun of this episode which I saw in 1990 marks my first exposure to the music of Glass. He performed "Lightning" from In Liquid Days, plus a piece called "Rubric," which was accompanied by clips from Koyaanisqatsi. I was immediately smitten, was soon obsessed, and have been intensely drawn to his music ever since.
I cannot find any clips of this show, but I did find this thorough episode recap with photos.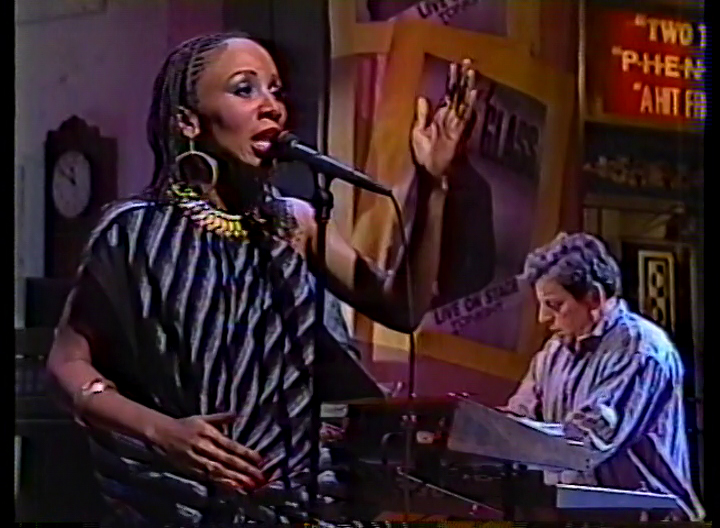 Bent
I will never forget, years ago, when my brother and I rented "Bent," which is a jarring film about the experience of gay people at the hands of Hitler's atrocities. I was treated to a surprise when I saw that Mick Jagger was in it, and then to a much bigger surprise to hear the music of Philip Glass. Technically, he scored this film, but I wasn't aware of that when I rented it.

The Handmaid's Tale
Another great surprise was when I was watching the incredibly dark The Handmaid's Tale and then the Heart of Glass Remix by Crabtree started. This takes the Blondie song Heart of Glass and ingeniously changes the tempo and remixes it with Philip Glass' Violin Concerto II into a gobsmacking combination. It was the backdrop for a particularly wrenching scene, and it was the perfect choice. I think this delighted every Glass fan, but I was extra thrilled because I'd heard an earlier version of this remix years before and had long been searching it out. [Here's the earlier version by Daft Beatles. This one is slightly more subdued than what was put together for Handmaid.]

The Truman Show
I saw The Truman Show in the theater when it came out in 1998. In one scene, Christof seems to be alone in the command center watching Truman sleep, then the camera pulls out and you see there is a lone pianist in the room playing. Of course when I immediately recognized the pianist as the actual Philip Glass I squealed and the people sitting nearby shushed me. (You'll see Phil in this clip at around 1:28.)

Battlestar Gallactica
In the Season 2 episode of Battlestar Gallactica, "Valley of Darkness," Starbuck is visiting her old Caprican apartment, puts a tape in a tape deck, and we hear what we later learn is her father playing the piano. The piece is Glass' Metamorphosis One. (Bear McCreary, who scored the series, is a Glass fan.) If you watch BSG to the end and do the mental gymnastics to grok it, then this makes sense: of course Glass music is what has been etched into our consciousness at such a deep level that it can reemerge whole through almost the entirety of human evolution!
Frasier
There are two mentions of Philip Glass (or his music) in this show, both of which are a tad snarky. In the season 7 episode "Out With Dad," Frasier says of a woman at the opera with whom he has been flirting:
"I have laughed with her during Figaro, cried with her during Tosca. I even had a dream about her during Einstein on the Beach."
Then in the season 11 episode "The Doctor is Out," a classical conductor (played by Patrick Stewart) walks into the coffee shop and the brothers have this exchange:
Frasier: He is only the head of the Seattle Opera Guild, and one of the finest directors in the world!
Niles: His productions are brilliant! He staged a Philip Glass opera last year and no one left.
South Park and The Simpsons
Probably the first time I saw a pop-culture reference to Philip Glass (well, aside from SNL) was in the Christmas episode of South Park, "Mr. Hanky, the Christmas Poo."
And here is a spoof of Koyaanisqatsi from The Simpsons:
(There are more Glass mentions on The Simpsons, but I never encountered them in the wild so it would be cheating for me to list them. Here's a link.)
---
Other Glass Posts: